Since the ultimate destination was BLQ, I had to figure out an arrangement to get there. Why BLQ, you would ask? Because I wanted to fly onwards on TK, which required me to fly into SIN; I needed to visit someone in Florence, which required me to be in this general area; and I needed to go to LHR on BA with Avios, which meant having to find an airport that has Star Alliance flights that connect from Zurich, TK flights that carry to IST, and BA flights that go to LON (i.e. any London airport). BLQ was the only one. I guess the only problem was that flying into it required three flights – first to ZRH, then to MUC, then to BLQ. But that's life 🙂
Arriving to ZRH, we had absolutely no time to visit the lounge – so we had to run like mad to the gate. Clearing passport control and re-clearing security took time, and by the time we got to the gate it was well empty. They brought us a bus (and for one more passenger), and off we went – to an Avro AR1, a quad-engine plane I have never been on. It seemed fairly imposing – after all, the only quad-engine planes flying now are long-haul 340, 747 and 380s, so this looked far more than it really was.
Landing in Munich, we had to get off using those uncomfortable stairs. There were clearly some HON Circle members on the plane, as there was an S-Class and a Porsche Cayenne waiting at the door of the aircraft that rapidly whisked them away. As for us, we hopped on the pathetic bus, and headed off to the lounge. Since I have TK Gold via a status match, I am now eligible to access the Senator lounge… so we went into exactly the same lounge as two years ago when we were late for our MUC-CGN flight, but this time, we went left in the passageway, which was into the Senator section, rather than the regular business section. I still fail to understand why LH would allow Star Alliance Gold members in Economy to have access to the (ostensibly) better Senator lounge, but forbid this access to people on full-fare business tickets. Baffling.
Germany? Beer at 08:30 in the morning, thank you 😀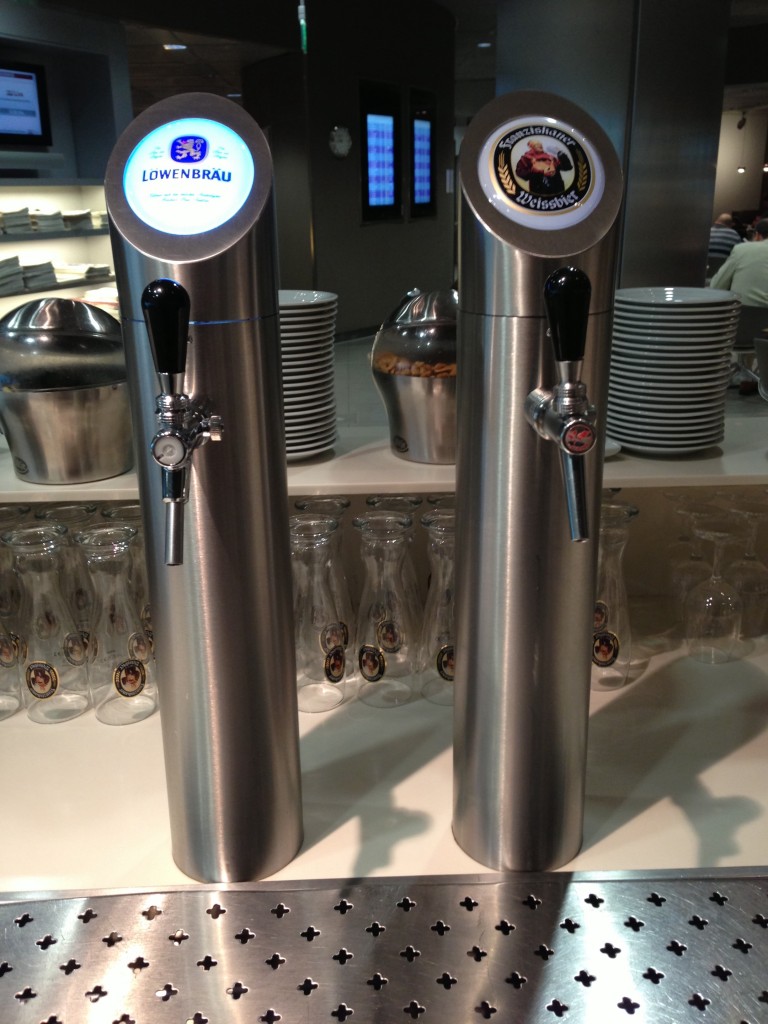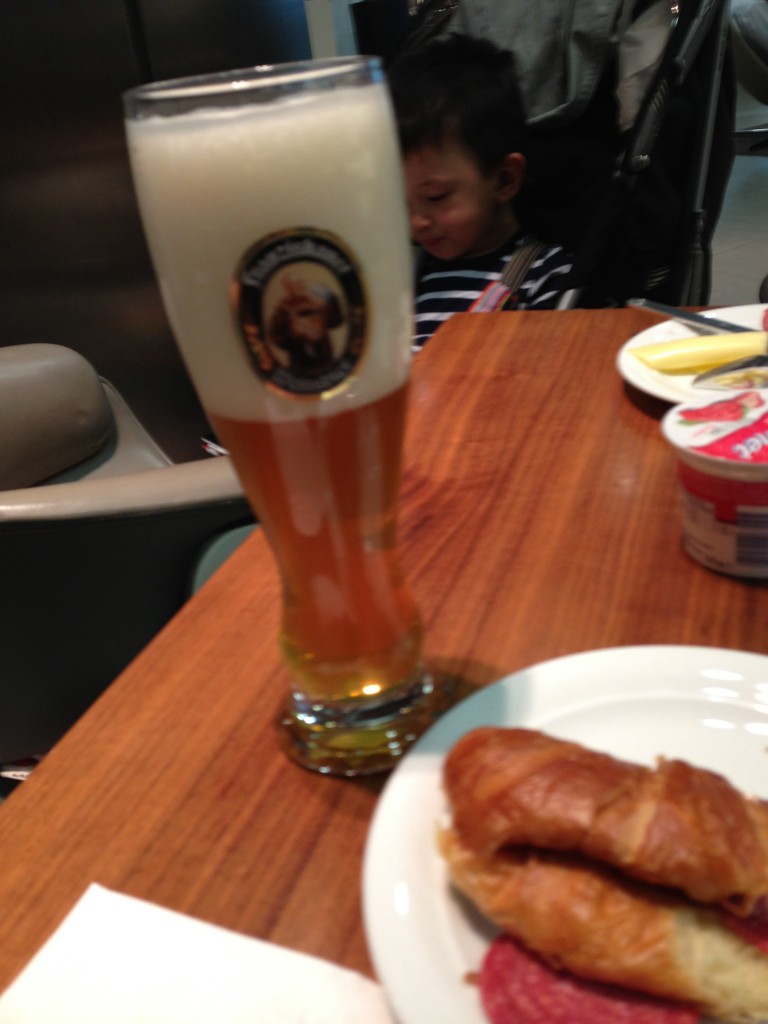 After spending some time in the lounge, we were off to our Air Dolomiti flight. Once again, it was an apron position, and since I have no HON status and am not travelling in F, I have no Mercedes or Porsche waiting for me – which means bus with everyone else (and once again, arriving to the plane, there was an S-Class that carried two passengers). As for us, off on the bus and onto the ramp we were.
So because this is a small E75, the seat config is 2-2 and is sold as 1-1 in business. So effectively there are 2 seats but you are always alone. Which is fair, except in our case, we actually don't quite care, as the toddler hardly needs two seats all to himself. So the wife is sitting with him. Considering we had booked 4A/5A/6A, we ended up using 4AC and 5A, leaving 6A surreptitiously empty.
As we boarded, there was a second bus of people boarding. There was an entrepreneurial looking man who manoeuvred himself into 6A and didn't sit, but looked like he was just waiting for someone, typing away on his iPhone. As the line of people fizzed out and he noticed there was nobody else boarding, he comfortably threw his bag into the bin and say down, starting to get comfortable.
Funny man, I thought. Too bad I own that damn seat. out of principle, I told him hey, that seat is taken. he looked somewhat crestfallen and left. Very entrepreneurial, I must say.
In the meantime, two more squatters got kicked out of business who didn't belong there and just squatted in an empty seat.
Some traffic on the takeoff: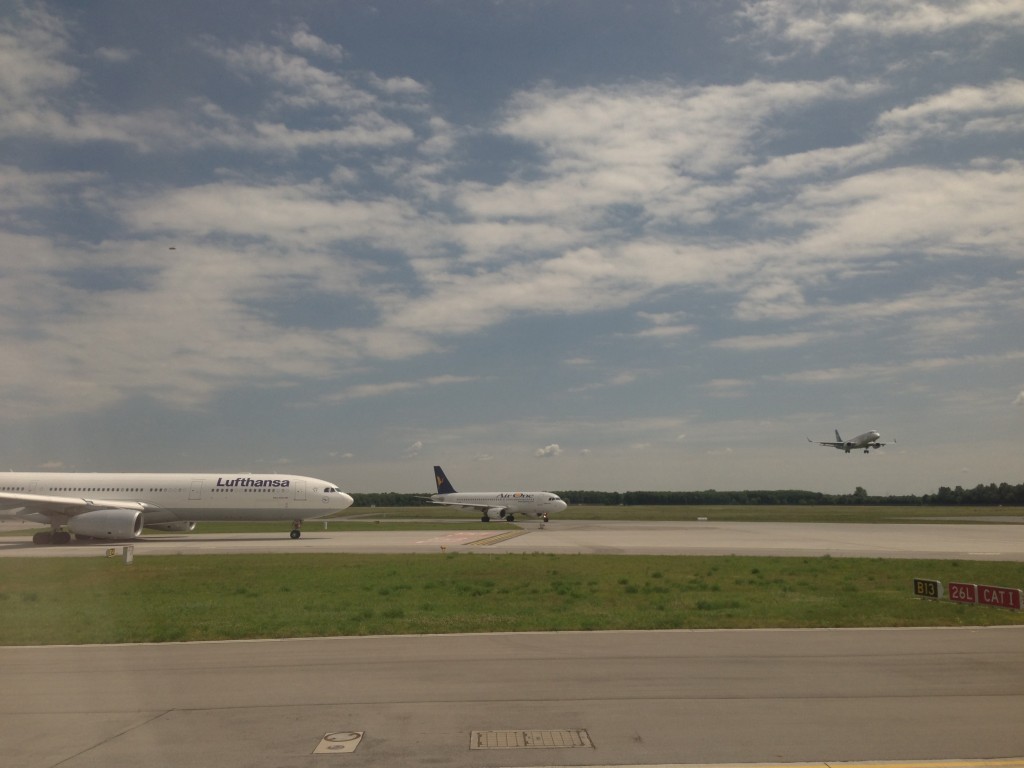 Food, wine, dessert… oh dear. Shame on you, Air Canada!!!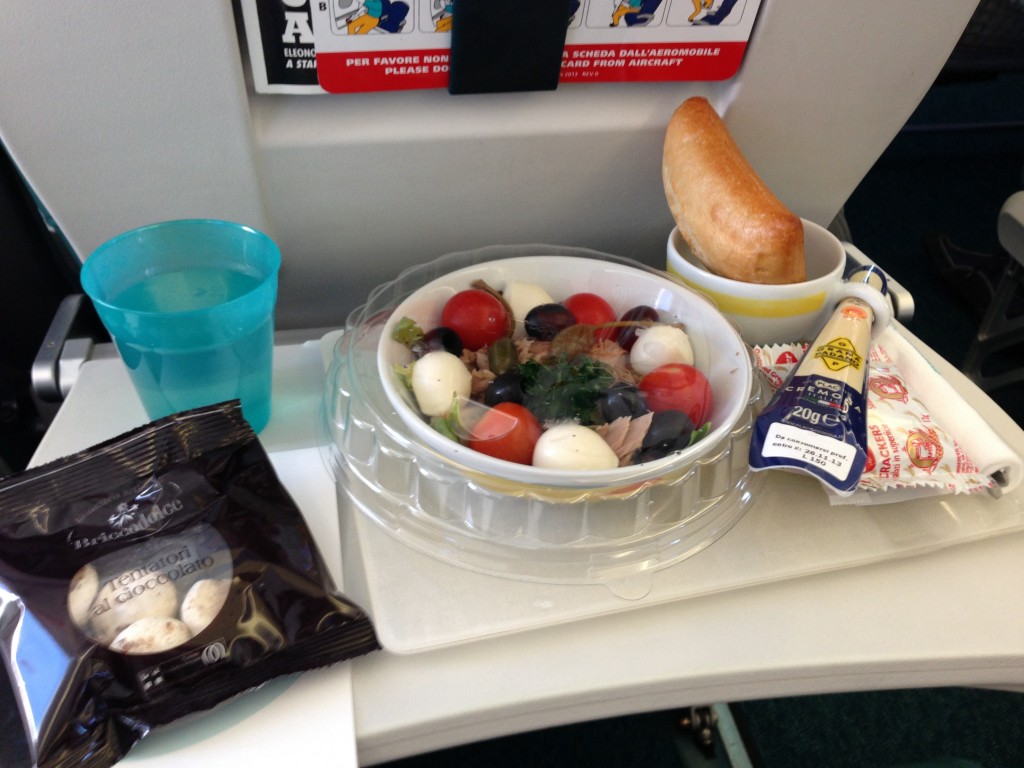 On landing (and on taking the bus again), I saw this glorious gem of a safety check: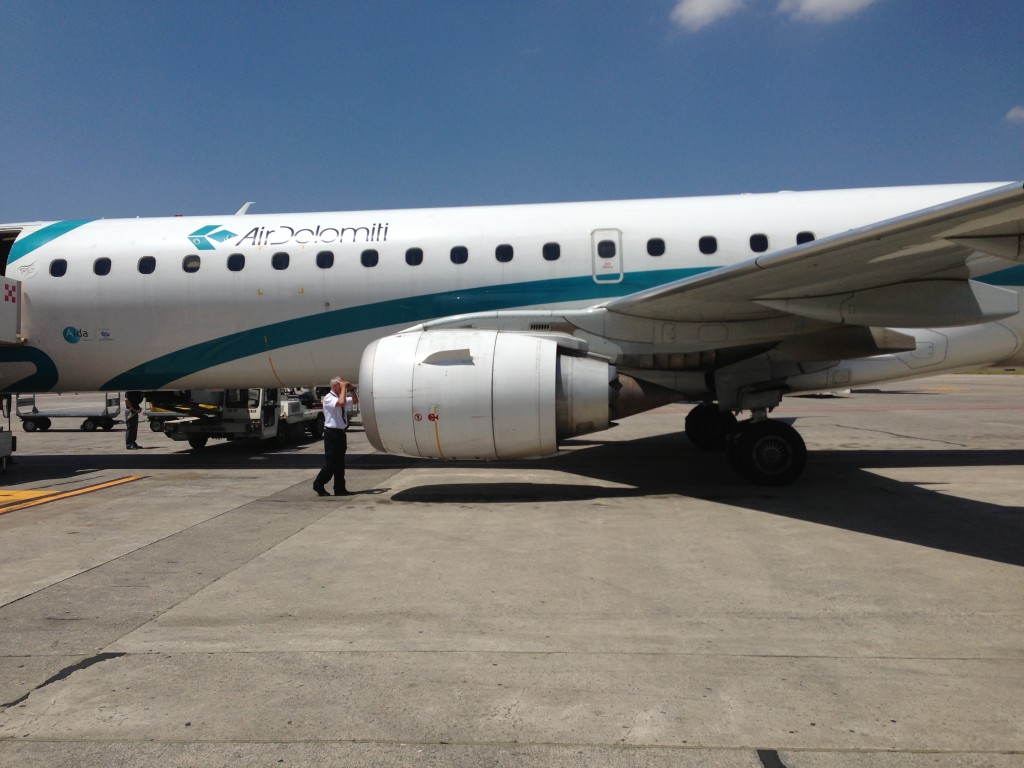 What I did miss is when the guy stuck his head into the engine, presumably to verify the blades. He also sniffed the wheels. This was truly hilarious.