People travel for various reasons. Some want to experience the destination. Some want to experience the journey. Some want to experience the food, the luxuries, the barrenness, the heat, the cold, the wet, the snow – the point is, everyone has something they like and that they yearn for during travel. For me, it tends to be the journey. I enjoy being in places, but I enjoy just as much the peripheral things that get me there. The onboard experience in the plane, the lounges, the hotels and so on hold just as much appeal to me as the museums, the social life and the tourist attractions of the cities at the interconnecting points of the journey. Without descending into the discussion on breadth of spirit, intellectual depth and who values what (a discussion that could go either way), we will return to my story.
One of the key aspects of any trip is the hotel experience. As I never cease to be reminded by my better half of our experience in the Cook Islands, where the scenery was divine, the coral reefs beyond beautiful, the flight and service of Air New Zealand's business class beyond reproach, and our hotel….. a backpacker's inn with cockroaches the size of a small cat, hotels matter a lot. I will expand on that to say that hotels matter beyond just a bed to sleep in: the experience of being in one can improve or worsen a trip's experience. So I try, at least during leisure trips, to stay in hotels that are at least half-decent.

The exception to this rule is staying in iconic hotels. There are certain hotels that hold such an important place in history that I feel I must stay in them, no matter the effort required to do so. The Savoy is one such hotel. Its history is well-known (and Wikipedia is conveniently there in case it is not – but even before clicking this, consider the fact that this hotel has a Wikipedia article, which cannot be said for the average Holiday Inn Express), so I have always wanted to visit it. It's obviously uncontrollably expensive, with rooms easily going for $500-700 and up, depending on season. My travel pride does not permit me to spend such money on hotels, simply because I do not believe in paying rack rates for hotels, considering how many circumvent ways there are of reducing living costs; obviously, The Savoy is no exception. Having gained Fairmont Platinum status through my American Express Platinum card, I receive a free night in any Fairmont property in the world. The Savoy (and The Plaza in New York that we stayed at in February) are the only two hotels which have capacity controls, meaning you must book far ahead if you want to get a room. Through some luck and sweet talking a Platinum agent (really, more former than latter), I managed to convince her to force-book me into a room before the booking window opened – I don't know how that happened, but all I know is I had a free room at the Savoy that got booked before the official bookings started, and that got upgraded to a suite using an upgrade certificate to boot.
So when we checked out of the Intercontinental and hopped in a taxi, I had high hopes. It started off well, too: when the taxi driver asked "Where to", and I said "take us to The Savoy, please", his demeanour changed, and he even repeated – "The Savoy?" It boded well.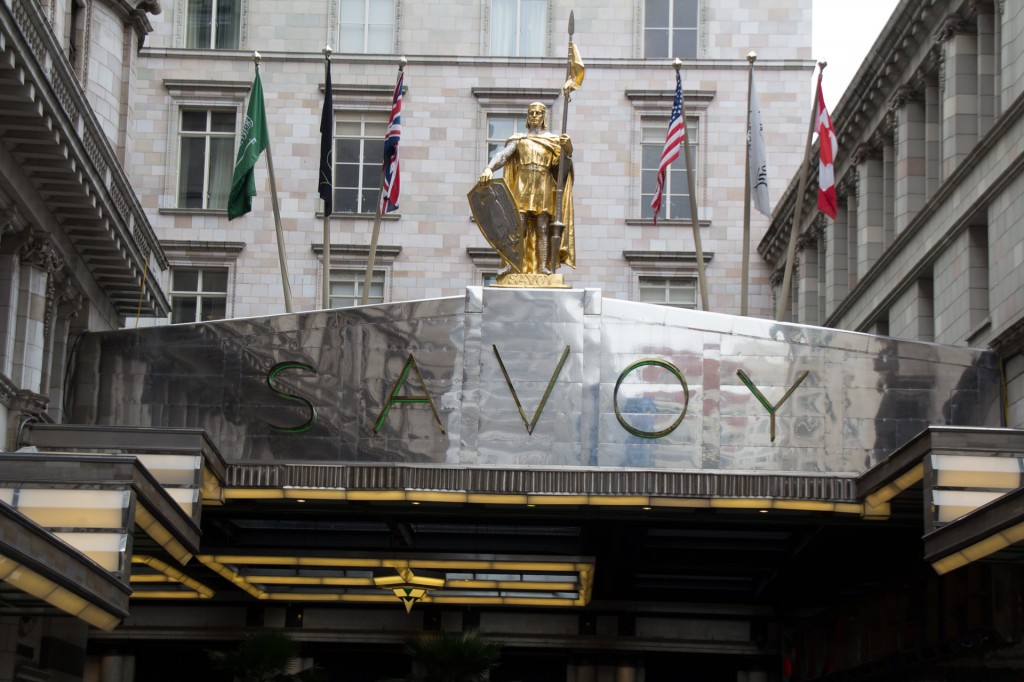 Interesting fact: the small road leading up to the crescent that serves the hotel is the only road in Britain where traffic is reversed: instead of being on the left side of the road, it's the European way: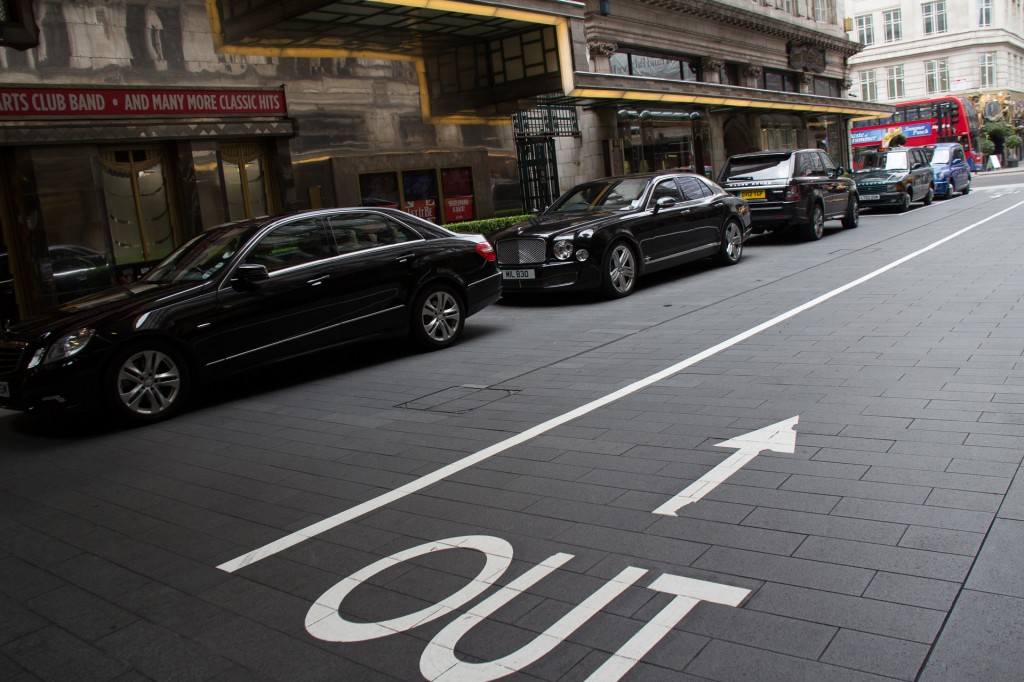 Another interesting useless fact: it appears that the turning radius of taxis in Britain is mandated by the crescent of The Savoy: a taxi must be able to make a full U-turn there.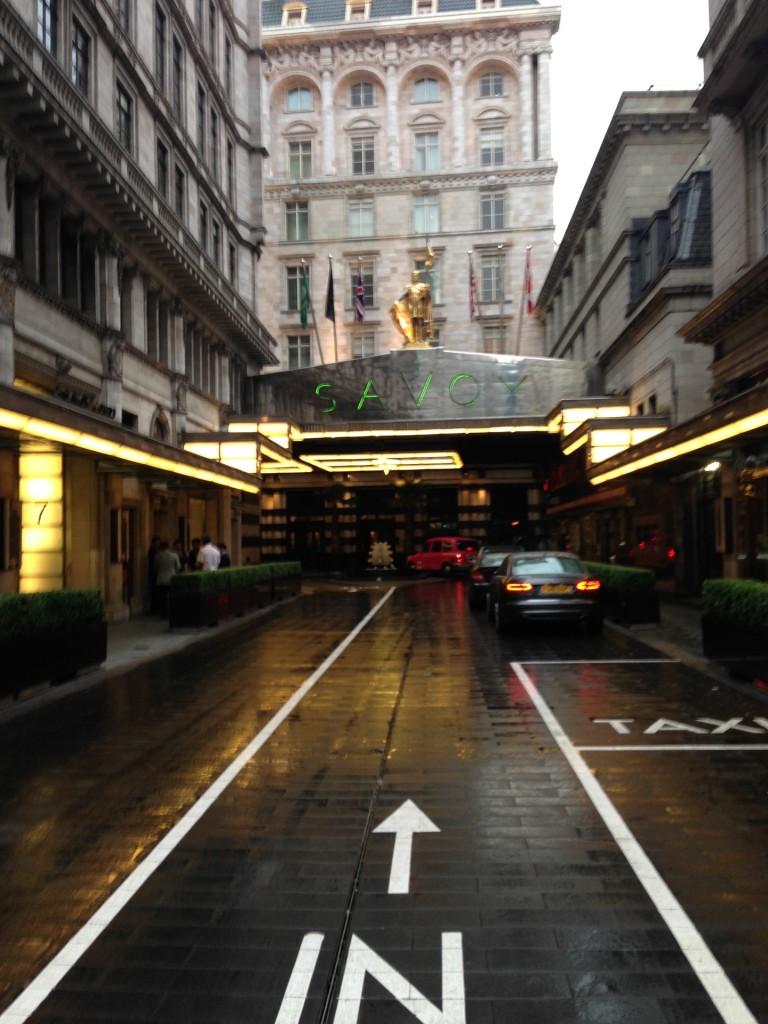 As I was saying, my expectations were high. As I found out, though, they were not only not high enough, but this stay was about to exceed any sort of reasonable expectations I may have had based on previous hotel stays.
It all started with the welcome. A bellboy took our bags and asked my name. By the time we walked into the lobby, where I was expecting a checkin desk like in any normal hotel, the host was there to welcome us. He already knew my name, had my room key in hand, and walked us to our room. There was no checkin process. He took my passport and credit card information in our room.
The room was not huge, but it was very well organised. First, the lobby of the suite: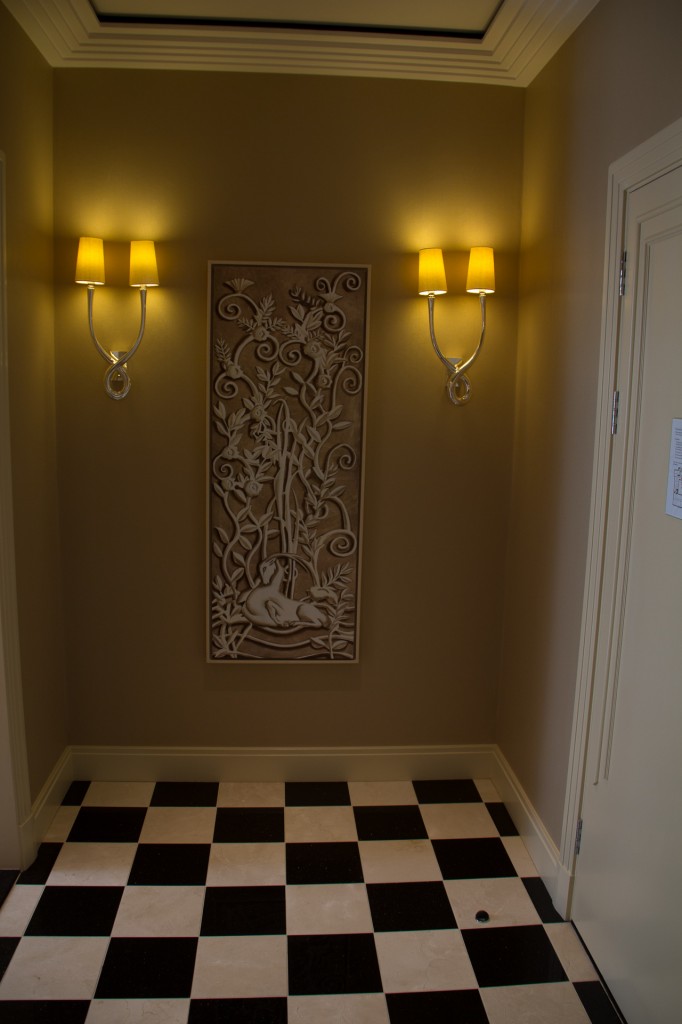 The "study", with a huge wall closet: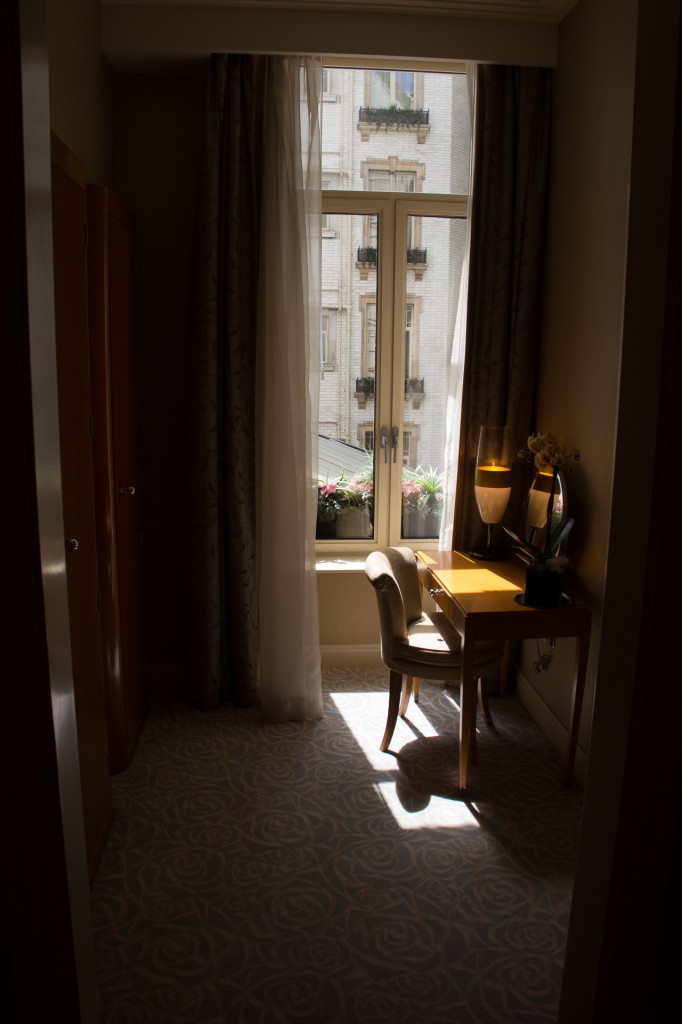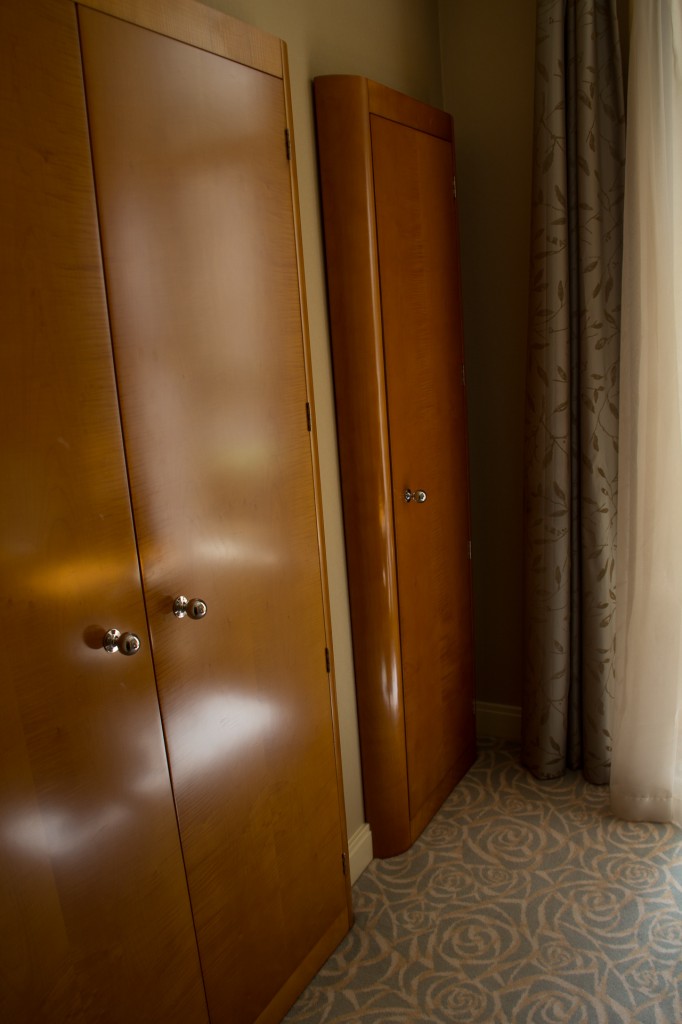 The bathroom, with the same checkered motif: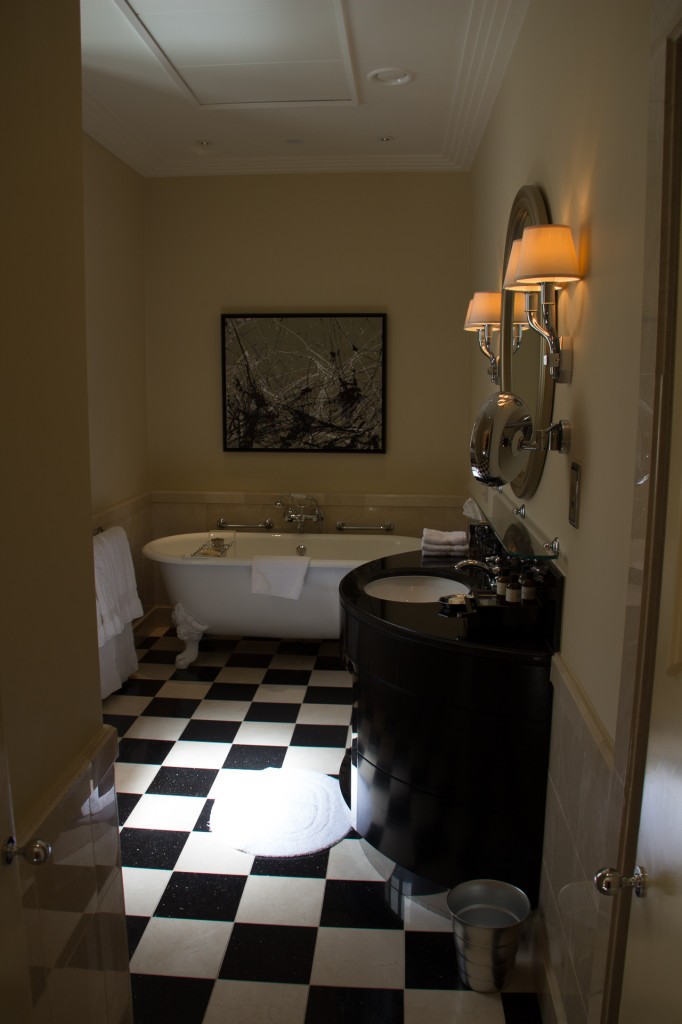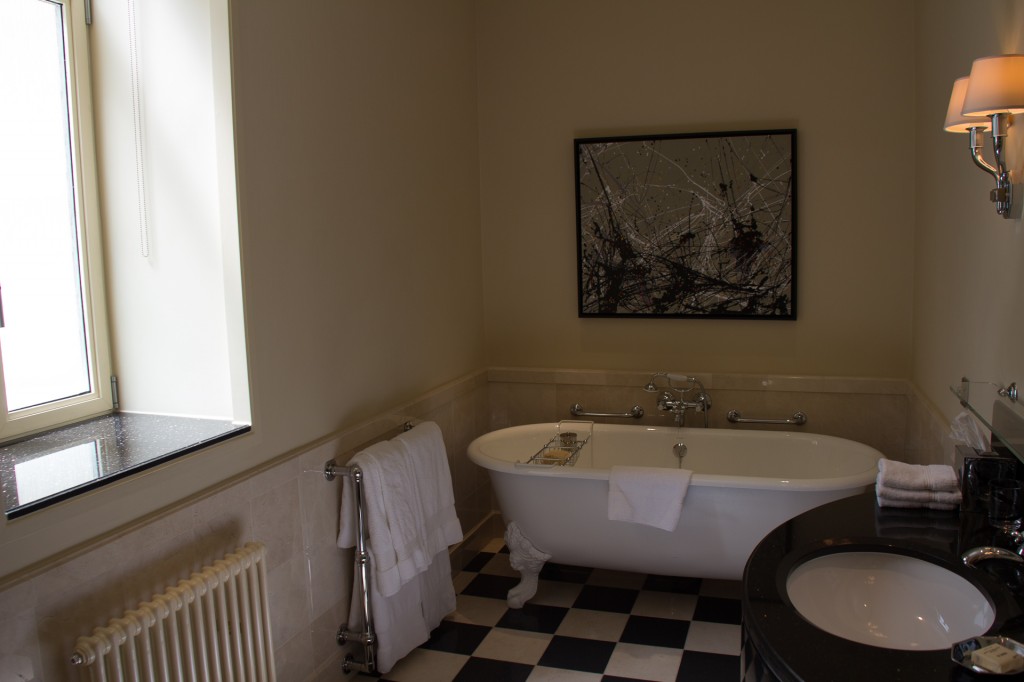 And the bedroom: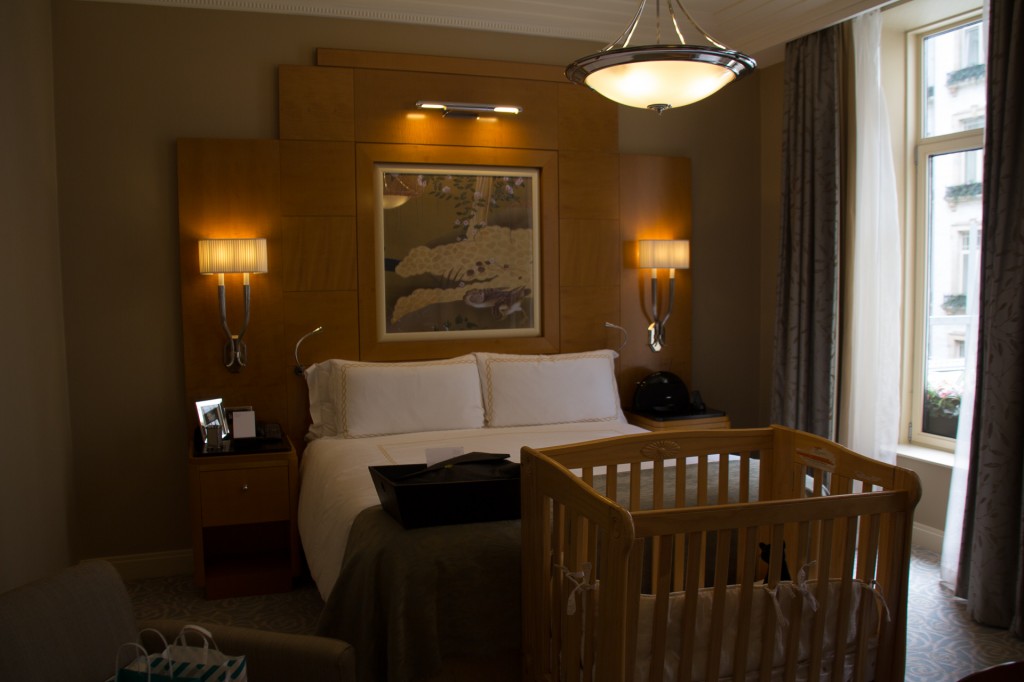 This is where I was floored one more time. A bit of background: travelling with a toddler, it is common to ask for a bed and so on. All hotels oblige. But this was the first time I have seen a hotel deliver toiletries for him. I have been to many hotels. I have status with pretty much every hotel chain that matters (except Marriott, which I don't care about, and Hilton, which has devalued their program so badly that I run from them like the plague). But I have never seen toiletries for a toddler.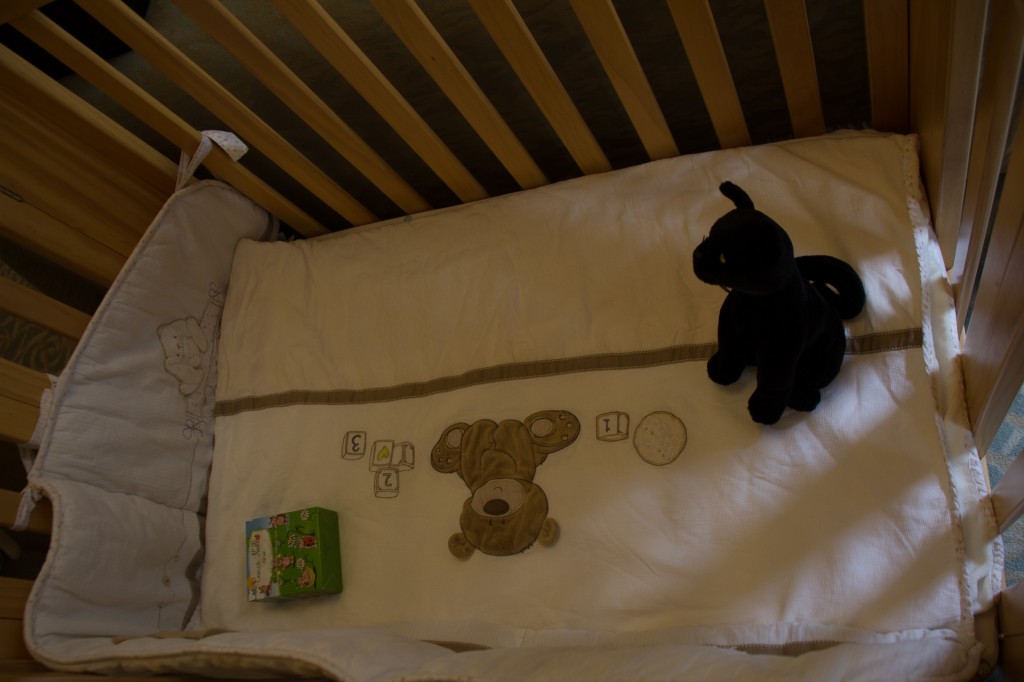 The cat, incidentally, is Kaspar, the Savoy house cat. It is a recurrent brand image of the hotel, and much has been written about it – even in the Wikipedia article, so I will not go into it. But again, it was awesome of them to give Kaspar.
Local welcome gifts (that's still AND sparkling water – another very small, but very elegant touch):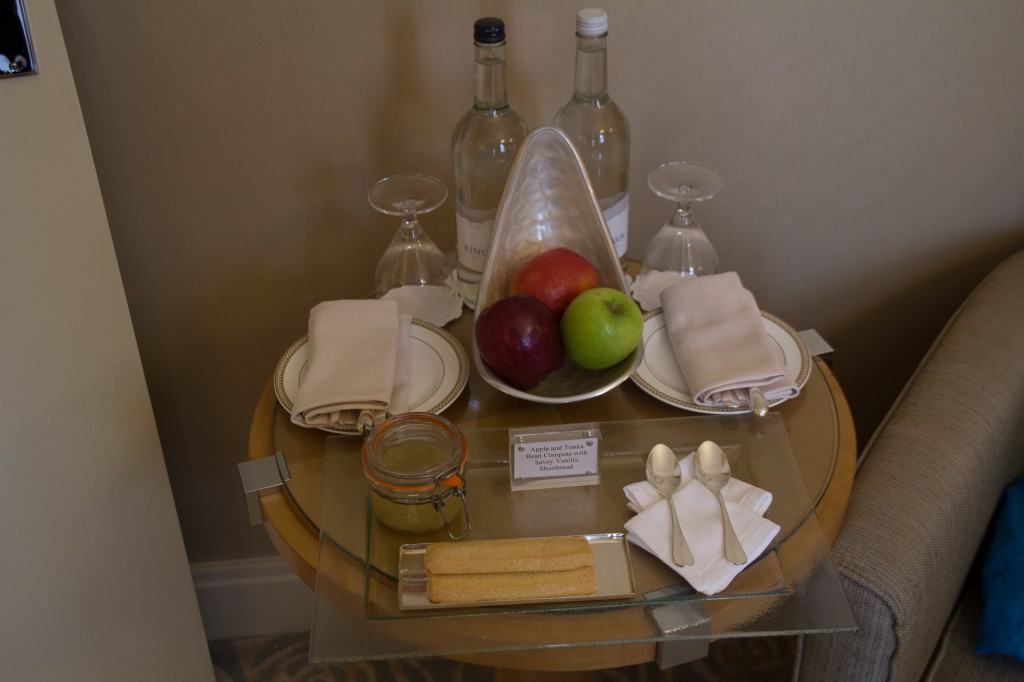 An interesting shot of the minibar: definitely appreciate the selection: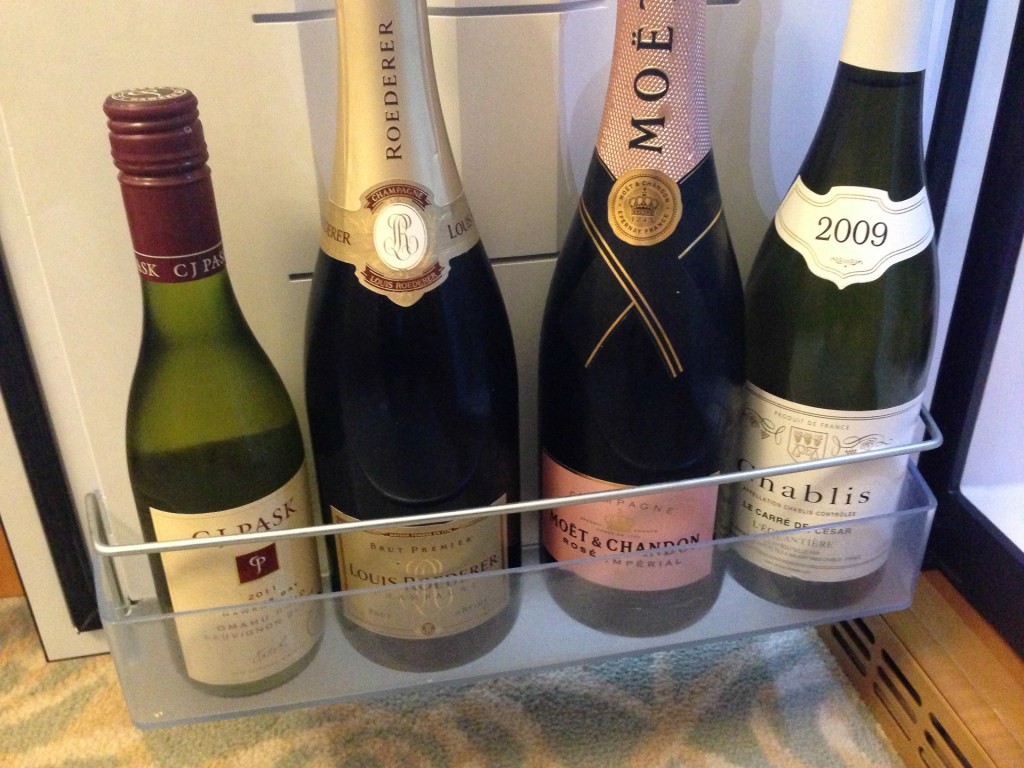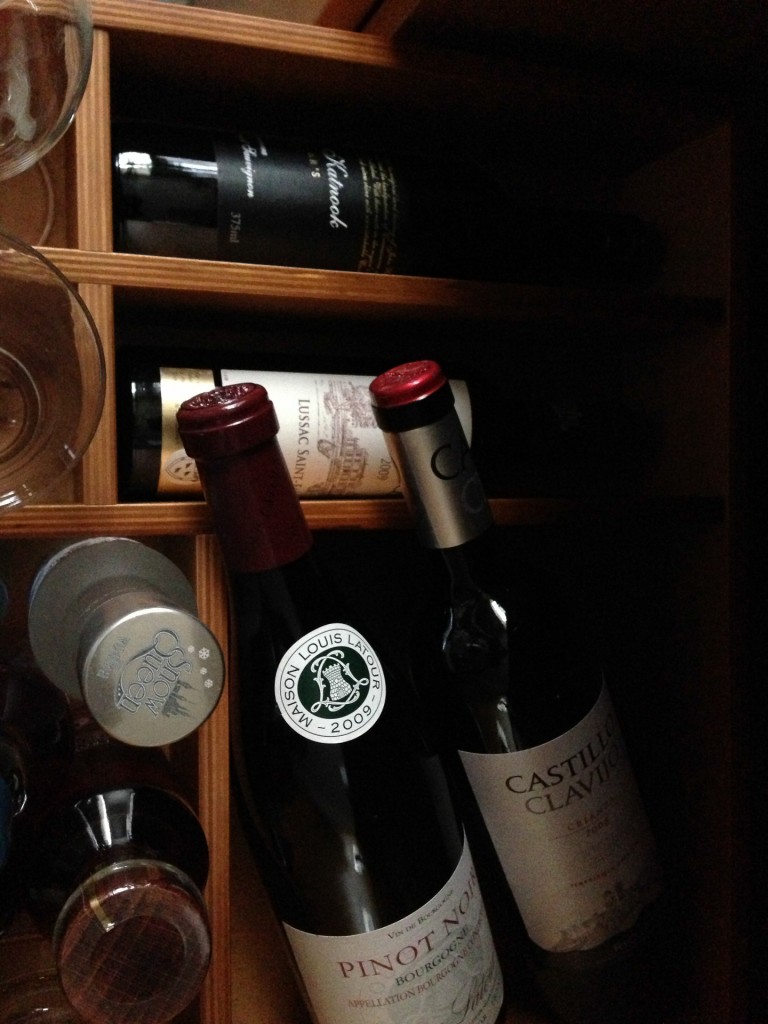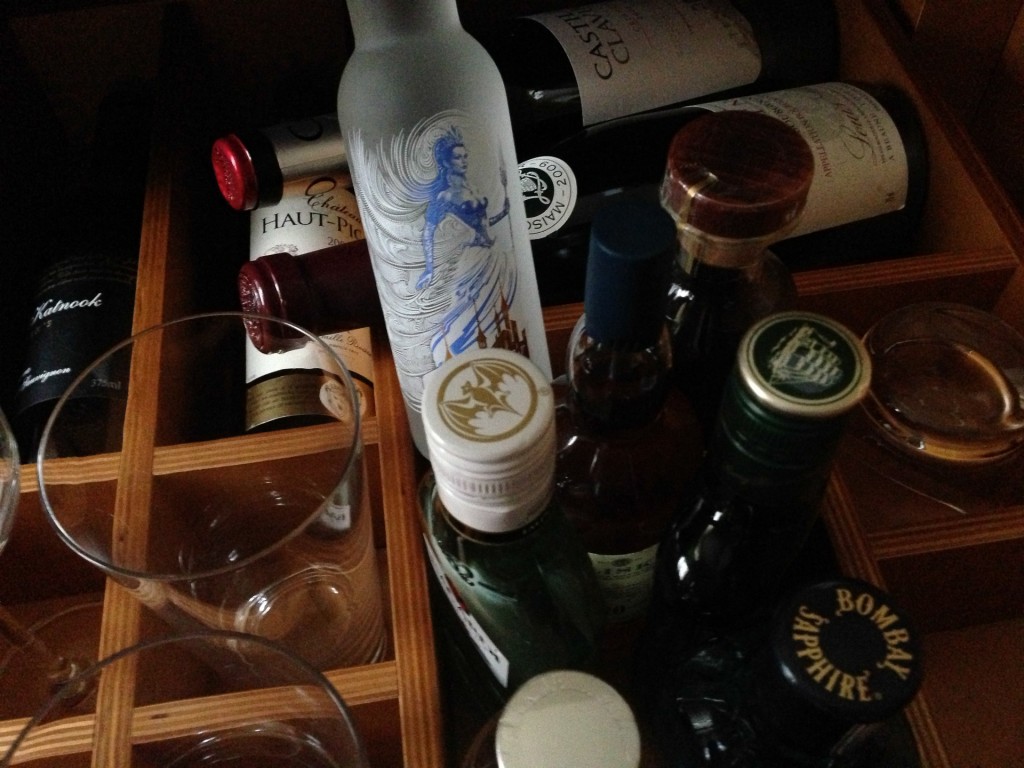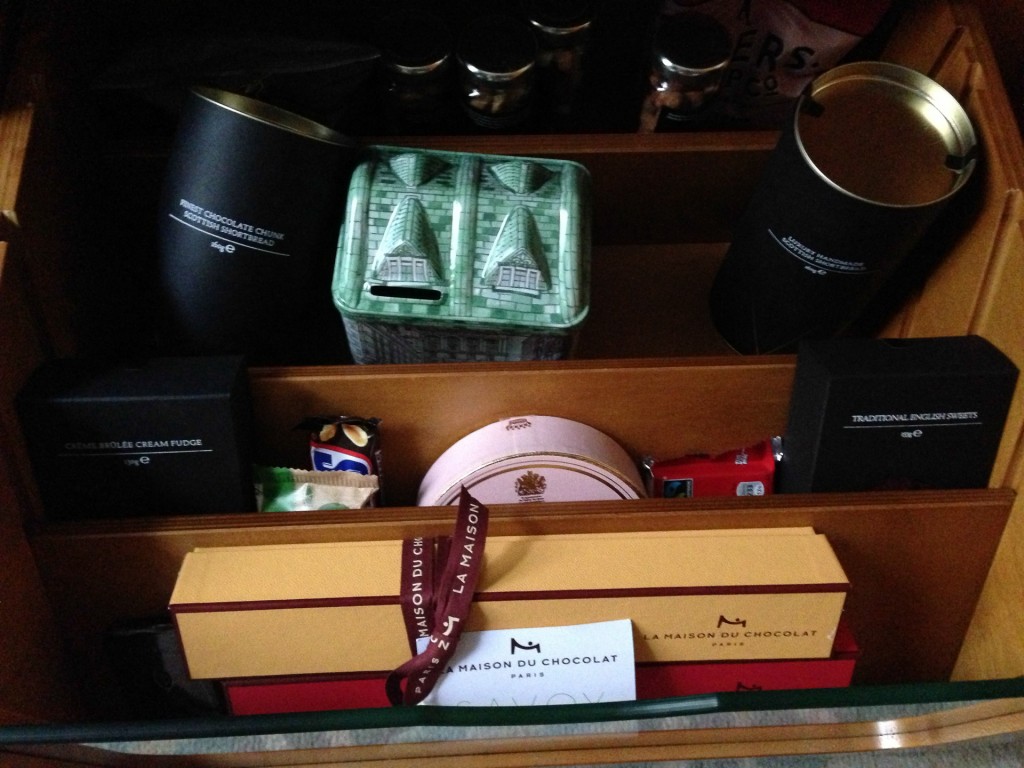 Love the Maison de Chocolat and the Snow Queen vodka. Great choices.
Another shot of the cat and of the childrens' toiletries: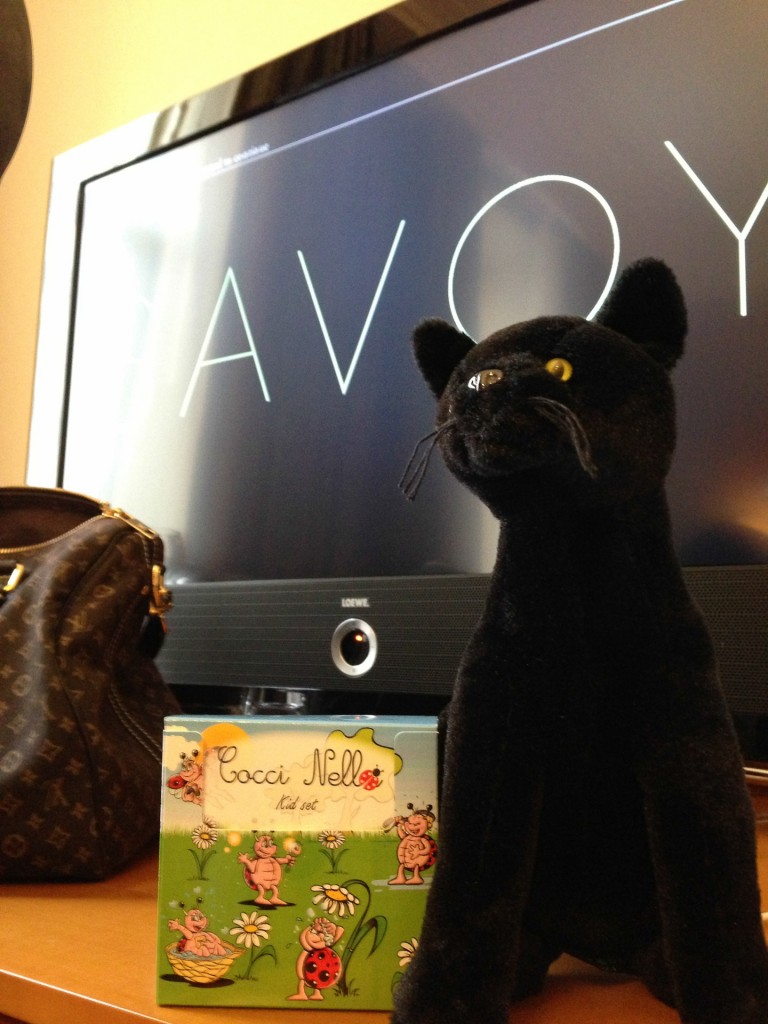 I seriously can't stop emphasizing how amazing it is that they have this planned. Children don't like Givenchy shampoo. They don't like Bliss, Hermes, Le Labo or anything, really. It hurts their eyes. It smells of perfume. It irritates them. So you have to travel with your own. But here? They HAVE it. It's amazing. I can't say this enough.
One would think that this was all, right? I mean, how can they top this? Well… they had a children's bathrobe, and children's slippers, too.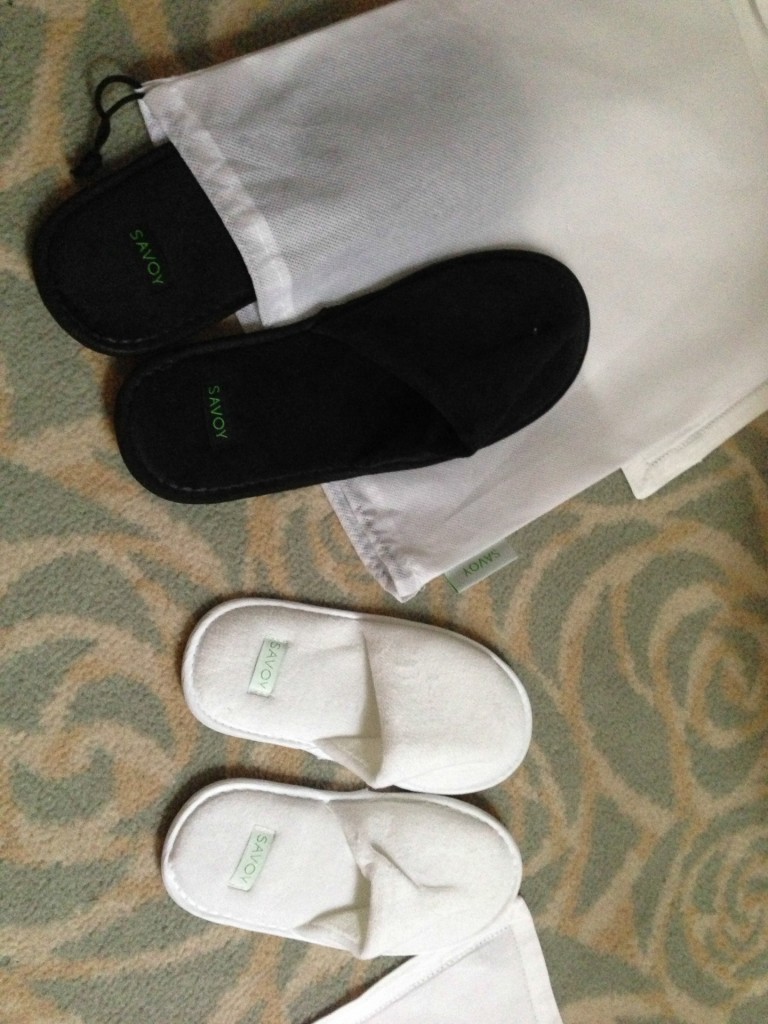 While we went out for some British National Museum exploration, they replaced some of the things in the suite, and when we returned, my request for his birthday gift has generated this: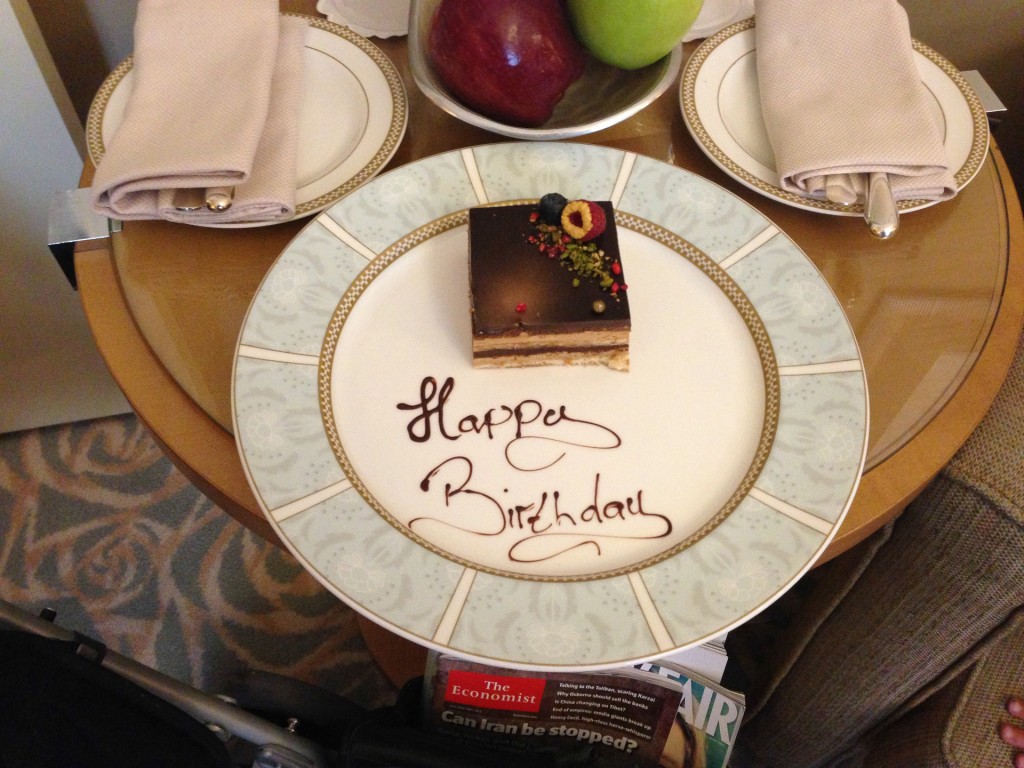 No silly anniversary card addressed to Mr. and Mrs. Guo this time around.