So with our trip to Japan wrapped up, it was time for the part of the trip I have been waiting for for a very long time. In fact, before I got my hands on the so-called "RGN fares", i.e. the first-class tickets from Myanmar to Montreal that happened in September 2012, I didn't even know I wanted to go to Burma. It is only once this incredible deal came about that I got on the bandwagon, and decided to go. I participated in what was called "round 3" – because it was the third time airlines ignored the warnings from IATA that the Burmese kyat was about to be devalued by 100 times, and fares departing Burma had to be reindexed. The first two rounds were either to the West Coast, or on non-Star Alliance airlines, so I didn't bother with them, as I couldn't earn any mileage that I cared about in one case, and positioning to the West Coast was not exactly exciting for me; but to Montreal? Really now.
So we packed our stuff and headed to the airport. For once, we were early arriving to Kansai Airport – a completely unheard-of feat for me, so I was profoundly looking forward to using the beer machine in the lounge. It's the coolest beer-pouring device you can ever come across: you put your glass on it and, as is the case with most things in Japan, press a button and wait. It will tilt your (cold) glass, pour beer with no foam, then straighten it, then put the foam in. Completely awesome. But I'm getting ahead of myself.
The excitement mounts.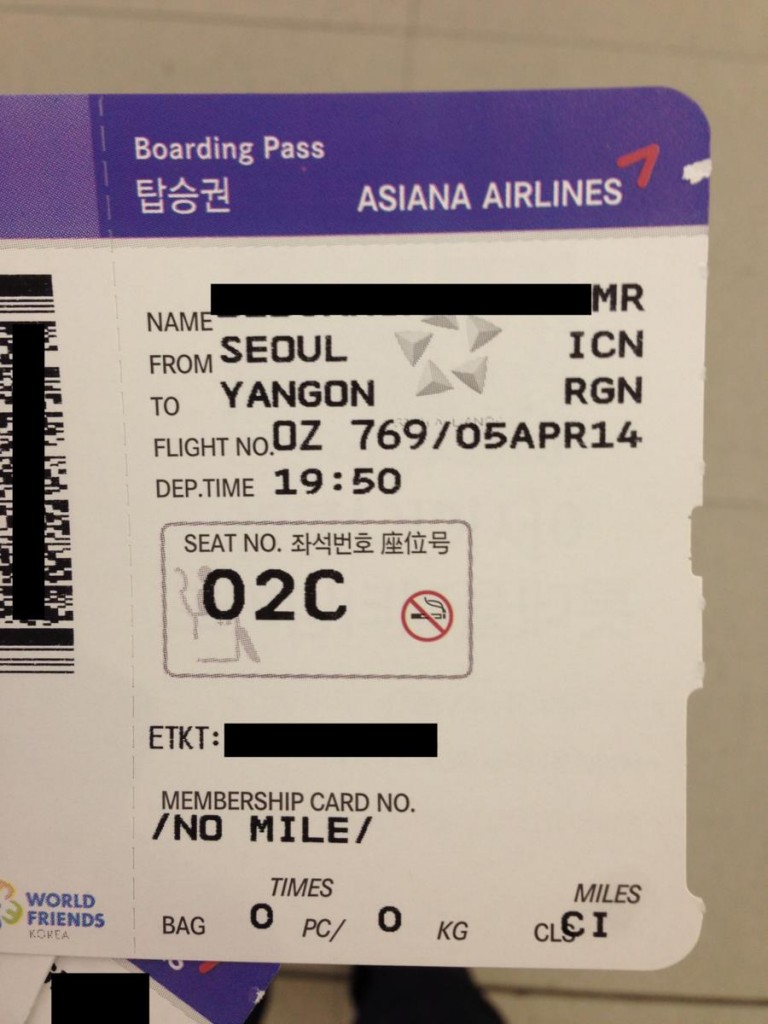 Our flight was KIX-ICN-RGN, with about 45 minutes in ICN. Not enough to go to the lounge, but hopefully at least enough to have a decent connection without running anywhere. But first, we had to get out of Kansai – and that meant hitting the lounge. There are two choices of lounges in Kansai: the Asuka lounge, which has a beer machine that serves Asahi, and the ANA lounge, which has windows and Kirin beer. Though Asahi is by far my preferred beer, I'm kind of tired of the overall darkness of the Asuka lounge, so I've been going with the ANA lounge lately.
The famed beer machine is on the left. Akin to North American lounges, food offerings are sparse (though in stark contrast, there is SOME food, which is rarely the case with most North American airlines anymore). And alcohol is free, unlike with United (who serves "beer" for $3 these days, and … whatever word applies to Budweiser and Miller Lite, for free). Oh, and you can drink anytime. 9am if you'd like. Ahh, Japan. Cultivating alcoholism nonstop.
A beer and some sushi later, we were off to our flight. Our plane (sadly, an Airbus 319 – the 777 with Quadra Smartium seating flies the 12:00 flight, and we were on the 17:00):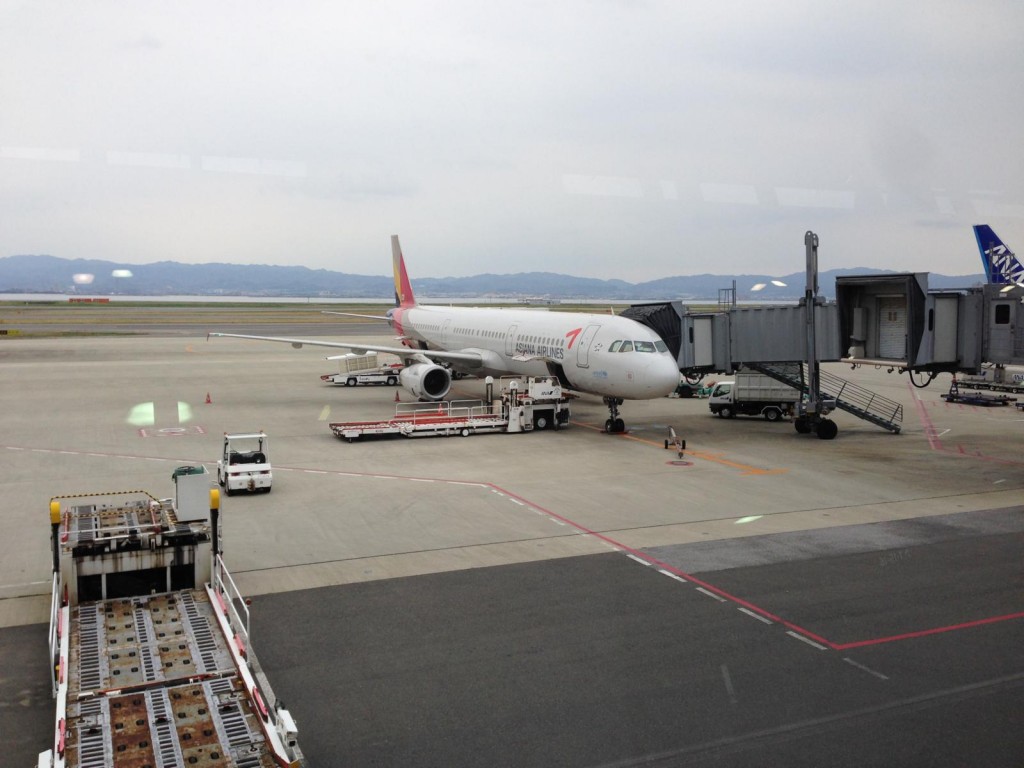 I had seat 2C, which was the first row of the cabin, for some reason. At least it didn't feature European "business class" seating – the seats were decent, though unfortunately, they were recliners. It was fine on this flight, but our flight to Yangon was going to be 6 hours on the same plane, and I wasn't excited to think about it.
Fortunately, the seat next to me was empty, so I was considering moving to it to take pictures of the runway and all the other fun things… but of course, there are always some foreigners to thwart your plans. Behold… the foot woman.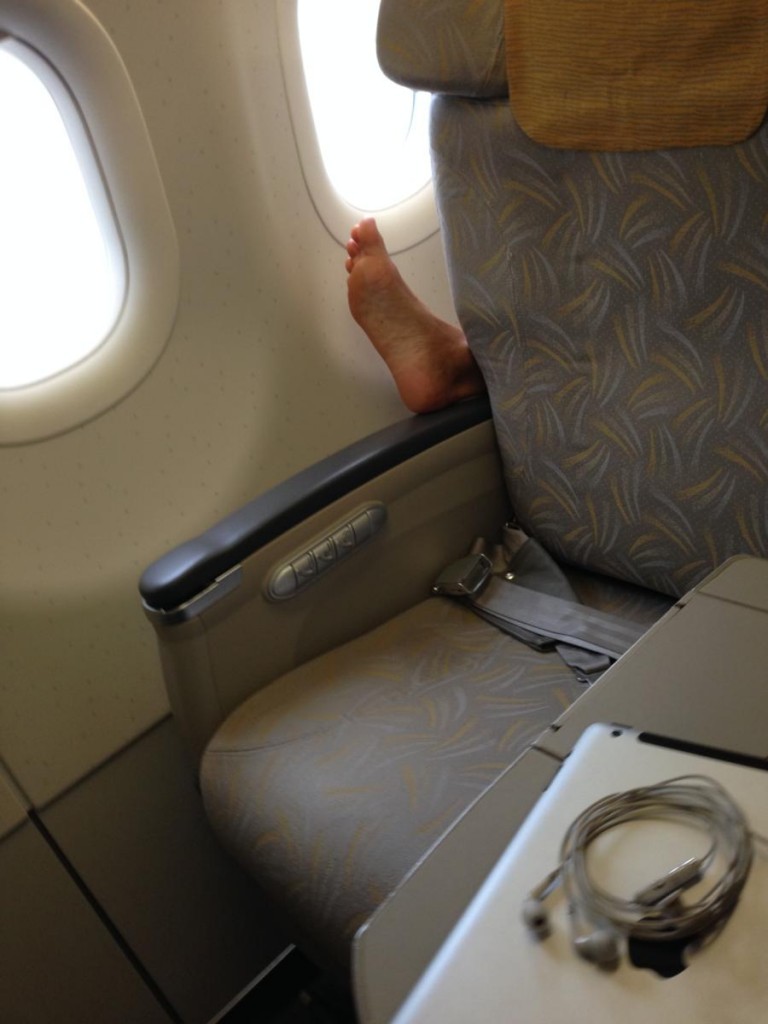 I tried to get my mind off the foot woman when the food came.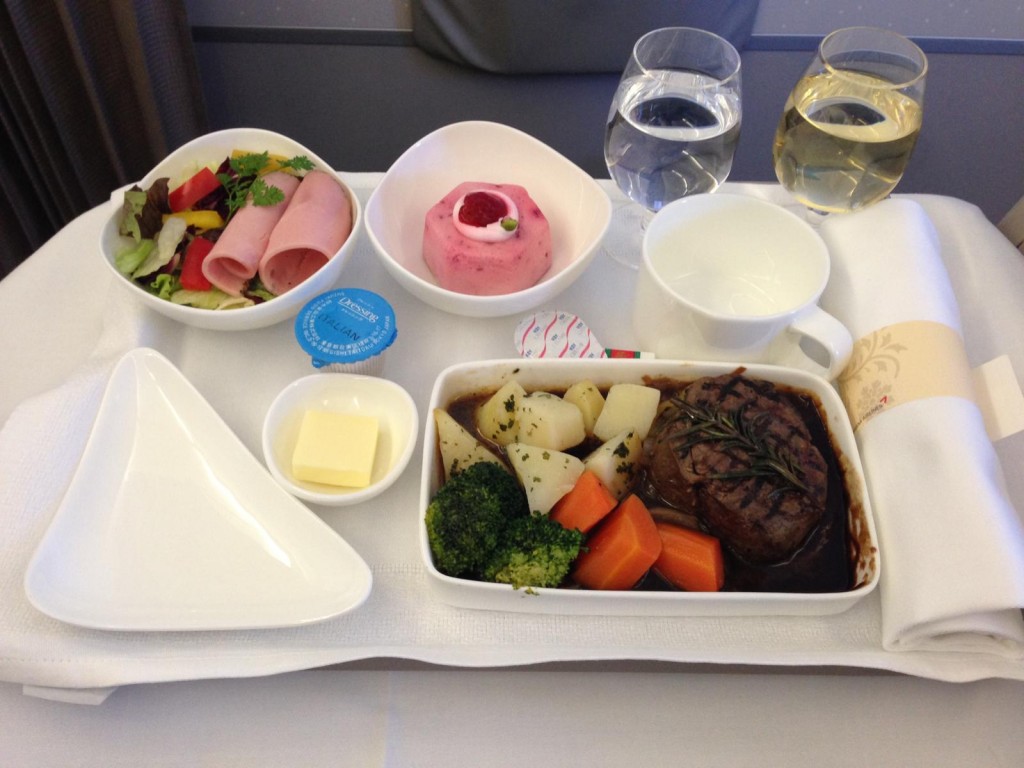 Foot woman put on socks at this point. A rare case where I am grateful for the cabin temperature to be set to freezing.
The rest of the flight went without incident. Foot woman continued to park her foot on the armrest, but I tried to drink myself into a stupour and watch TV, and eventually I succeeded. Plus, it was just barely two-hour flight.
The transfer in Seoul was quick – we made it in slightly ahead of schedule, so we were just in between the time where you can comfortably go to the lounge, and where you need to run to the gate – so we just walked to the gate. At the gate, I saw something peculiar: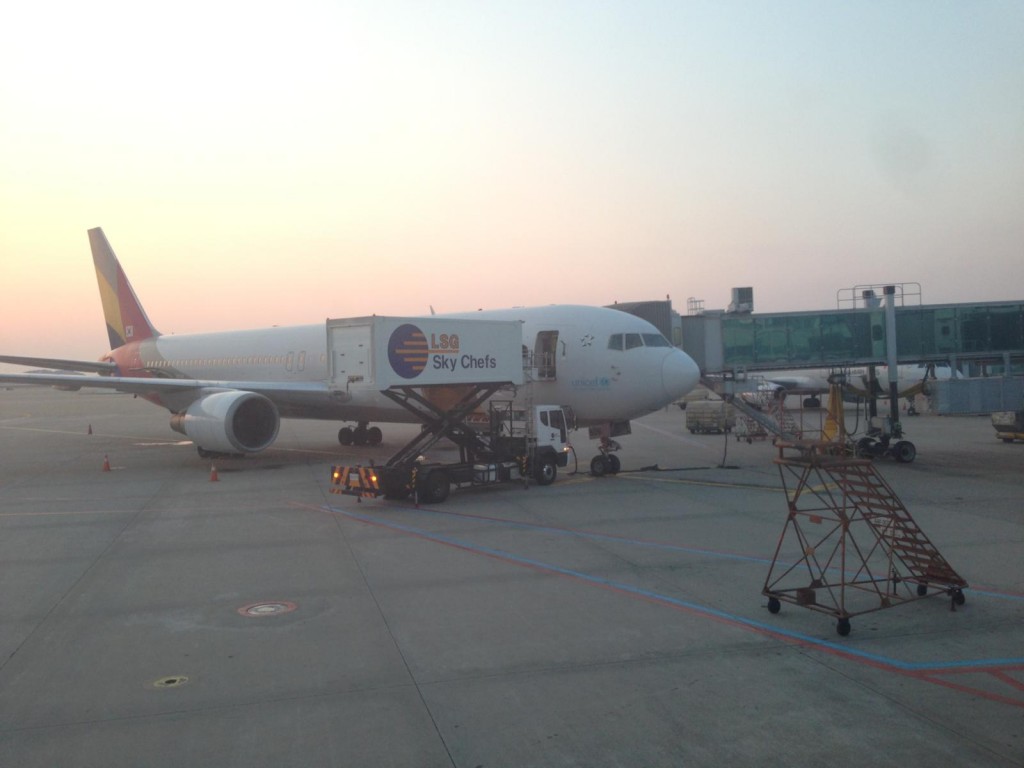 Hmm… this is not the promised Airbus 320. This is a Boeing 777. Of course, I would be mad to think they would put Quadra Smartium flat beds to Yangon… but hey, the seats can't be nearly as bad as on the 319 we just flew… right? Right! This was the weirdest seat layout I've ever seen: 2-1-2, so a single row in the centre. Not near the windows as they often tend to do. In the centre!
Food came some time later. As tends to be the case with Asiana, it was pretty good, especially considering this was a random flight into nowhere.
Eventually, we arrived to Yangon after a completely uneventful flight. It was hot and humid. Interestingly, this was a case where I deeply appreciated being in business class, and therefore literally the first off the plane. This is the customs hall: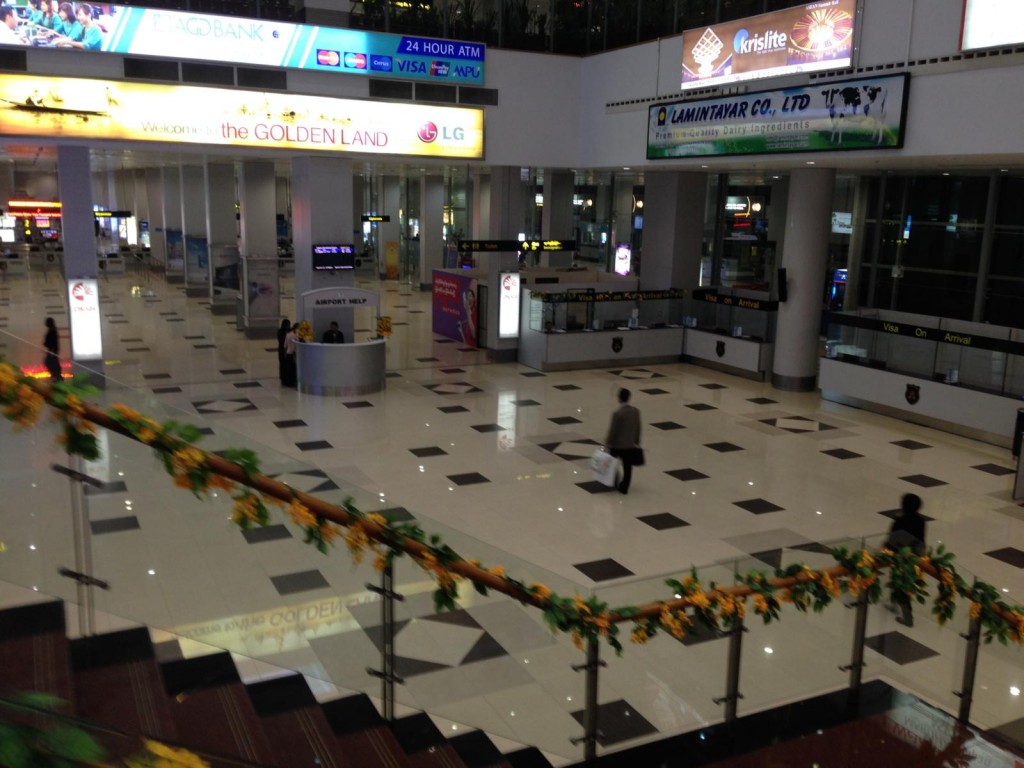 Towards the top left of the picture, you can see the customs gates. At this hour (23:30), there were precisely two employees working: one for Myanmar nationals, of which there were few, and one for international travellers, of which there were many. He didn't seem to be too enthused to be at work at midnight, so he wasn't in a spectacular hurry to verify the passports and visas; he also didn't accept families, so EACH person had to go through the process by themselves. Each visa verification took approximately 2-3 minutes… on a plane with 200 people, you can roughly figure how much time it would take to clear the whole thing. I was overjoyed we were in the first group of three or so people, so we were quickly out.
Our driver was waiting for us, as was the travel agent who had our tickets for our onward journey. Quick background: when I was looking for things to do in Myanmar, I found that Bagan, the city of a thousand temples, was barely an hour's flight from Yangon. Furthermore, Yangon was not recommended as a long-term tourist destination – the Schwedagon Pagoda was a beautiful sight, but between that and a few other things, there wasn't much else to see, so time should be spent exploring the rest of the country. Being as we only had five full days (plus two days for travel in/out), I decided Bagan would be the right second destination. Since you cannot purchase internal air tickets online (some attempts by carriers are being made, but they are somewhat haphasard), I had to book through a local travel agency, and they told me they would meet me at the airport to give me the tickets once I pay. I was requested to bring $650 in brand-new, crisp $100 USD bills. I was specifically warned worn bills, crumpled or folded bills will not be accepted. What I didn't click on was the whole "delivery of tickets" part – I assumed that the only purpose was to actually hand over the money so that my etickets would be issued. I forgot which country I was in. This is what was waiting for me: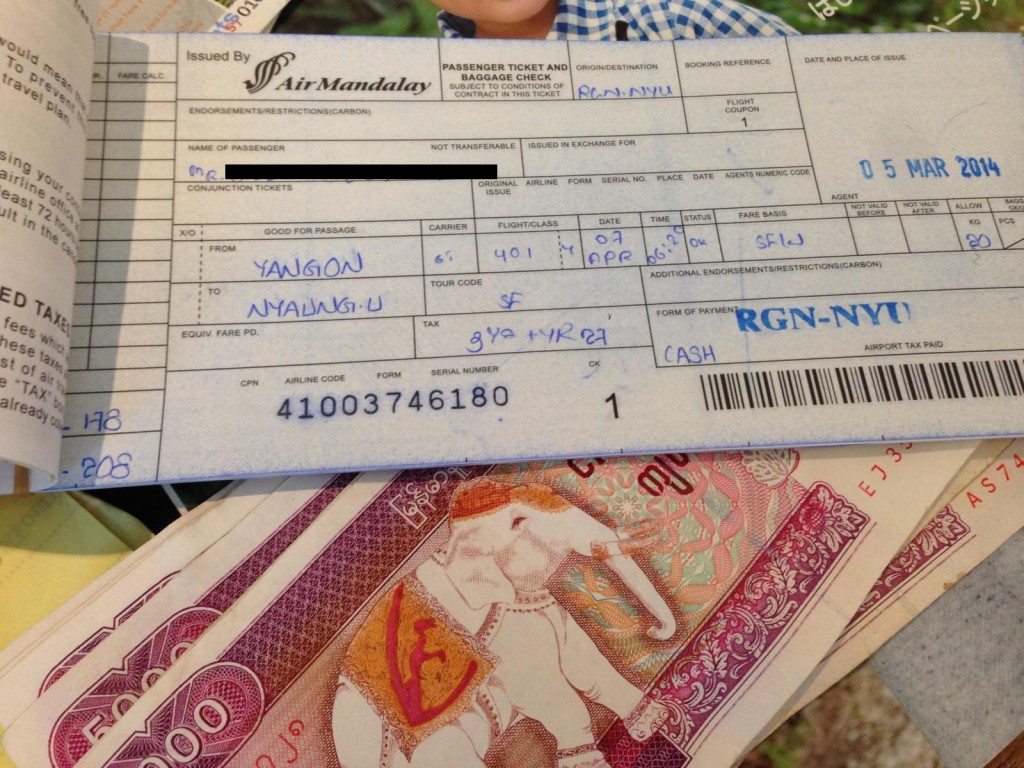 An exercise in complete awesomeness. Paper tickets, handwritten. I felt a throwback to circa early 1990s Eastern Bloc airlines. This couldn't get any better.
I also exchanged some money, and suddenly felt extremely well off.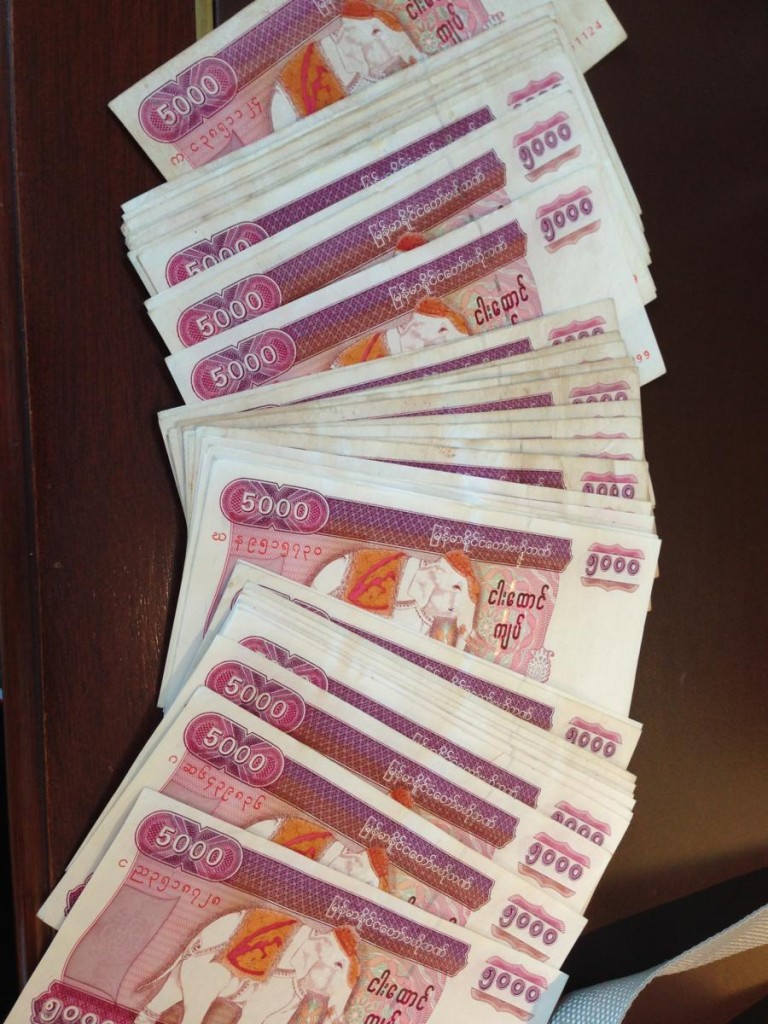 Strangely, the whole thing about crisp, new bills didn't seem to apply on local money given to us.
At this point, we headed to the hotel. Interesting observation: premium hotels have metal detectors on entry, where every single person has to pass through. Bags are checked, and when we brought in our suitcases, we were asked to remove a knife we had purchased in Japan (!) – it would be kept in separate storage for us until the day we departed. Security is taken very seriously, particularly in spots that foreigners visit. I can't say I do not appreciate it (although to be fair, being scanned by metal detectors and asked to remove knives from suitcases at midnight does have a certain annoyance factor).
Next up – our day spent in Yangon. I have to moderate the length of the posts, as I came back with just over 6,000 pictures from this trip; so I will do my best to contain the photographic diarrhoea, so I do apologise for the impending length in advance.