After a wildly busy day in Yangon, I was fully expecting a no less busy day in Bagan, considering that beyond sightseeing, it actually contained, you know, flying there. For some obscure reason, all domestic flights from Yangon leave between 6:00am and 6:45am. (and there are like, 6 of them). And all domestic flights come back around 5-6pm. One would think that, you know, considering tourists are likely to have flown in late the previous day, and considering the (lack of?) volume of domestic flights, it wouldn't make a difference whether they left at 6:30 or, say, a more humane 9am. But no. Everyone, out, early. Fortunately, everyone is used to, so the hotel prepared breakfast boxes for us, which was really cool. We had breakfast included, sure, but typically kitchens open at 6:30-10:00 or so, and if you don't fit in those hours, well, too bad. So it was a nice gesture of them to actually prepare takeaways for us: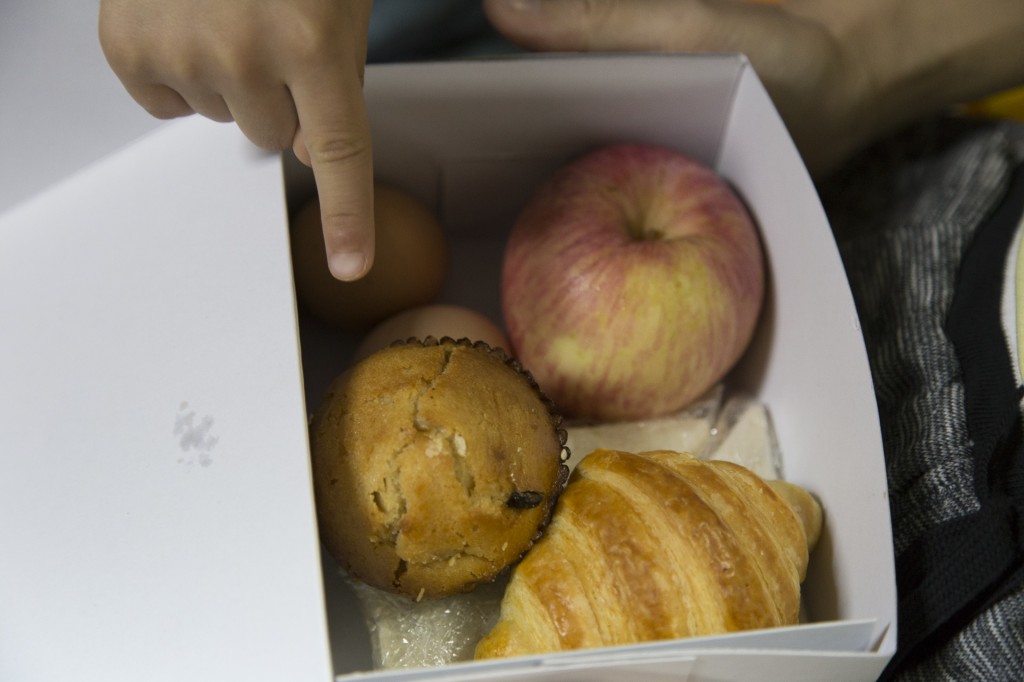 Nothing extravagant, but sandwiches, muffins and juice. Works for me.
Off to the airport we went. Of course, as usual, we were delayed getting out of the hotel, so our driver looked a little bit stressed, and he drove fast. He had a weird Toyota Crown converted to run on propane gas (dual-fuel, in fact: he had a normal gas tank, and a propane gas tank, and he could switch with the flick of a button, which is kind of cool), and he flogged that thing as fast as it would go. Peculiarly, Yangon roads are actually fairly wide, and when there is little traffic (which is only around 5am), stuff happens pretty fast. Next thing you know, we were at the airport. I was finally about to get what I came to Myanmar for in the first place… a dose of "local" air travel.
The domestic airport terminal was very different from the international one. Excess baggage had to be weighed: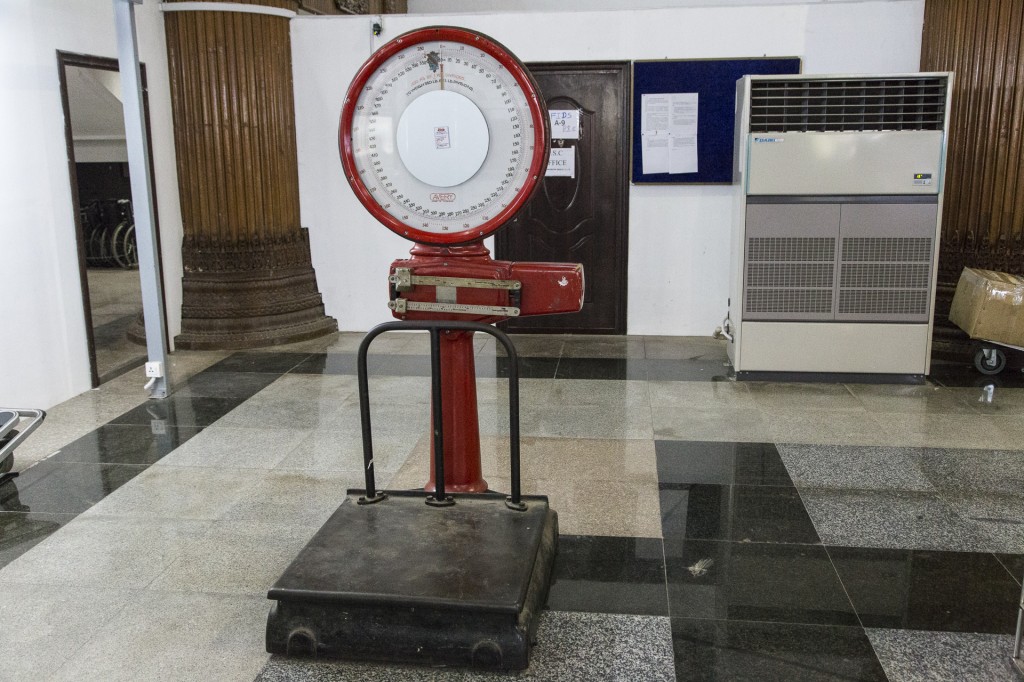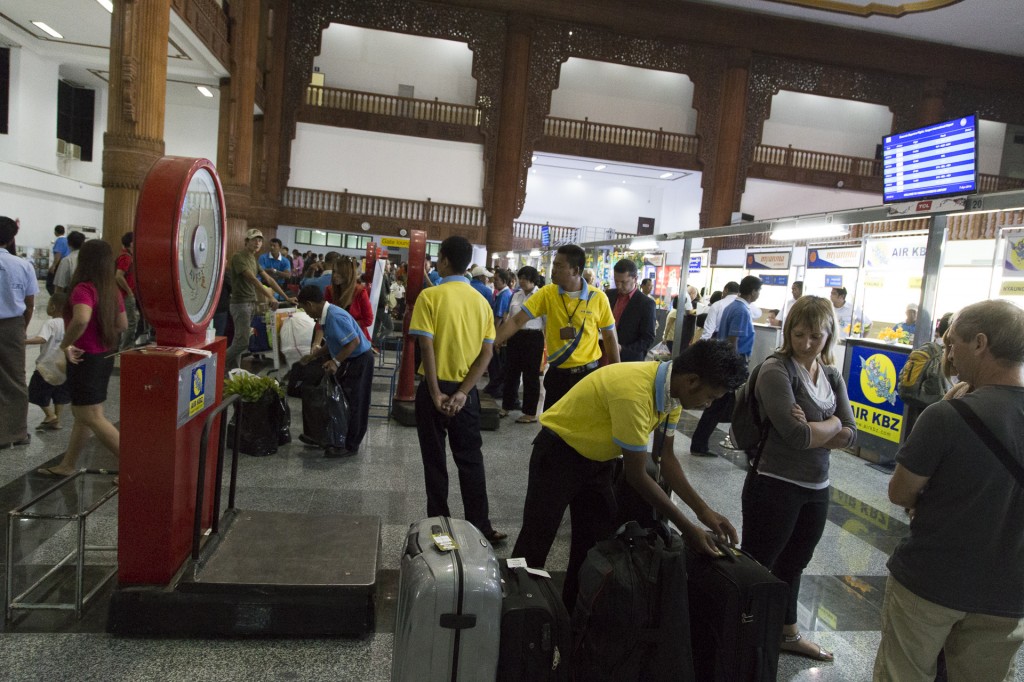 Checkin counters had orderly lines: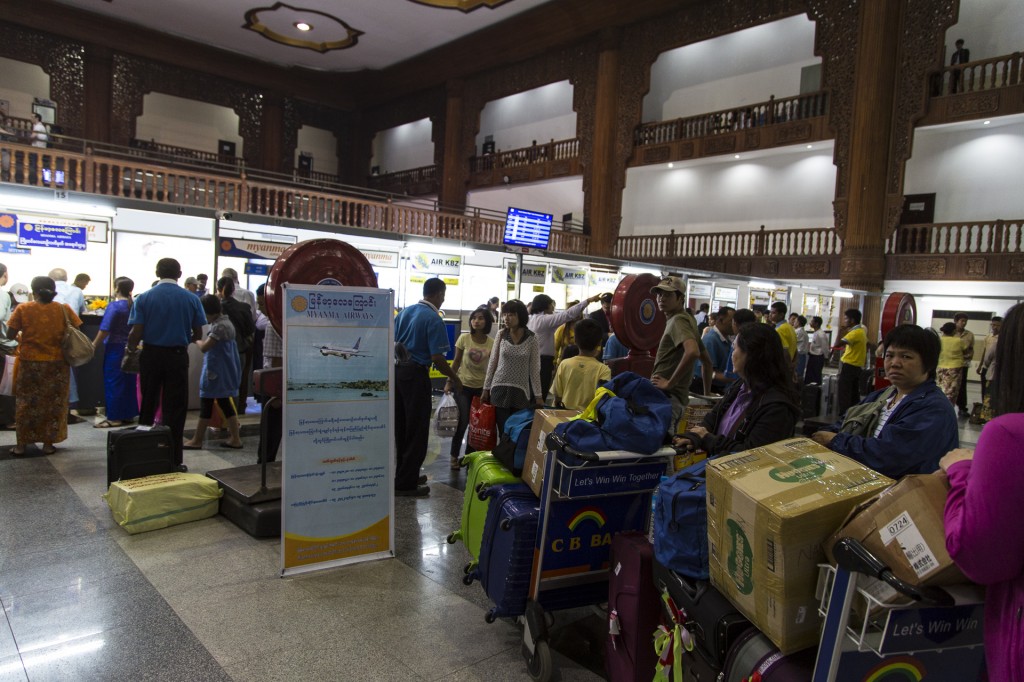 We found our checkin counter: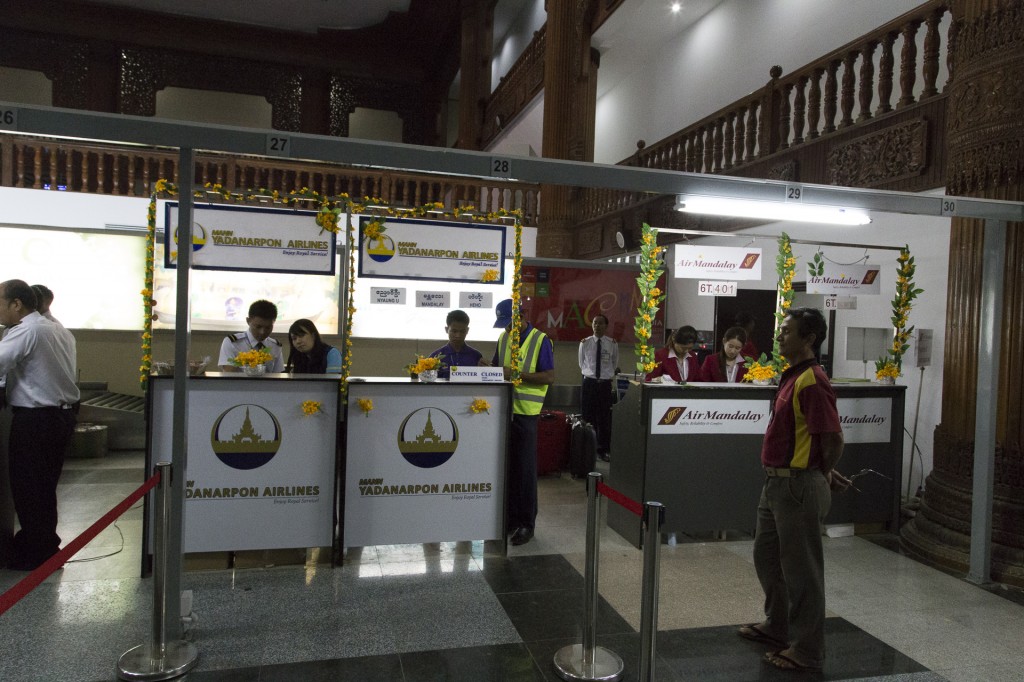 Remember our paper tickets? We showed them, and got boarding passes that in no way detracted from the experience. E-boarding passes? Right.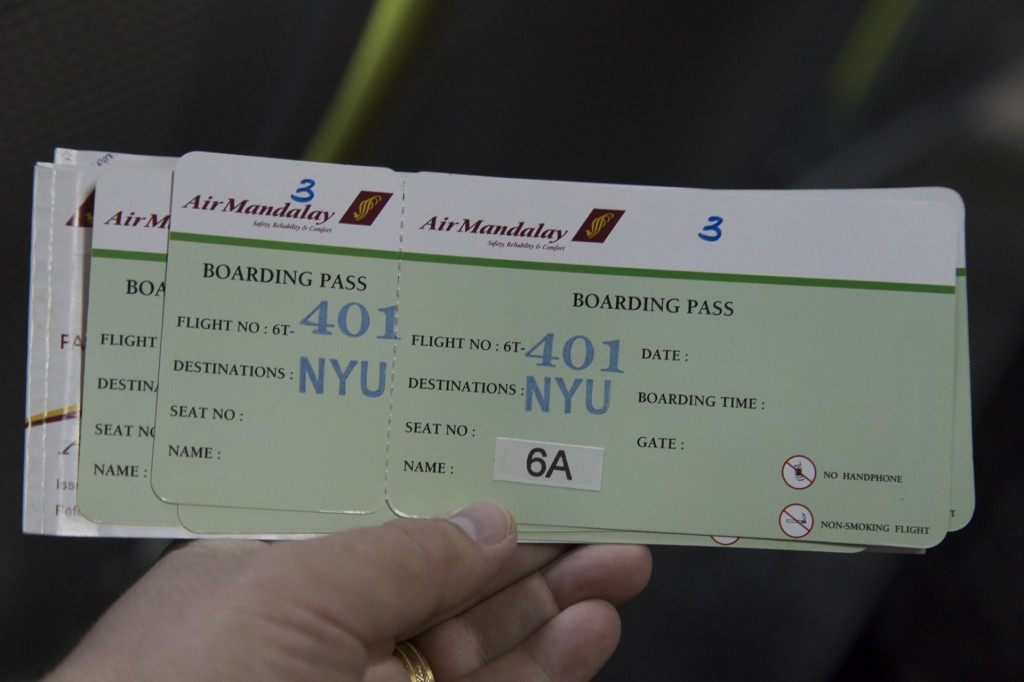 Pop quiz: what's missing from the BP? No, not the date.
We went through security, where the haphasardness continued. I was asked to throw away all water. I asked if the juices we received from the hotel were fine, and was told that they will be perfectly okay. We went through security, not one question asked, and when I went to the convenience store inside the "secure" area, I couldn't find a single bottle of water – but there was plenty of juices for sale. This left me completely baffled, so I went to sit in the departure "lounge".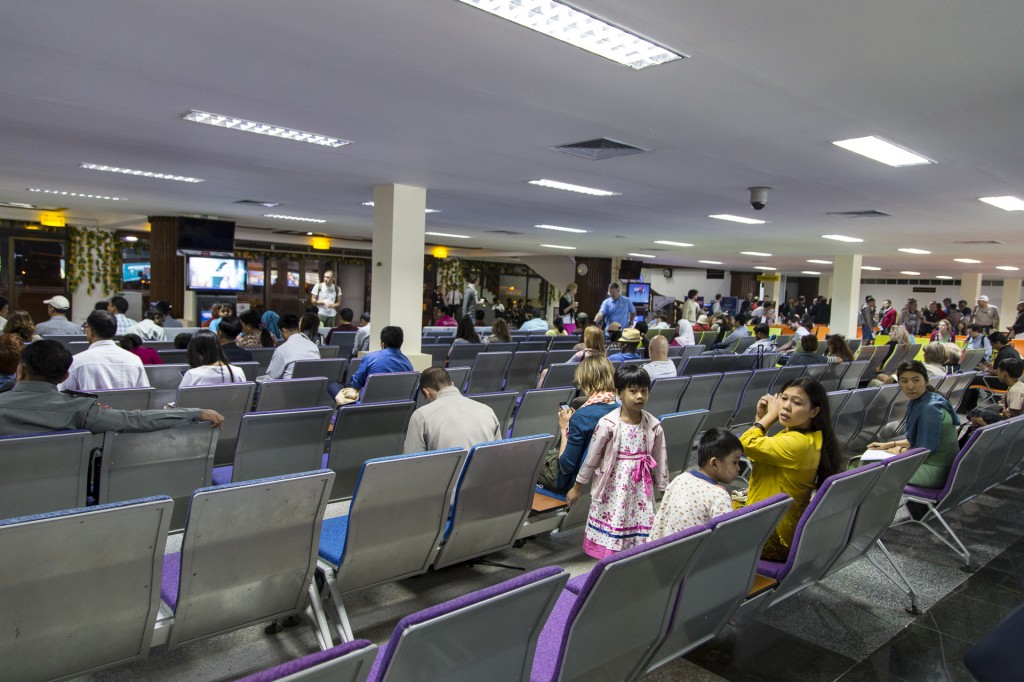 Watching TV, I realised not only first-world-nations were subject to Windows problems.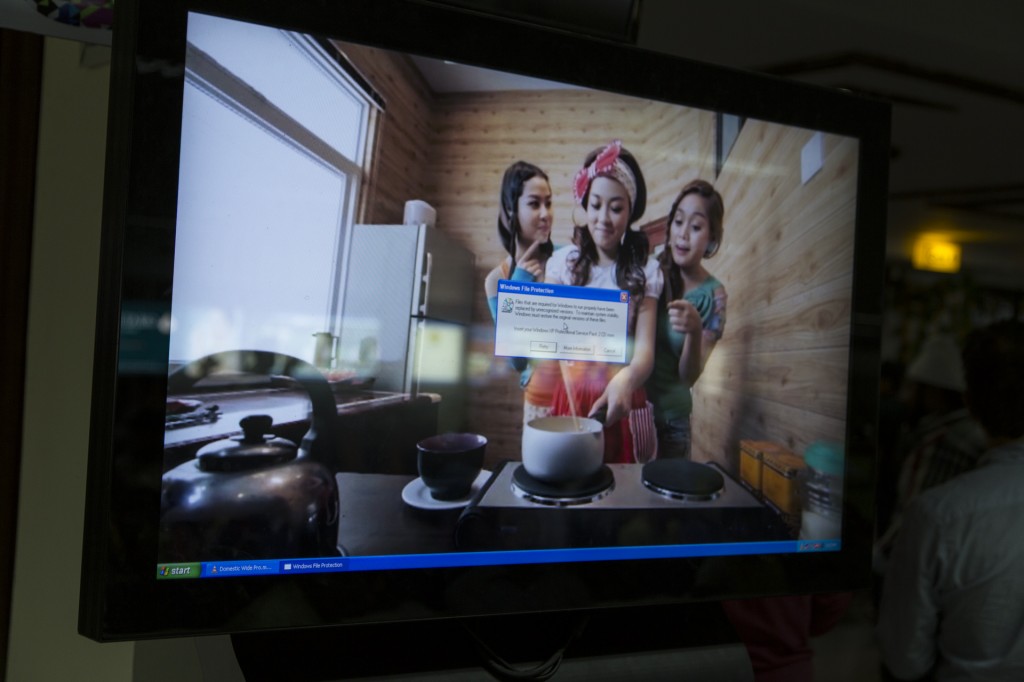 The controlled chaos continued when boarding was announced. We were shuffled into these buses: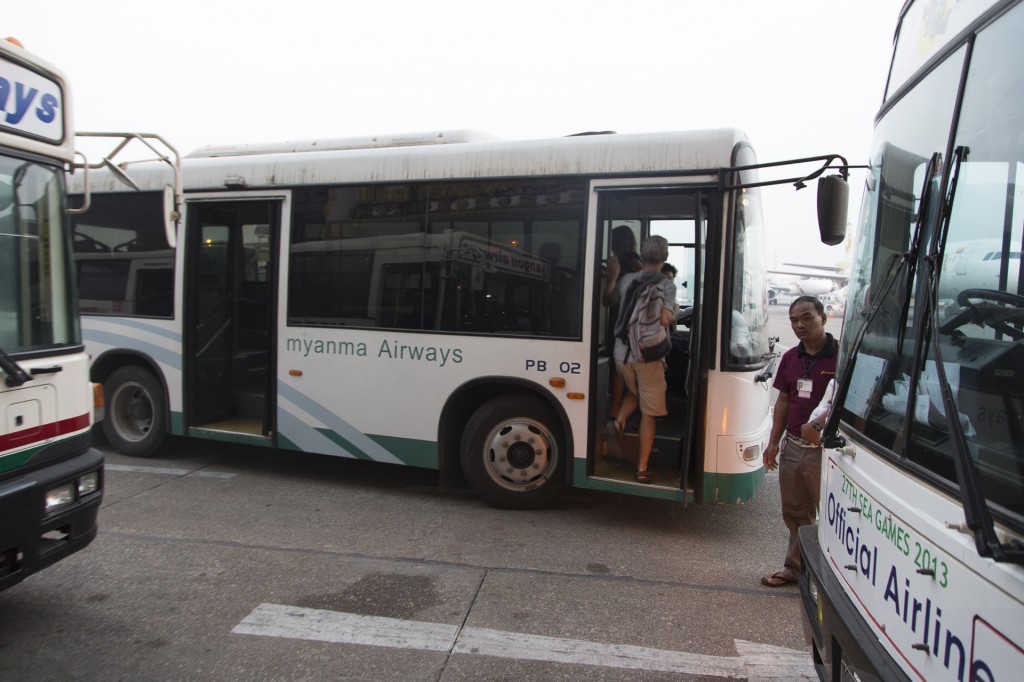 Went on to drive to the planes, which were seemingly completely randomly parked on the apron:
The bus driver didn't even bother to close the doors:
The actual airport terminal that we left from was actually pretty nice, when seen in retrospect: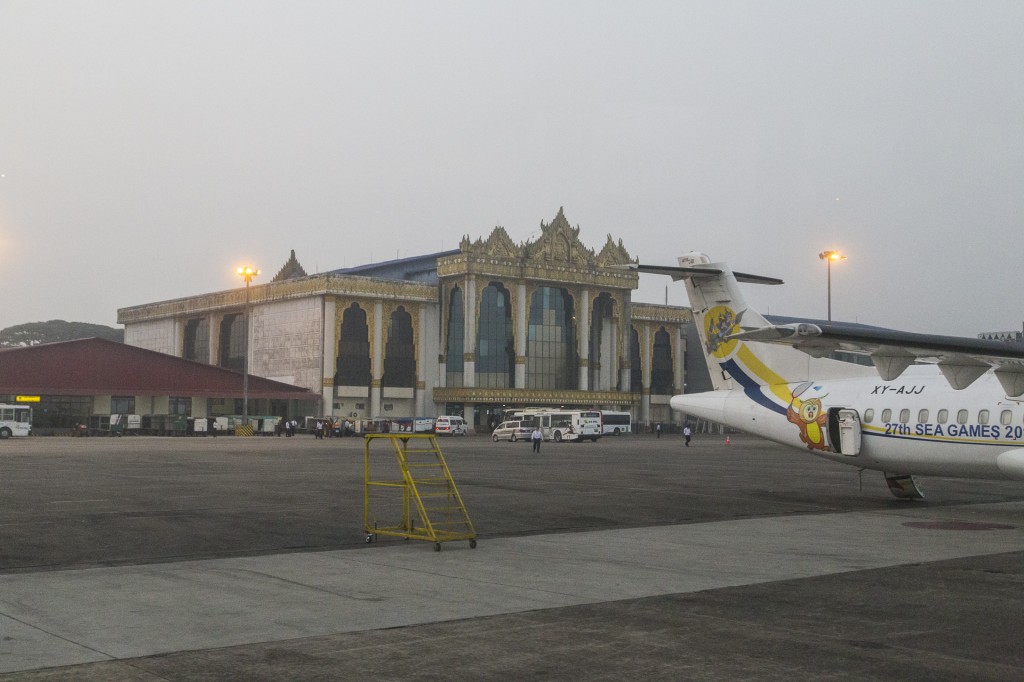 Reasonably orderly boarding onto our ATR-72, in service as of October 1995, where it was in the hands of a now-defunct airline for a year, went on to serve Alitalia for ten years, before landing in Yangon.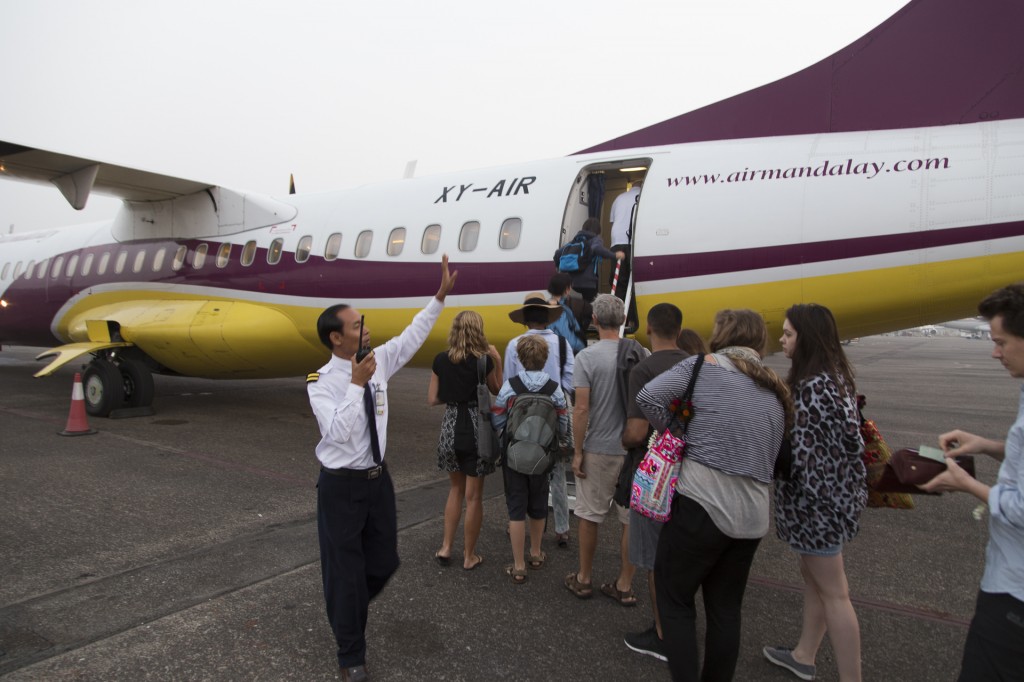 Interior shot of the plane: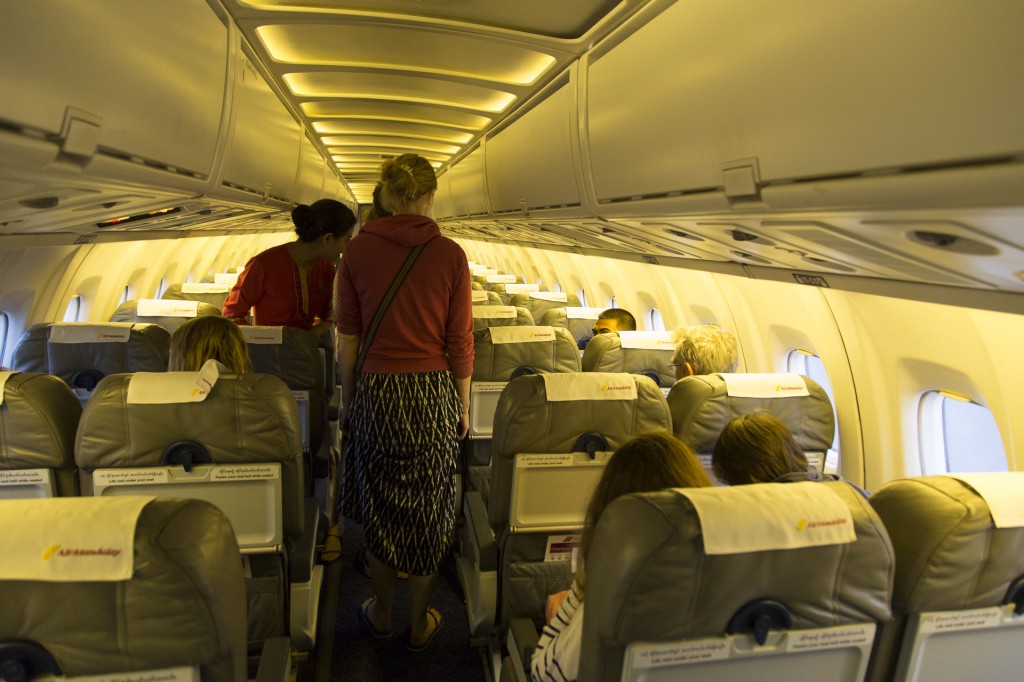 The age of the plane showed in the windows. That is, in the fact that I couldn't really see anything through them.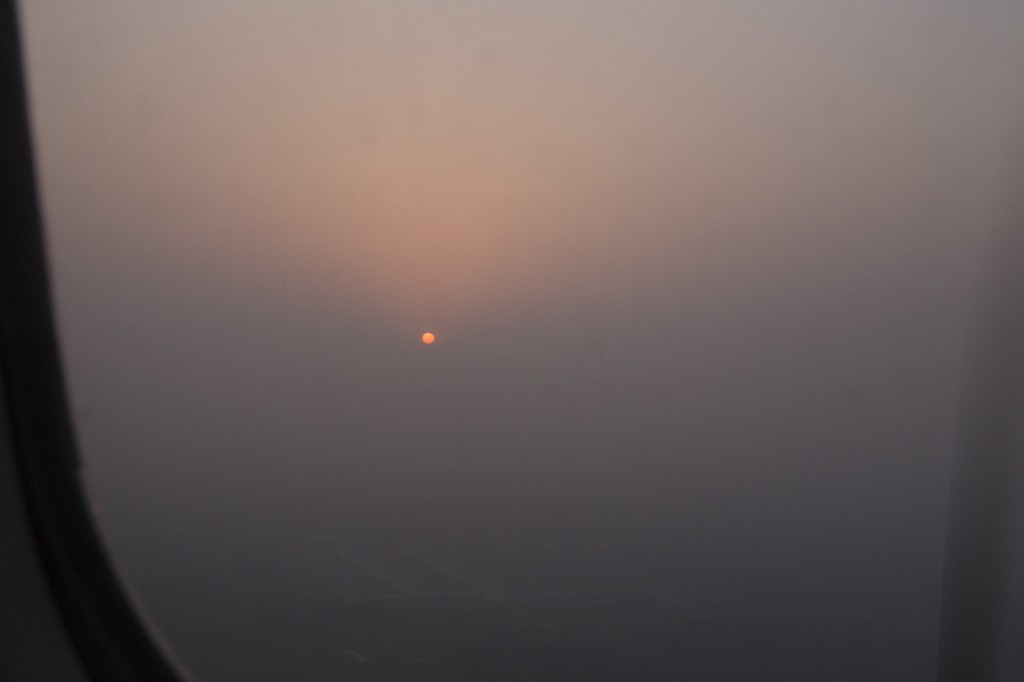 A tiny bit more was visible on arrival to Bagan.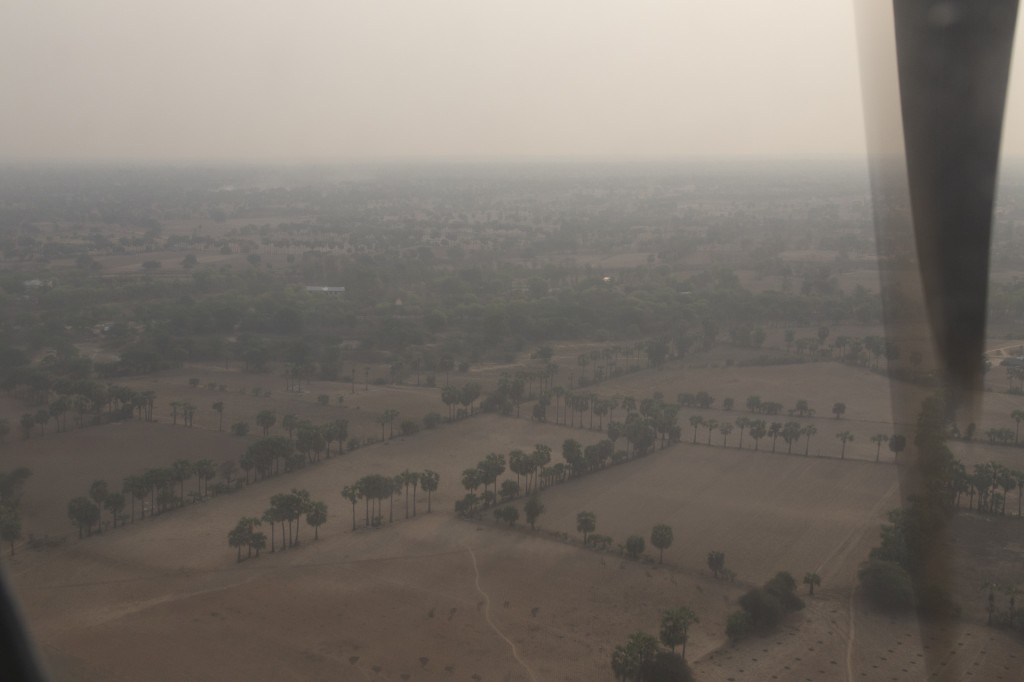 Bagan airport main (well, only) terminal building: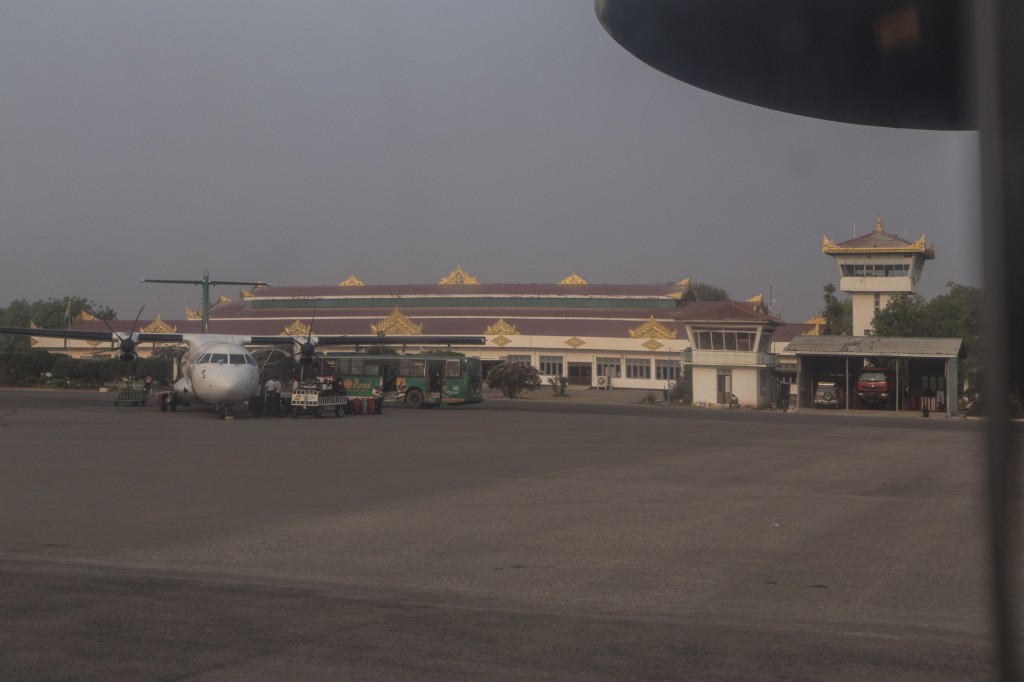 Baggage transport: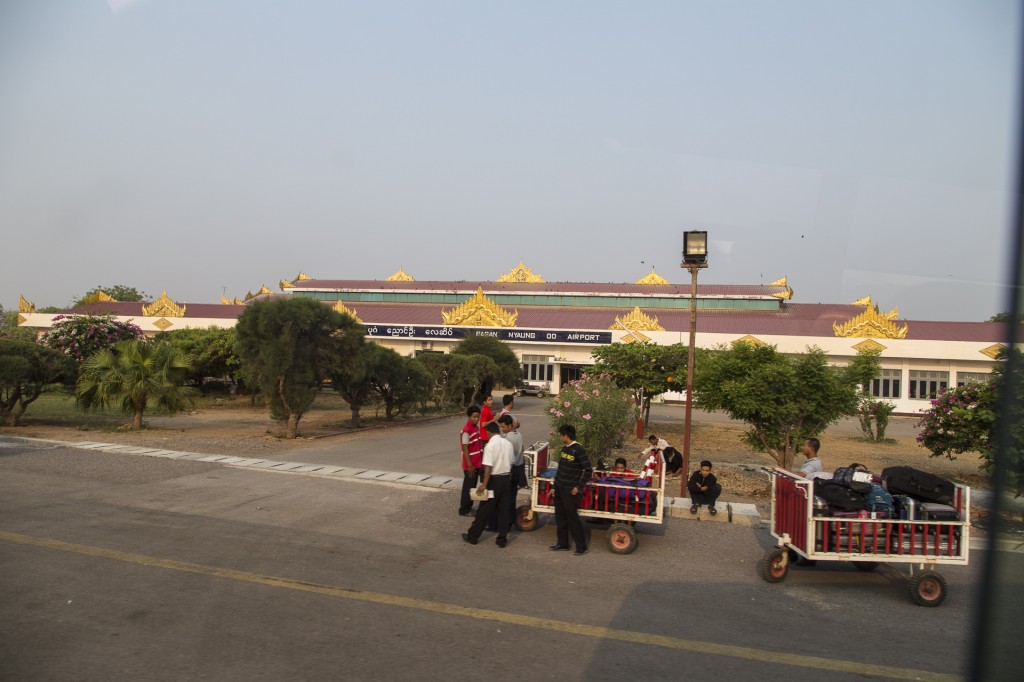 Passenger side of the airport terminal: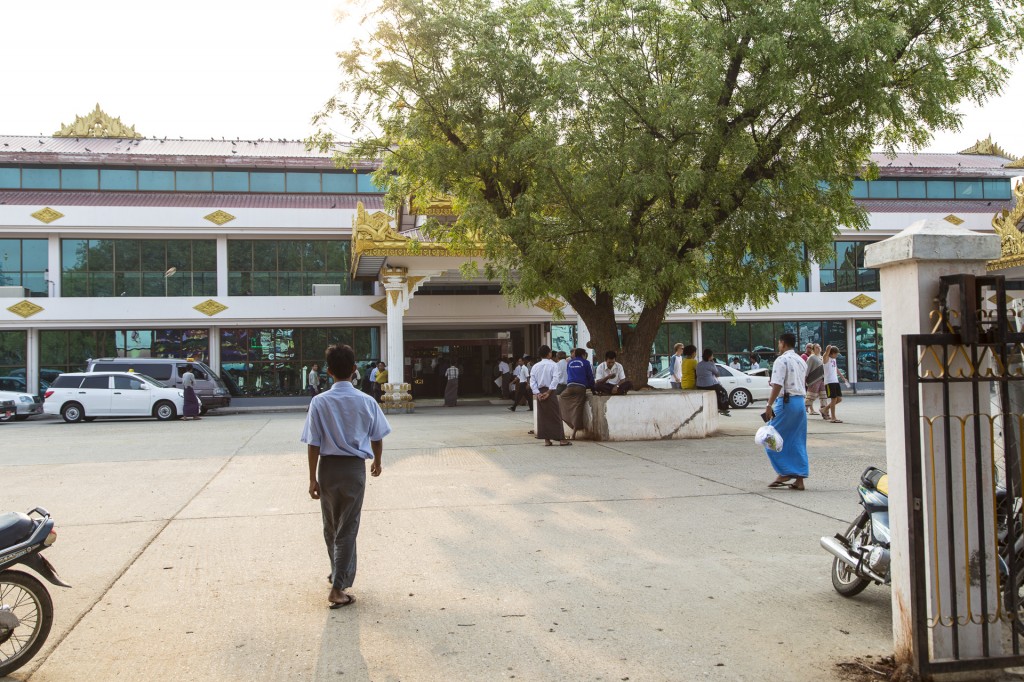 Now I was getting somewhere. With the Lexuses and GTRs in Yangon, I was almost becoming disappointed with Burma – after all, I didn't come there for car spotting. I came for the rustic, rural landscapes…. and finally, in Bagan, I got them.
Our hotel was a nondescript building on the outskirts of the city. I knew it was well-rated, but the strange white wall and the tropical corridor into the checkin area didn't look all that promising…
… until we checked in and went into the main area, at which point I was a little bit floored.
There was a completely stunning swimming pool, too:
Which was, apparently, so clean that it was tested for drinkability. Or something.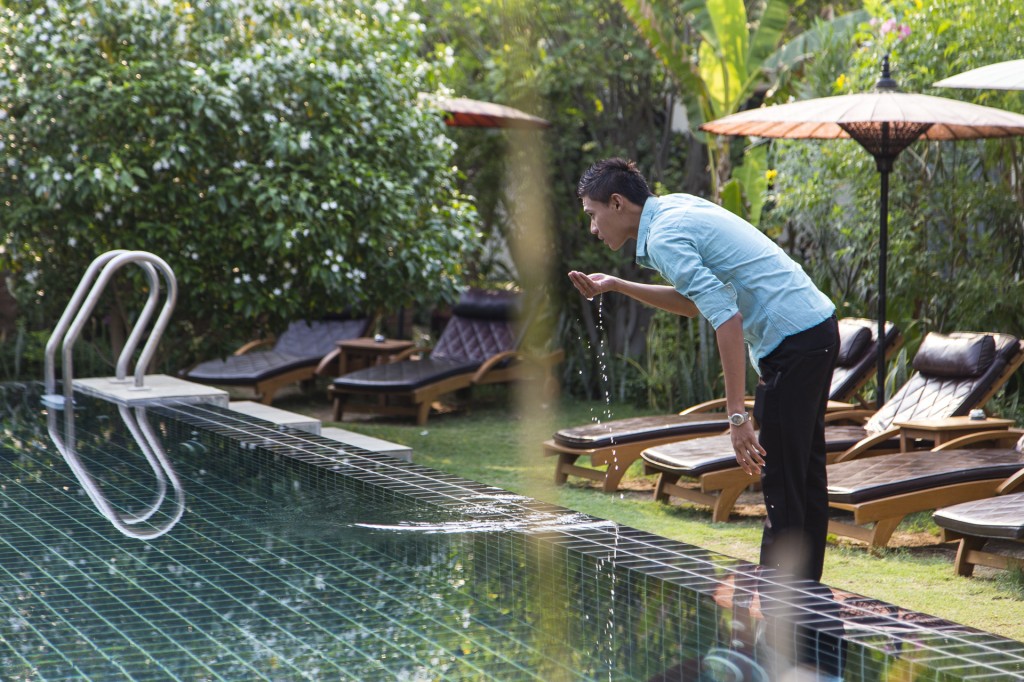 The corridor to our room: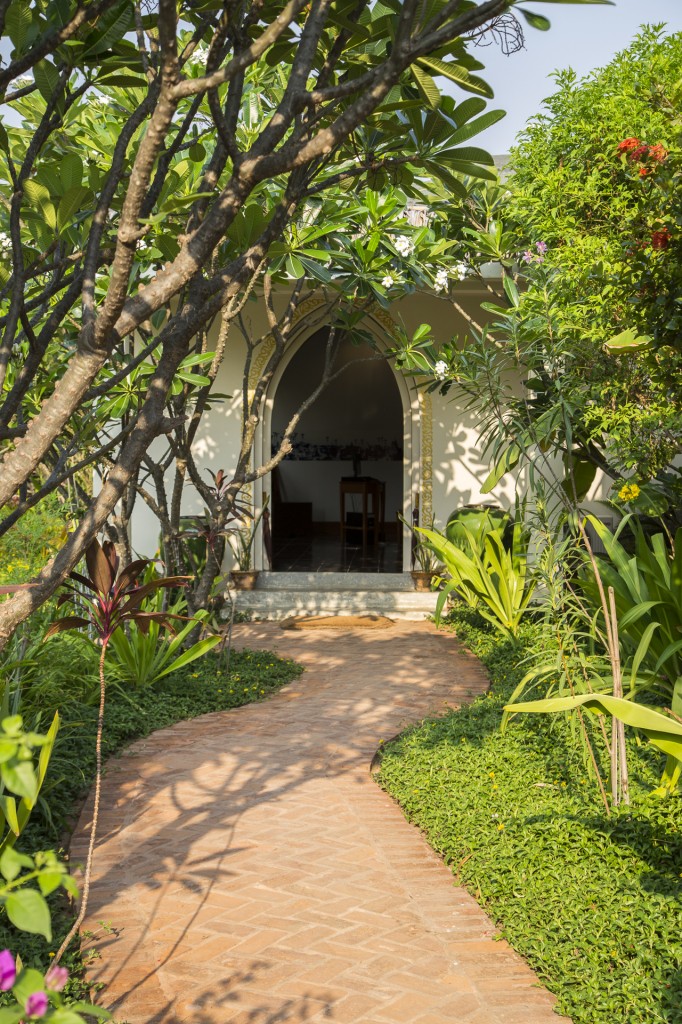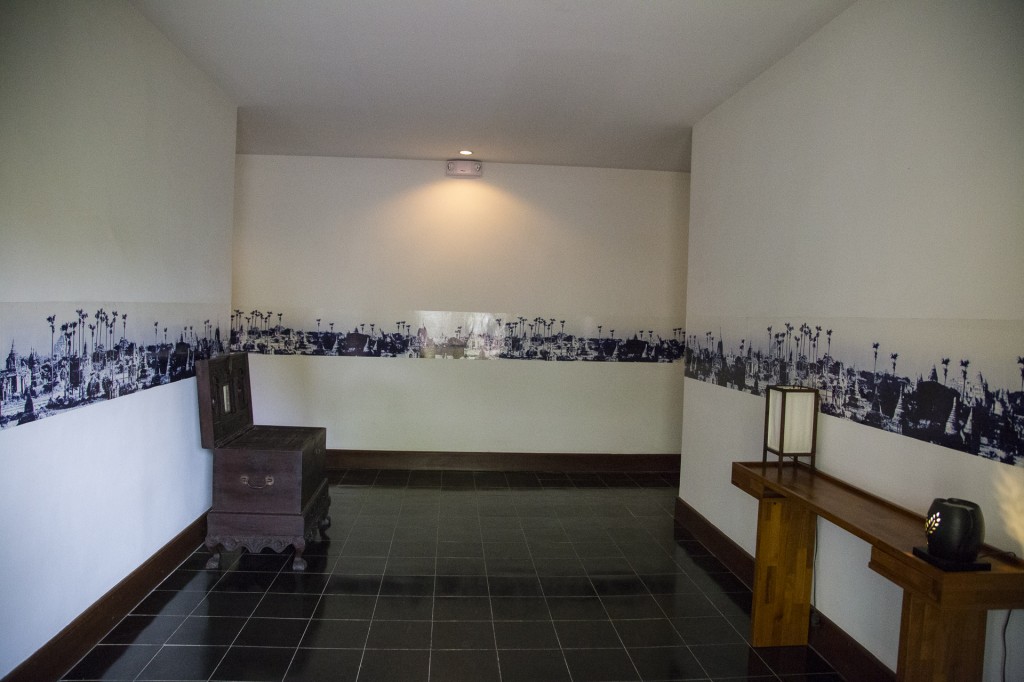 … and our room itself.
The very safe-looking safe deposit box.
A pretty unique rain shower, which is more like "waterfall shower".
When you travel through this many countries on one trip, you end up with a stash of money from a whole bunch of places: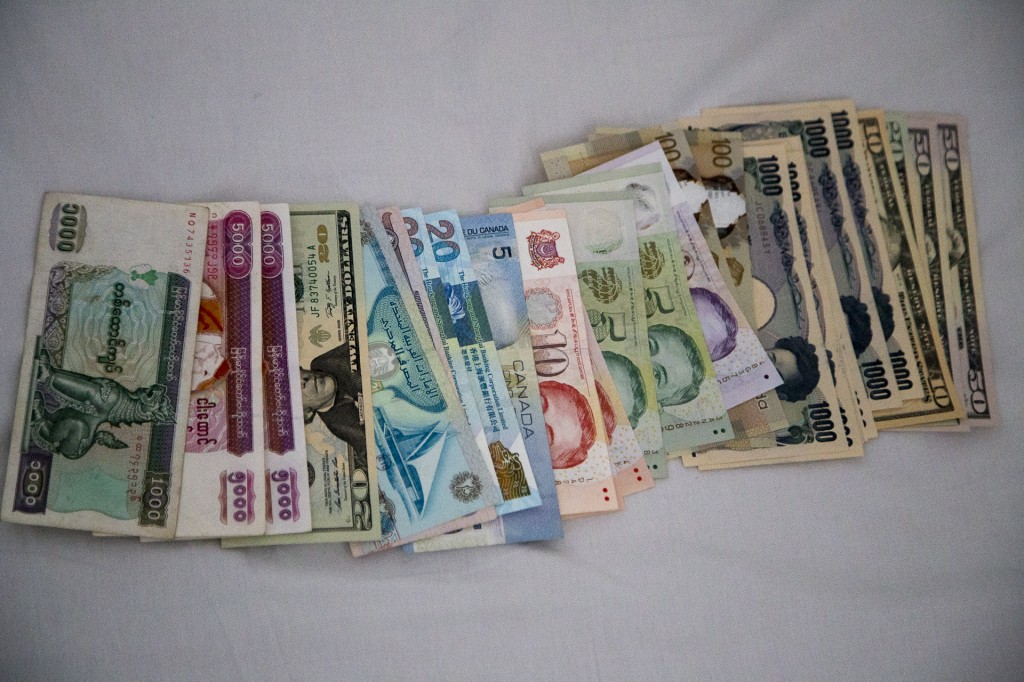 Finally, we went to grab some breakfast. It wasn't nearly as extravagant at Traders, but it once again completely surprised me by how good it was – and their "fresh juices", were, unlike in hipster North American restaurants, actually fresh. I was very, very impressed with Burmese food to date.
After this, we took a break, and readied ourselves for a full day of Bagan sightseeing (since it was only 8:30am at this point).
More in the next post!