One of the things I am a strong believer in is that opinions should be expressed with at least some factual backing to them. A number of years ago, I went to the Cook Islands, which I thought was one of the most beautiful places I've ever been to – particularly the lagoons of Aitutaki and Rarotonga. To paraphrase Top Gear Grand Tour, I've had literally thousands of people ask me since: "Well, which one is better?" I've always took the position that the Cooks was "like Tahiti but with less tourists and at a tenth of the price". Of course, people would then ask: "I see, but have you been to Tahiti?" and all I could do was say no – it was based on factual Internet research. We all know everything on the Internet is always true, but at some point, this dialogue got old; so I decided to fix it… and went to Tahiti.
Boarding an exciting Air Tahiti Nui flight, it was 10 hours of sitting in the baggage hold economy with some other starry-eyed vacationers. I managed to sleep through most of it; I was visited a few times by my family who had pity on me and came over from the passenger compartment to deliver me some snacks and other nourishments while I had to eat nondescript fare. All was ultimately well, though: I was on a trip to prove my theory either wrong or right, and this is all that mattered. 10 hours was a small price to pay. (I am really not focussing on the return here. Let me bask in my fantasy for now).
You can see the starry eyed happiness in the eyes of these weary travellers.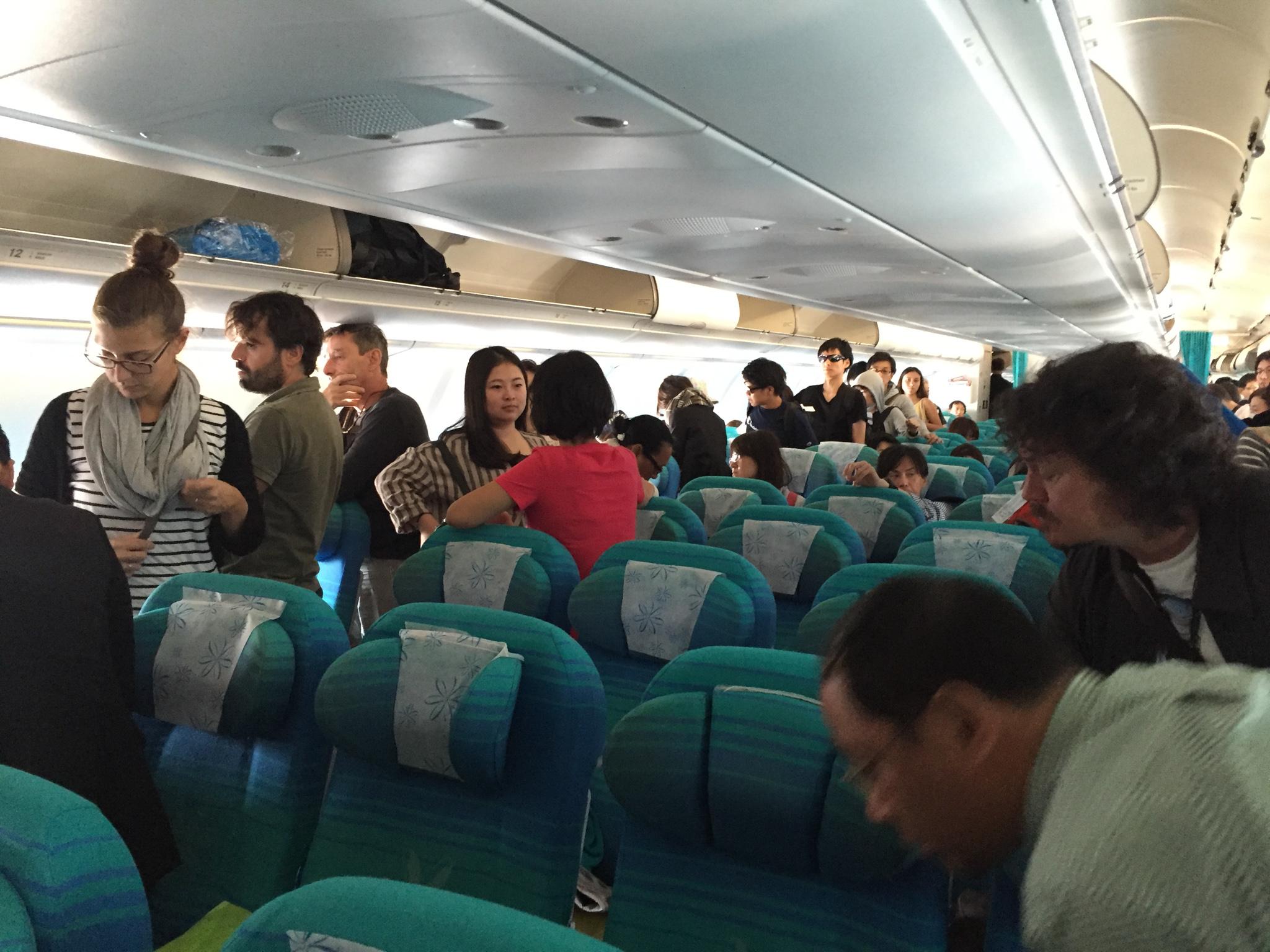 The longhaul flight arrived to Pape'ete, the capital of Tahiti, and we had an immediate connection to an onwards flight. I didn't want to spend time on the main island for the first piece of the trip – I had a day scheduled there on the return, so we'll come back to it. We got off the plane (no jetbridges here! exercise them feets). The blue sky was absolutely spectacular. Maybe it was my eyes getting used to the drab green interior of the Air Tahiti Nui plane, but it somehow felt bluer than it must've been.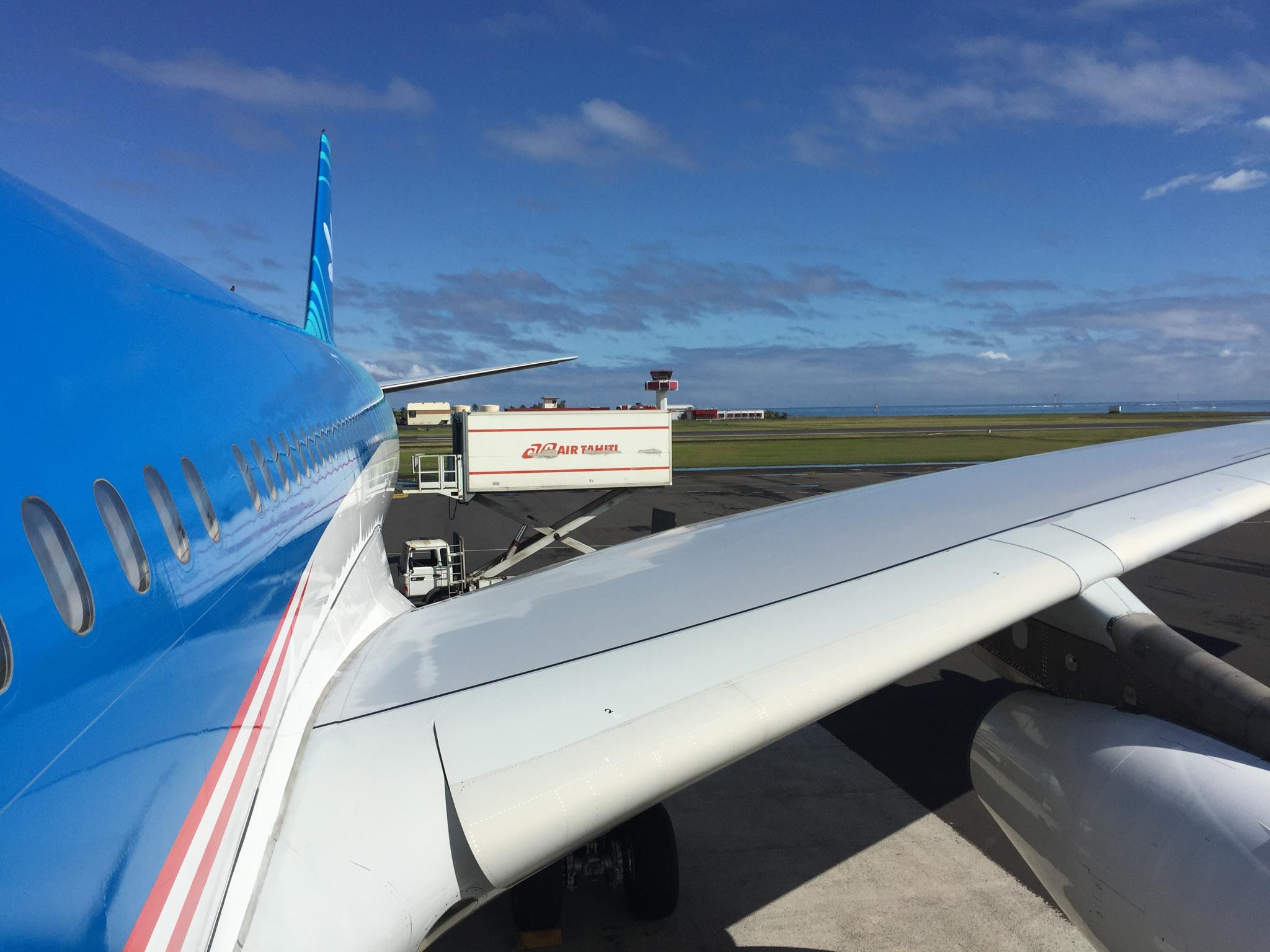 Another shot of the pretty plane and the staircase for the rich people.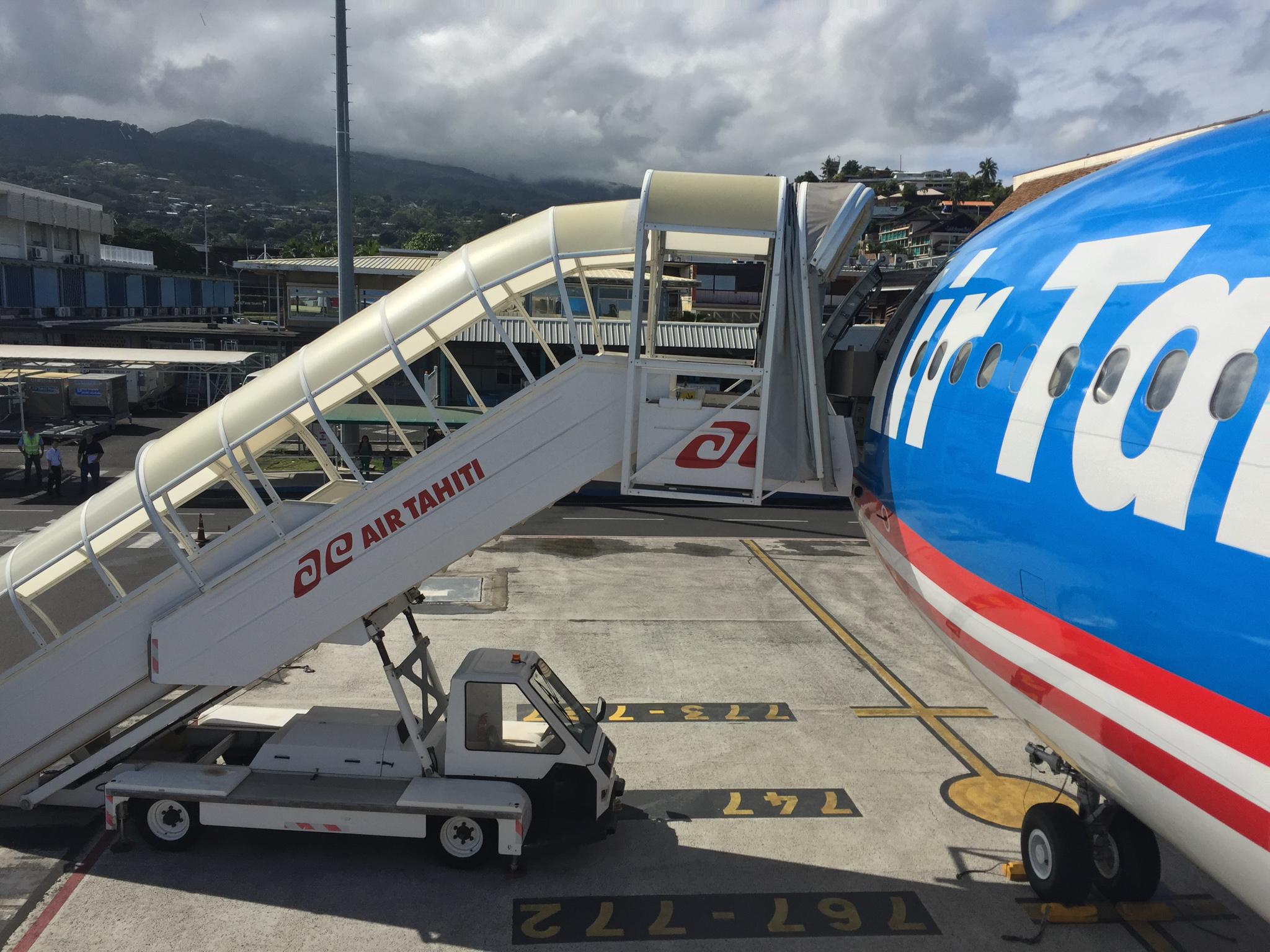 Once again, look at the happy rich honeymooners. Feel compassion for them, for some of them probably went into deep debt to take this flight – I've literally heard of people borrowing money to go to Tahiti on their honeymoon!!!!!!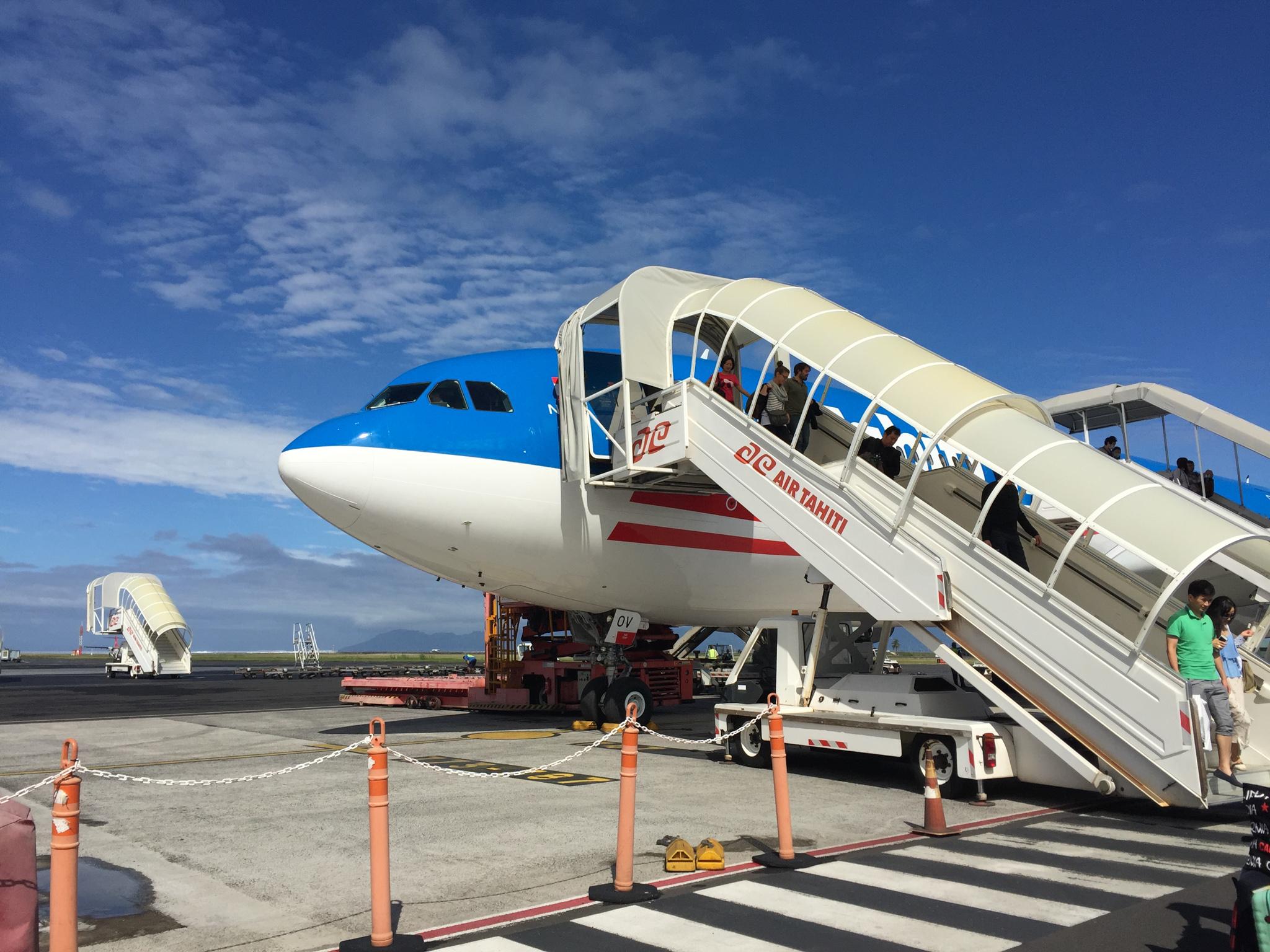 Entrance to Faaaaaaaaaaaaa airport with the mandatory Polynesian welcome posse.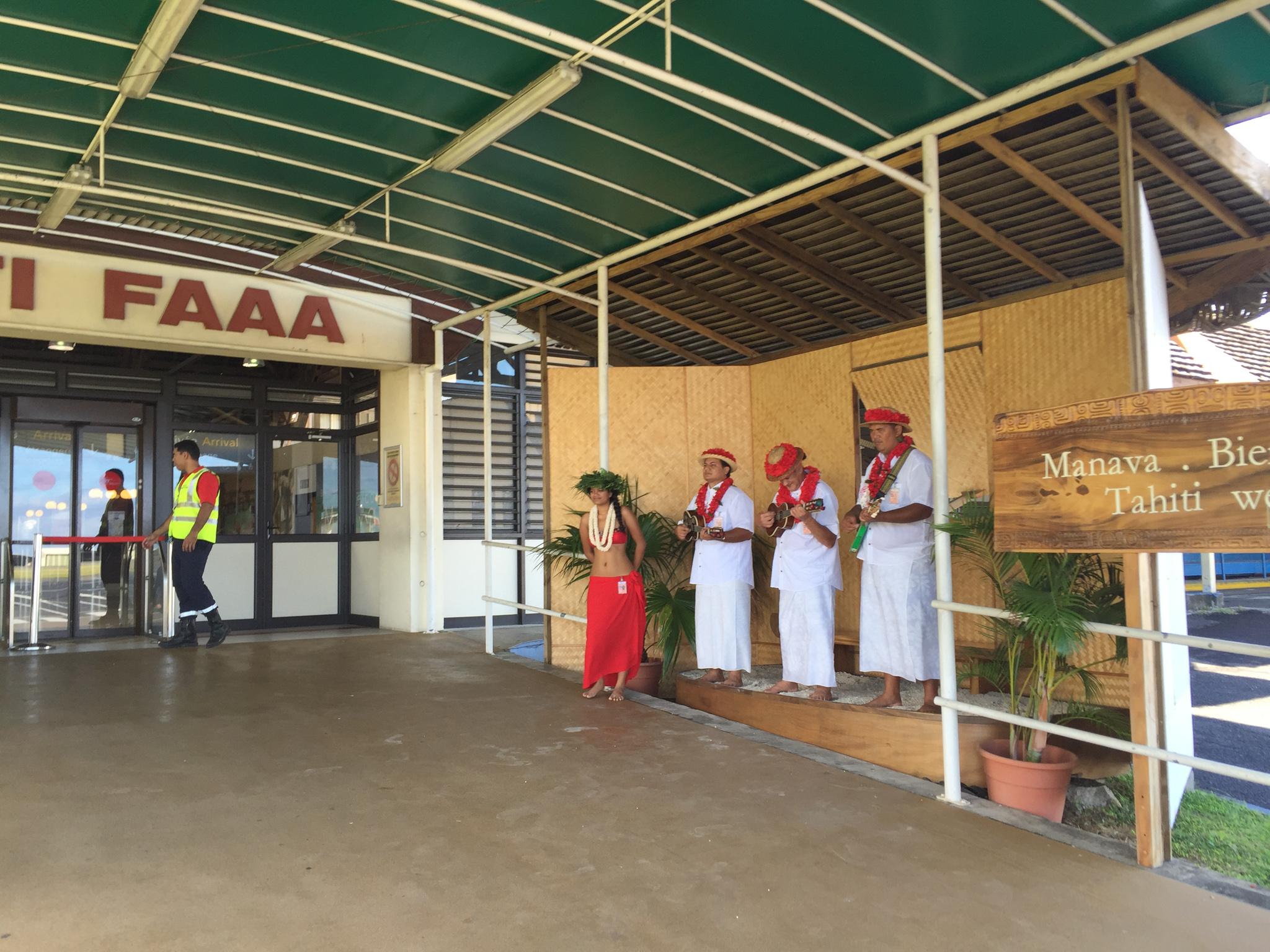 As I mentioned, we were spending only a short bit of time here (something along the lines of three hours) because our destination was the next island – Mo'orea. So we basically sat in the airport waiting area and had random sandwiches. There's absolutely nothing to do in Faaaaaaaaa airport besides that, so I don't even really have pictures of the place.
Soon enough our boarding came up and we were off to the next flight! I was mega-excited about this one because this was going to be the shortest commercial flight I've ever flown in my life: 15 minutes (of which only about 9 mins actual flight, the rest taxi).
The domestic section of Faaaaa is filled with ATR72s which is the mainstay of the Air Tahiti fleet (not to be confused with Air Tahiti Nui, which can be had on points, vs. Air Tahiti, which can't, and costs a fortune because of it).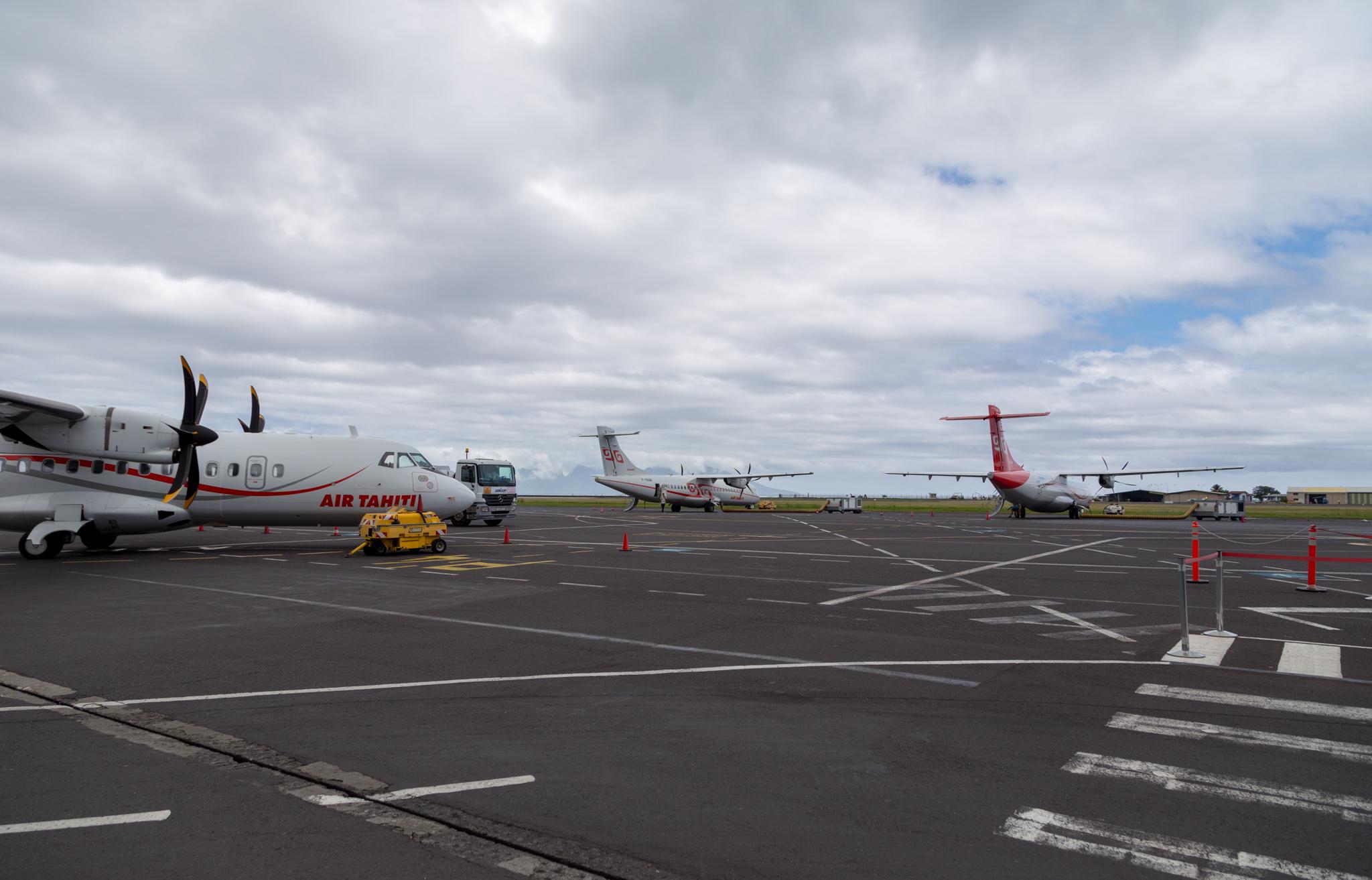 We were escorted by a fairly serious looking lady who looked like she wouldn't take any shit from any honeymooners.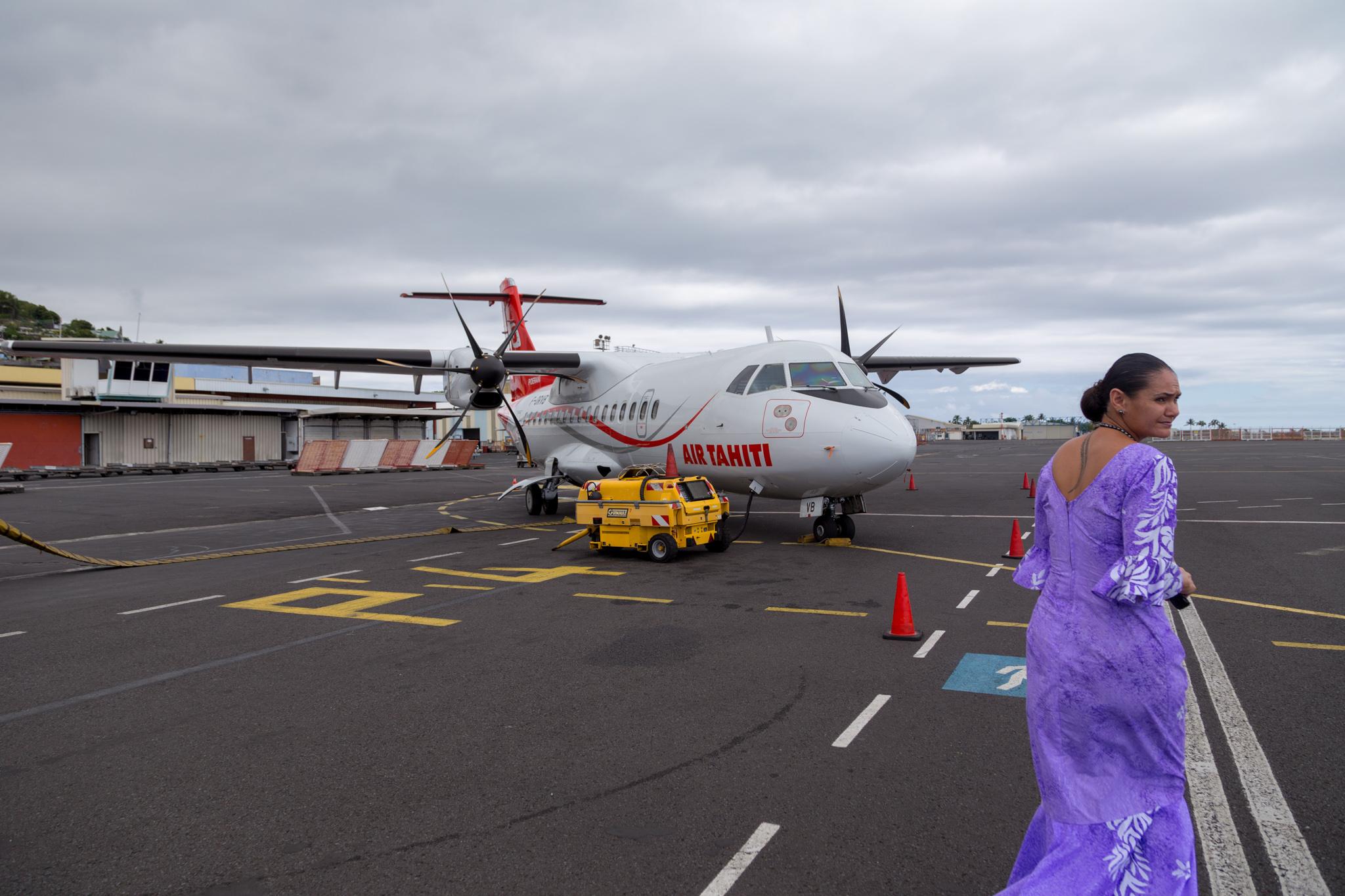 Did I mention this was to be a full flight?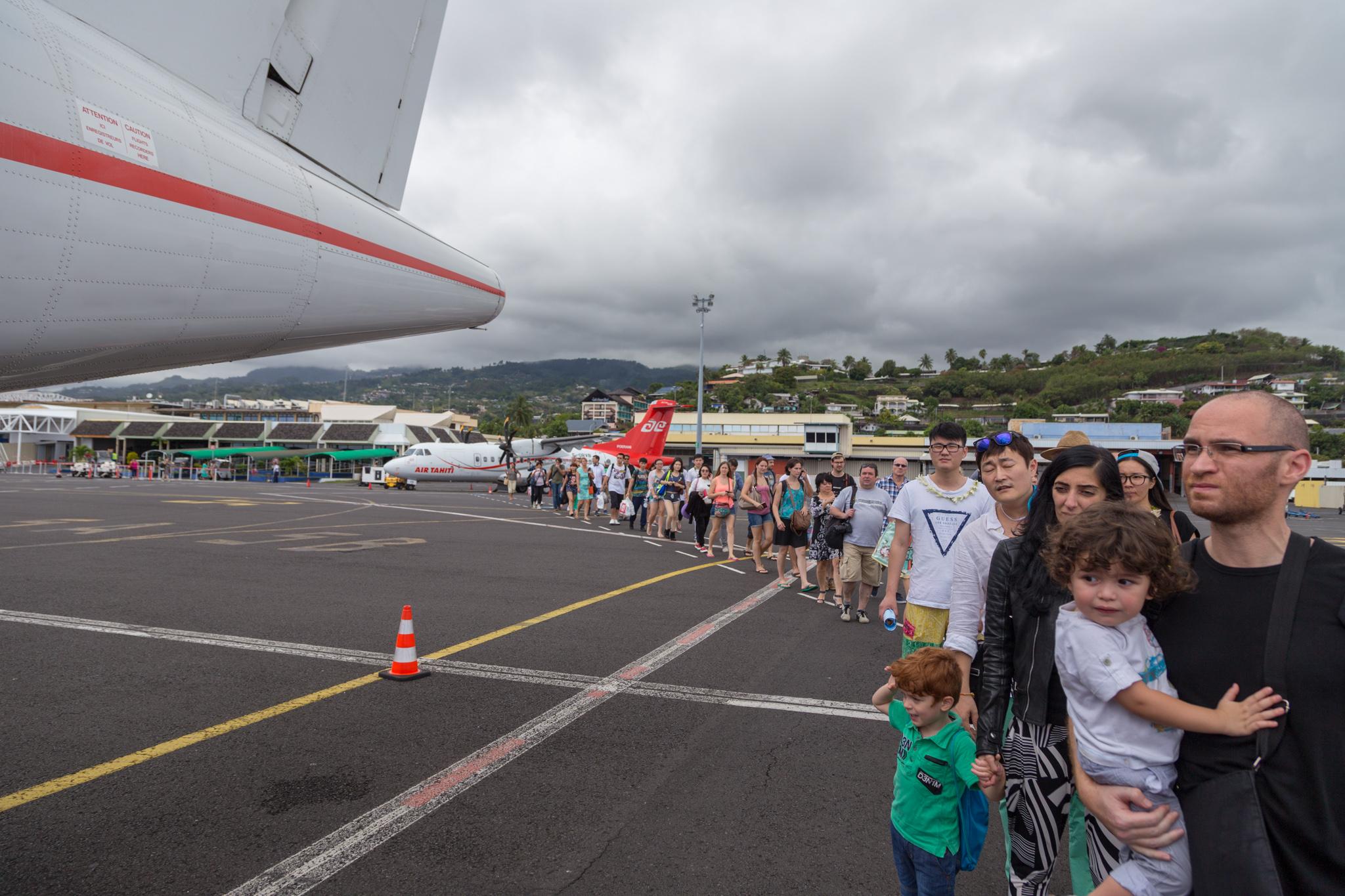 I was desperate to snap a pic of the interior of the plane, so I managed to be the first in line, somewhat pathetically (have you ever tried pointlessly waiting at the gate for a long time? It sucks, even if you have absolutely nothing else to do).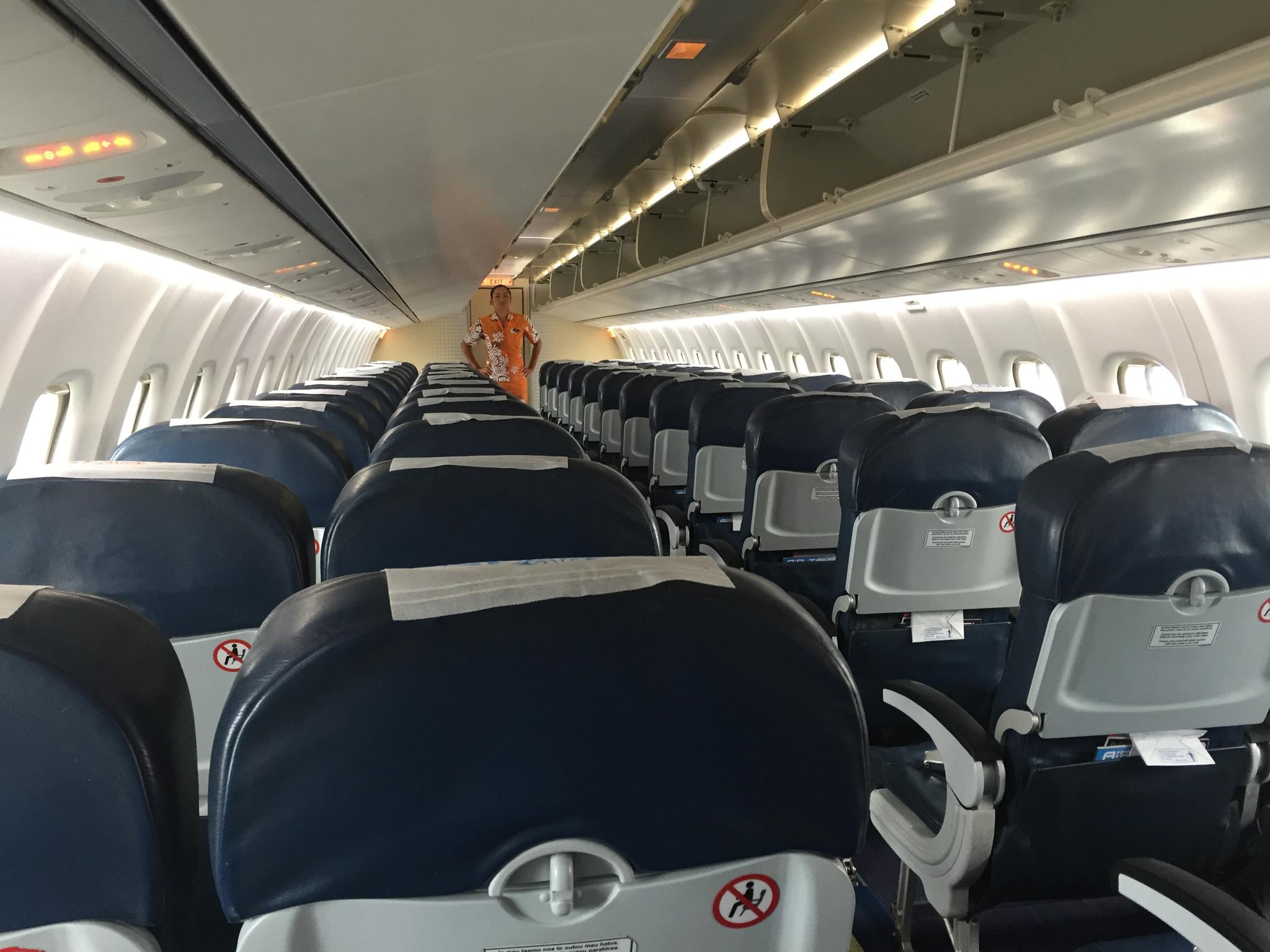 Short taxi, and we were off! I barely had time to get my camera ready and we were already landing. Here's Mo'orea from the air.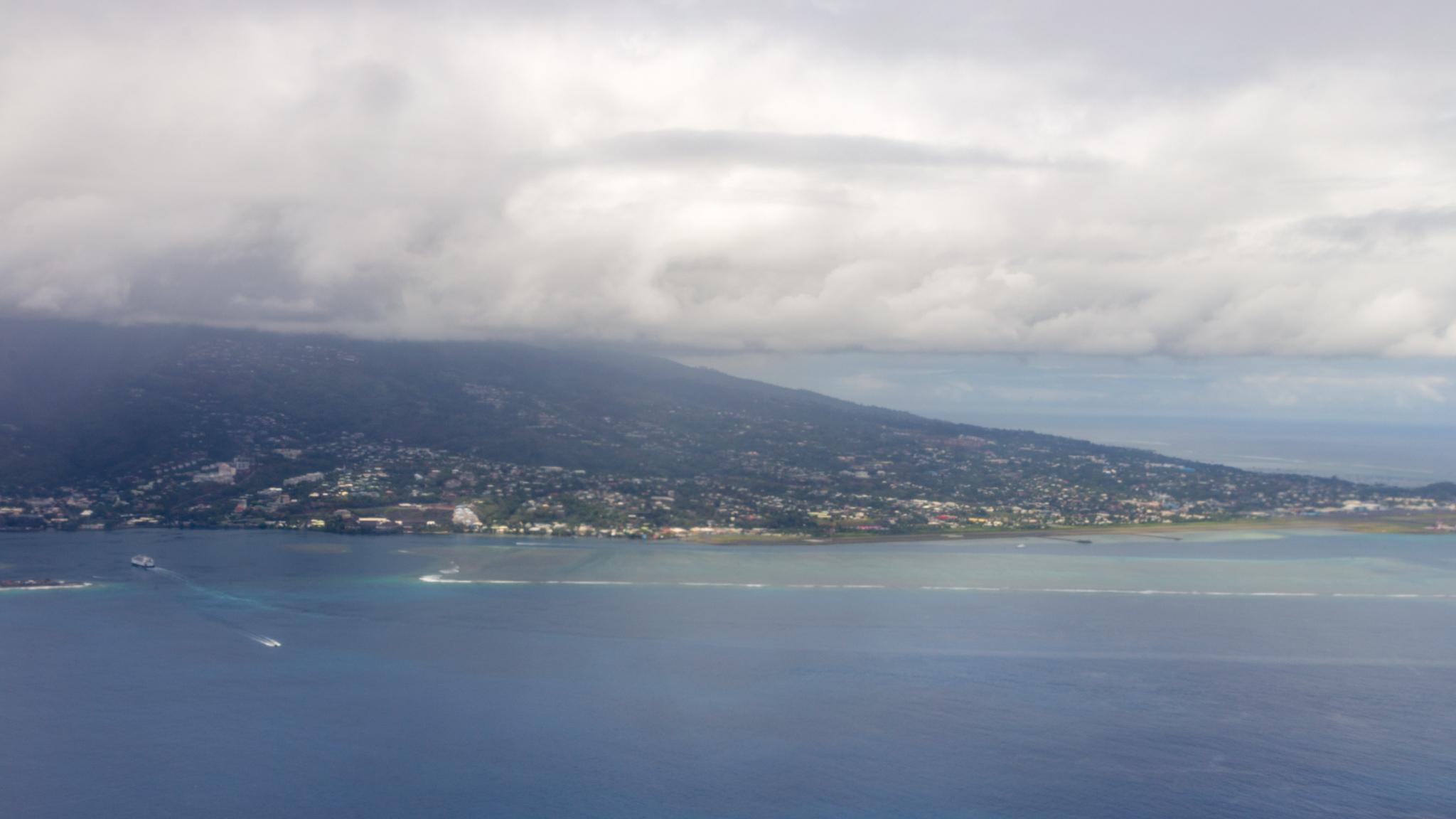 Here's some bags for you. Have you ever seen a mustard colour Rimowa?…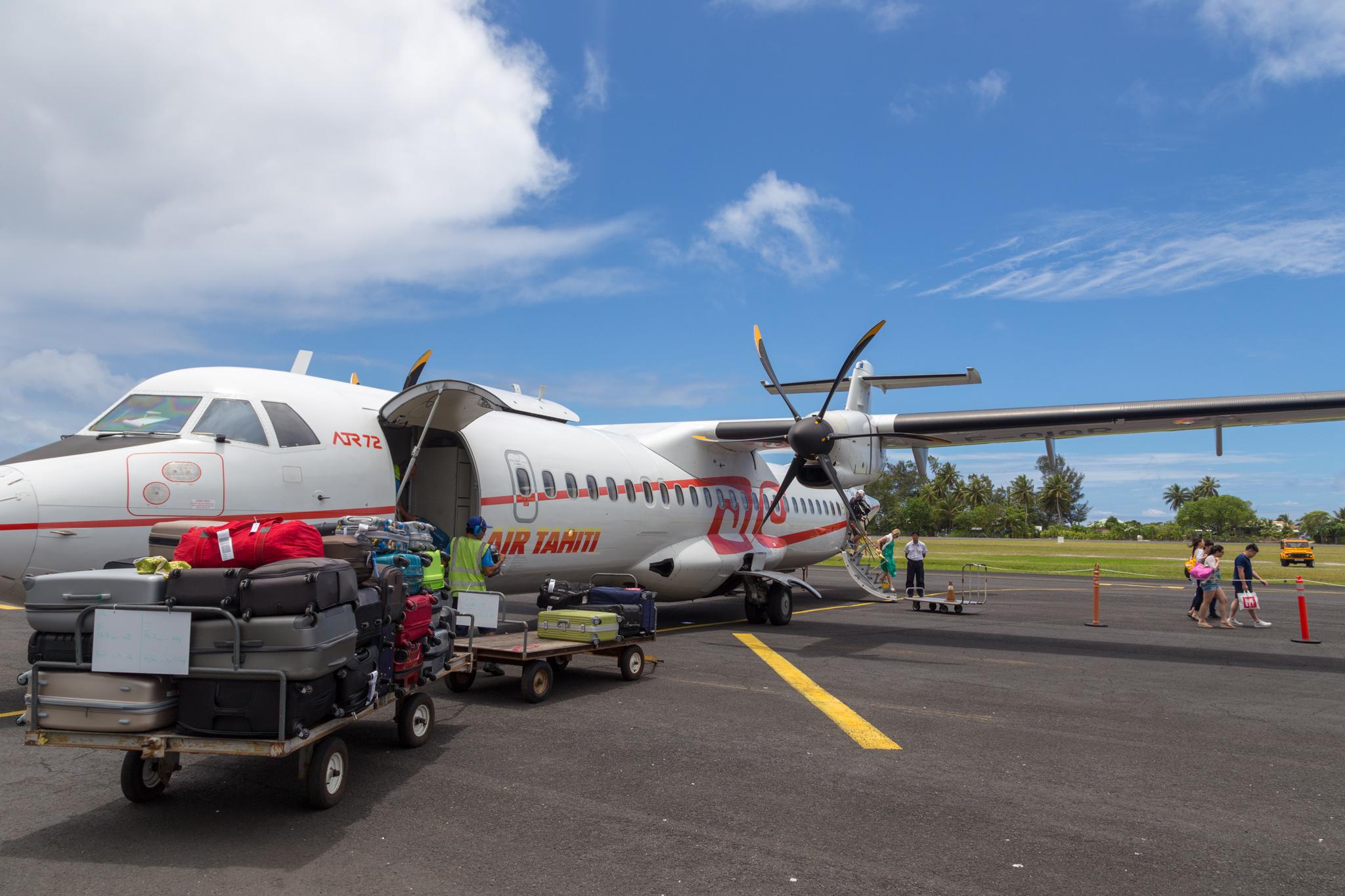 After spending about a half hour waiting for our car where they apparently forgot that we were arriving, I managed to get in touch with someone at the rental agency. It was rather sad watching literally everyone leave and us being the only ones left – and my phone wasn't working in Tahiti (where apparently, they charge extra for roaming on my plan – just because), and there was no Wifi. Anyway, we finally got someone to pick us up and went to rent a car. The car rental place was at the boat terminal (you can take a plane or a boat to cross the narrow strait, but the boat can be choppy at times, so plane is preferred for those terrified of the liquid hell that is the ocean). Some oddball cars were available for rent…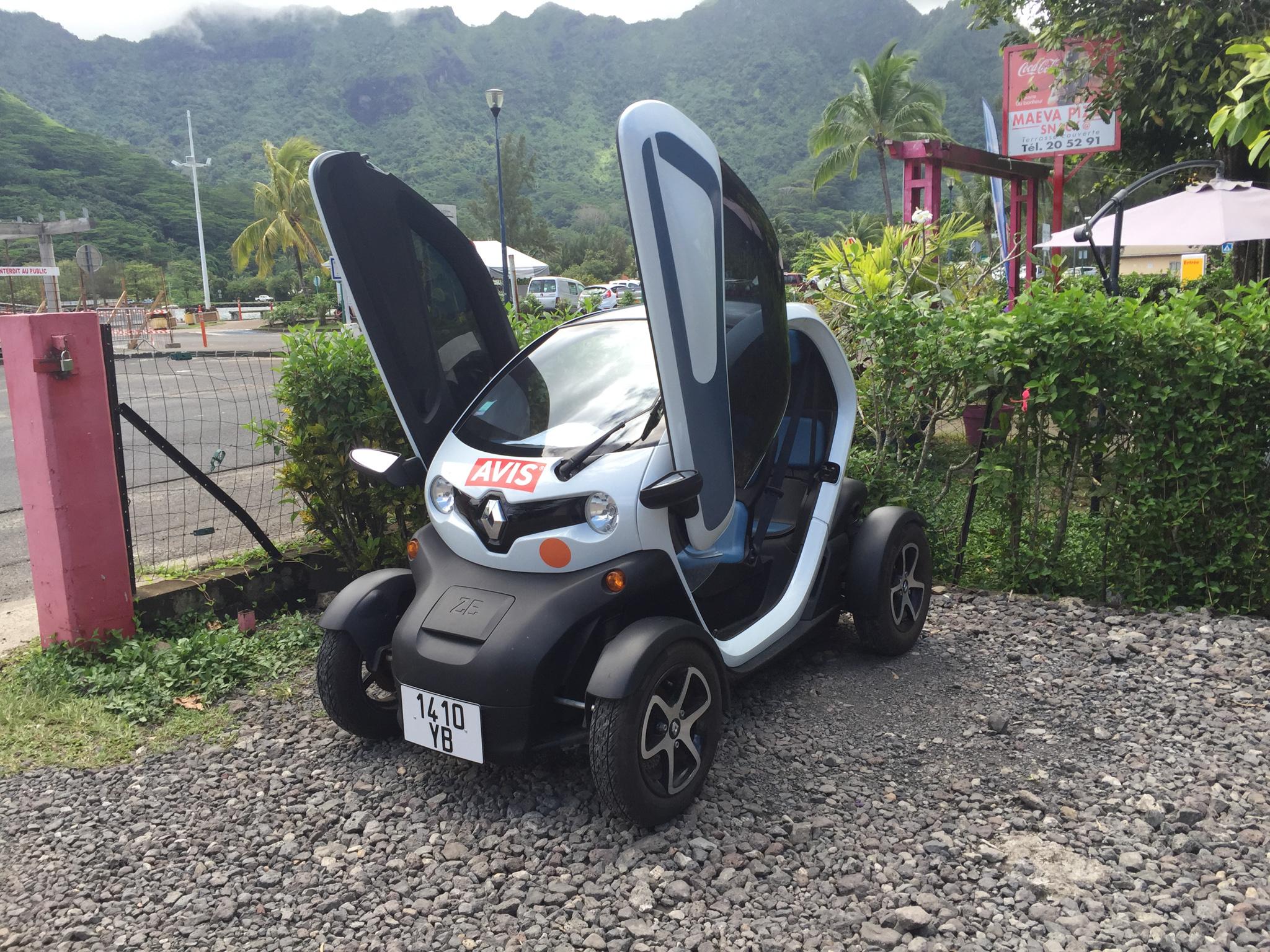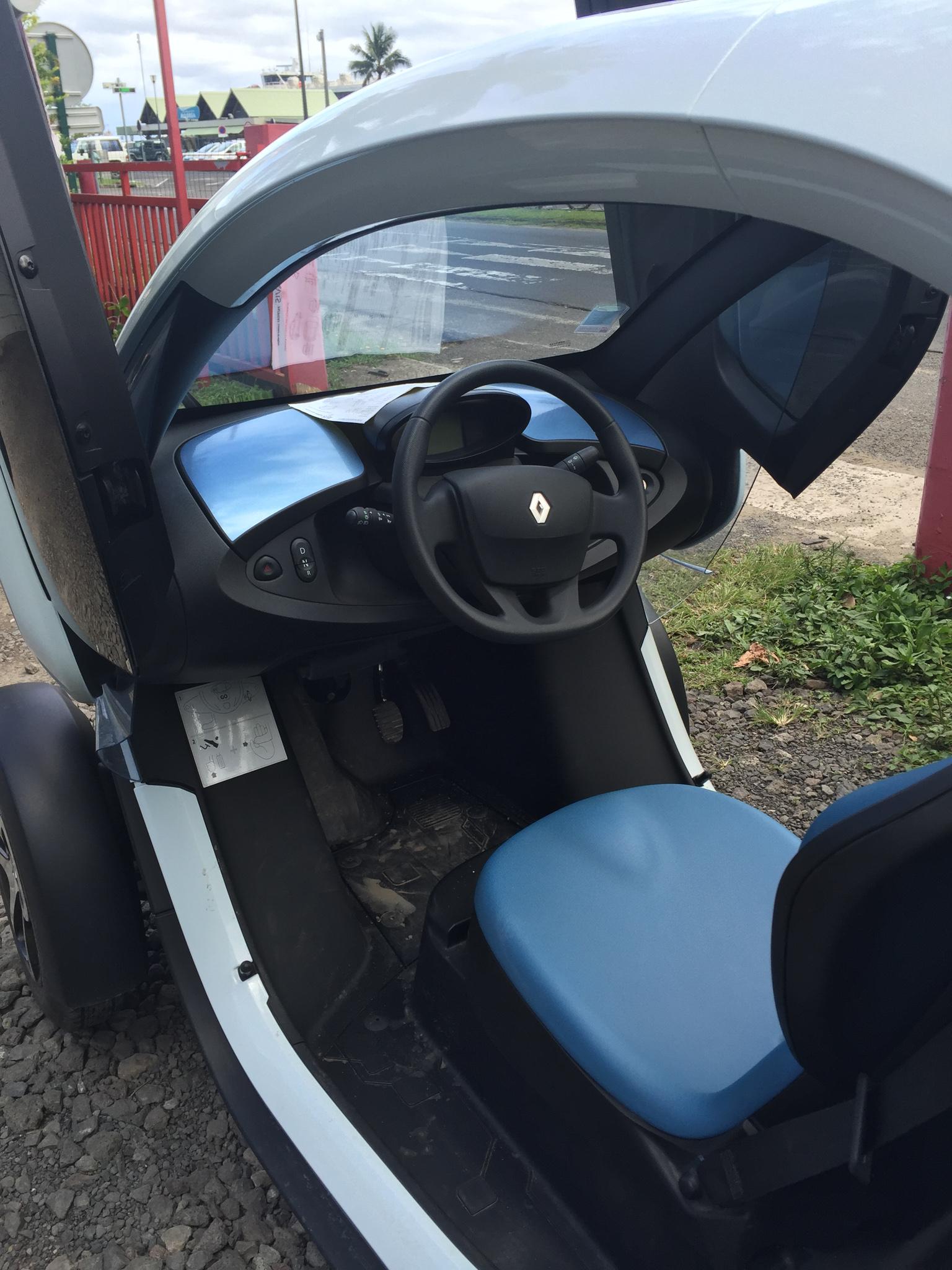 Perhaps, somewhat disappointingly, I rented a Ford Focus; one so bland that I realised I don't even have a picture of it. It was basically four wheel swiht a shift knob and a seat to position yourself on, end of story. It also fit bags, which I can't say of the oddball Renault concoction above.
After a short drive, we arrived to Intercontinental Mo'orea, which was the first stop on our journey. As a Royal Ambassador, I reached out to the manager ahead of time… and he was kind enough to organise something decent for us. It did have a straw roof and looked like a prefab house from the back…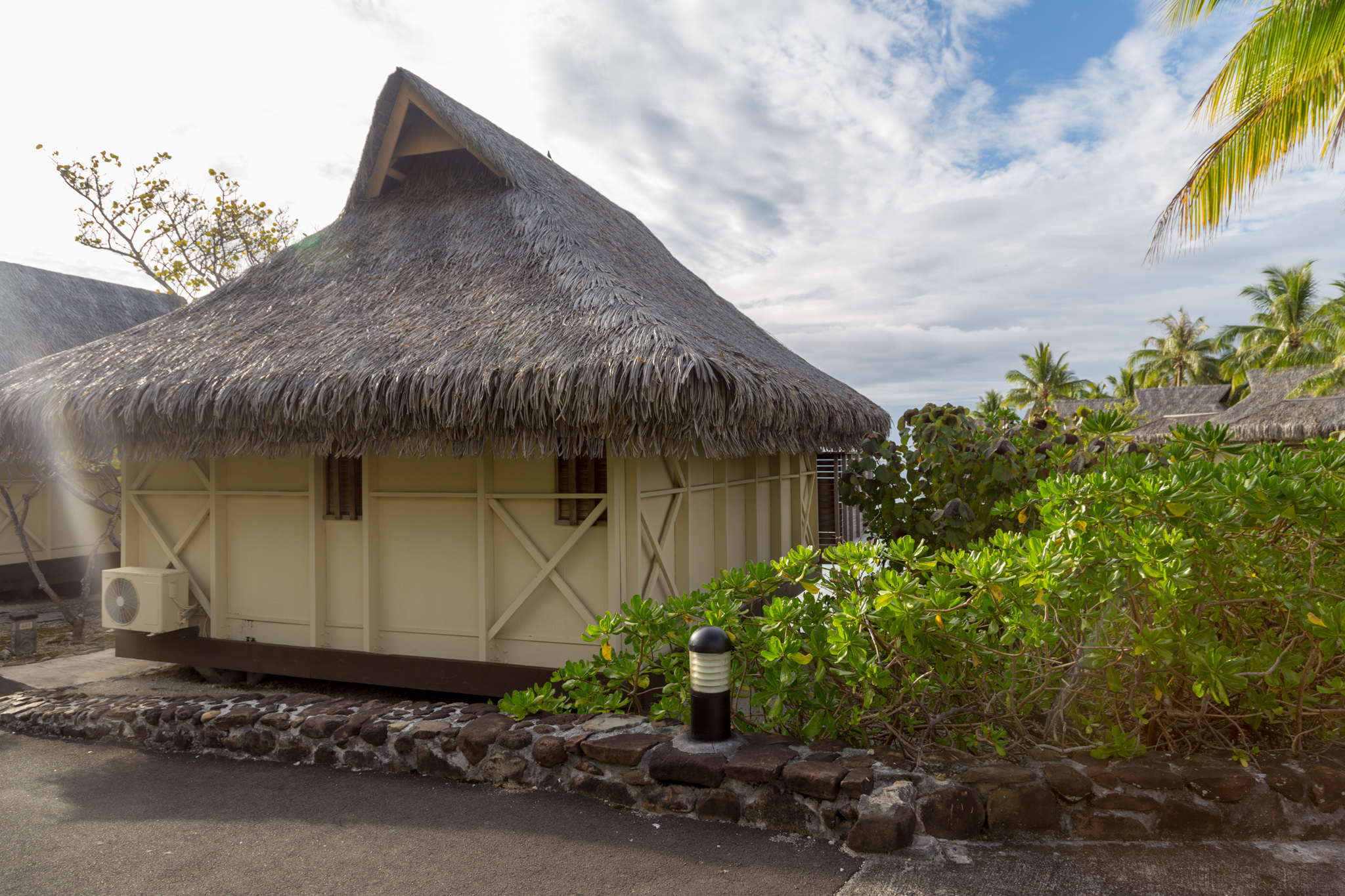 … but it did have a fairly decent view from the patio.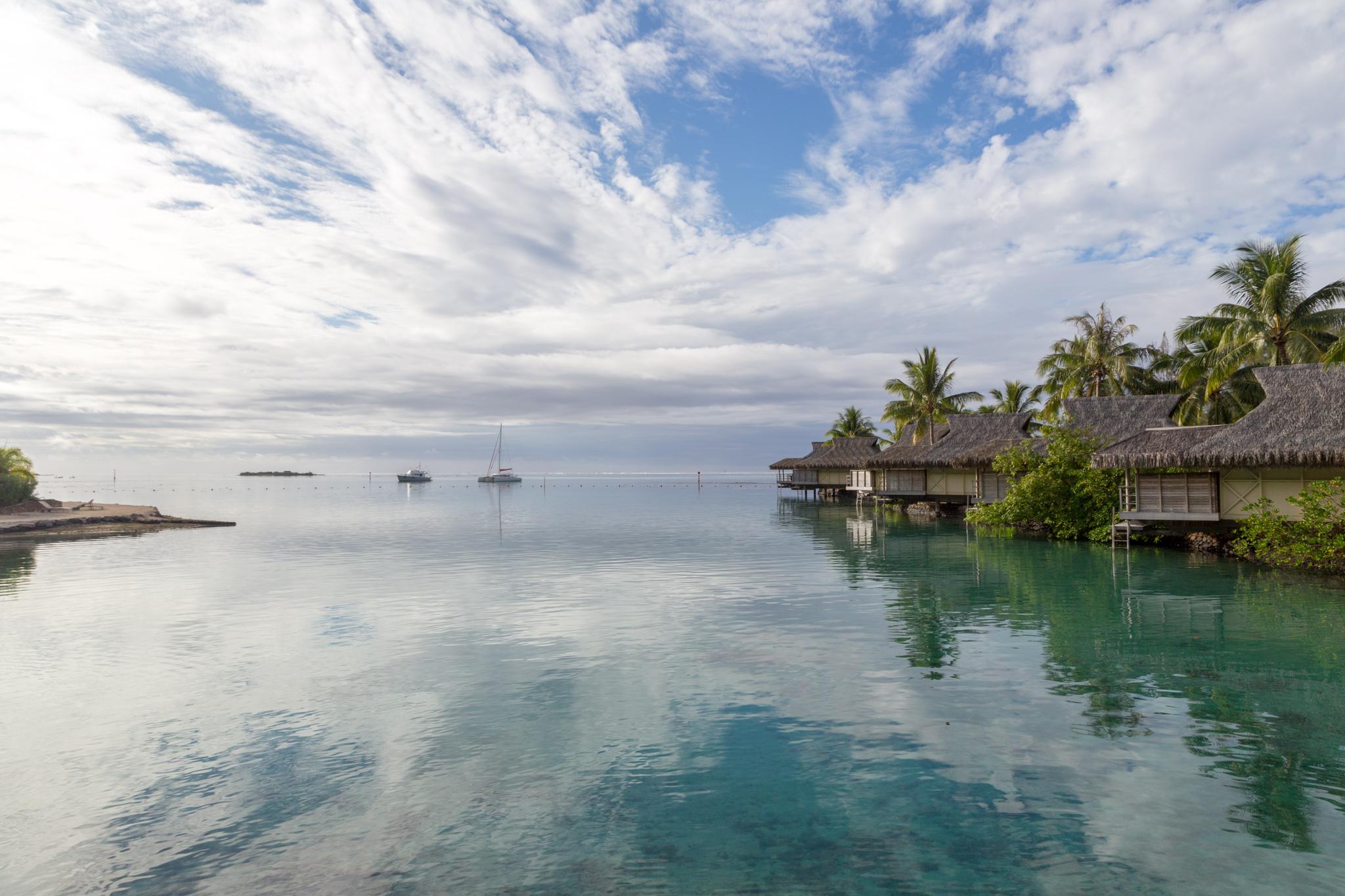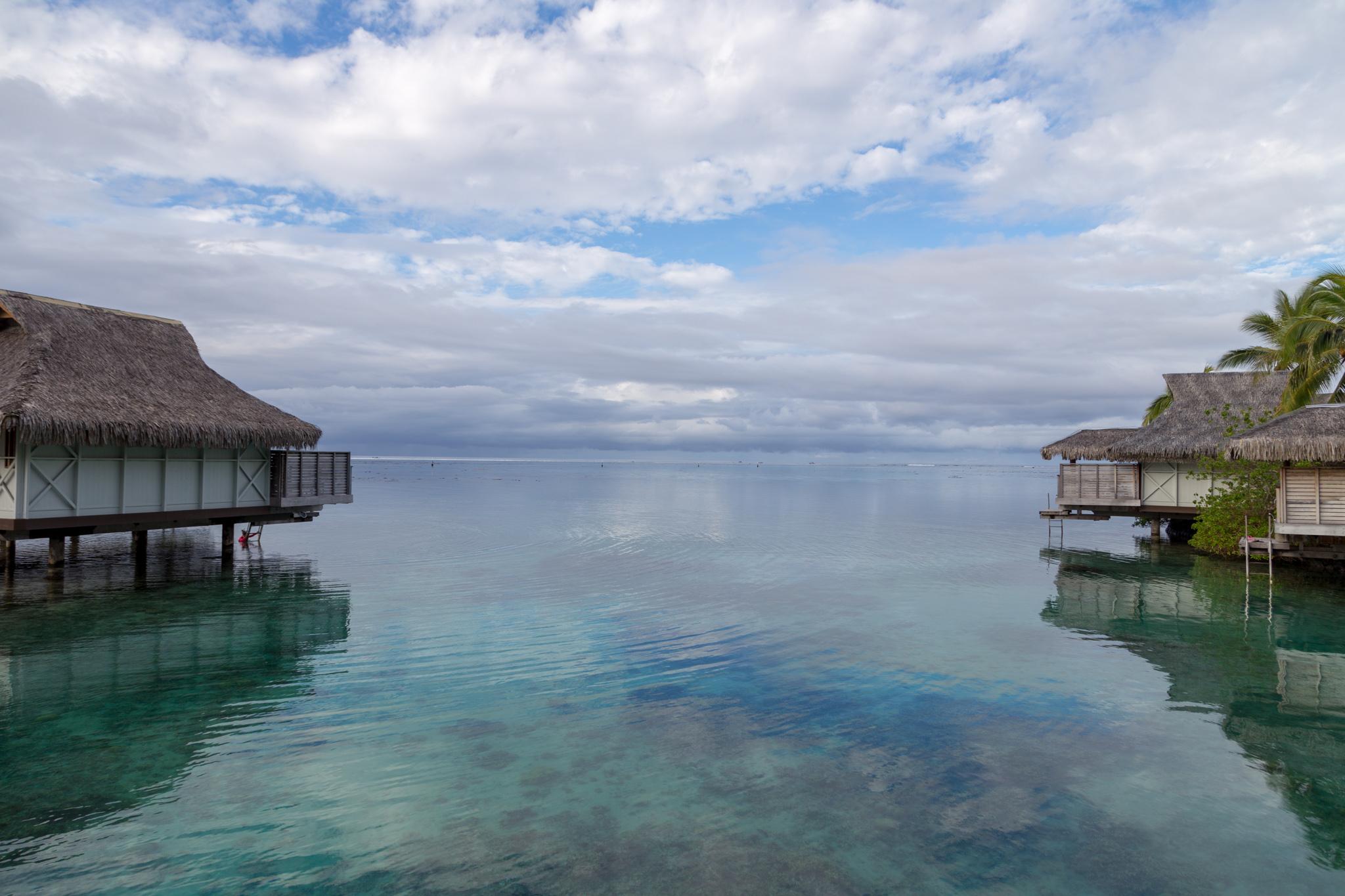 Some shots of the room. It wasn't a huge room (the "nicer" suites are larger) but it was really hard to beat this view.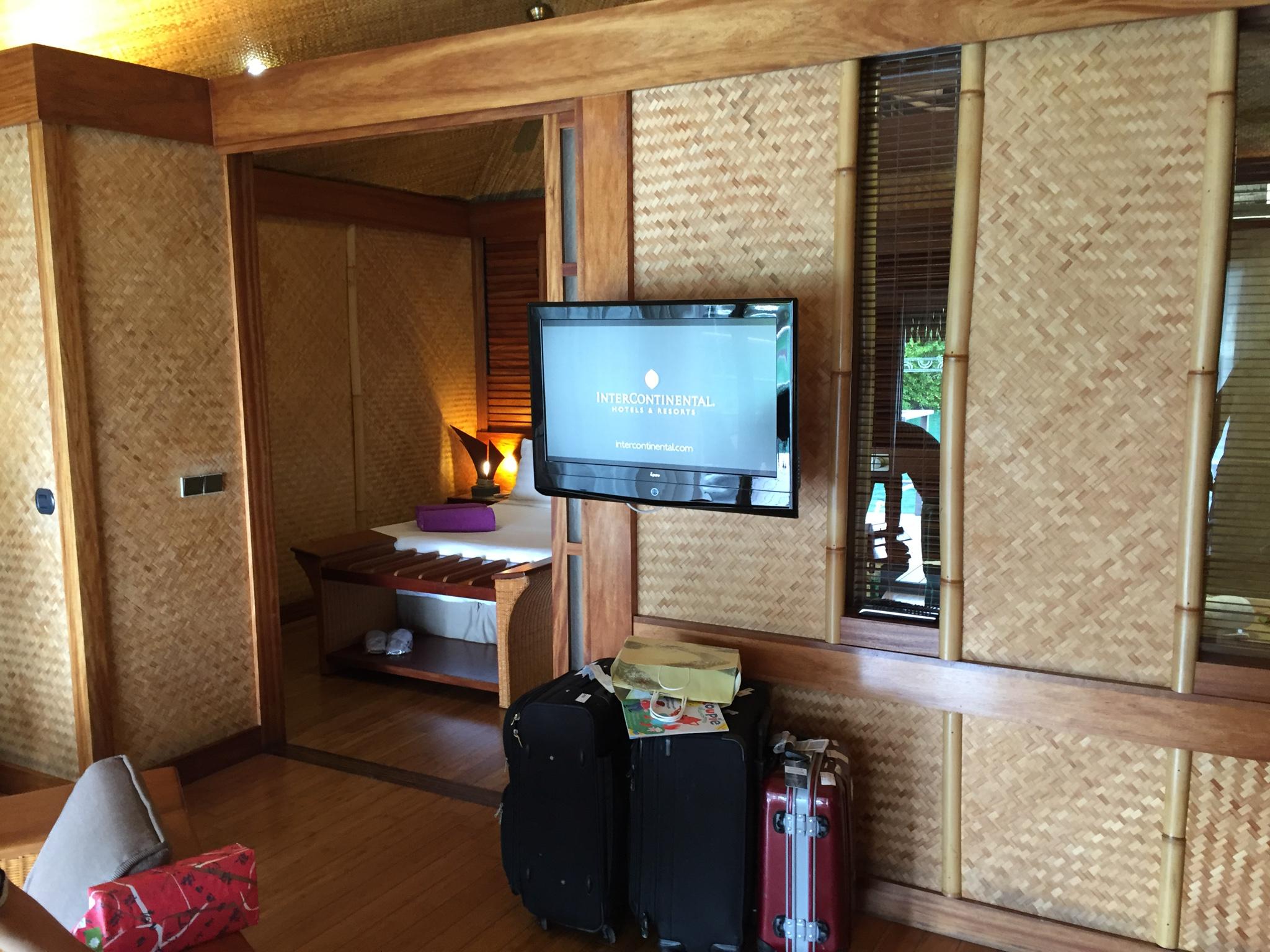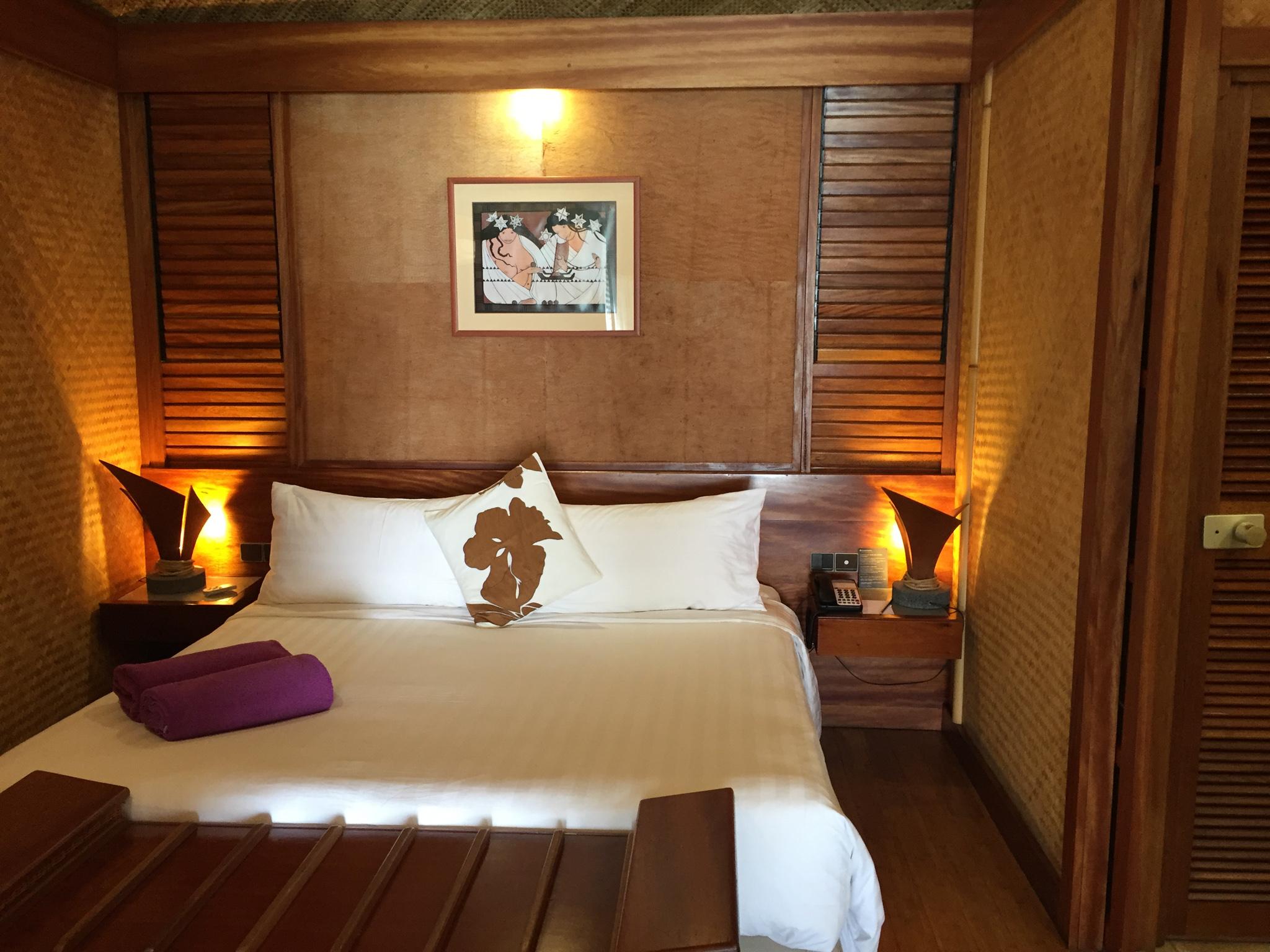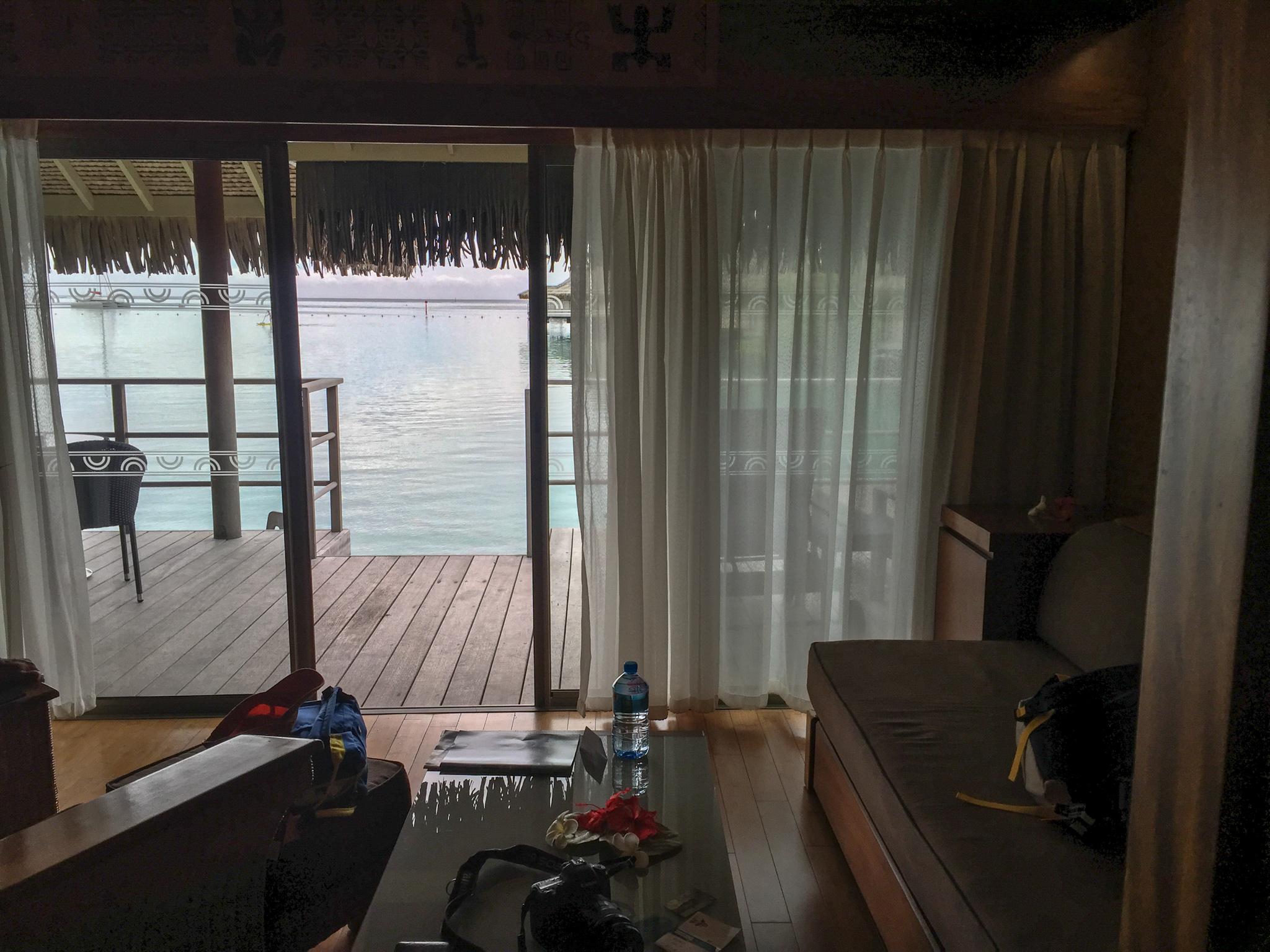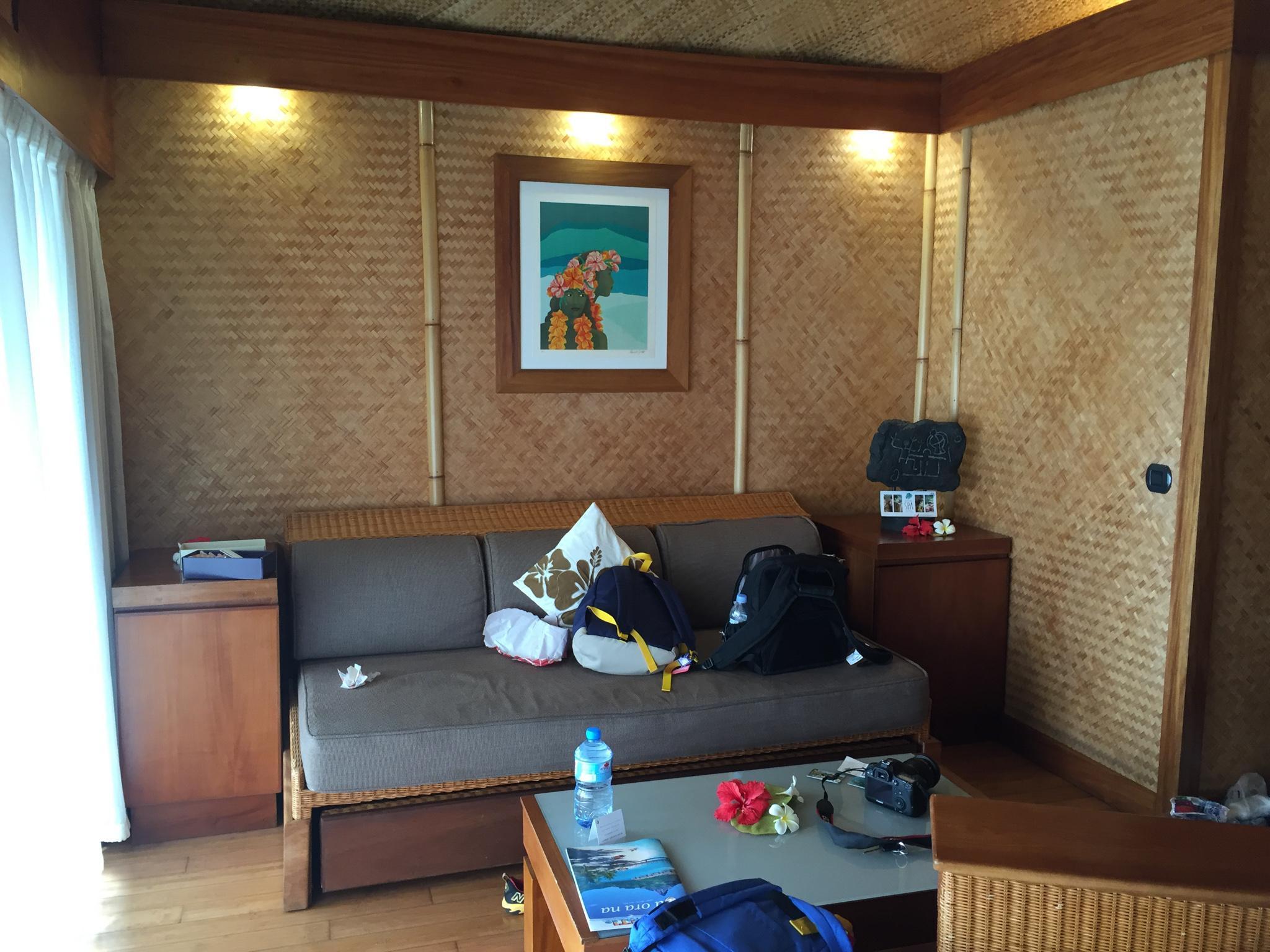 Welcome gift…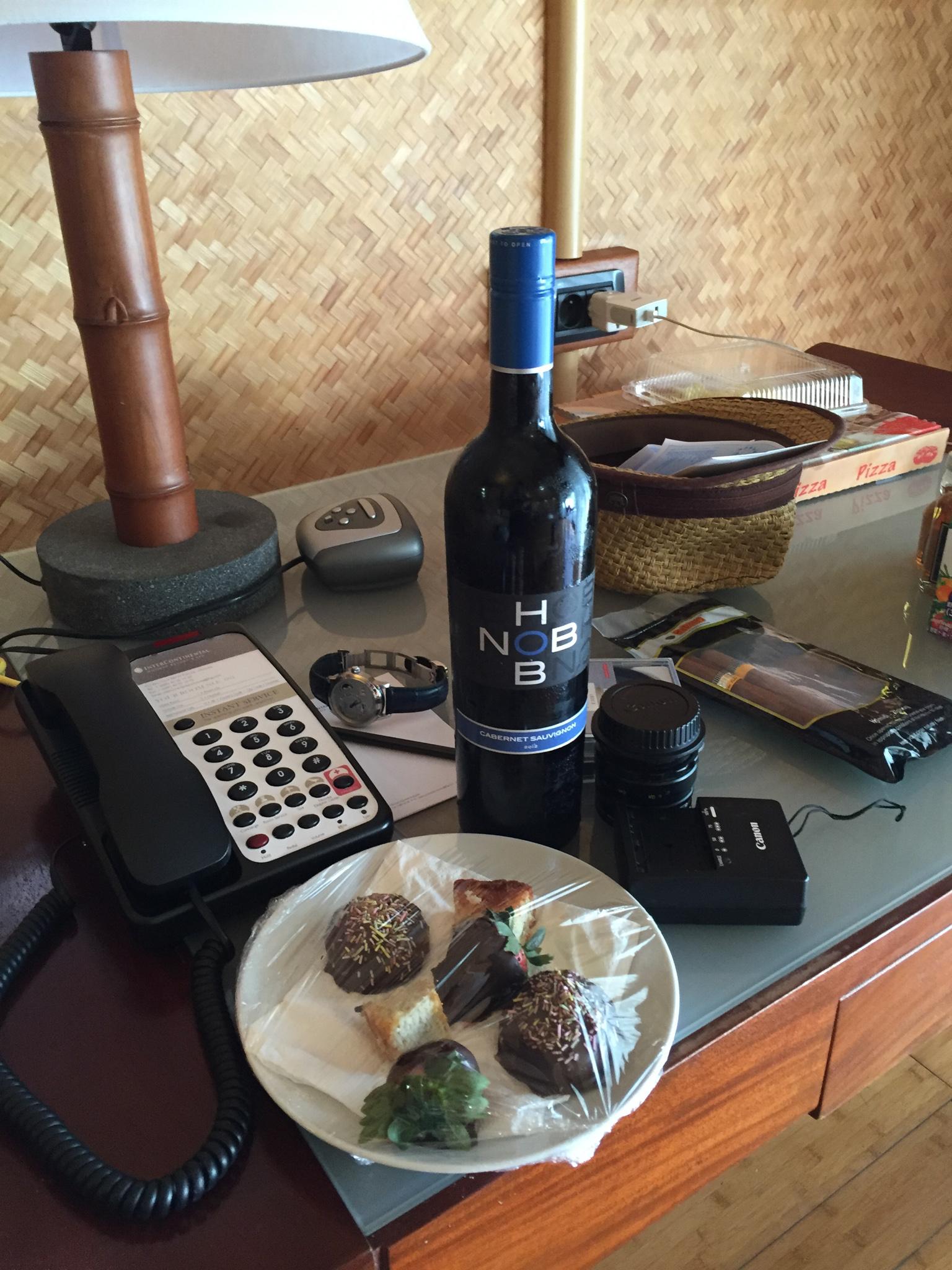 The minibar wasn't incredible, but it was reasonably well stocked, and since these were paid nights, it was free… and a good way to replenish stocks considering what lay ahead.
The property is situated in a nice cove, and there's some very picturesque sights all around. I mean, it is Tahiti after all. It's kinda why people go into massive debt to see it once in their life.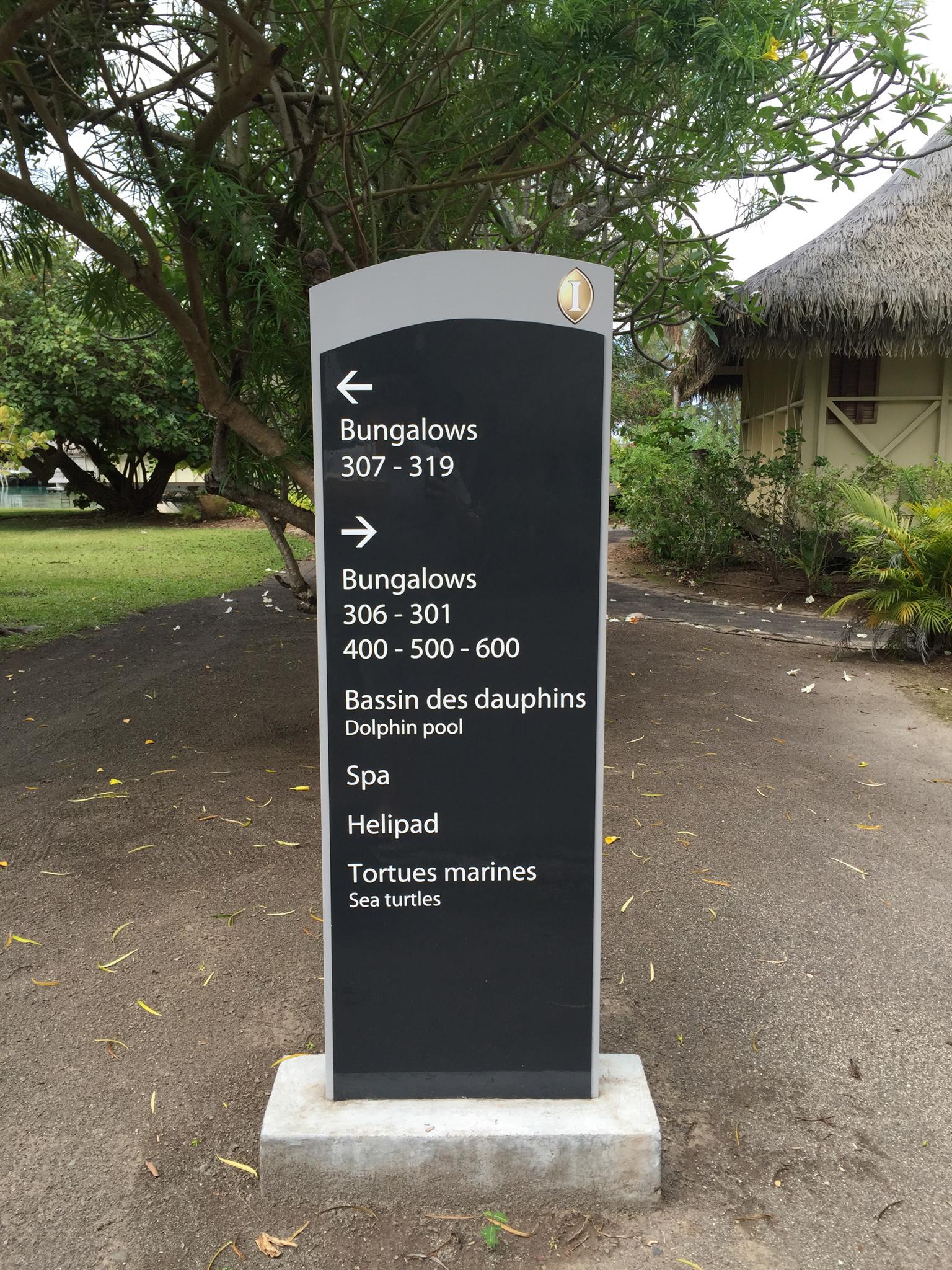 First we decided to see what the helipad was about.
It turned out to be a rather unspectacular, well, helipad, on an island in the middle of the Pacific ocean with a beautiful view. I really don't know what I was expecting there.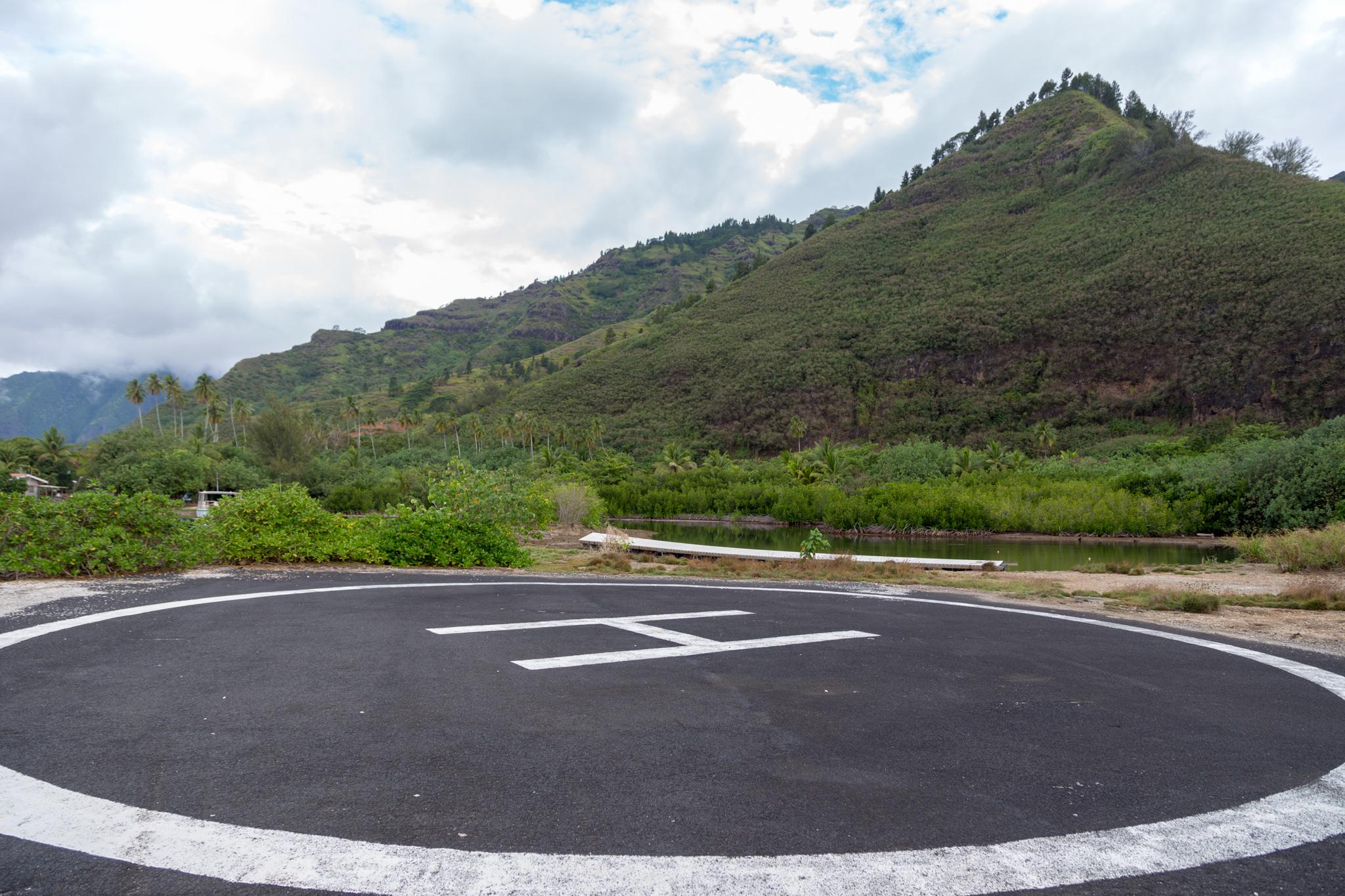 We then went to see the tortues de mer (sea turtles). They had a nice little alcove to themselves.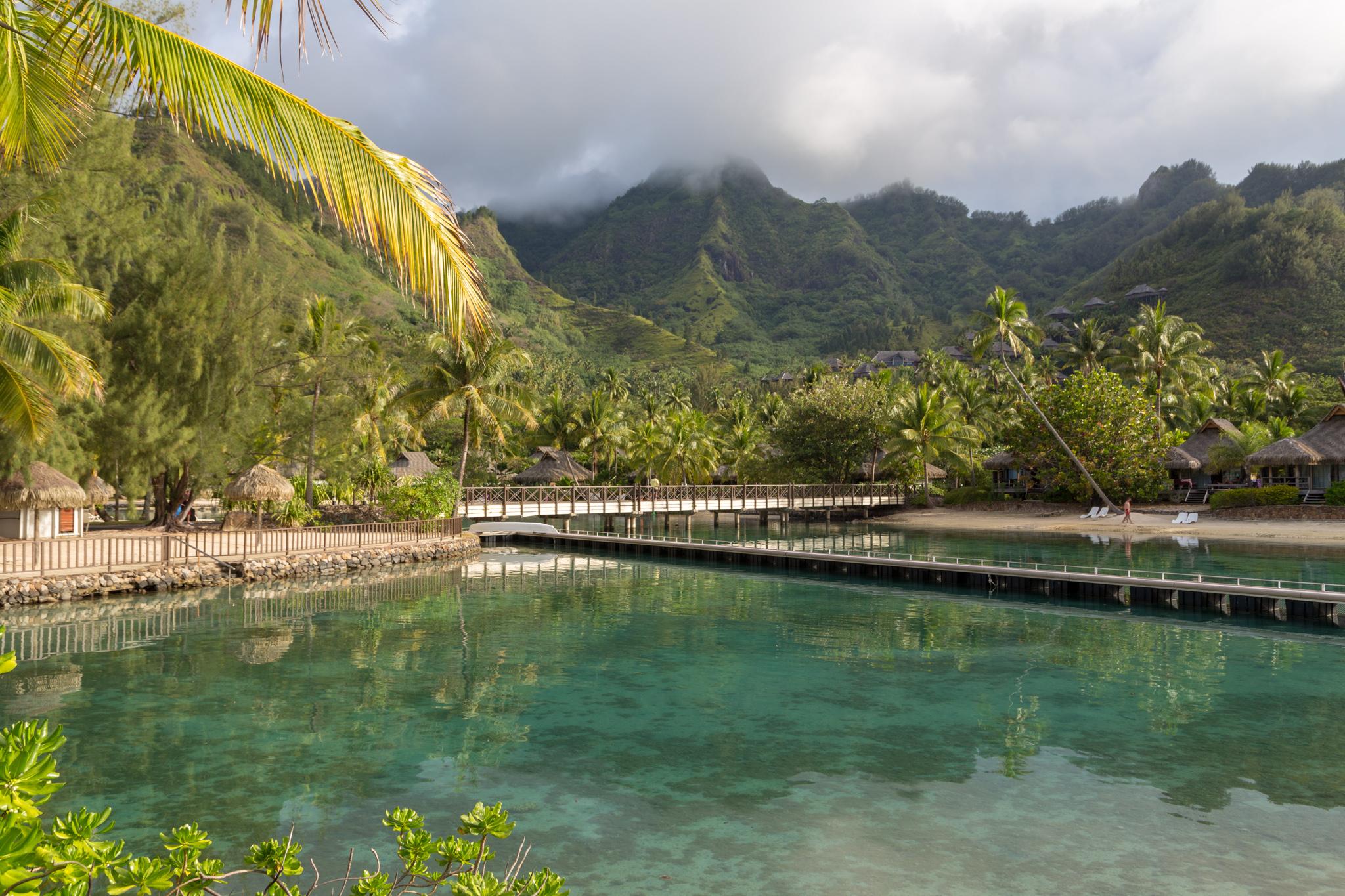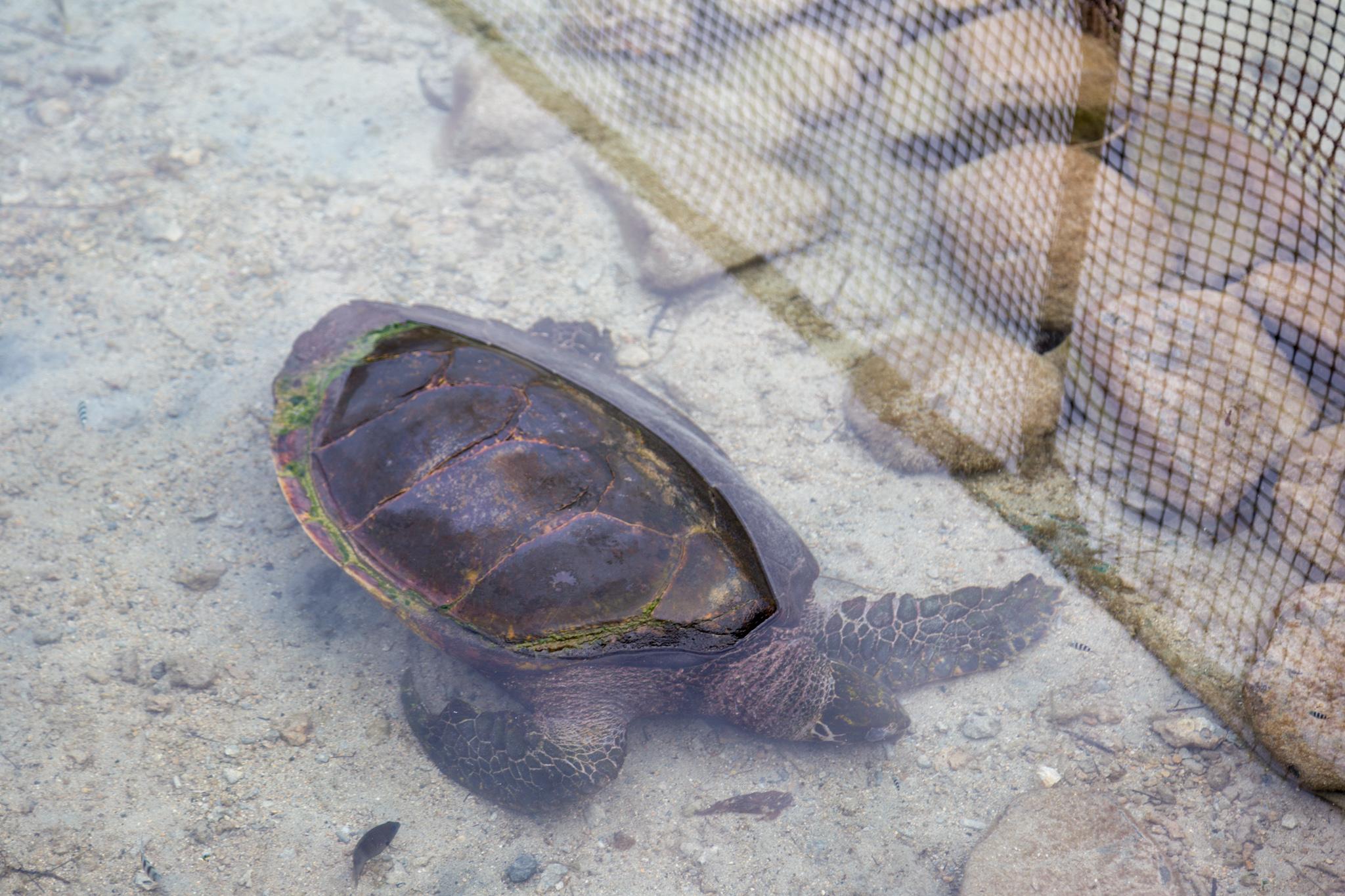 There was other sea life, as well.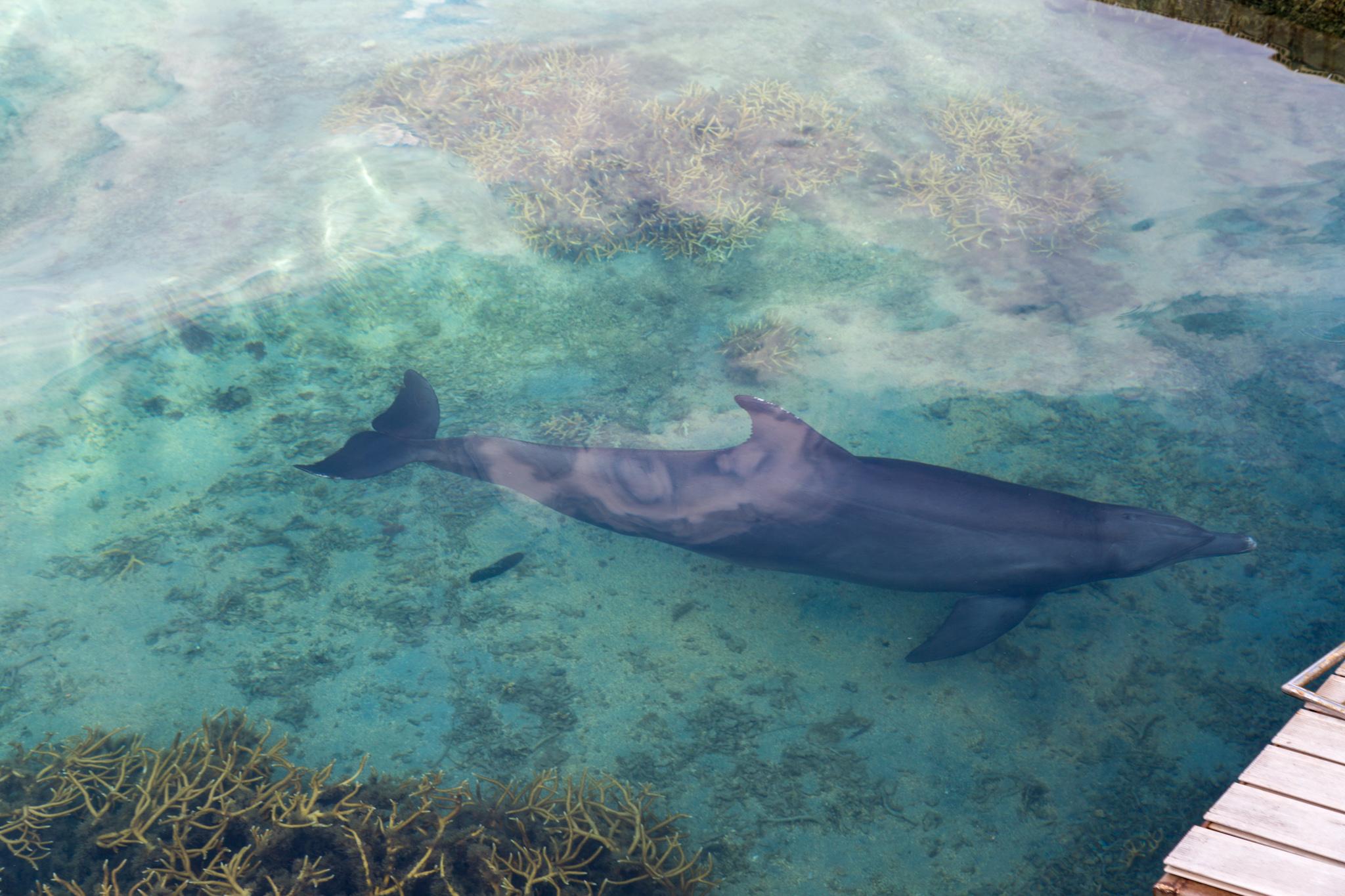 Of course, as tends to be the case at this kind of "resort-ey" properties, there's usually some sort of marine activities, and in this particular case, it was "playing with dolphins". A significantly over-tanned honeymooner couple seemed to be actively engaged in being taken pictures of to document their affinity with sea life.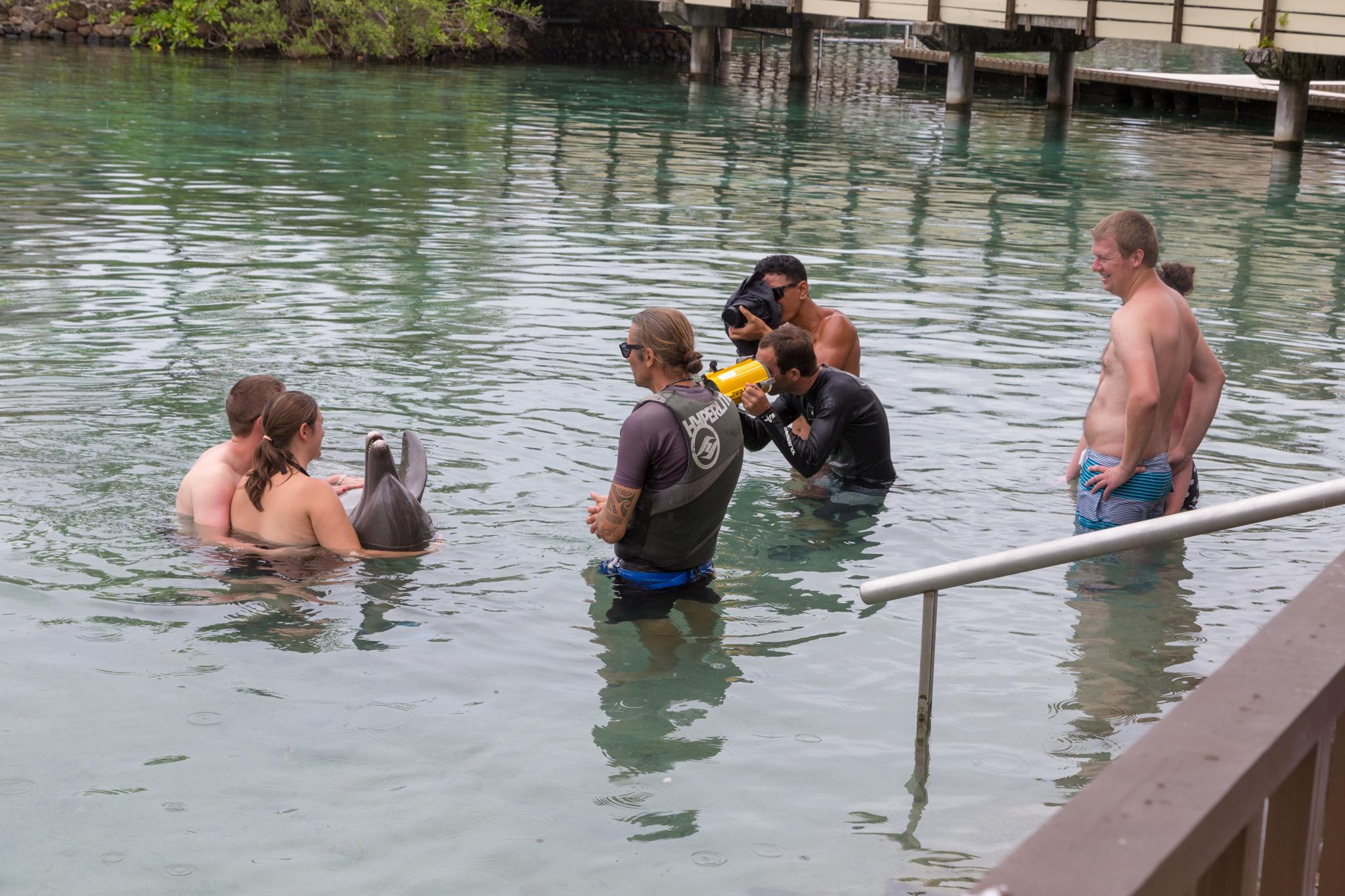 A puzzled seagull-type creature looked on, obviously as perplexed as I was, trying to figure out exactly why people would pay money for something so artificial.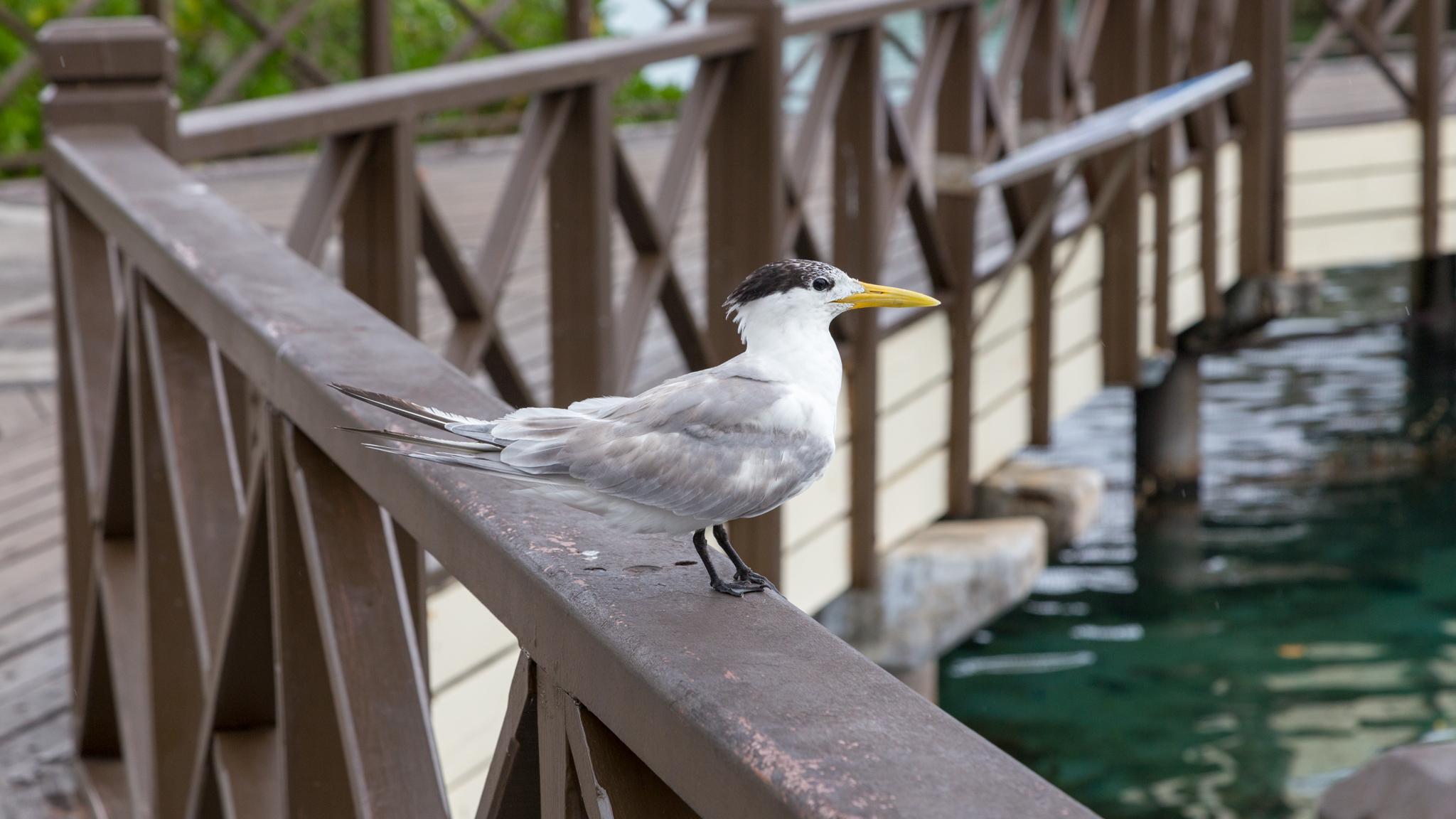 There was a hut in the middle of the resort, as well. It had no real function, but it looked good in pictures, which was probably its only real function.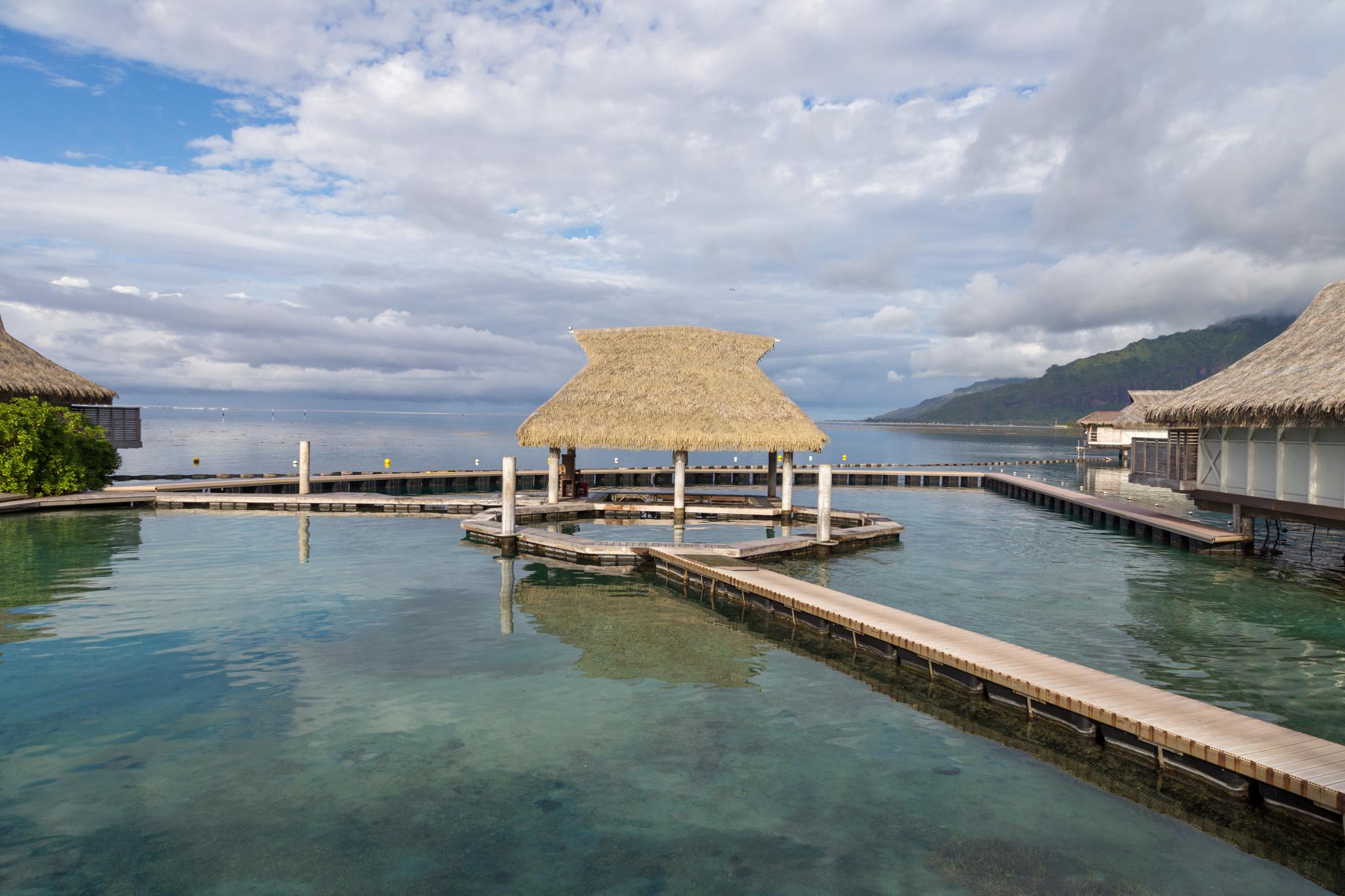 We went to grab food at a local place in the city. Since we were in Mo'orea for about four days, we actually visited a few different places, but not all were worthy of mention so here are some that did make somewhat of a mark.
One was Moz Café. Located in the northeastern part of Mo'orea, it's a somewhat local place in the back of a parking lot of a SocGen (Société Générale, the bank that's literally present EVERYWHERE France is).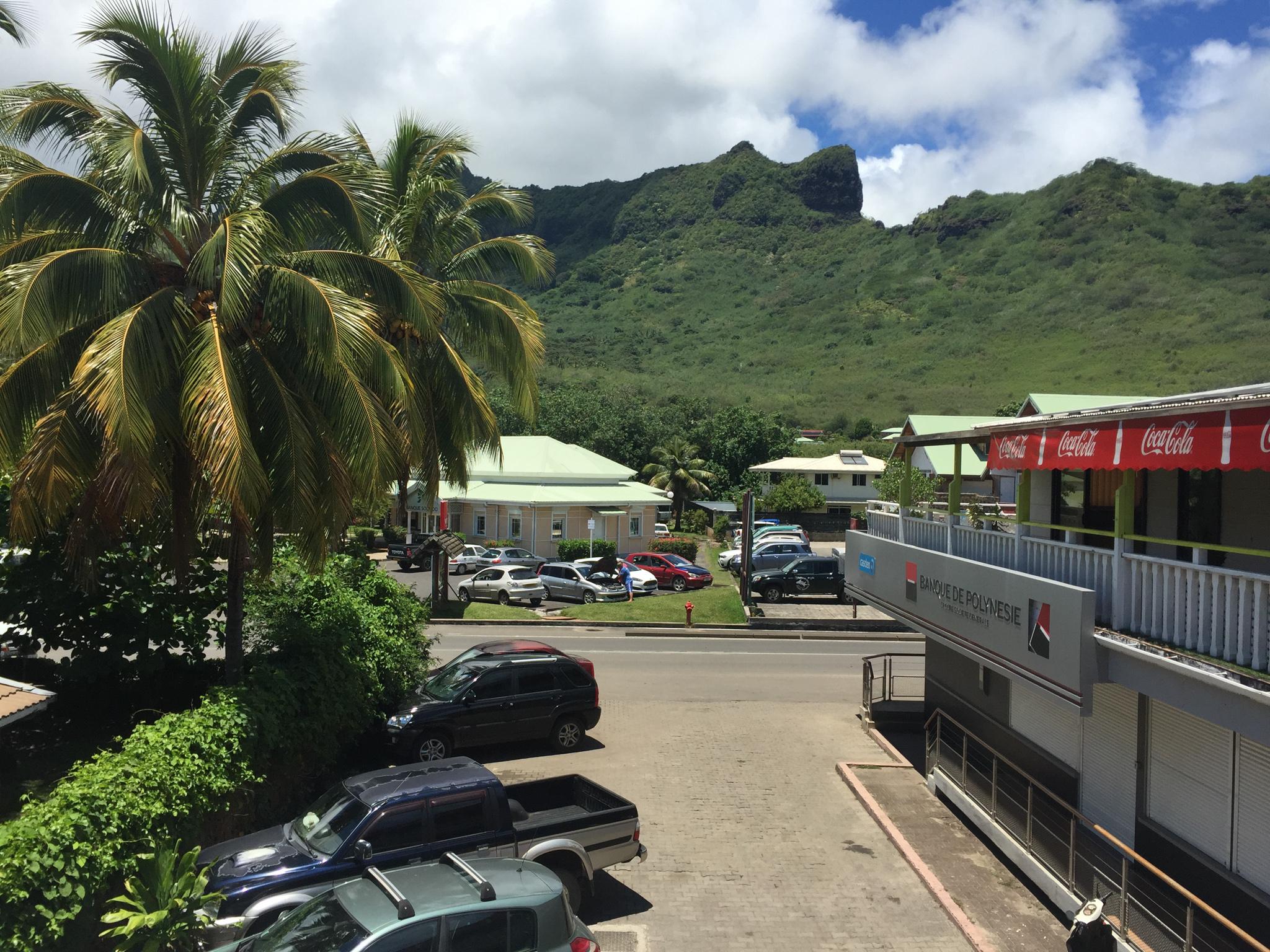 Pretty nice view from the entrance, too.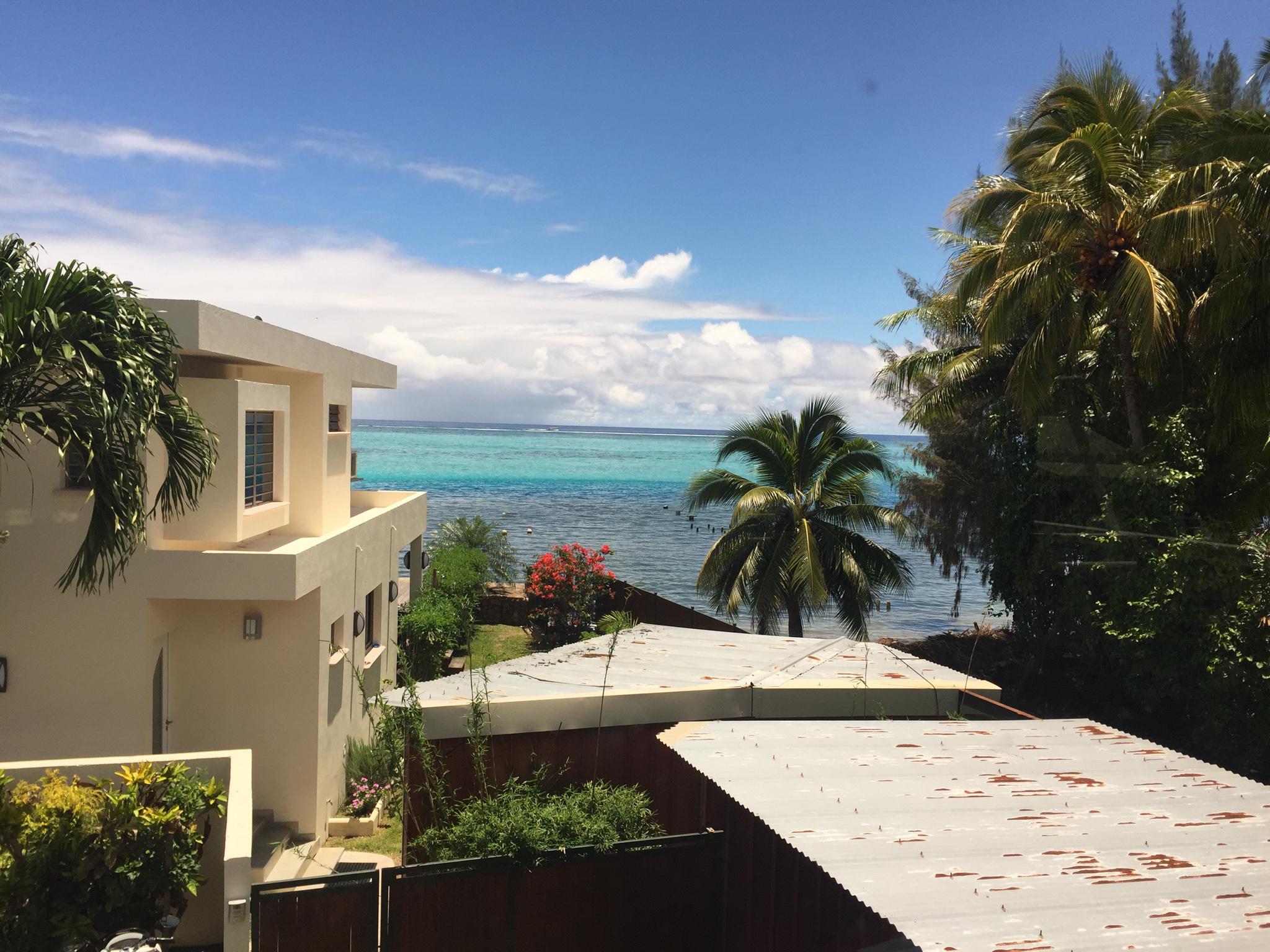 Menu up on the wall, and the number of people kind of shows that it's a fairly popular place.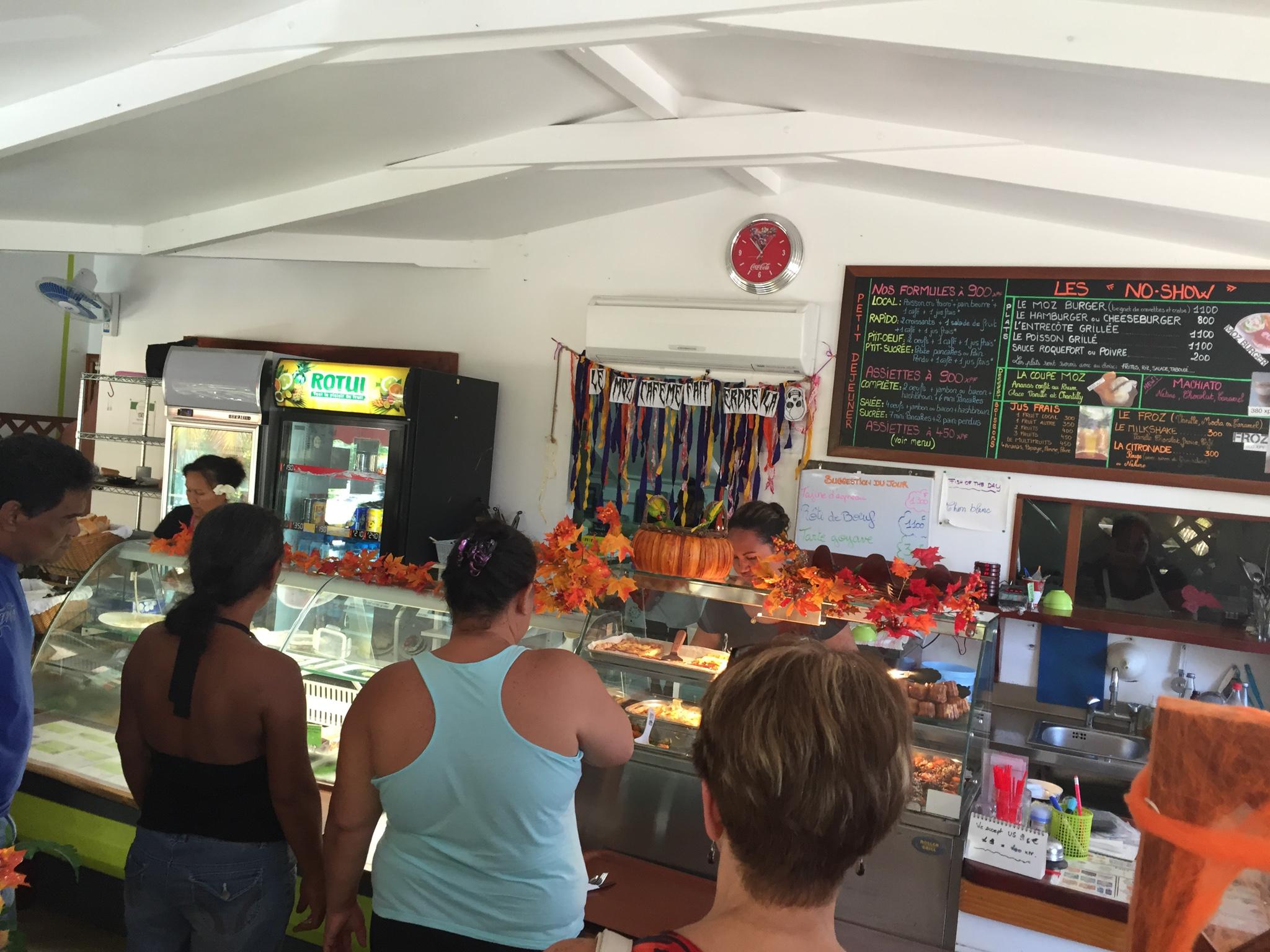 We went back to the hotel to catch the sunset, since, you know, somehow all the sunsets have relocated to the Polynesian islands and it's like, the only place to wtch spectacular sunsets. Or something.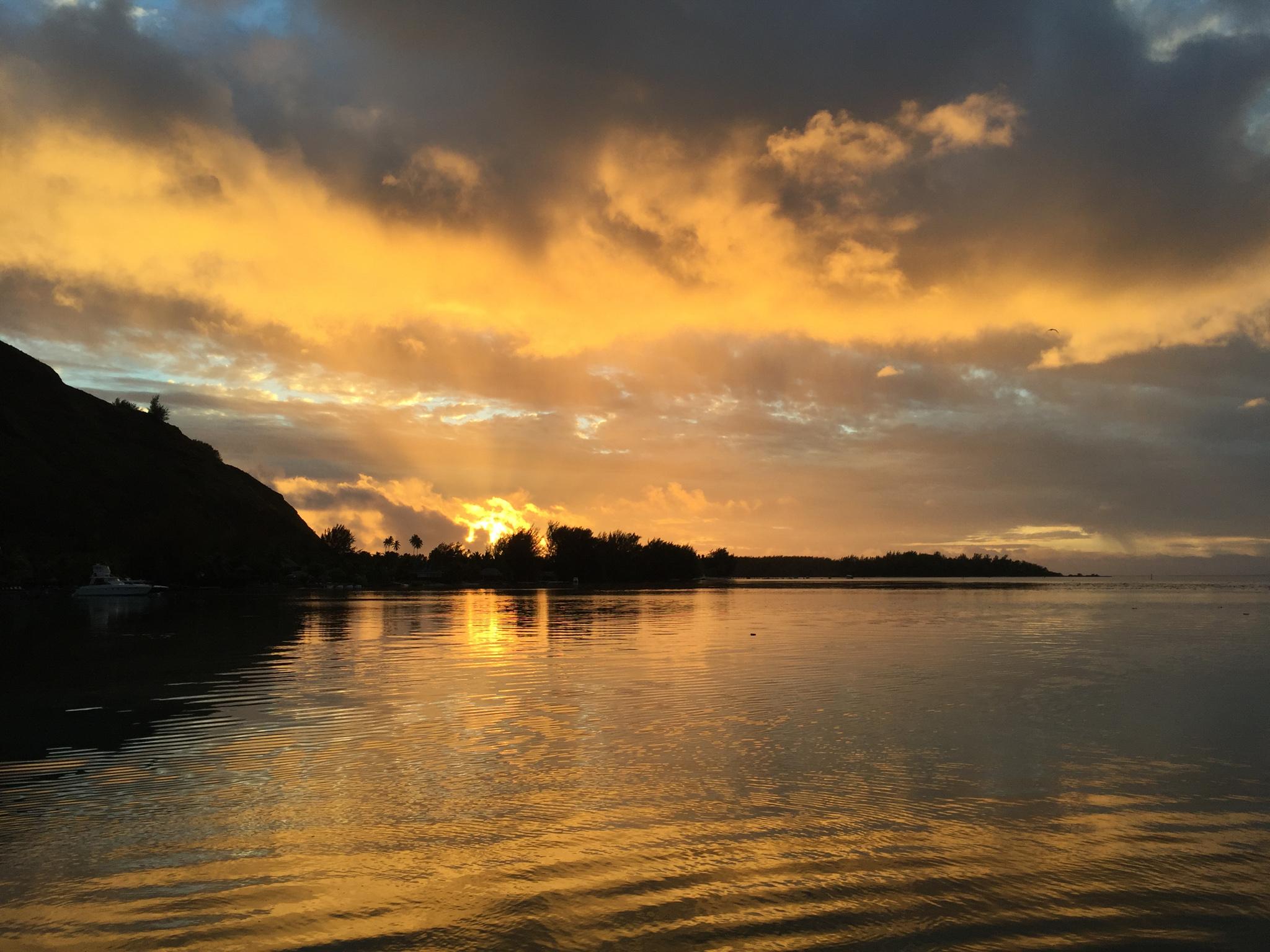 For dinner, we went to this burger and fries place that was very well rated on Tripadvisor, but, contrary to the lunch place, it was completely dead in the evening. I don't know if he worked very hard to make his garden shed be the #1 rated restaurant in Mo'orea like the guy in London did, but it was certainly really odd looking and otherwise dead.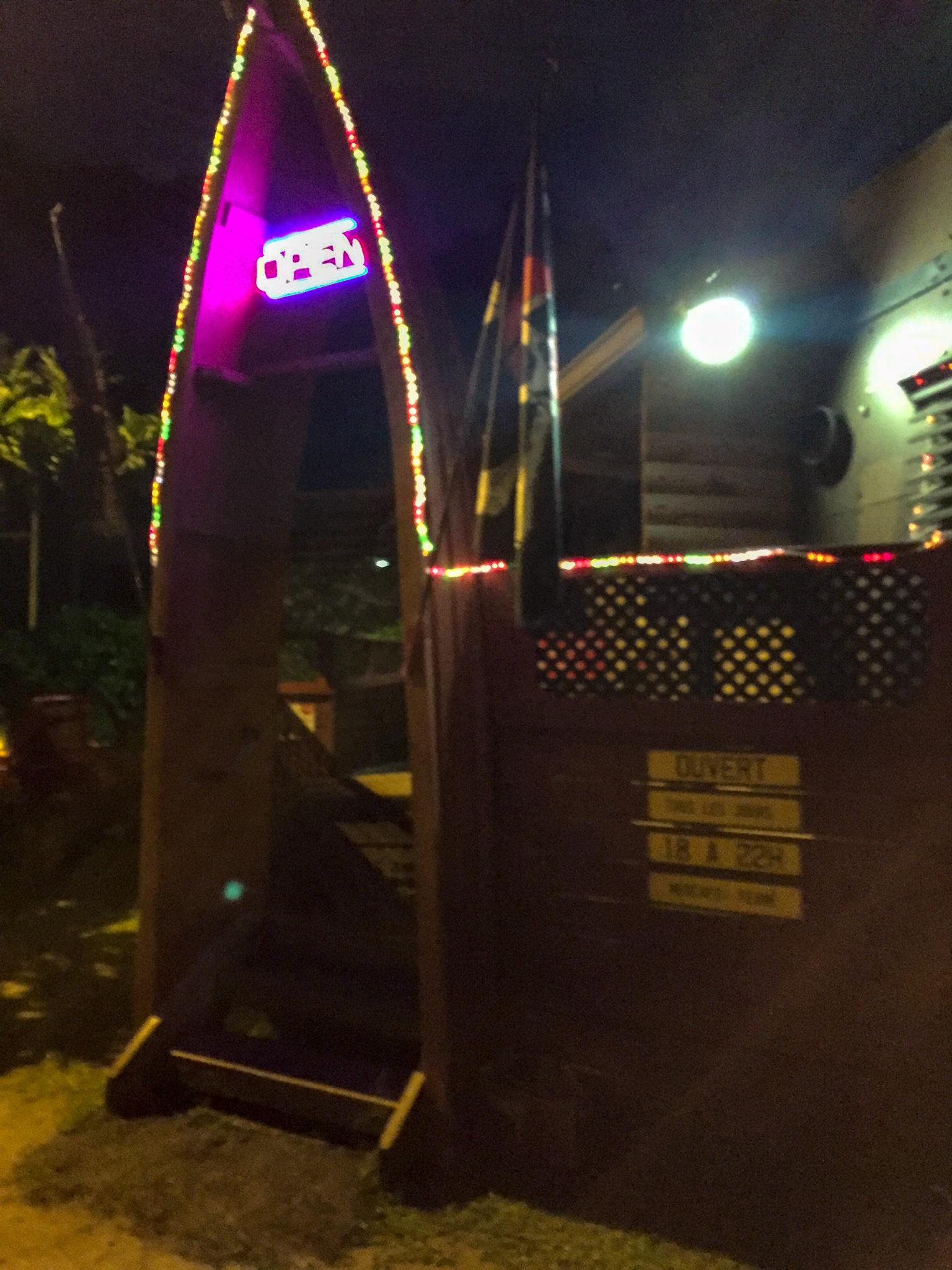 It also looks like someone hung themselves, possibly from island boredom. I hasten to inform you this turned out to, in fact, not be the case.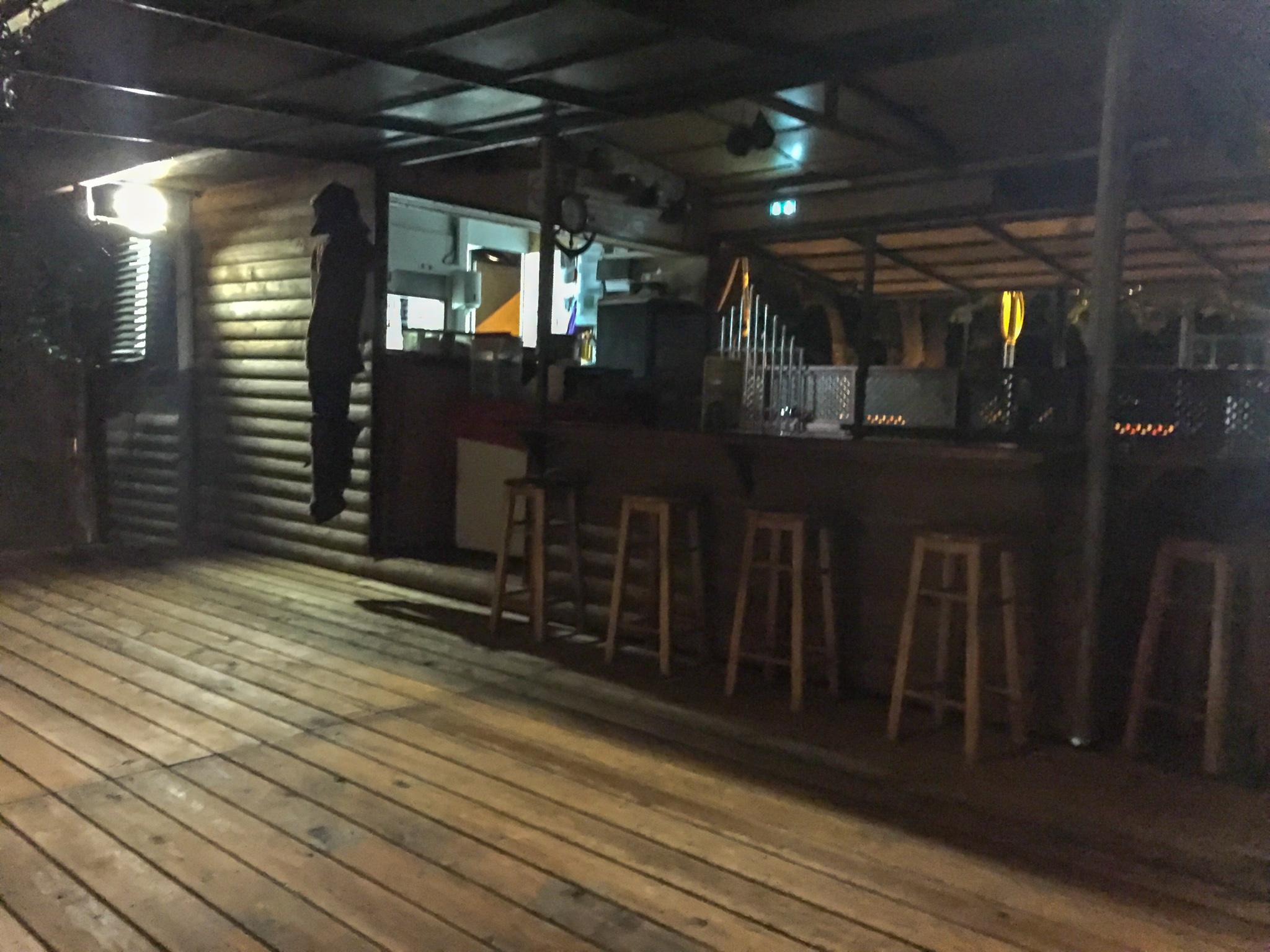 I wanted to find out what it was, but as Lorne Malvo from Fargo says, "Because some roads you shouldn't go down." Instead, I focussed on the food, which was actually rather good, all things considered.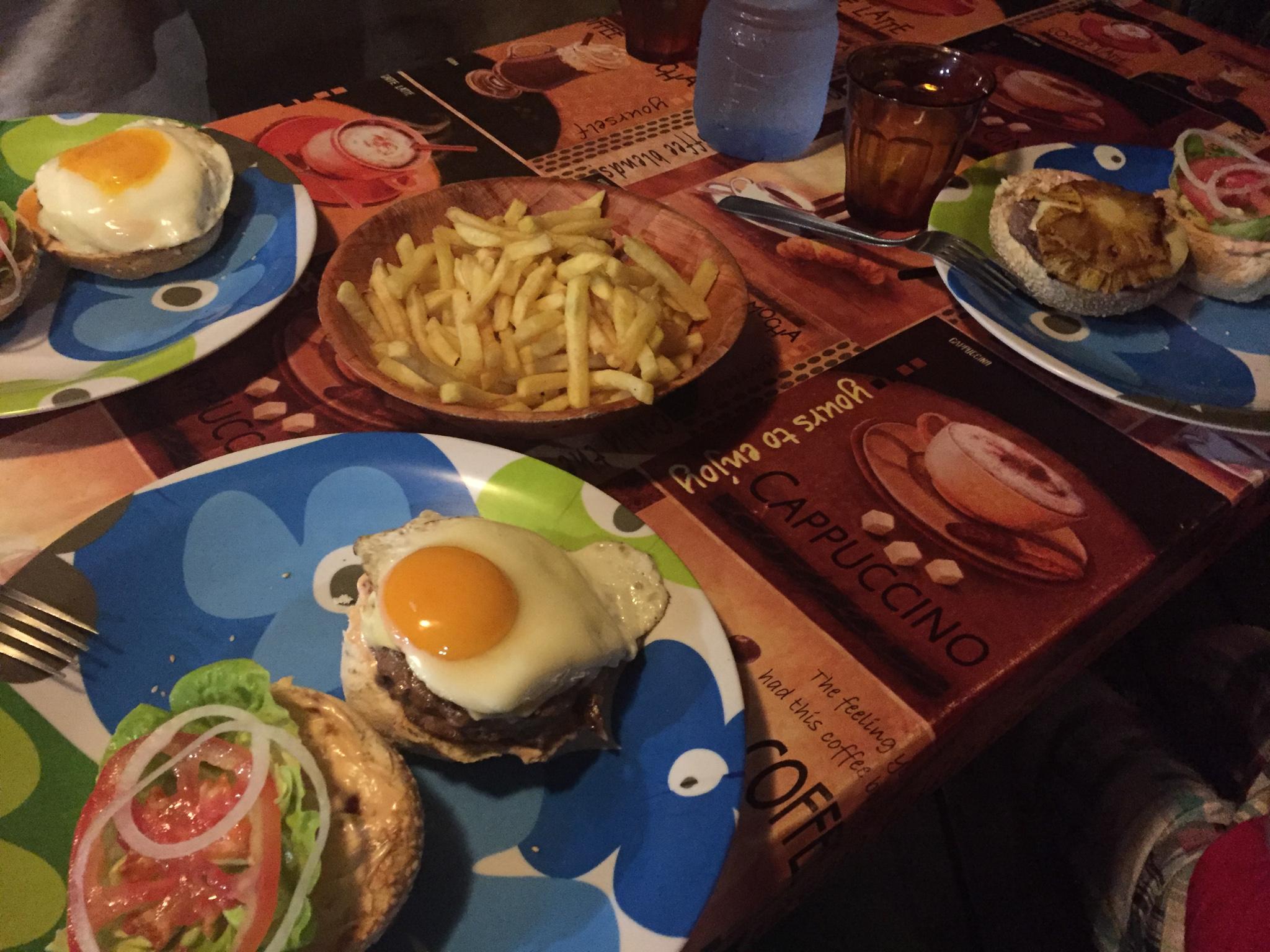 Eventually, another customer showed up, though ultimately it turned out they were more interested in talking than eating. That was actually a good thing, because it required the owner to stop talking about his son who moved to Sherbrooke City (in Quebec, in case that says absolutely nothing to you), a completely perplexing metamorphosis of a life crisis (or, alternatively, the ultimate middle finger to overprotective parents – "See ma?! That's how I pay you back – ice and snow 7 months out of 12, here we gooooooooooo…!"). Anyway, I digress.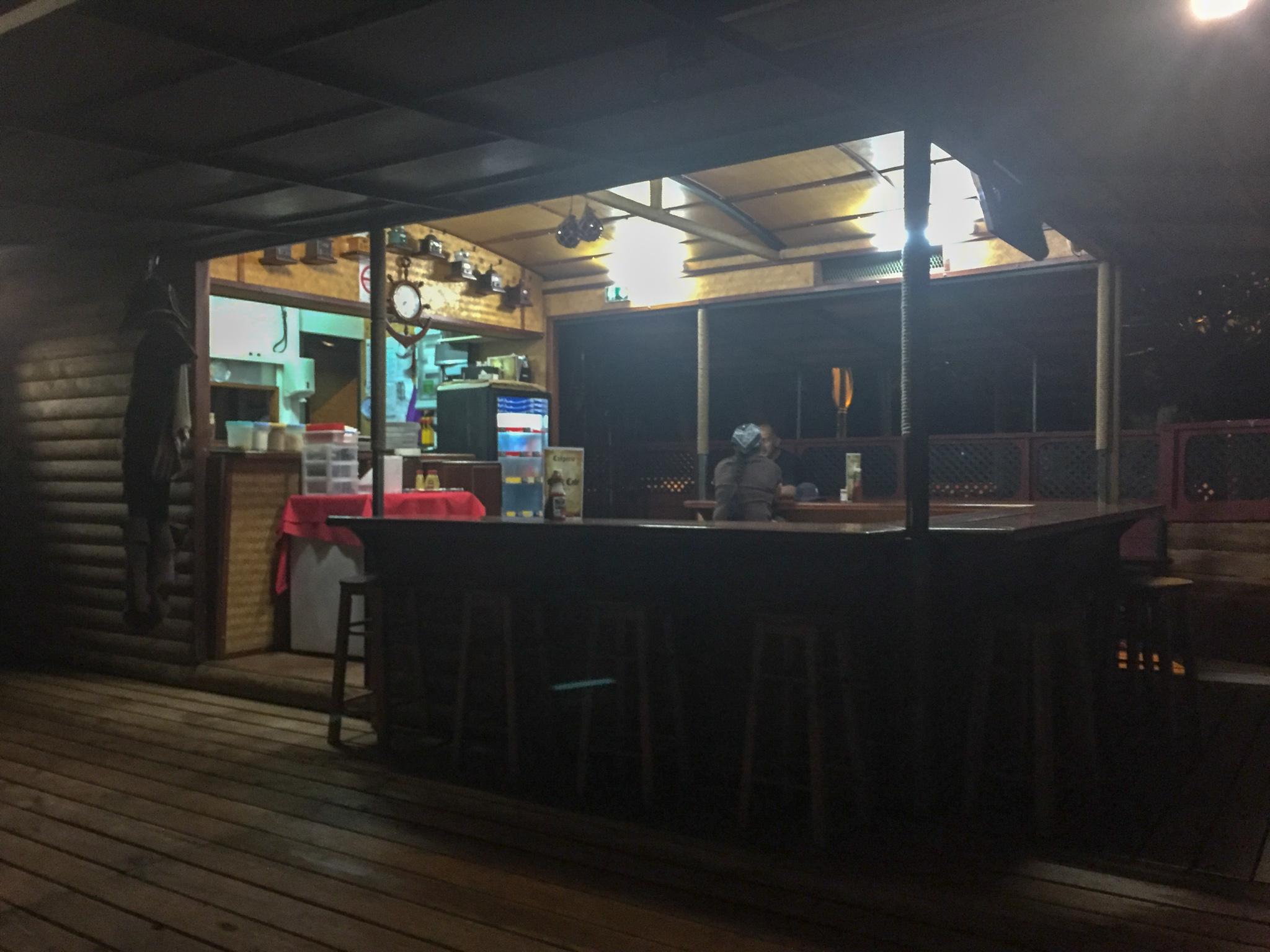 Just before I go on with the rest of the story, here's a picture of this restaurant in daylight – I decided to pass by to take a picture of the entrance during the day, if only because it was so creepy at night, and the food was good enough that I didn't feel I did it justice. Also, there's only one road in Moo'rea, and anywhere you go you'll end up passing by this restaurant. But ahem, that's a secondary reason. Also yes: it kinda does look like it's built out of a shipping container.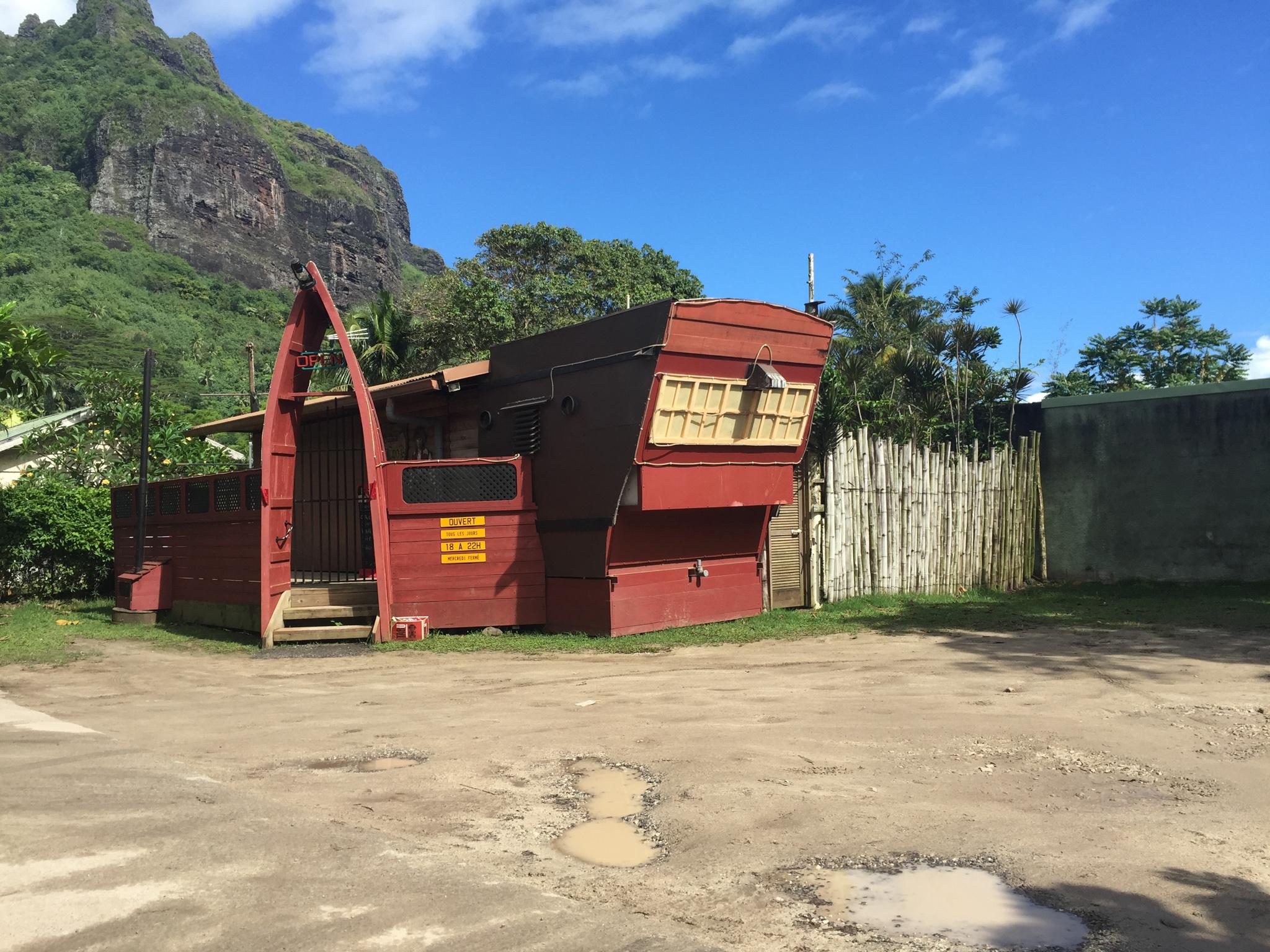 The next day, we woke up to more beautiful vistas of the sea, courtesy of Polynesian sun and random sea life building thingies to make the sea an impossible colour of turquoise.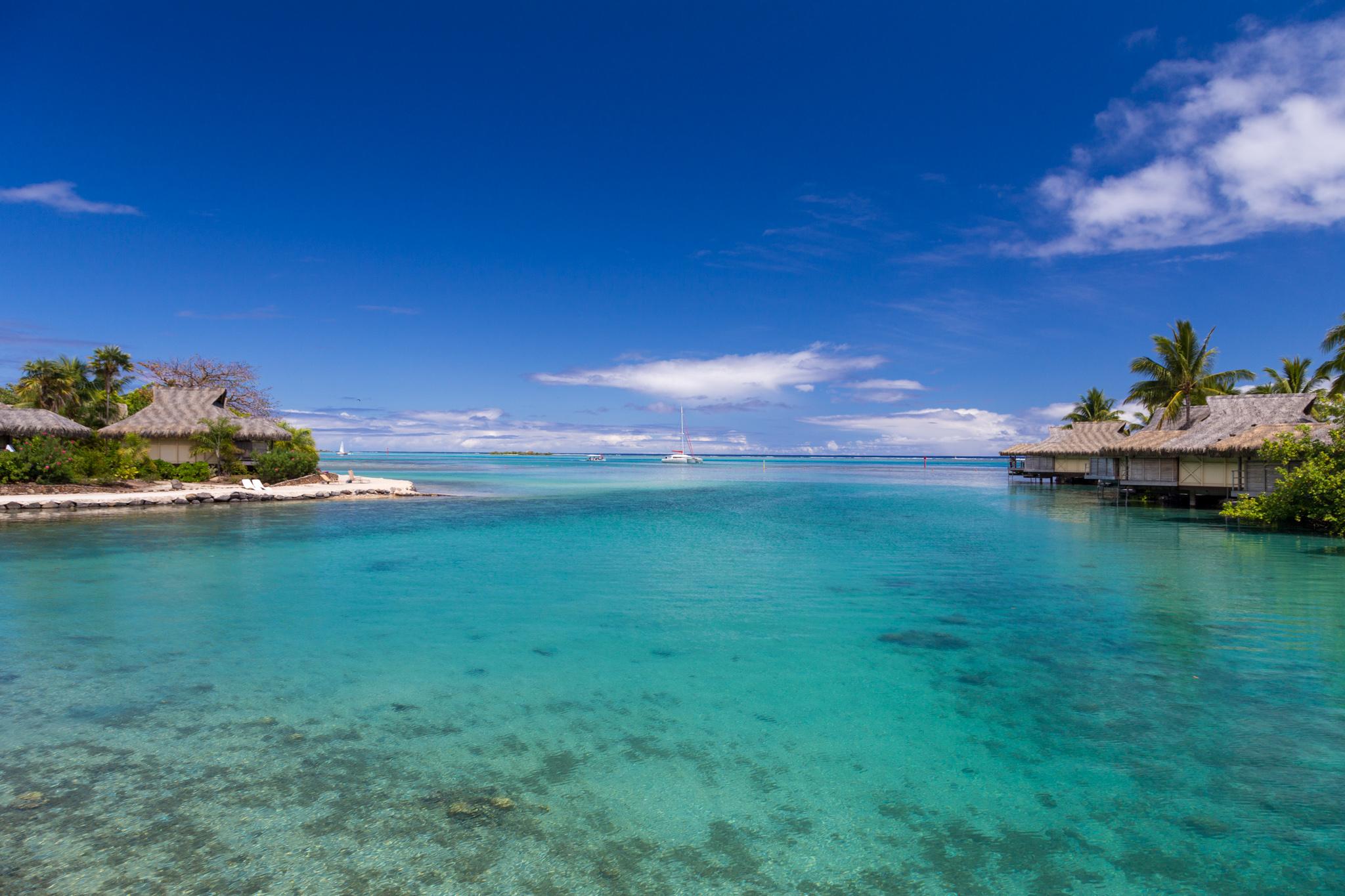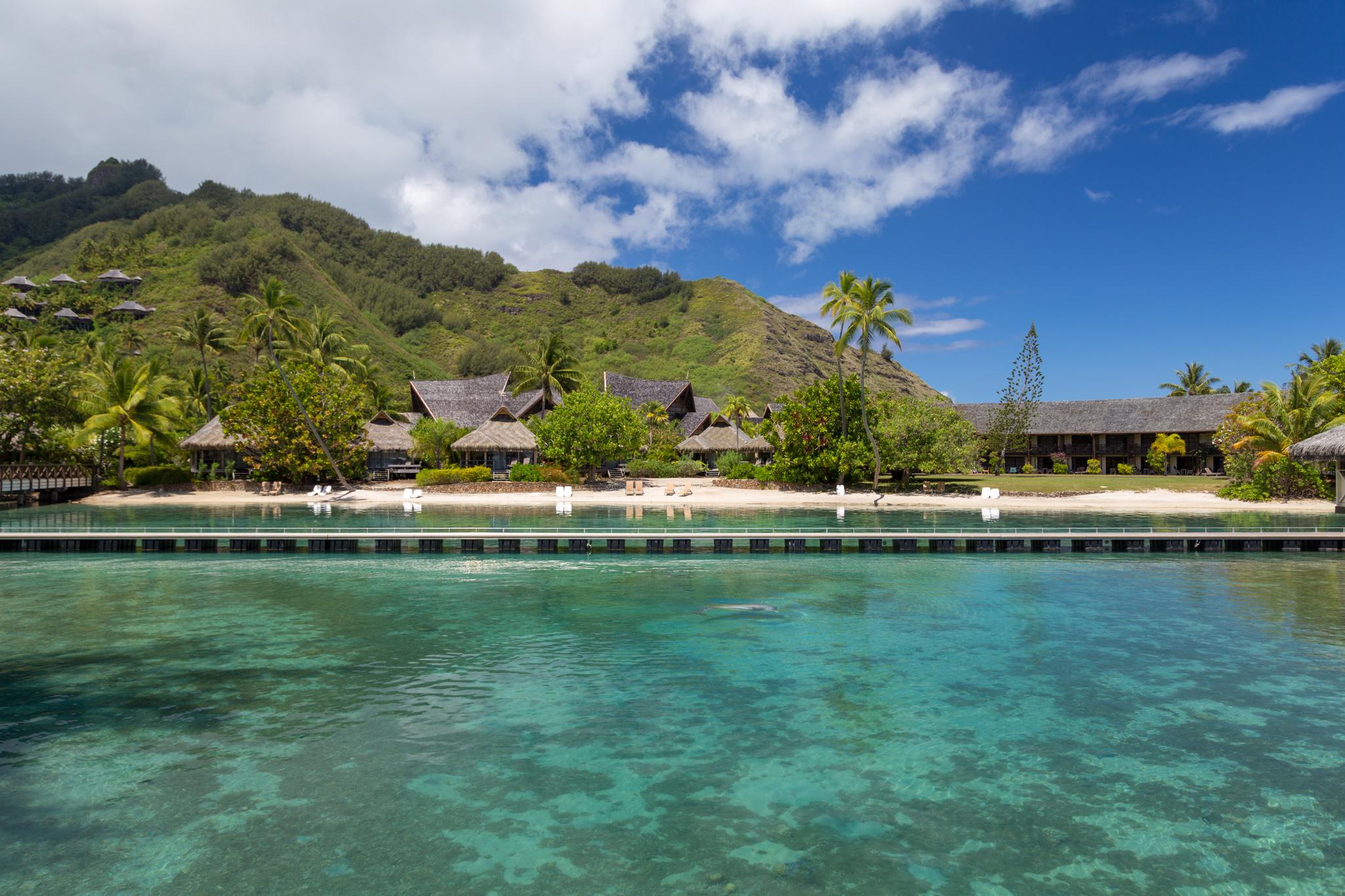 Mid-day, we took a drive up to the Belvedere Peak, from where you have amazing views of the north coast of Moo'rea, blocked by a big mountain, which, I suppose, is also part of the view.

We went to walk around some of the beaches, too, where you can take cliché pictures of tropical vegetation and Instagram everything, because you know, I BEEN TO TAHITI.
For lunch, we went to another place this time: it was called Pizza Daniel (I think the logic here goes, it's not about the creativity in the name, it's about the creativity in the pizza).
Someone, shockingly, was actually driving one of those obnoxious varieties of Renault. It can't have been Daniel because it said "loue-moi!" on it (rent me!); I don't think you can take pizza for takeout in this thing (or anything, really), so I guess it was one of the patron's.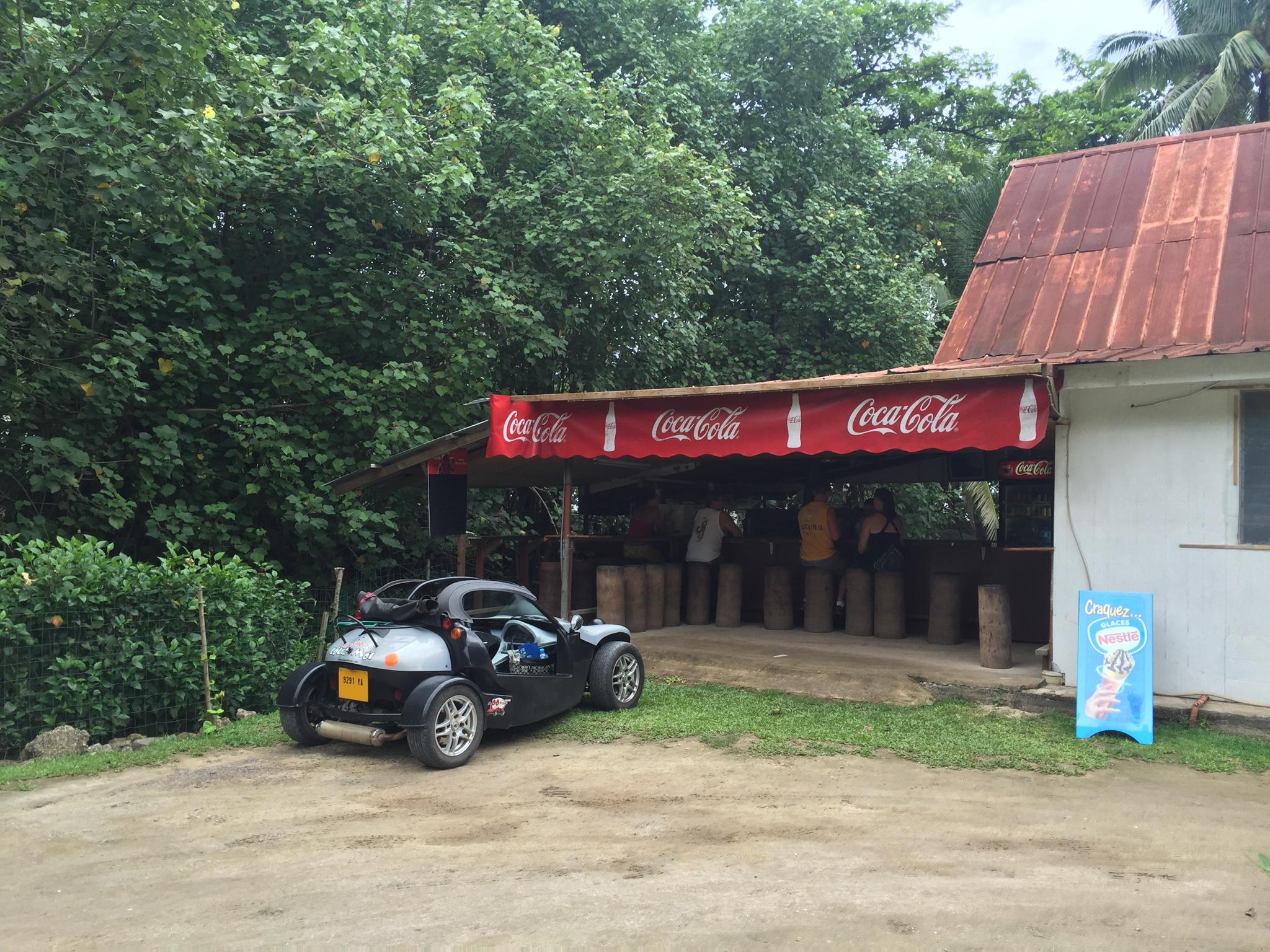 We did not have the inconvenience of having an odd French vivisected bicycle/car concoction, so we ordered a pizza to go, took it to our villa (which, frankly, had a better view than Daniel's) and ate it there. Joking aside, it was _really_ good. If you're ever there, go there. Apologies for spoiling the view with a Heineken, btw. It's what was free in the minibar. Oh, also a wet swimsuit. But mostly the Heineken. As you can see, I was drinking two – mostly chasing the first with the second hoping to drink myself into oblivion and forget the experience.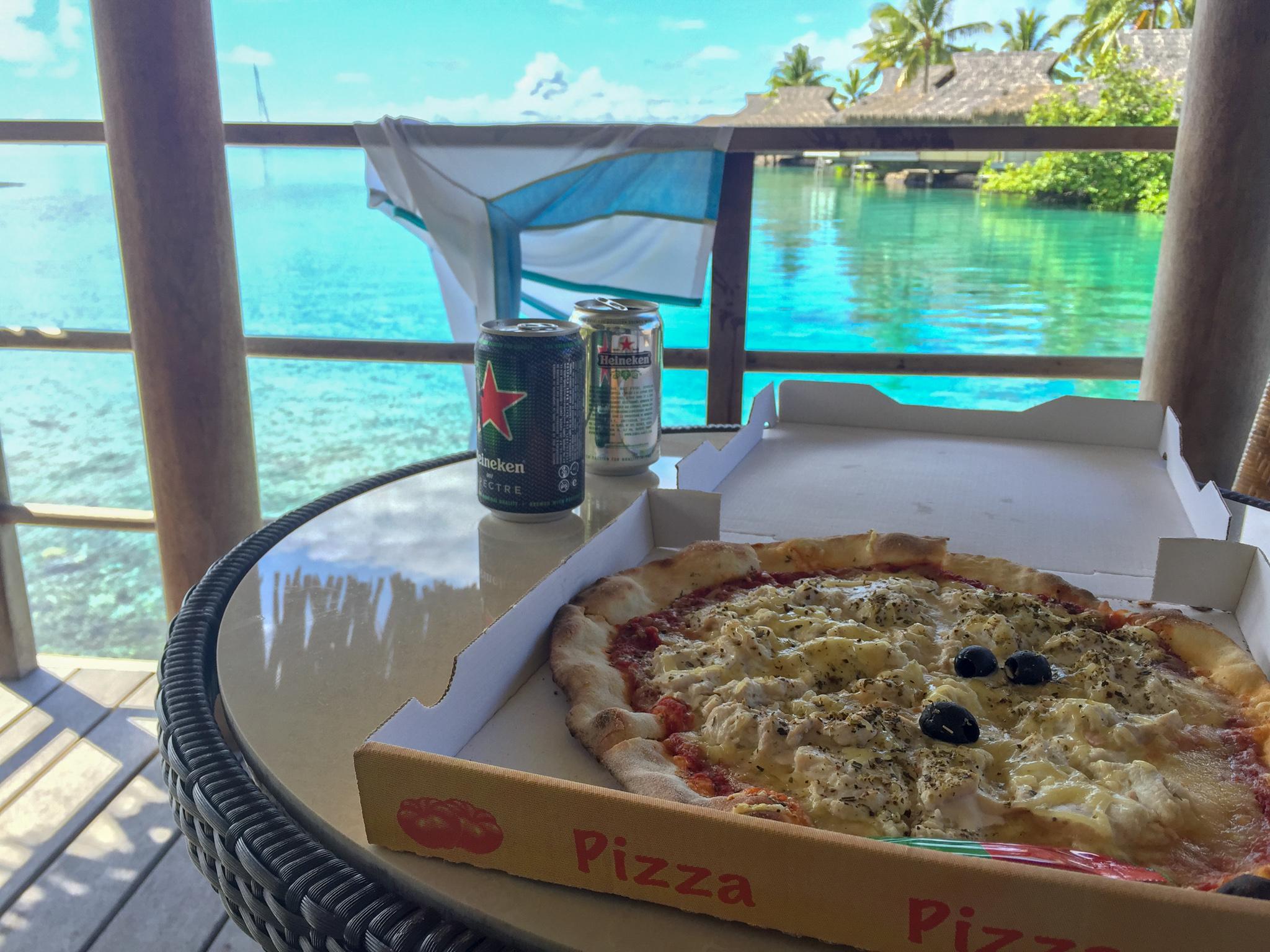 That evening, we were treated to a year another display of Mother Nature's advertising materials for Polynesian islands, filed under section of "sunsets".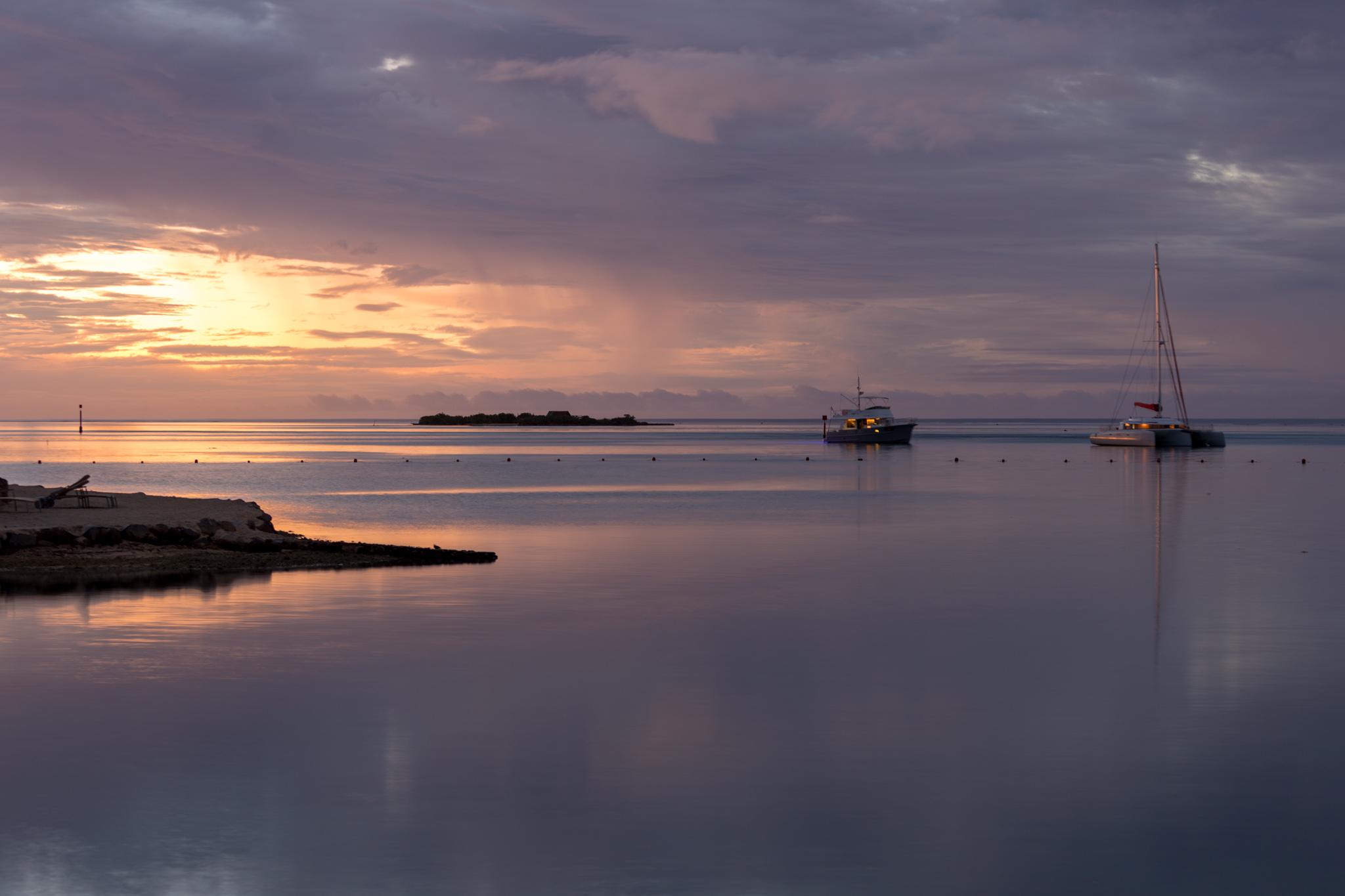 It occurred to me that taking a picture of the lagoon at night was just as important as doing it during the day, for the lit up villas were absolutely sublime.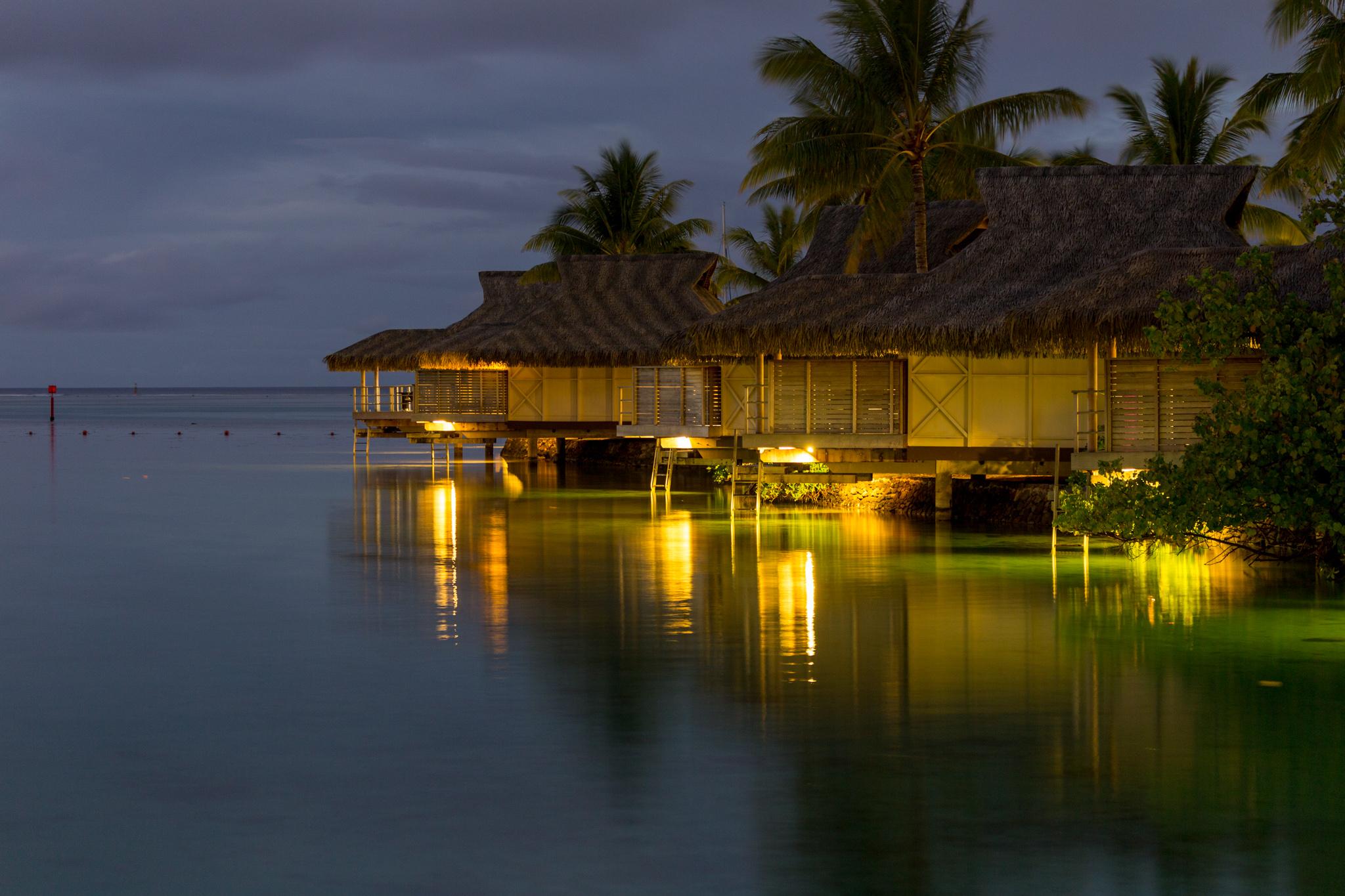 The next day, it was time to check out. I skipped a few days in the narrative, mostly because it's sort of pointless to talk about how the resort was (there are about ten thousand travel blogs in the world, of which 9,999 have been to this resort, and then there's the one guy who started yesterday and hasn't churned enough credit cards to go there yet). It's also mind-numbingly boring to hear about how people spend a week doing absolutely nothing at a resort; so I try to stick to the more interesting parts of the story.
On the way to the airport to our next destination, we stopped by another lunch place (look, food is important) called Snack Mahana, that a friend who trampled through the neighbourhood has profoundly recommended, and although his taste typically revolves around chicken wings, I figured that it might be worth a shot since he was waxing lyrical about how good this place was. This one was actually relatively hard to get into, and it was basically "go here at this time and then hopefully make your flight" or "do not go here and be like the other sheep and show up for your flight 10 hours prior". You know what I chose.
A relatively nondescript entrance…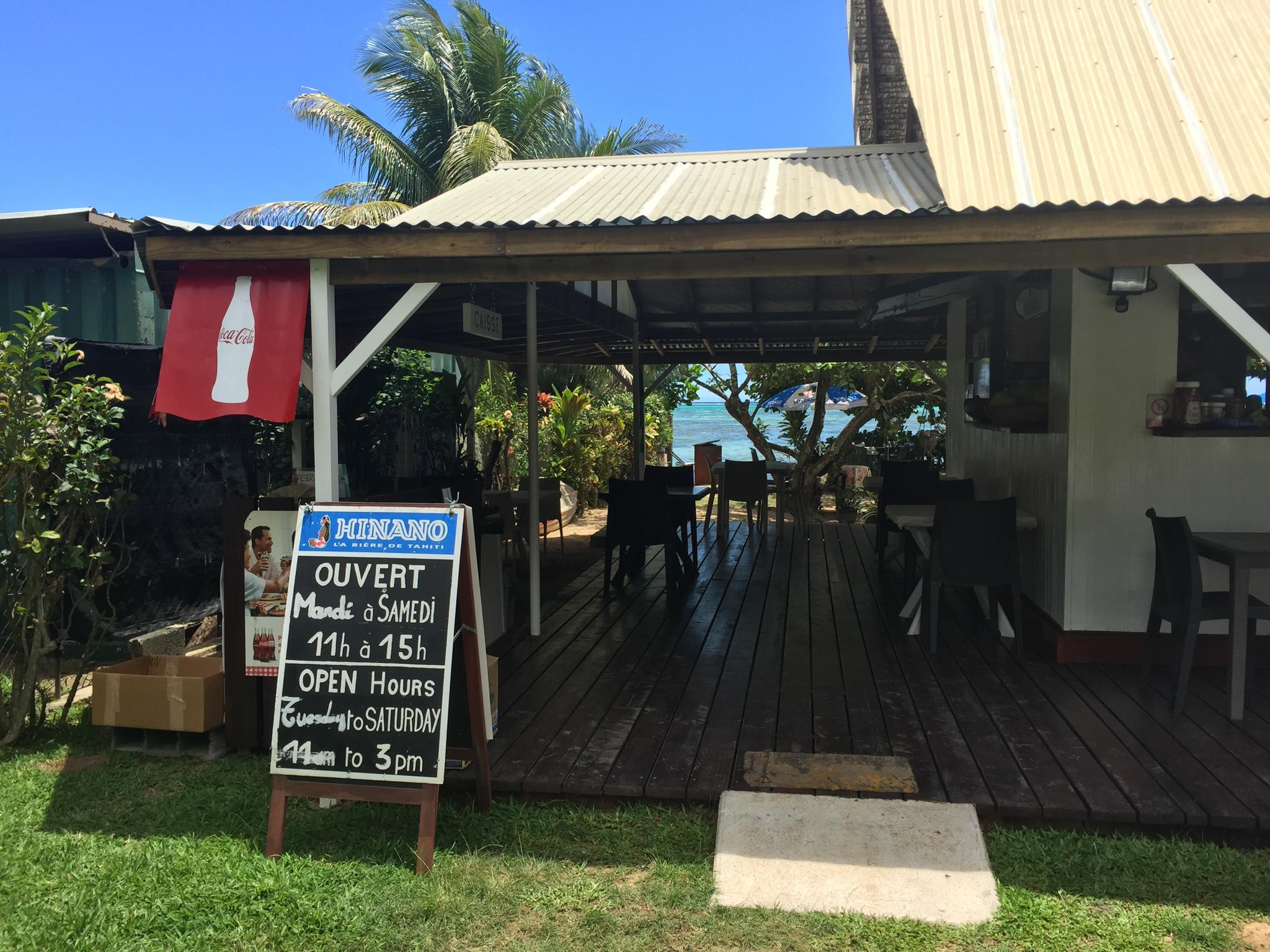 … hid a pretty nice garen terrasse,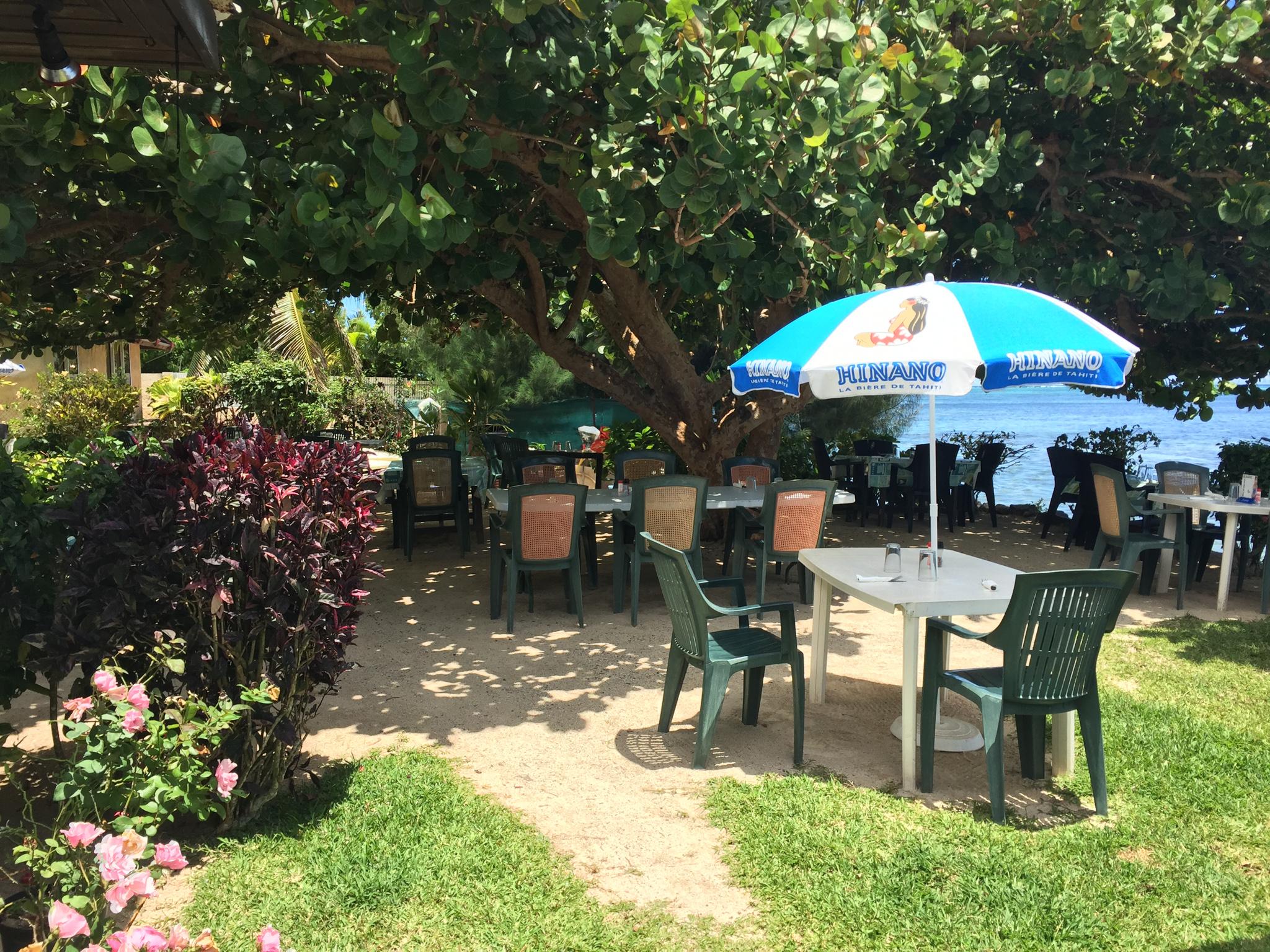 … and either because I have pretty blue eyes, because I begged on my knees, because I am a Royal Ambassador of the Kingdom of Platinum Benefits, Viceroy of Diamond Status and I have legions of annoying concierges at my behest (I'll go with the blue eyes bit, though), we had a nice honeymoon table set aside from the others with a view of just the ocean.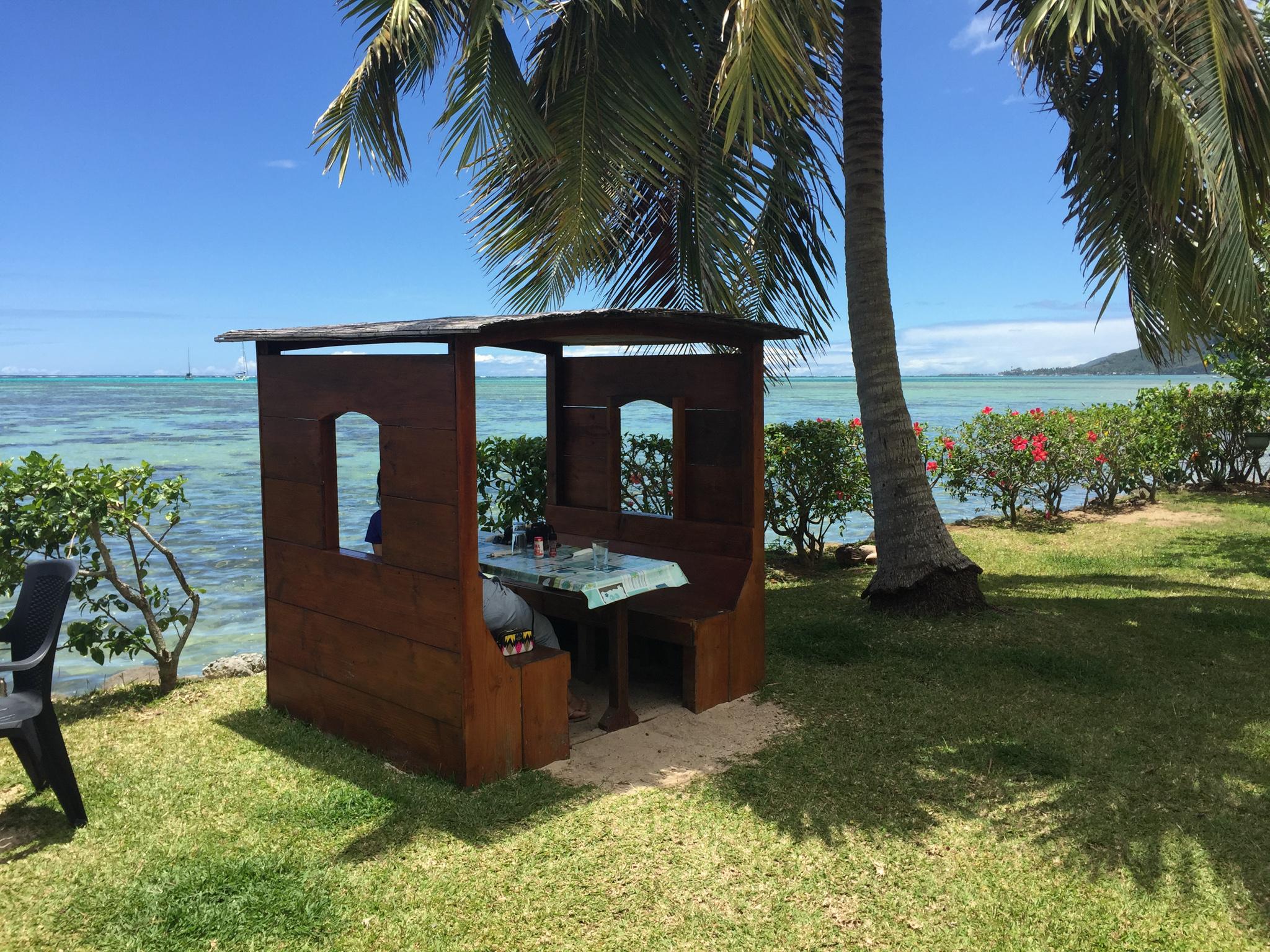 Mmm… I can eat fishies while looking at fishies, any day of the week (apparently, except Monday, since they're closed Mondays).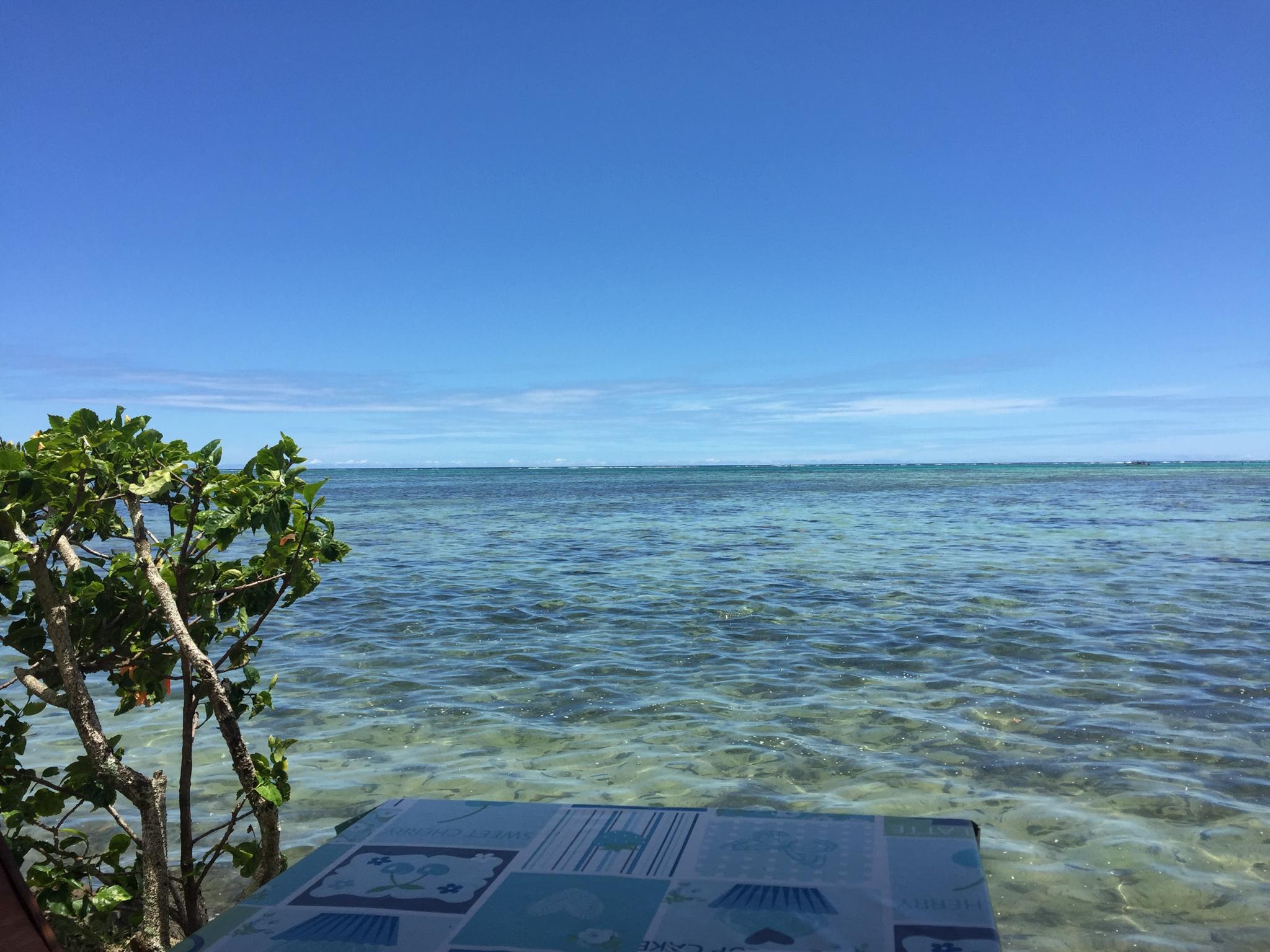 The kitchen was staffed by a woman oddly wearing a Bora Bora cap. I didn't have the heart to tell her that this was the wrong island, but then again, I once told a waiter in Paris that I wanted my steak medium rare whereas he brought it alive and he huffed and he puffed and he took it back and brought me back a charbroiled piece of coal which, nevertheless, somehow managed to retain a core of pure blue meat, so since then (and that time I asked a chef to cook my steak tartare because I found it barbaric to eat raw meat, following which he stood in the door of the kitchen for at least 45 minutes oggling me and wishing death and pestilence on me), I decided I should, as much as possible, attempt to avoid criticising chefs. They tend to take it the wrong way, and they have the power in these situations.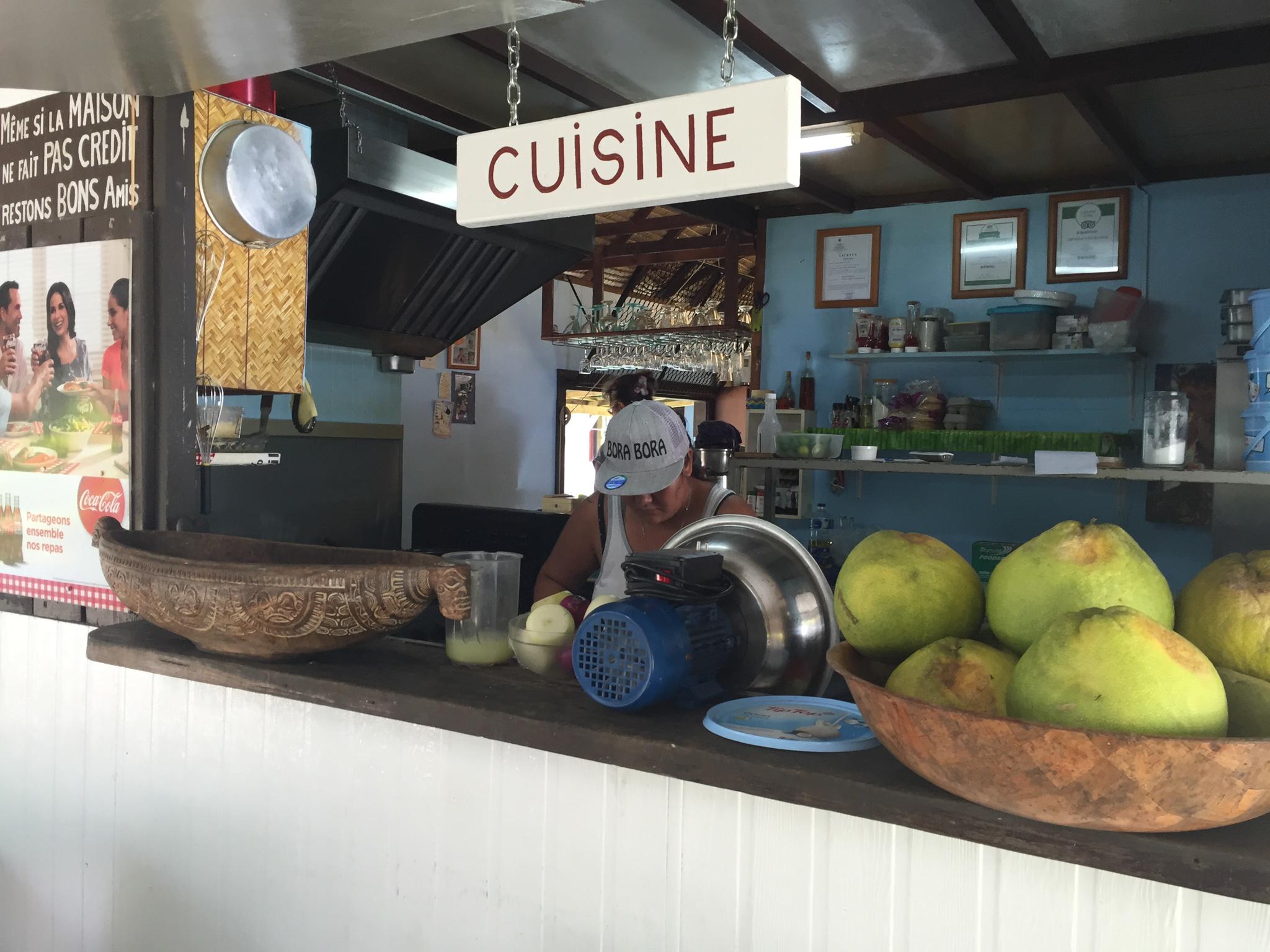 The food soon came. Spectacular tuna steak…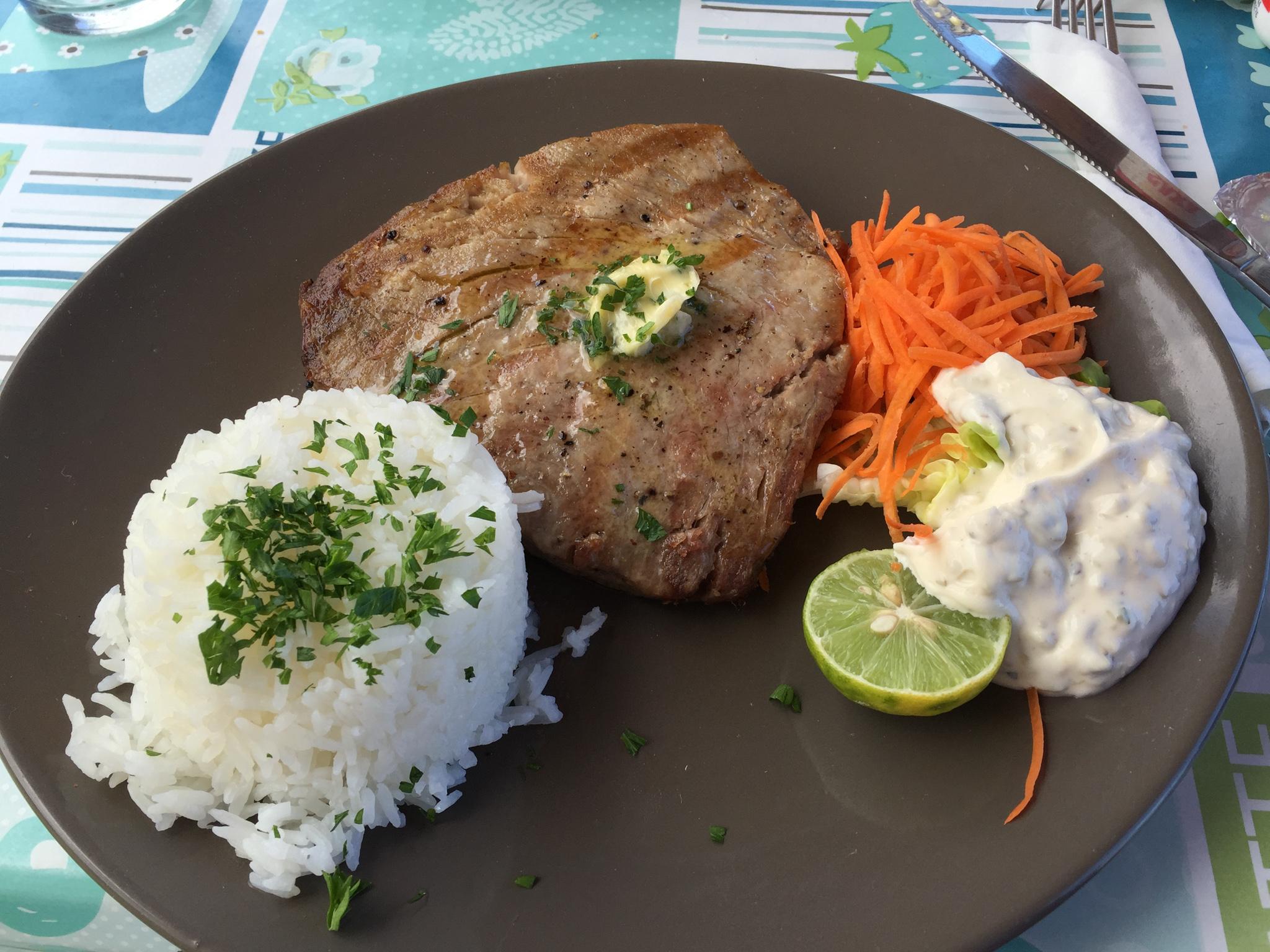 Excellent swordfish …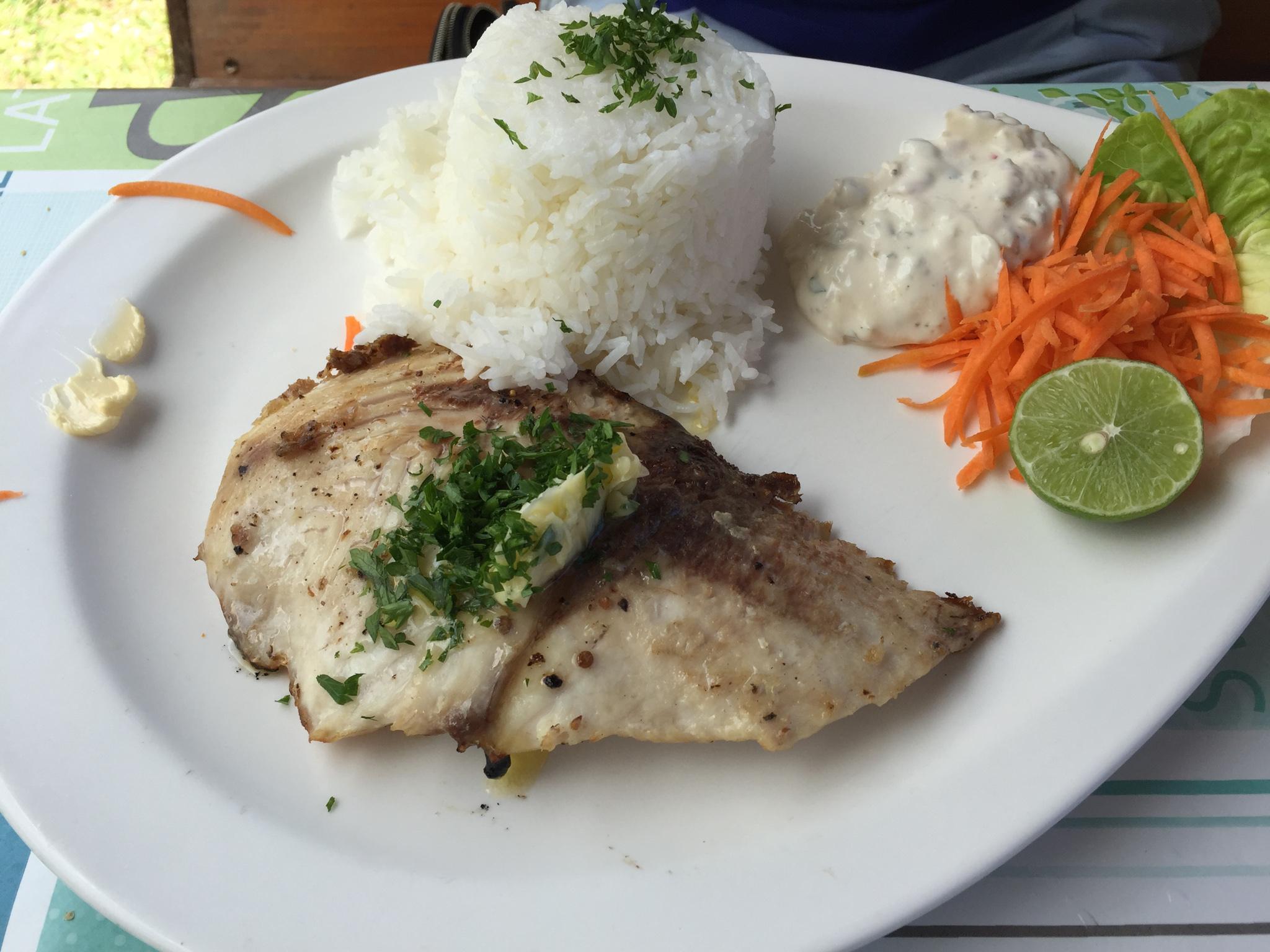 … and some deep fried heart attack because apparently whenever you say "kids menu" in any country you get some block of deep fried stuff because clearly kids are incapable of consuming normal elegant food. Not that it was bad, but I have to pretend it was because otherwise this criticism makes absolutely no sense.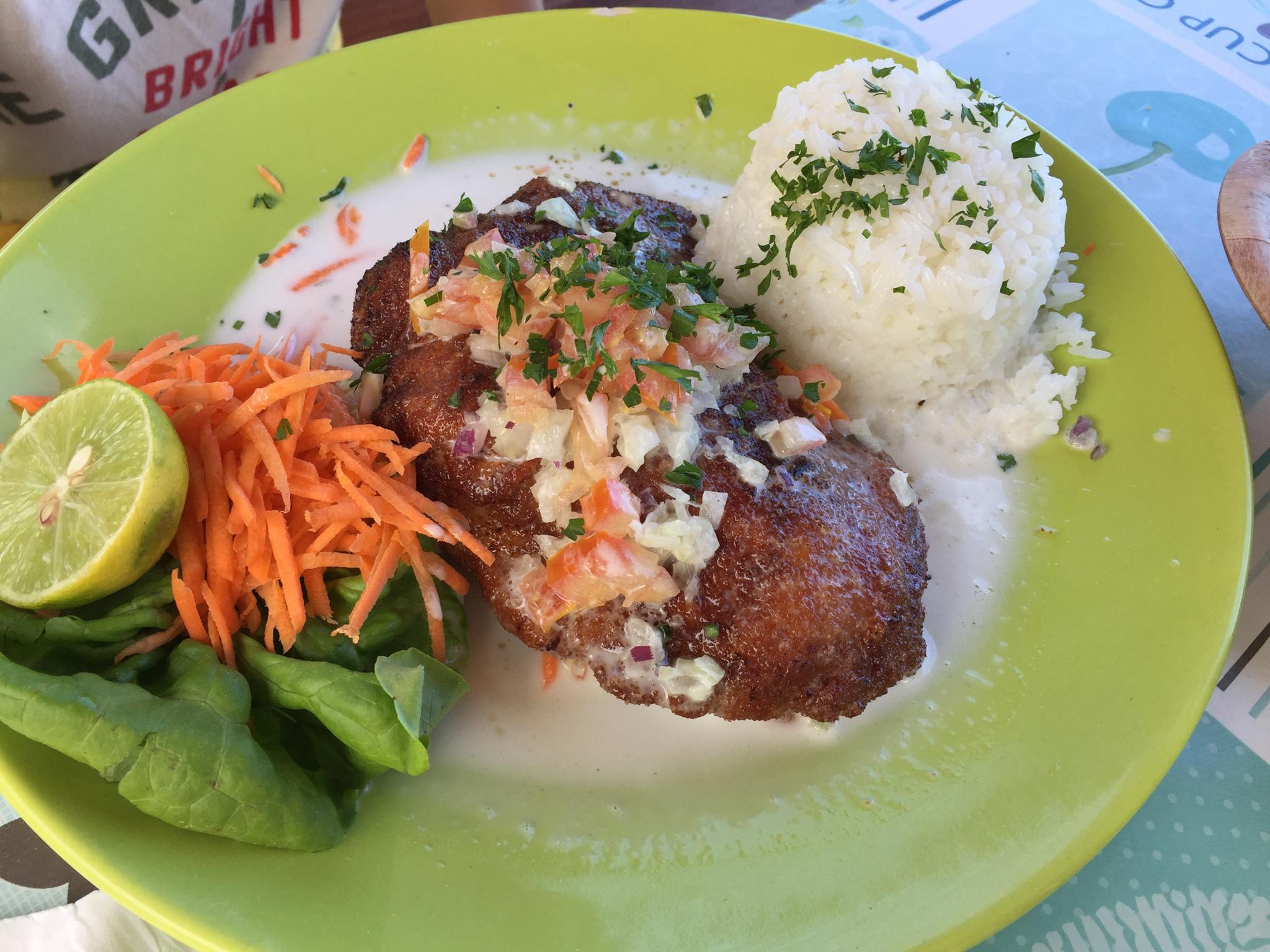 Eventually we wrapped up, paid, and were off to the airport. Today, we were flying to the magical island of Bora Bora, primarily because, in the words of a certain wise kid, "we've never been", but also because you know. Why not, right.
We weren't feeling quite as giddy as these travellers (in the background)…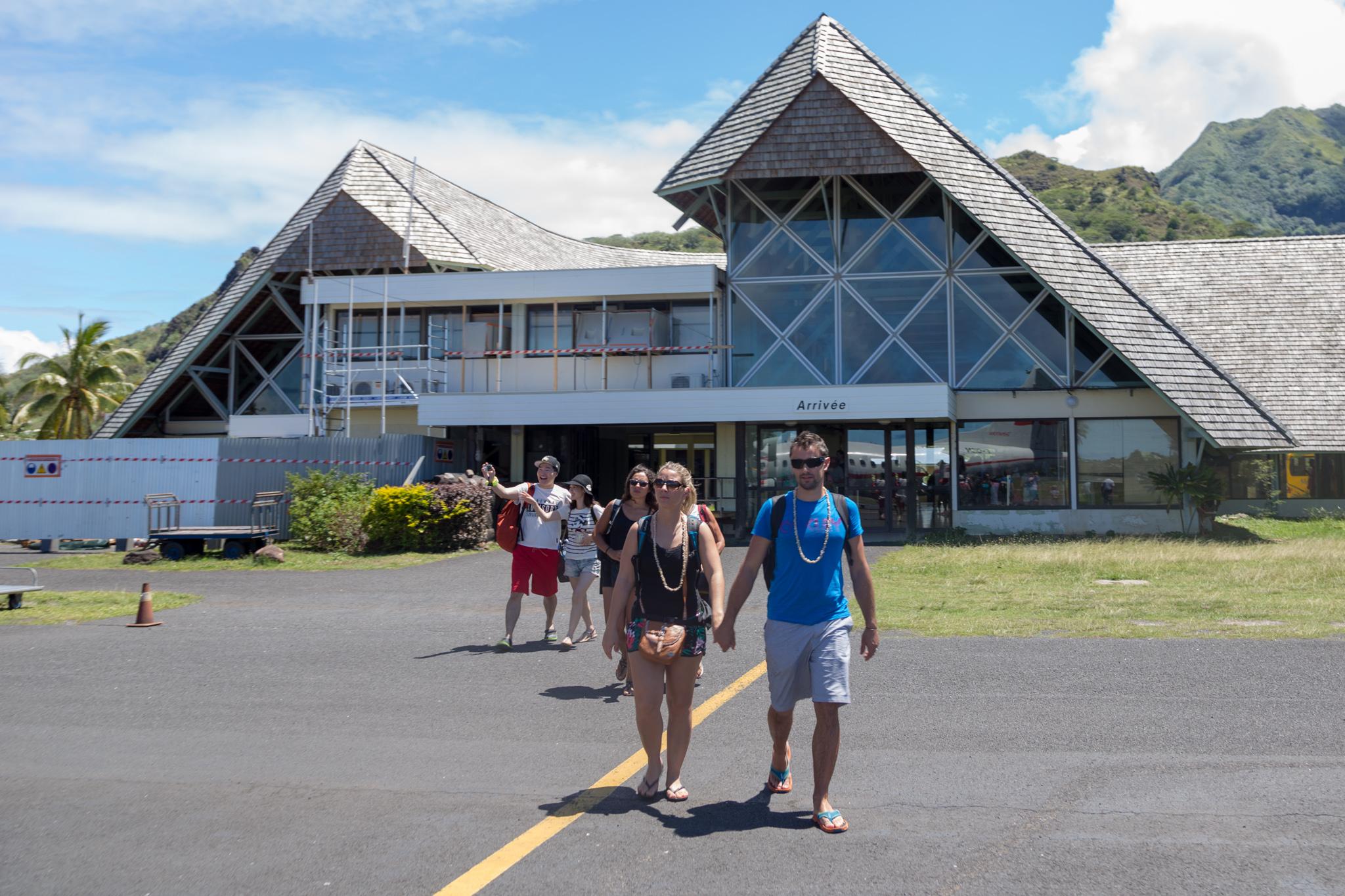 … but it was still fun to fly on an ATR72 that was newer than 95% of the Air Canada fleet at about 10 years old. (hell, the ATR72 I flew in Myanmar, built in 1989, was equivalent to the age of a number of Air Canada A321s).
Boarding from the tail, once again…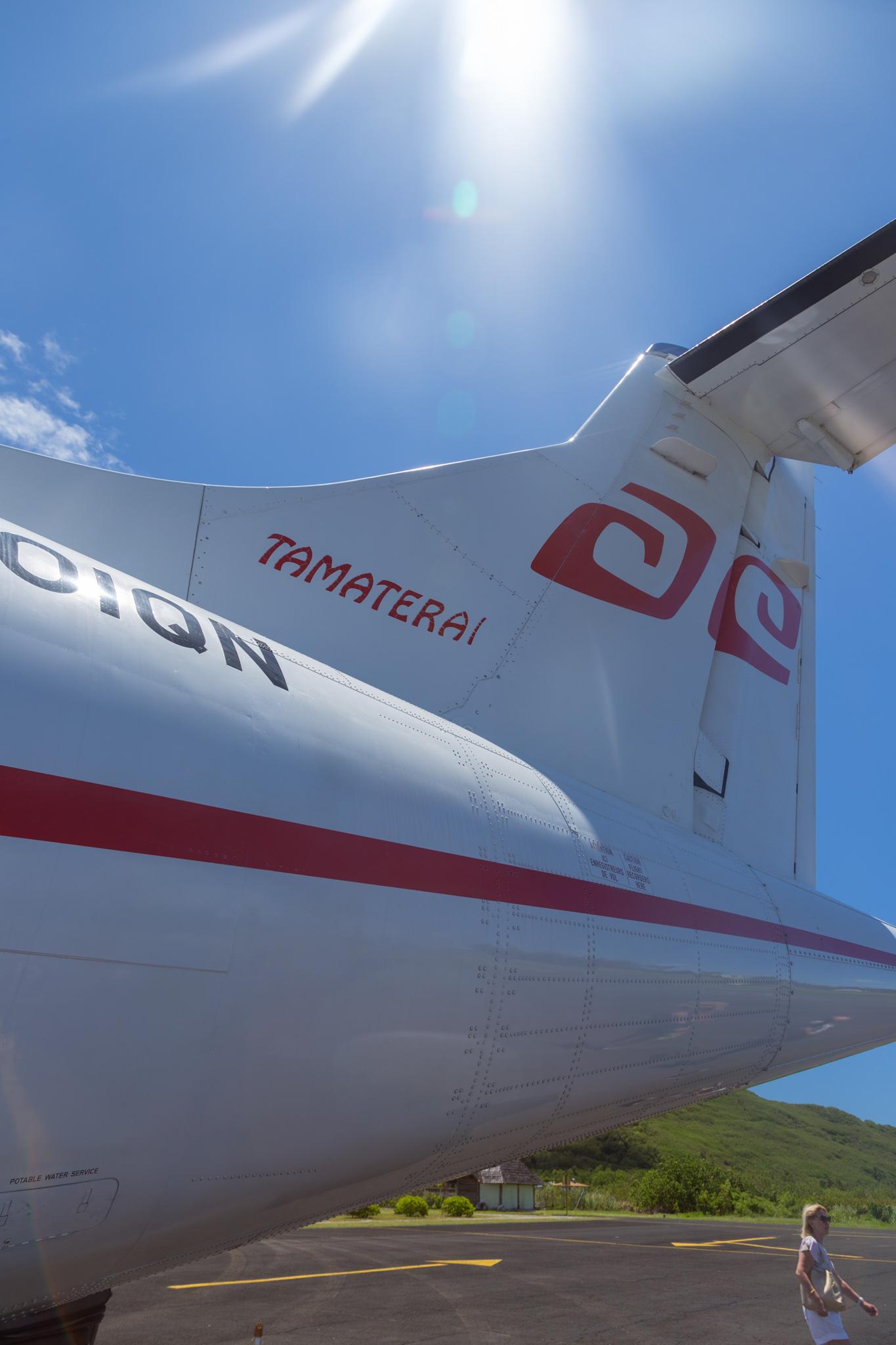 … and we were off.
Here is an interesting comment, btw (not that the rest of this isn't interesting, but it's an observation). We passed a number of islands along the way, and I kept wondering which was going to be Bora Bora. I mean, I knew, to some degree, how it was supposed to look like from the sky, but without having ever been there, I wasn't entirely sure. We passed by Raiatea…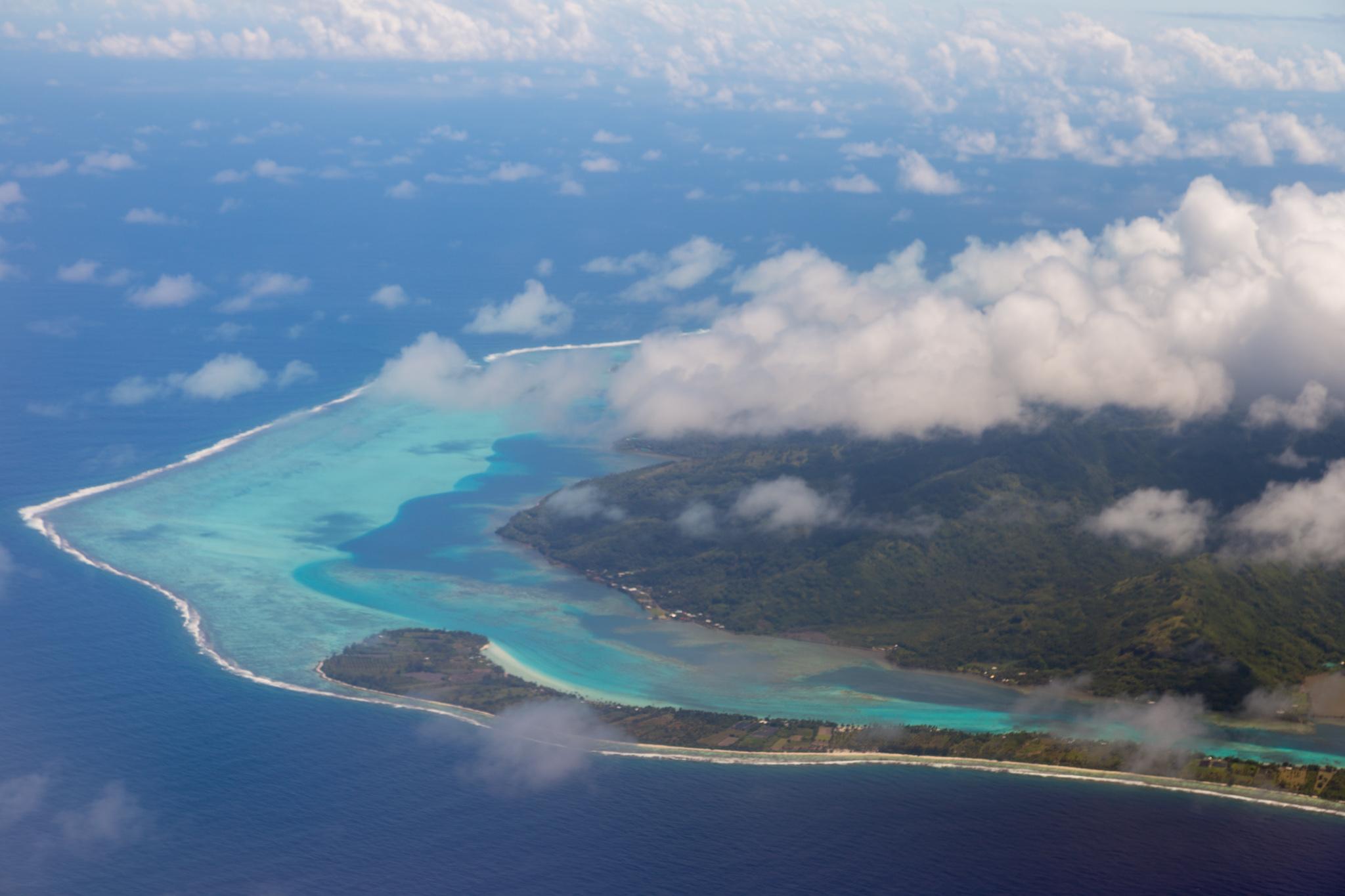 … then by Huahine …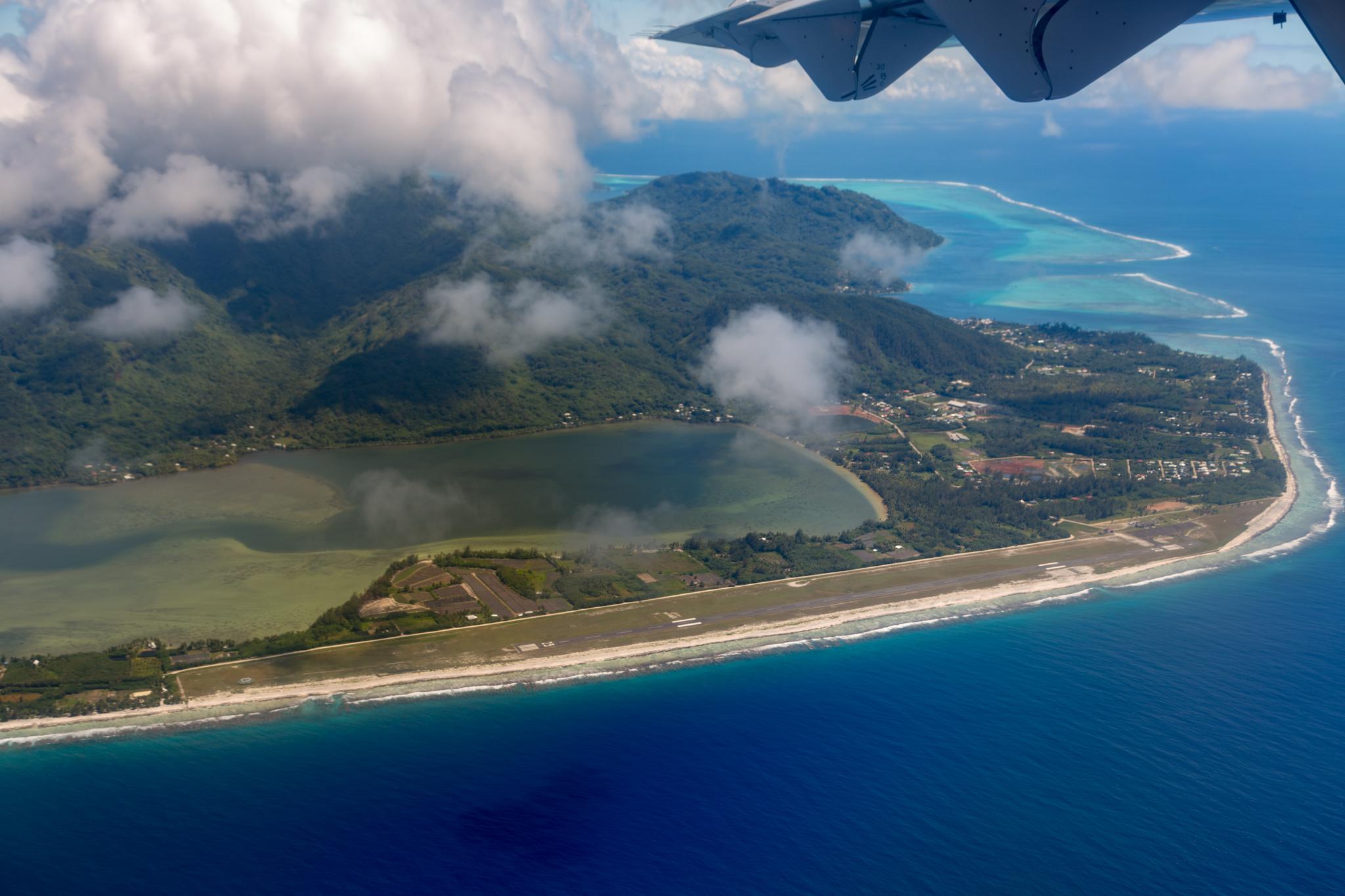 … where we actually landed,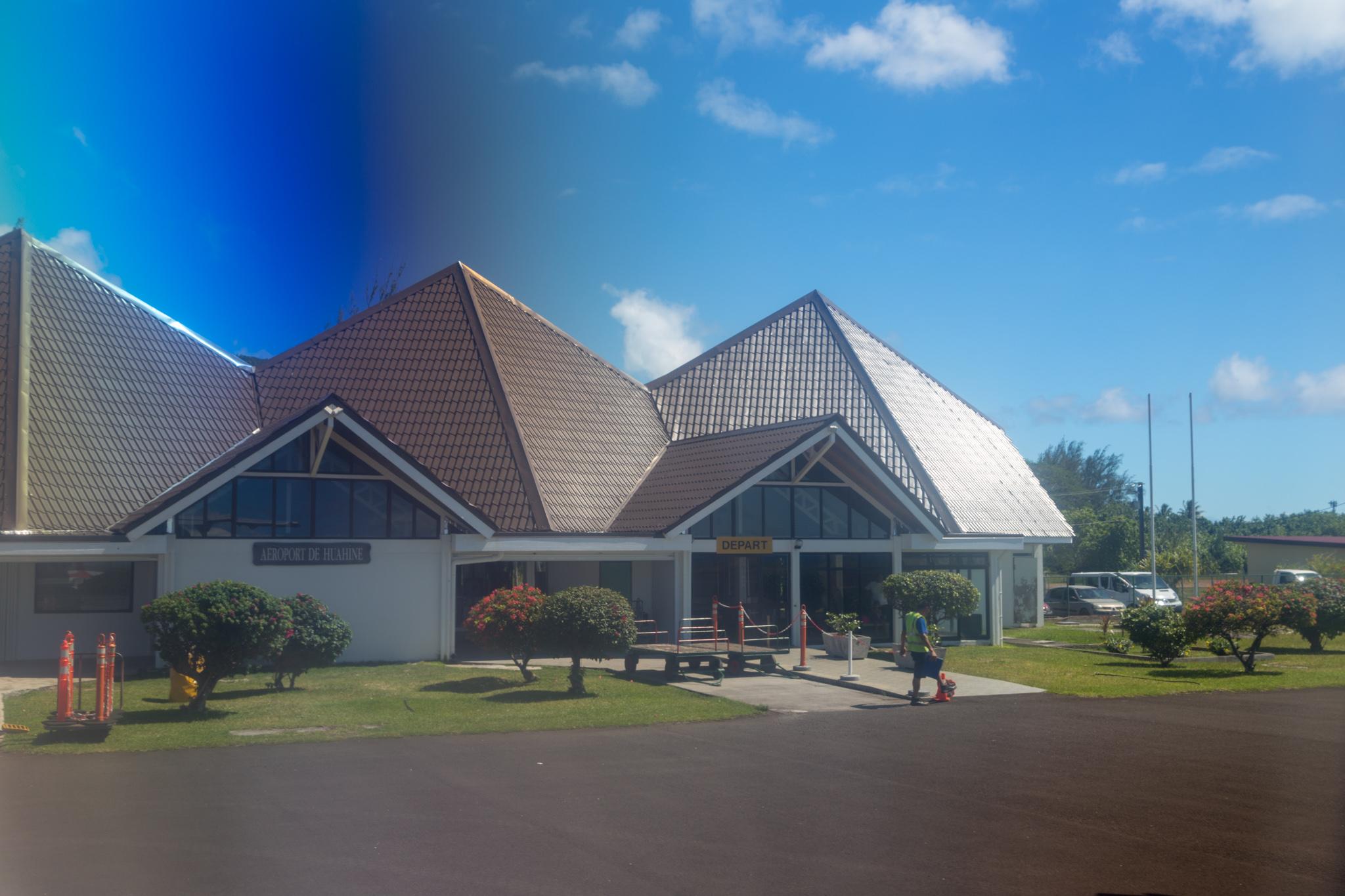 … and every time I would kind of wonder whether this was it and whether that was all there is to it (because honestly, both the above are nice, but not something that blows your mind). And do forgive the lack of geographical awareness on my part – but to some degree, I explicitly switched off my brain to look for this wonder of the world, and I kept being mildly disappointed at seeing it, only to then realise that that was not it.
And then….
there it was.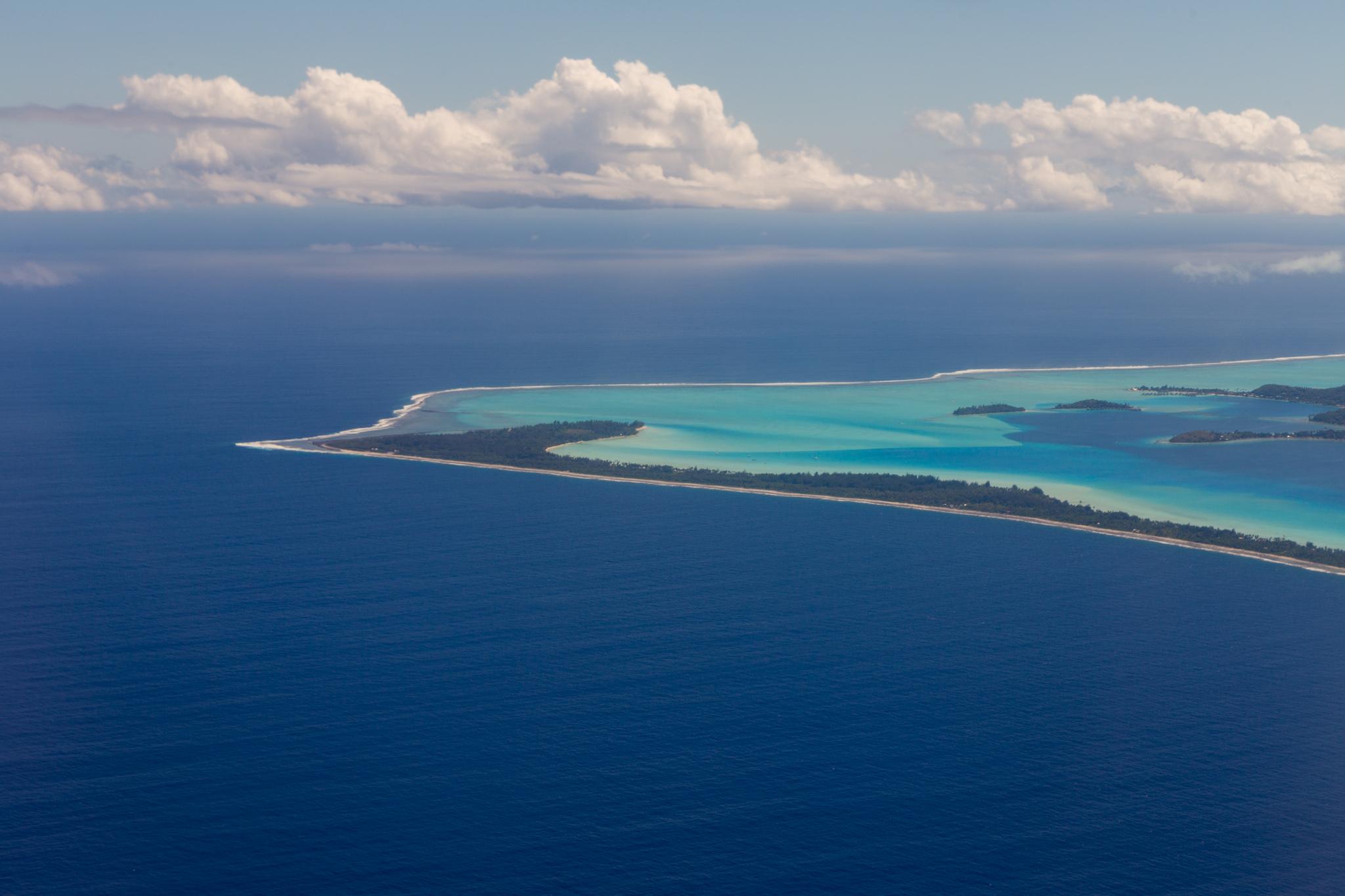 Of course, for the slow-witted, the immediate avalanche of overwater villas was the next dead giveaway.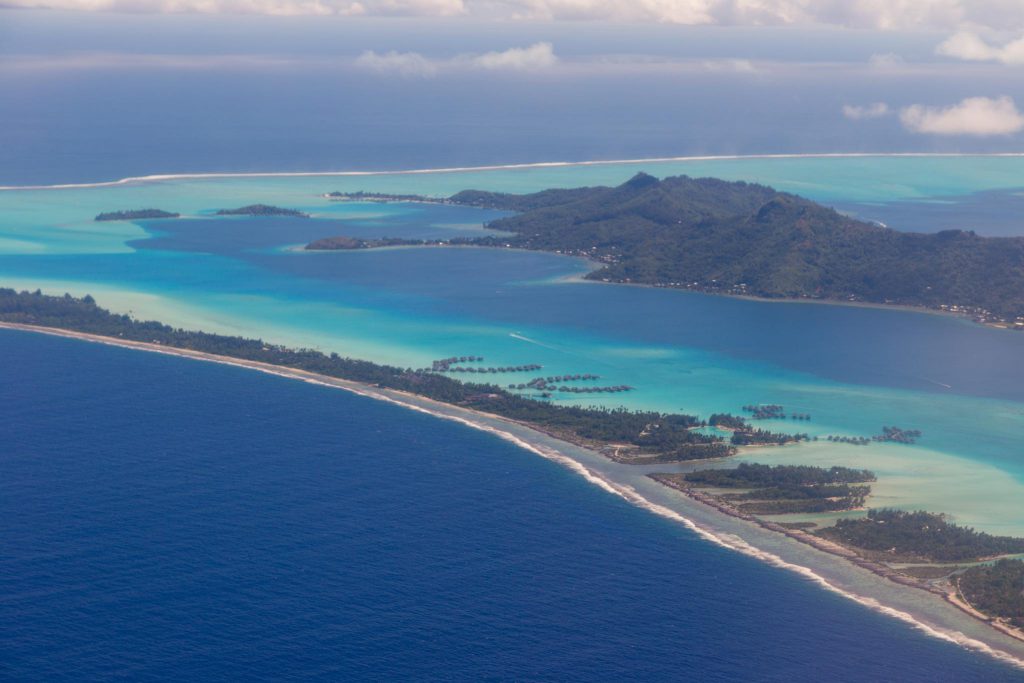 But in all honesty, that first picture of Bora Bora, that view you get from the left side of the plane, that absolutely dreamlike lagoon and sand combination, the gradation of turquoise into sand… all of those combine to literally take your breath away. I really mean it: you're not flying high enough to have any lack of oxygen, so that feeling you have when you are feeling blown away can entirely be attributed to the beauty of this island. I have absolutely no words: this is the most beautiful island I have ever landed on, bar none. The pictures above don't do it justice. It's literally worth jumping out of the plane to take pictures. Make sure you have a GoPro so they can fish it out later if you don't quite make it ashore in some shape, though. It's THAT pretty.
We went on to land in this … for lack of a better word, paradise, where a boat was waiting for us.