Our original plan on the last day was to spend the morning relaxing, maybe swim in the pool of the hotel a bit. But after spending two days with our guide and realising that chances of us seeing everything are pretty low… we decided to go all out, and spend the morning doing more sight-seeing, and after some kind of a lunch and afternoon nap, head to the airport.
First, we went to see the Manuha Buddha Image.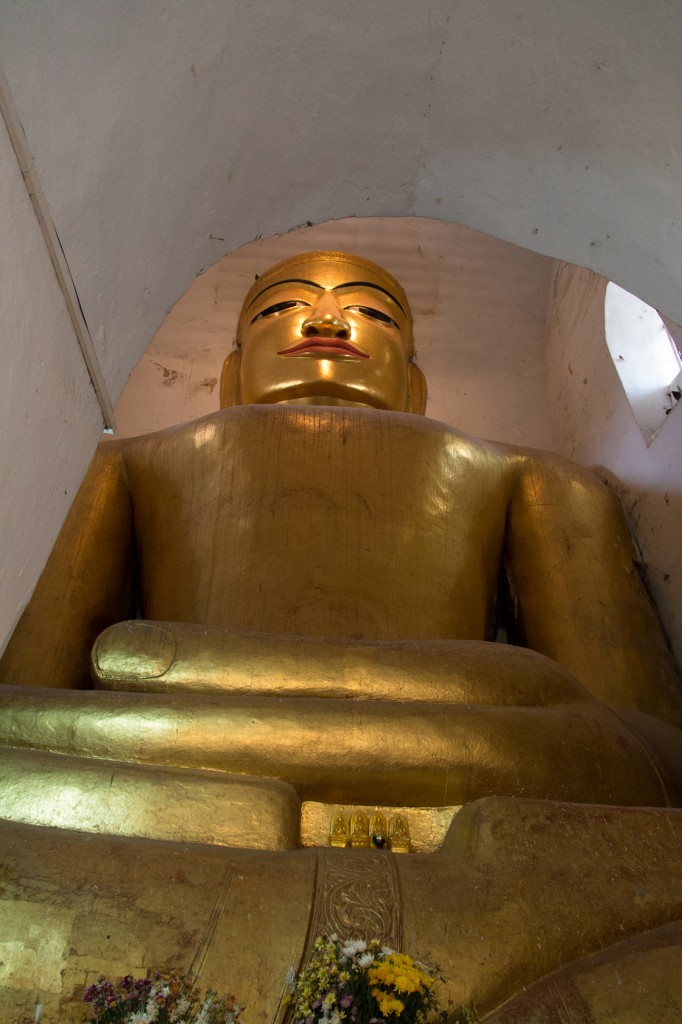 … where we saw a lot of kids who didn't seem to be bothered with the antiqueness of the presented artefacts (but… kids be kids, and I'm pretty sure Buddha wouldn't mind).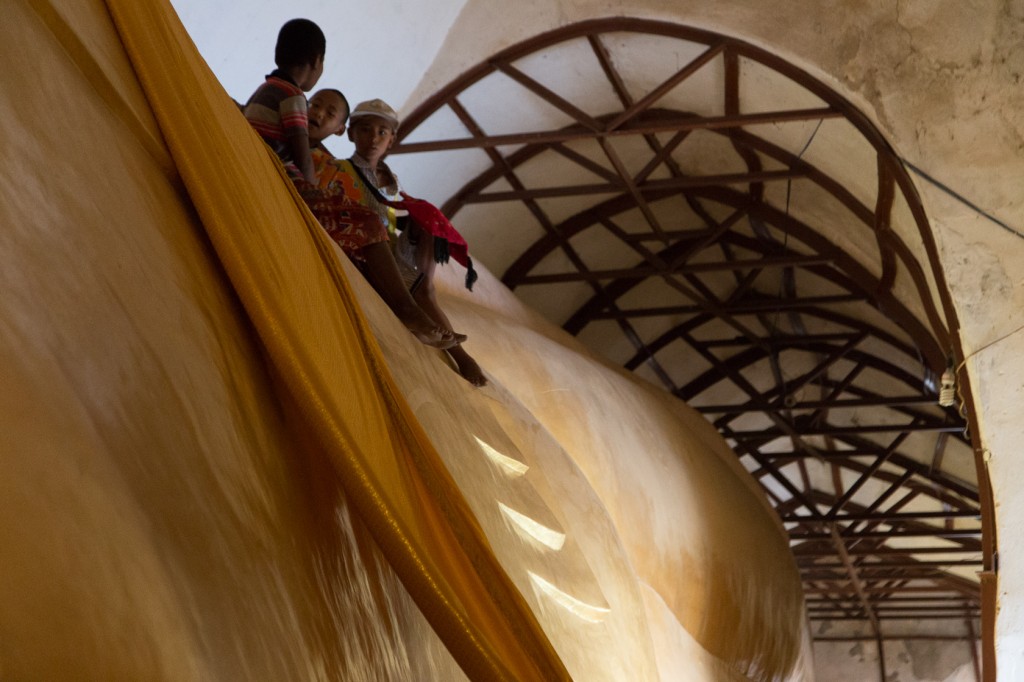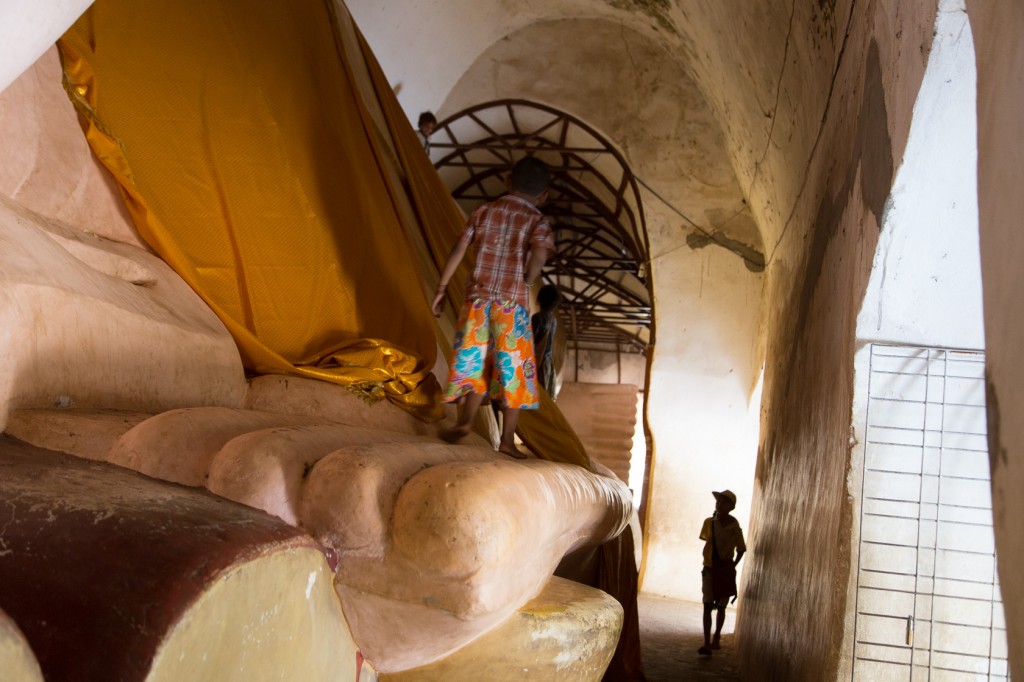 We went on to Nan Paya Temple.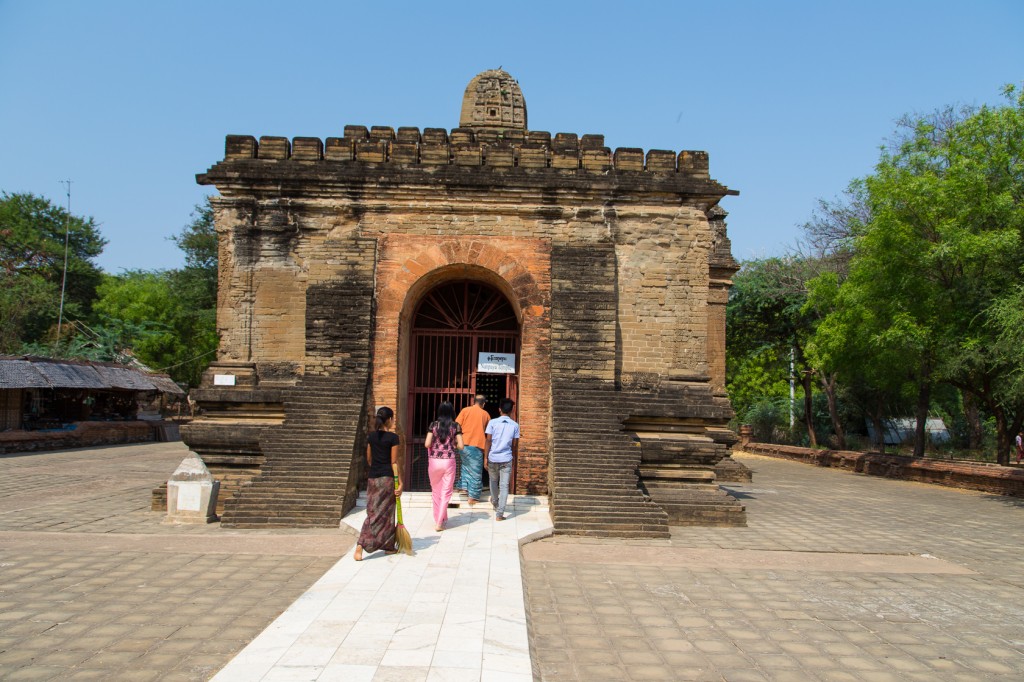 Next, we went to a very interesting site. Once again, somewhat off the beaten path, we went to a location called the Kay Min Ga temple. It was a collection of stupas, some of which were damaged in the tragic earthquake, and yet others stood on. Very few visitors were here, besides a few locals who were hanging around.
The landscape was quite impressive (the damaged stupas can be seen in the background).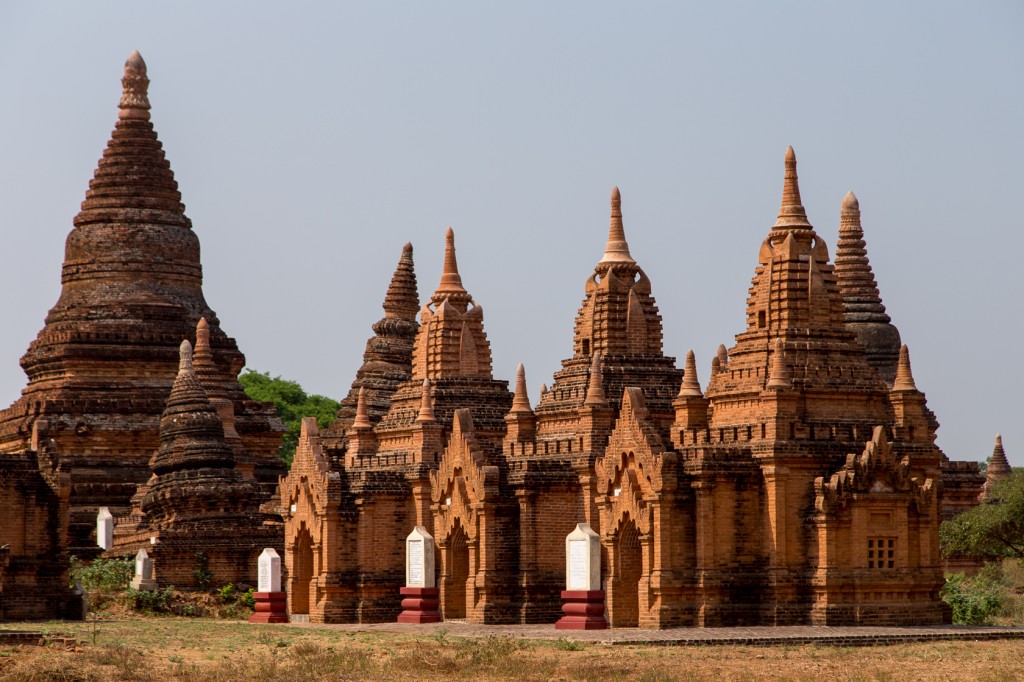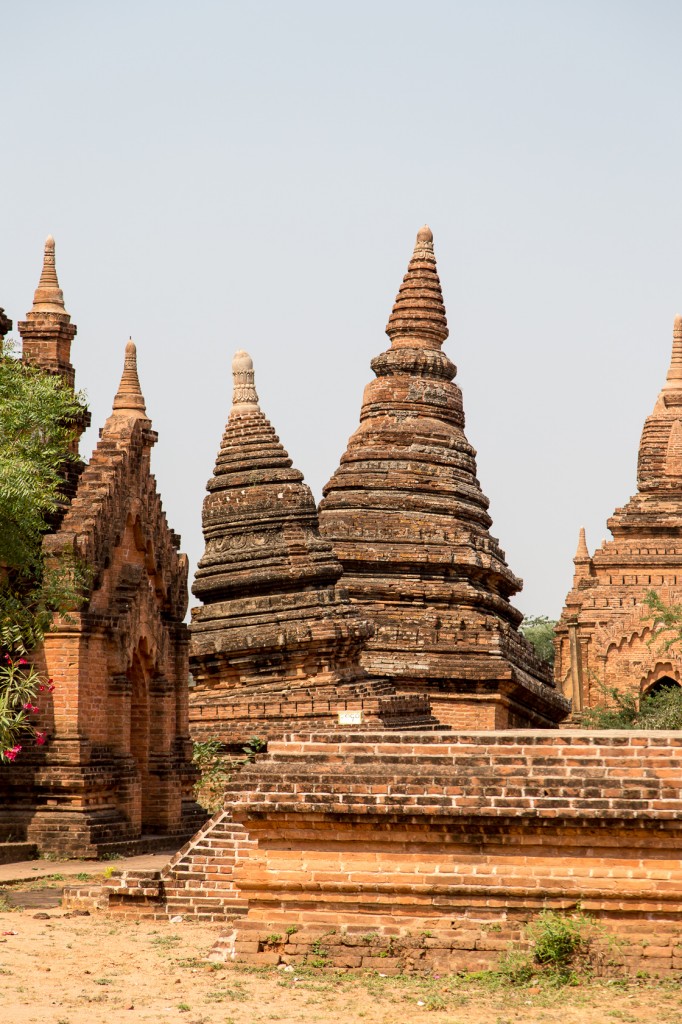 As were the flowers.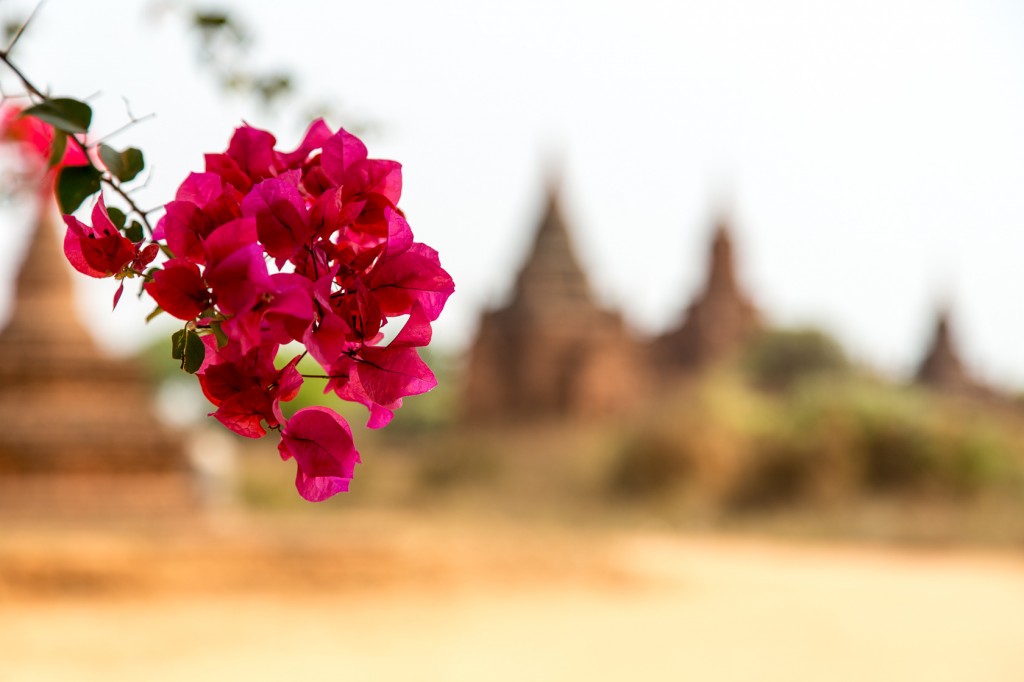 Everything is semi-ruined, but it makes it look far more somber and impressive.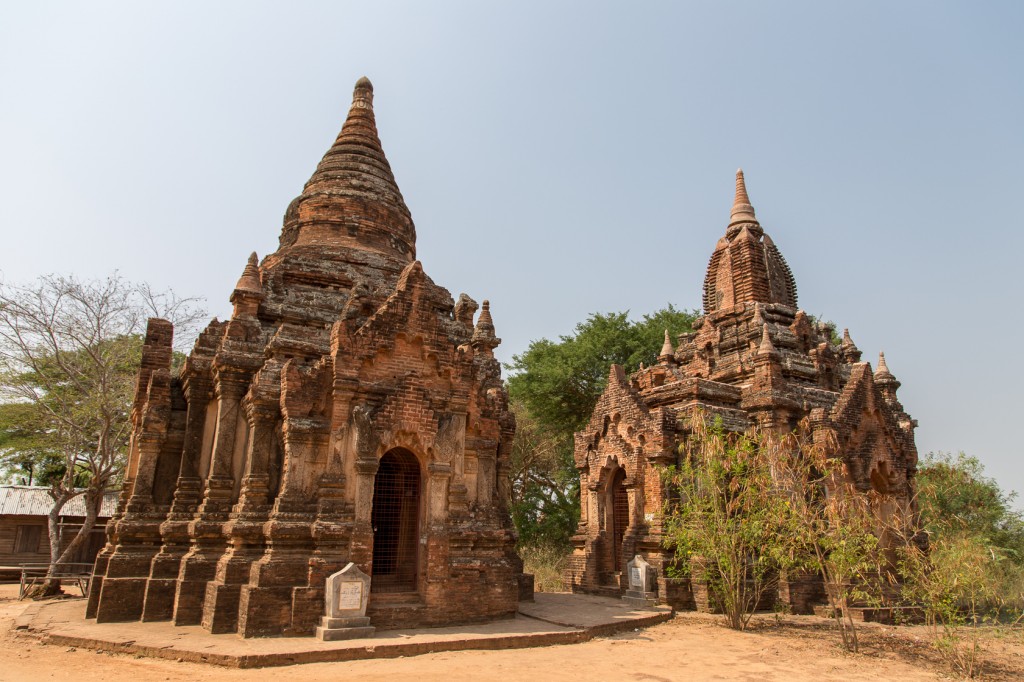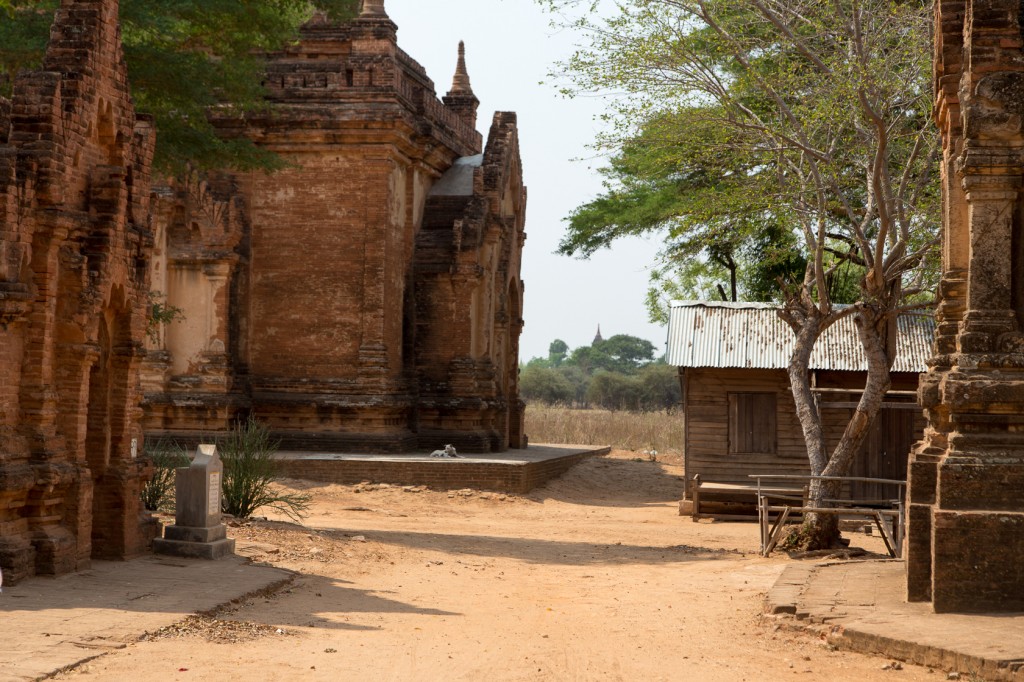 Some impressive Buddha statues were to be found inside. Not as many as were here prior to a certain Mr. W. Thomann-Gillis pillaged most of the relics around 1900: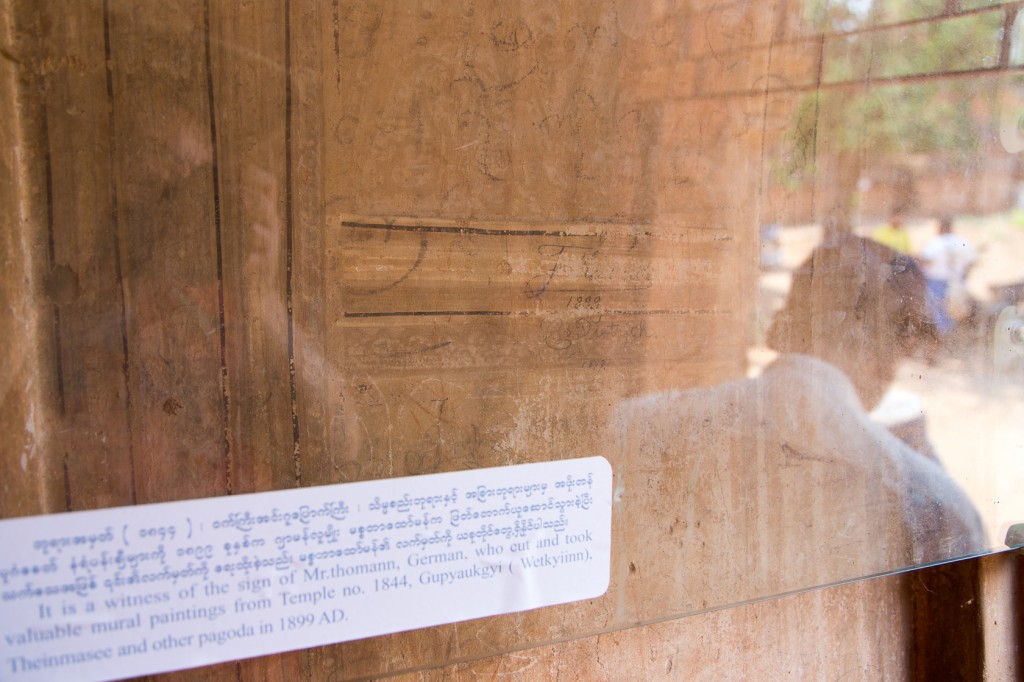 … but much remained: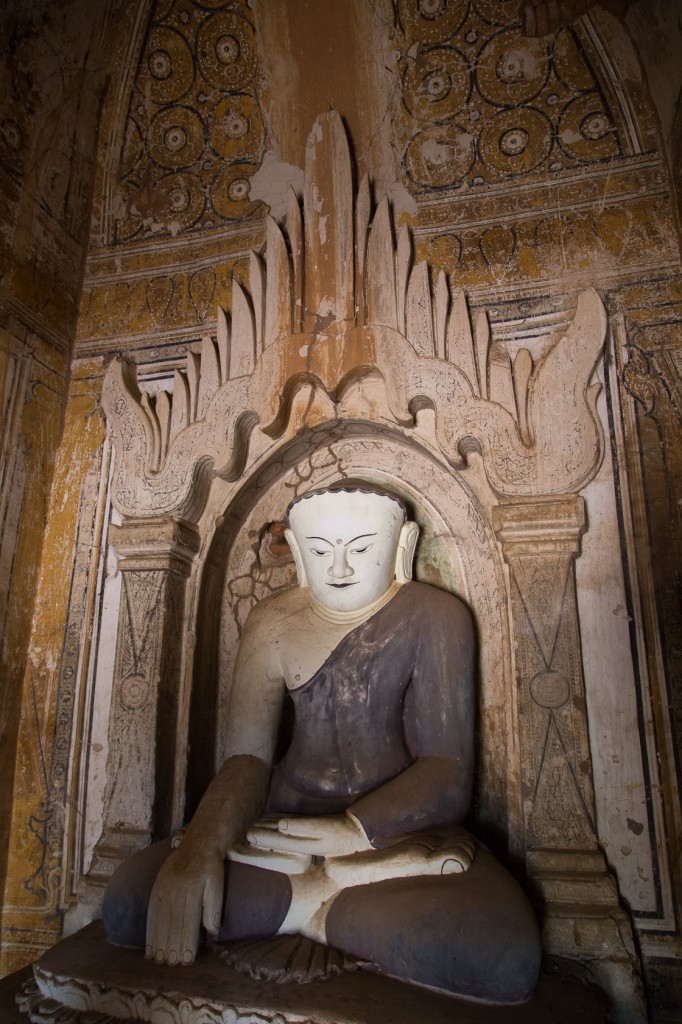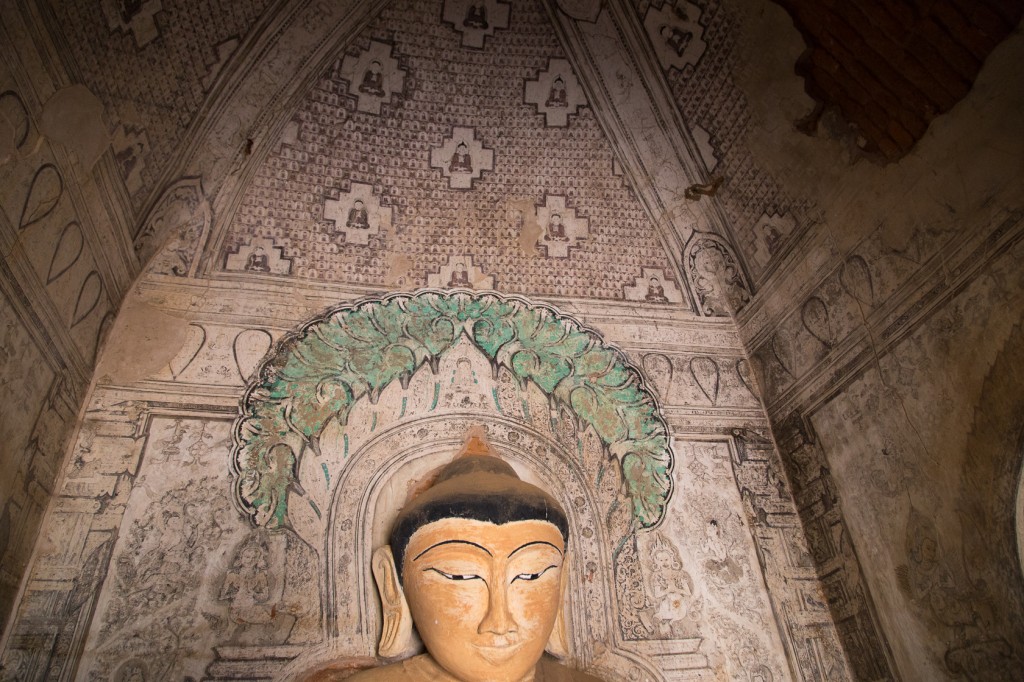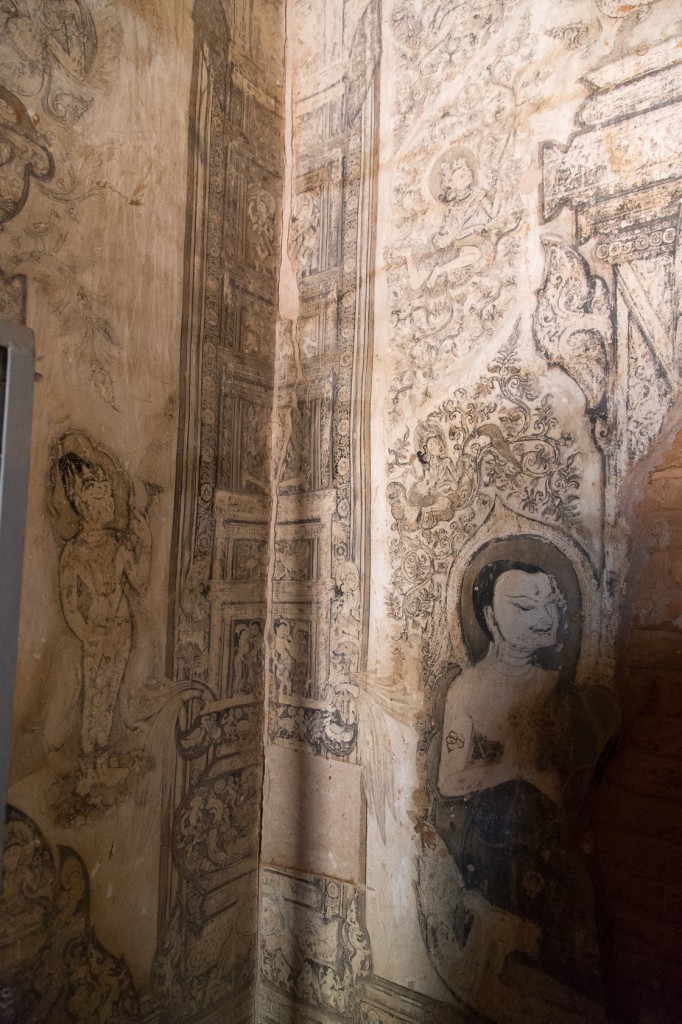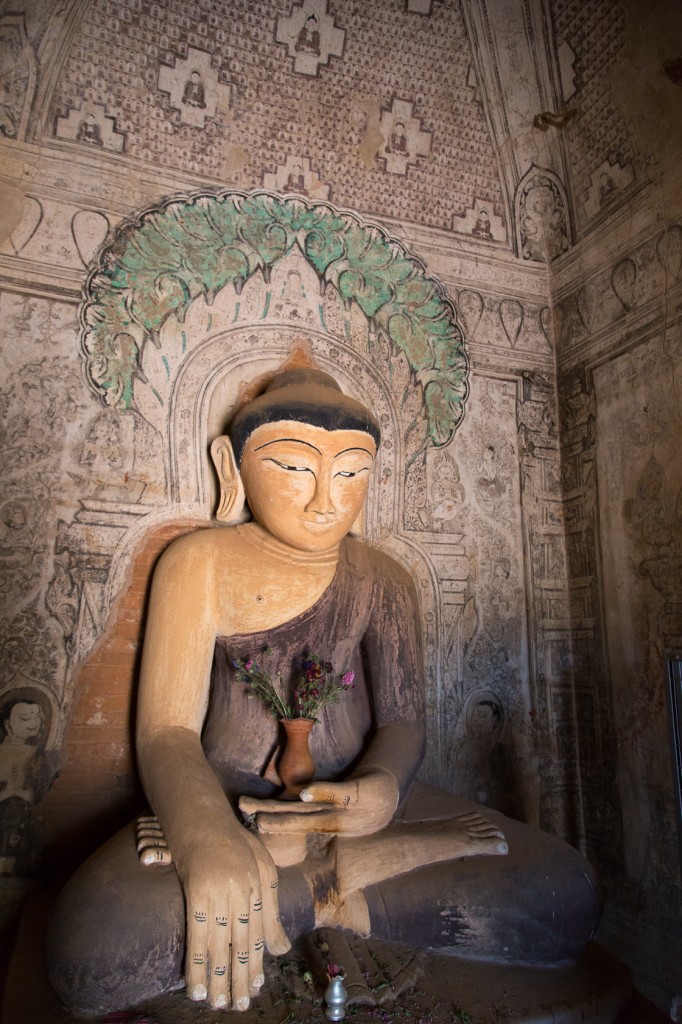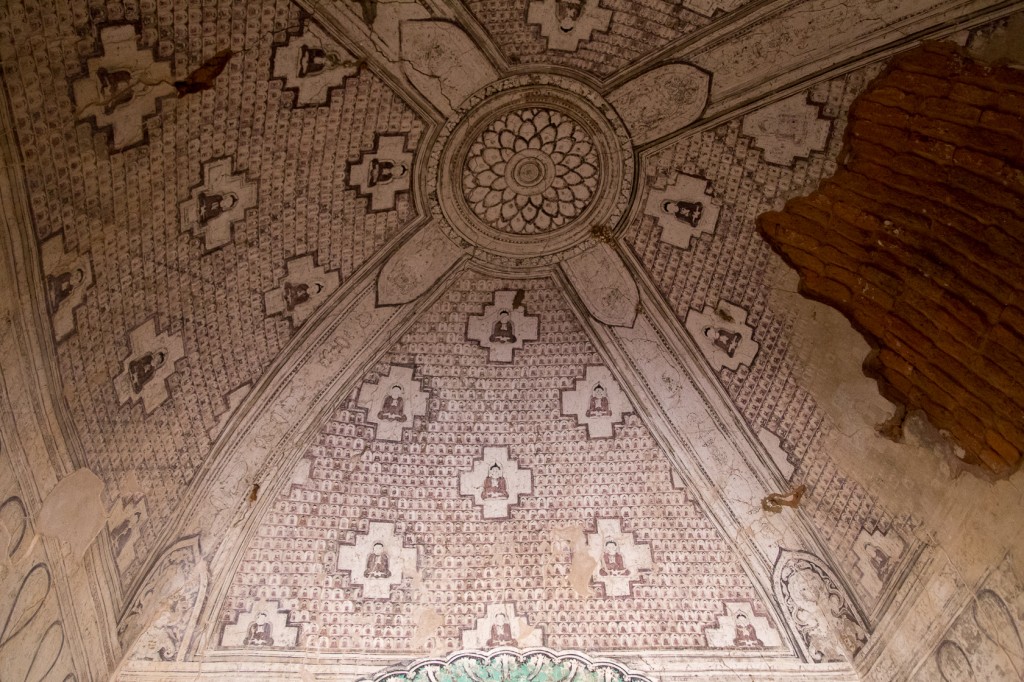 And here is a rare picture in that I never post family pictures online. But the juxtaposition of old and young in this shot was too poignant. The old lady was the groundskeeper who lived there and took care of the temples in the absence of any sort of support from the local government.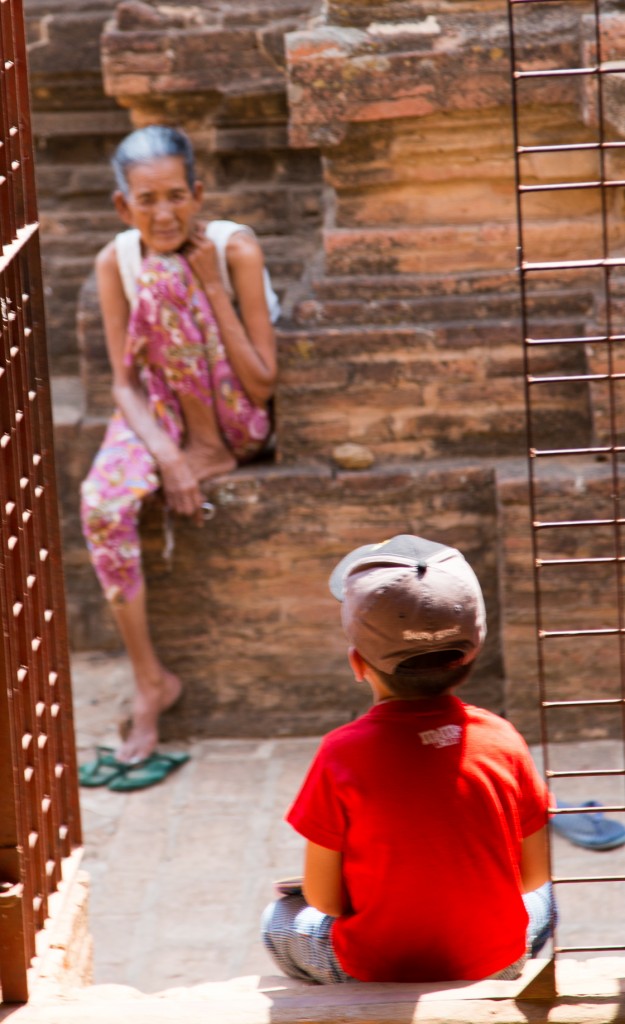 These were her living quarters (note the abundance of Aung Sang Kyi pictures – this tends to be the case for most rural folk in Myanmar):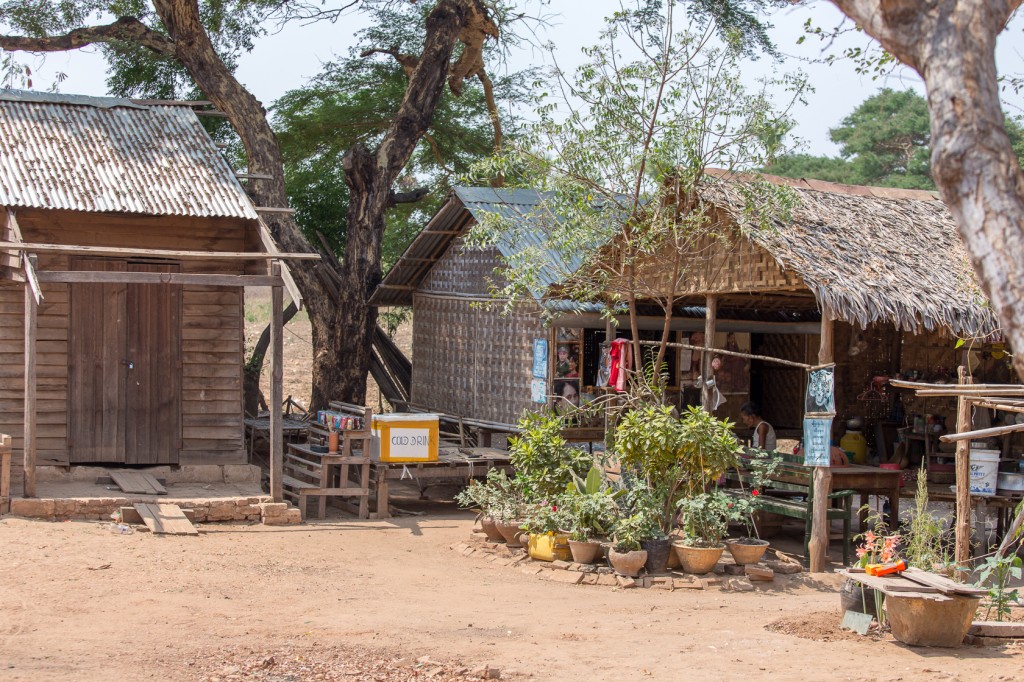 Fascinating visit, if only because I really appreciate the opportunity to see something so out of the way, and tended to not because it's someone job (as is the case with most national monuments), but truly out of respect and love for the sites.
Next, we went to the Htilo Minlo temple. Built in 1218, this is considered to be the last Myanmar style temple in Bagan, and is, in a way, an end of an era.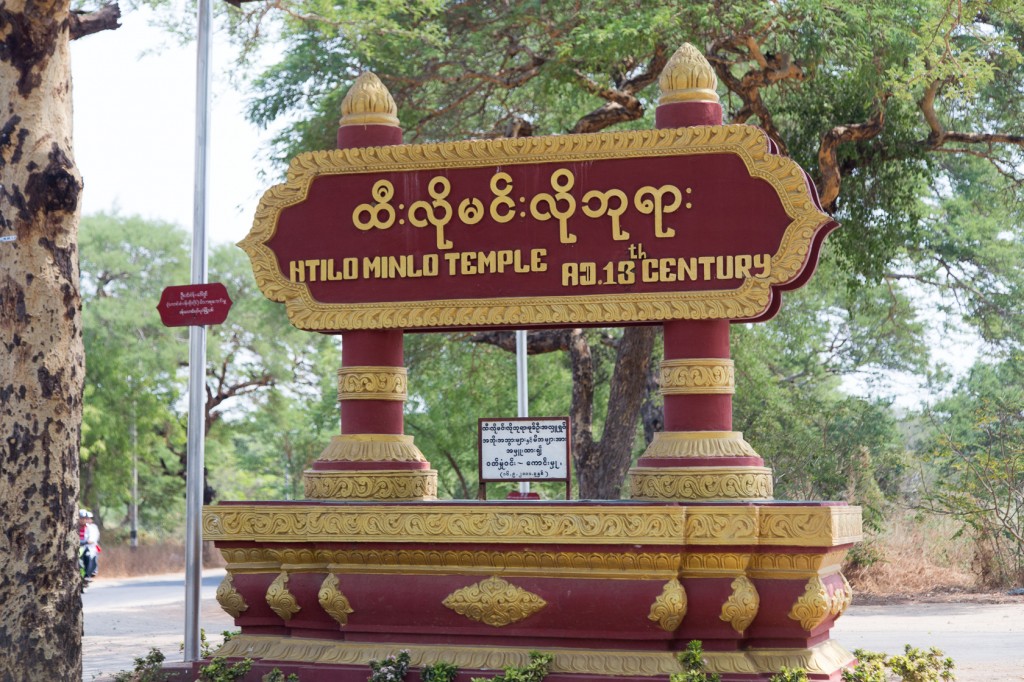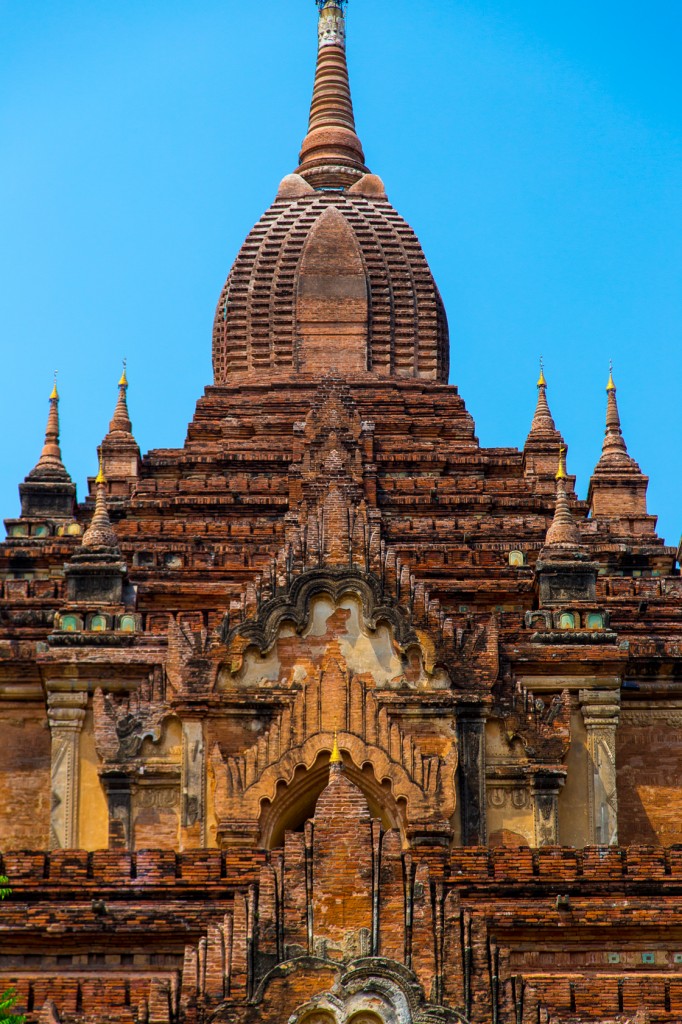 Buddha statue inside.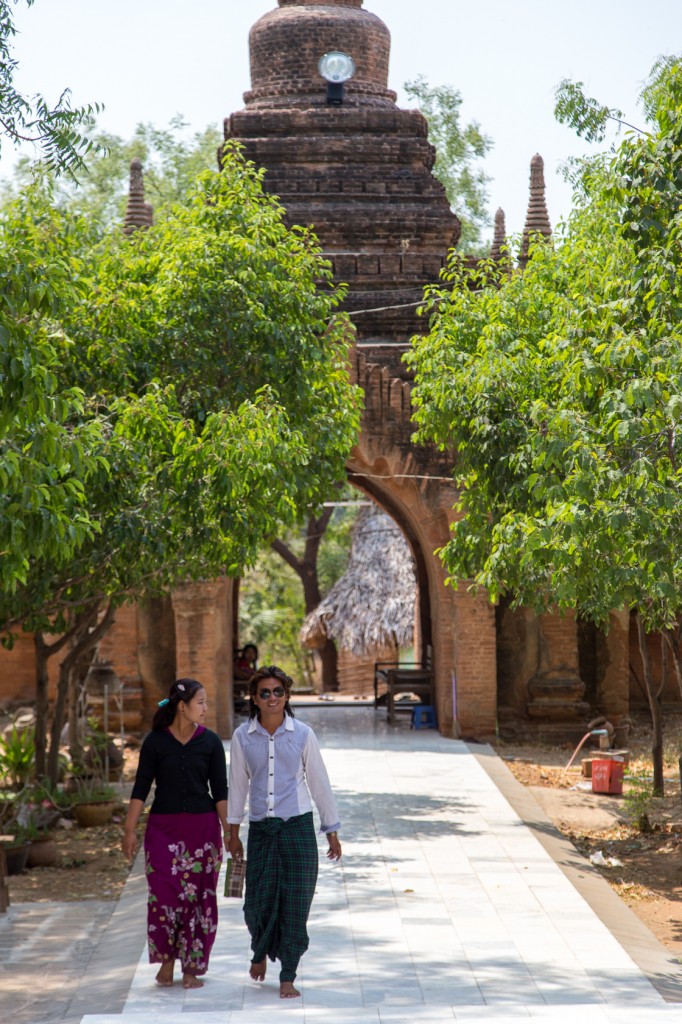 Our last stop was a very curious place. It was the home village of our tour guide, who wanted to show us where he lived. A very interesting village, right next to the pier for boarding the famous Road to Mandalay luxury cruise liner.  The boarding gate wasn't quite the same as the Frankfurt First Class terminal for Lufthansa, but it was there…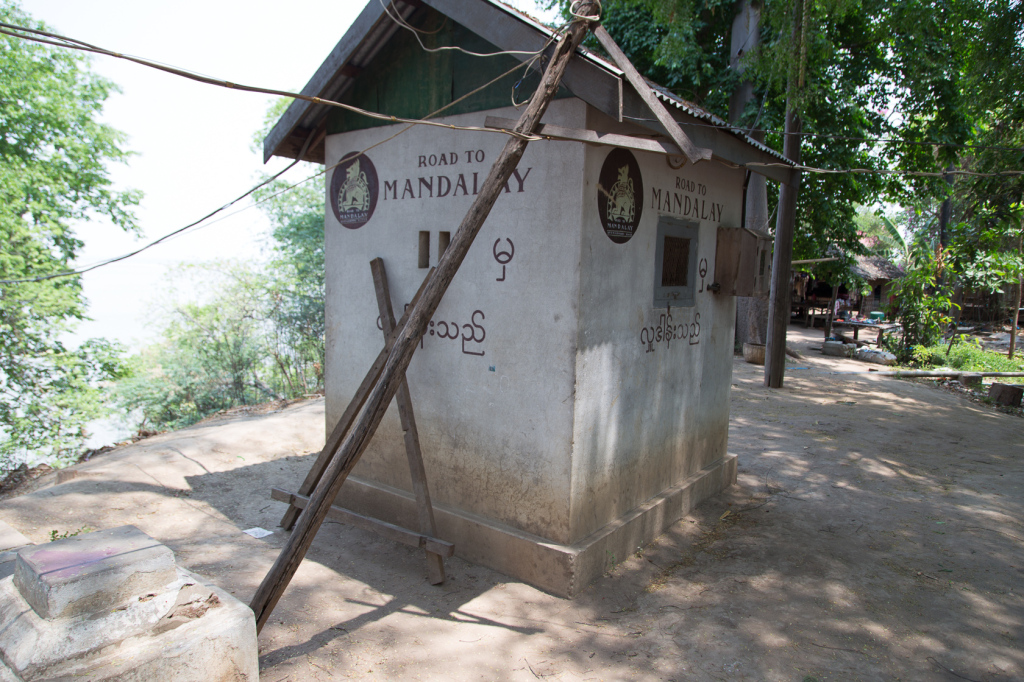 One thing we did come across, which was pretty neat, and which stood out from the overall look of shoddy disrepair was a brand new temple. Our guide explained that there are competitions between villages to keep their temples as sparkling and shiny as possible, and apparently, this particular one was recently repainted – the village collected money from its inhabitants and then went on to paint it baby blue.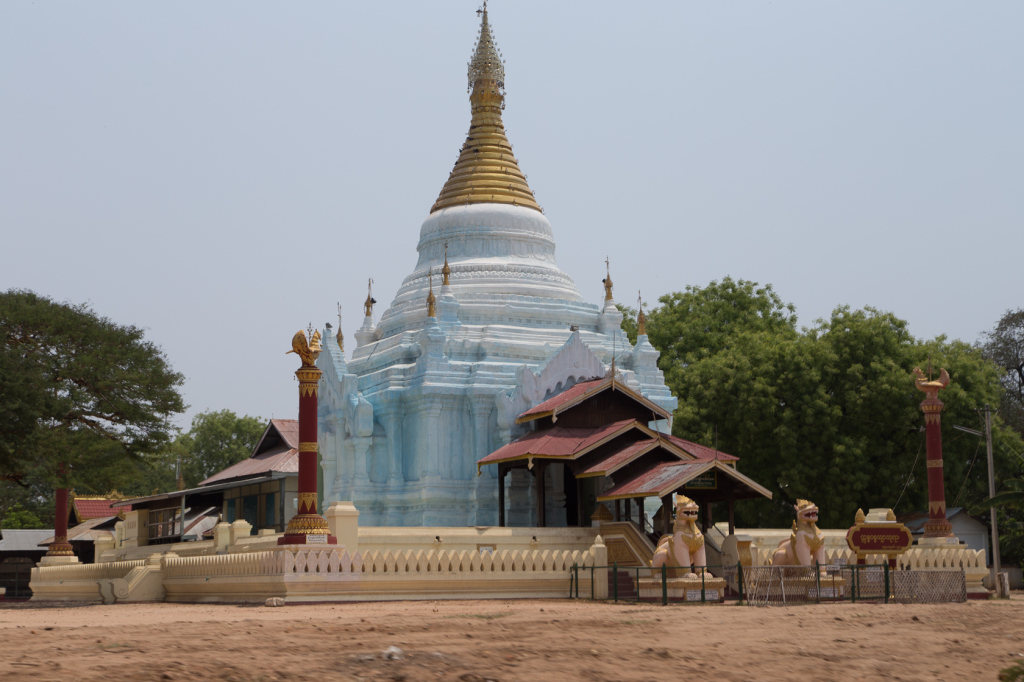 There is an incomprehensible fascination, by the way, with plastering Formula 1 track maps on cars in Myanmar.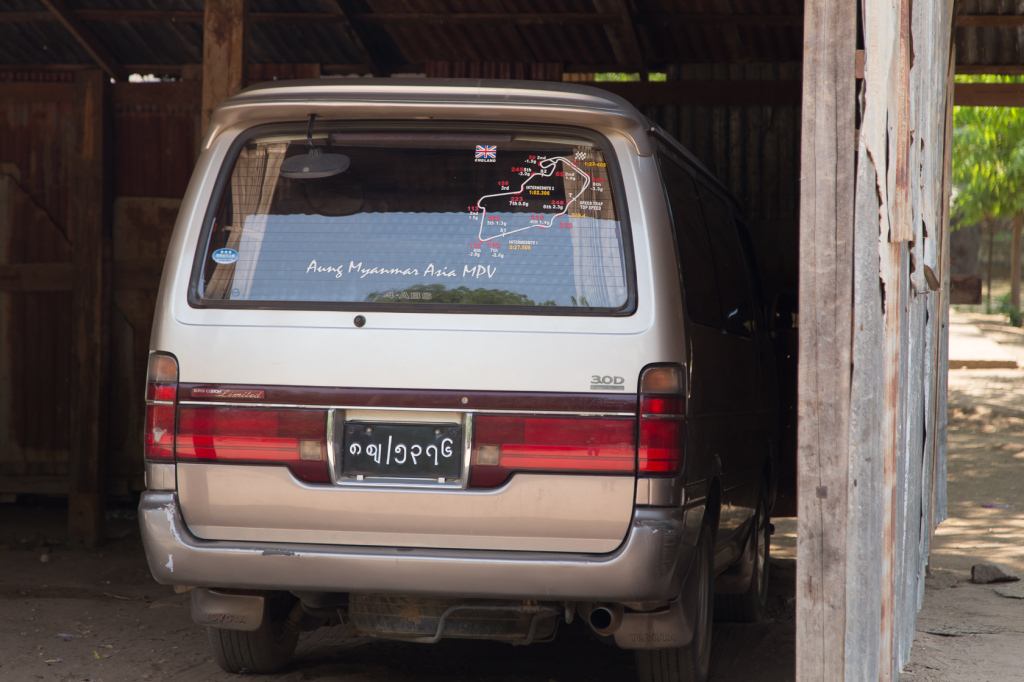 Once our exploration of this token village was complete, we moved on to our final lunch in Bagan. For this, we decided to go to the #1 rated place in Bagan… Weather Spoon.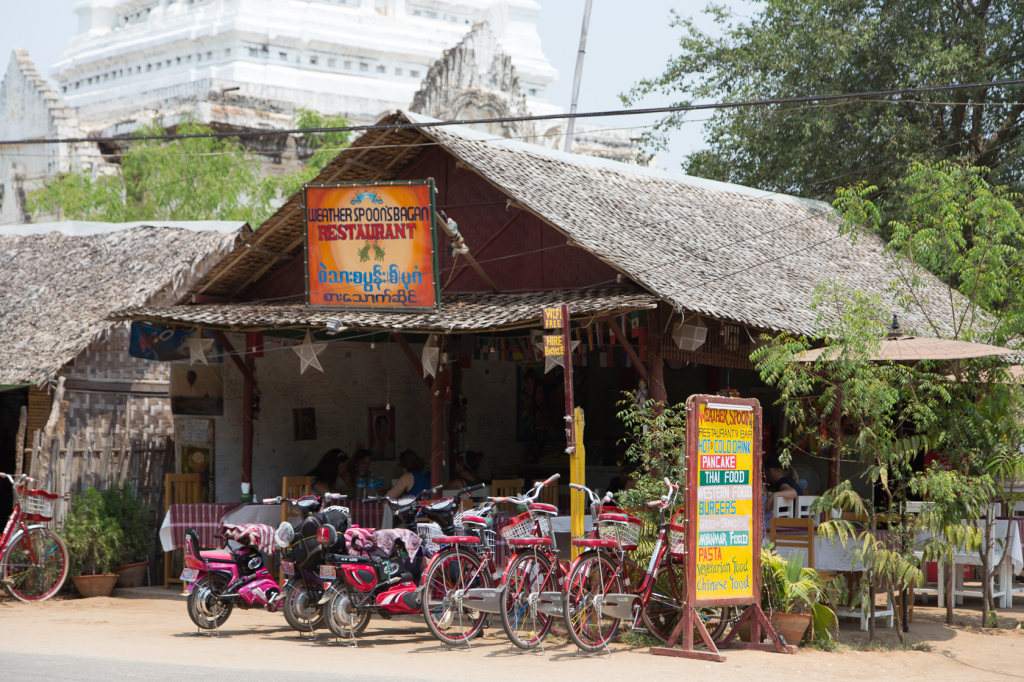 I very rapidly realised that since it is top rated on Tripadvisor, the clientele very clearly reflects that…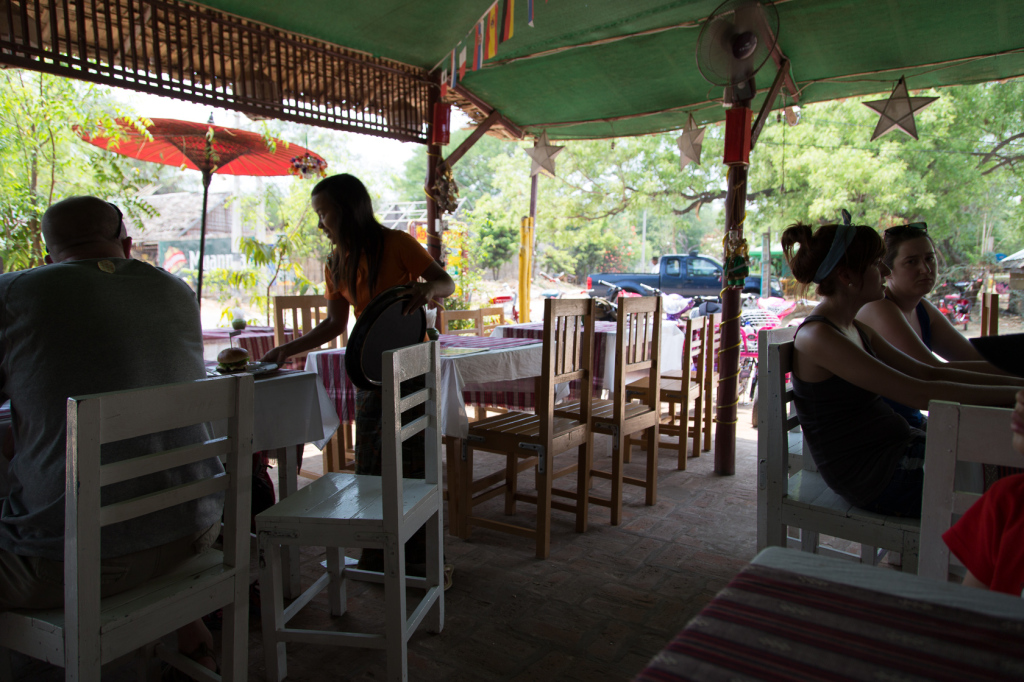 (that is to say, there wasn't a SINGLE LOCAL in this restaurant – ALL tourists). The walls further reinforced this impression: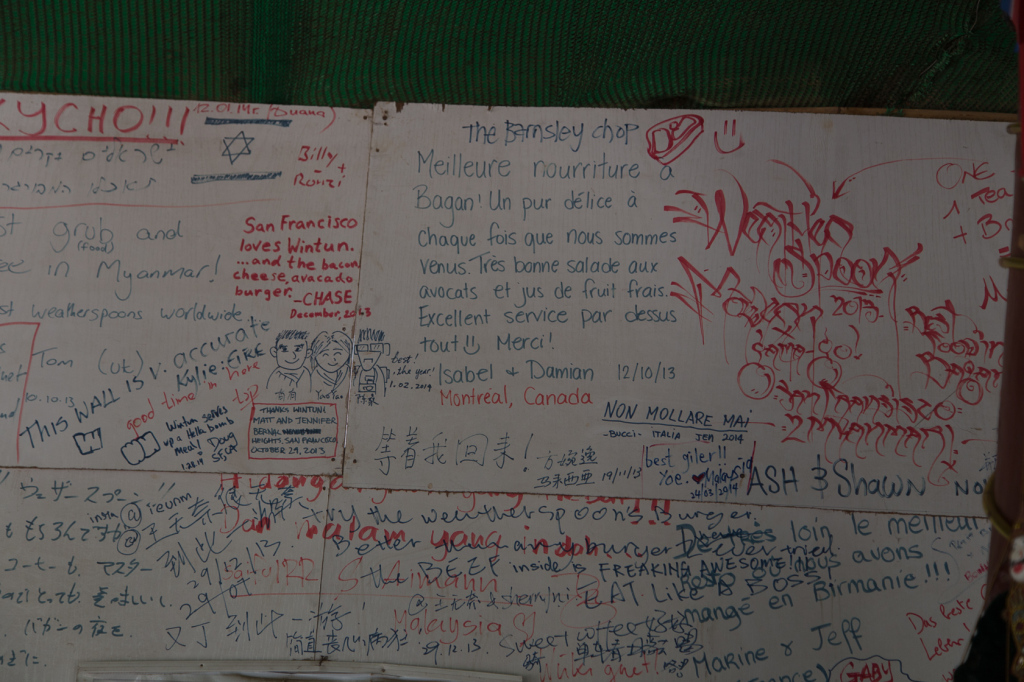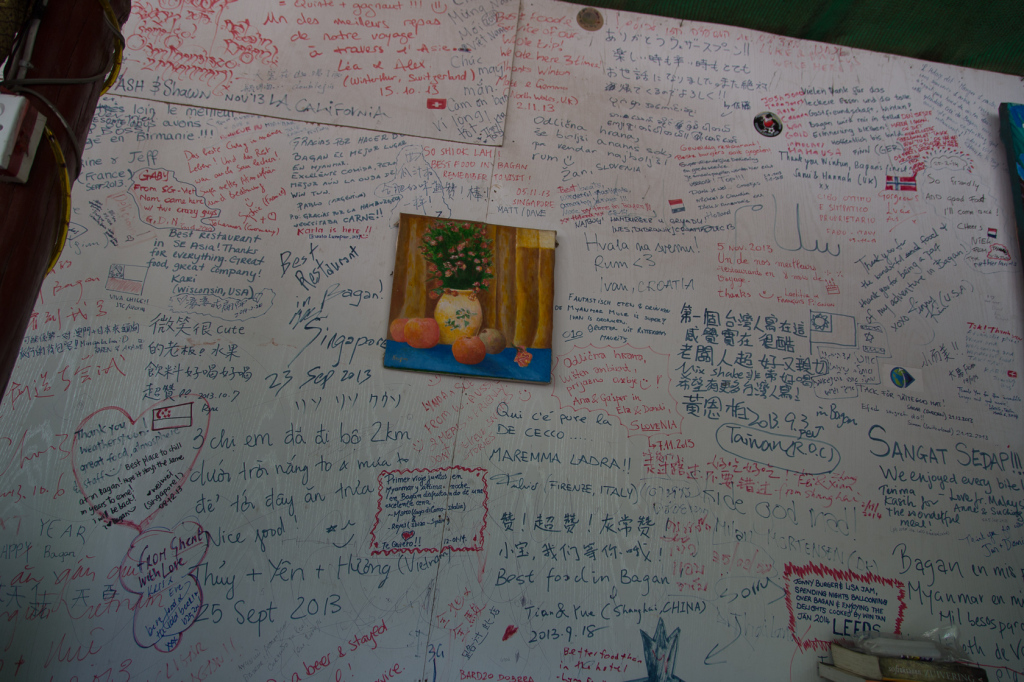 Coupled with their best dish being a burger…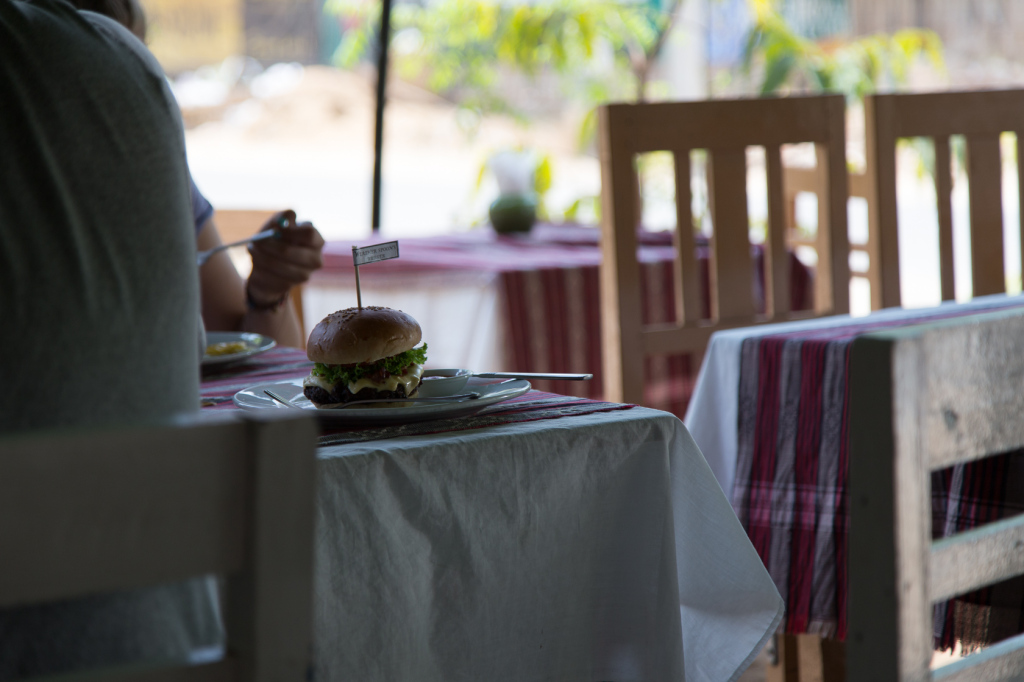 … this did not bode well for our culinary delight.
Then our food came: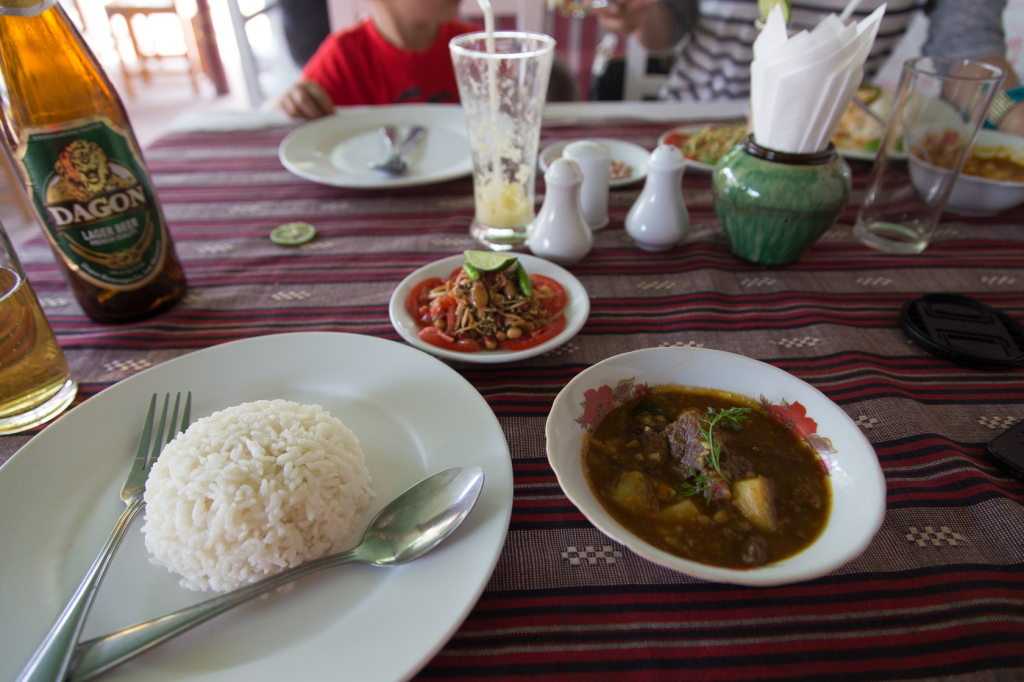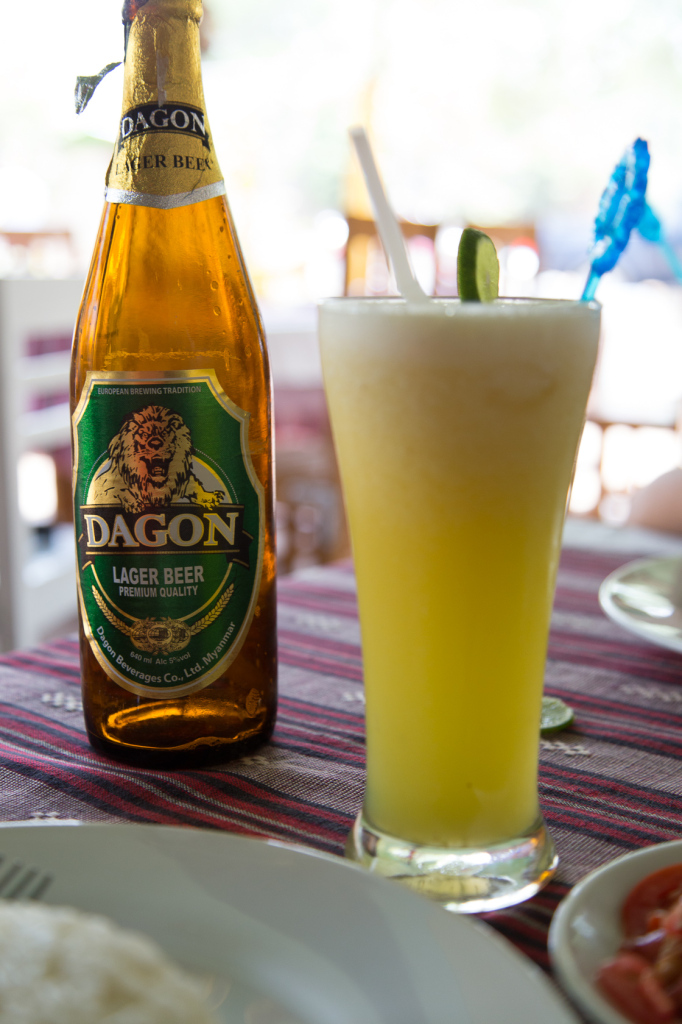 And uh.
…
I haven't eaten this well in ages. That salad on top? Out of this world good, as was the curry. And the "freshly squeezed juice", although unlike in hipster restaurants where they put all that effort into squeezing, but in reality, are using products from the nearest supermarket which taste pretty meh, here, as in many developing countries, the actual fruits taste so good that it's rather difficult to screw them up.
After we spent an eye-popping 15,000 kyats on this lunch (may I remind my readers that the exchange rate is 1,000:1), we headed off to the airport, as it was time for our Air Mandalay flight back to Yangon.
The airport building screams colonial greatness.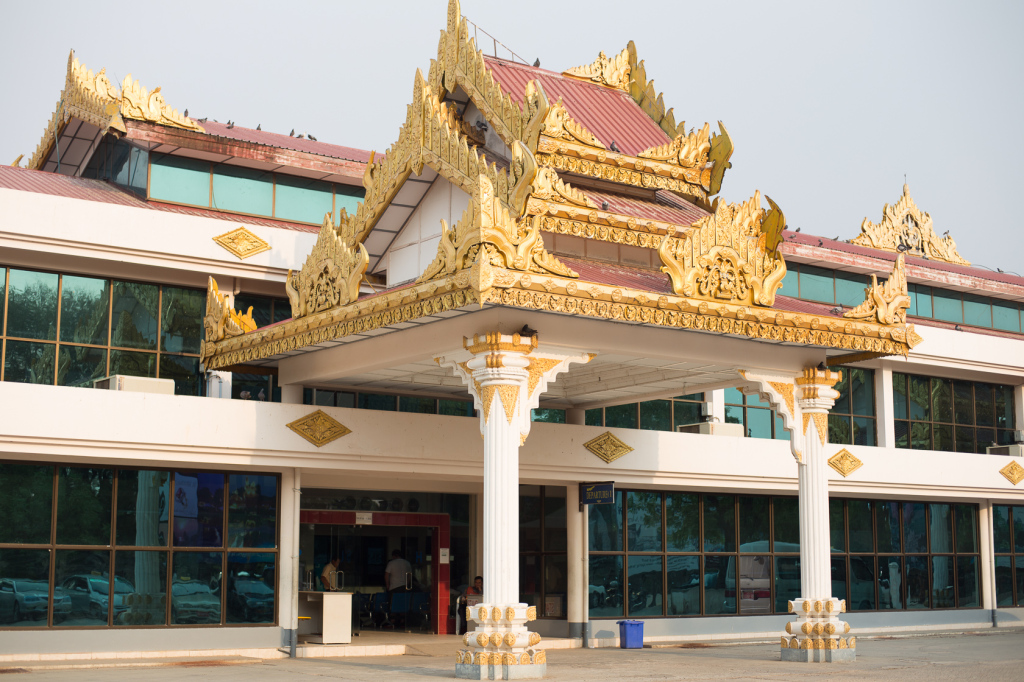 Very annoyingly, despite the fact that we made a dash for the airport (well, our driver did), and because we were running late as usual, our flight… was cancelled. We were conveniently rebooked onto Air Bagan.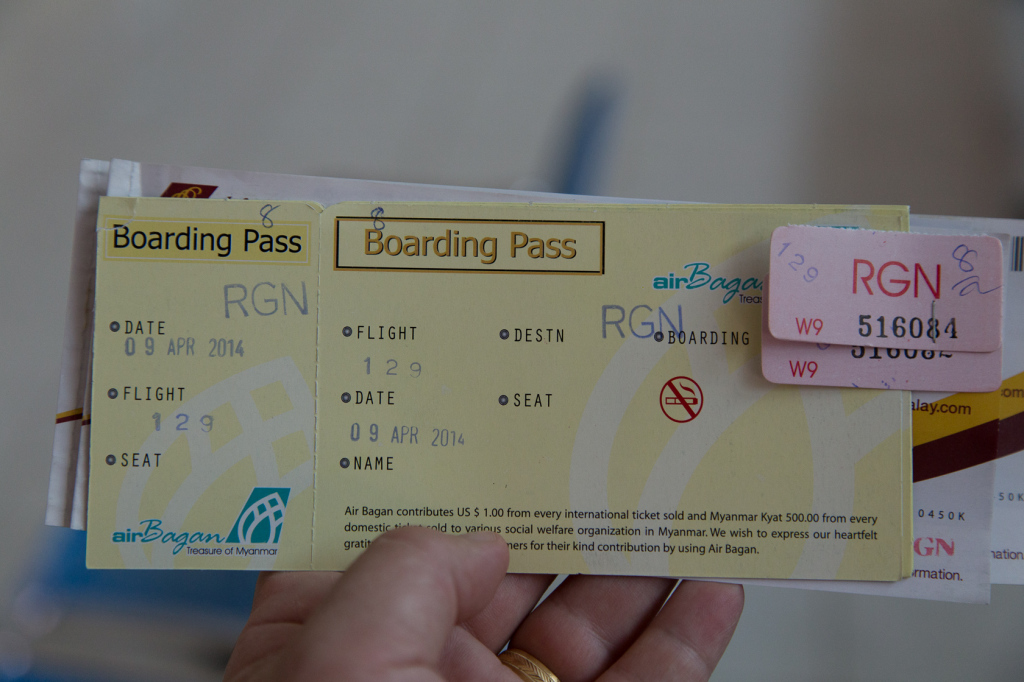 The airport was relatively empty.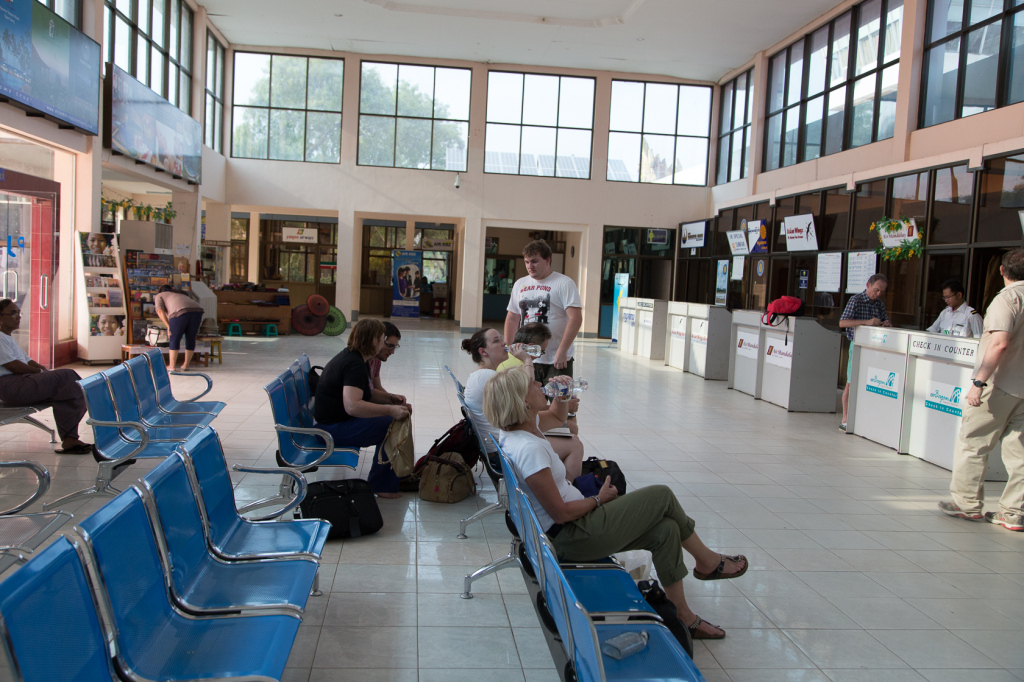 Annoying point #2 became that not only was the first flight cancelled, the second one was delayed. For an unknown amount of time. And electricity was out, so no air conditioning – in an enclosed, glass building. Just a reminder: April is the second hottest month in Myanmar, with temperatures in the high 30s-low 40s (in May, it goes into the high 40s).
I went around to take more pictures of random things. This man seems relatively optimistic he's going to get on his flight sometime soon: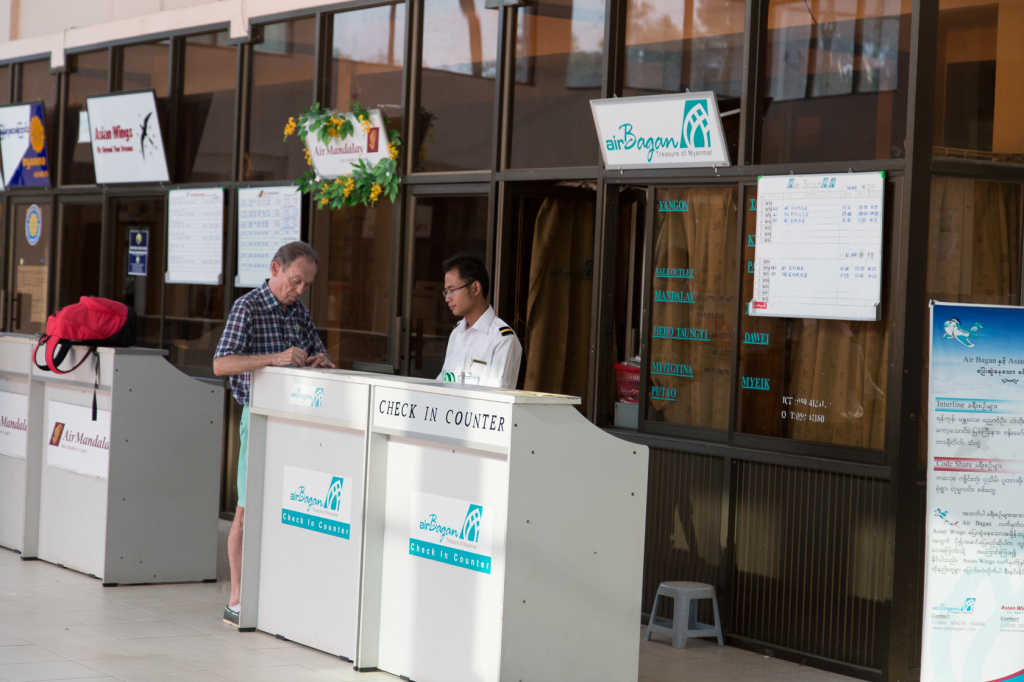 This man is looking for something.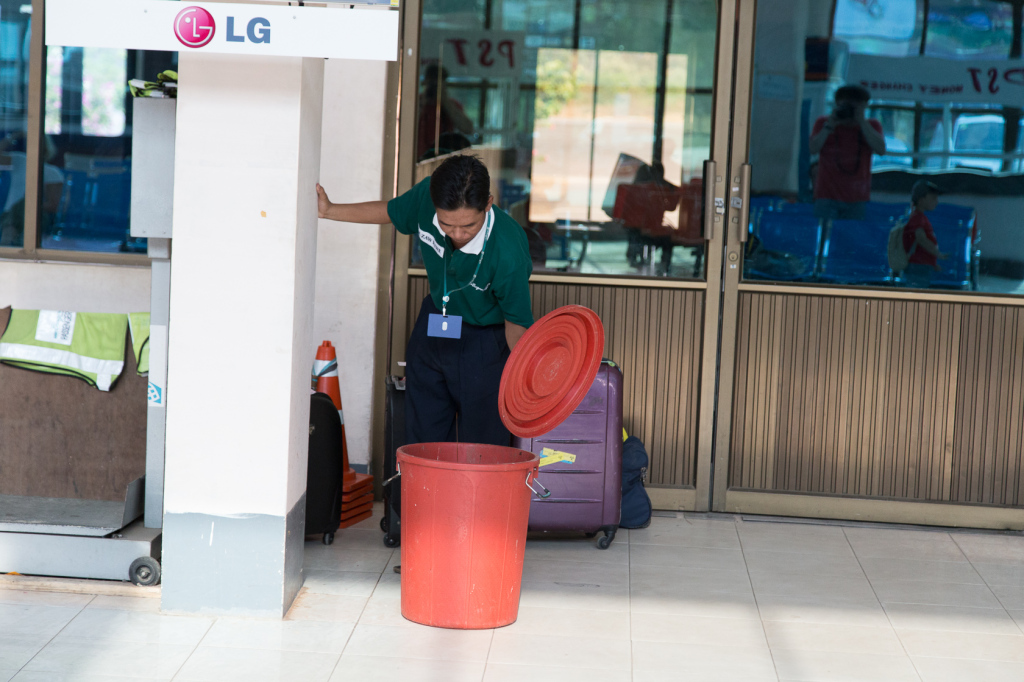 Oops, it turns out that's where the security screening point is. It appears that they're going to test whether it works.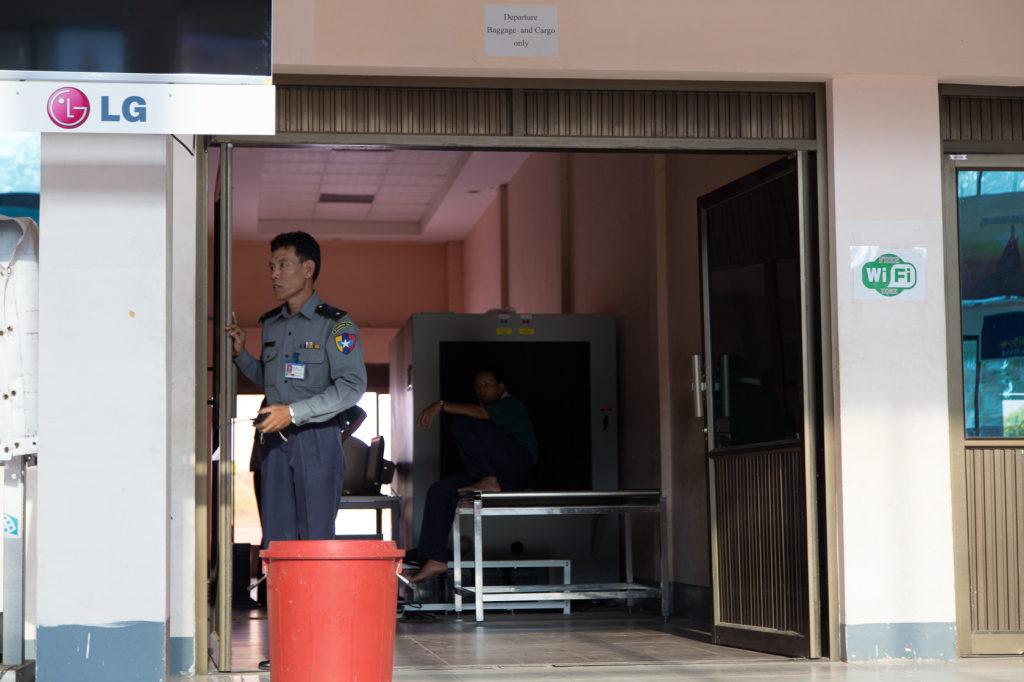 Outside, no more rush was visible than there was inside. Cars were parked…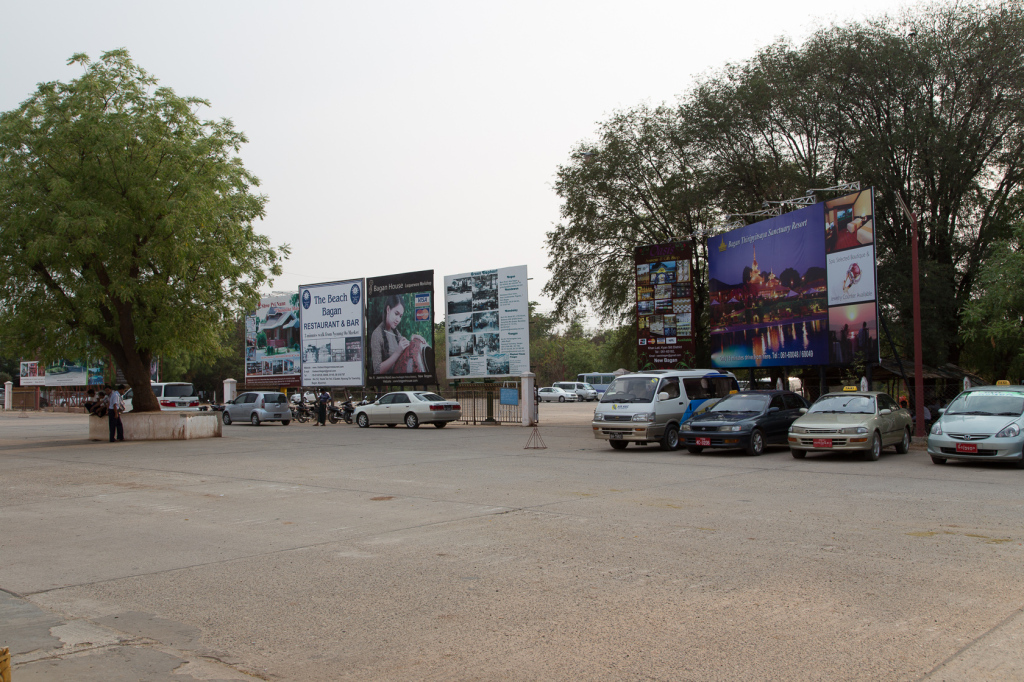 … water was being bartered …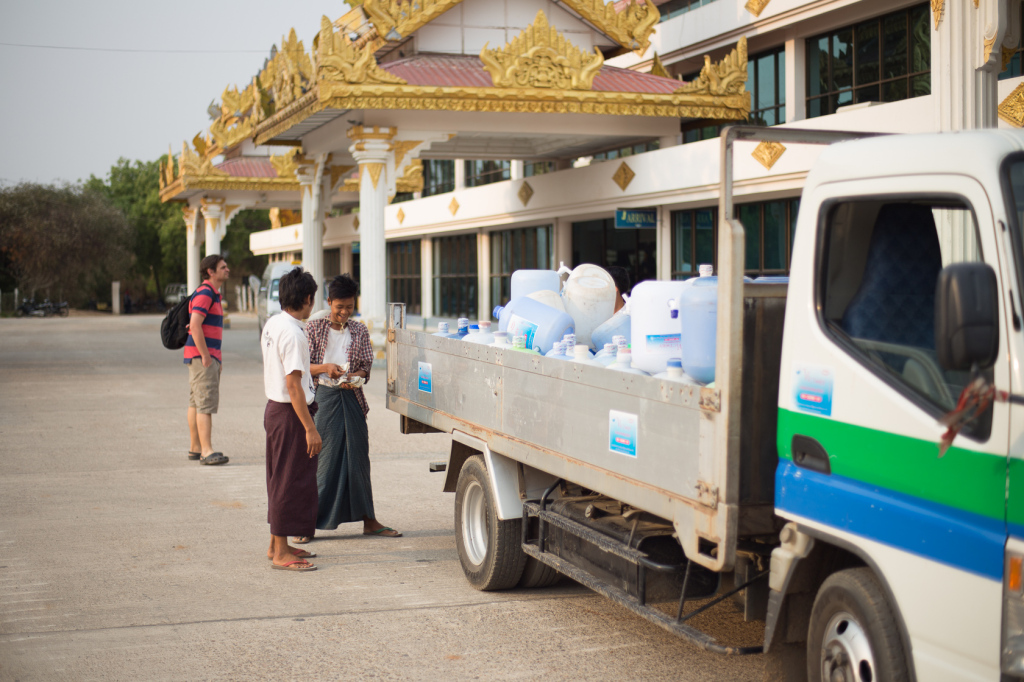 … men were chasing pigeons …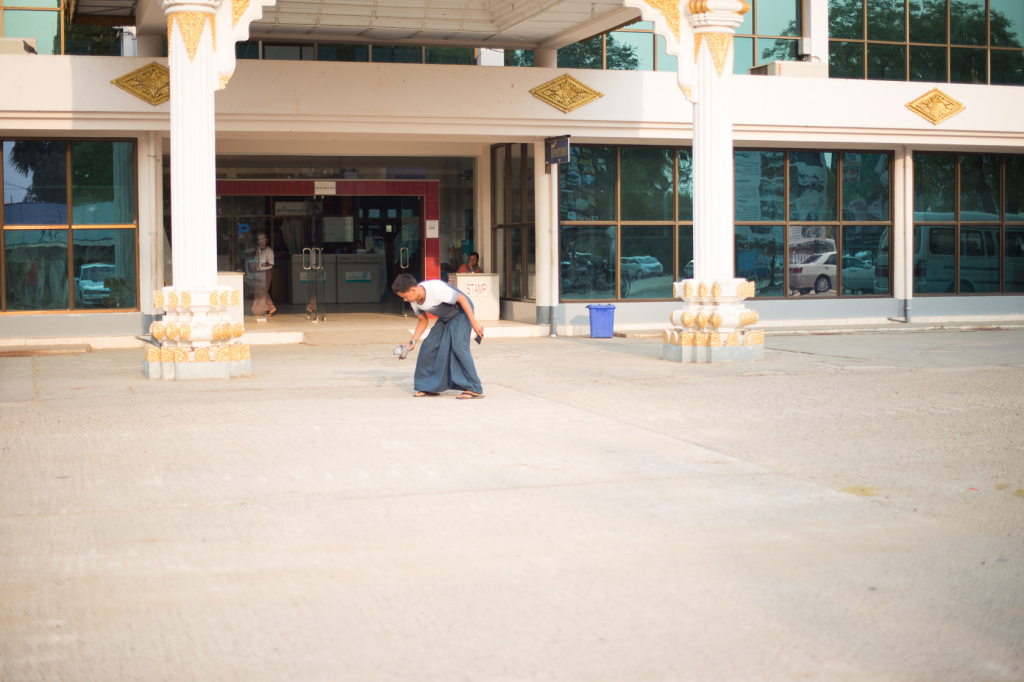 … and other men were waiting for something – presumably, the Burmese incarnation of Godot.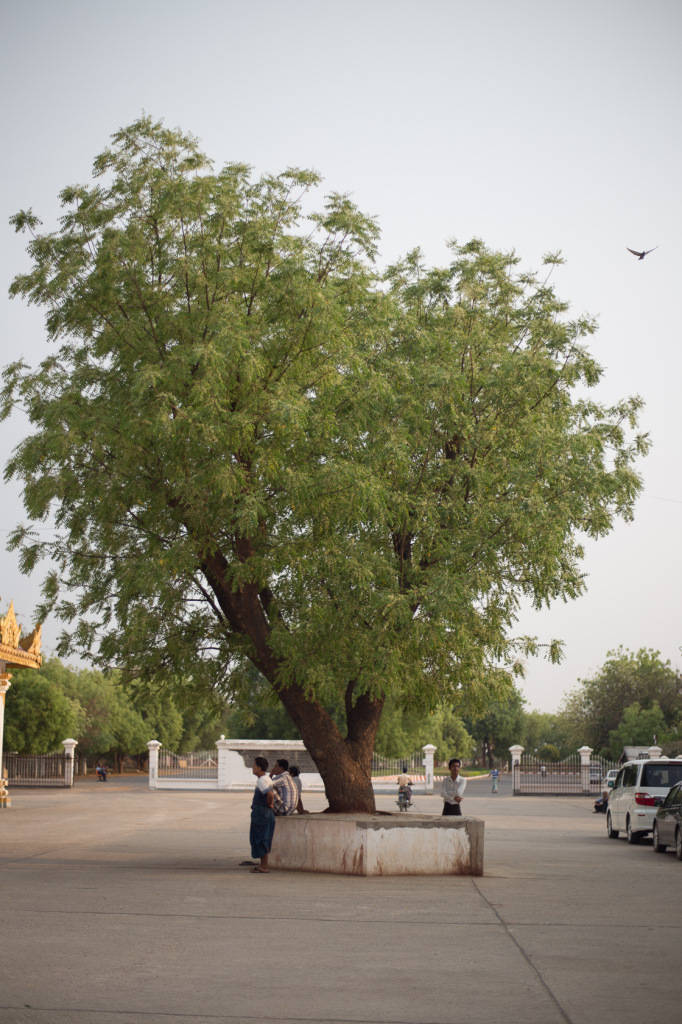 Eventually, we were rather hurriedly shuttled into the secure waiting area, where we were made to understand (by the commotion) that the flight should be arriving shortly. There, some TVs were set up, which incomprehensibly were playing Japanese jidaigeki (old samurai dramas):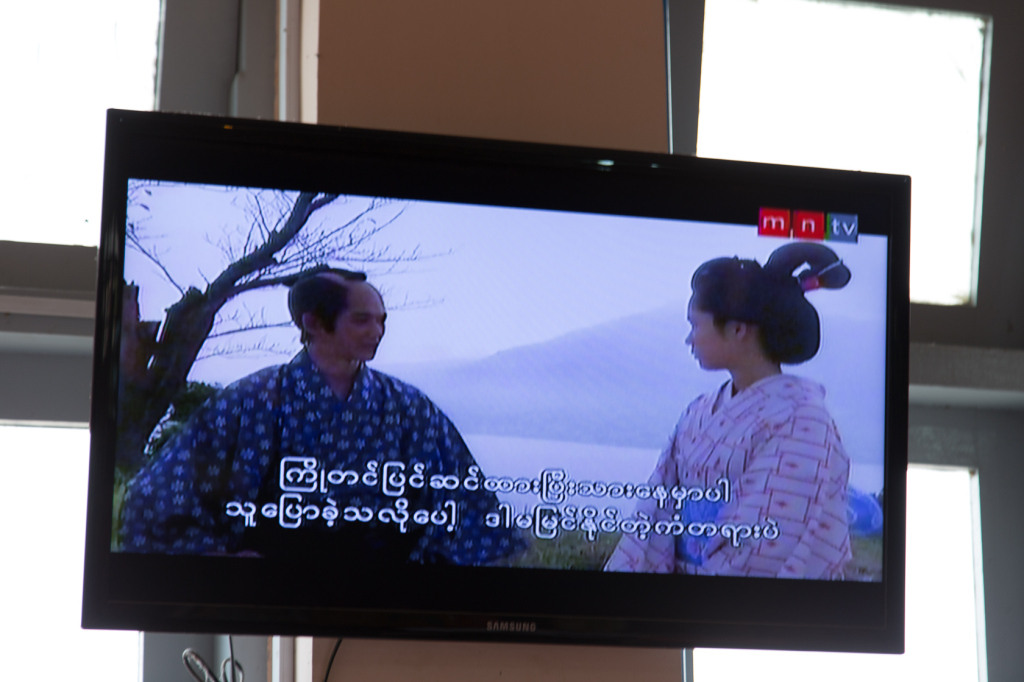 Not only were they playing, but the staff was fervently watching them, too!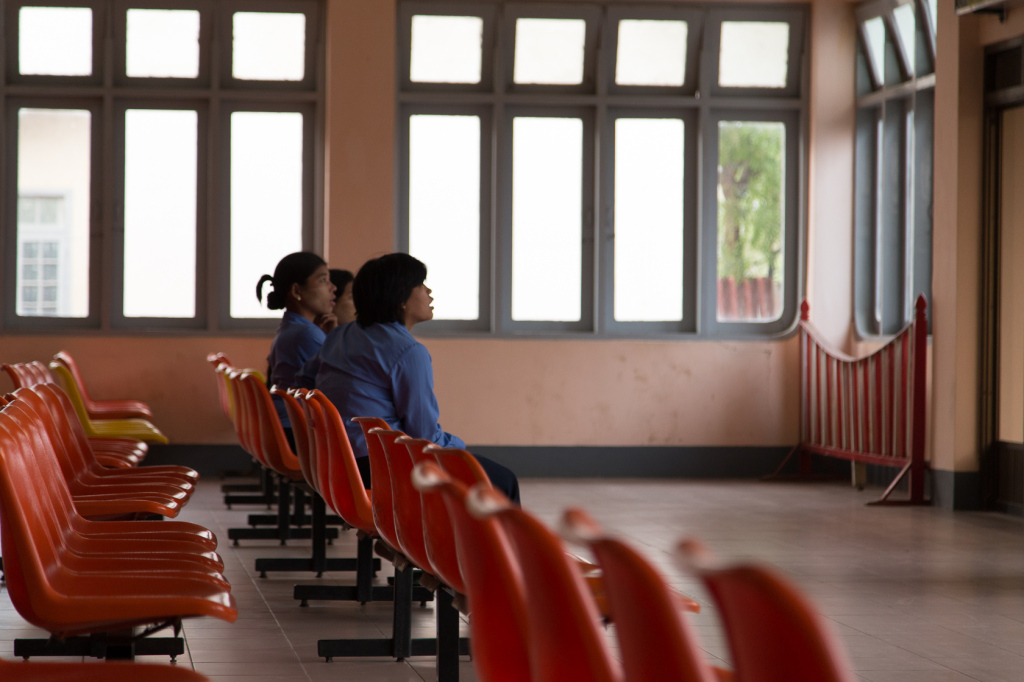 I suppose they didn't have much else to do, seeing as the flight wasn't there, and neither were any real customers.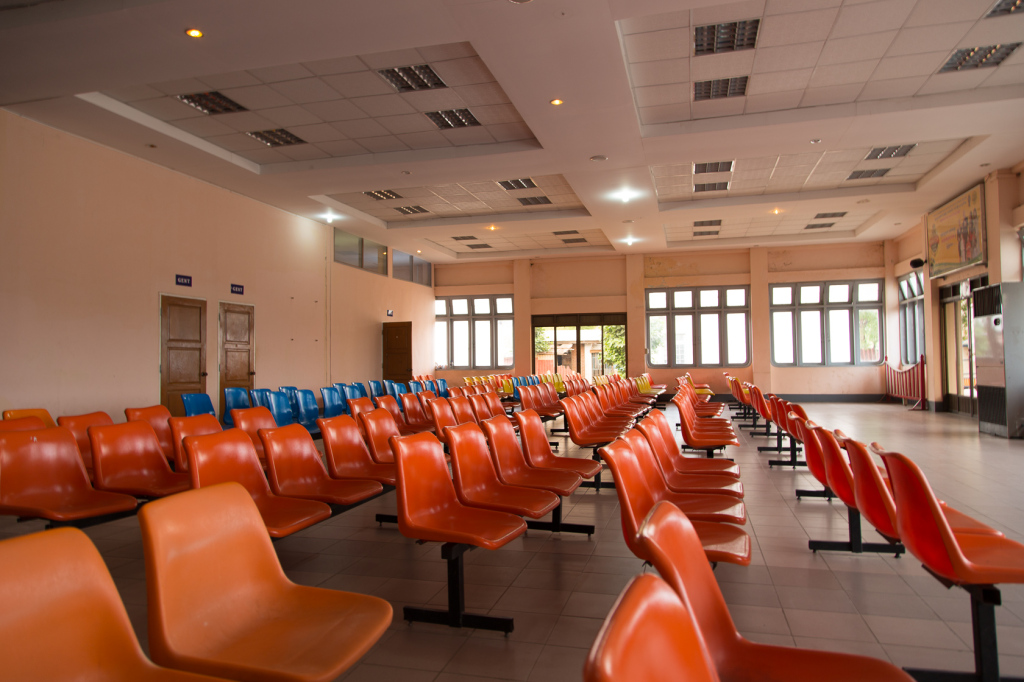 The WiFi sign on the wall was as much of a lie as that huge air conditioner. Neither one was functional.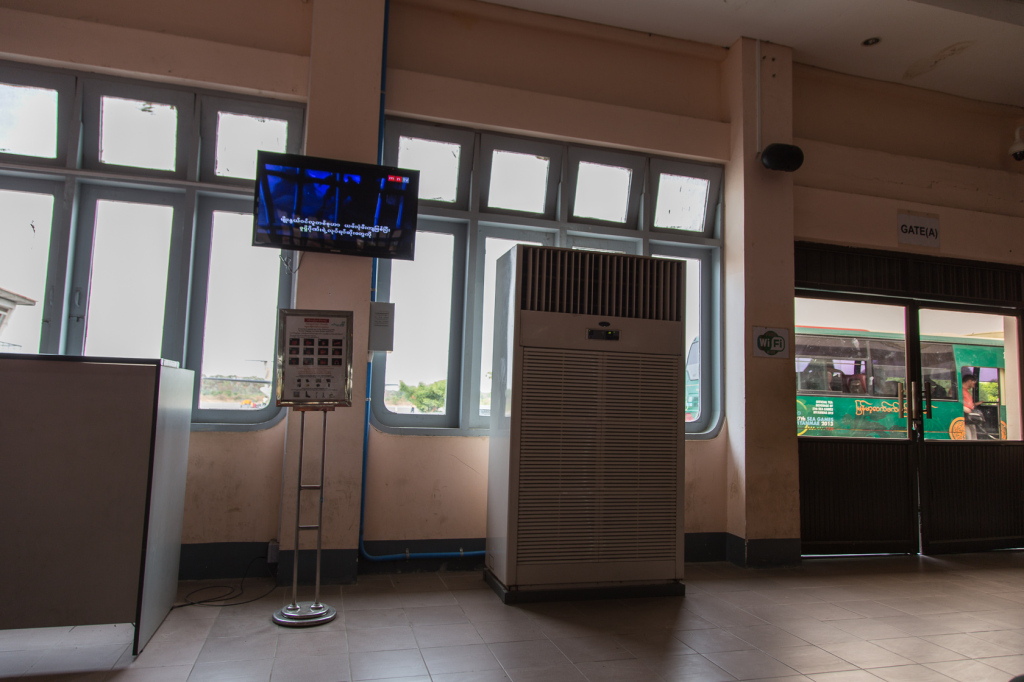 Eventually (about an hour after we were supposed to depart), a flight arrived. Note the "a". It wasn't ours. 🙁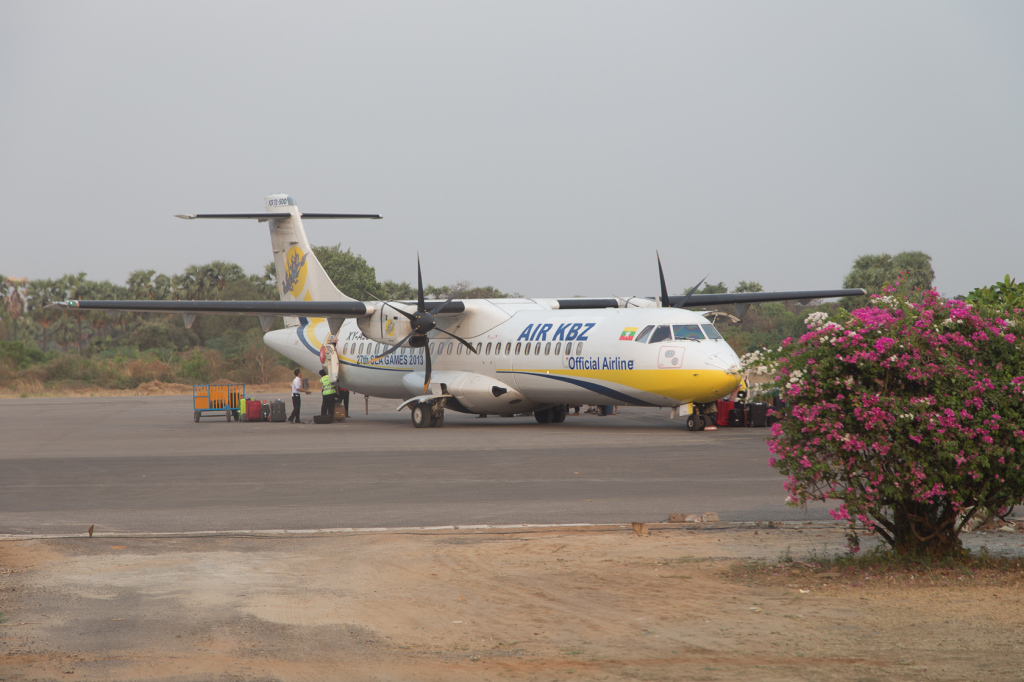 In the meantime, some men stood around and argued whether they should leave us there and go home – or not.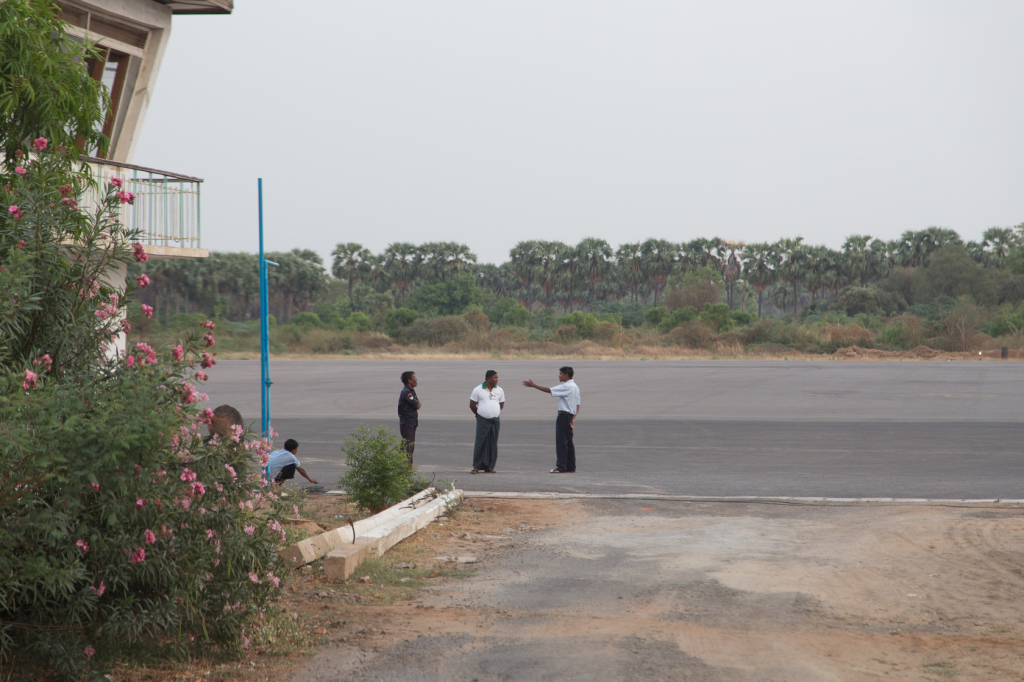 Finally, about two hours later, our flight finally came.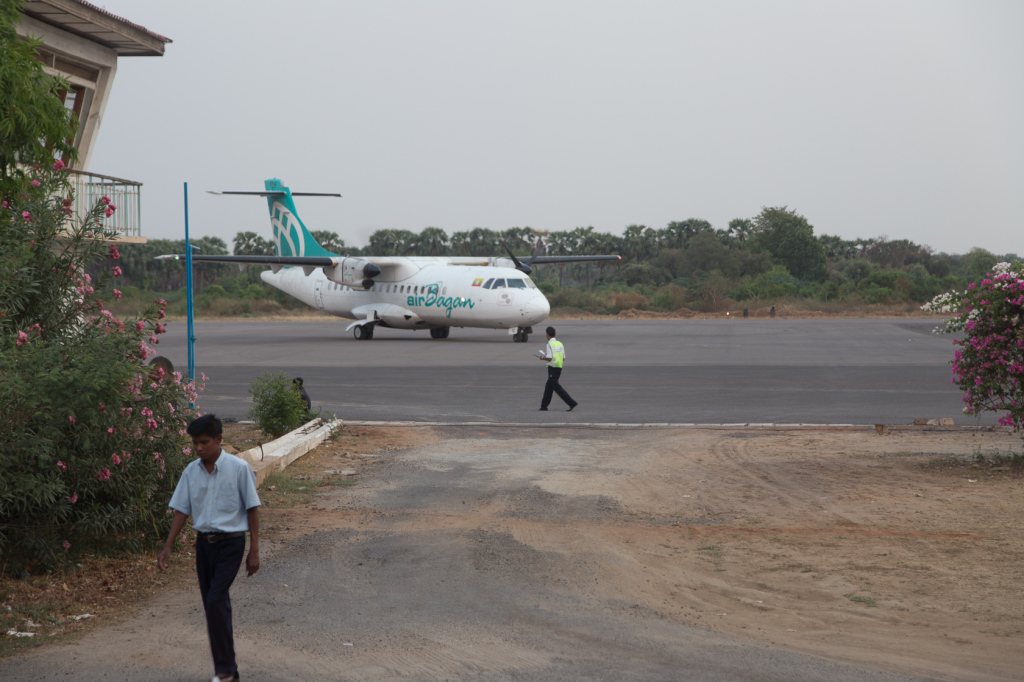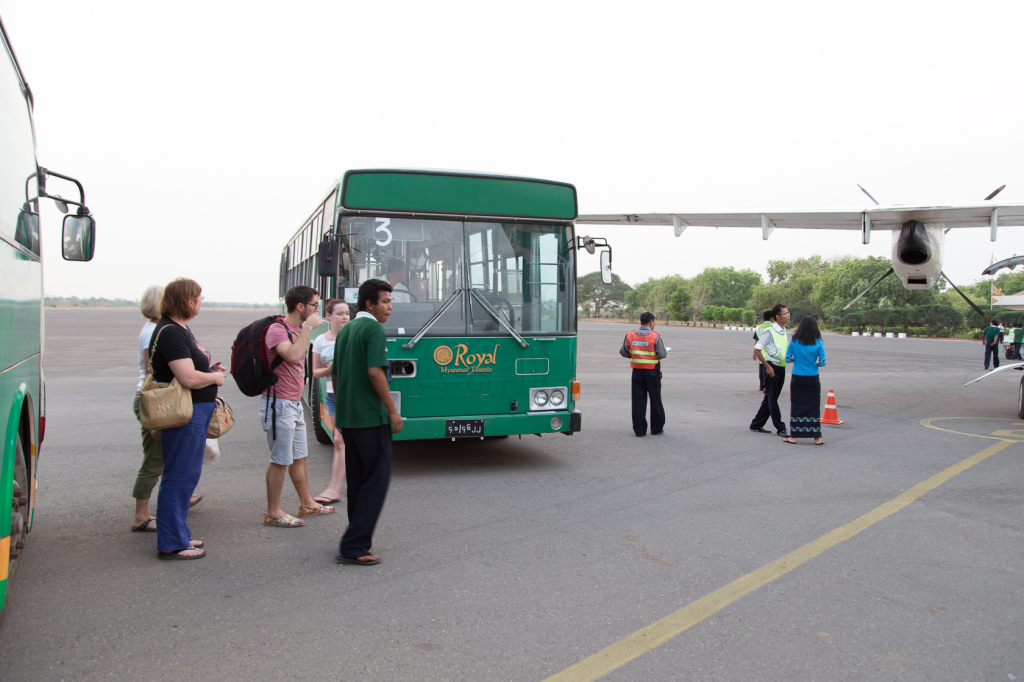 The plaque on the side of the plane with the manufacture date filled me with trepidation and respect. Kind of like if you run into a Buddhist monk you are certain died about a century ago, but turns out he's still alive.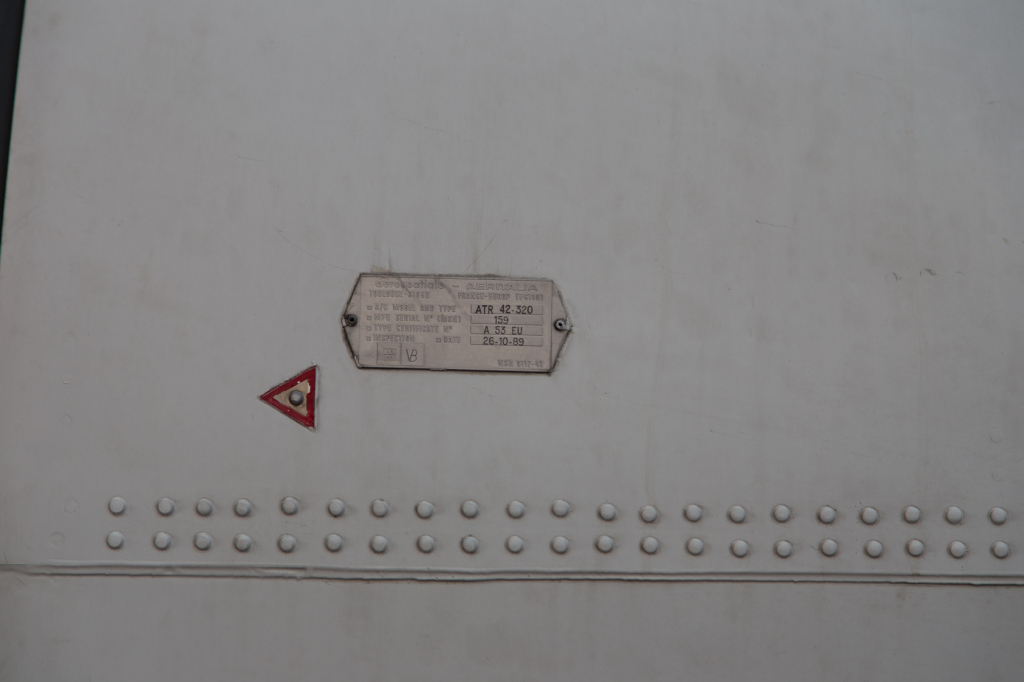 Anyway, we got on.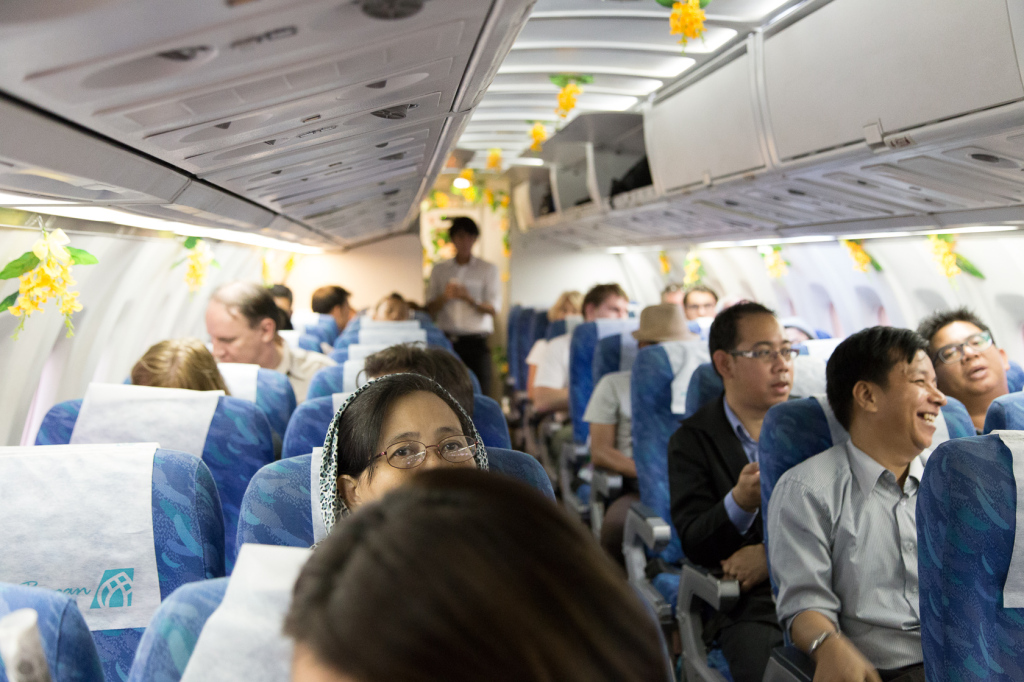 Some outgrowth was coming from the cockpit.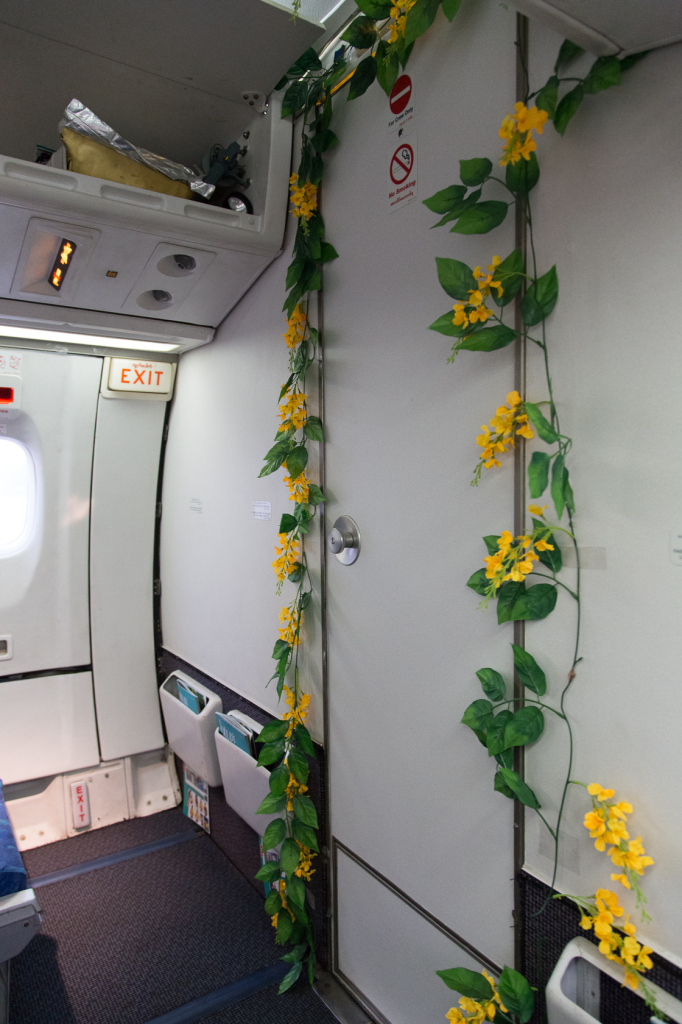 A man checked with air traffic control if it was okay for us to leave…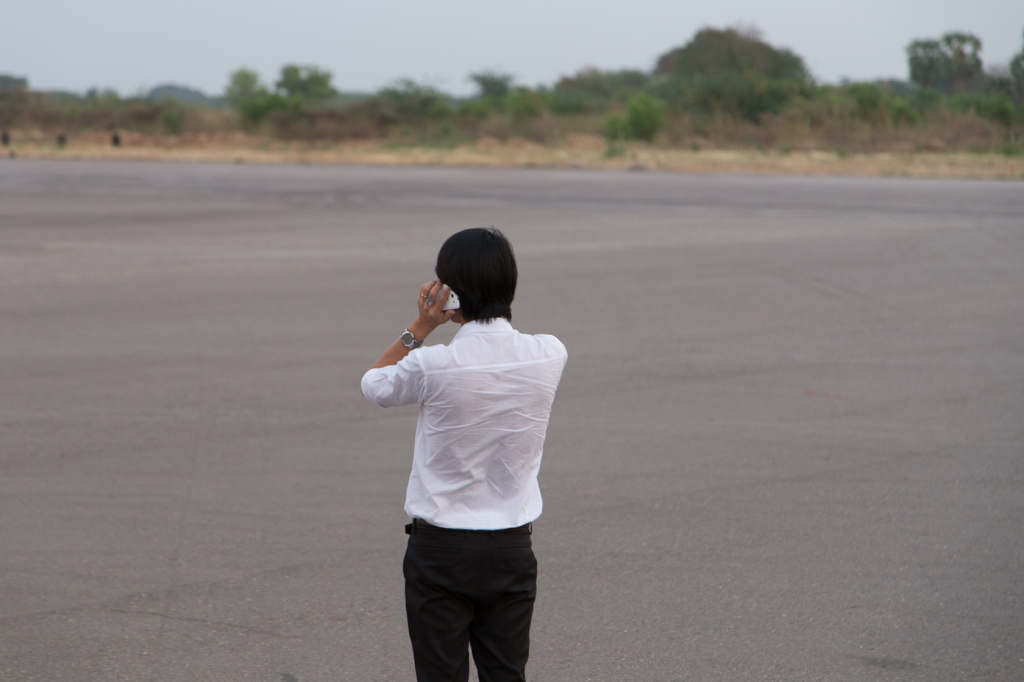 … and off we went. Two and a half hours late, but clearly, nobody really cared.
After arriving to Yangon, our bags got unloaded onto a donkey cart…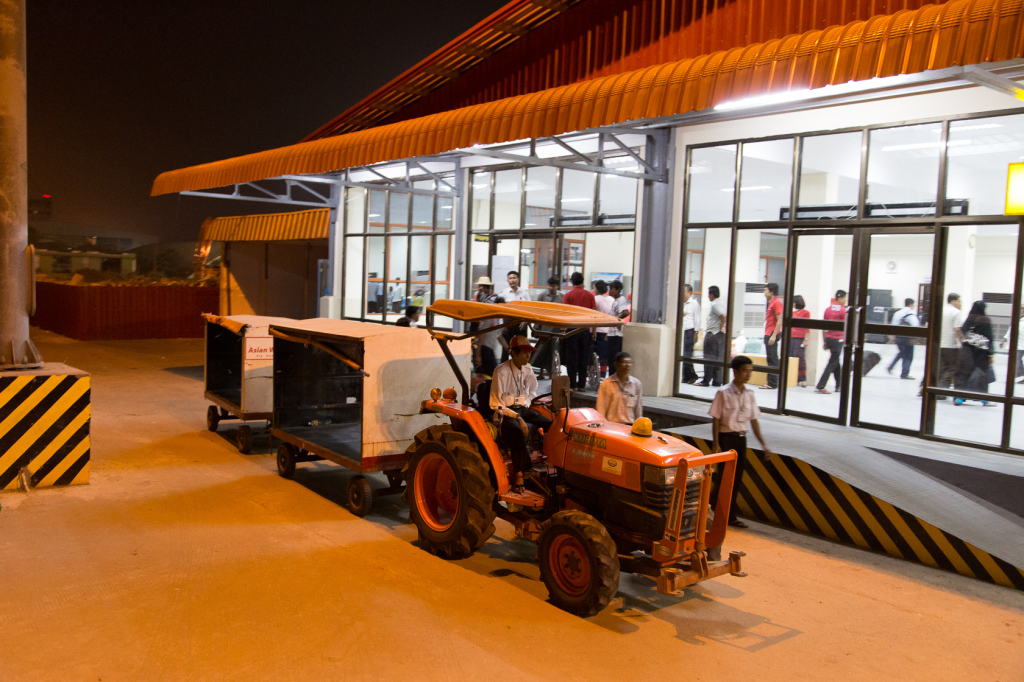 … and a man went to do the safety inspection of the previously presumed dead but not actually dead monk.
With this, our Bagan, and Myanmar, adventure was over. We had a quick overnight in the Traders Hotel, and it was time for us to return home.