Back in December 2013 (remember, I'm backfilling these posts… hehe), Delta had a mistake fare. They accidentally filed $0 – $1 base fares throughout North America, which means you could fly within the US and Canada for taxes only. Obviously Canadian taxes are significantly higher than US ones, so while you could fly from New York to Honolulu (or anywhere else in the USA) for $20, Canadians had to suffer an additional $100 of taxes or so – so all tickets were about $120. In first class. So eastern Canada to Honolulu was… $146 all in, first class, Delta. Return. You know, it wasn't exactly a decision that took a long time to plan out, so bam, tickets booked for the summer, ready to go! Mind you, it's Delta domestic first class – which we call "business class" in the rest of the world, but hey, hardly something to complain about.
We were flying a somewhat inane routing: first down to ATL, then LAX, then HNL. Somewhere along the few months the ticket was active, I scored a successful HNL-OGG-HNL flight for $5 (a website, now defunct, unfortunately messed up their coupons, allowing multiple stacking… so as long as the price didn't go negative, you could go to basically $0.01 – I didn't bother too hard, so I paid $20 for a return trip for three people with taxes. Then the website went defunct.) Our first flight was on a CRJ, so absolutely nothing special. They claimed to provide "breakfast" but it turned out to be a banana, some Shredded Wheats and some milk. And a frozen muffin. So I didn't even bother with a picture, because if you really come to this blog to see a picture of a banana – on domestic first class – then I don't think we see eye to eye on the world of travel.
Next up was ATL-LAX. My enjoyable experience with onboard WiFi was cut short because the stupid 737-900 we were on, despite being the latest and greatest (and literally built like a month ago) had a defective entertainment system – so no video, AC power or wifi. Crap. Obviously I messed up my movie transfer to my phone, so I had nothing to do but eat and drink; and this is domestic US, so do you want to take a guess at how that goes? So I had absolutely NOTHING to do for the next 3.5 hours. Of course, the neverending optimist that I am – the subsequent flight is LAX-HNL and that's an old 757, and there's quite definitely neither IFE nor AC power on that, and it's 5.5 hours, so … it can be worse.
Lunch was pizza: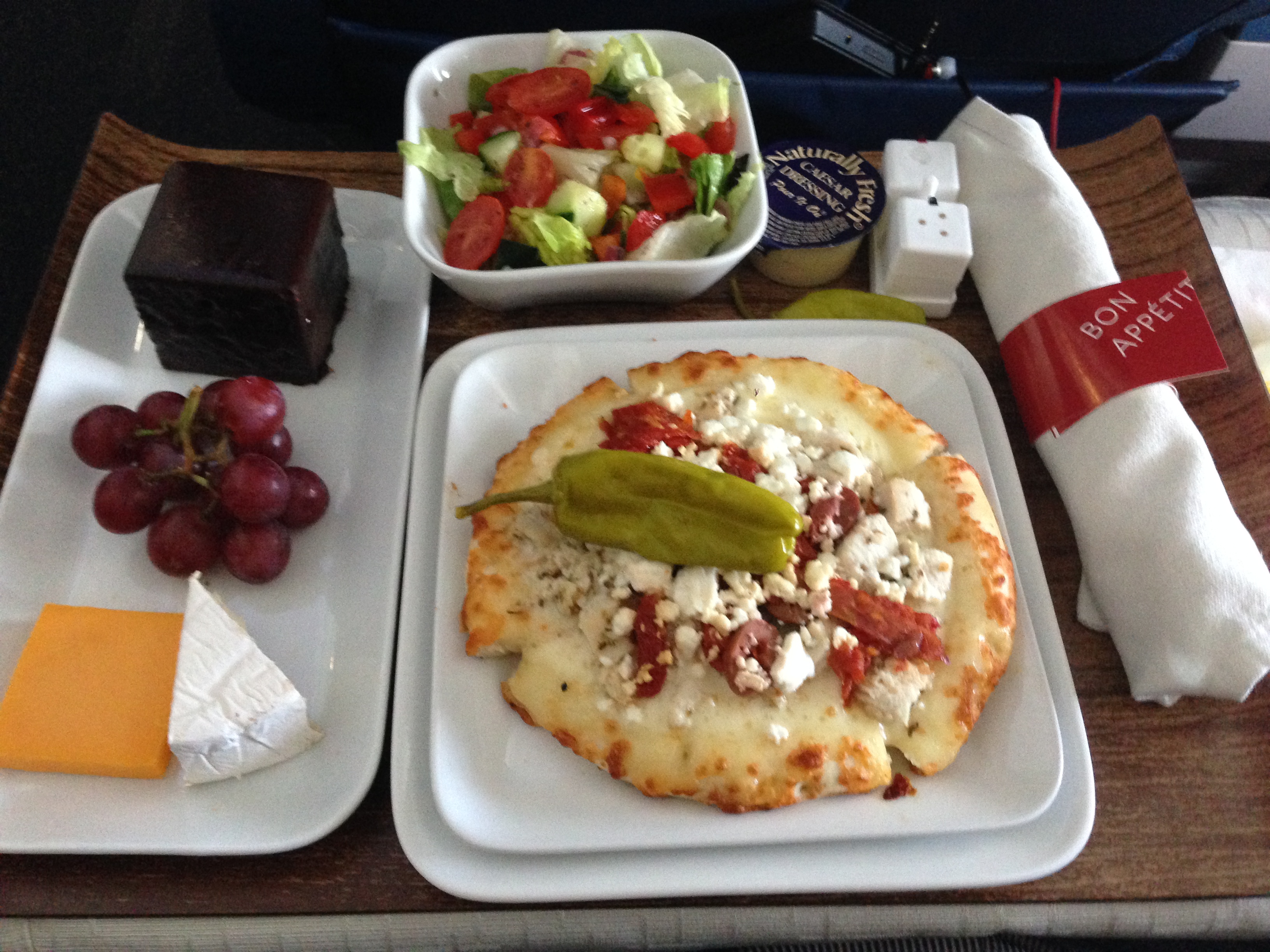 Long story short, we spent a lot of time in US domestic airports, sat in La-Z-Boy style seats that are considered "superpremium", and ate pizza for lunch. Then we got to the jewel of Waikiki – the Royal Hawaiian (that I booked on a one-time offer of 35% off SPG bookings, which made it actually a reasonably-priced booking!). Of course, since it was a points booking, and since this is Hawaii, which is almost always sold out (especially in summer), I got a garden view room. I used certificates to upgrade… which got me a garden view suite. When I complained and started pulling my "platinum" weight, they agreed to switch the room for a smaller – but ocean view one. That seemed acceptable.
Back yard of the hotel: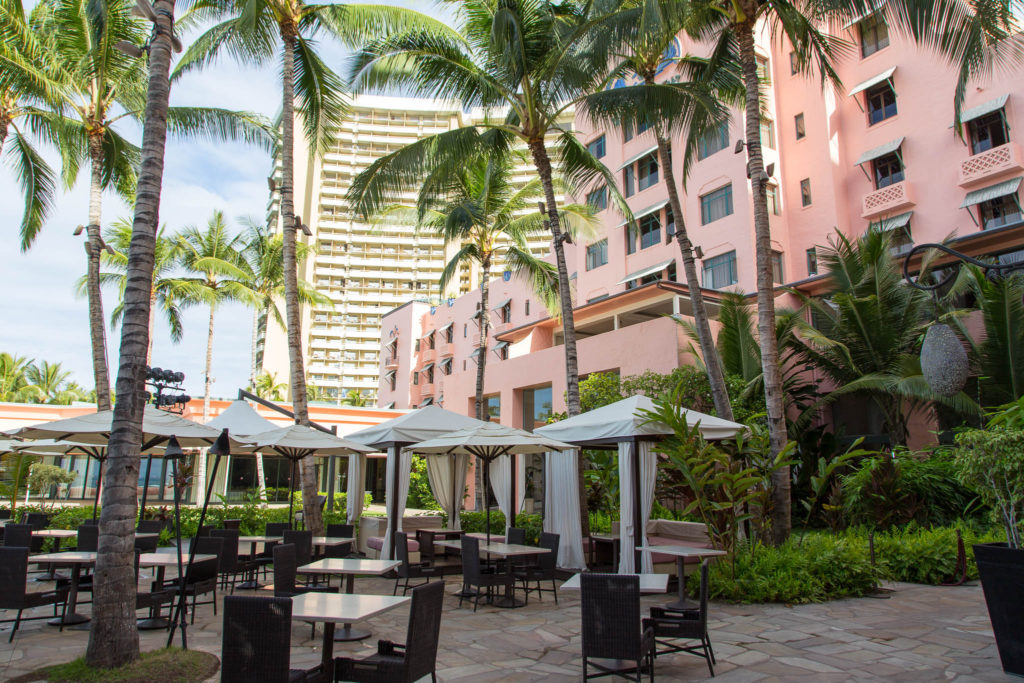 Pretty flowers: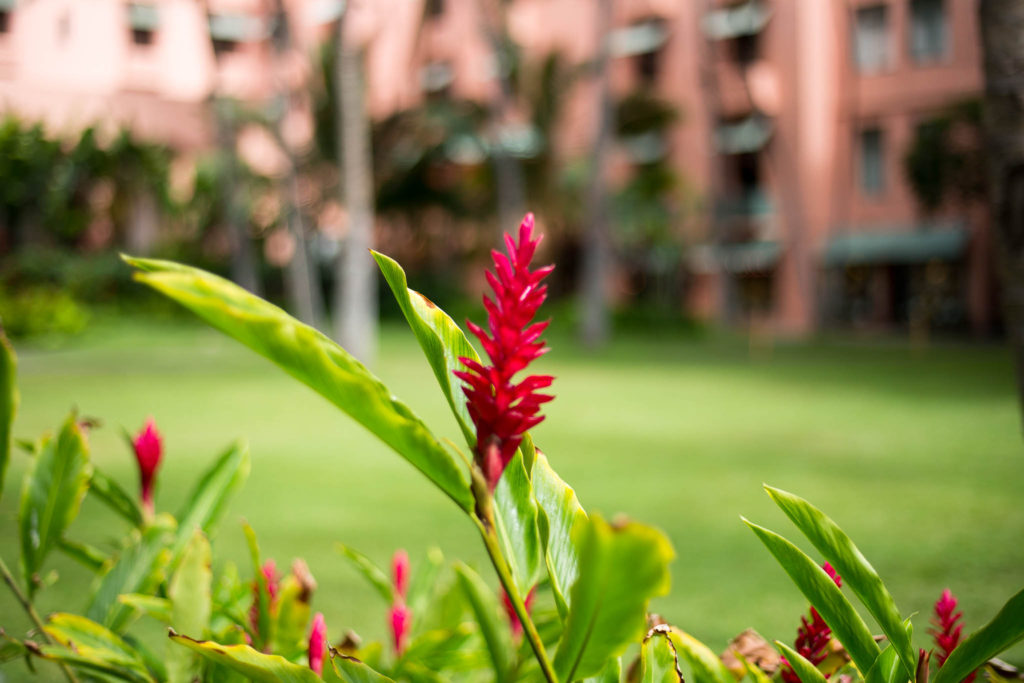 Amazing view of some classy neighbours: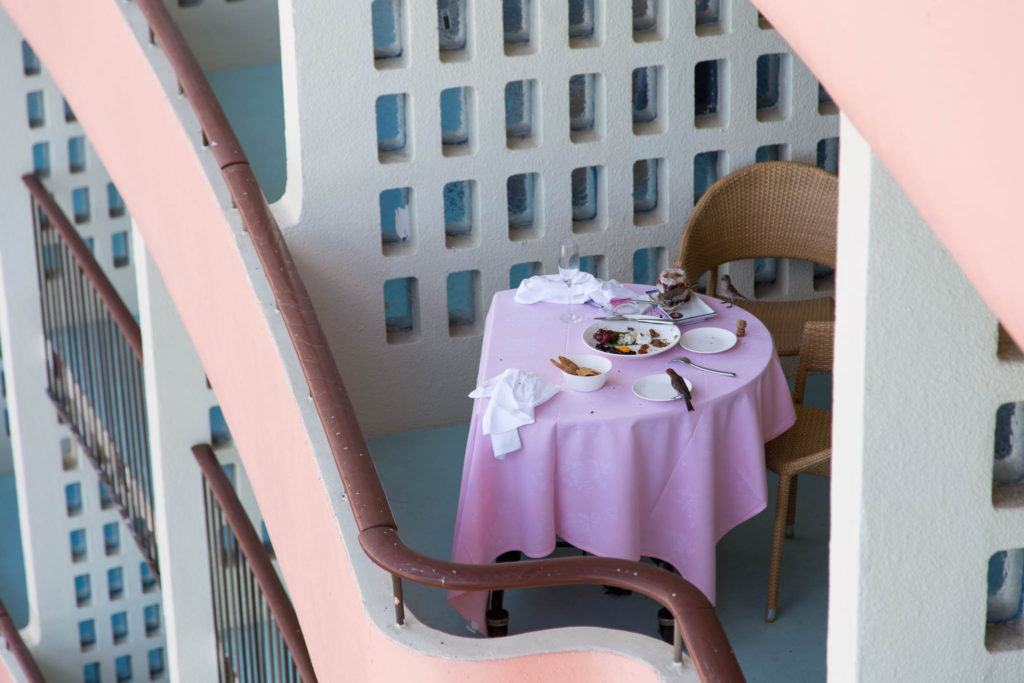 But admittedly, the view of the ocean was pretty incredible.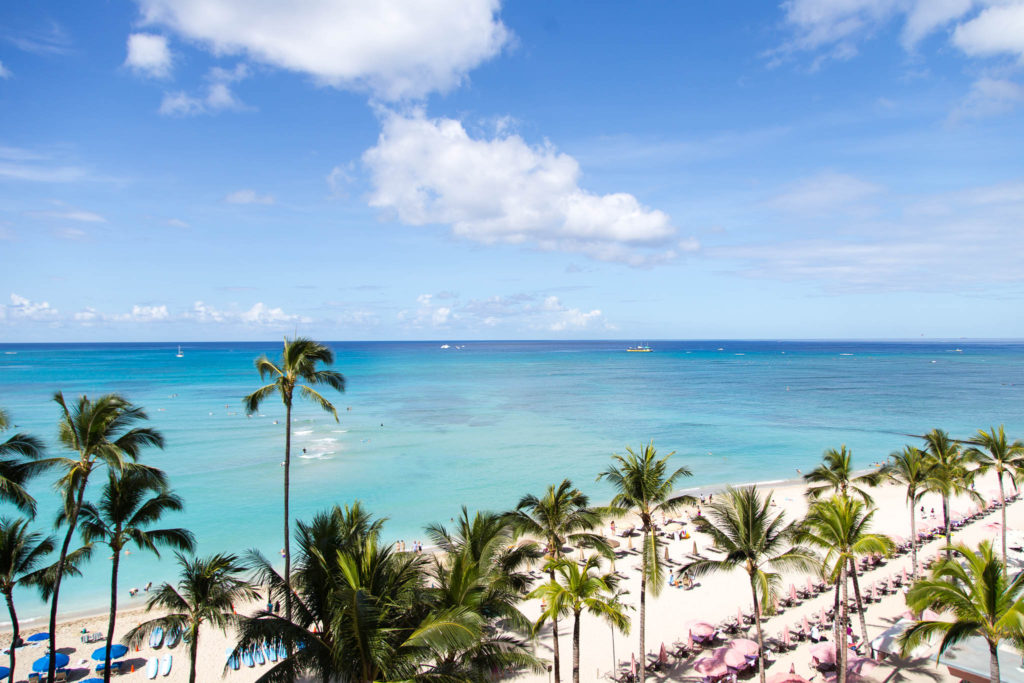 Not to spend too much time in the hotel, we went to explore the city. This was my second time in Hawaii (last time, I was flying east coast to Seattle, and since the ticket price was the same, I ended up routing east coast – EWR-HNL-SFO-SEA, rented a Corvette, and drove around for a few hours, scaring the residents of Tantalus Drive.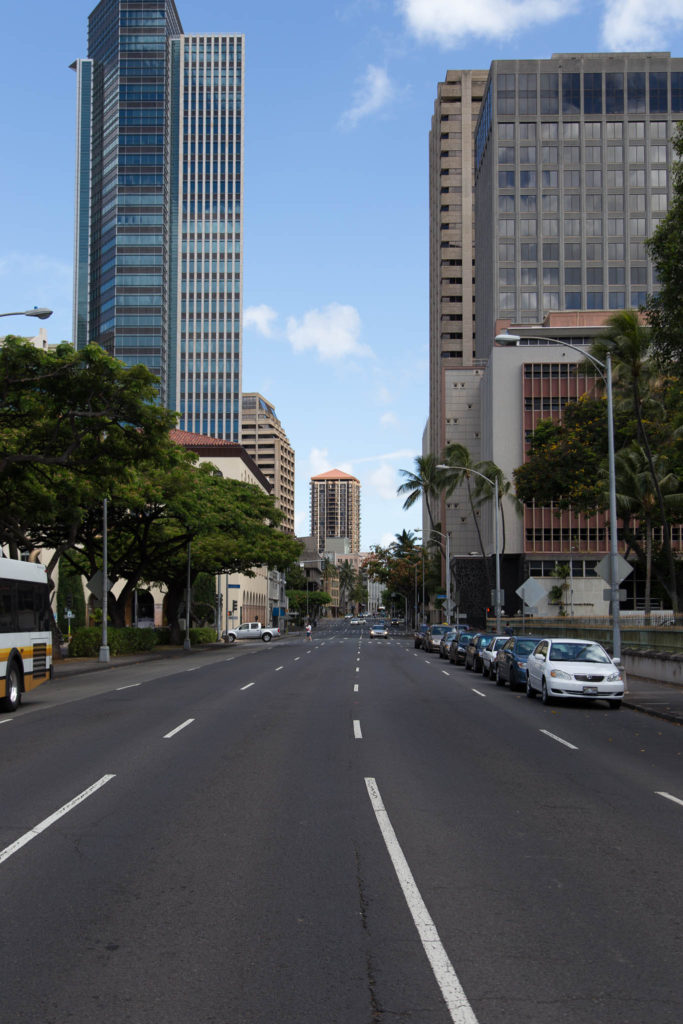 Honolulu downtown.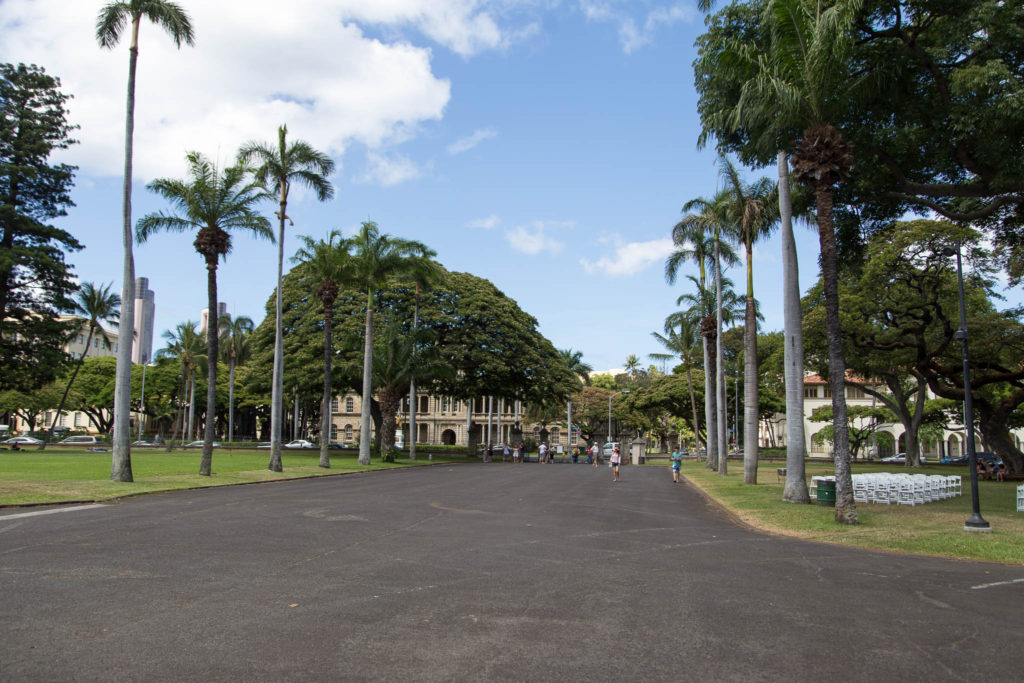 Then we went to Pearl Harbour, of course. This plane was recently recovered, and was under restoration: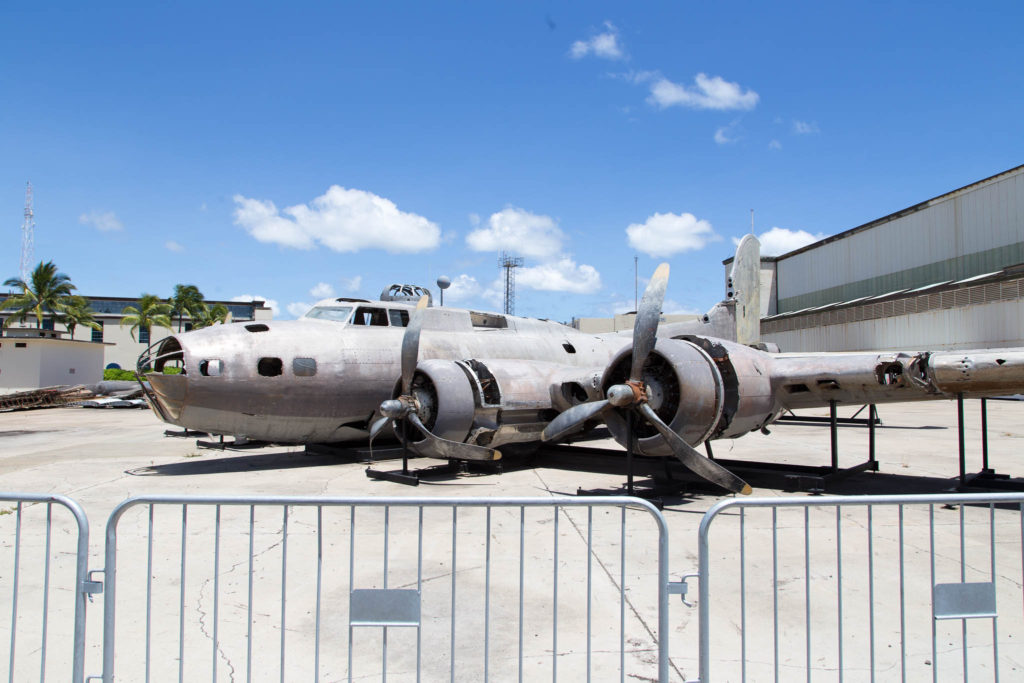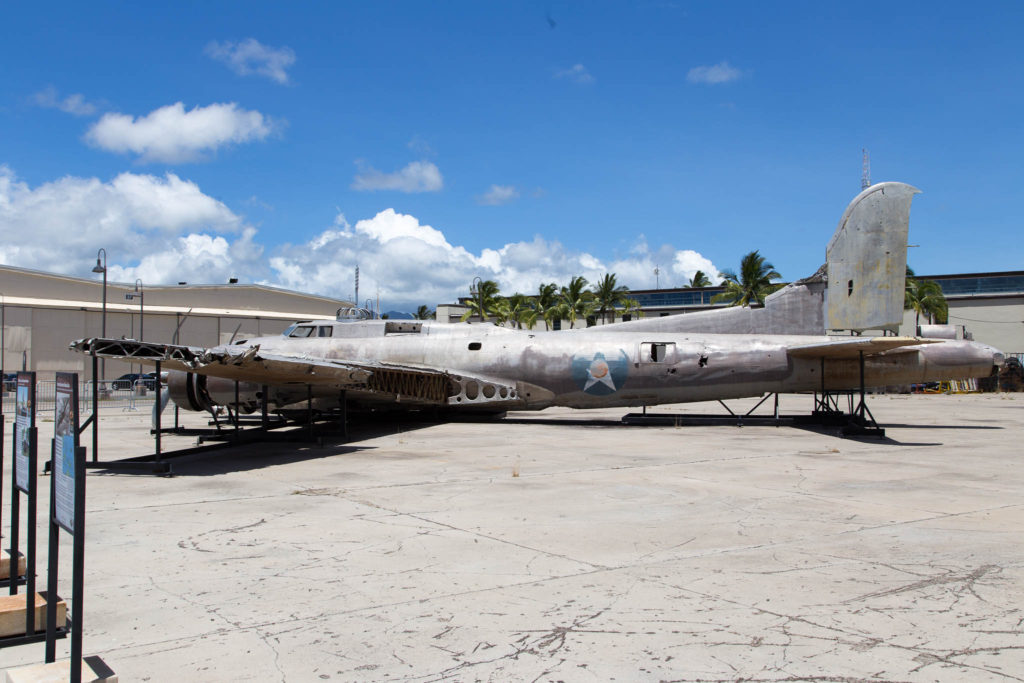 An F-15 in the hangar.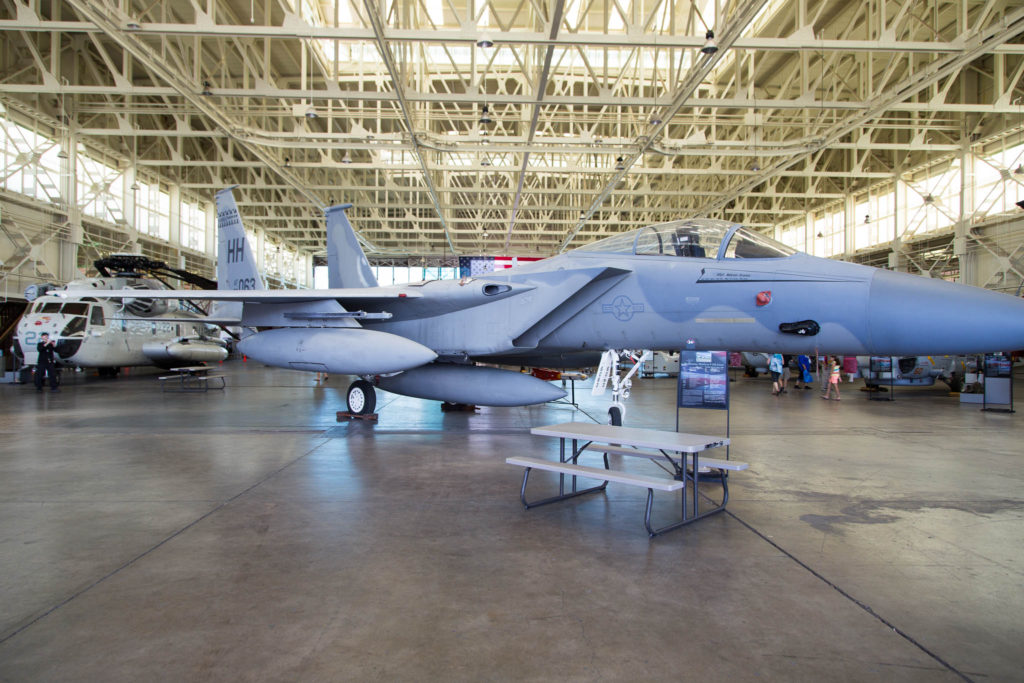 Some more planes.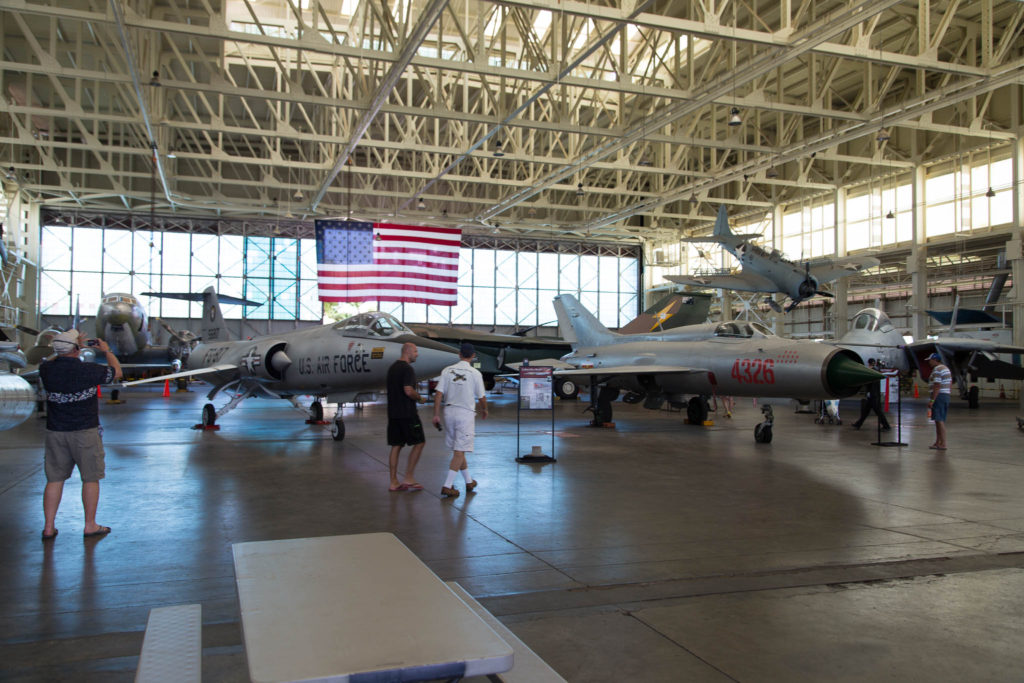 Back to the F-15.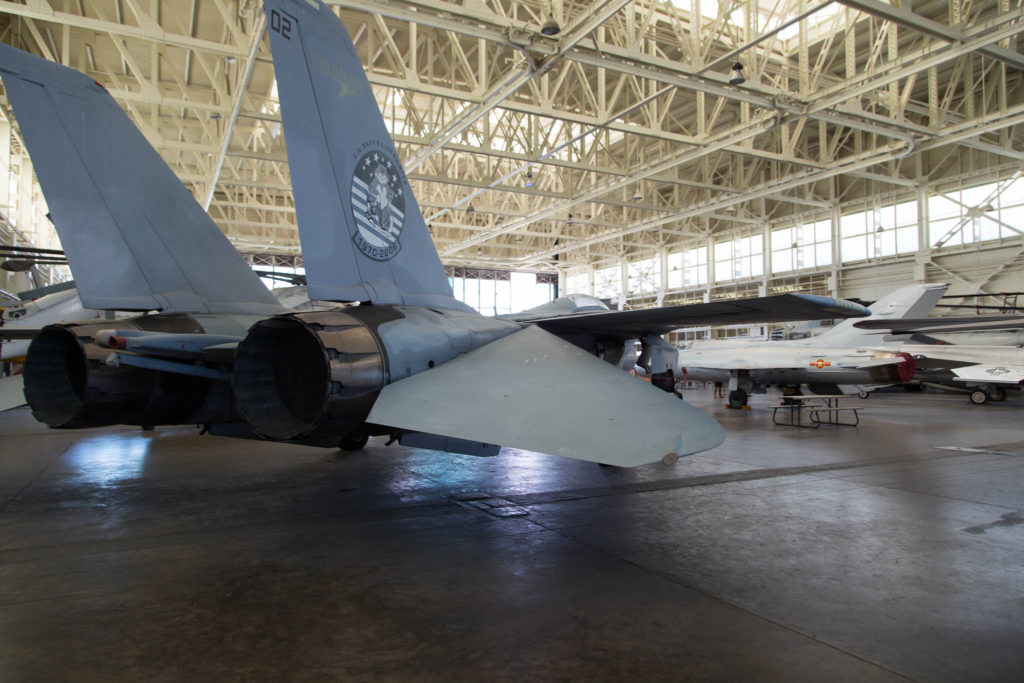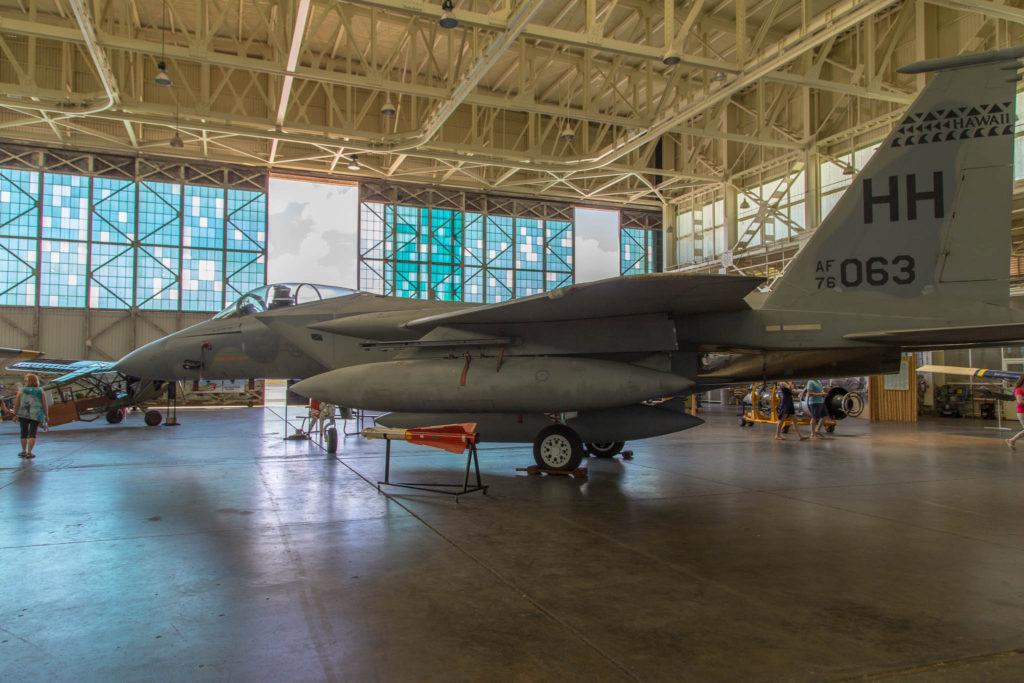 Of course, no visit to O'ahu is complete without a visit to the splendid Byodo-in temple, a half-size replica of the much more grand Byodo-in in Kyoto. Quite seriously, if you didn't know, you'd NEVER realise this wasn't Japan. It's absolutely perfect.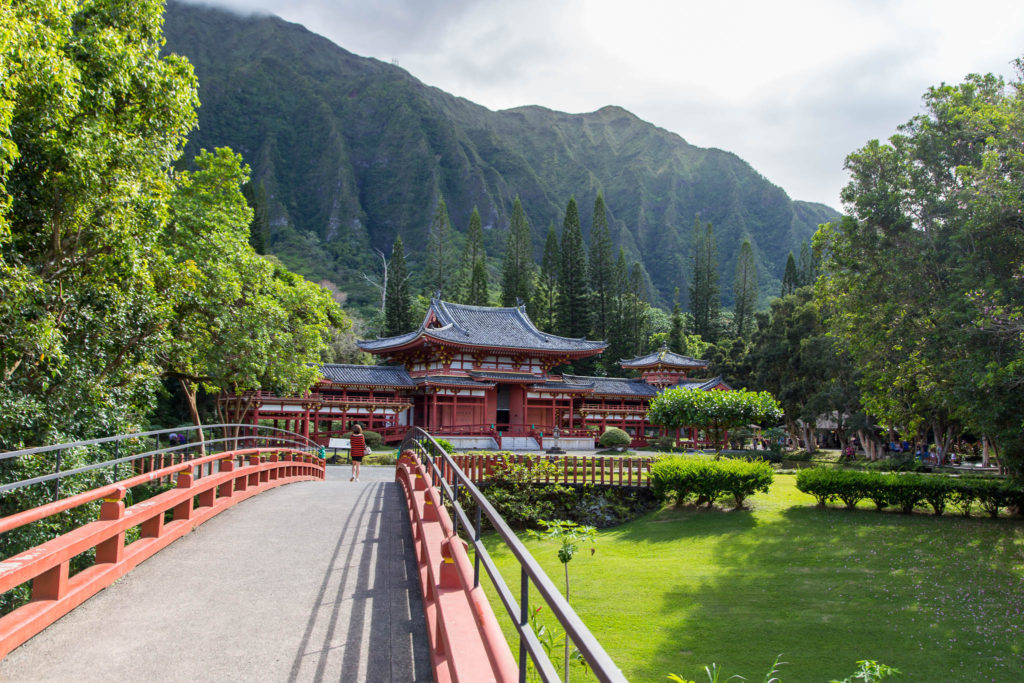 Look at these gardens!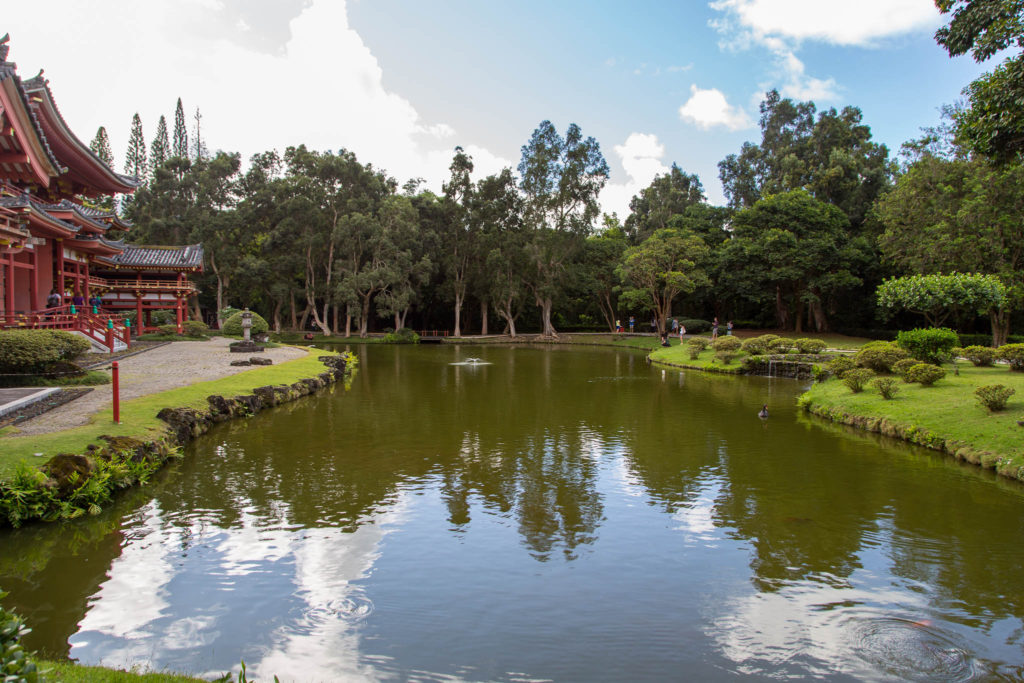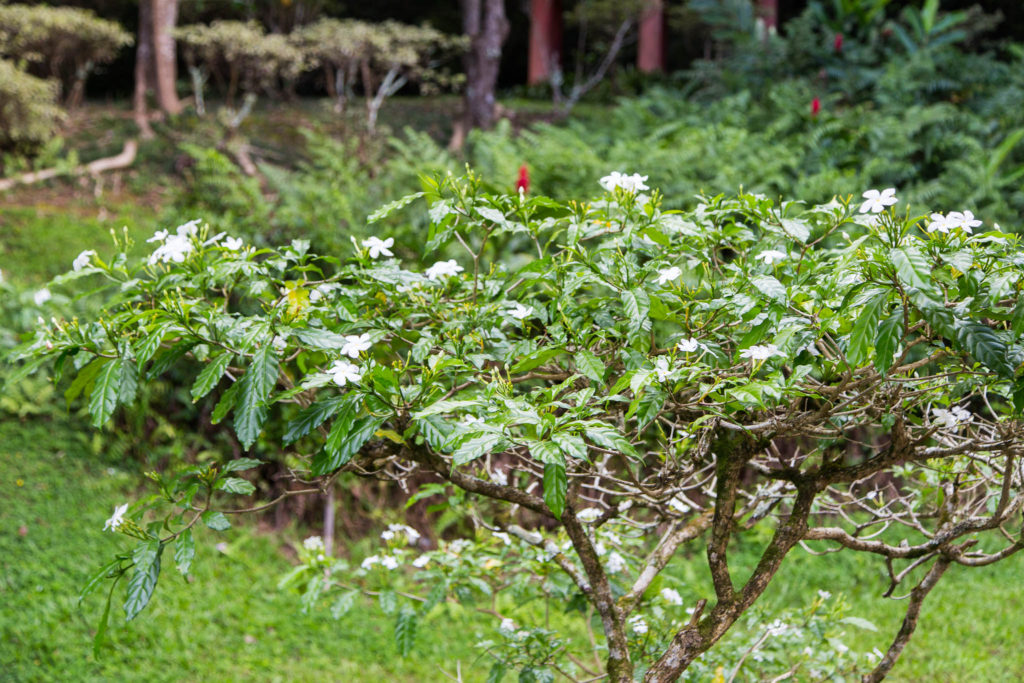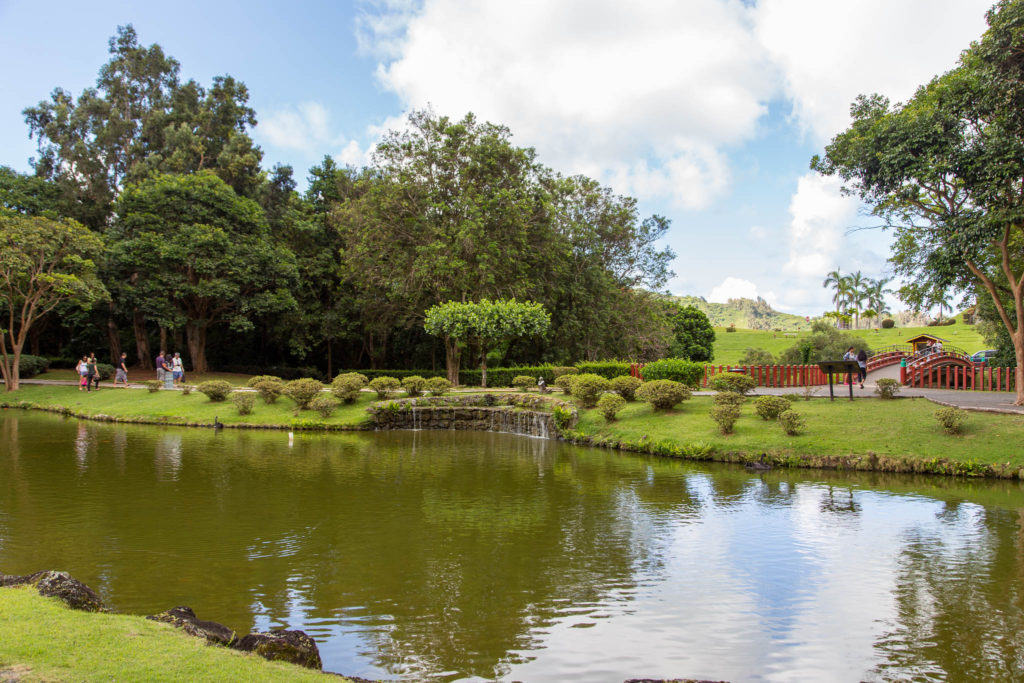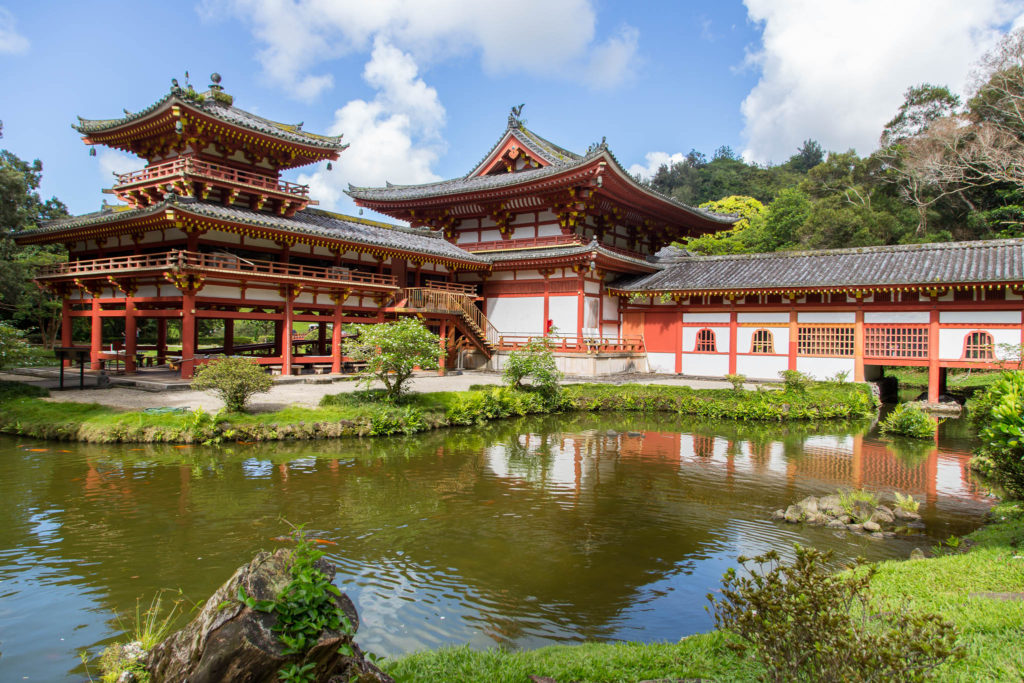 After Byodo-in, we went to my favourite beach on O'ahu. Nope, it's sure as hell not Waikiki; and it's not the North Shore, because the surf there tends to be somewhat extreme sometimes. Nope… it's Lanikai, on the windward (eastern) side of O'ahu. It's amazing, primarily because access to it is somewhat complicated (it's just a beach in a residential area, so there's no touristy parking and so on) – you drive up, park along one of the streets, and walk to it. There are rarely too many people, mostly because it's so out of the way, but the water, and the sand, are absolutely spectacular! Apparently, this is consistently ranked one of the best beaches in the world – and I could totally see why.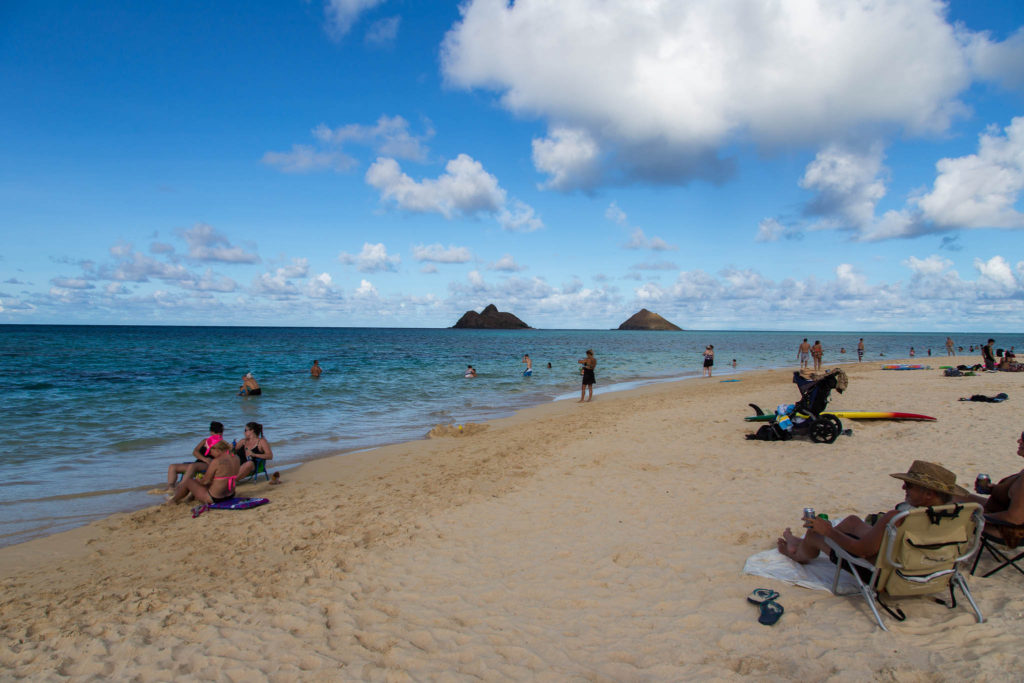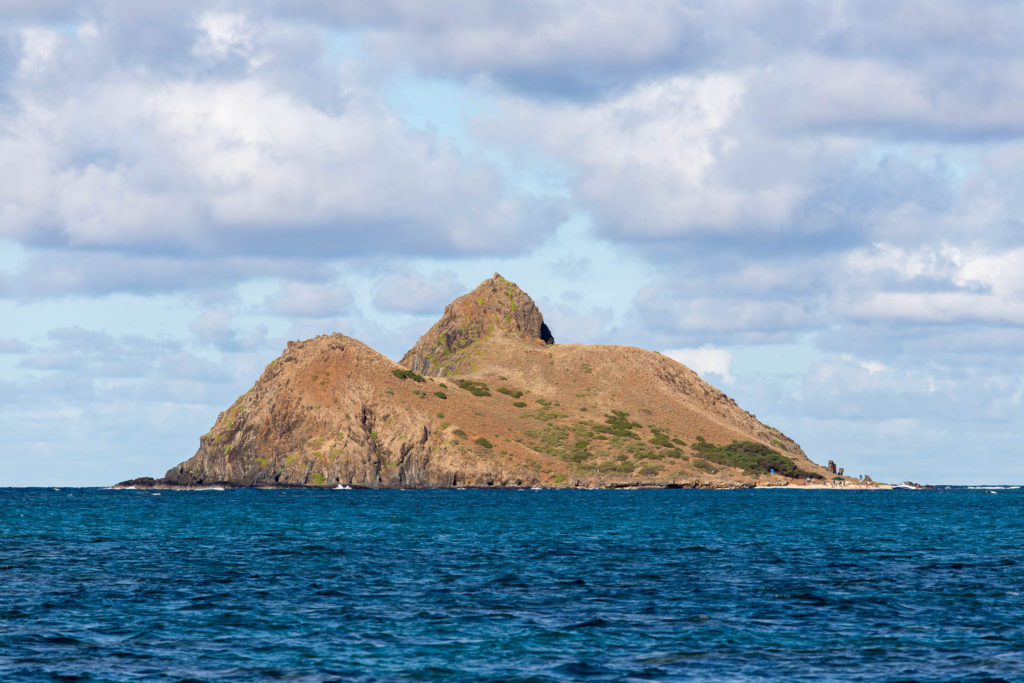 Another favourite spot of mine: the Tantalus Lookout, up on the mountain in Honolulu. Puu Ualakaa national park. The view from here, especially on a clear day, is astounding.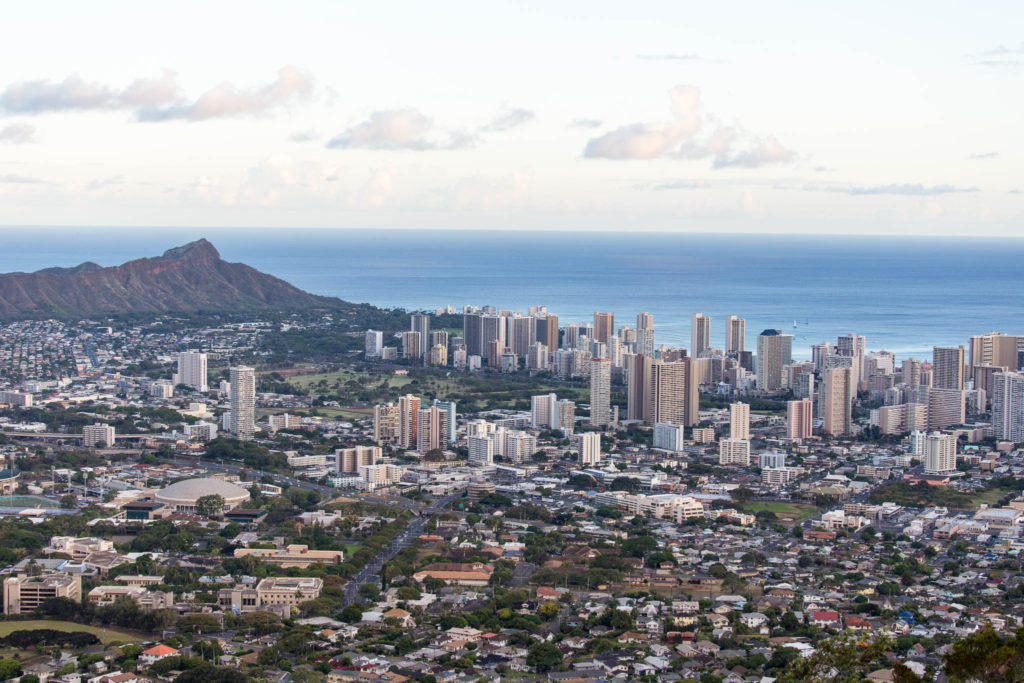 Back to the Royal Hawaiian beach.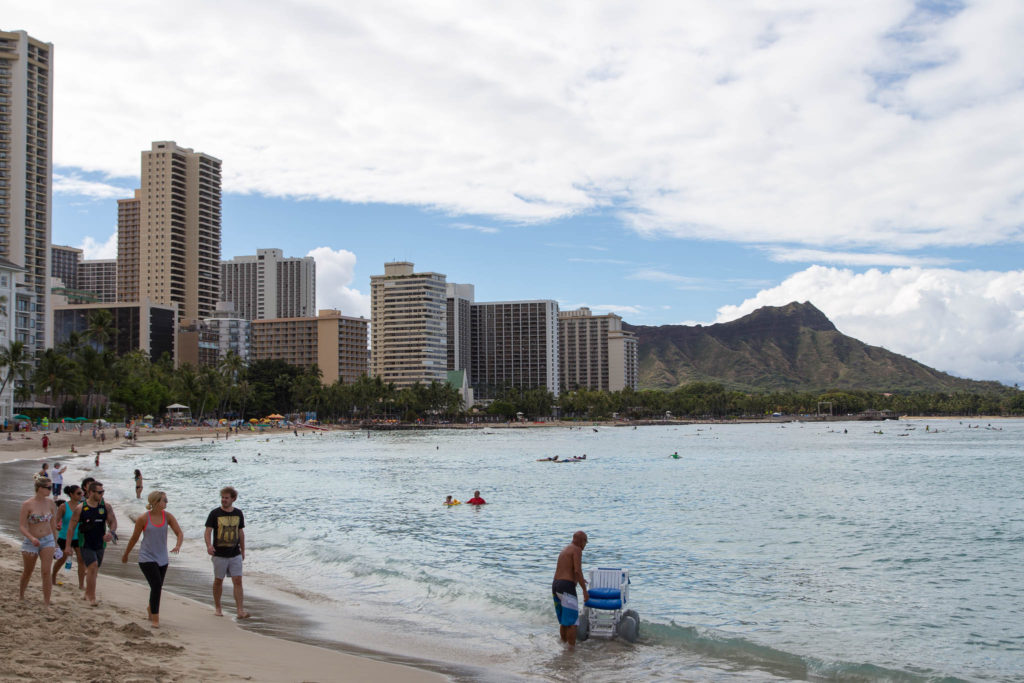 Decided to head over to the Rainbow Drive-In – made popular by Obama's frequent visits there. There are always some oddball cars in the neighbourhood, too.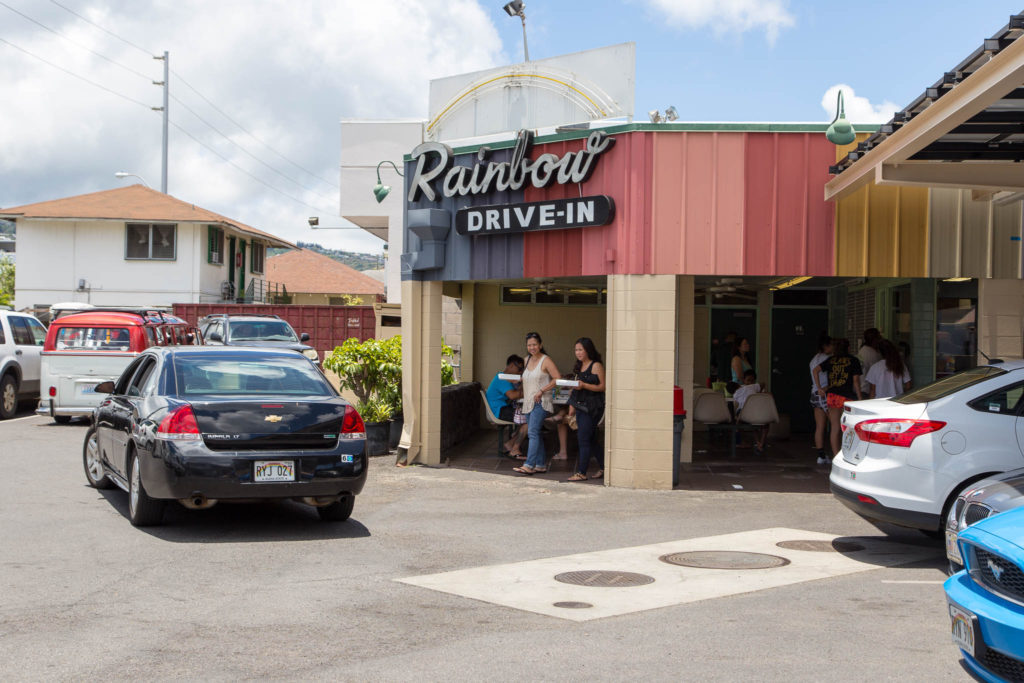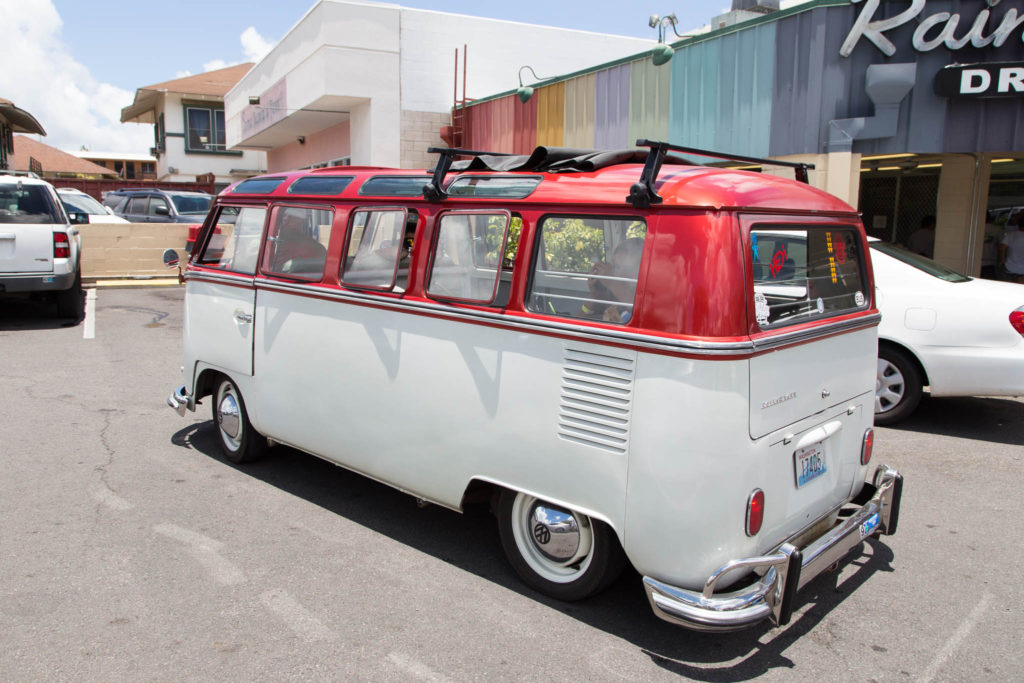 We decided to drive off to Waimea National Park. I heard there are some really famous waterfalls there; it only seemed appropriate to go check them out.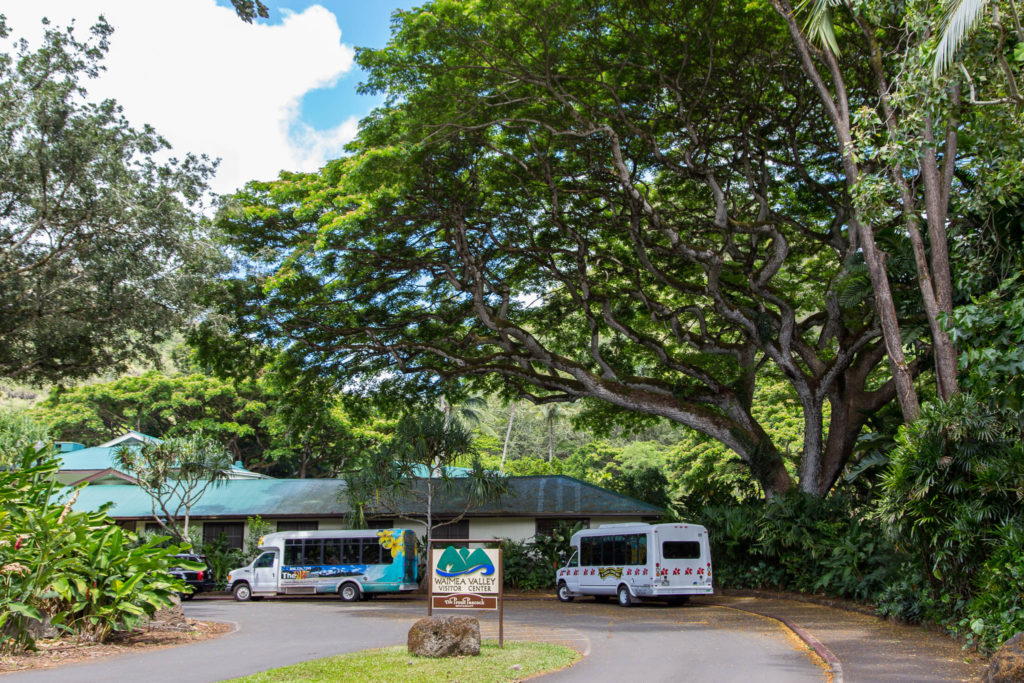 After about an hour's walk, there was an … uhh … waterfall there. It's REALLY not what I had expected (i.e. there's approximately zero amazingness about it, plus there were some fat people floating around in it).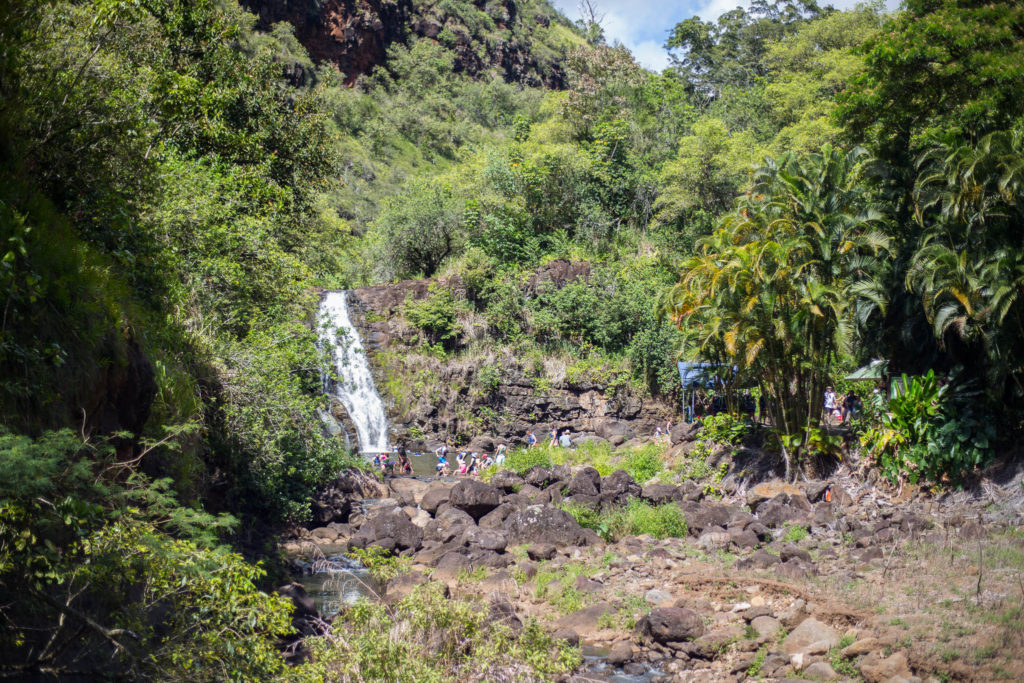 Really, really not worth the extensive walk, to be honest.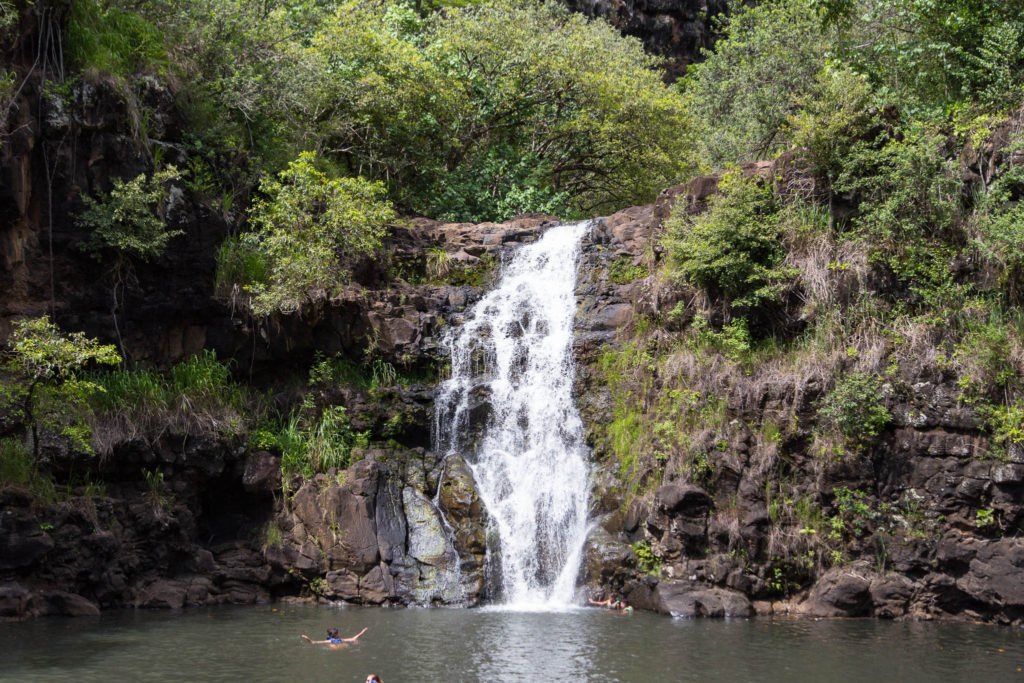 But hey, some pretty flowers along the way.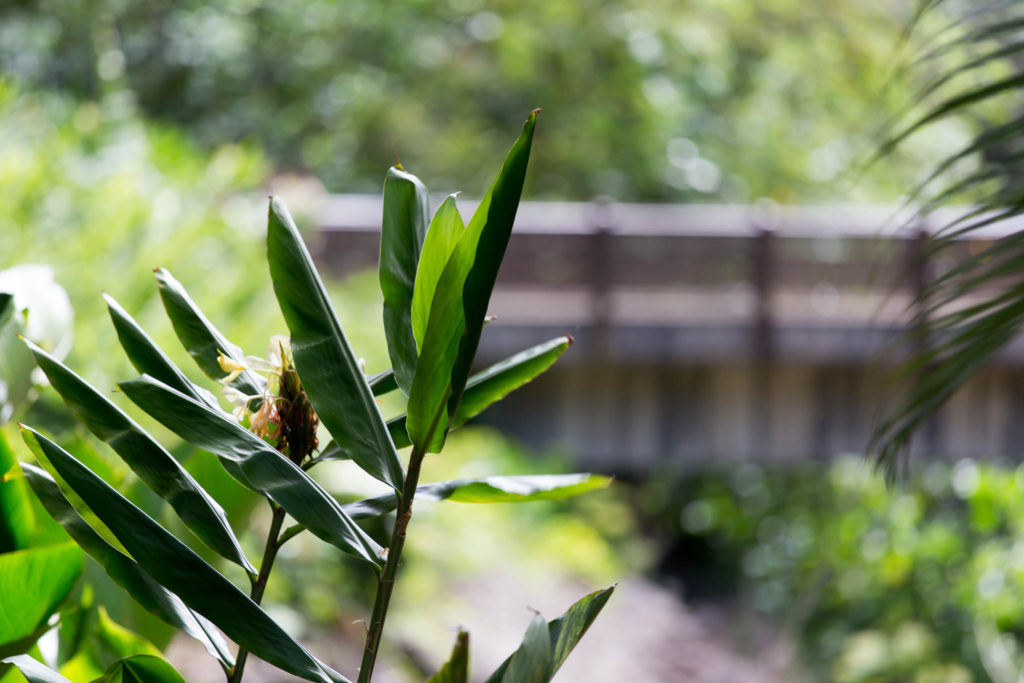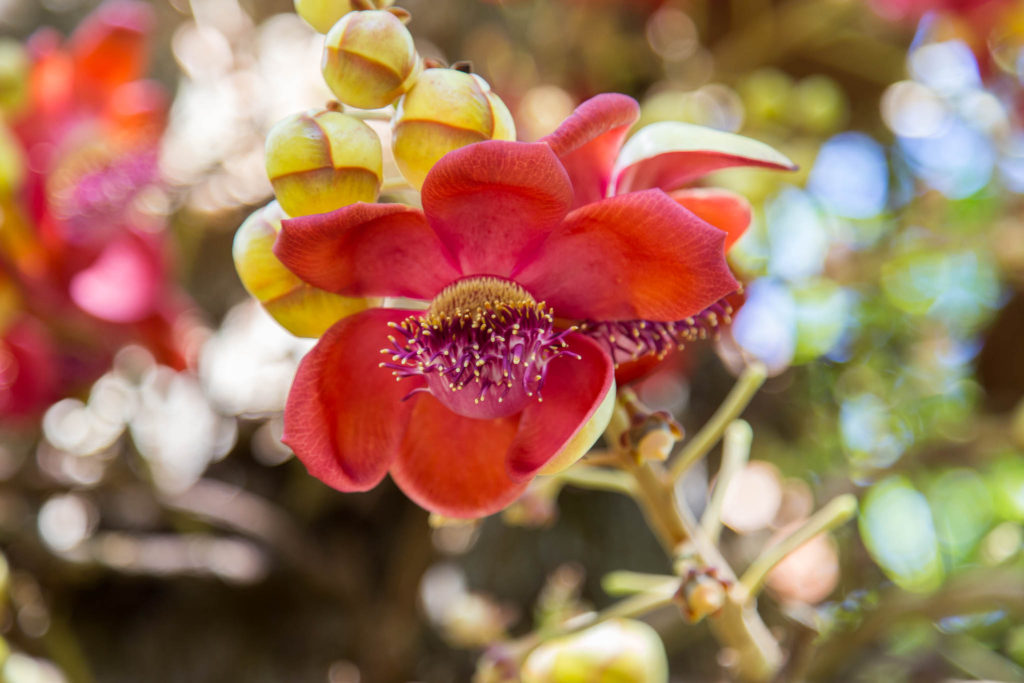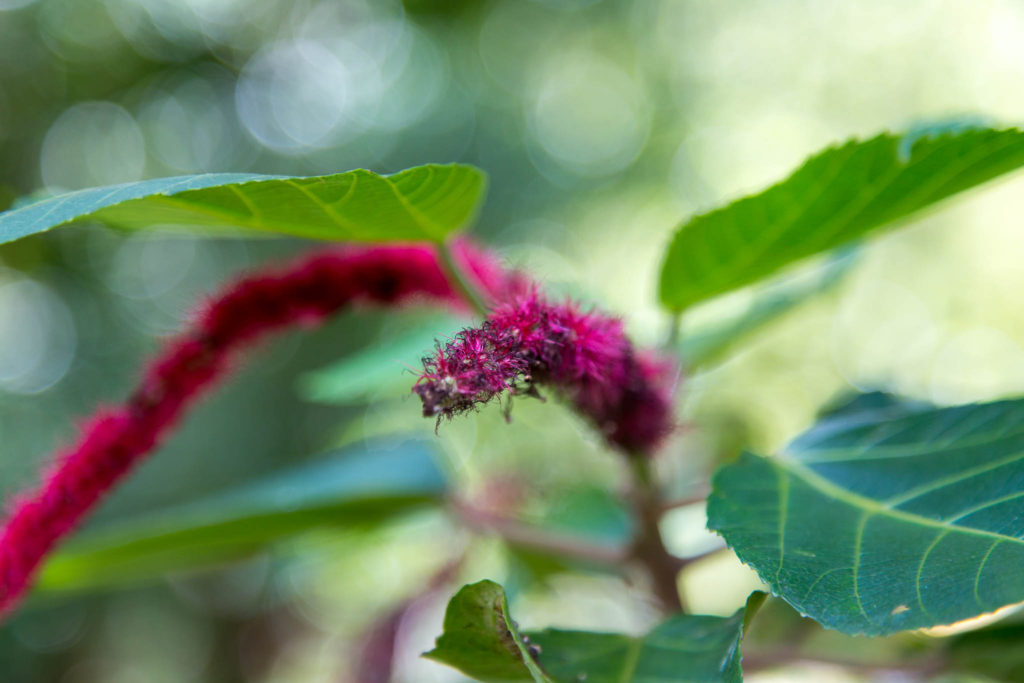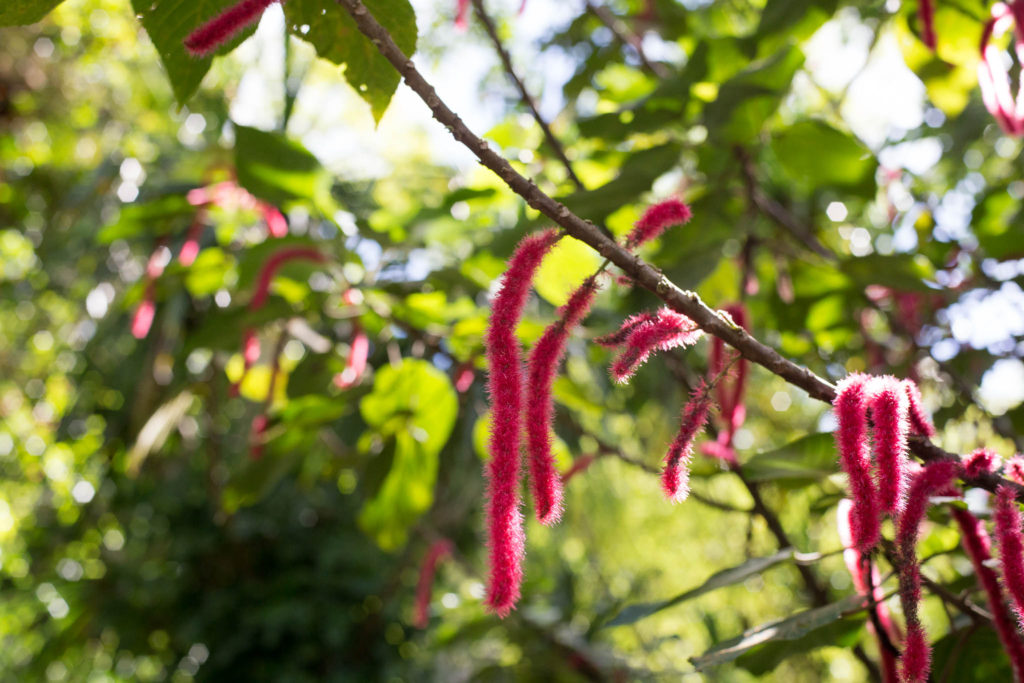 After the Waimea park, we went to see a beach on which a lot of turtles tend to hang out. It's located about here (and you tend to miss it every time you drive by, so you have to double up and U-turn on the "highway" several times), and you're not guaranteed to see huge turtles there, but they do tend to hang around. We were super lucky and saw several.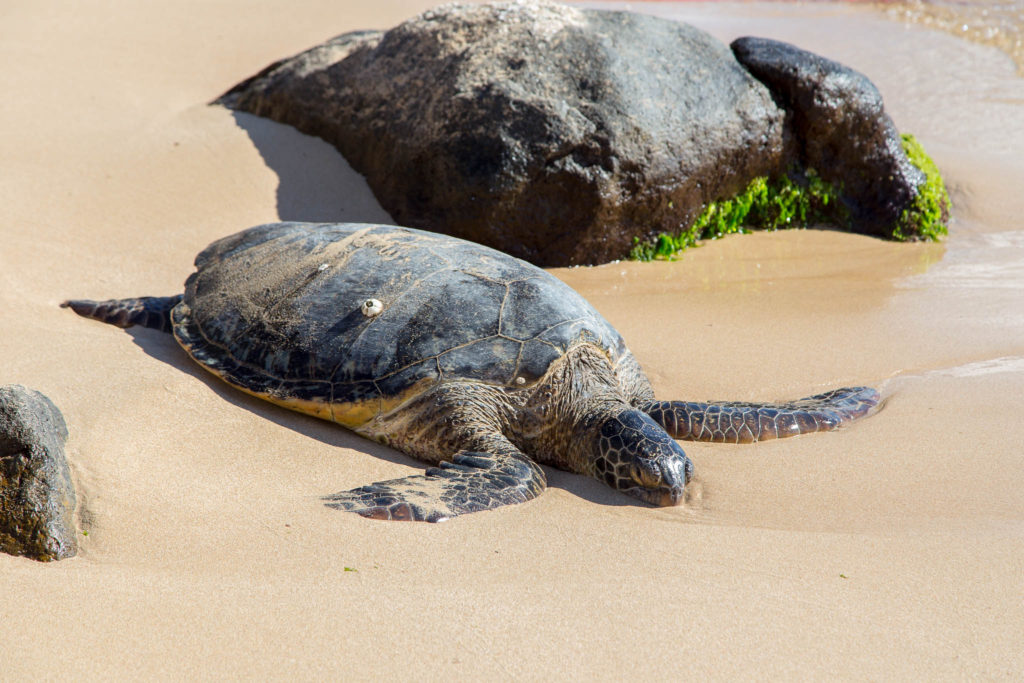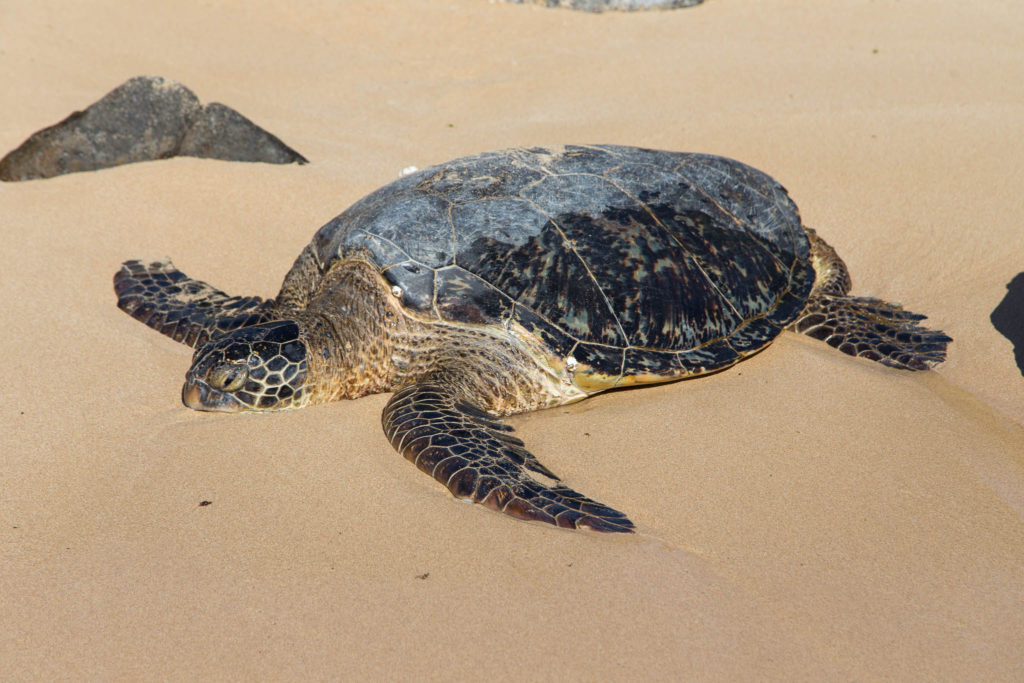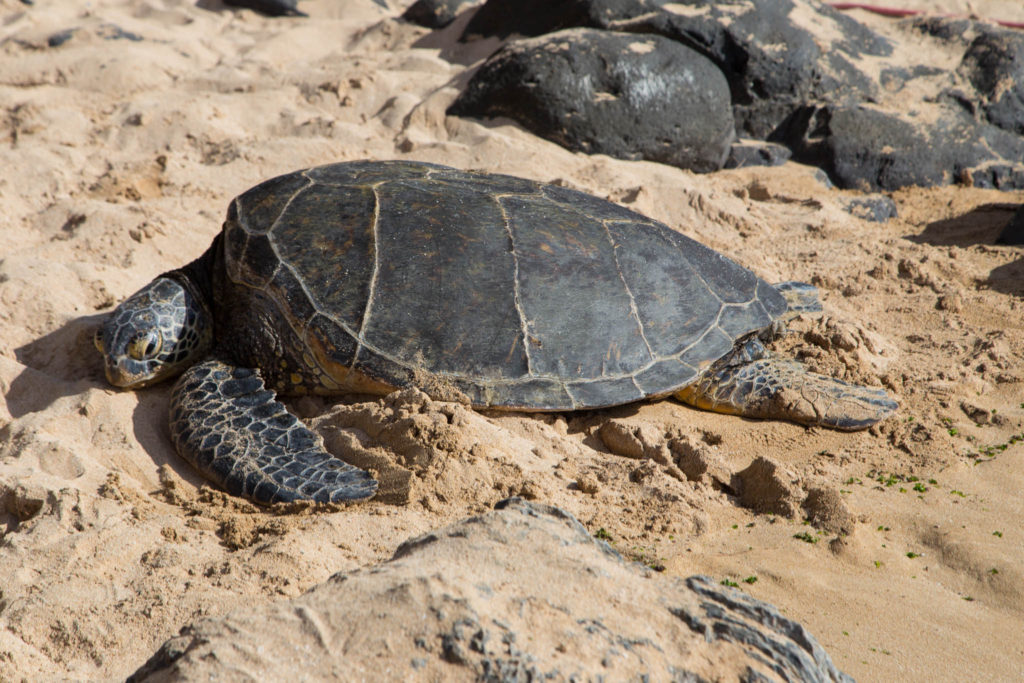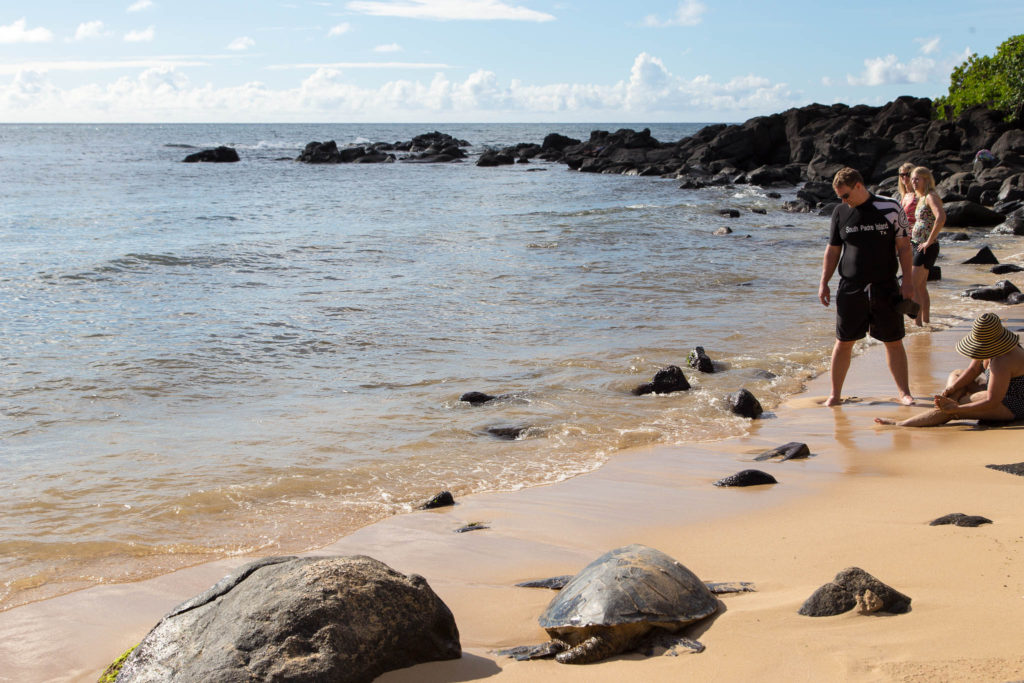 After this, since the time was coming up to the end of the day, we decided to go visit Sunset Beach, which also doubles up as the key vantage point for the Banzai Pipeline. Sadly, seeing as it was summer, the Pipeline had no waves at all, but we did see this pretty animal hanging around: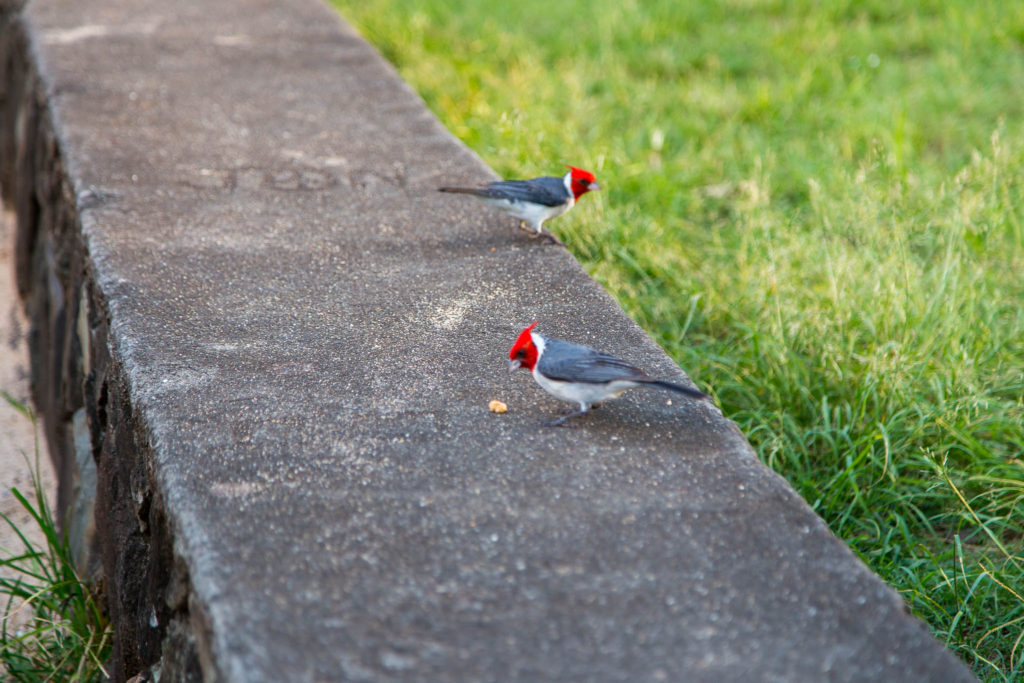 It was sunset time at the Banzai Pipeline. Though there were no amazing waves, the sunset was impressive. Maybe not as earth-shattering as the display of heavenly wilderness that I witnessed in the Cook Islands, but nevertheless, very pleasant to look at.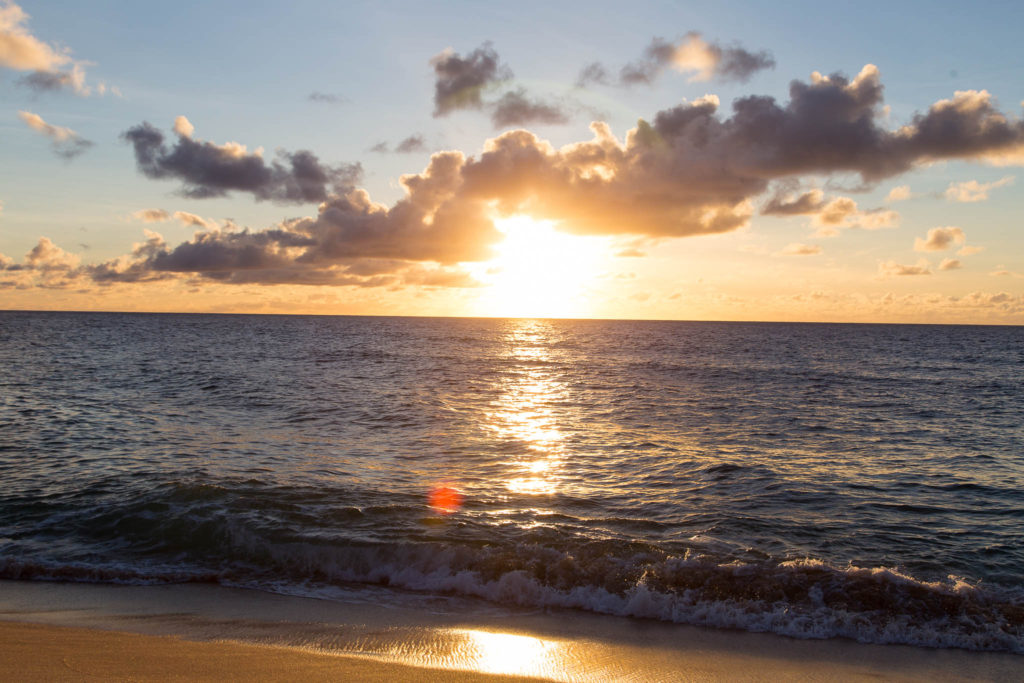 Obviously, the locals agreed, as there was a whole party of them hanging around observing the sunset.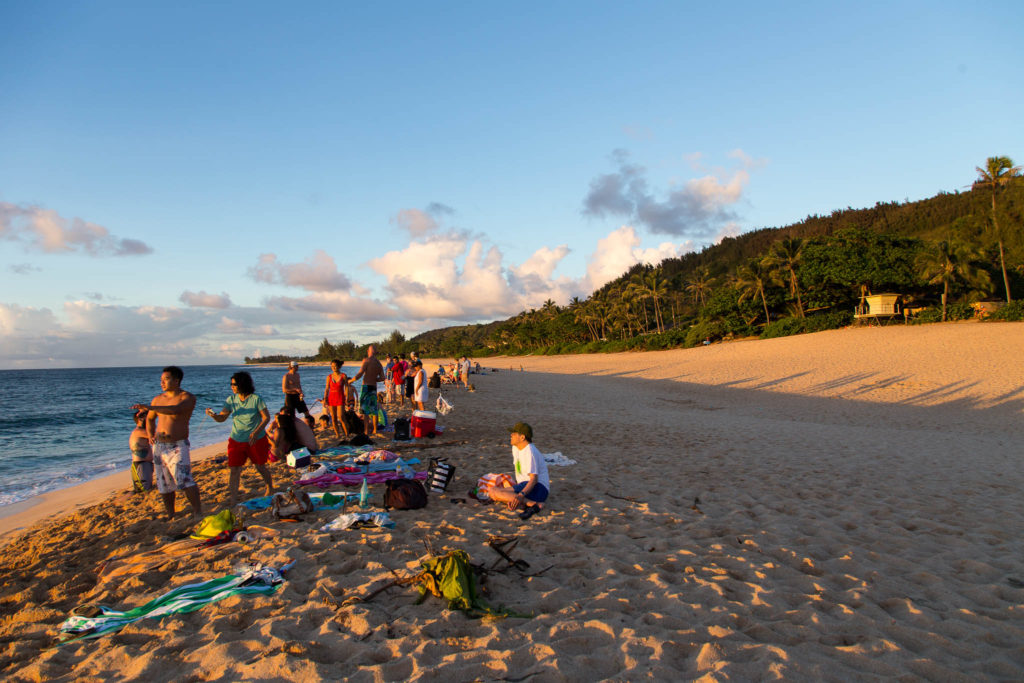 The day ended with the sun sinking beyond the Pacific Ocean, and the locals continuing to hang around and consume copious amounts of alcohol, as there's really not much else to do on a tropical island when it goes dark.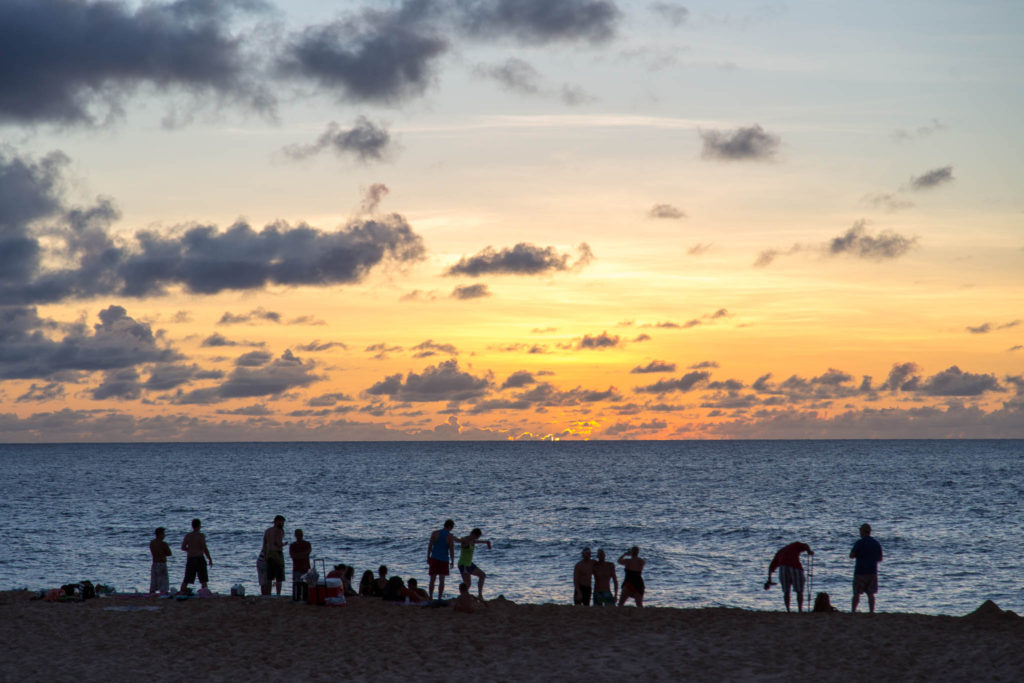 We went back to the hotel, and prepared to switch islands – this time, heading to the Big Island on our $10 tickets.