After arriving on Big Island, we rented a car (a Camaro convertible…. just like about 10,000 other people on the island. I swear, Hawaii must be Chevrolet's #1 market for this car), and drove off to our hotel. We were staying at the Fairmont Orchid. Normally a somewhat expensive hotel, the Virtuoso rate gave us breakfast, third night free (to which I appended a Fairmont Platinum free night), a suite upgrade for the stay, and I was sitting on about $200 of Fairmont dining coupons, so I figured we'd be sort of okay.
One thing that you get pretty awestruck by in Hawaii are the colours. The below picture of the west-coast road is completely unPhotoshopped: I sometimes add a little bit of colour to pictures when they're very bland, but I was actually considering reducing the vividness of this picture because it looks unnatural! But, quite honestly, this is exactly what it looked like. Astounding.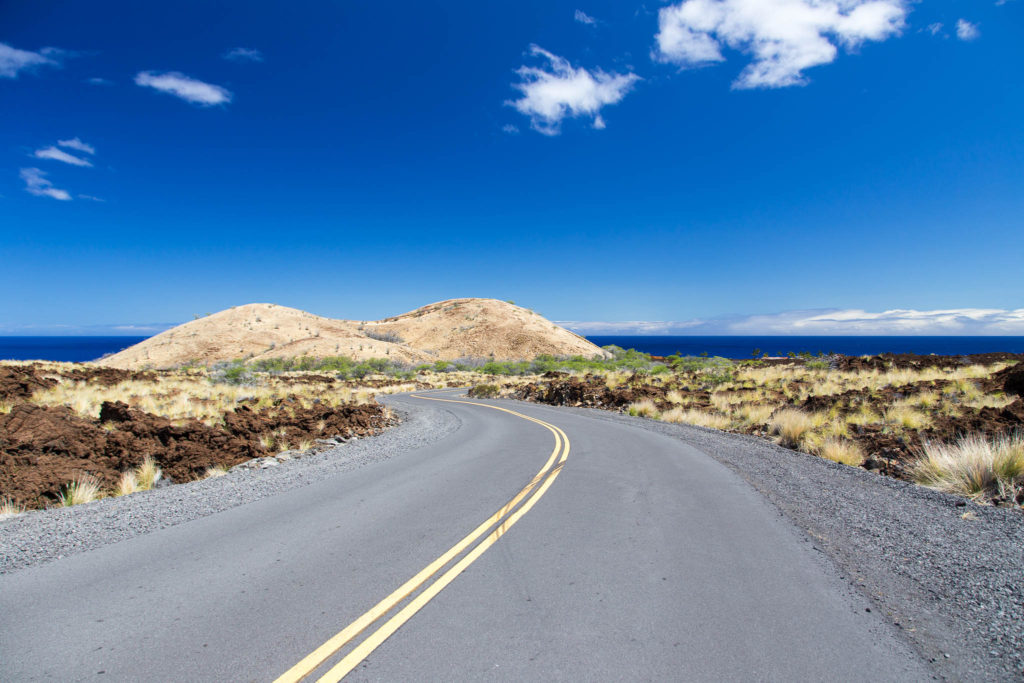 We stopped by a random beach on the way, where the colours continued. It even featured the quintessential Baywatch sort of dude just idly hanging around!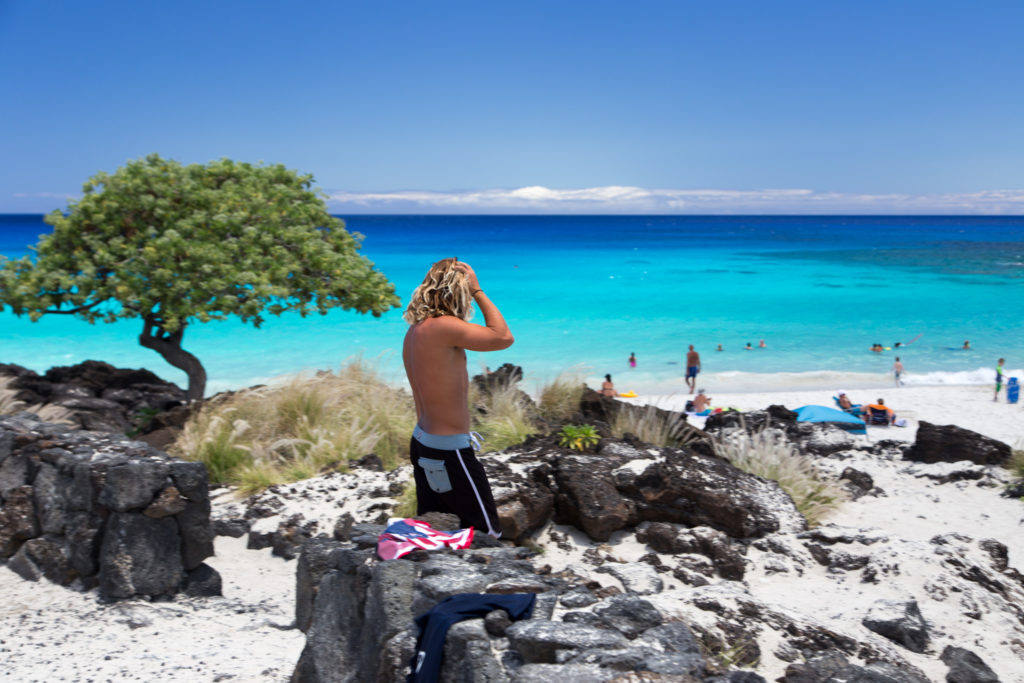 Seriously, though. Click the panorama below for an insane view:

We proceeded on to the Fairmont. For some reason, I didn't take a picture of the roundabout in front, but we parked, and got to the front desk. As usual in Hawaii, I had to argue about just what was defined as a "suite" and an "upgrade" in the expression "suite upgrade". First they had us in some room facing someone's armpit. It was a large room, but it still faced someone's armpit. It seemed unbecoming for a platinum member to stay in a room like that, so I continued to argue for the ocean-facing presidential suite with three bedrooms, five bathrooms, a cook and a pilot, a helipad and an extra room for my giraffe. Eventually, we had to bridge our rifts, and we agreed on a ground-floor suite that faced the ocean and had a convenient terrace access for the occasional island robbers.
This was the entry. With all the doors closed, and a sufficient amount of alcohol, I had a 75% chance of ending up in a closet, in the bathroom or in the hallway (and not in the main room). I like lottery odds, but this was pretty severe.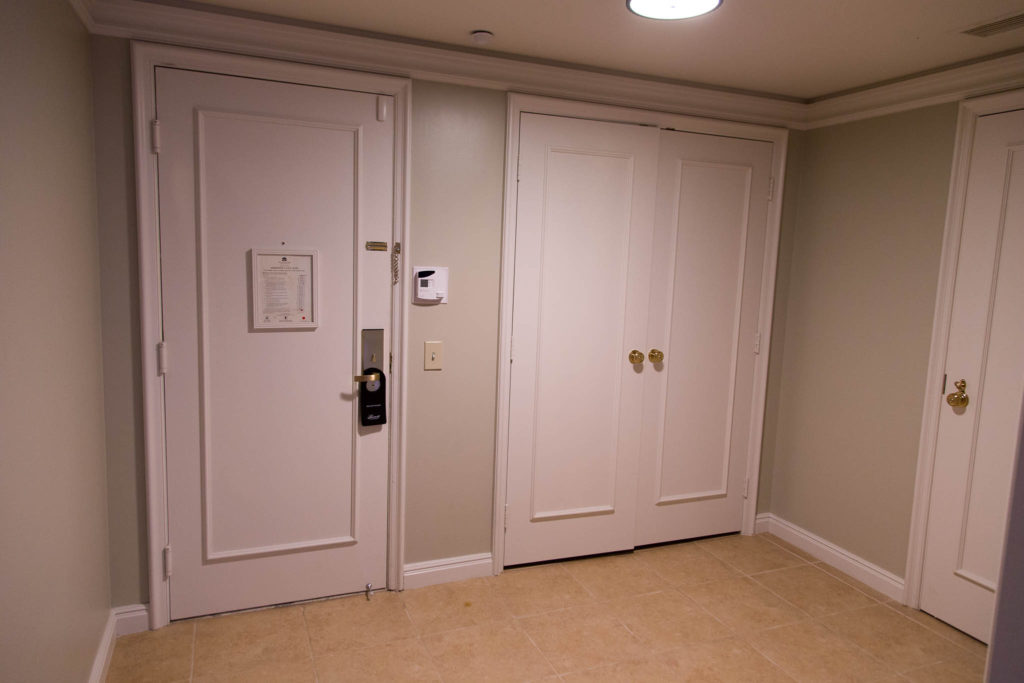 Once the dice are rolled and the correct sesame is opened… here's a corridor with some more doors.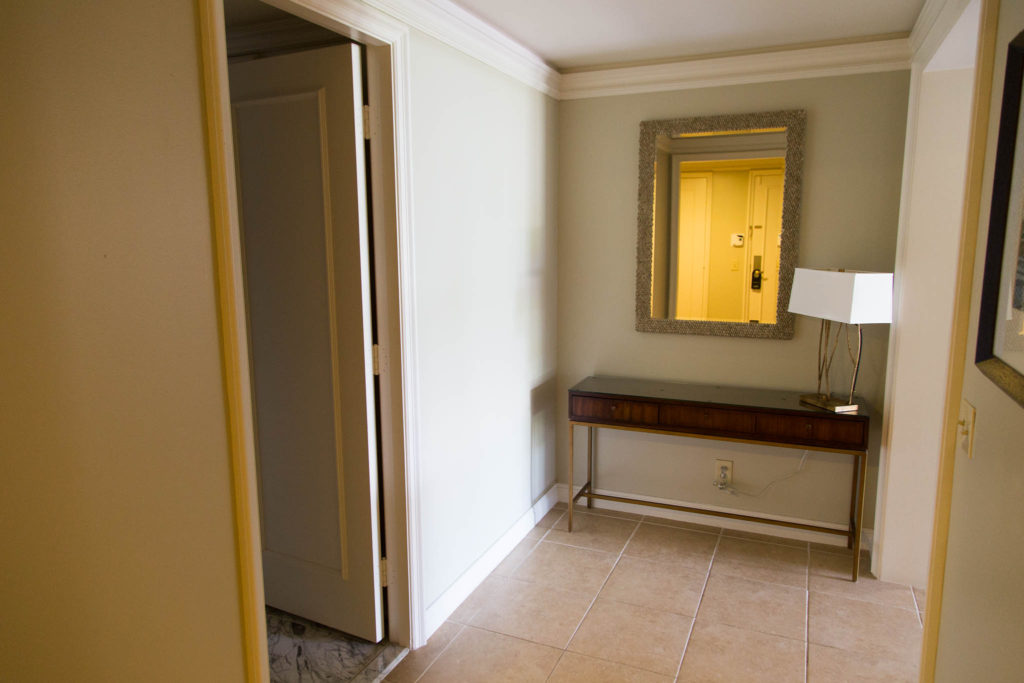 A living room eventually awaits.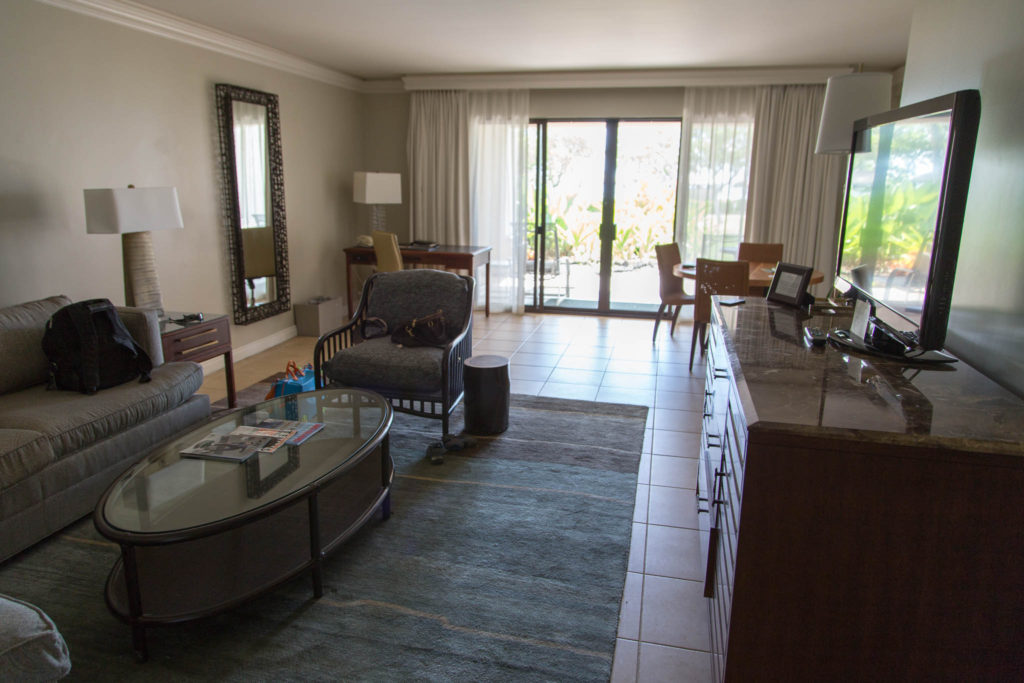 It is followed by a sort of dining room.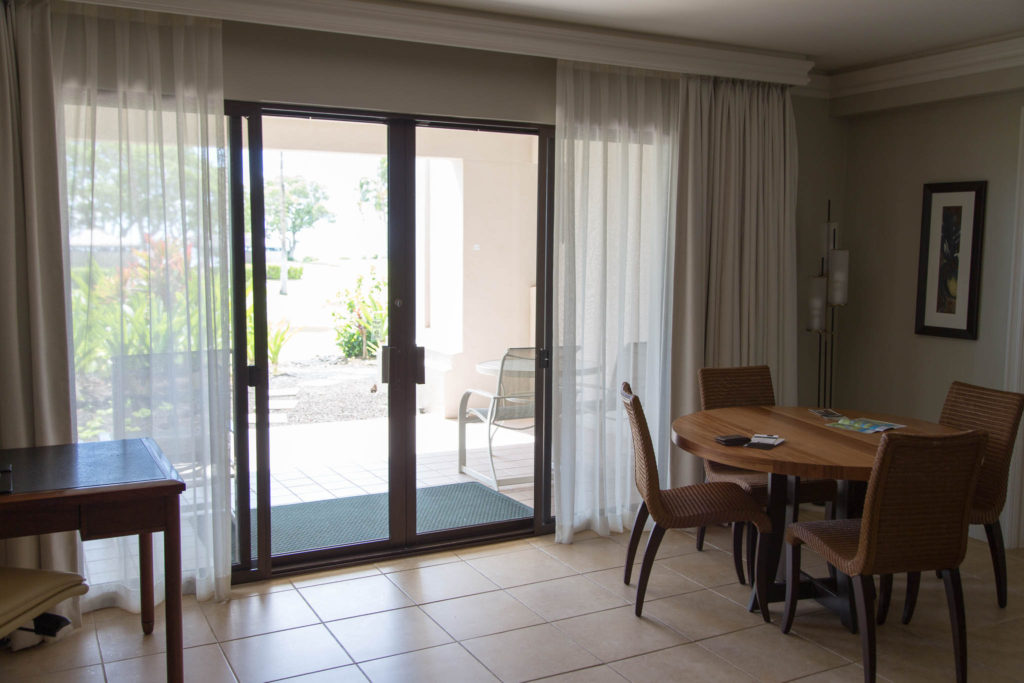 View back on the route we have so arduously travelled.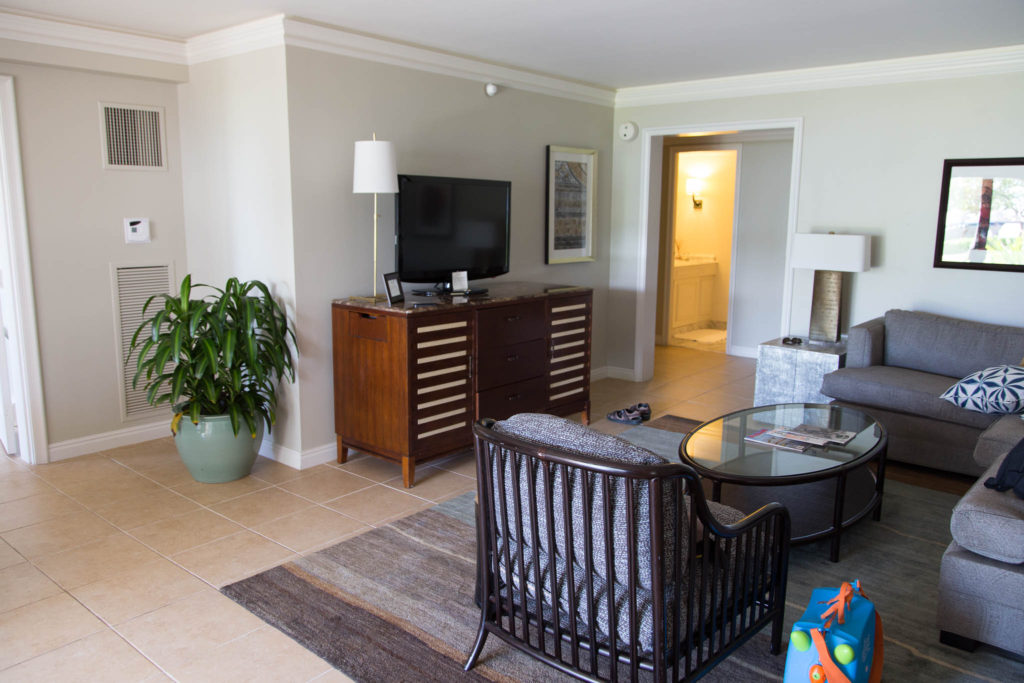 Bedroom is next.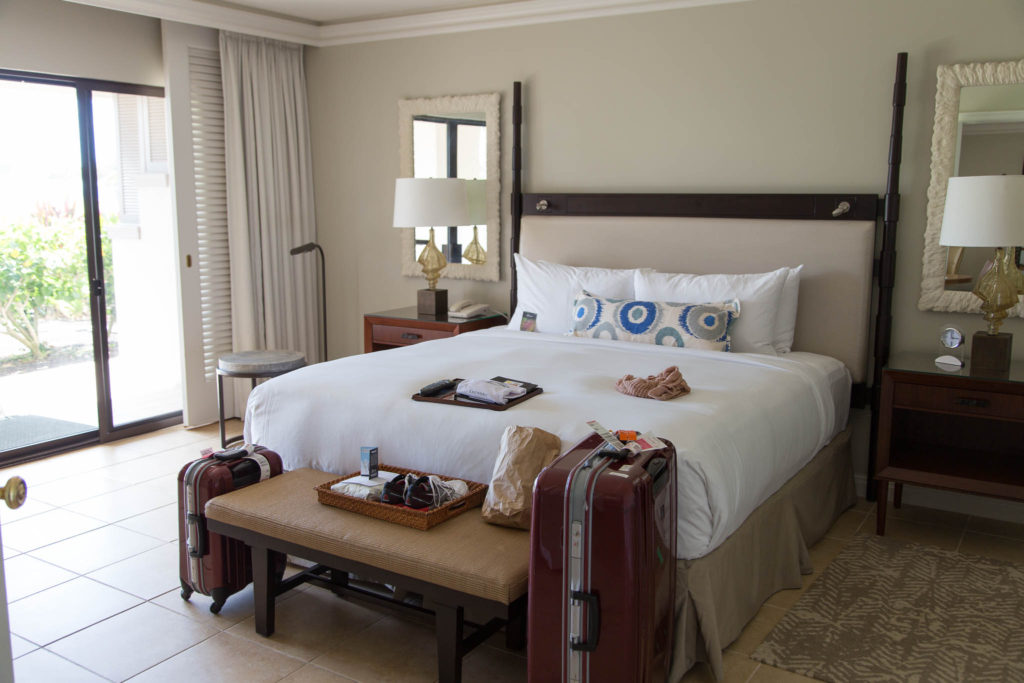 The terrace, with robber access, is below. There is even an ocean view! In the same manner as there is an ocean view, say, from Texas, if you're REALLY high up on stuff.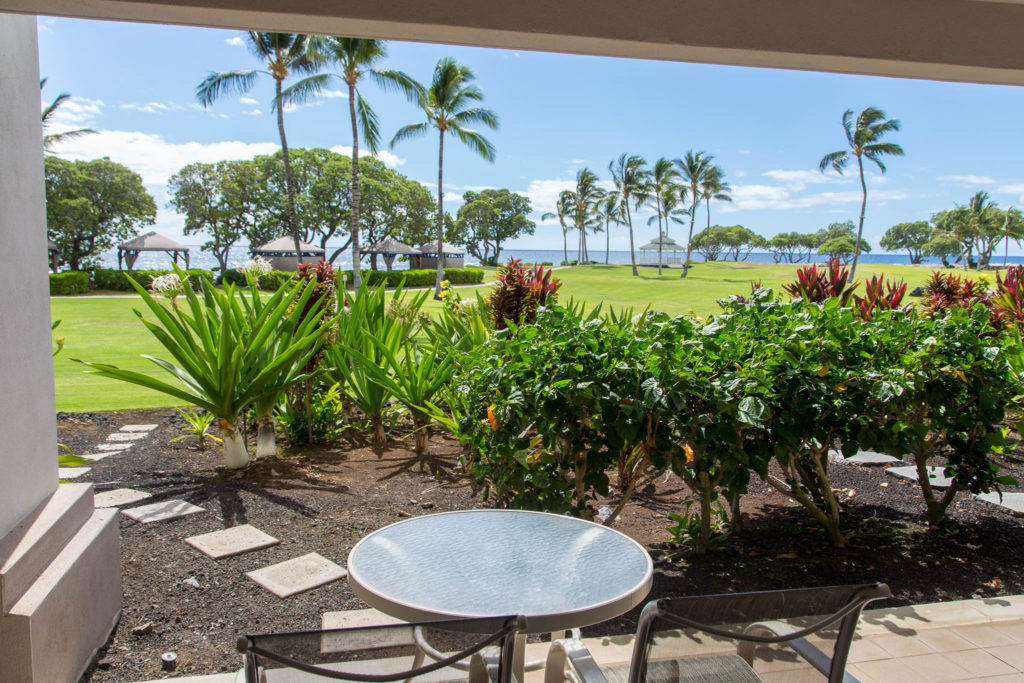 View of the hotel, with the convenient access pathway to liberate guests from their worldly invaluables and subsequently alight.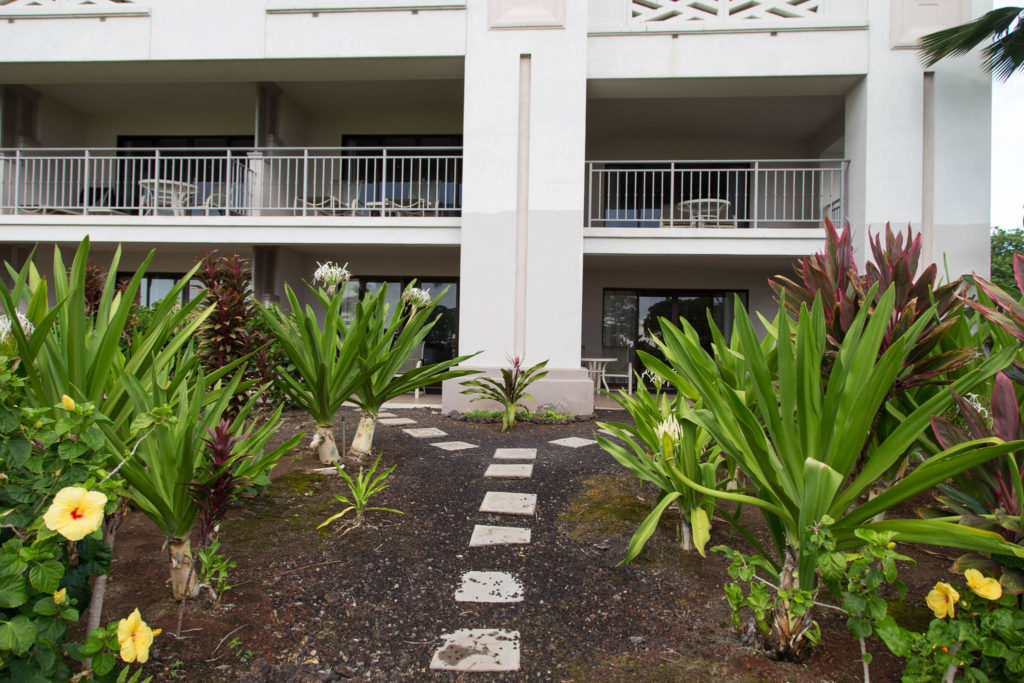 Hotel grounds. Greens that are manicured to perfection.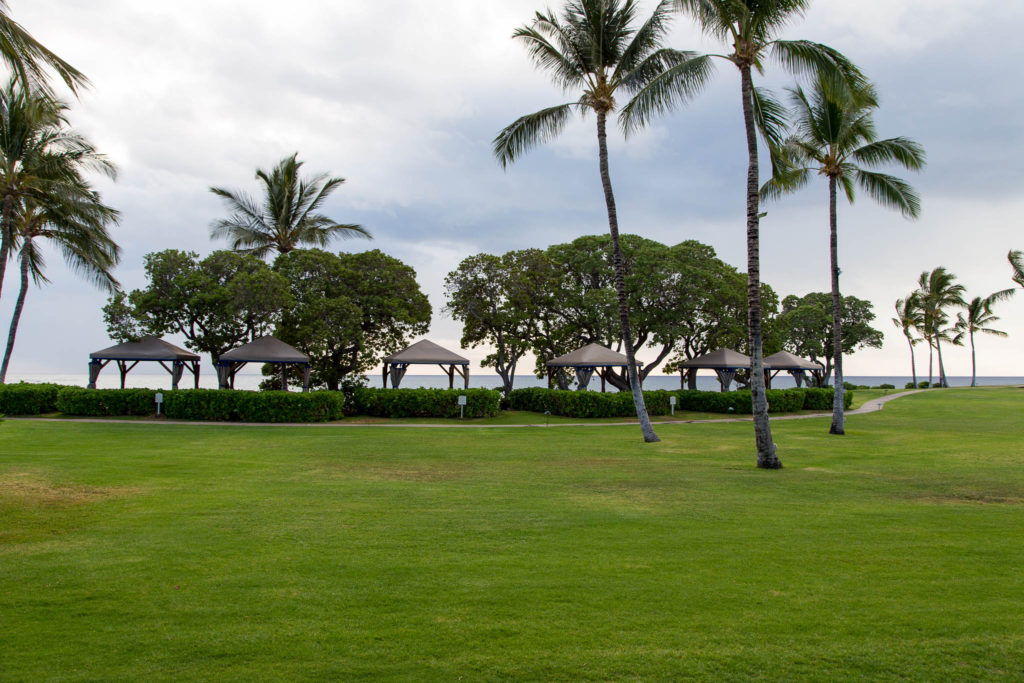 Hotel restaurant just beyond that. My $200 of coupons were slightly overestimated in their prowess – even though they were in USD, they … didn't get me very far at a five-star property in probably one of the most expensive areas in the USA (besides, maybe, Maui).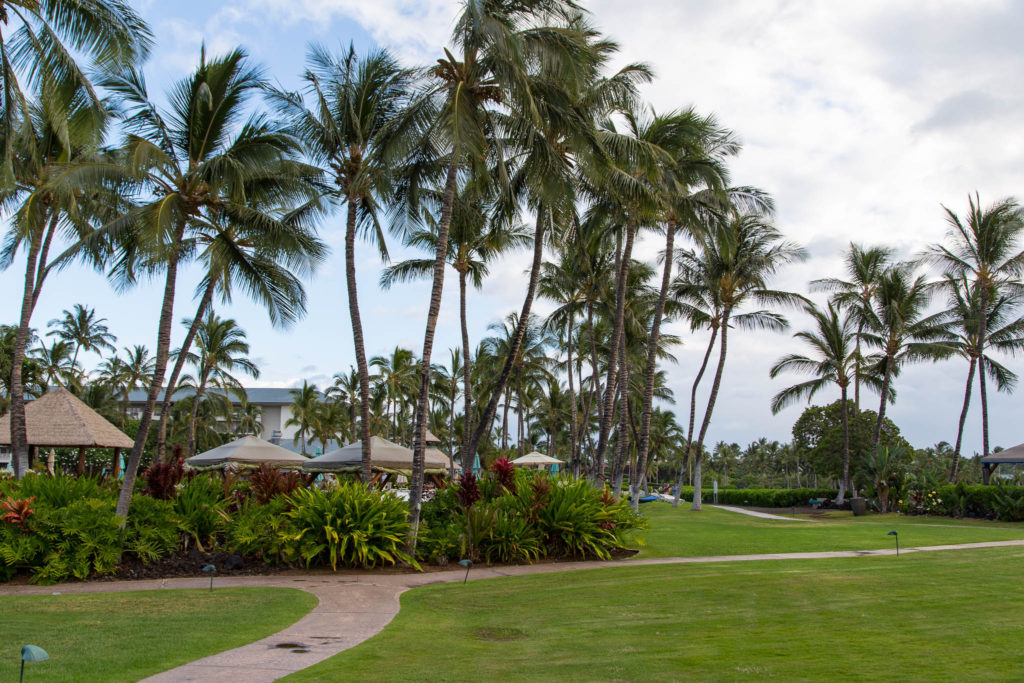 Pool in the distance. Because you know, having an ocean is bad for you. Because you know, salt water. Whale pollution and all that. Definitely must use the pool as much as possible, because evil spirits contaminate ocean water.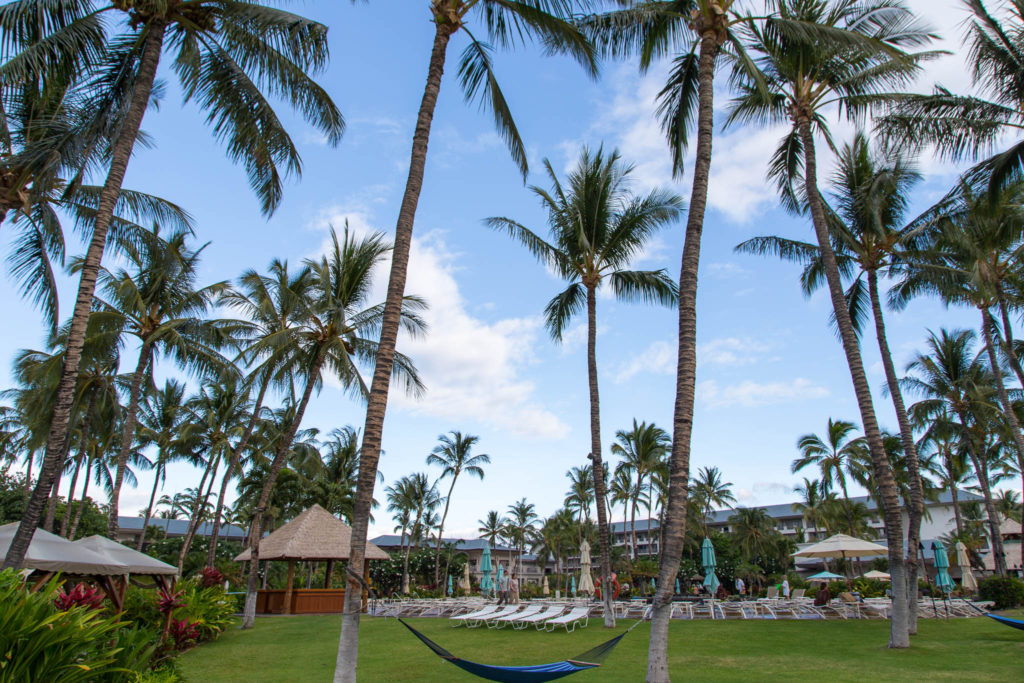 See? Evil spirits. Did you know turtles bite and attack you? The Internet says they do. Besides that, I see absolutely no reason why nobody swam on the private beach and went to the pool instead. It's a complete mystery to me.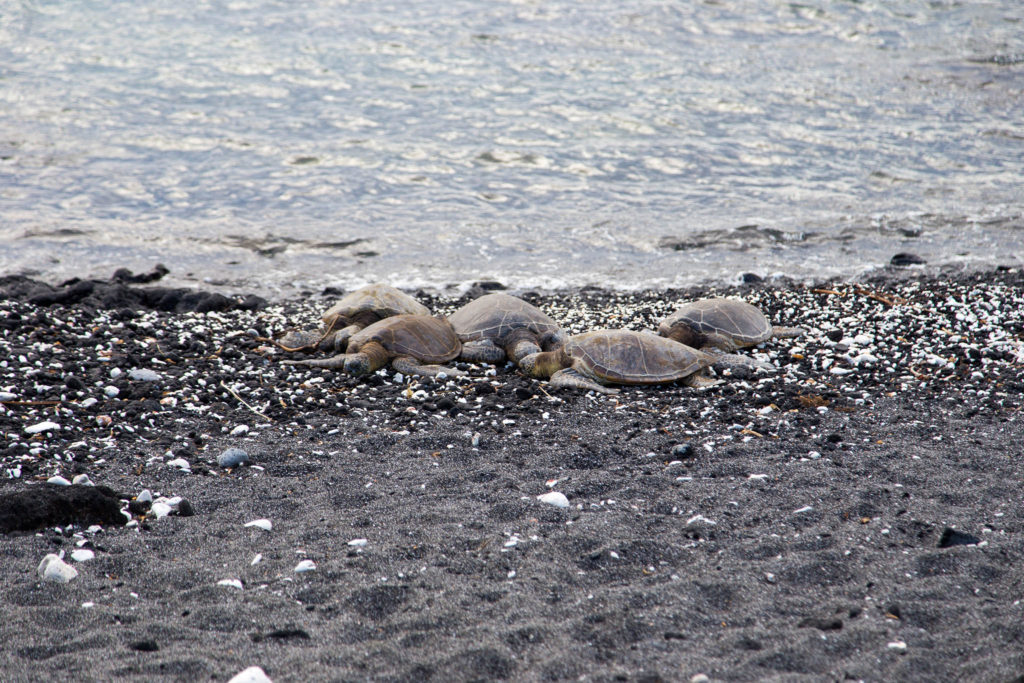 The bee is cleaning the flower.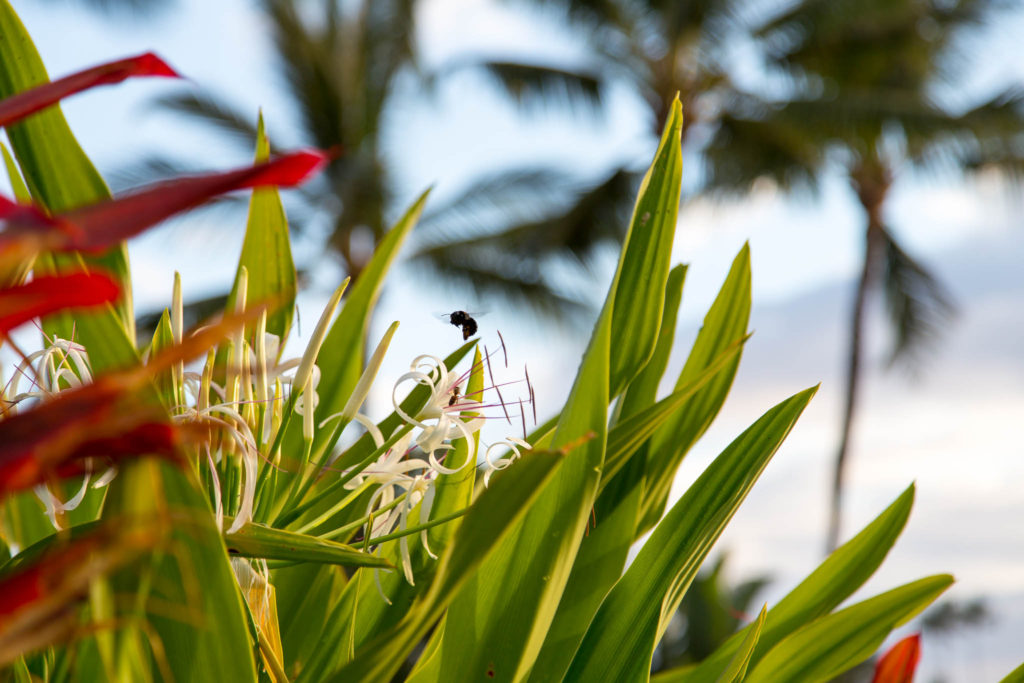 That day, sitting at the restaurant, all joking aside, we were treated to a pretty spectacular sunset. I'm a huge sunset geek, and seeing one is always fun.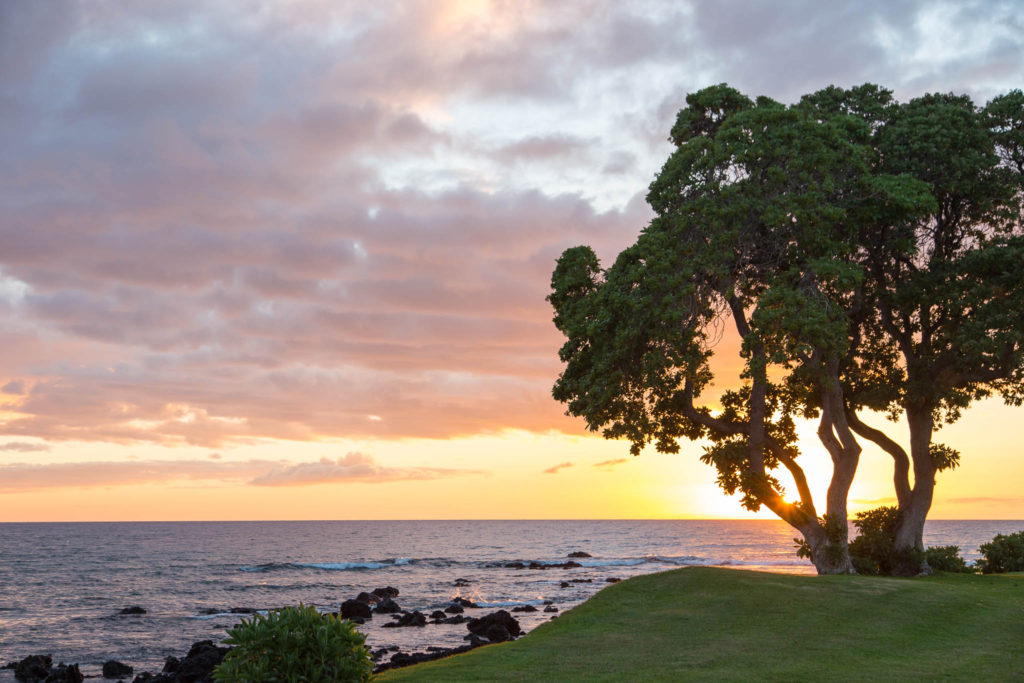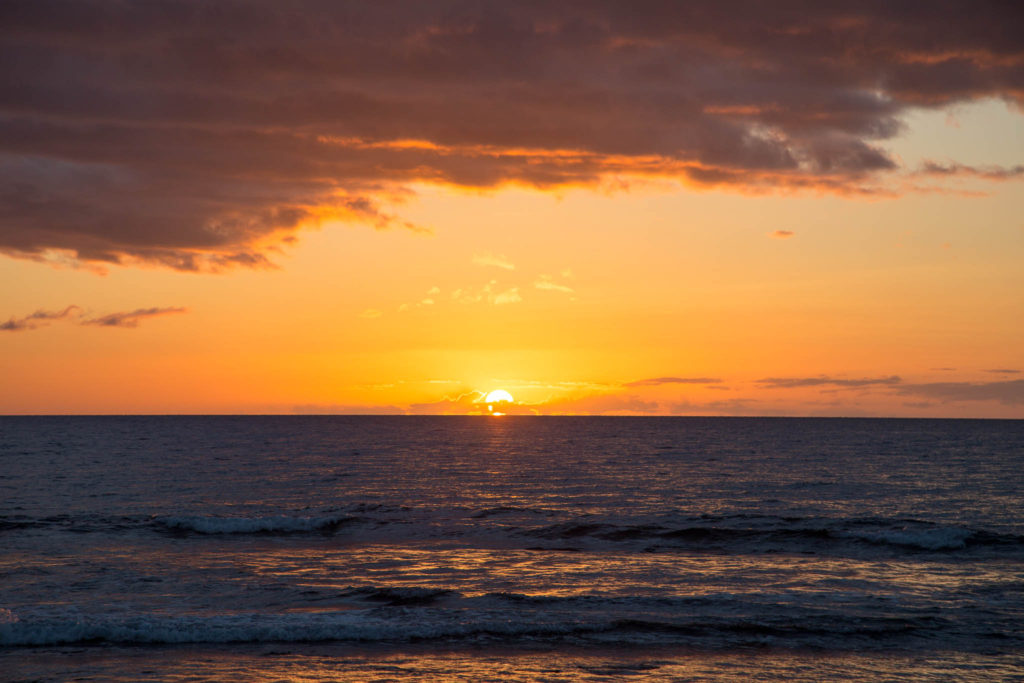 That brought us to the end of the first day.
The next day, many visits were planned! We got off to a quick start with our convertible Camaro – the icon of Hawaii, and the tell-tale sign that you're a tourist. I wonder if there's a SINGLE person in Hawaii who lives there who owns either a convertible Camaro or a convertible Mustang? It seems to me like someone in Bangkok owning a tuktuk, or someone in Manila owning a jeepney, for day-to-day transportation. But hey, I was a tourist, and I didn't care.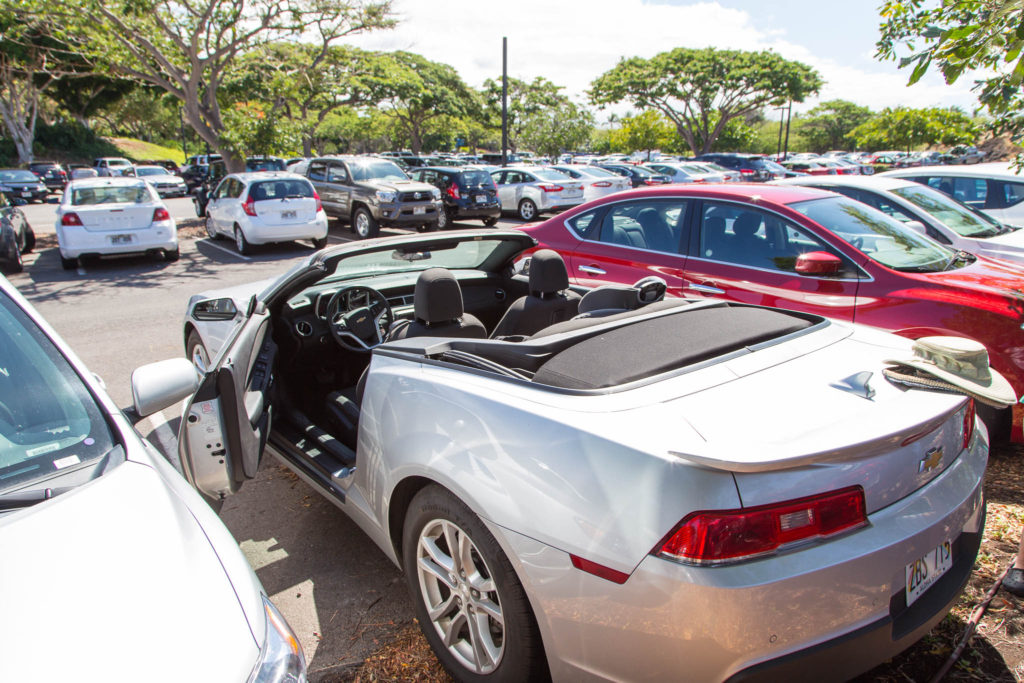 Our first stop on the sightseeing tour was Hilo.
Big Island is actually a really interesting place. The Internet says it has something like a dozen and a half microclimates, and since the Internet does not lie, I can but trust it. I didn't count a dozen; but I did count several, and it was actually honestly impressive how widely varied they were. Considering the idyllic paradise with the surfing boy above, and considering the ocean view from Hilo, you truly come to appreciate just how different the different coasts of Big Island are; it's nothing like, say, the Cook Islands, where the whole island is 4km across, and is basically a glorified rock in the middle of the ocean that is somehow held on by three whales and four turtles (or was that the Earth…). Anyway, point is, Big Island is spectacularly varied, both laterally (east coast vs west) and vertically (when you go higher in the mountains).
We took the highway that crossed the First, we stopped to see a waterfall. It has water that is falling.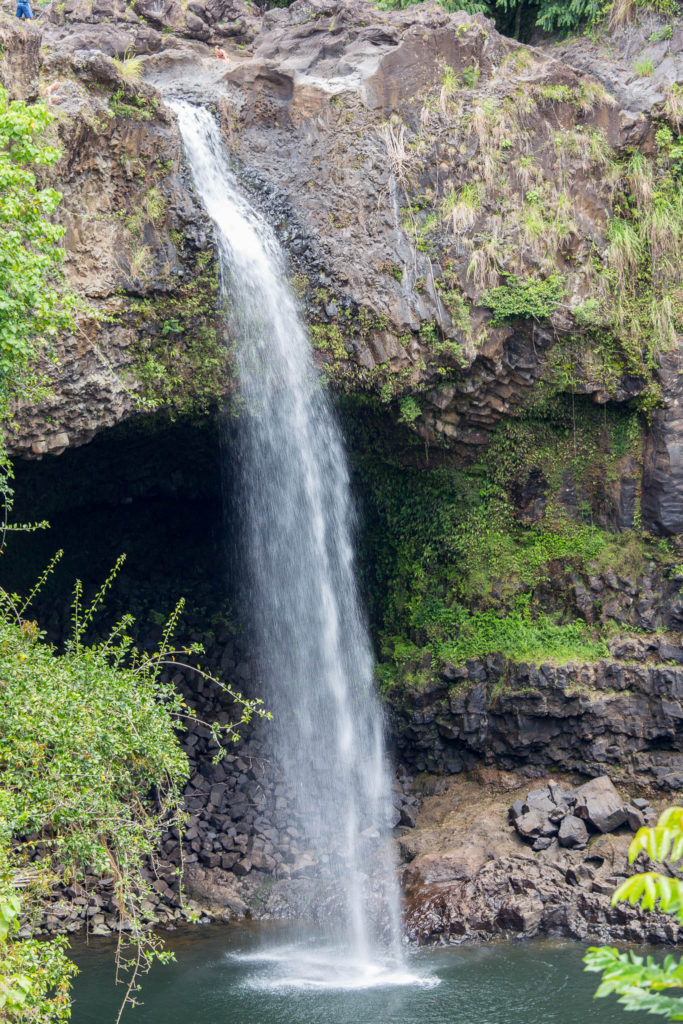 Some pretty palm trees grew nearby, as well.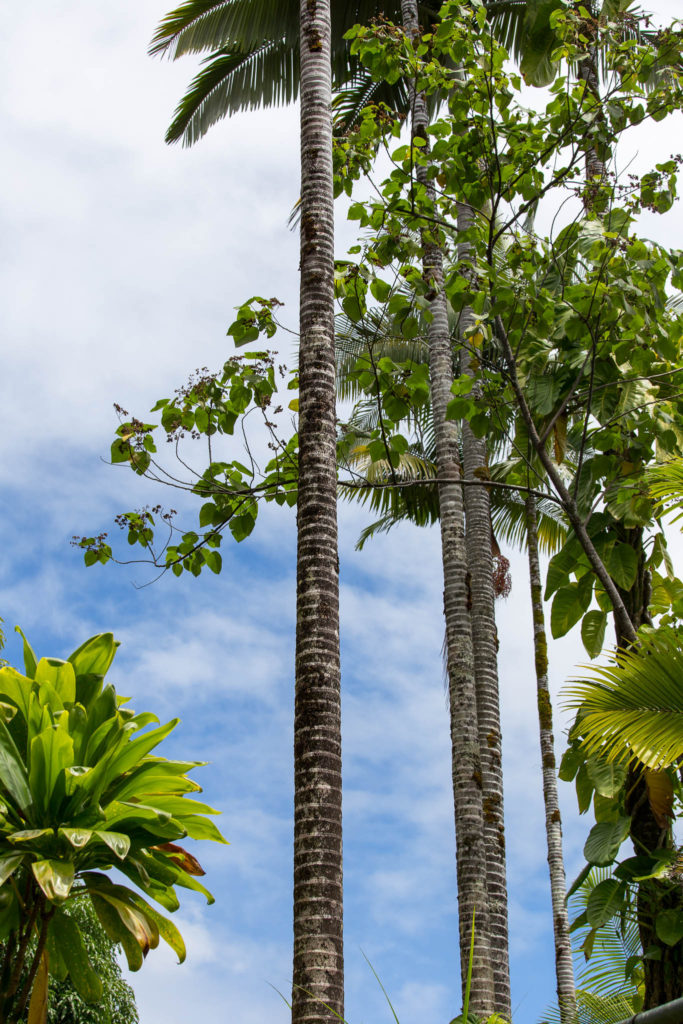 An evil-looking tree tunnel awaited. I chose not to go in, for fear of some evil spirits dragging me in and convincing me that is is, in fact, logical to swim in a hotel pool, rather than the nearby ocean.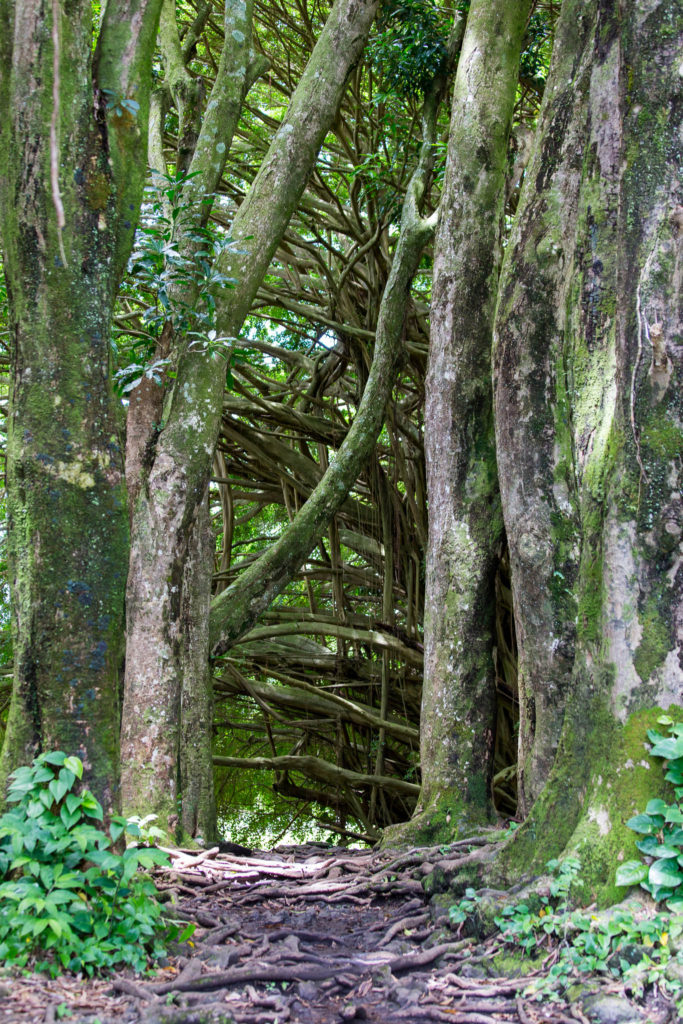 More holes up with into which I shall not put.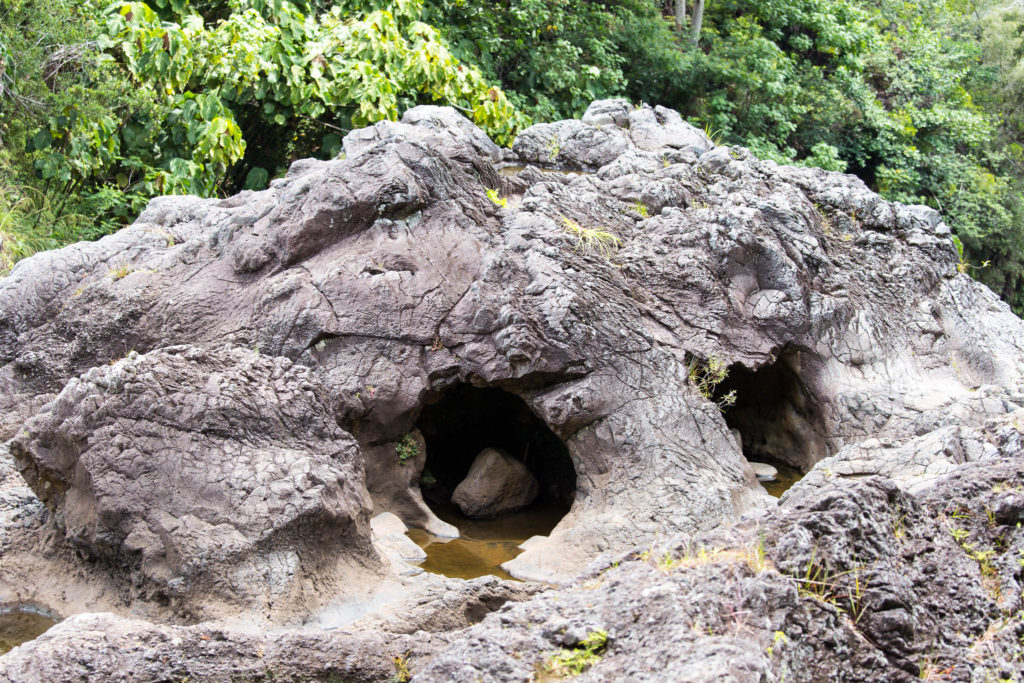 Coastline of Hilo. This is really not the tropical paradise that the other side of the island is.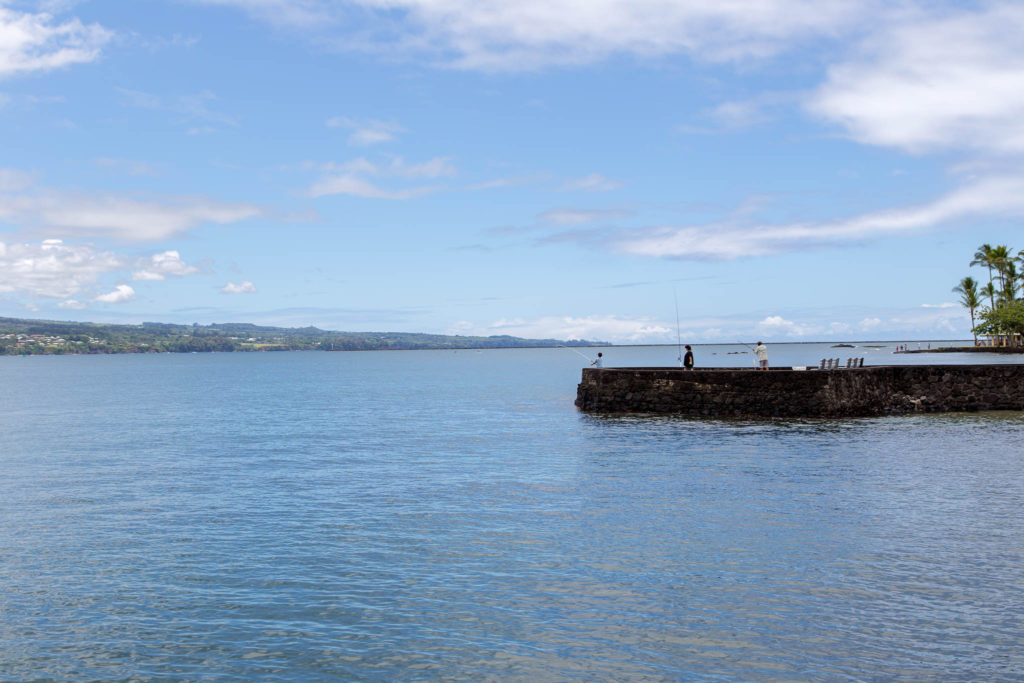 Water water everywhere… nor any spot to swim.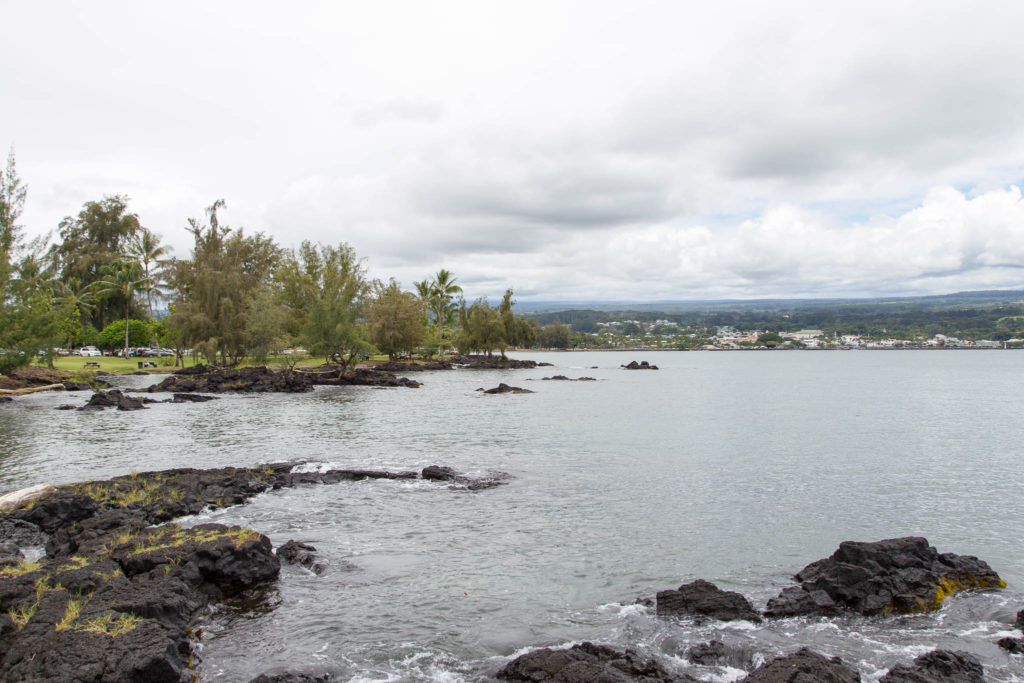 Pretty park, though. What this place lacks in shoreline it makes up in greenery, for sure.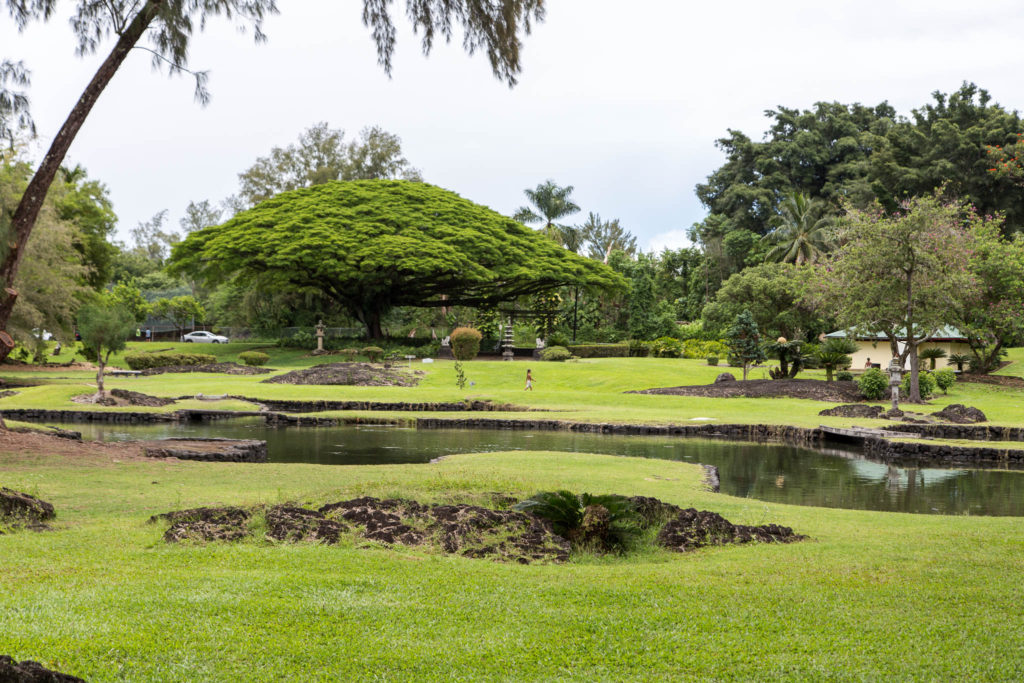 … and waterways.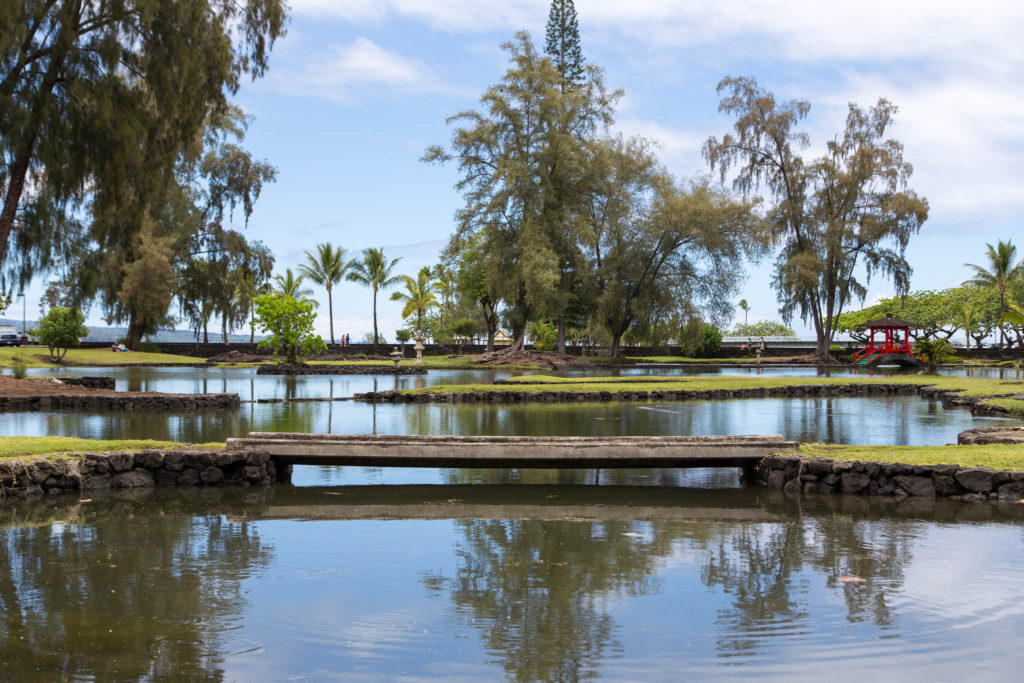 Our next stop was the Pana`ewa Rainforest Zoo & Gardens. Once again, an entirely different microclimate, the weather was bright and shiny here (compare to the cloudiness of Hilo, above), and it was burning hot.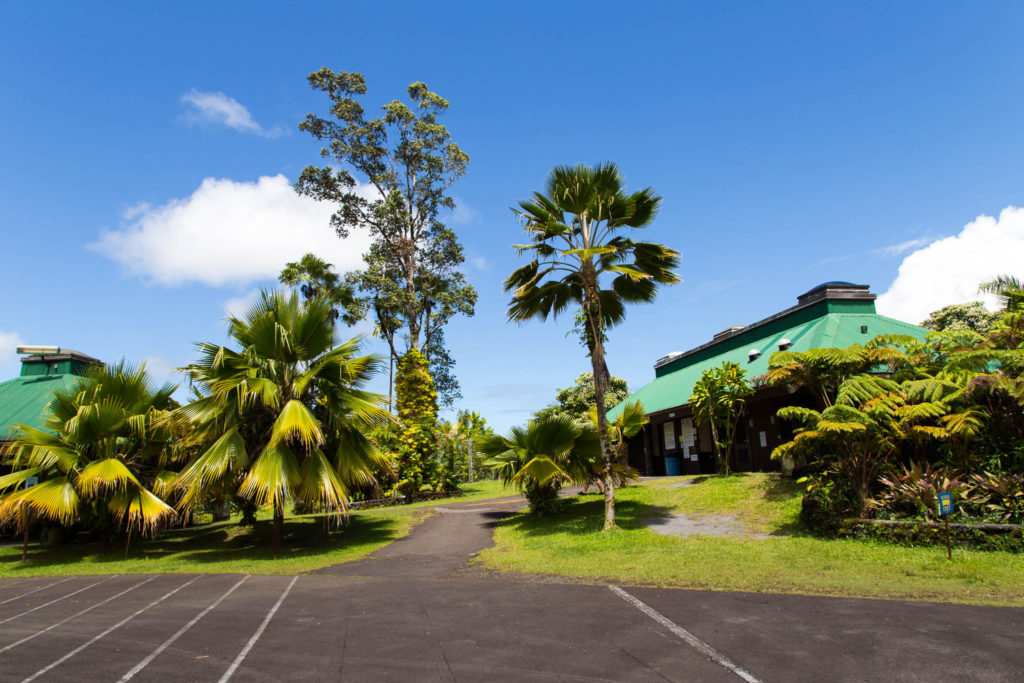 One of the most peculiar animals – the ant eater.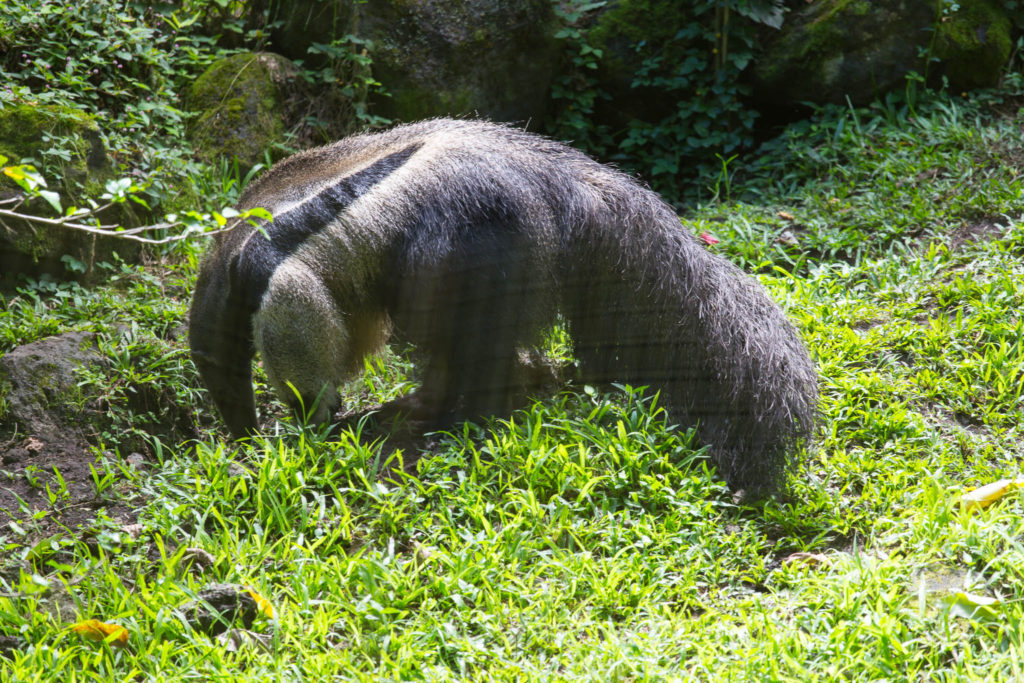 A duck. It looked very smug.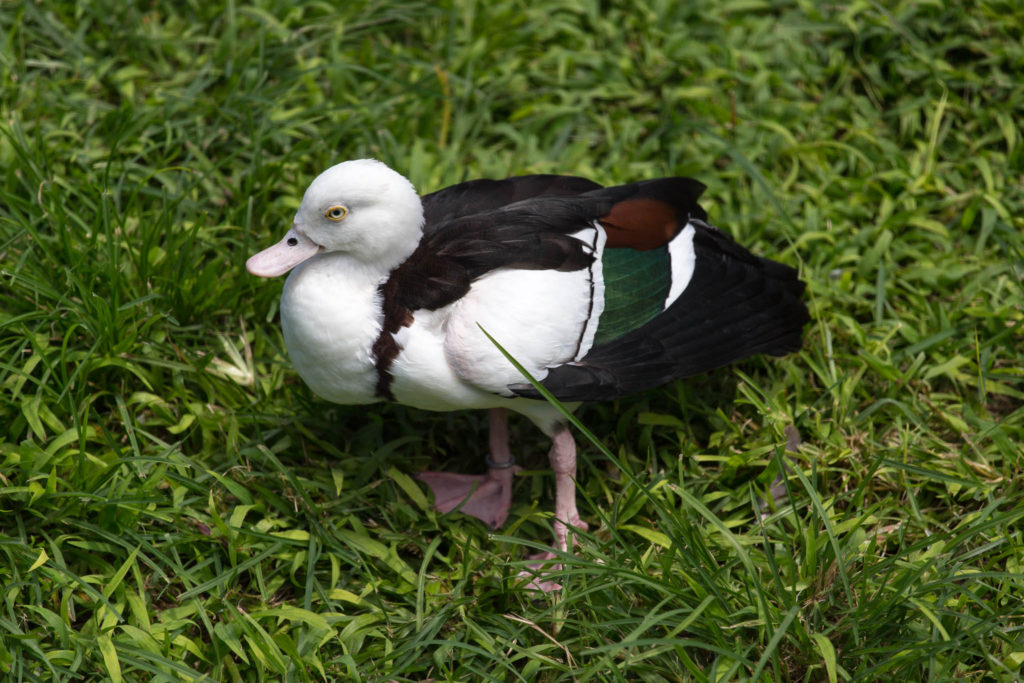 A red bird of unknown type was busy being a bird.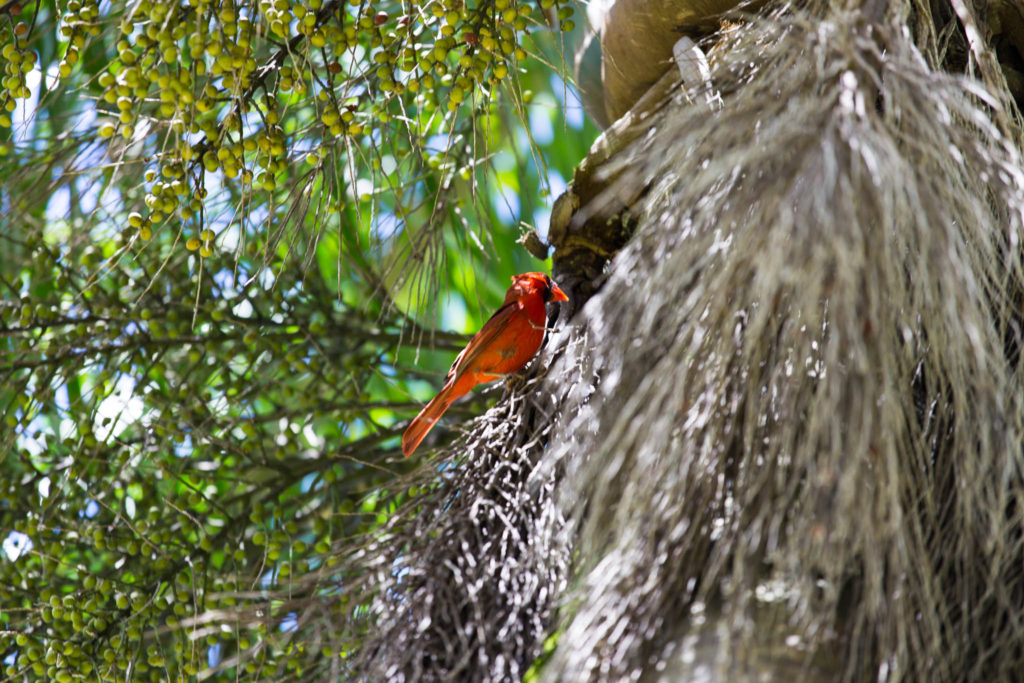 I thought the duck looked smug until I saw these parrots. Now *they* looked smug like nobody's business.
I guess even birds have a great time in Hawaii.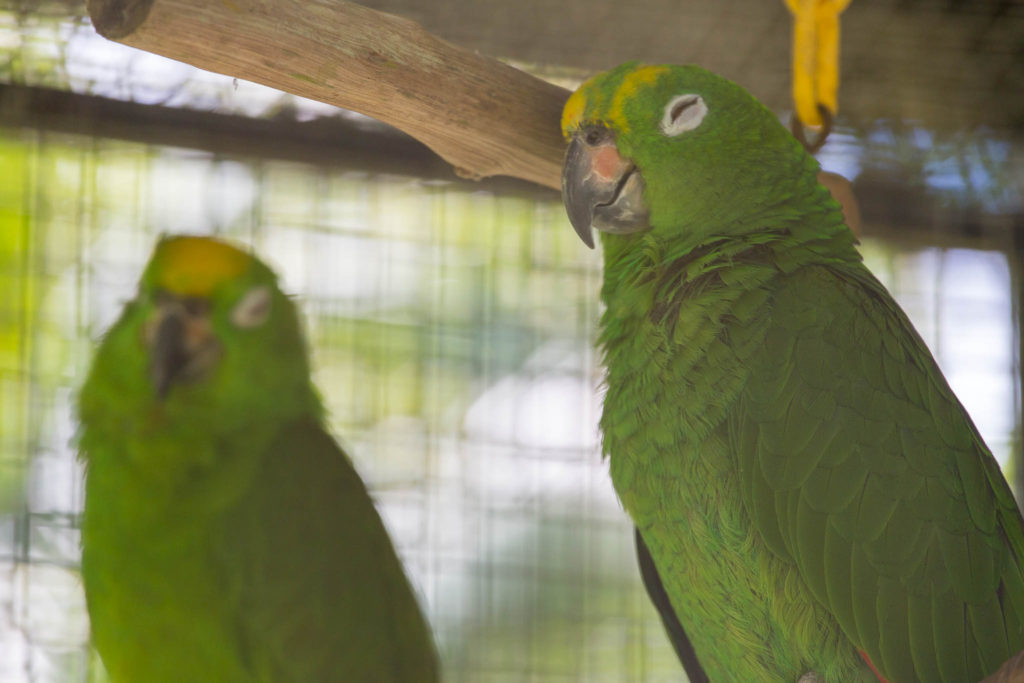 The peacock was relocating to an area where he can self-observe better.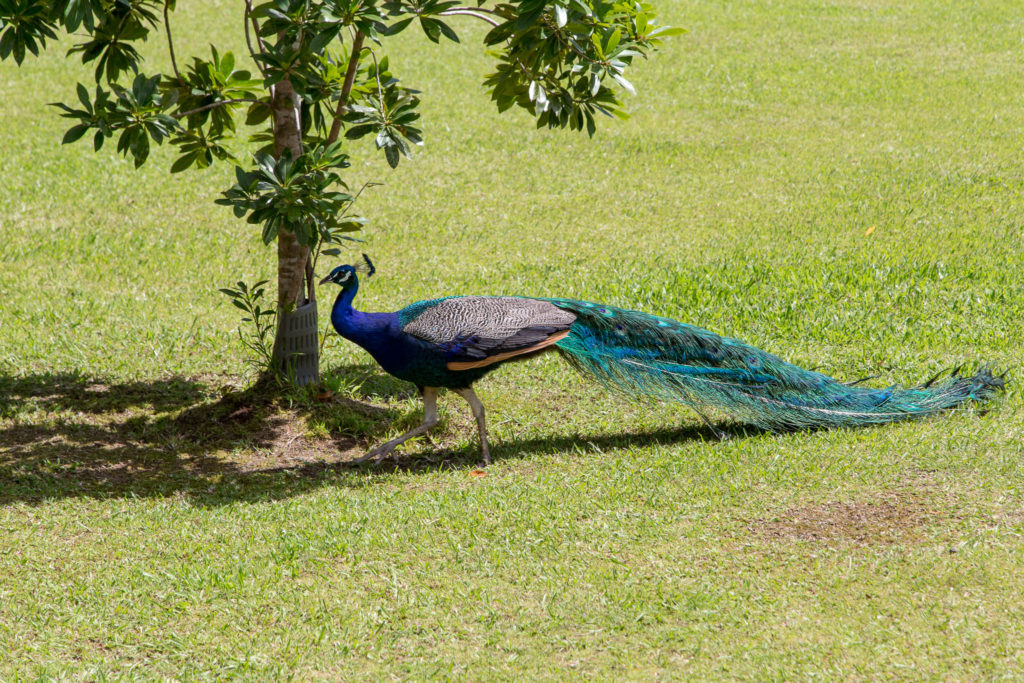 After spending some time at the zoo, I wanted to check out another pretty unusual place – once again, one that would be a bit hard to find elsewhere in the world, and one that actually ties to the true nature of Hawaii. Everyone knows Hawaii is built on volcanoes, some active; but some may not know that the enterprising Americans made them into a national park! So you can go see a volcano. In our specific case we couldn't go too close, because it sort of erupted lately and was sort of dissatisfied with the general state of things, spewing out things and lava and so on, but we could at least see it from afar, which was pretty damn cool.
Arriving to the park; note the (once again) different flora.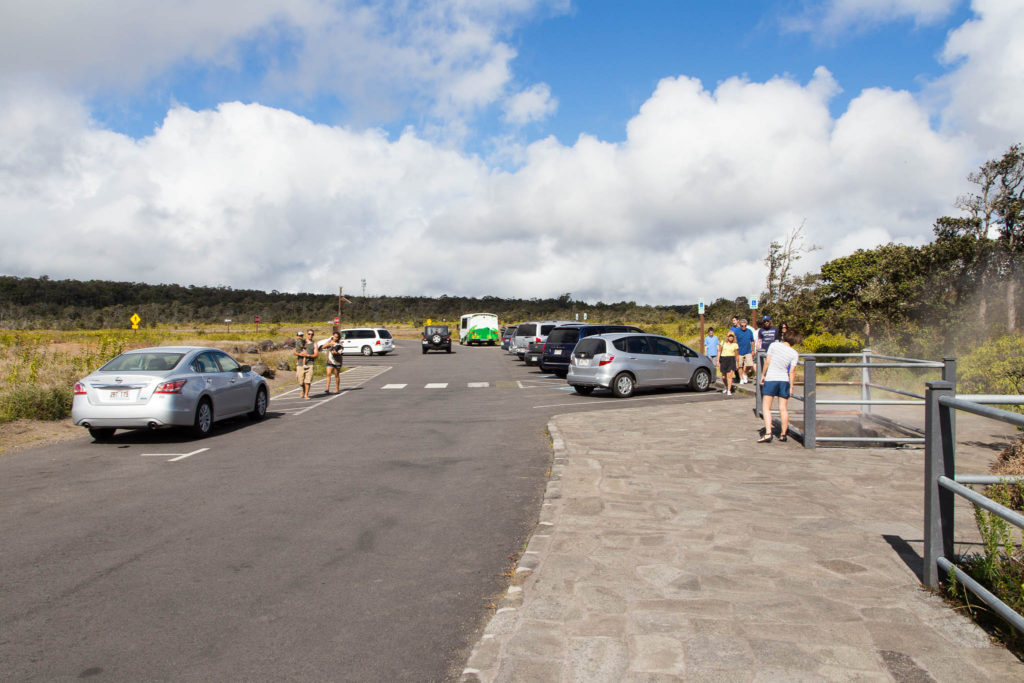 "Steaming Bluff Overlook". This totally sounds like a hipster beer brew name.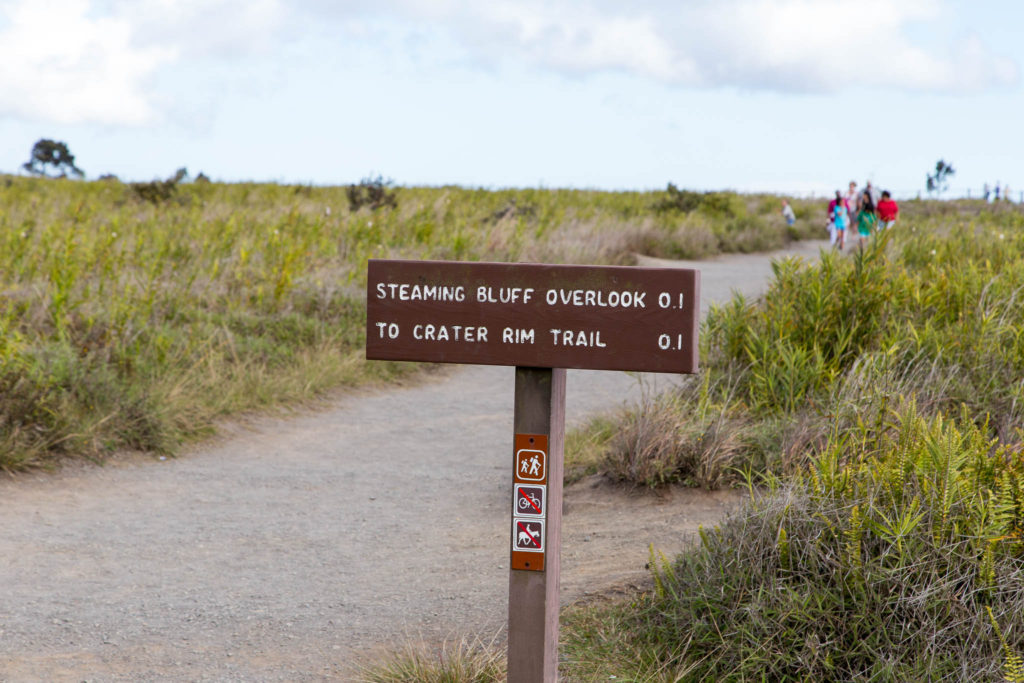 Geysers spewing out everywhere. You don't quite realise that you're standing on a huge lava pit that would probably make either a very good onsen (Japanese hot spring), or a very bad natural disaster.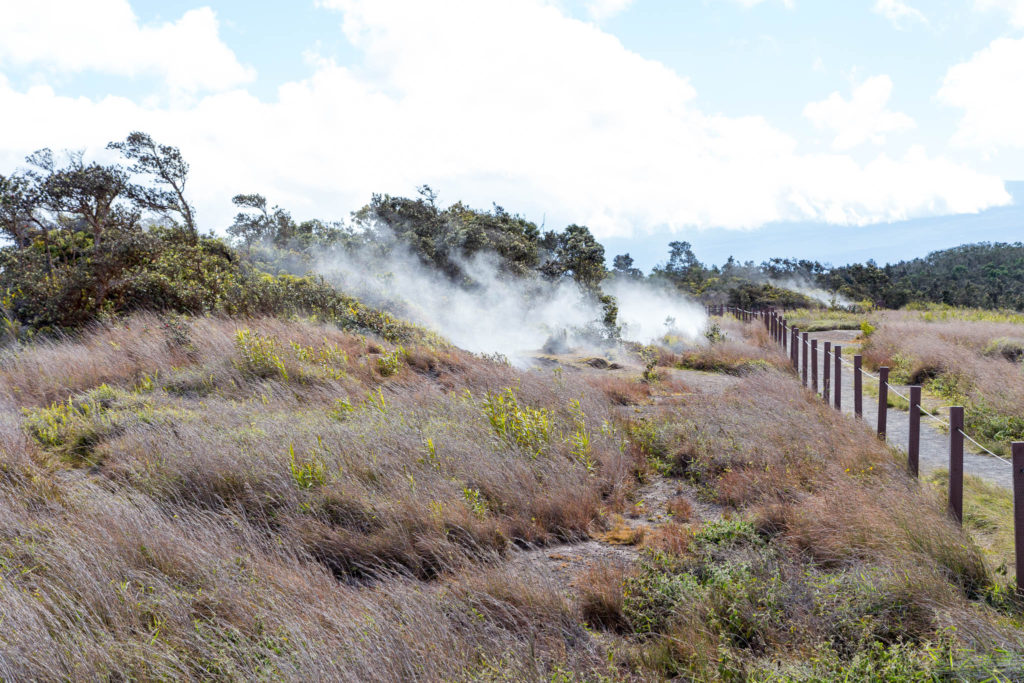 Far in the distance is the main crater. It's quite active.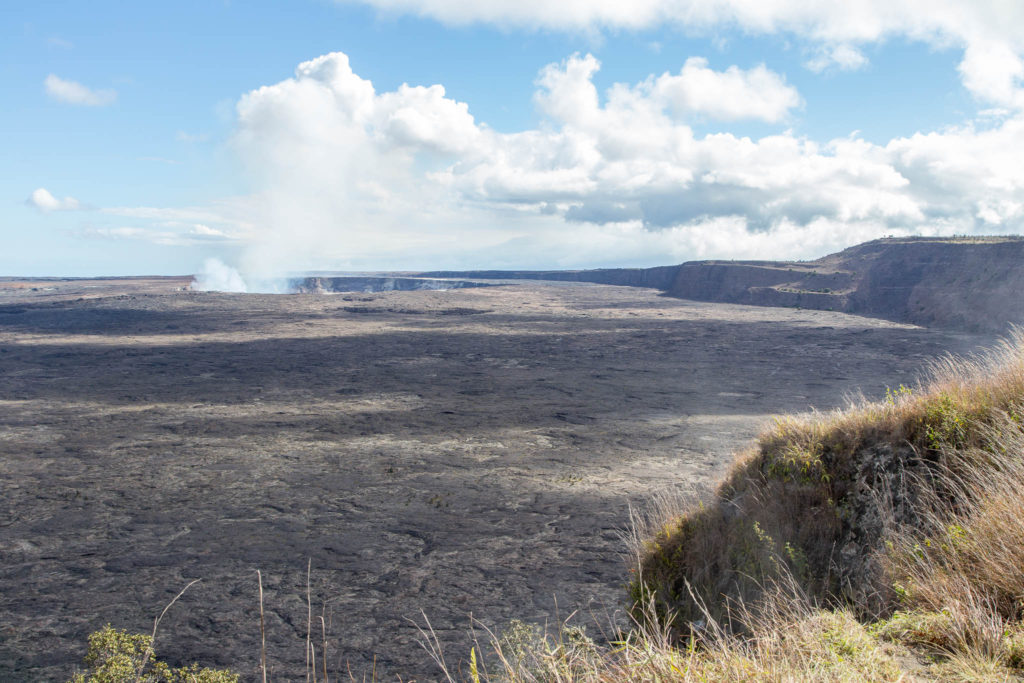 The road to the craters.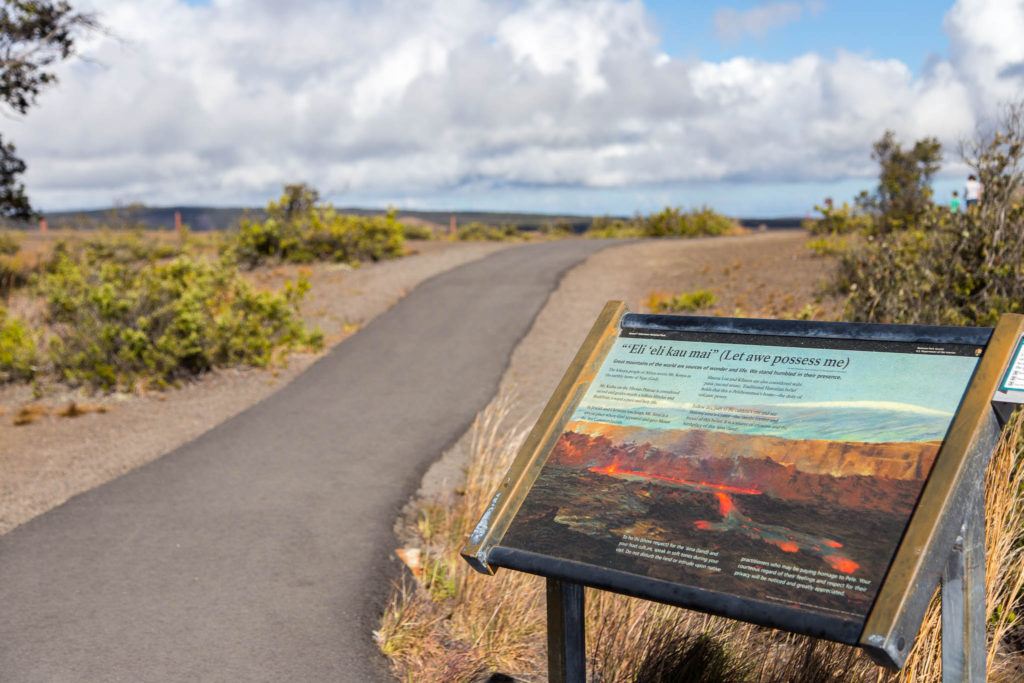 It's not quite the yellow brick road… but it's hardly the city of Oz beyond, either.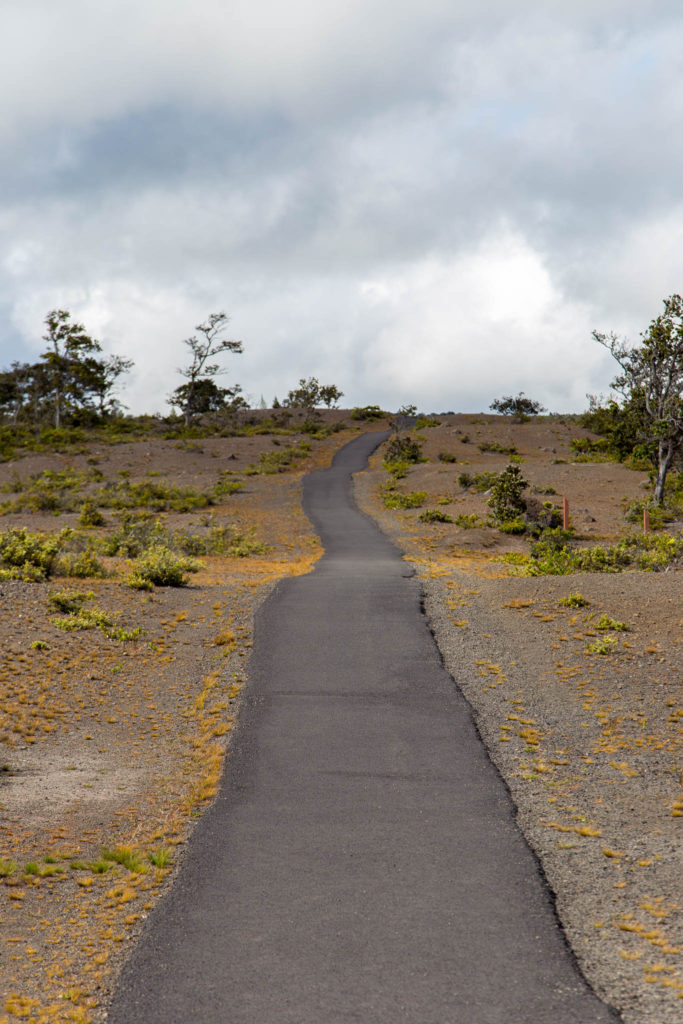 Creepy Martian-shaped trees… but wait, there are no trees on Mars! But quite seriously, the terrain is so Martian in other ways that NASA even has a Mars-like research laboratory set up there.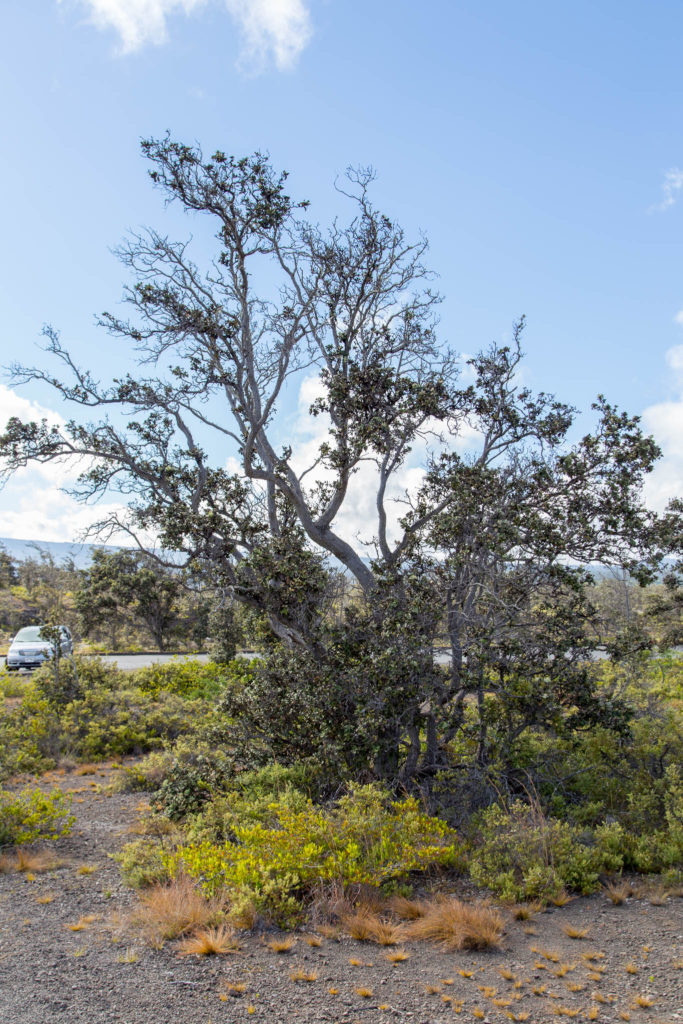 And there's the massive crater, once again.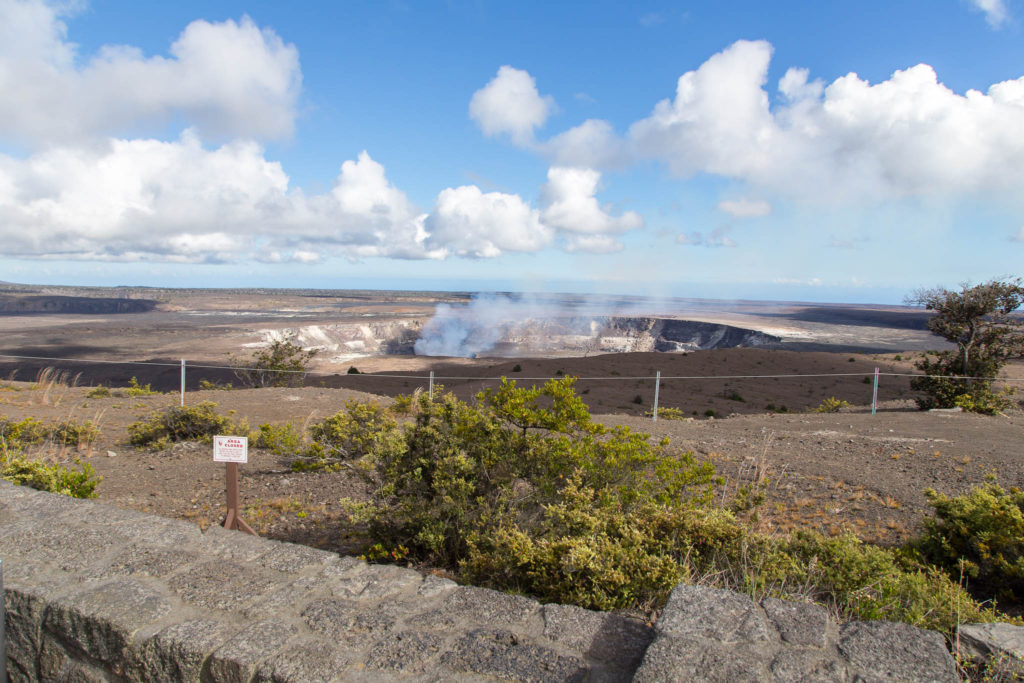 The Halema'uma'u Crater. Where many bad explosions may or may not happen.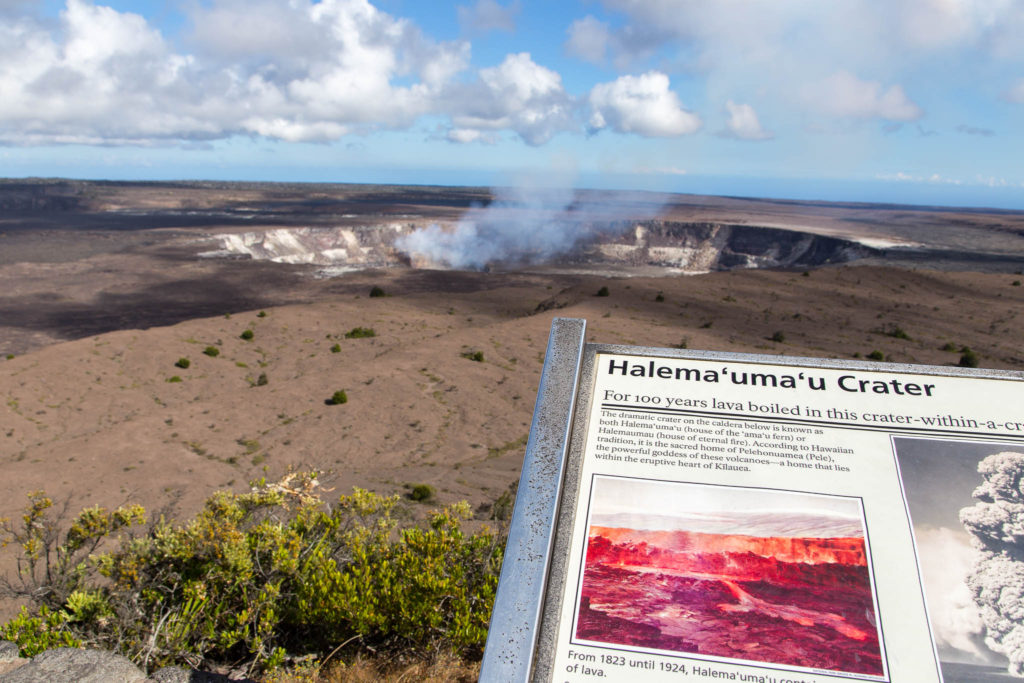 We couldn't go any further into the park, as I mentioned, because it was closed to non-scientists, so we said meh, let's go check out the black sand beach instead – another fascinating artefact of Hawaiian history.
It was interesting to see this wildly diverse sign which basically prohibited just about everything.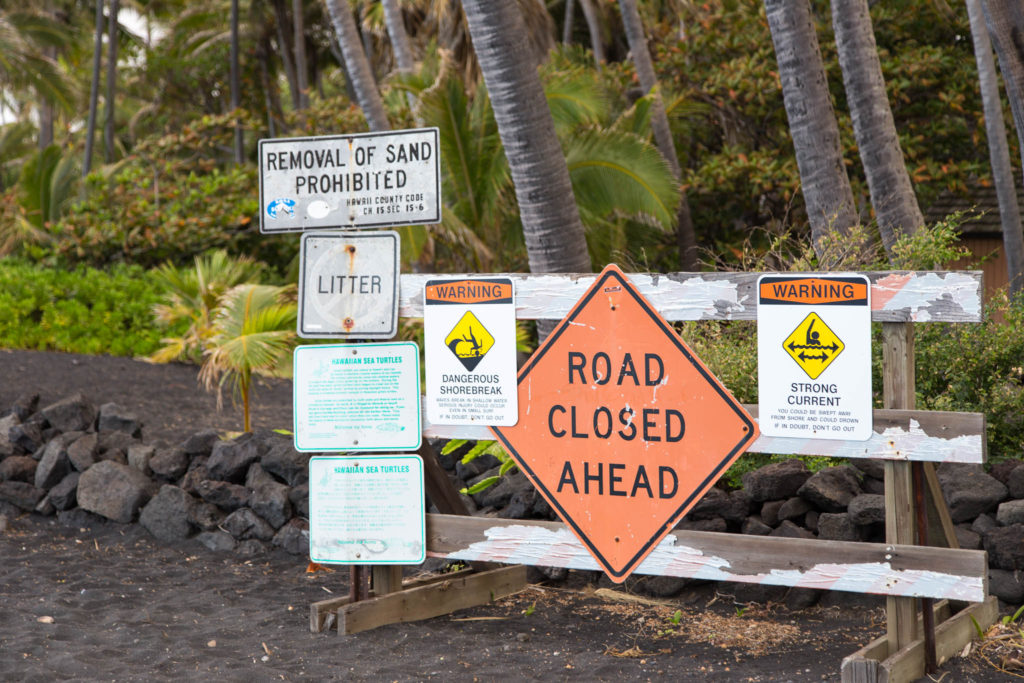 Oddly though, there was a full beach bar and so on. Which seemed to contradict the "no swimming" and "really, no water activities" signs above. The black sand was really cool, though. Not to touch – it tends to get pretty hot actually, so we were lucky it was an overcast day – but just, you know, emotionally.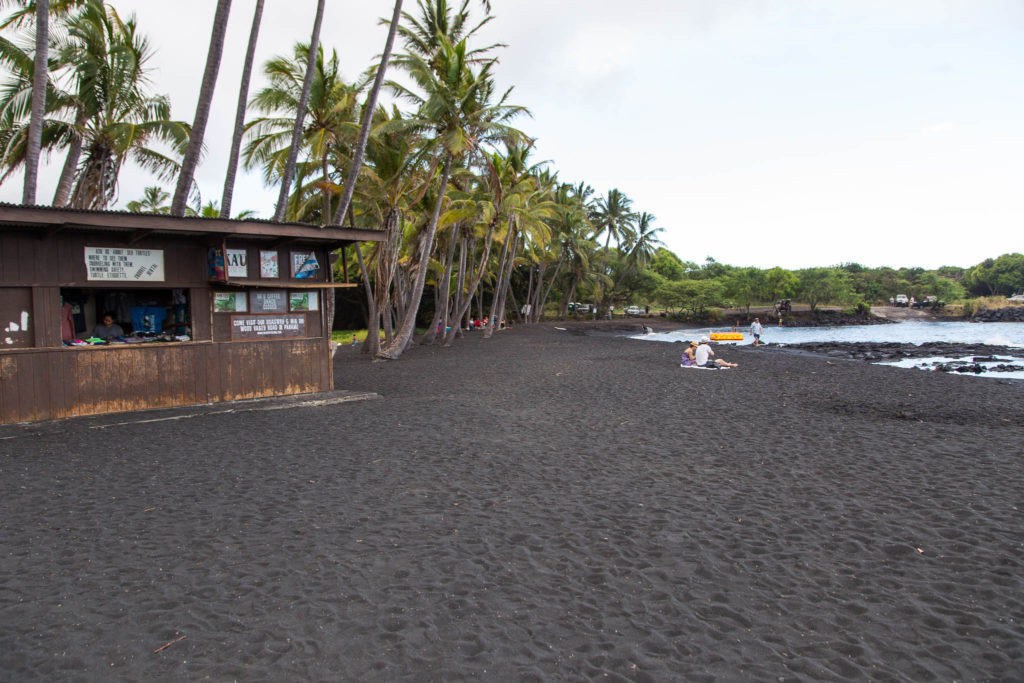 The water really didn't look very inviting though, to be honest.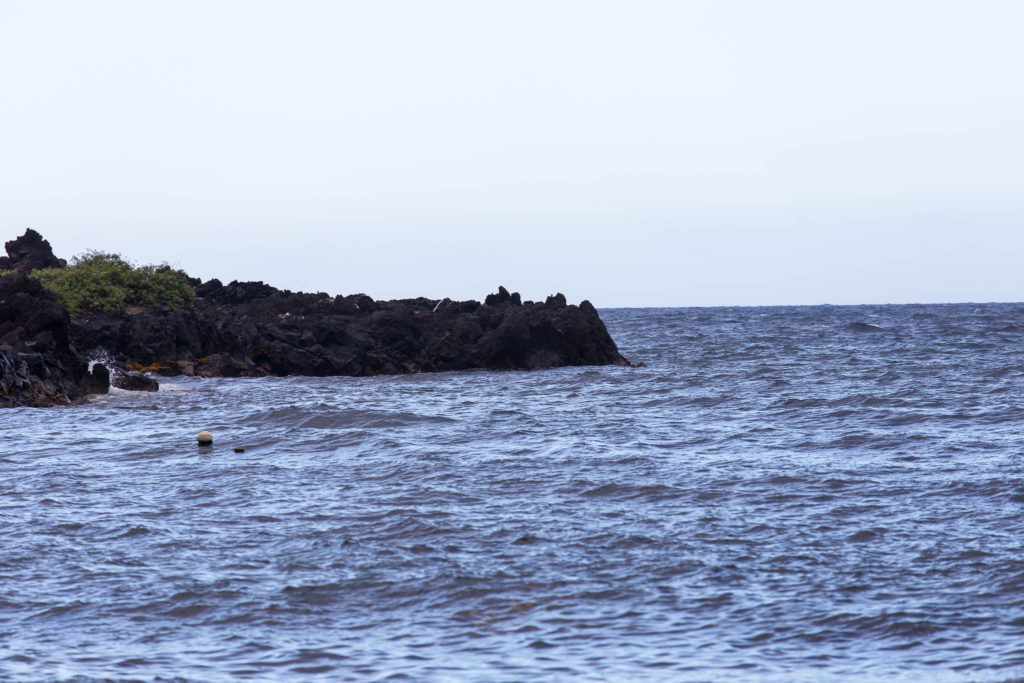 Some rocks with the black sand beach in the background.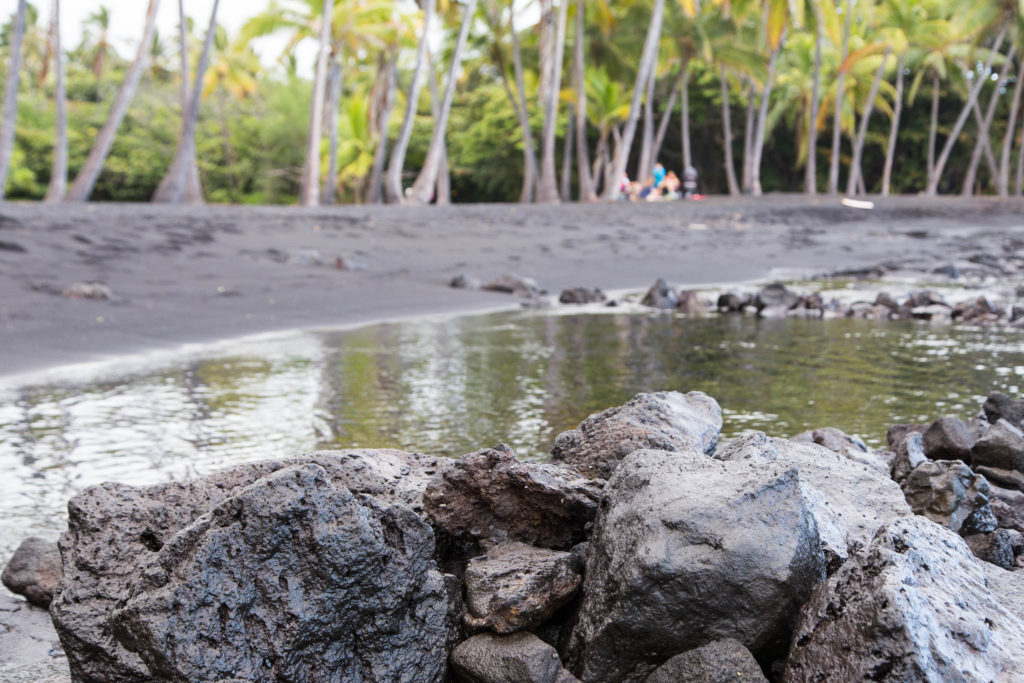 I think the ducks were just as impressed by it. Or maybe they were having a self-reflection moment, looking into that lotus lake. Either way, they seemed to be quite pensive, and rather deep in thought.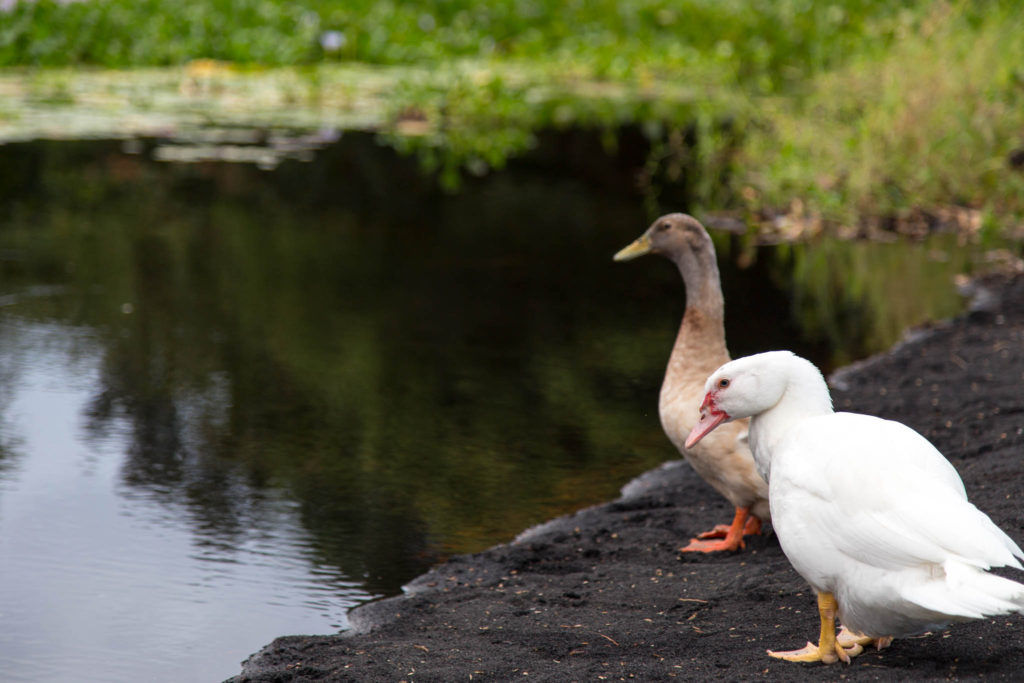 The solitary lotus flower.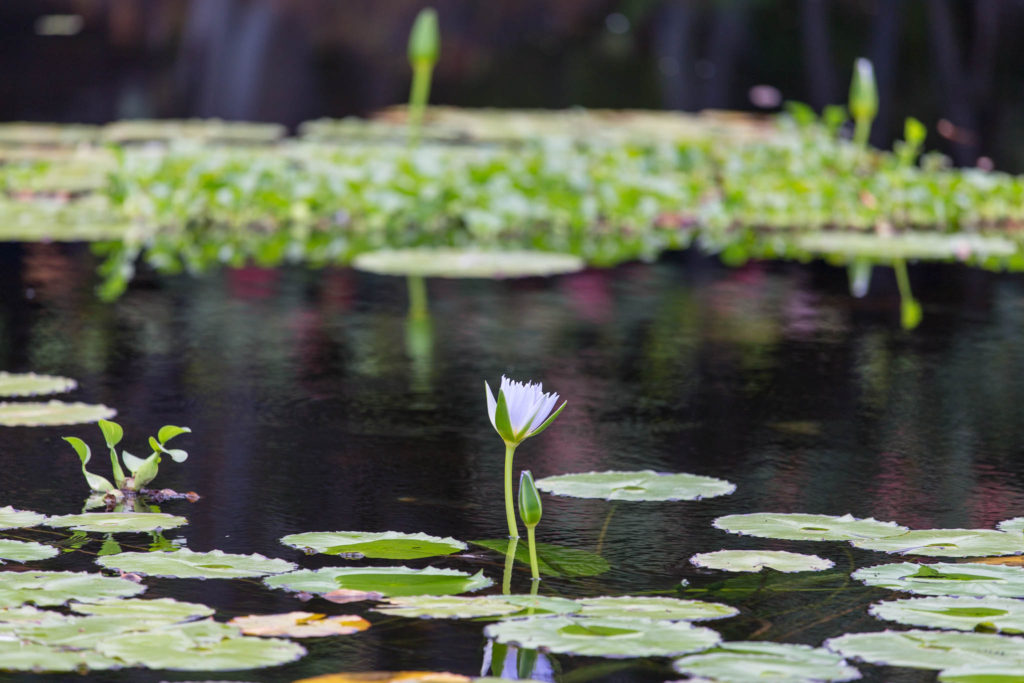 Another shot of the lotus lake. With the black sand bottom, it was a very serene picture.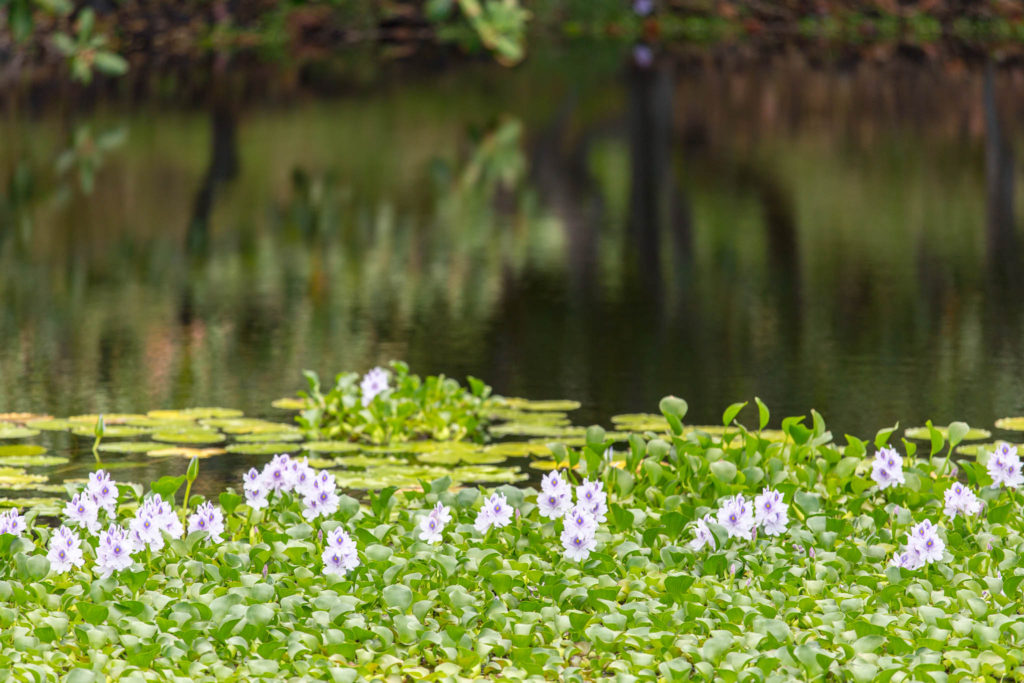 On that note, we went back to the hotel. We drove on the same road as before, and the weather was just as shiny – so we saw the same wild blue sea and the same idyllic contrasts. We got back to the hotel right in time for sunset, which was the perfect way to wrap up our Hawaii trip – it was off to Los Angeles, Atlanta and back home after, with another trip of fifteen flights and a dozen layovers, as my usual trips go.