After Brunei, next stop was Kuala Lumpur, Malaysia. I actually had work to do there (imagine that!), so I only allocated a day for touristy purposes; but based on Wikitravel and other sources, there isn't too much to see in KL proper, compared to some of the other places in Malaysia (i.e. Georgetown). So I figured a day is probably good enough. Not to mention that it was wildly hot, which made my life much harder for random walking around.
I started by going to Merdeka Square, which was the place where Malaysia as an independent country was founded in 1957. Although there is a tremendous amount of new construction going on in KL, this area is kept relatively stable with its colonial buildings and architecture.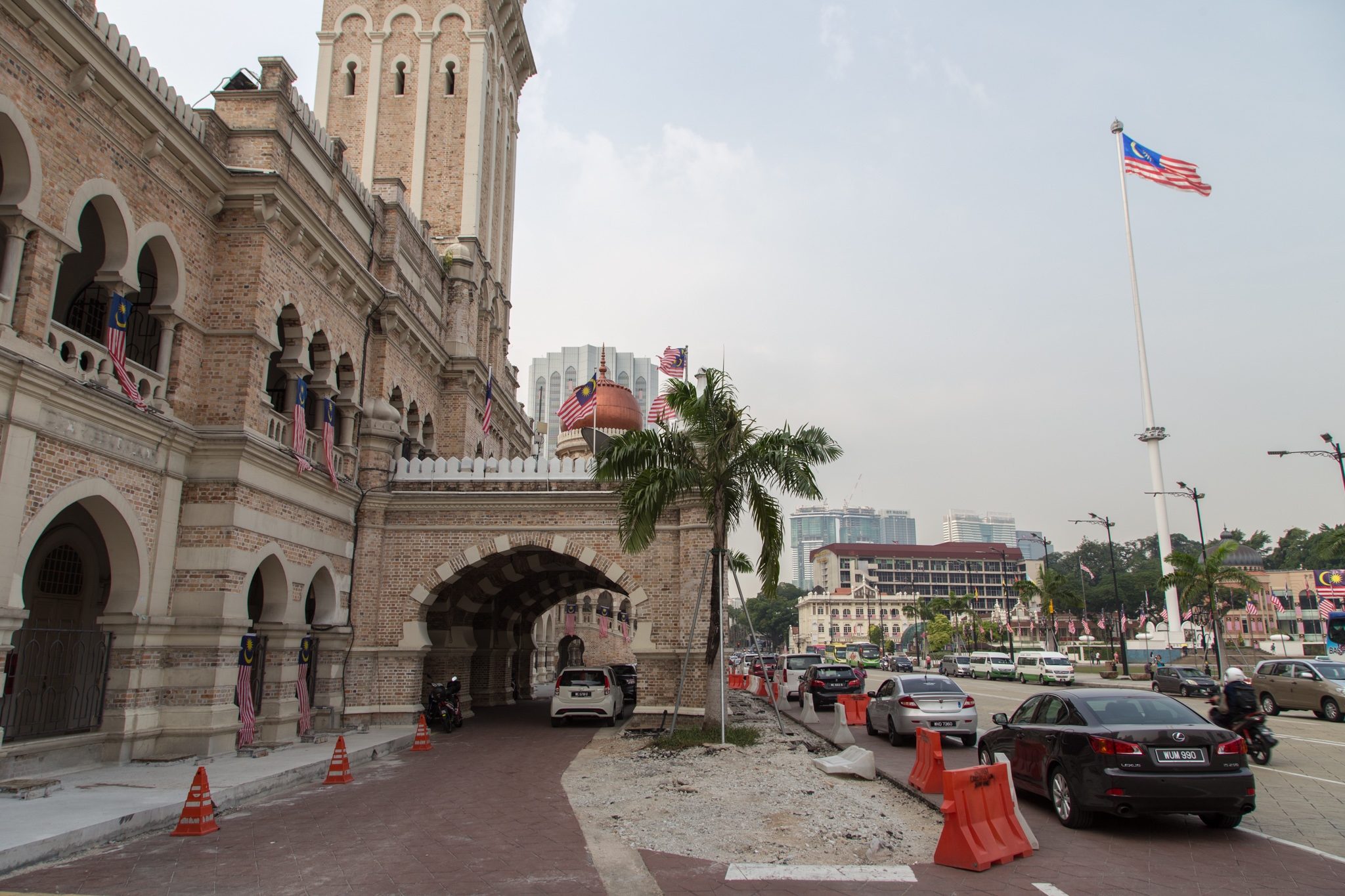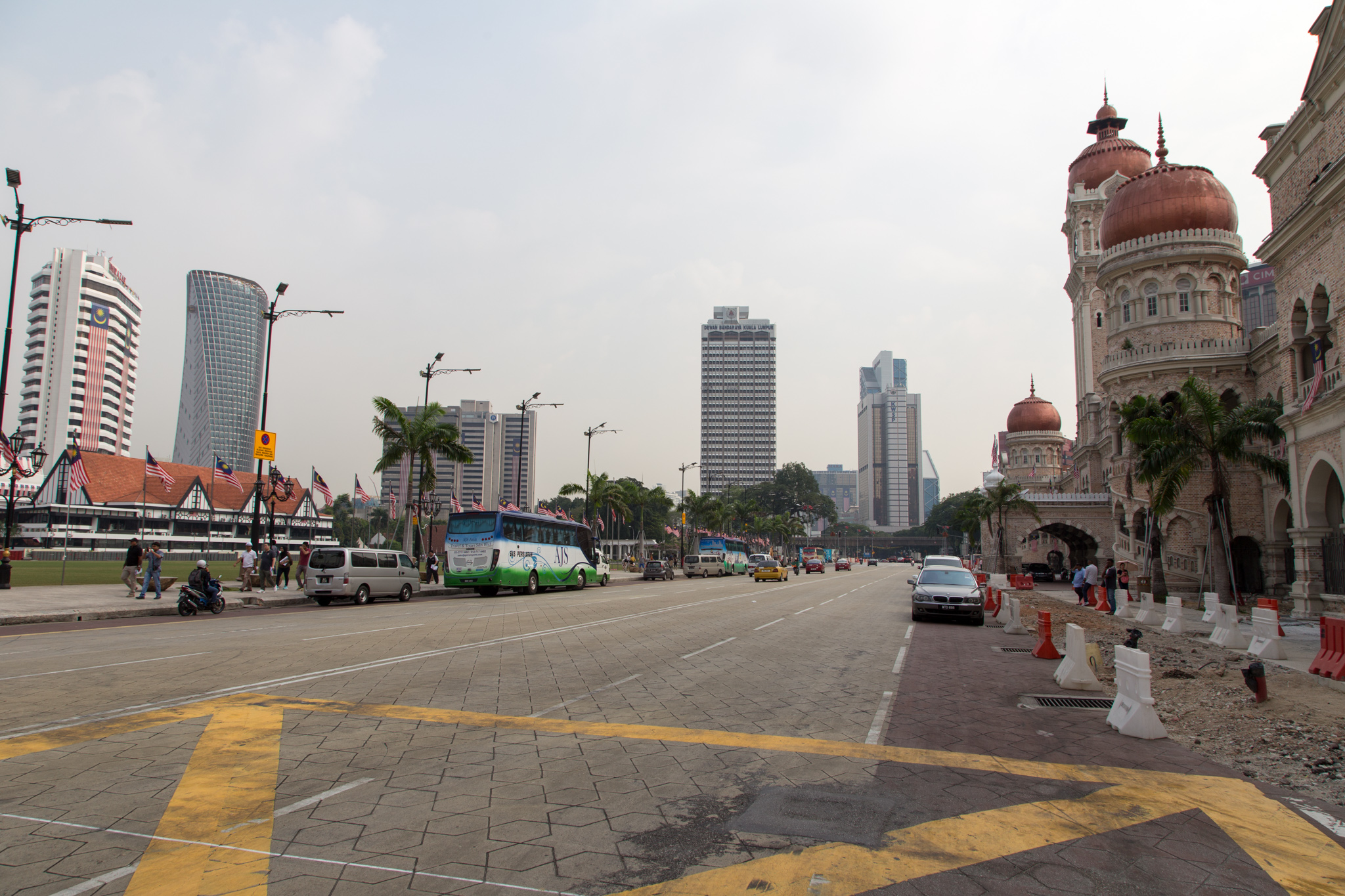 You can see the juxtaposition of old and new in the background, of course, further exacerbated if you take artsy zoom photos.
Malaysia is very proud of its heritage, and so Malaysian flags fly everywhere, in great numbers.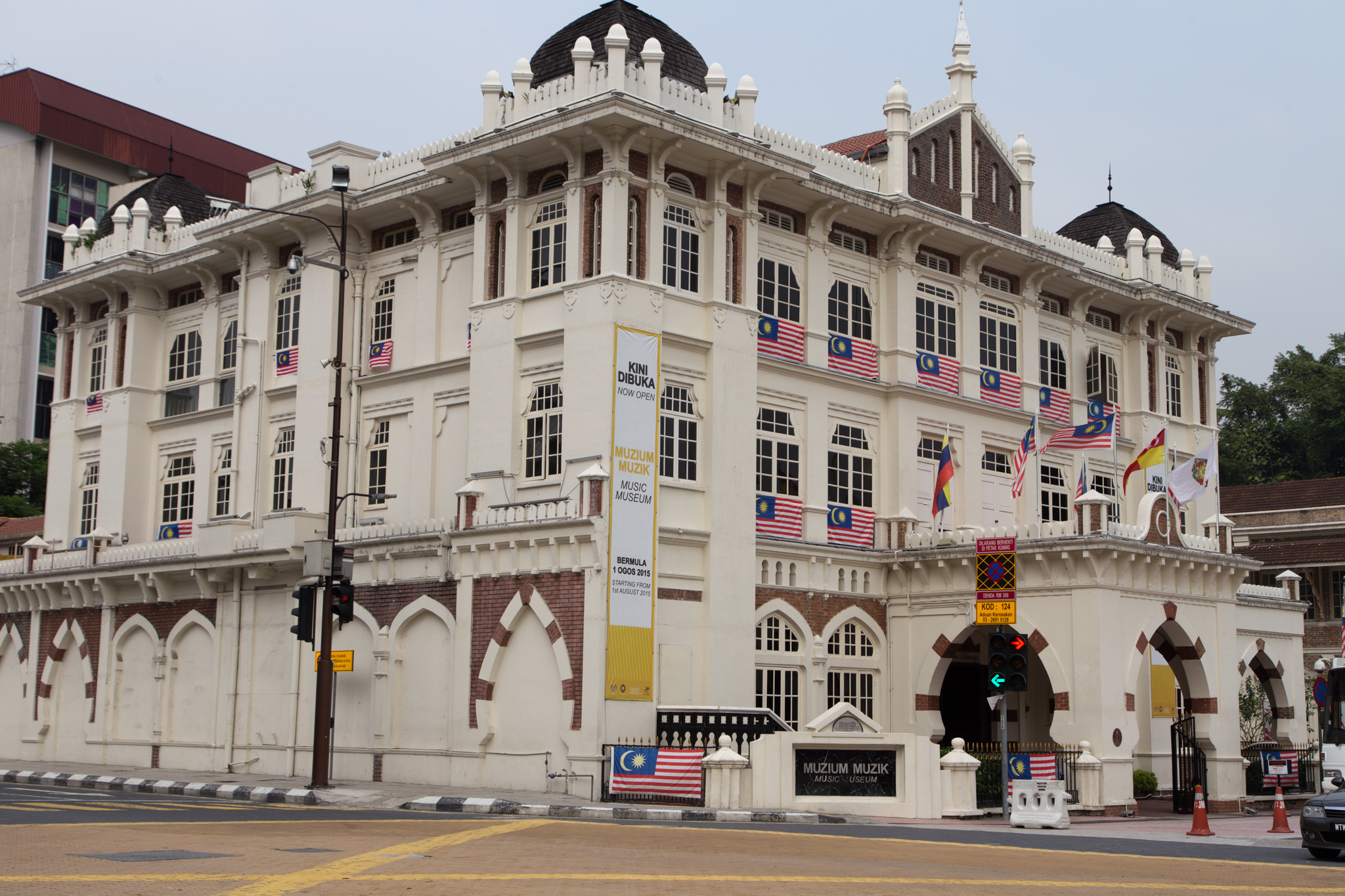 The "I love KL" sign was apparently started as a silly trick to get people to visit some sort of an art shop, and it has become a critical landmark – so much so that the board that described its history claimed that this is the most photographed landmark in all of KL. That saddens me greatly, so to alleviate this sadness, I decided to take a picture of it.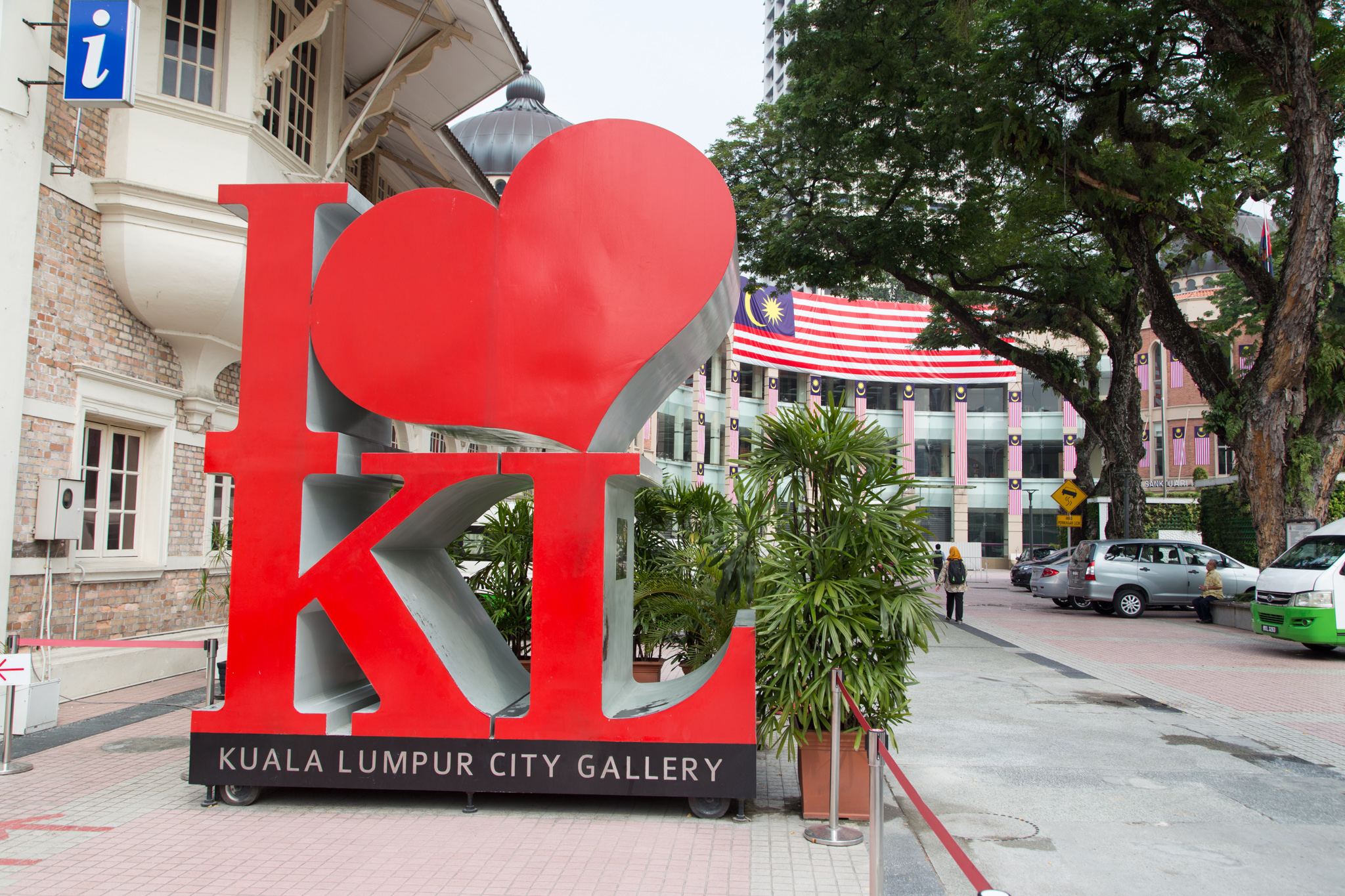 Facing the downtown core, it occurred to me that this isn't quite Abbey Road, but it will have to do…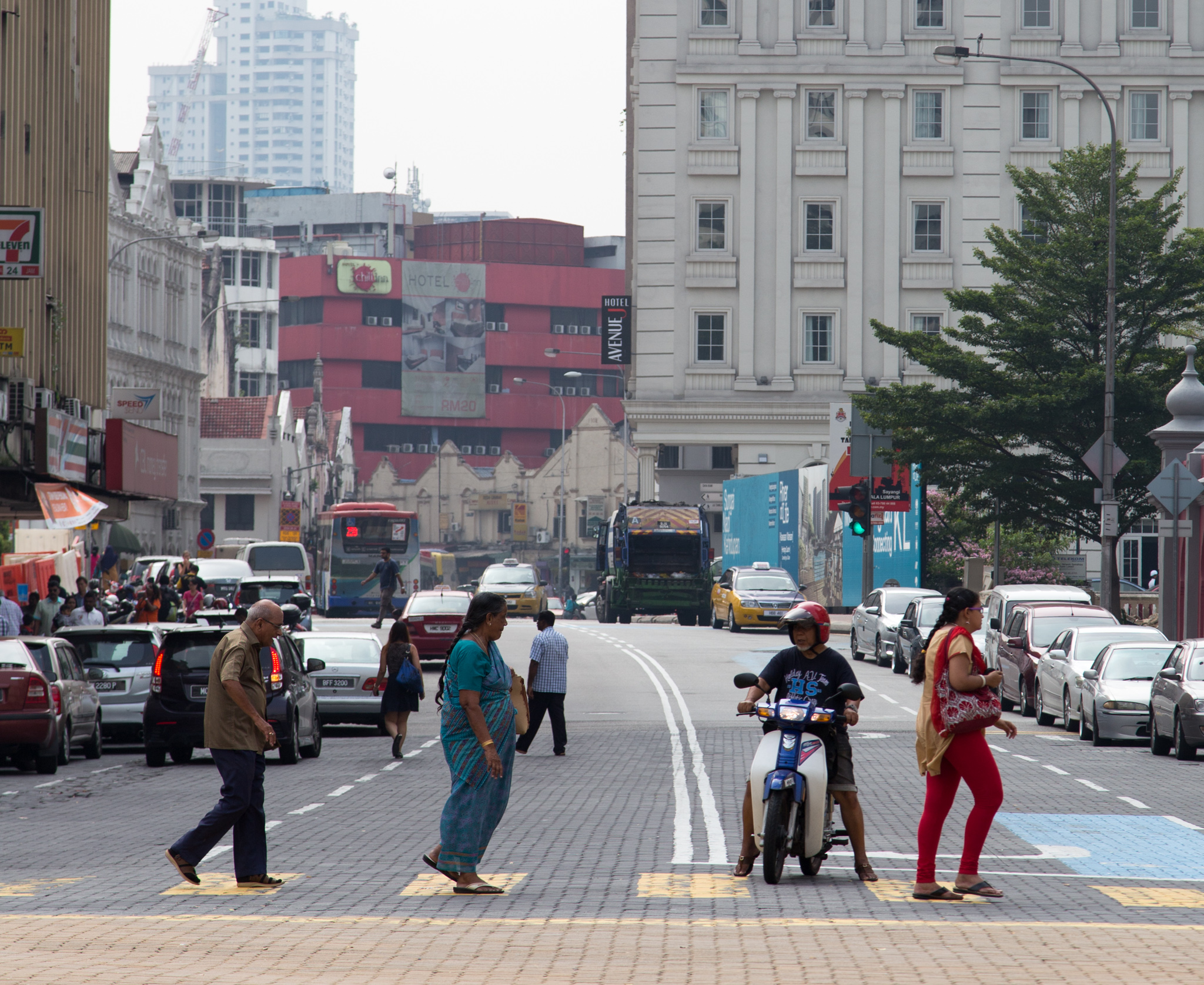 (edit: since informal surveys resulted in blank stares when I mentioned "Abbey Road", here's the image I'm referring to. Shame on you, world.)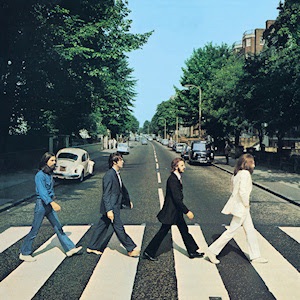 I was also being besieged by a
motorcycle gang whole bunch of motorcyclists. Oddly, people generally follow road signs in Malaysia – including red lights (though motorcycles take a slightly more relaxed view of red lights when turning is concerned). But here, they were all primed, ready to roar.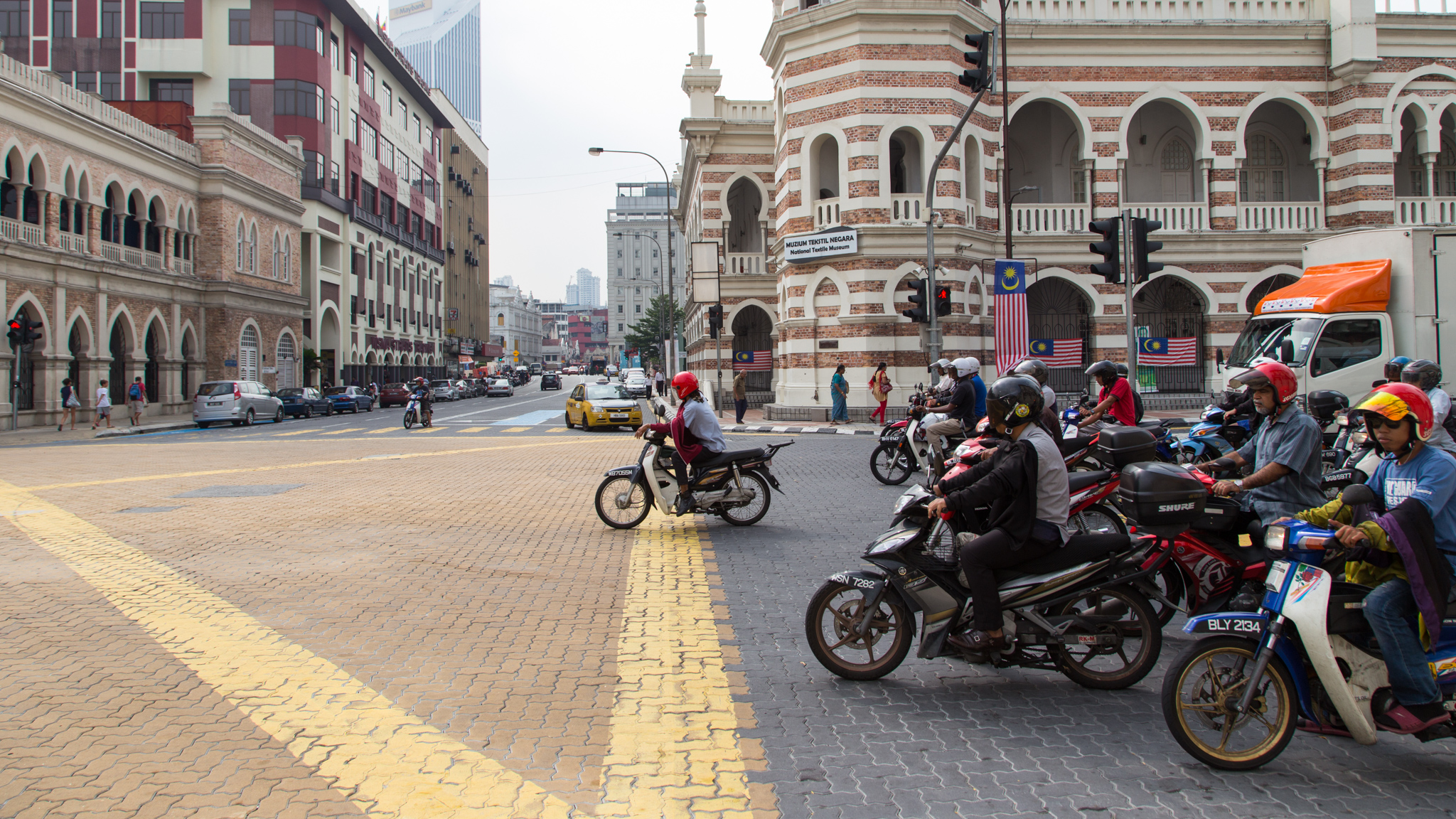 At this point, I decided to walk towards Chinatown, one of the
epicentres of culture largest fake goods markets of KL. I wasn't looking for anything in particular – large bazaars just fascinate me in general.
Another juxtaposition of old and new. You will notice that there is a clear delineation of old and new structures, unlike in Hong Kong, where everything is interspersed like a giant jigsaw puzzle (in all honesty, that's one of the things that attracts me so much to Hong Kong – this odd mosaic of shantys and glass and concrete which seems to somehow survive just fine in this oddball symbiosis).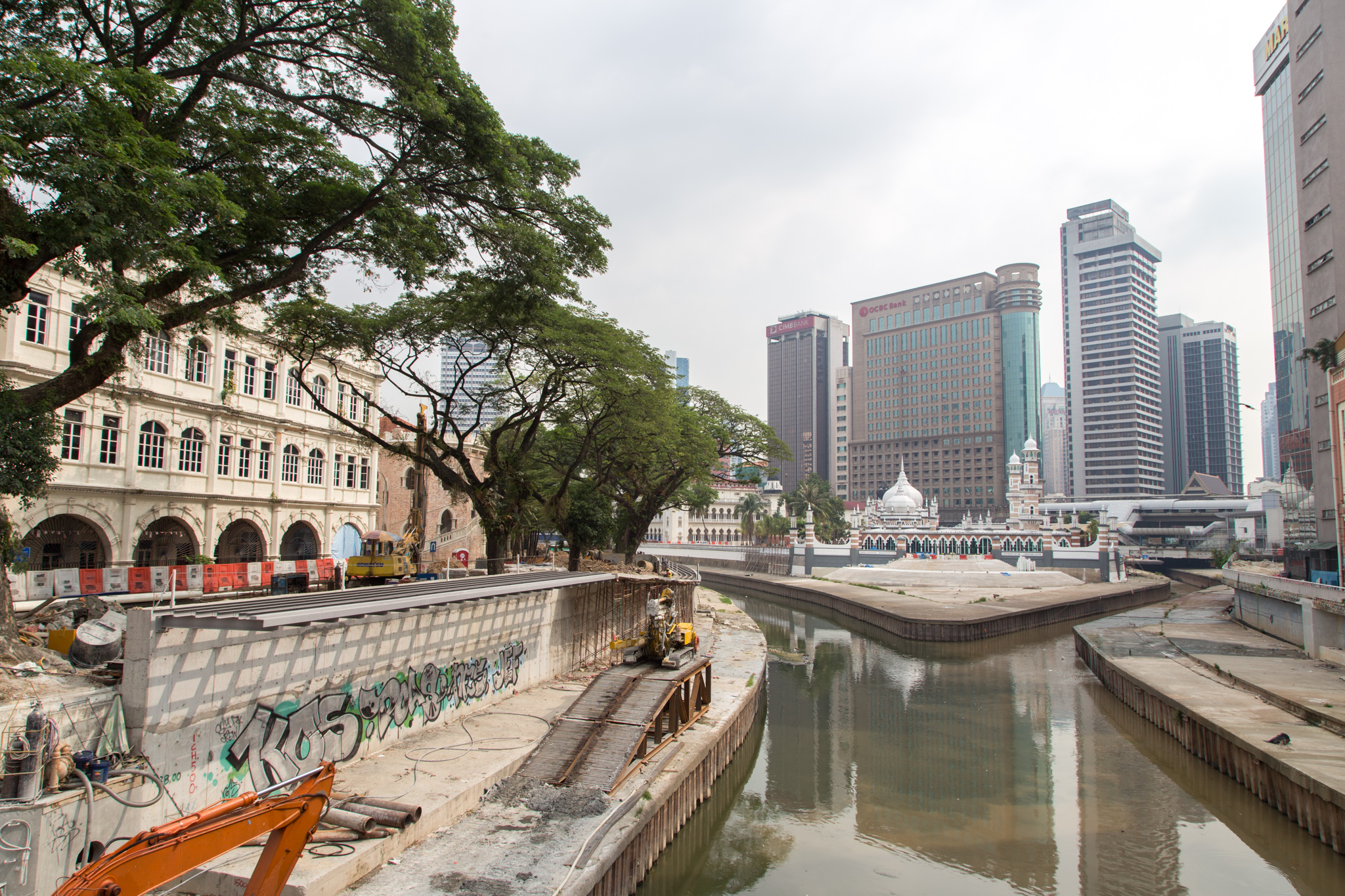 More contrasts, getting closer to Chinatown now.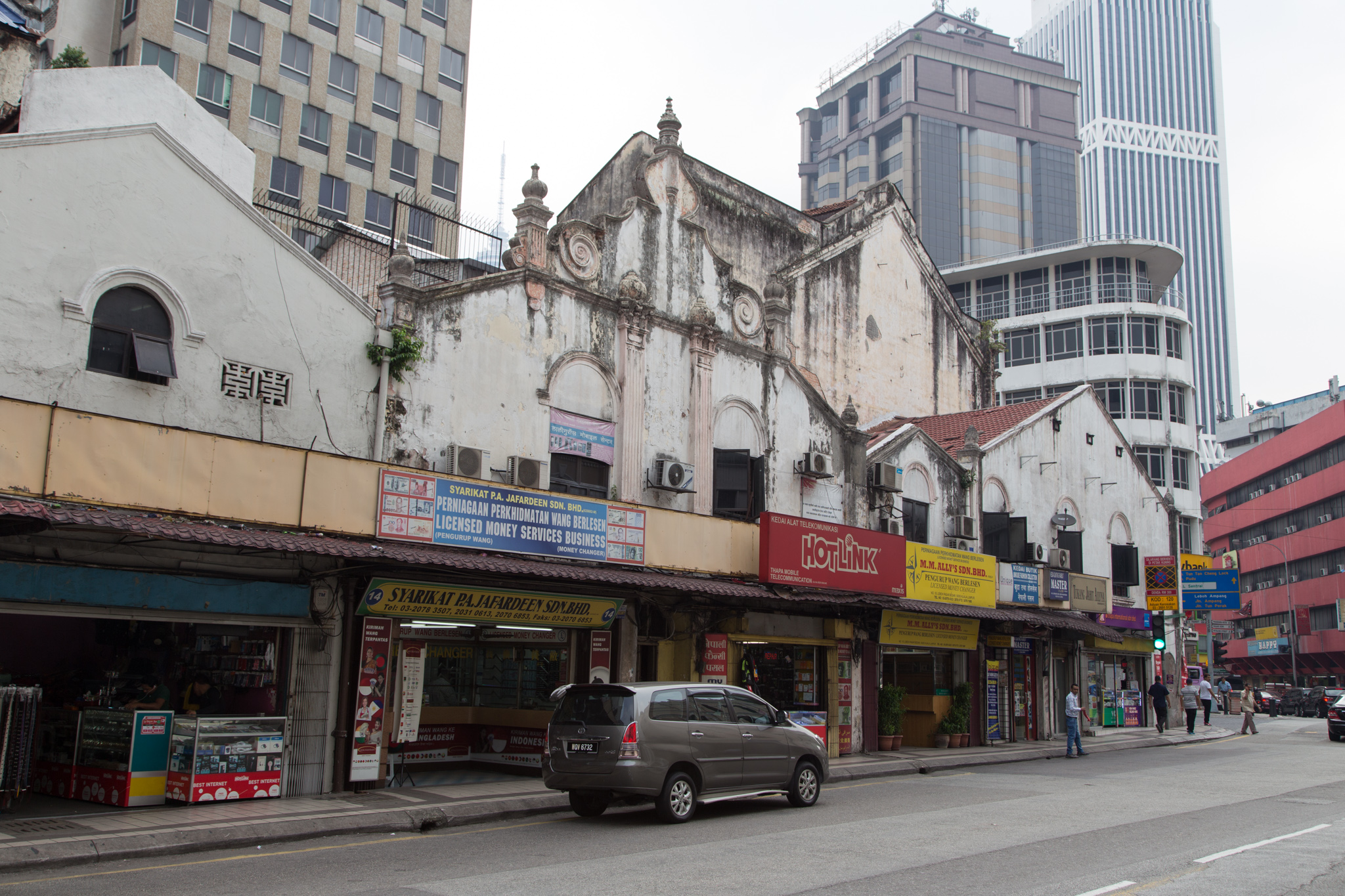 The entrance to Central Market; it used to be an outdoor bazaar full of hawkers from all walks of life (and provenance), but the government decided a few years back that it should be brought into the 20th century and put a concrete structure with air conditioning around it. It took away some of the ghetto charm, but it did make it about a thousand times easier and more pleasant to navigate.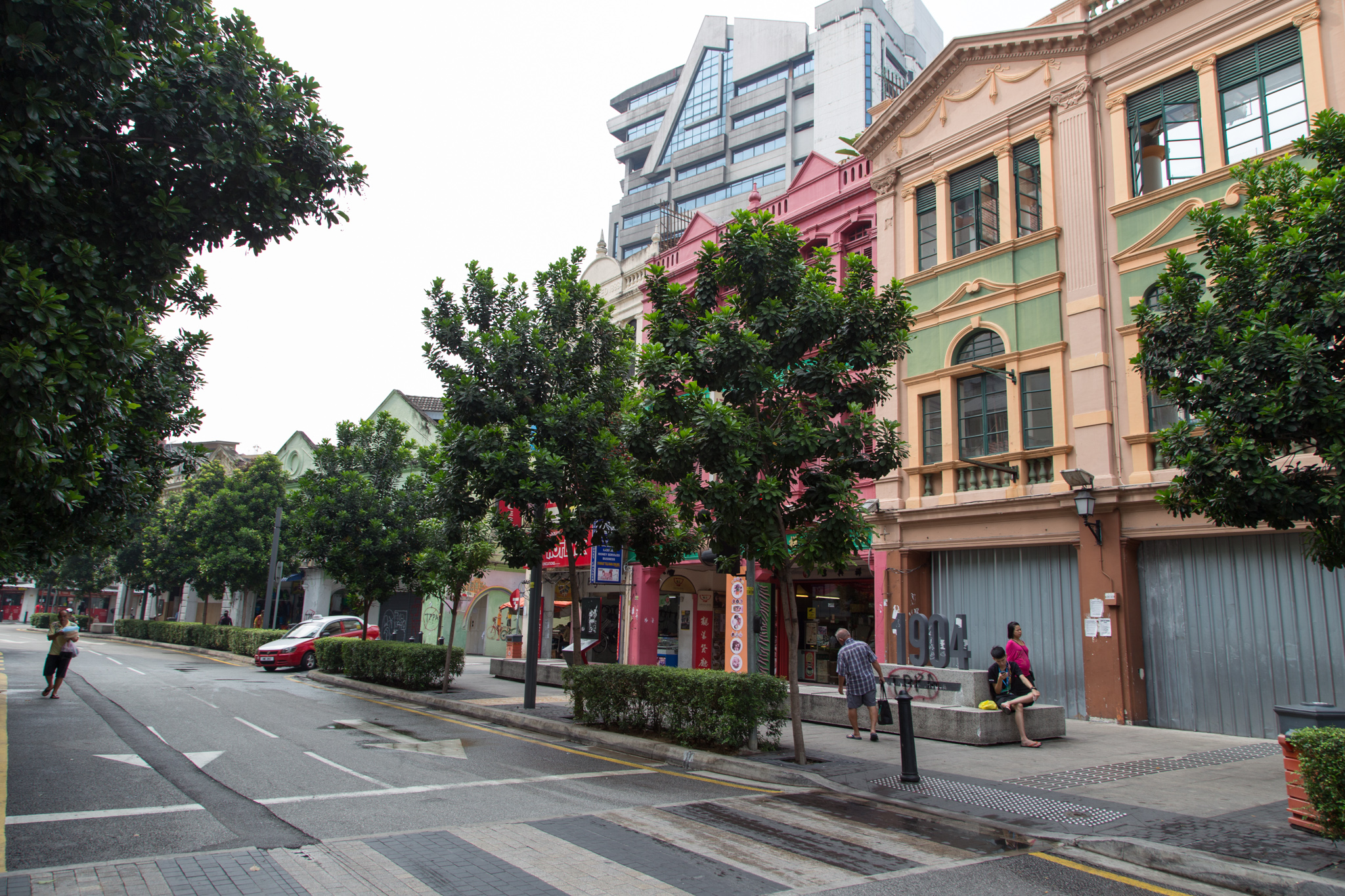 The Central Market itself is a throwback to the old times, where everything was available in one place, and a multitude shops peddled it. Anything from toys, to textiles, to aircraft models to bubble tea, kebabs and jewelry is here. They loosely separated it into "areas" (i.e. China, India, etc) but it only works for the shops right next to where the sign identifying them lies – walk a few metres inwards and it becomes a complete jumble of various local and semi-local produce.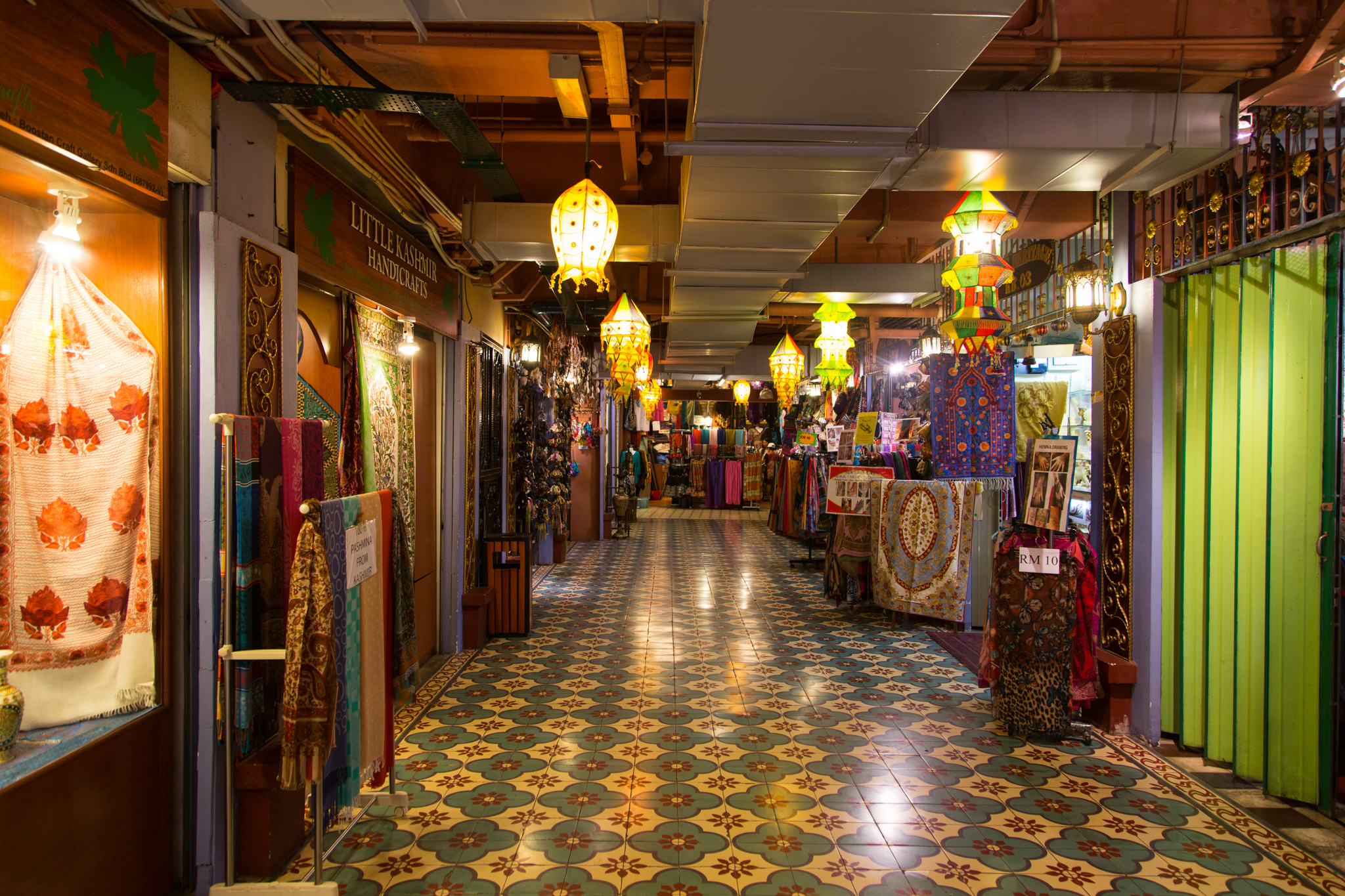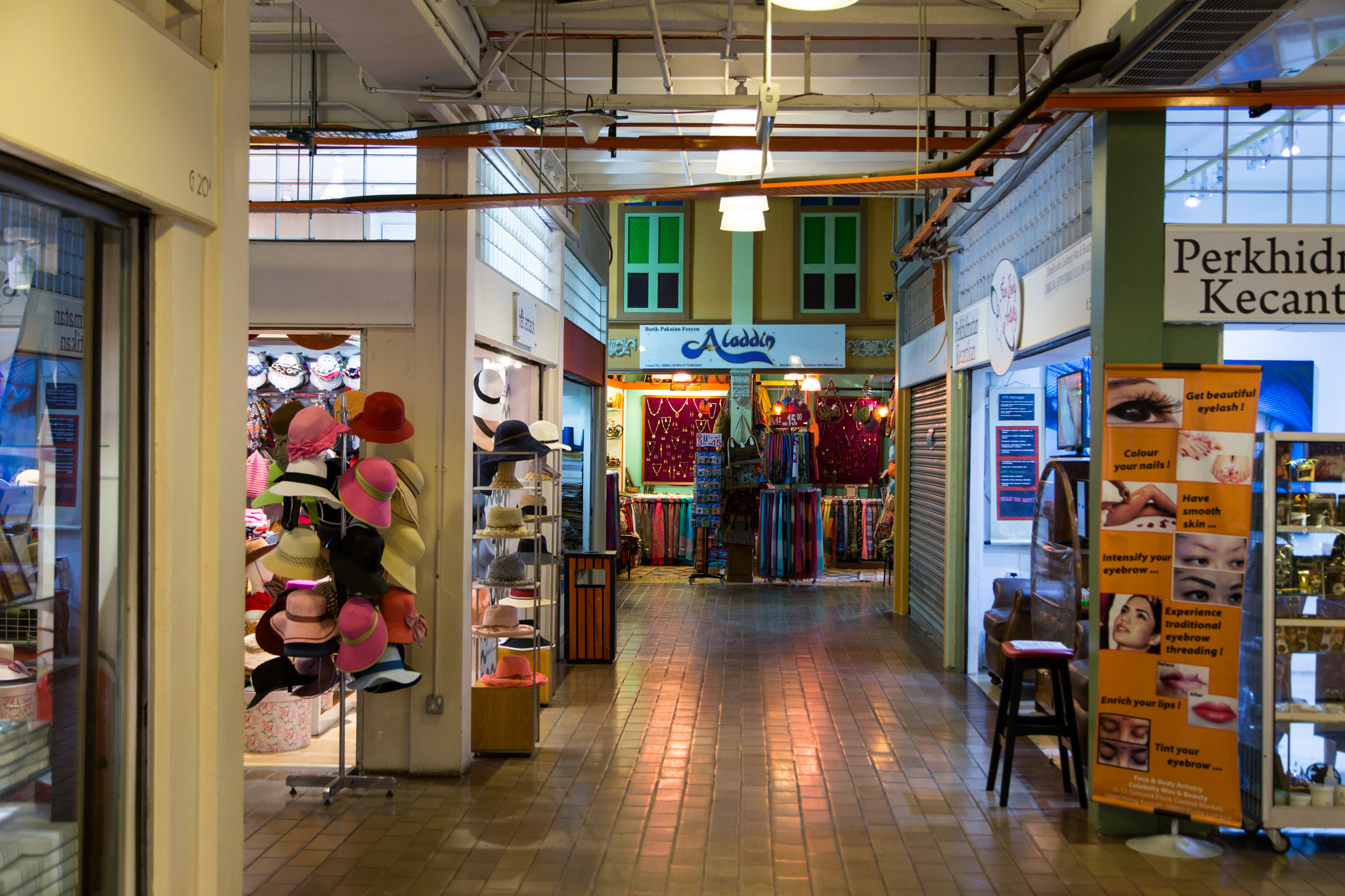 Here there are a variety of brand-name goods, but unlike in Brunei, they make no effort to disguise the brand (i.e. "Star Wart"), but somehow, $10 for a pair of Beats by Dre seems just … a touch cheap. Also, you know you've achieved mad success when people are ripping you off: look at that Xiaomi Xi 10,400 powerbank – I have the authentic version, and it's a $18 product from China which is already a copy of Apple design, so seeing a copy of a copy is just … paradoxical.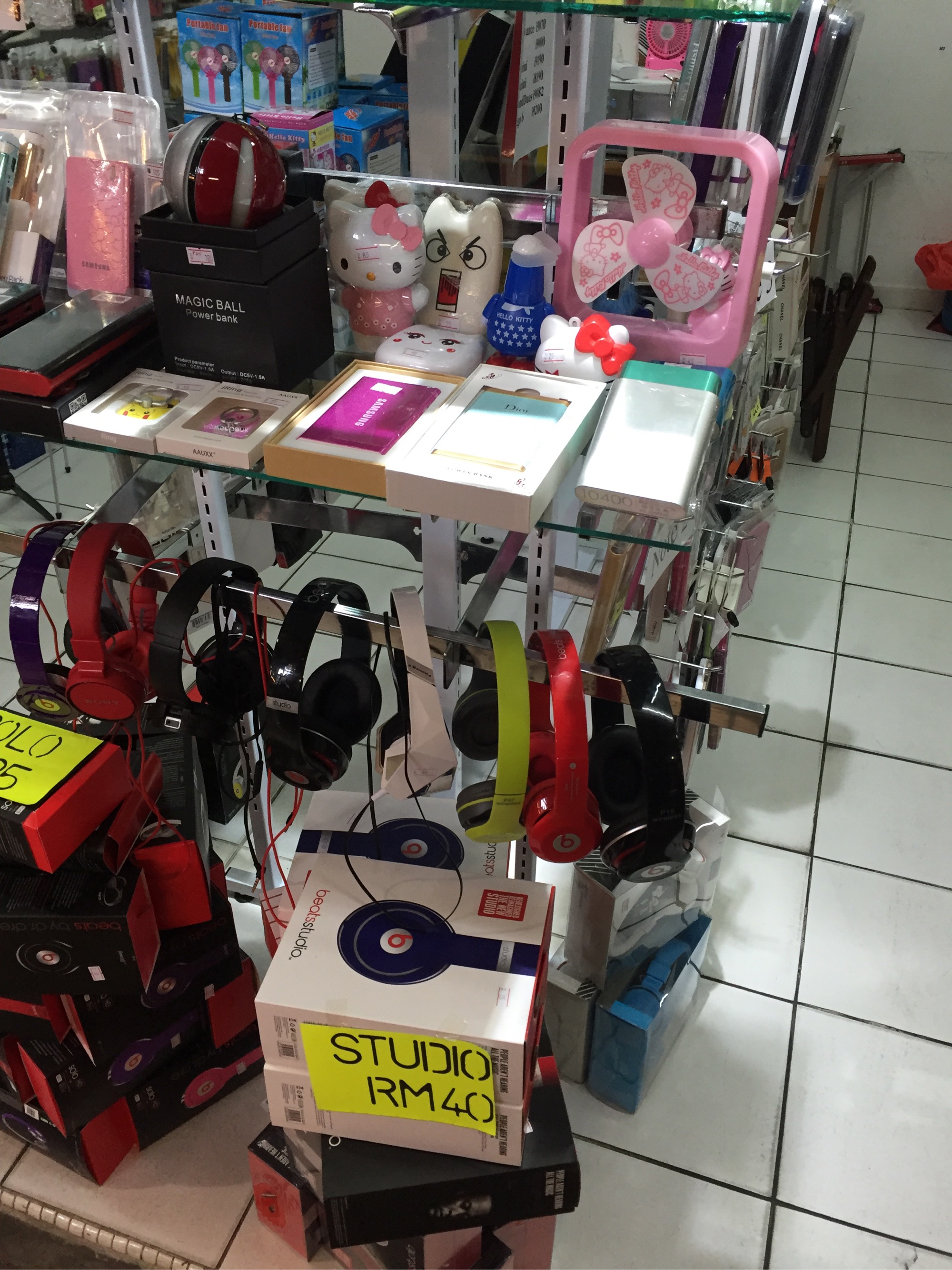 The mall is extremely colourful, though.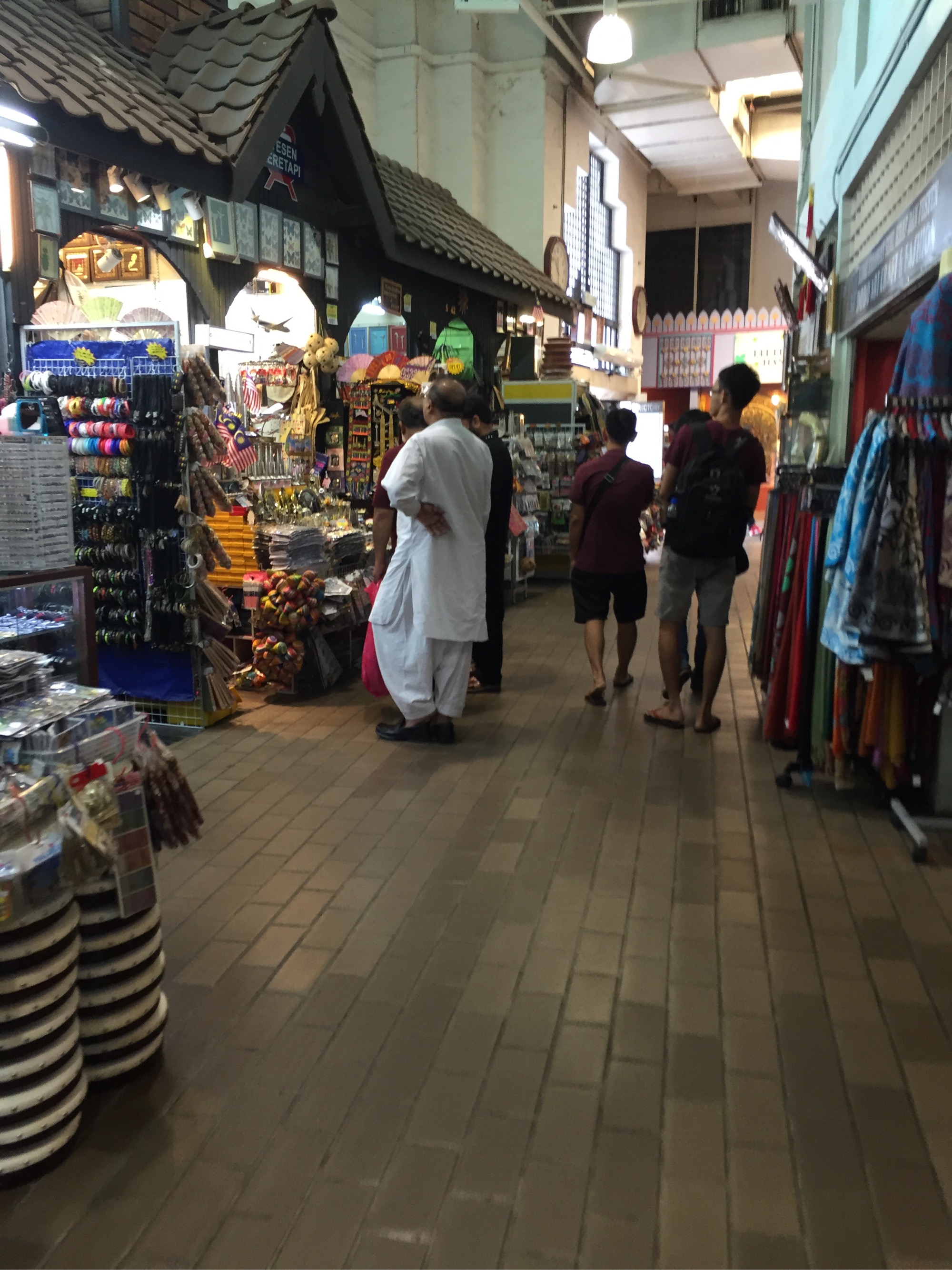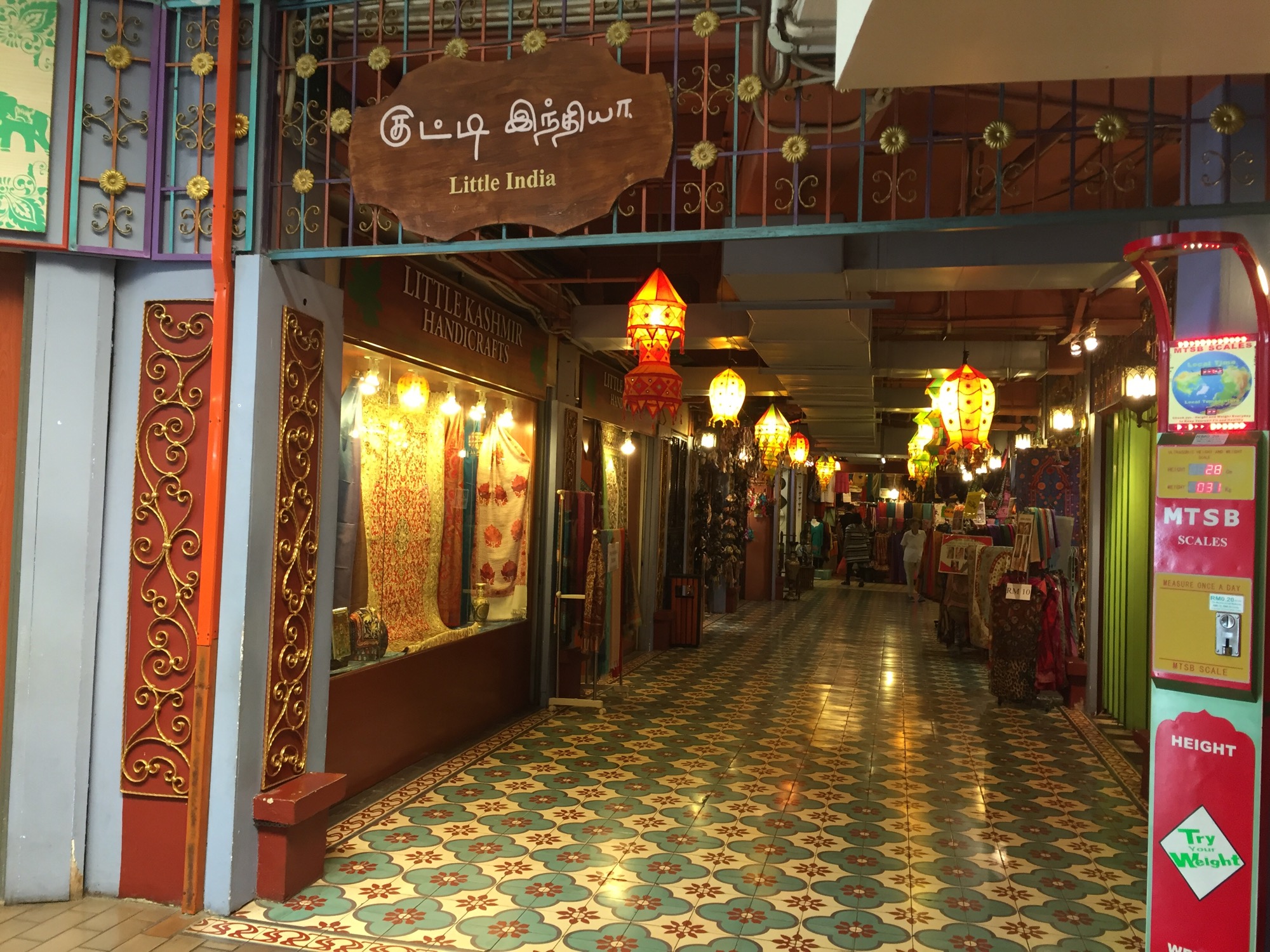 I love the name of this store – "Hat Attack".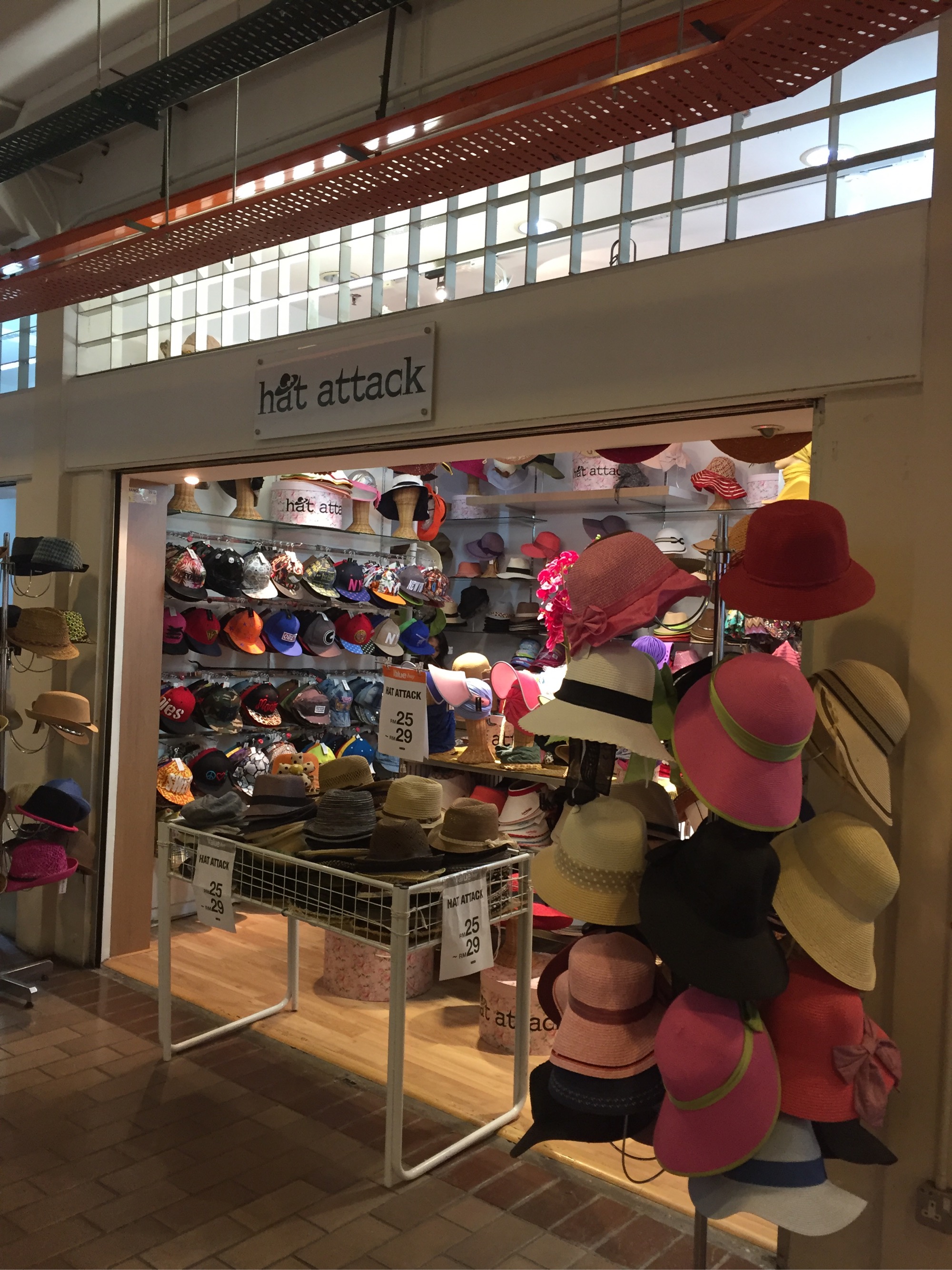 Aiming at Japanese tourists – cosmetics, soaps and shampoo made of sea cucumber.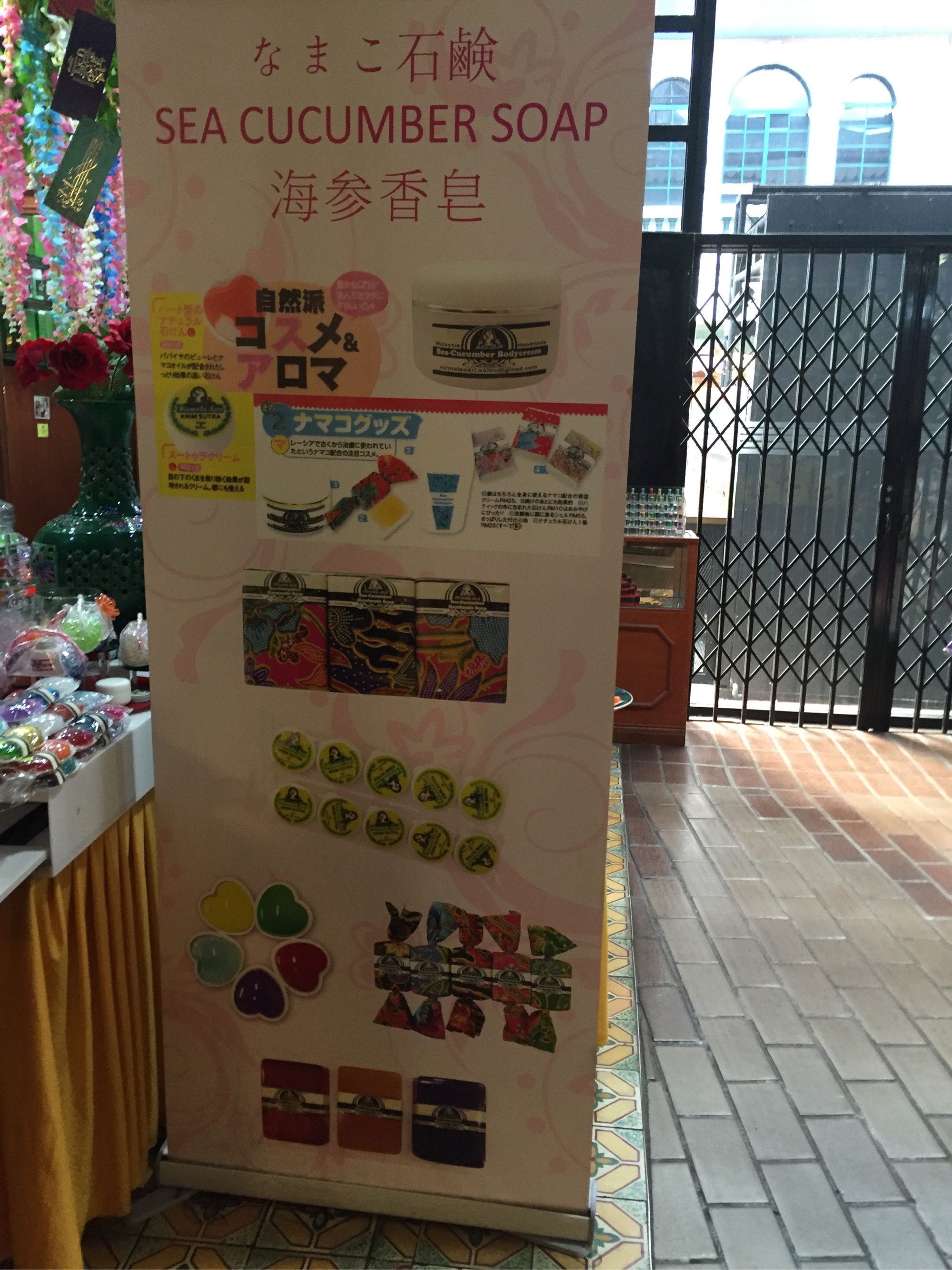 Main street of the central market.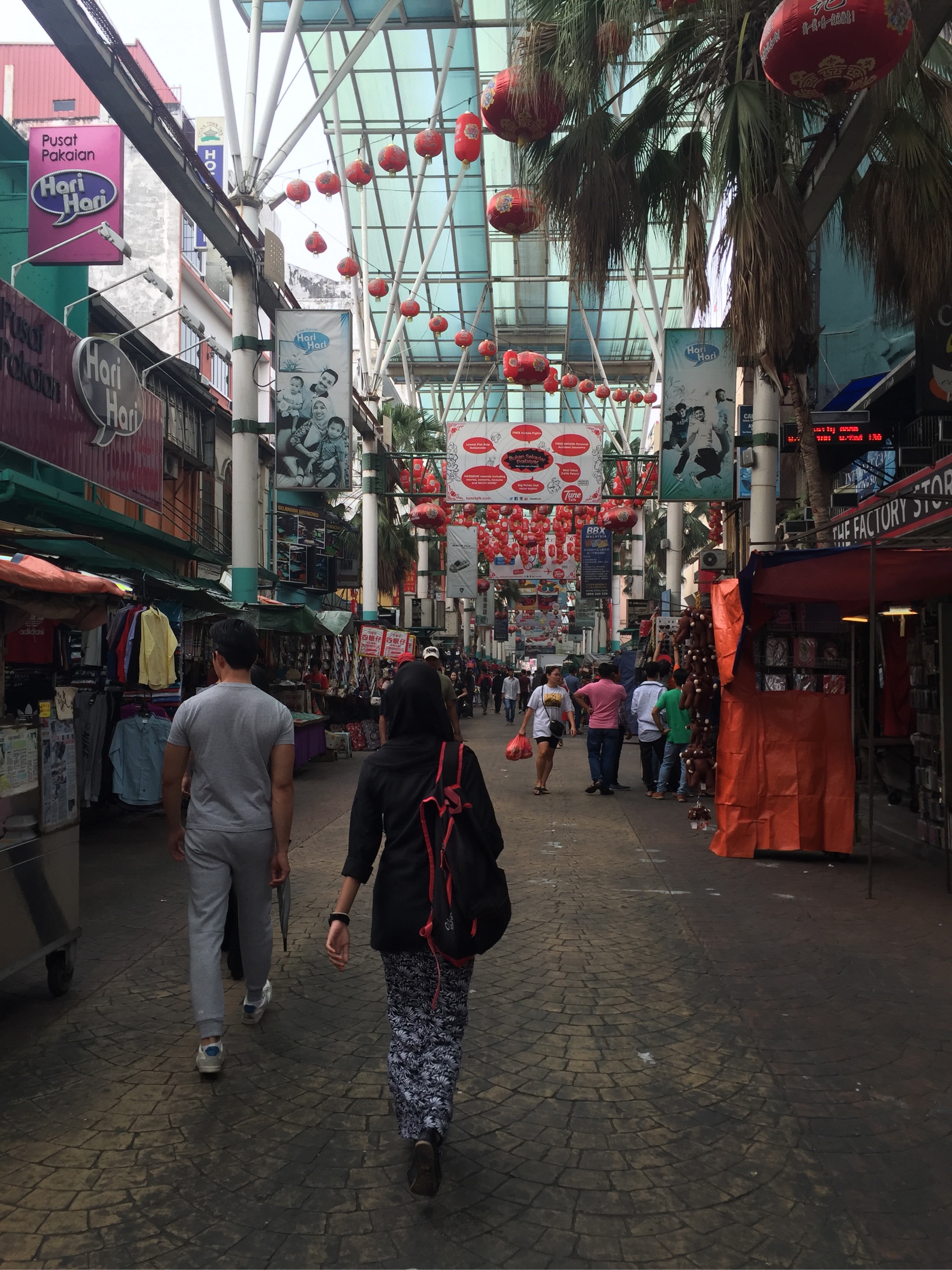 After leaving the market, I went walking around the Chinatown area some more. I am always fascinated by streets, cars, and various bits and pieces of life in a city I do not know, so I just started randomly shooting whatever I could find that looked even remotely interesting. Here's a street in Chinatown.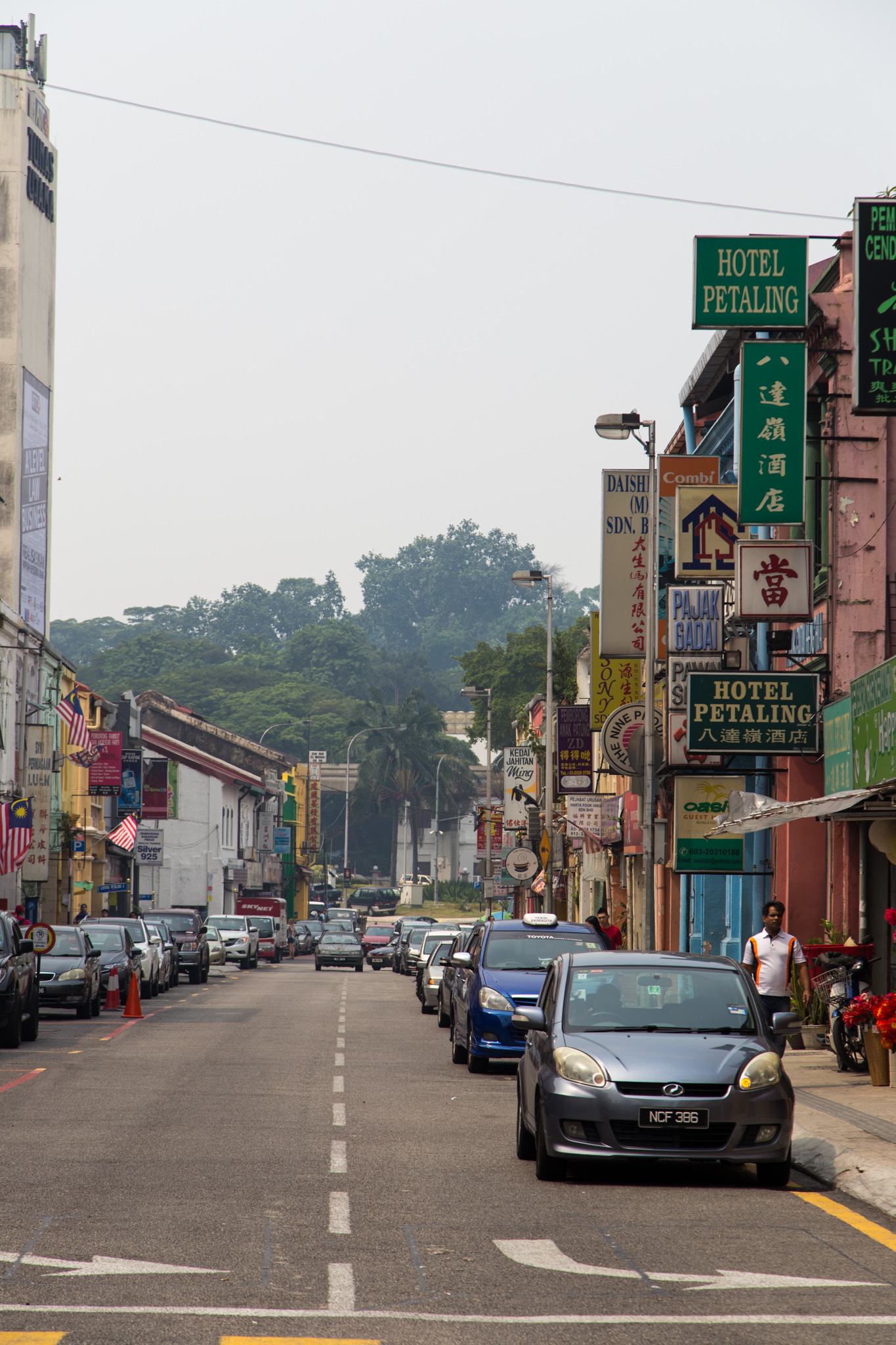 A car that looked like a Classic Mini,  but on second thought, I realised wasn't one.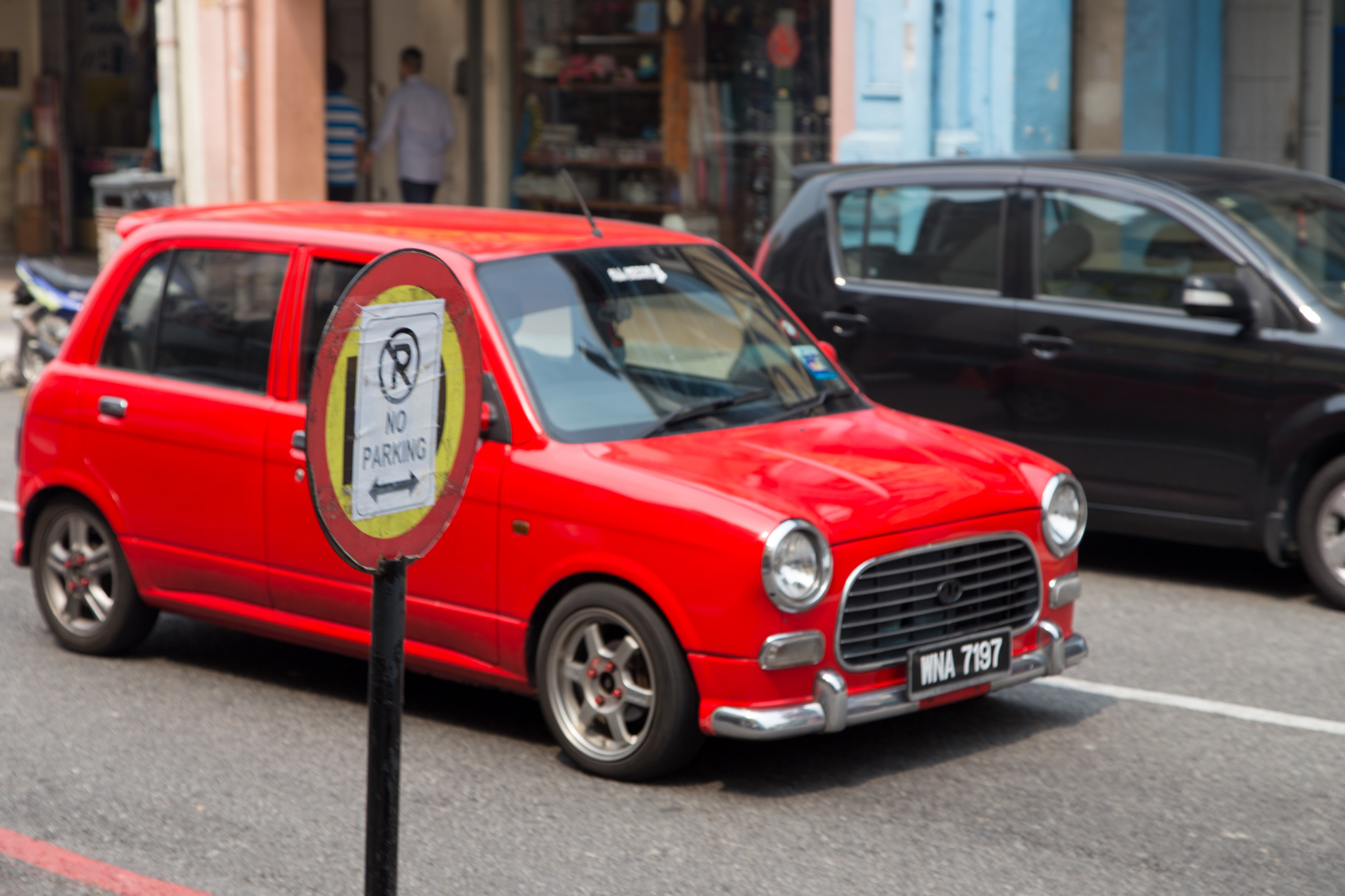 This car had an absolutely wild colour scheme. Puts Fast & Furious to shame, fo'sho.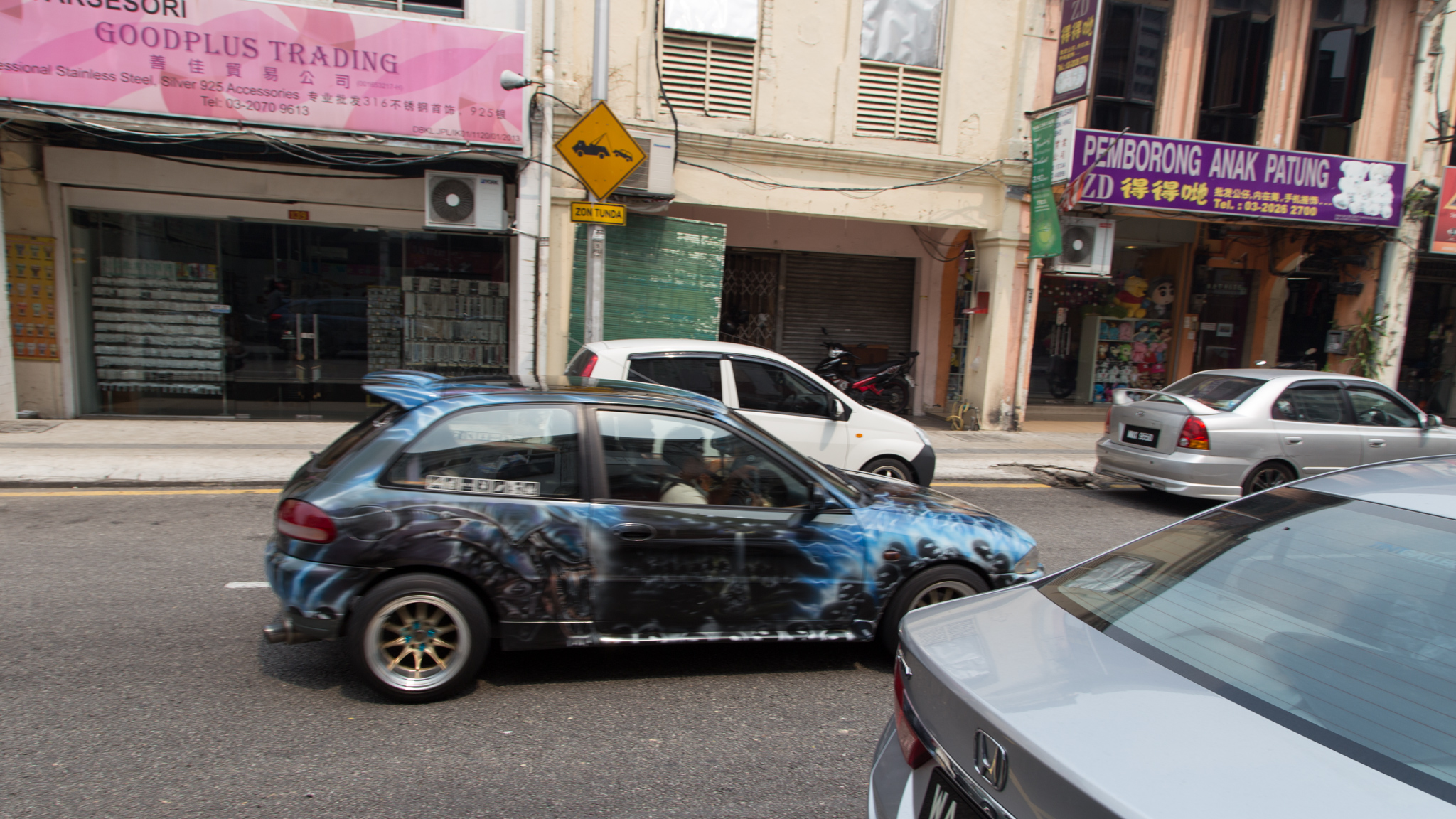 Alien indeed.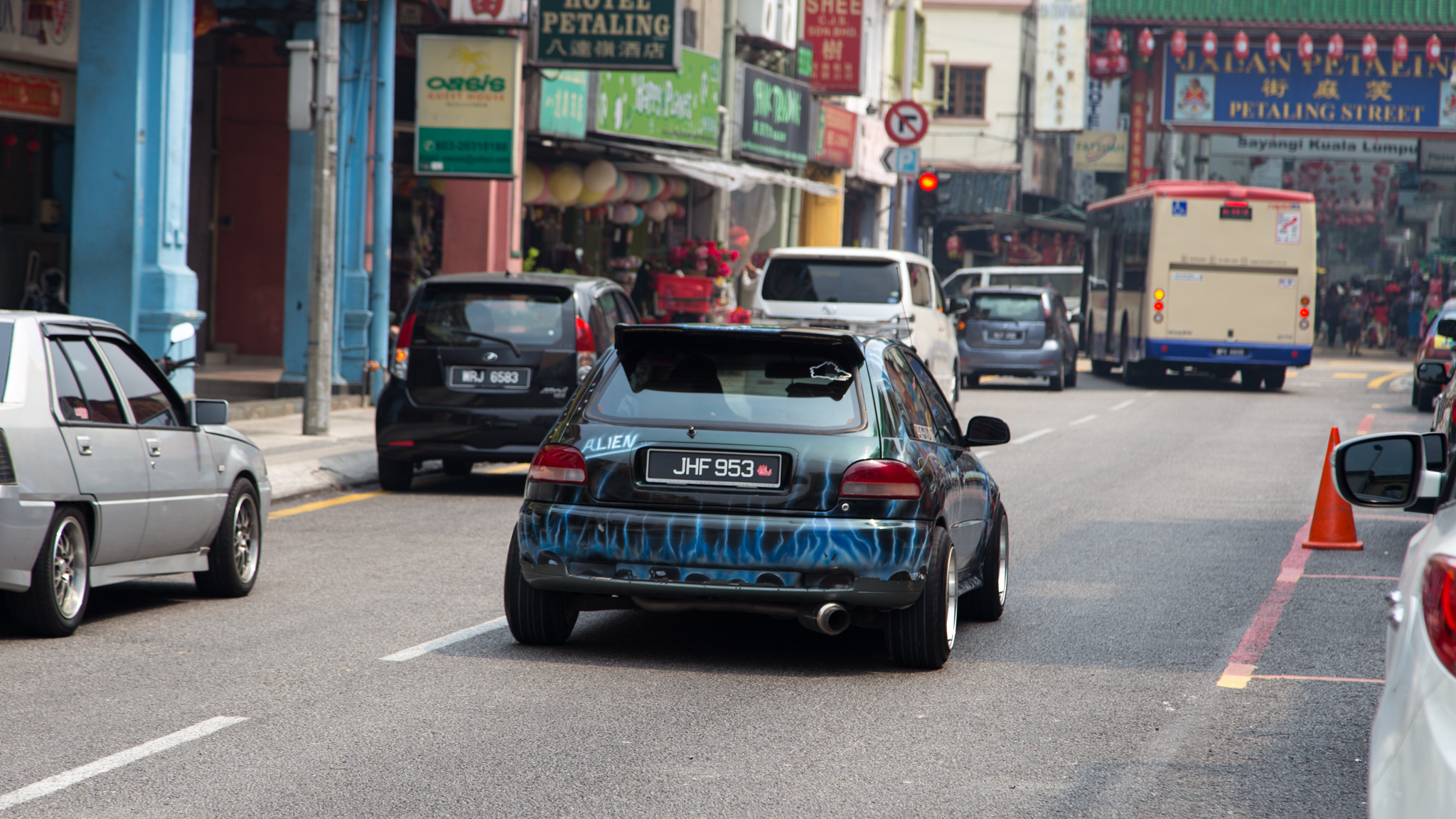 A study of graffiti in motorcyclic watercolours, 2016. Or something. Also, his plate says WRX, which is just epic.
Another juxtaposition of an old, decrepit building onto the new skyscraper.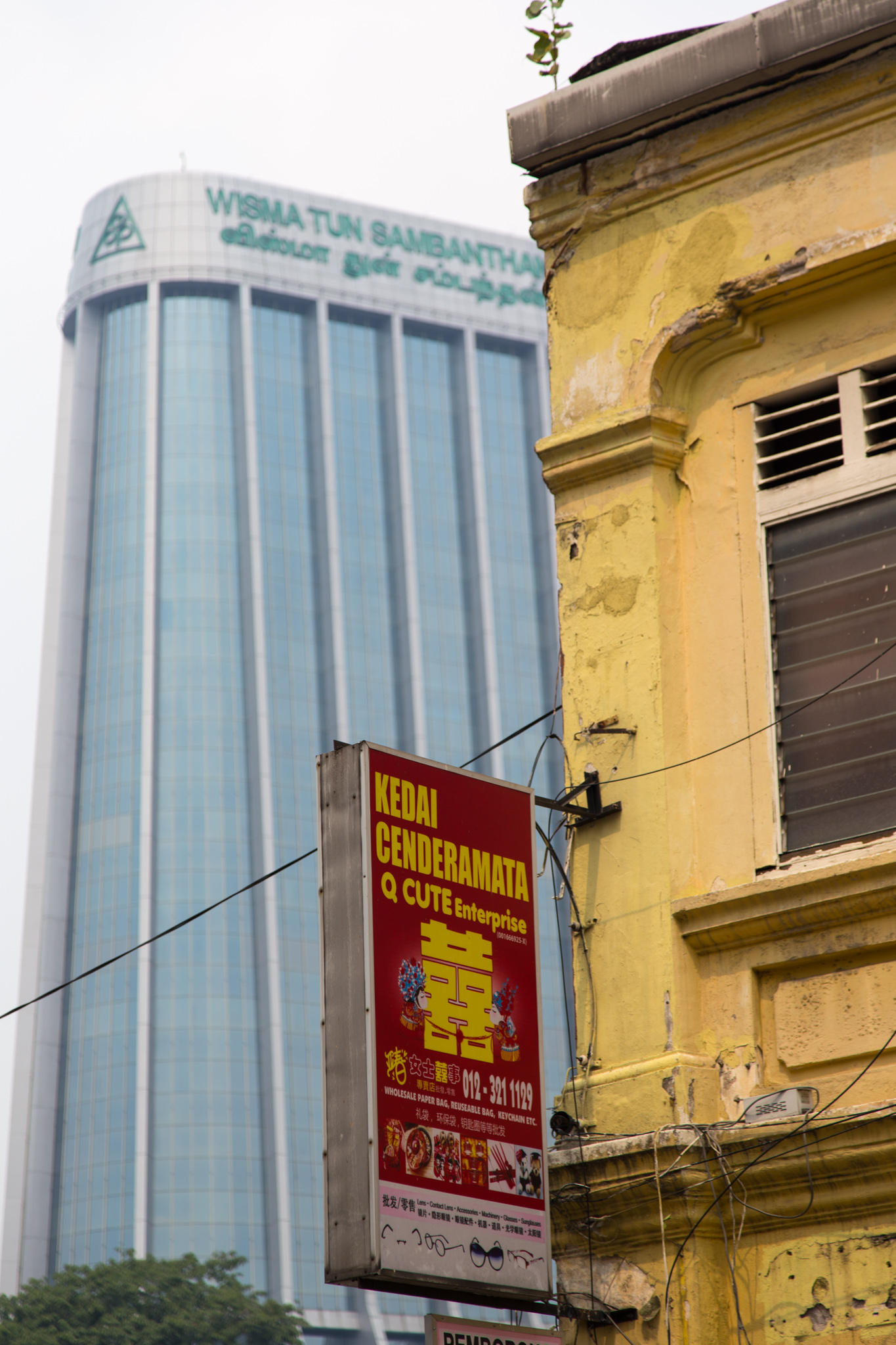 A street leading up to Petaling Jalan, the main shopping street in Chinatown.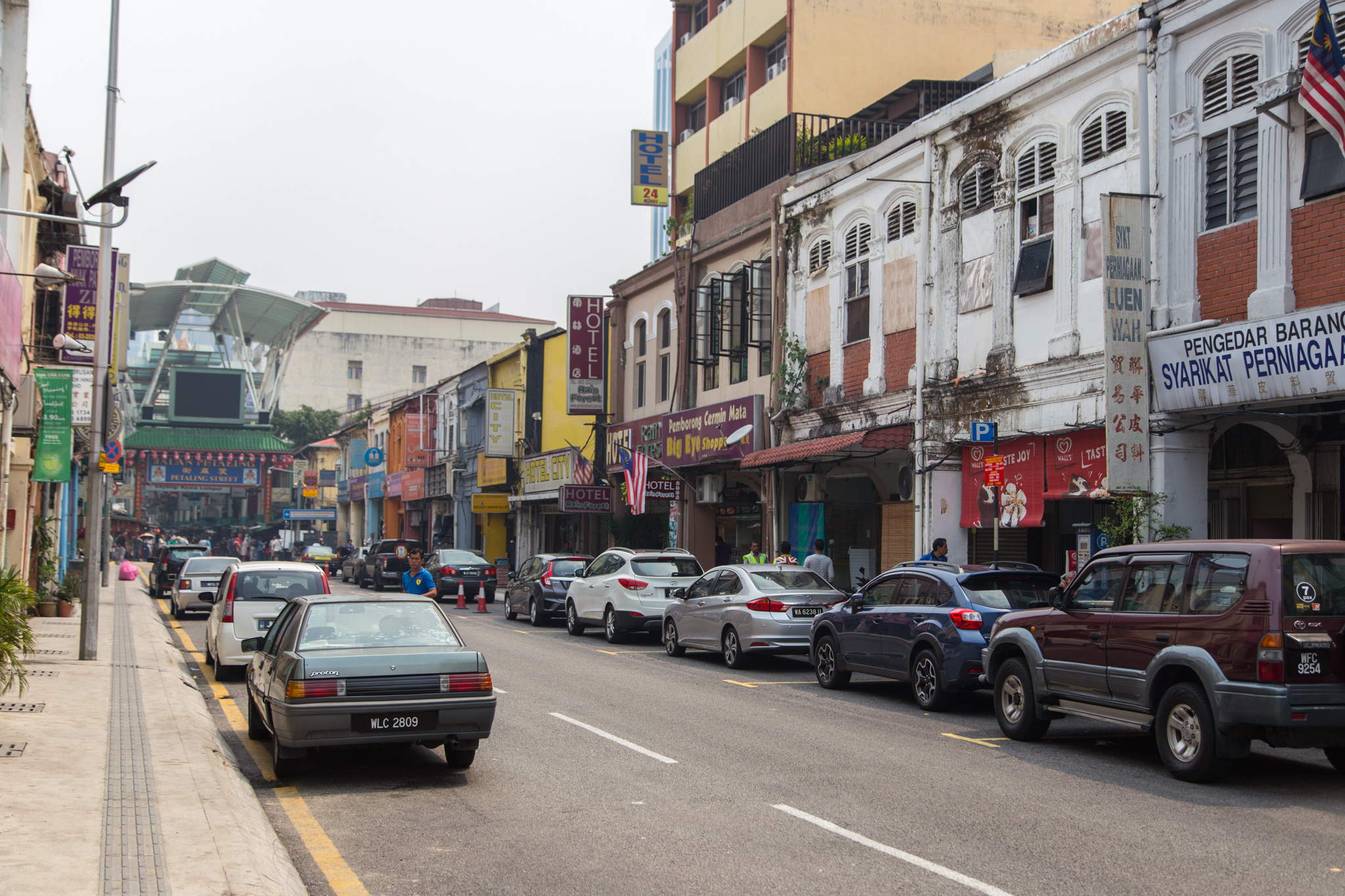 This was a particularly interesting sight – free water on the street! I have definitely not seen this very often around the world. California needs this.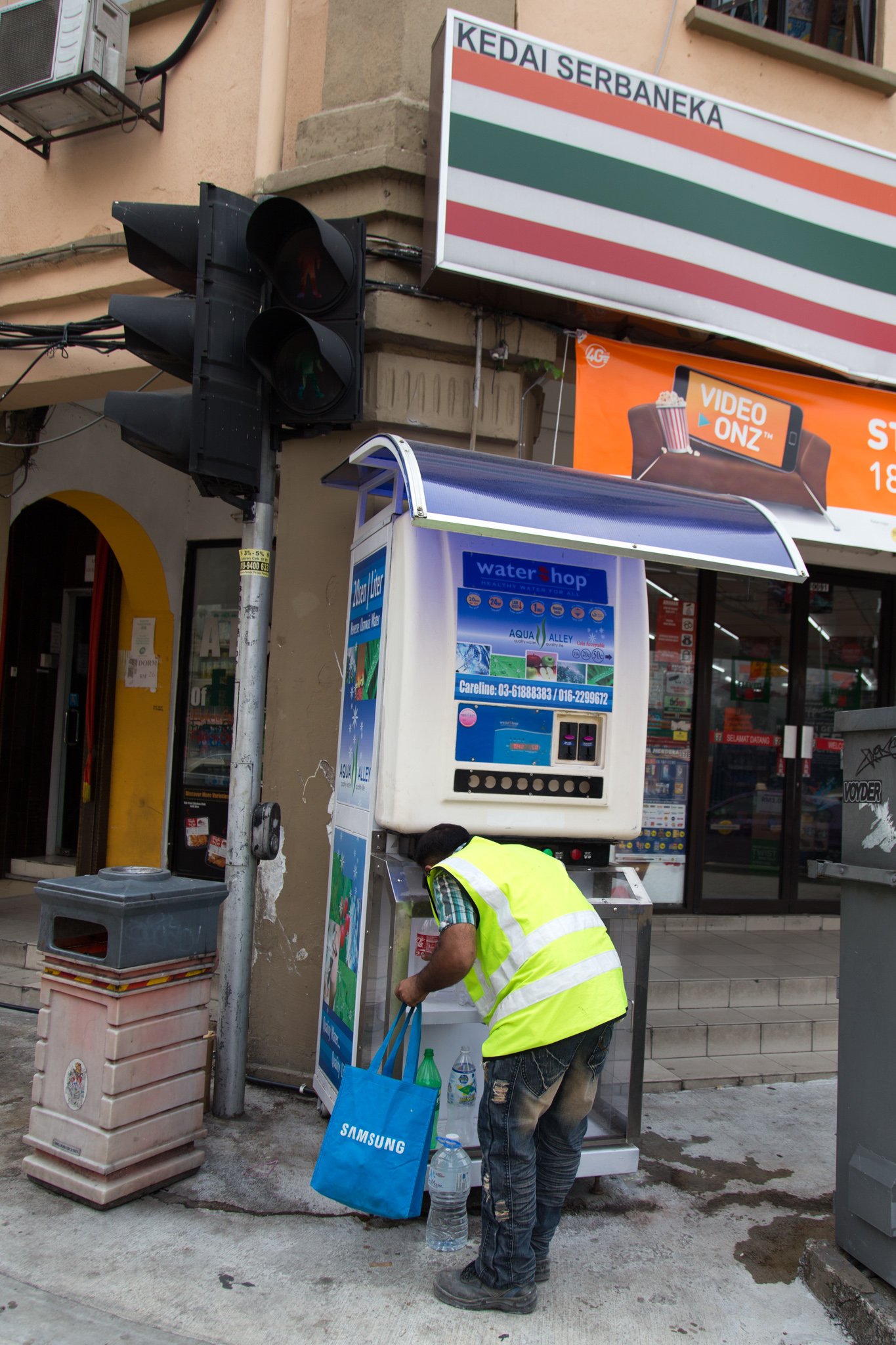 Major construction around the main train station area. Look at those pretty buildings in the distance (incidentally, the tall one on the extreme right is the brand-new St Regis – gotta give that one a try next time!)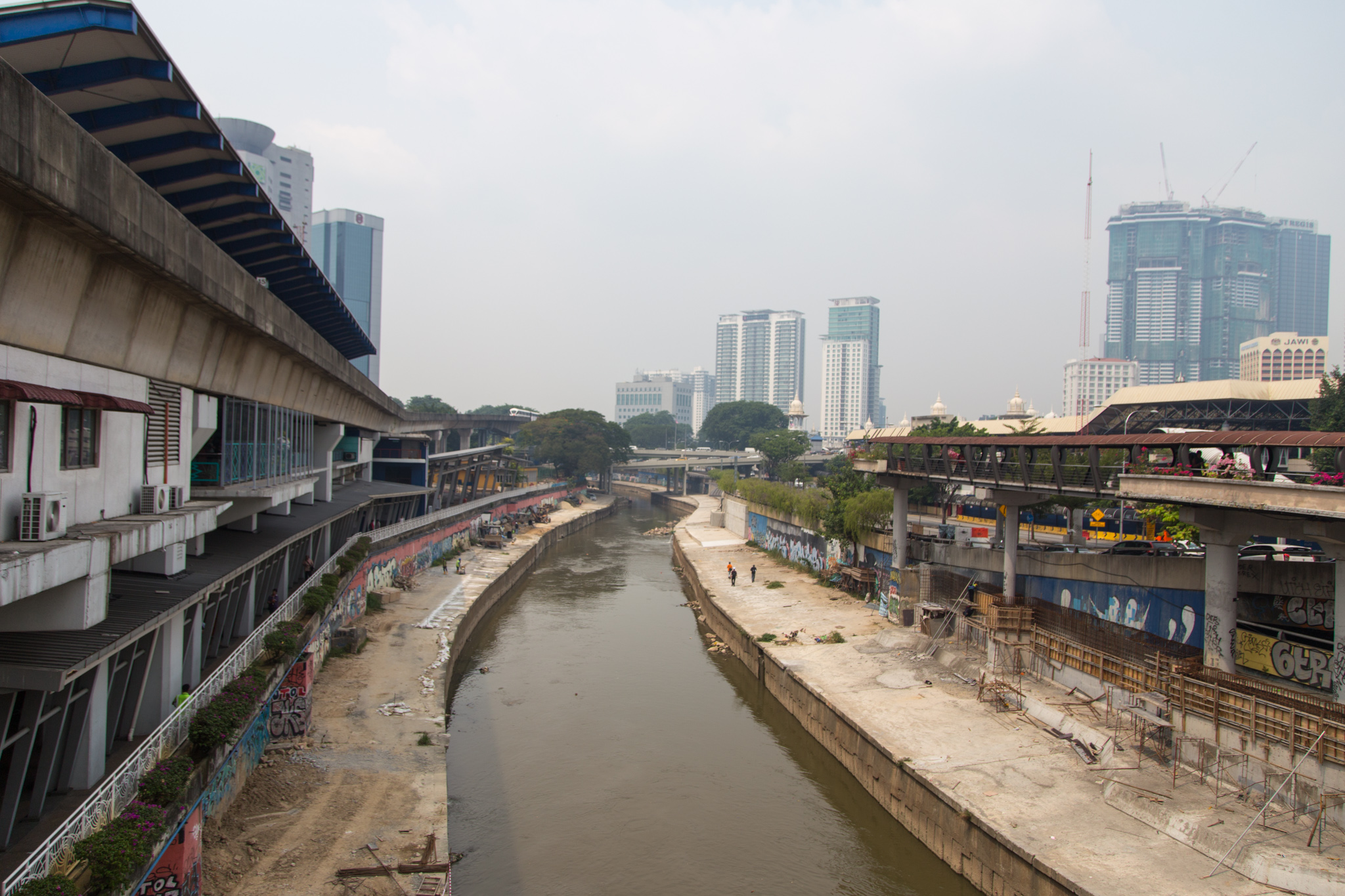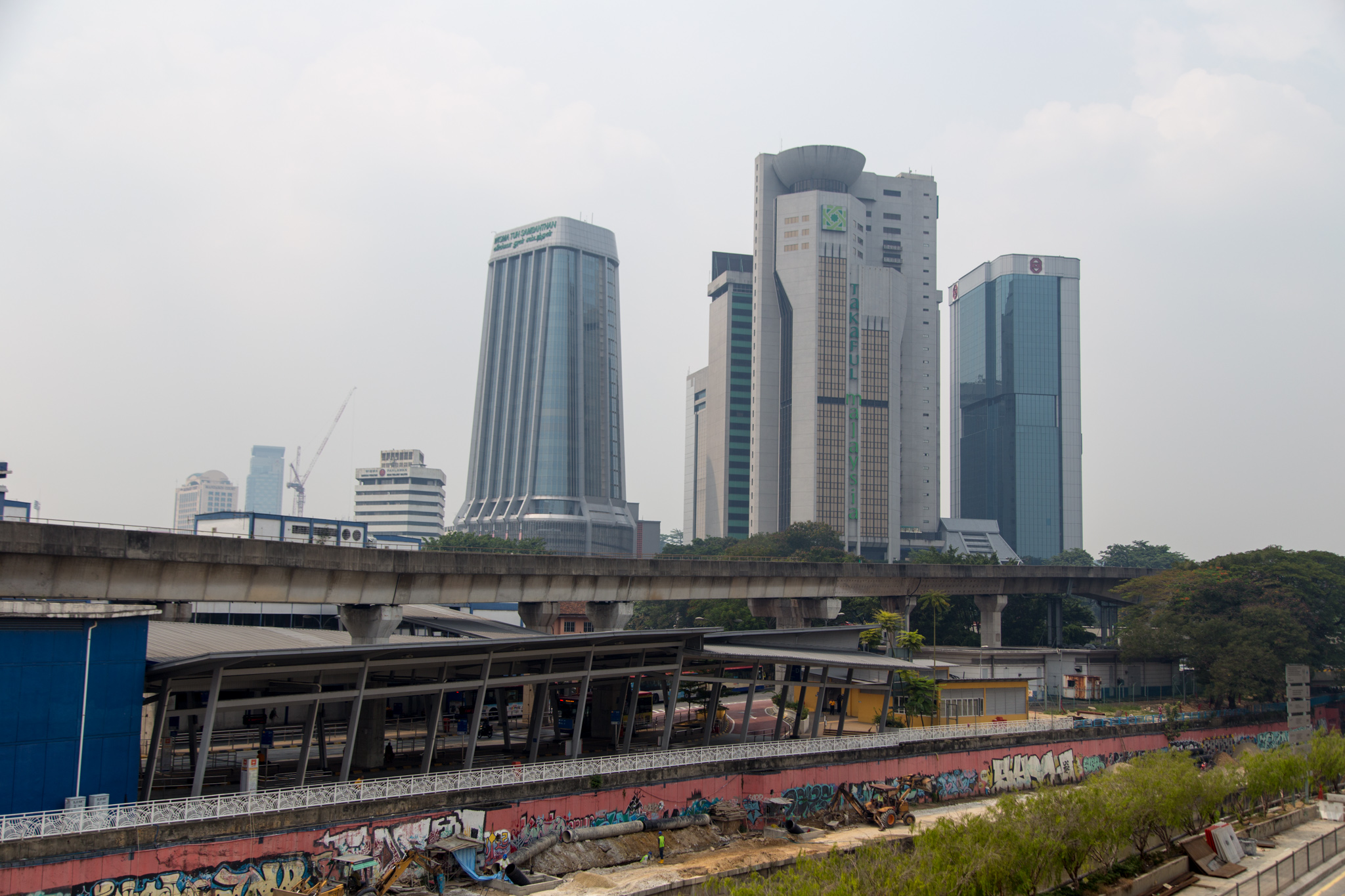 The main train station itself was designed by a very famous British architect who spent a great deal of time in British Malaya and designed a number of buildings that stand to this day – Arthur Benison Hubback.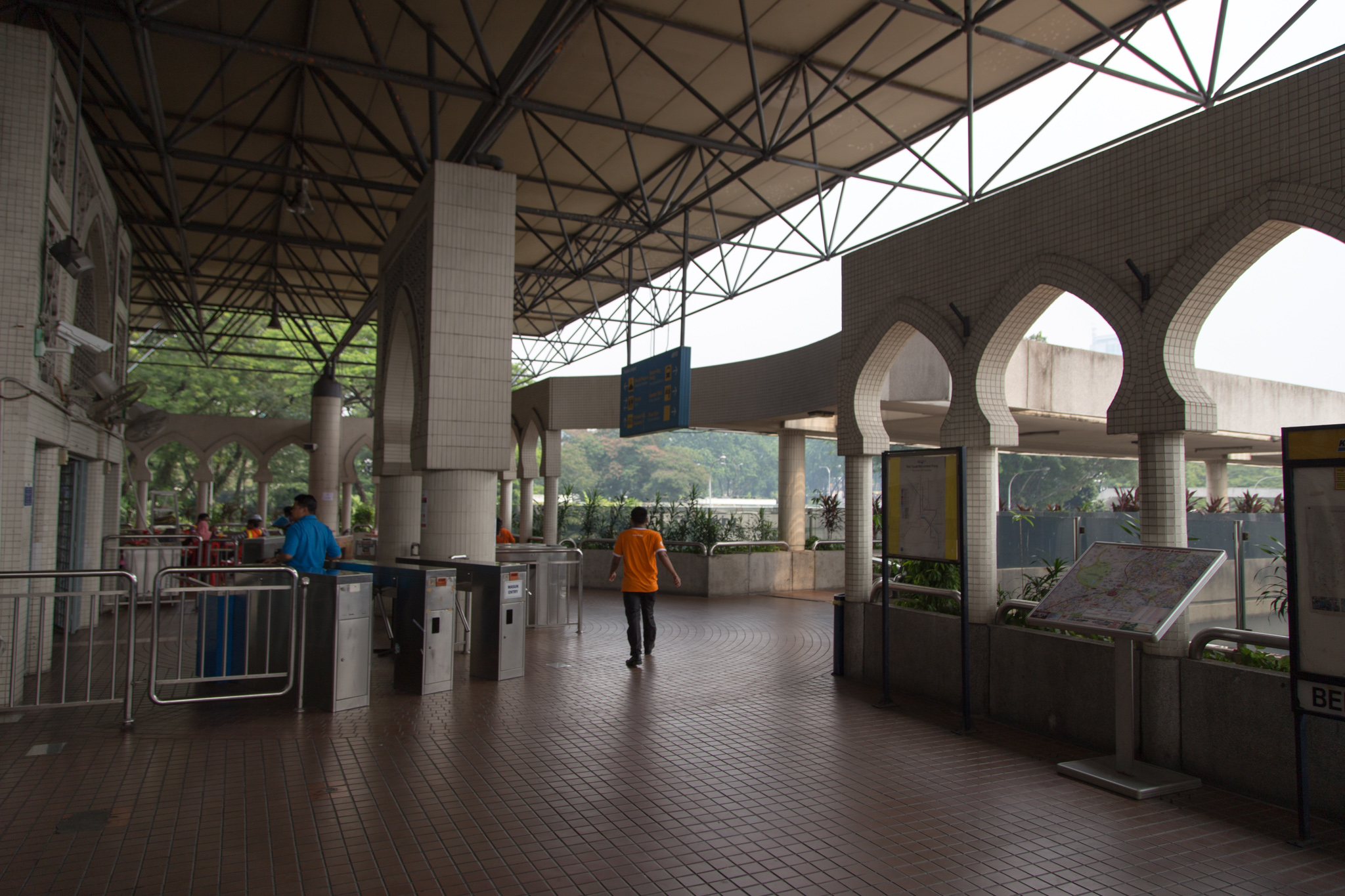 The ticket counters are just really cool.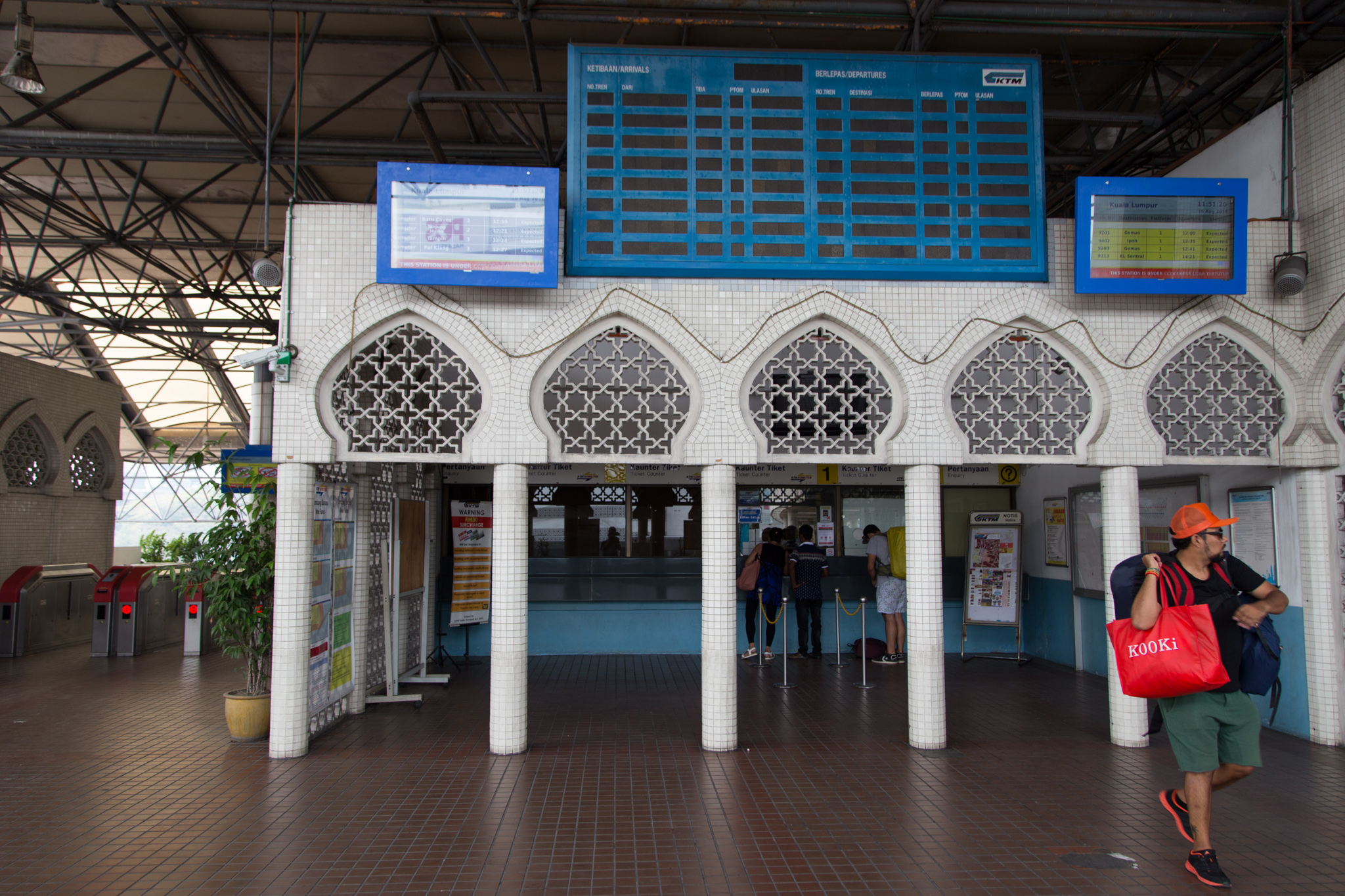 This is a building of the transportation company.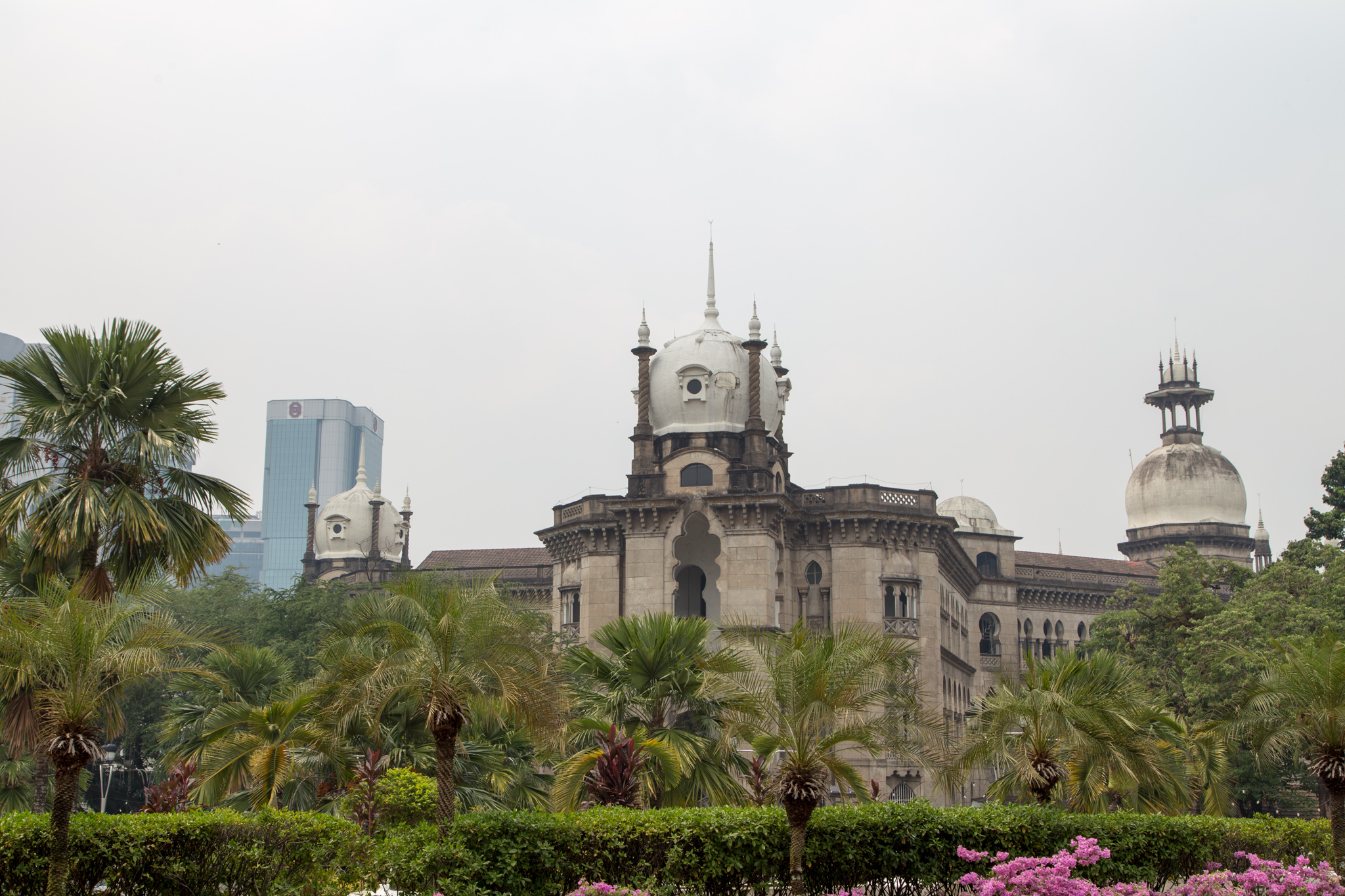 After walking around some extended amount of time more, I decided to go explore the principal attraction of KL: the Petronas Towers. It's really a spectacular structure, and although there is an abundance of glass and steel superstructures in KL, the Petronas Towers really stand out. Amusing side fact: turns out our office used to be on the 60th floor of one of the towers, but the employees complained that the parking was too expensive, so we ended up moving to the armpits of KL – great for local, terrible for tourists, as we used to be able to use the upper floor of the walkway for free. Oh well.
First off were the fountains, of course.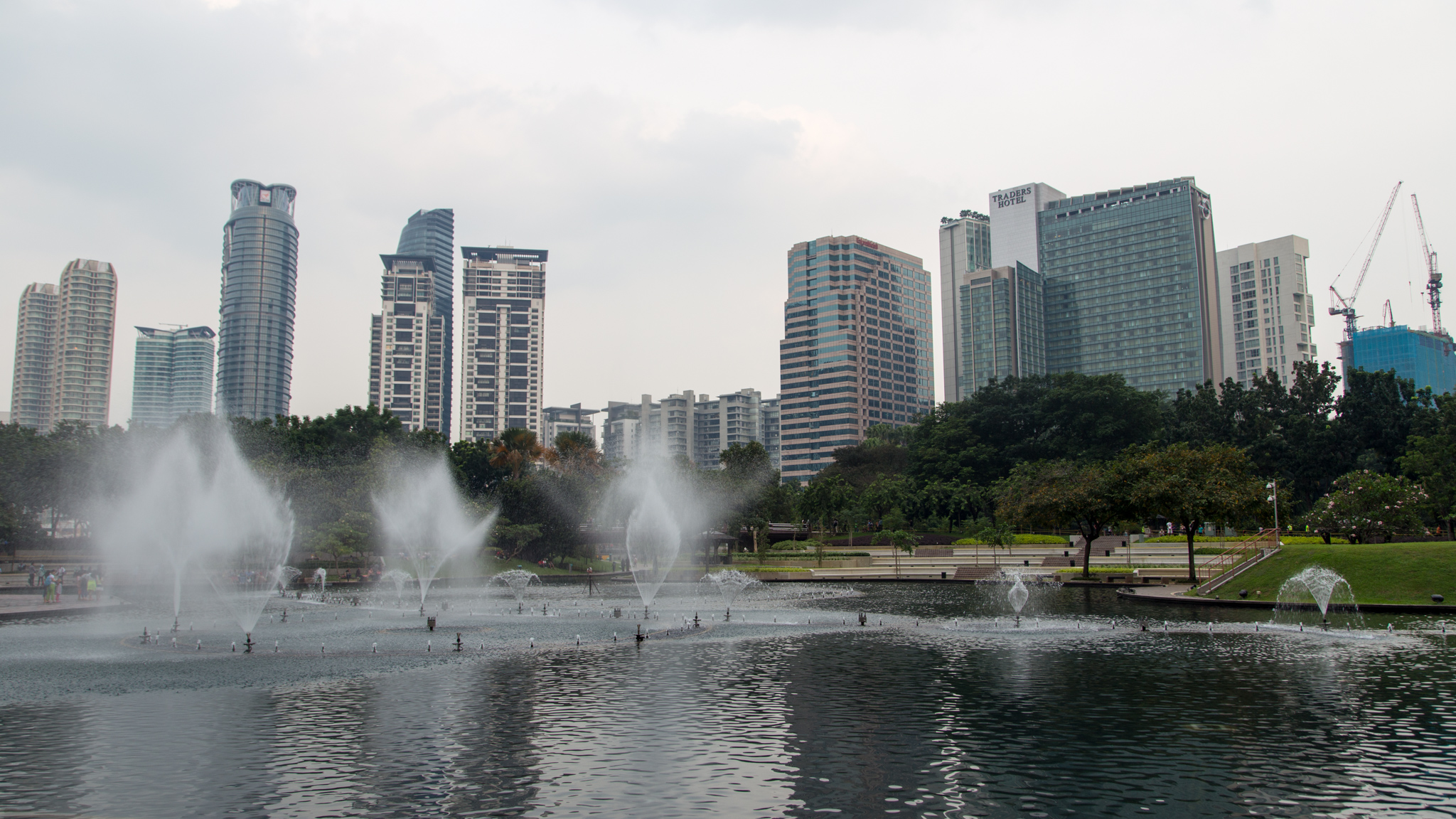 Next up were the towers themselves.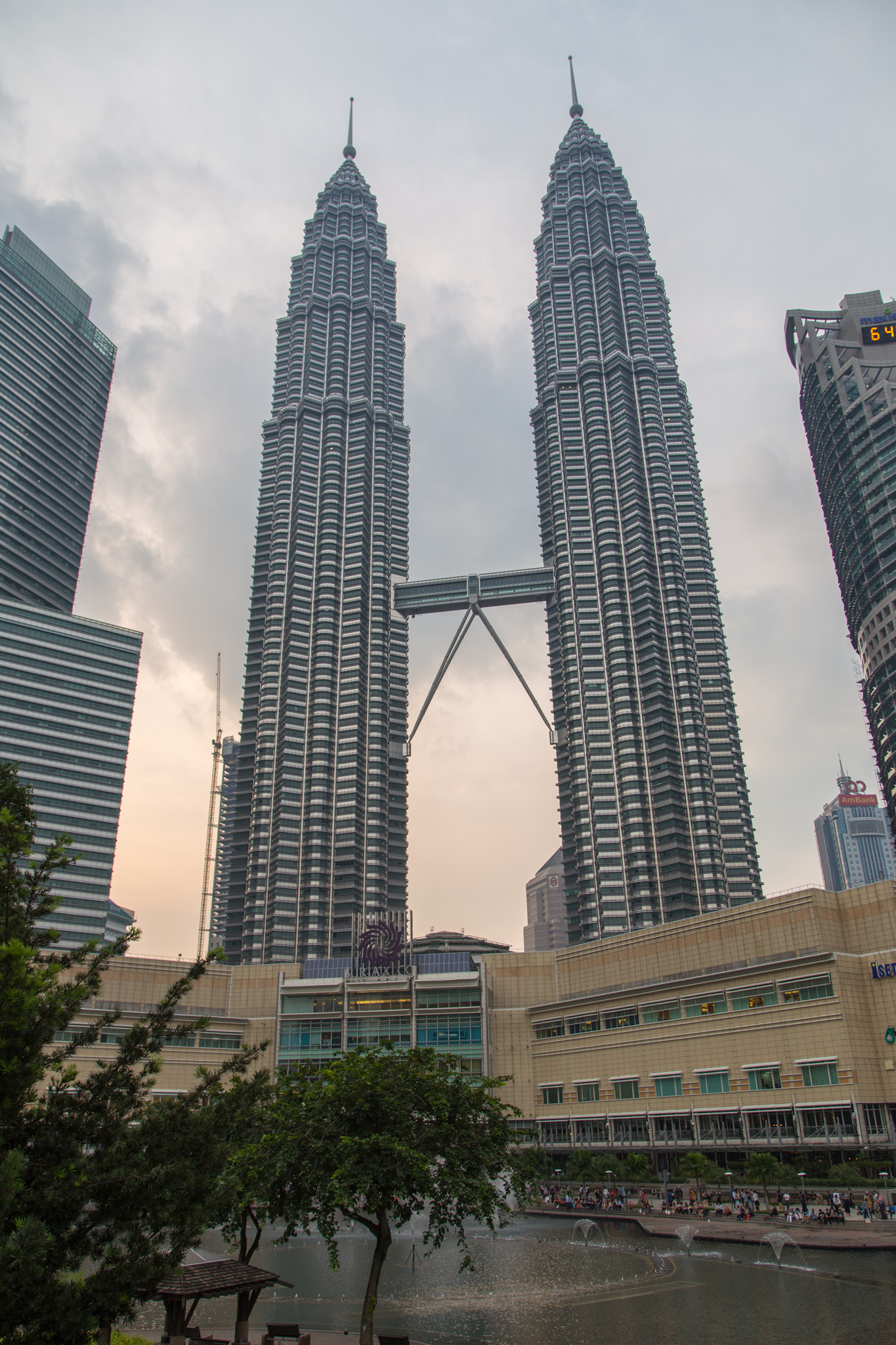 At this point, I was faced with a dilemma. I wanted to see the sunset, but it looked hopeless – the smog above KL was making a real sunset viewing rather improbable. My second choice was to view the Petronas Towers at night, so I looked around for a place to watch them from… and came across this place: a club called SkyBar, located on top of the Traders Hotel, facing the Petronas Towers directly. That seemed like a good choice, so I headed over there. 
It was a very peculiar installation, with a swimming pool in the centre that functions until 8pm, following which, assumably, the patrons are too drunk to be trusted to be in it (though oddly, they don't block it or anything, so I do wonder how often people wind up in it, intentionally or accidentally).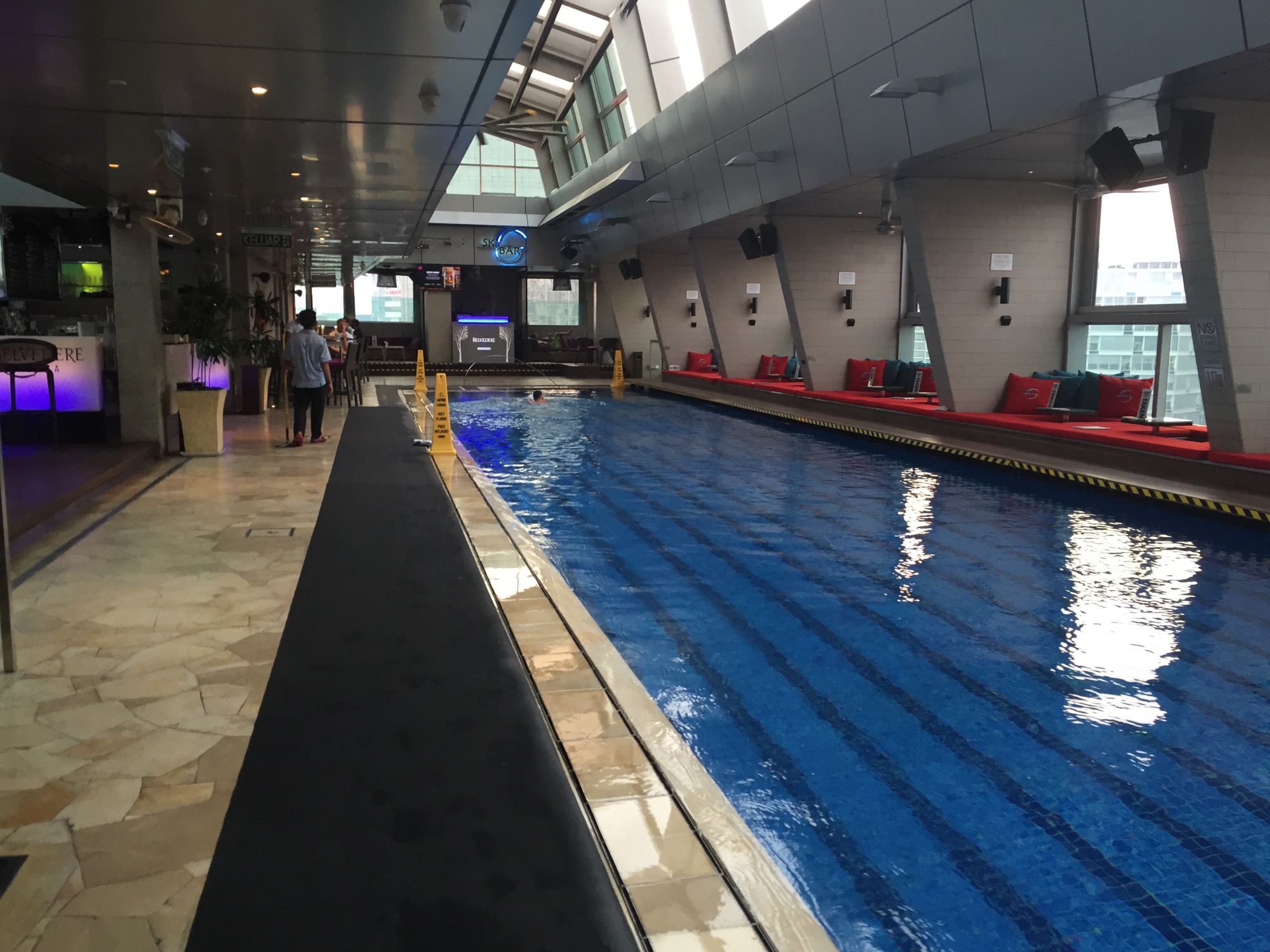 If you don't place advance reservations, you end up on the left side of this bar, with a view like this: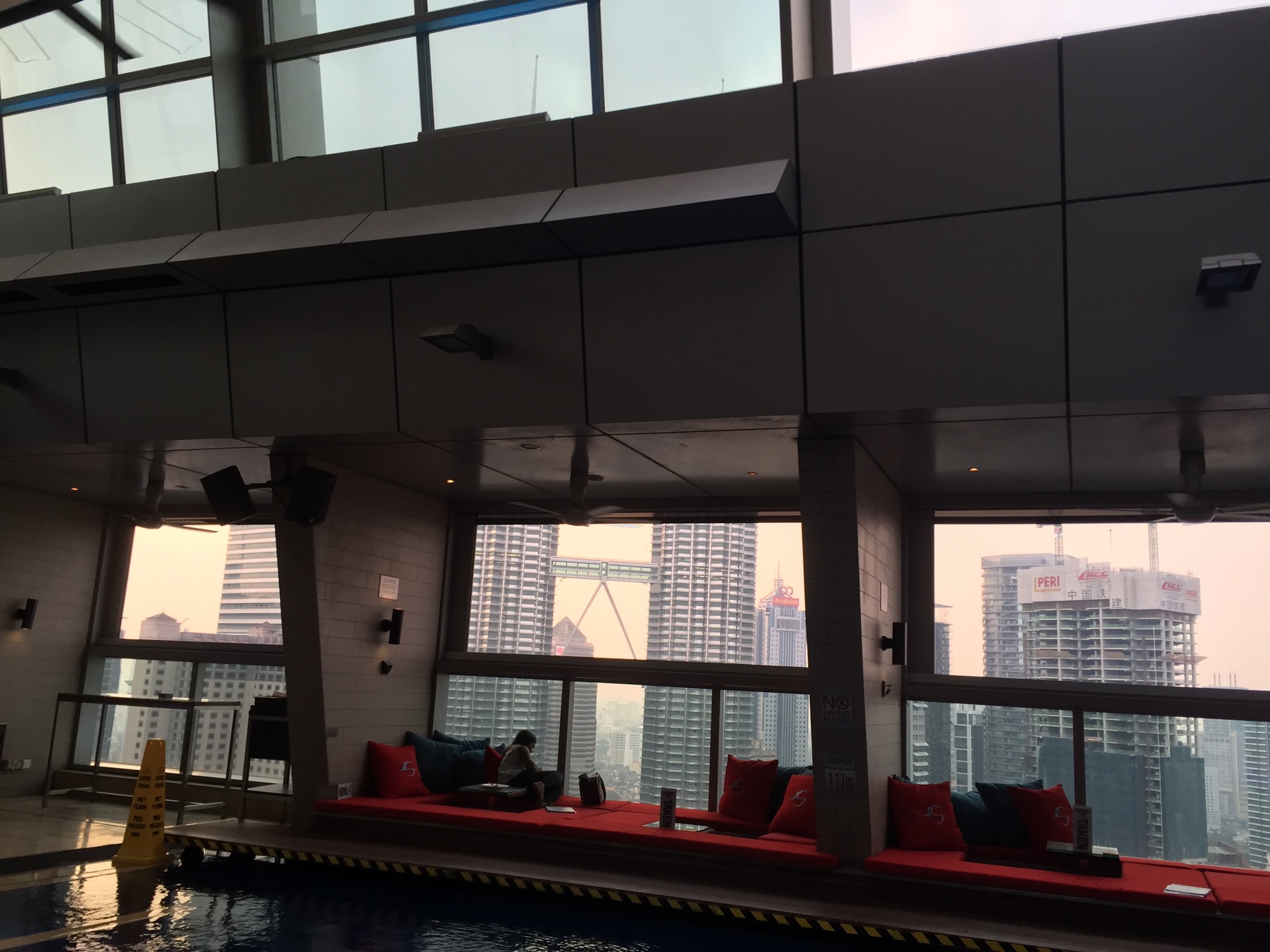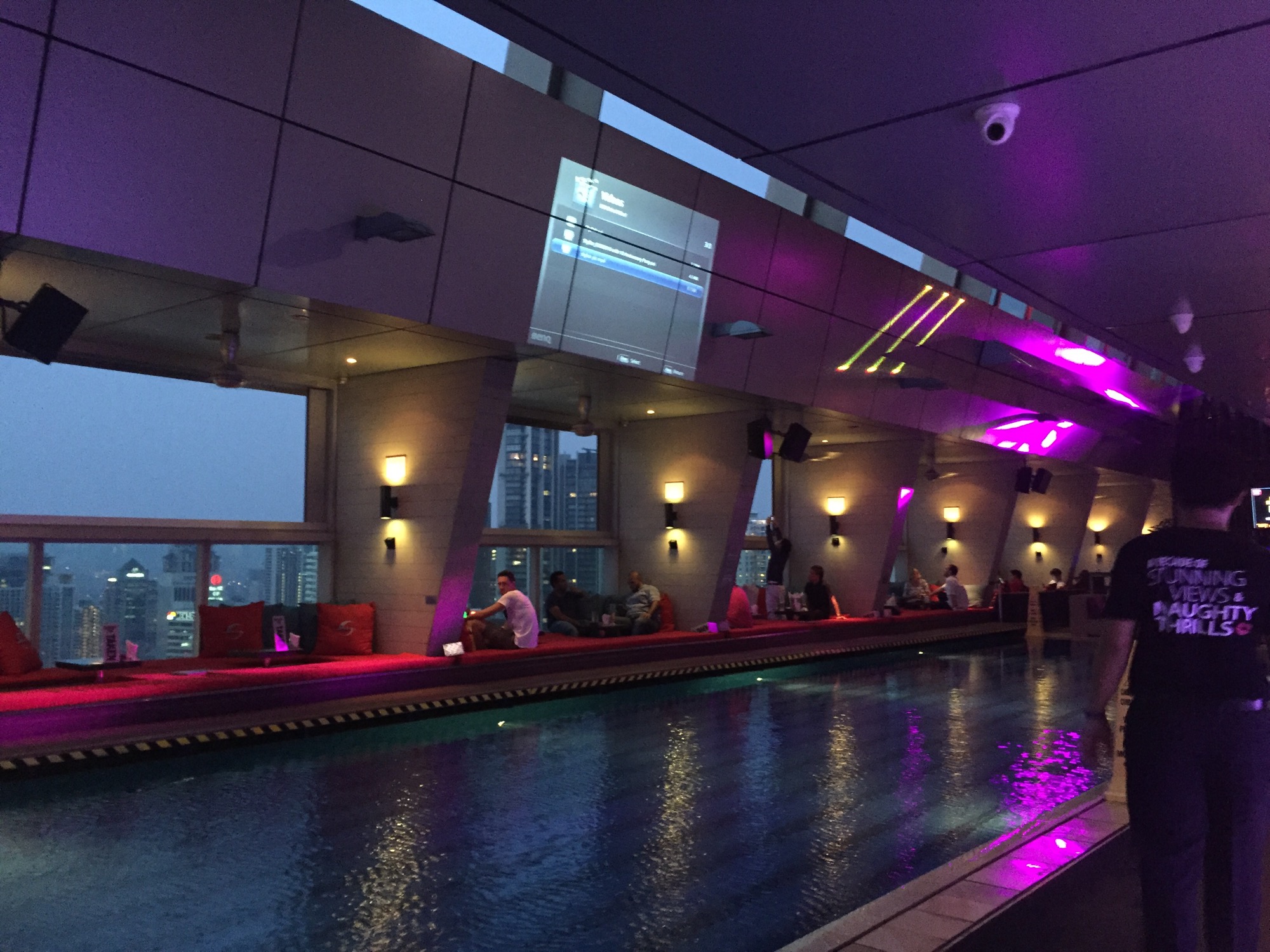 But if you do, you end up with a view like this: (do note the fading sun – the smog makes it completely useless to watch a sunset).
As the night goes on, the lights go out and the lasers go on.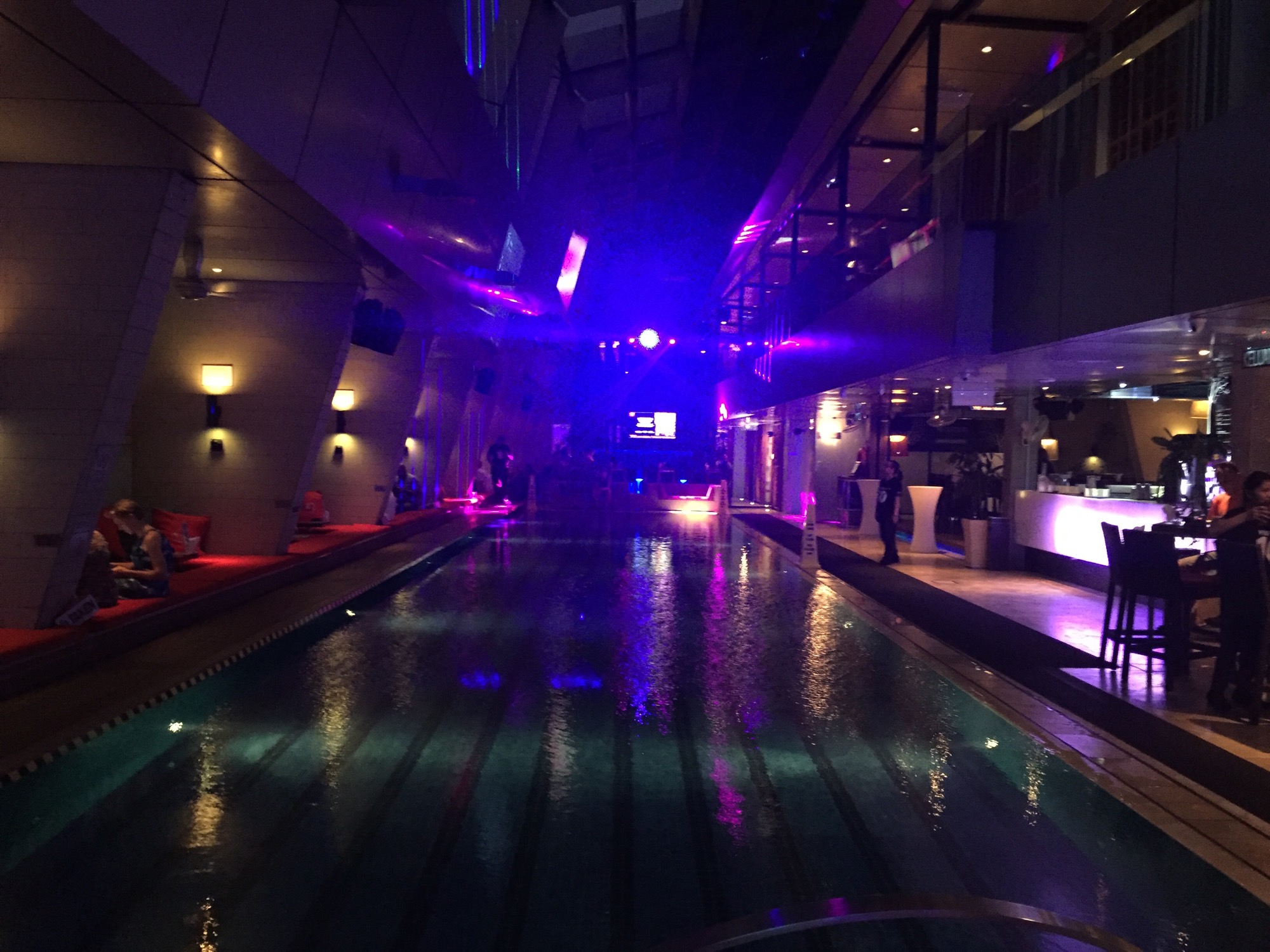 … and the view becomes ABSOLUTELY SPECTACULAR.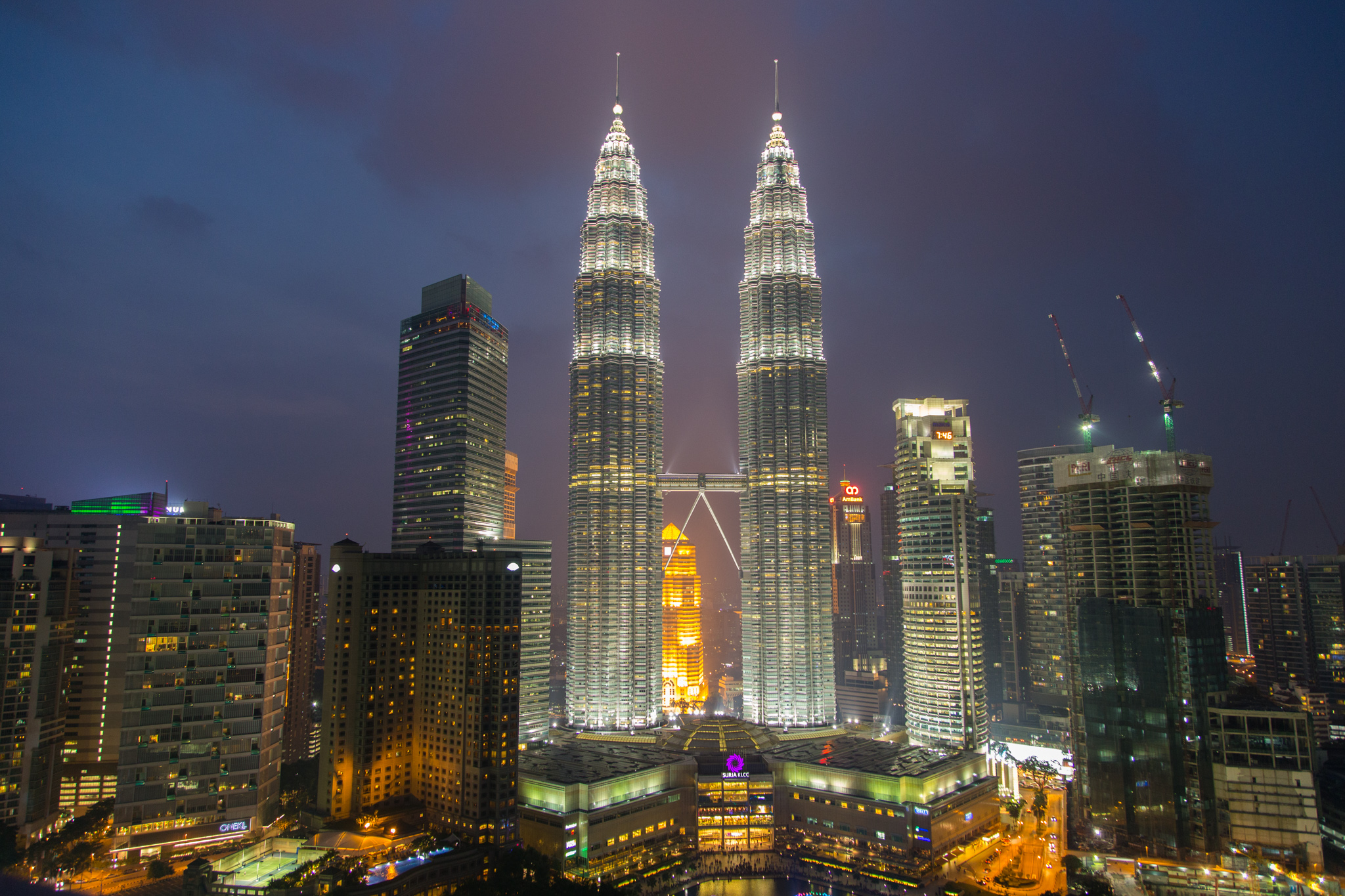 After watching this for a while and quite seriously enjoying the club music (the DJ there is really, really good – known fact), I decided to head out to dinner. A very well-rated and highly recommended place was called Opium, so after cabbing around for a while in late-night partygoer traffic, I arrived there.
I seriously cannot explain this sign. I did a double-take and had to re-check to make sure this was really a restaurant and nothing else, but it seemed legit.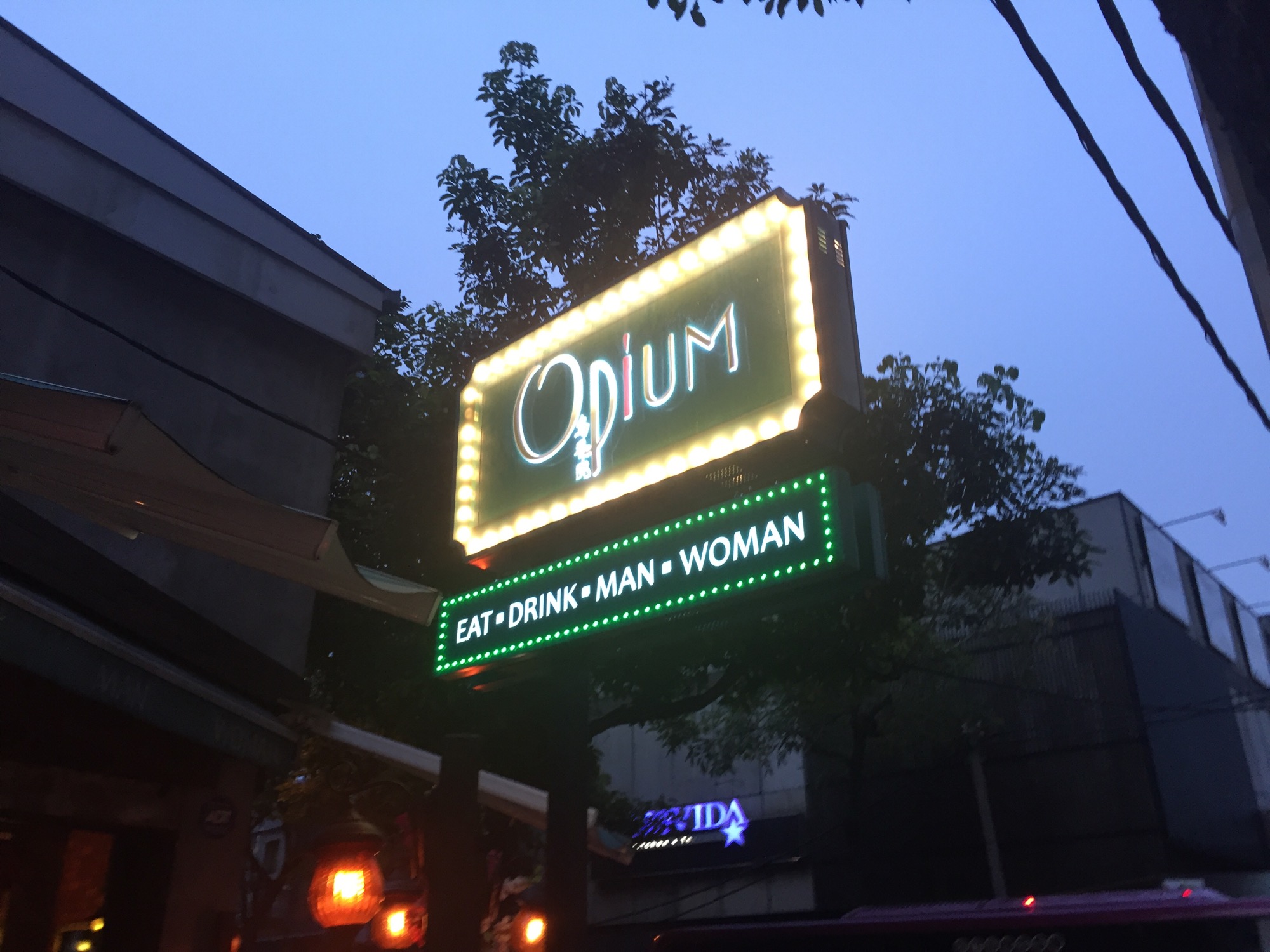 Managed to snag the last table outside!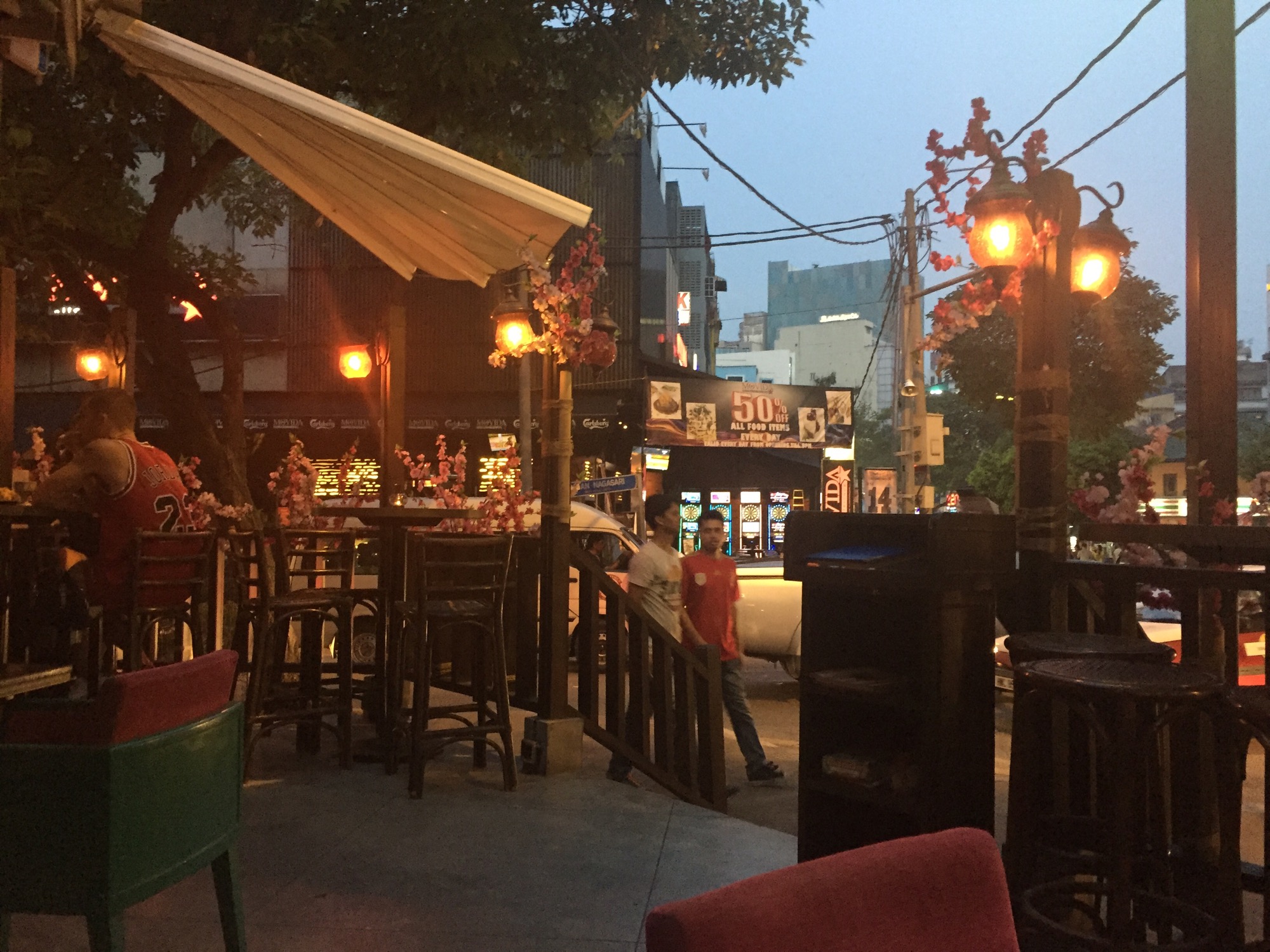 Menu was interesting, and certainly not expensive at all, for such a well-rated restaurant.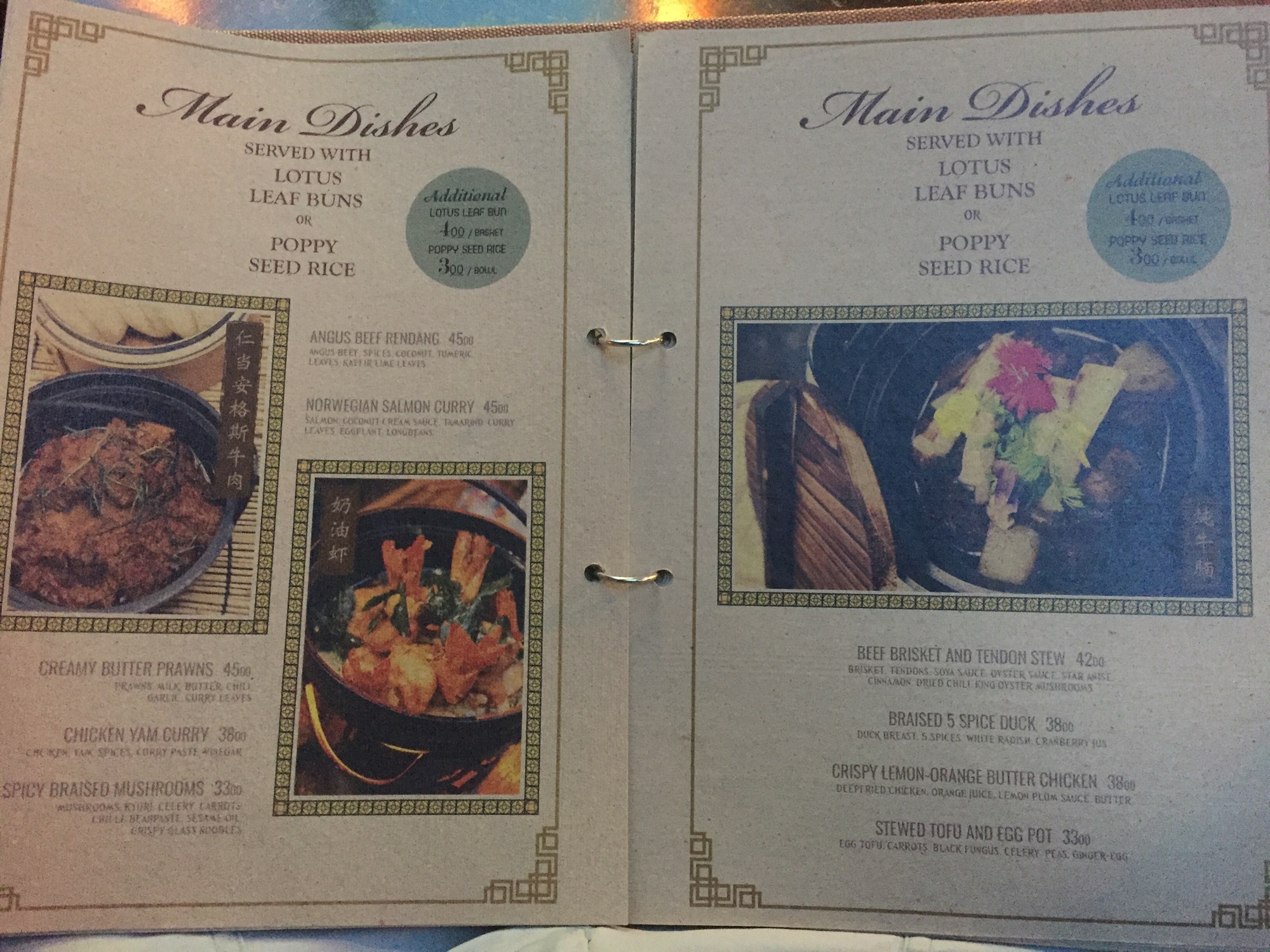 Beer was served in…. literally the coolest way I've ever had a beer served to me.
Fried cheese: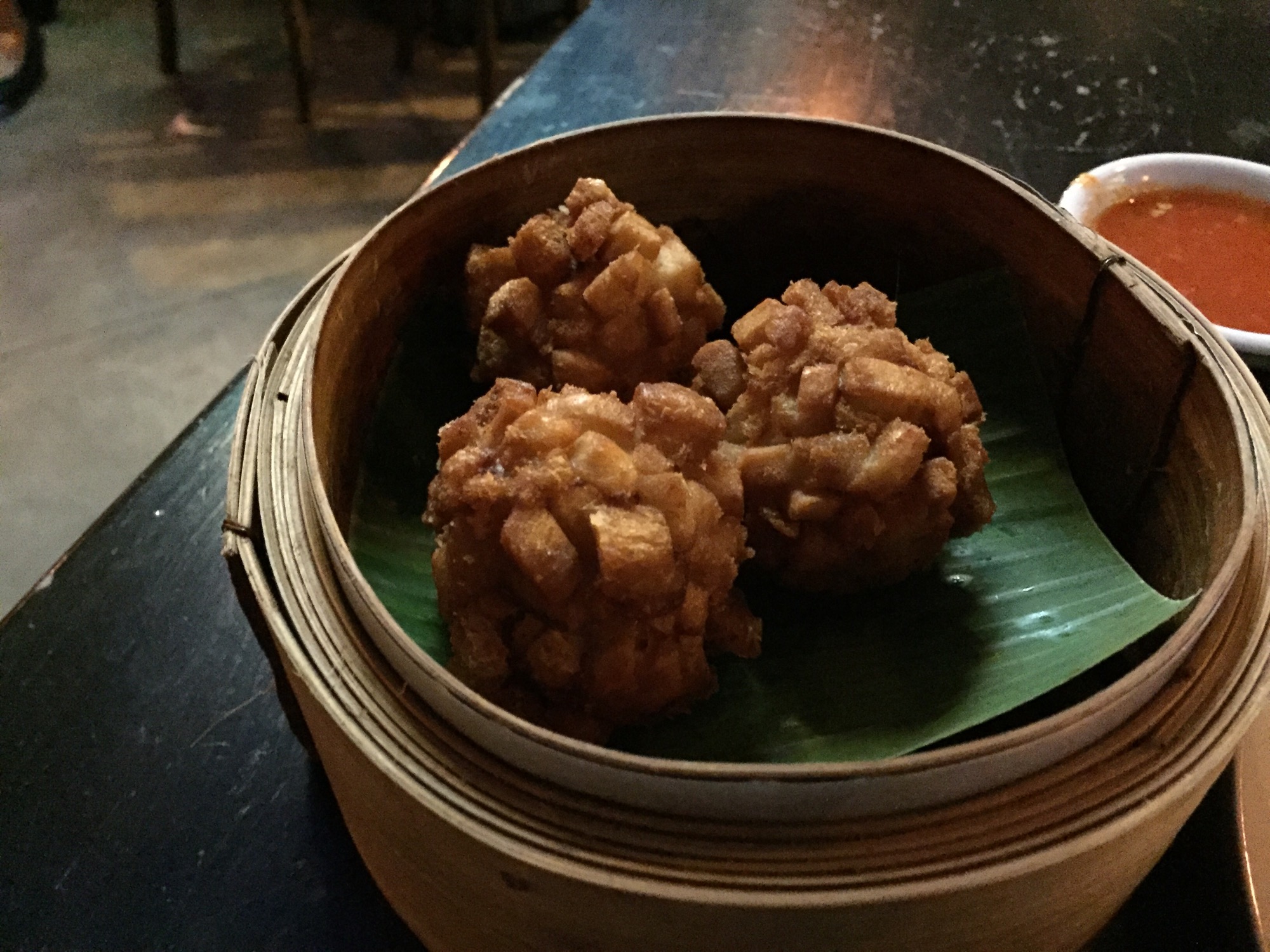 … and lemon orange chicken, one of the house specialties.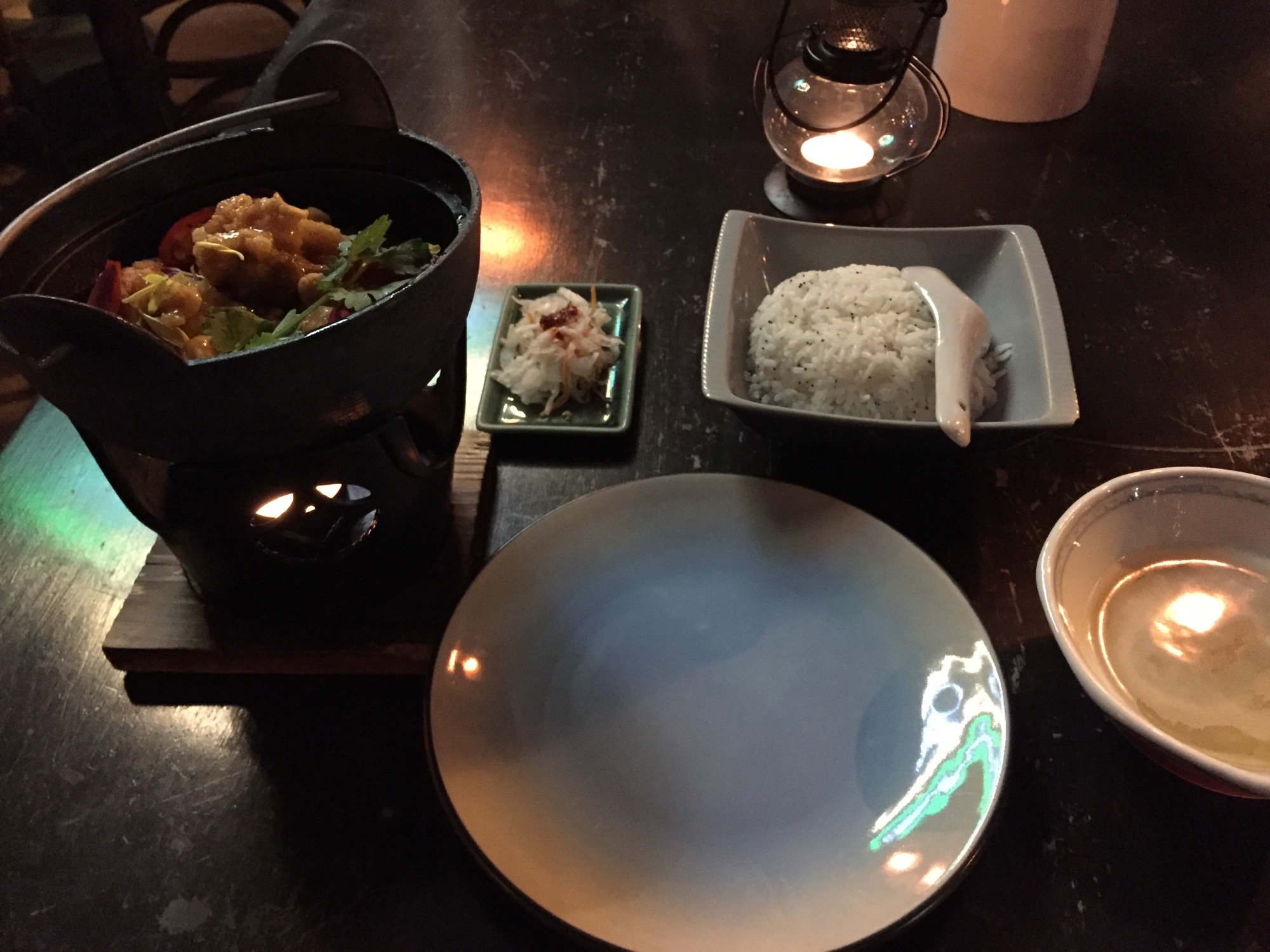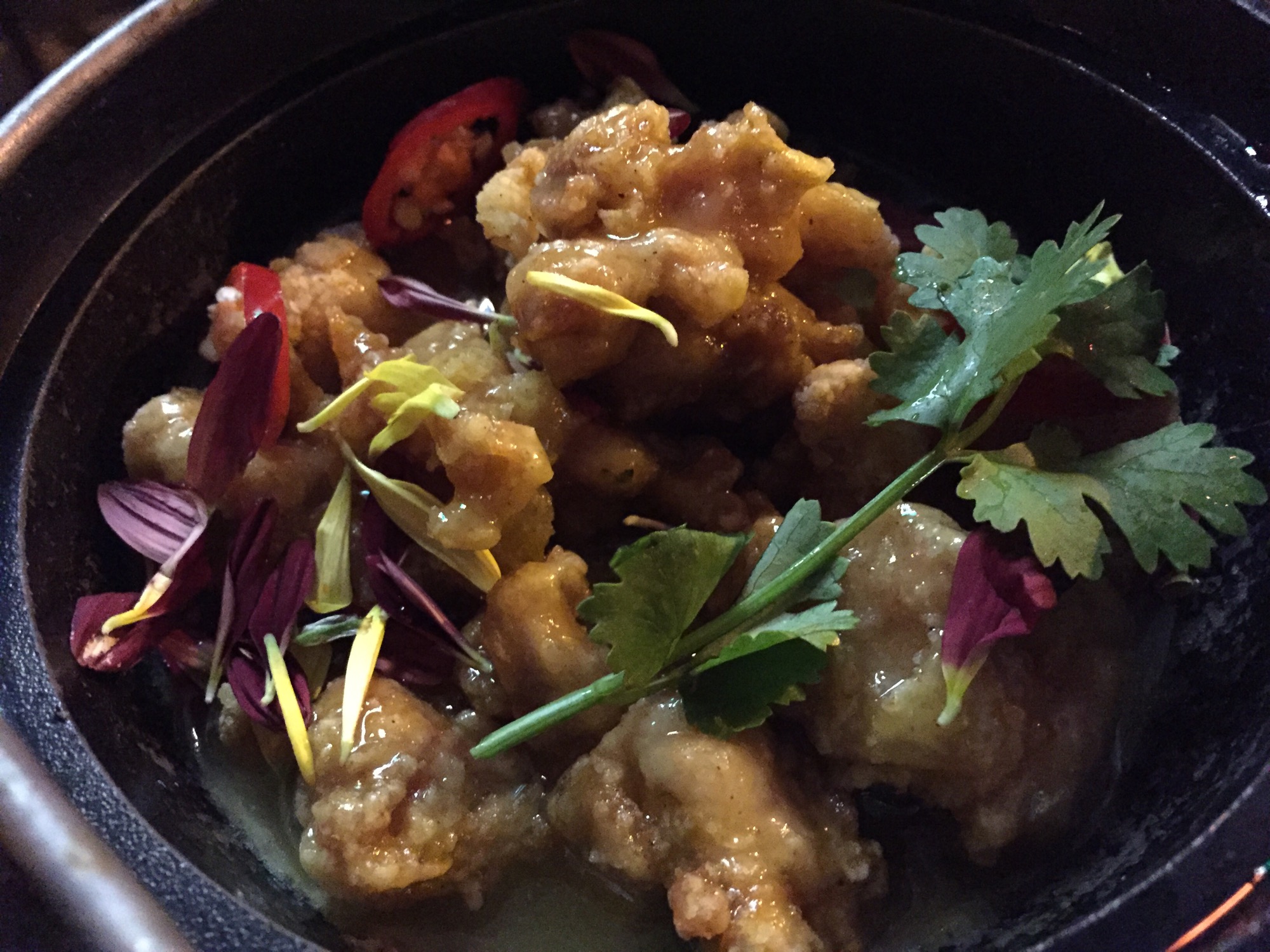 All in all, an absolutely spectacular meal, and it cost me less than $20 with beer and all. Malaysia really does have spectacularly priced (good) food.
Went back to the hotel after this to prepare for work; passed this odd sign on the way.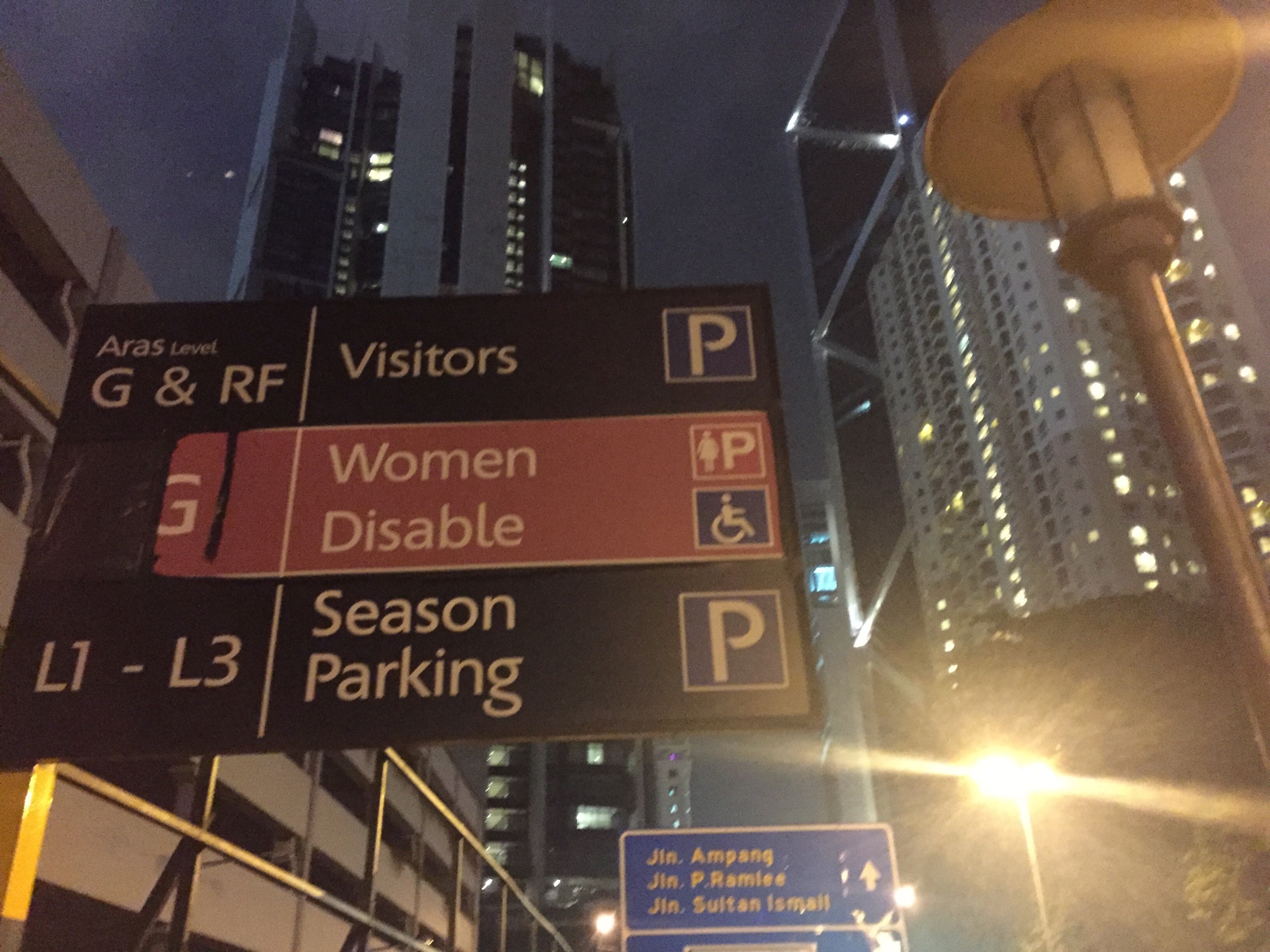 When I arrived, my nemesis' car was still there (the president of the Maldives… he's the reason the whole crazy story at the Intercontinental happened, but that's for another time). (Day pictures, since it's easier to see the car, but it was always there during off hours).