A bit of background is in order first. A long time ago, there used to be a really fun frequent flyer program called US Dividend Miles, courtesy of the now assimilated US Airways. Awards were well priced, but far more importantly, they were manually processed, which means if you could convince an agent that "Barcelona" was a South-American sounding city, then you could easily fly New York – Barcelona – Mexico, for instance. No checks were performed, and quite literally, if you got an agent that knew that Hong Kong was actually on the other side of the world from Honduras, you hung up and called right back, and here you go, round-the-world itinerary with stops in South Africa, Australia, South America and Greenland for good measure. It was basically like bmi's program, although a little bit less egregious (with bmi, agents were geographically incompetent and lax, so you could book a short economy leg, append a long first class leg, pay the short economy fare, then send your boarding passes for the first class leg, earn 300% mileage flown on those, and suddenly find yourself with more miles than you started with. A true perpetuum mobile for miles, but that died when BA bought them).
USDM also used to sell egregious amounts of miles. They basically had constant sales going on, where you could just buy whatever you wanted in more or less any amount. So I collected a few hundred thousand miles, and when they announced they were being merged into American Airlines, it occurred to me that the gravy train was about to end, so I blew all my miles away on a final trip with them.
Finding a destination wasn't hard, either. In December of 2013, the Intercontinental Koh Samui made a massive cockup, and accidentally put up their entire room inventory up for points – at 25,000 points per room, they put up everything up to the presidential 3-bedroom villa. The Internet (well, FlyerTalk anyway) went wild, and I booked a 5-night stay in December in Koh Samui in a mix of presidential suite, standard room, and all sorts of things in between. While we waited with bated breath on what would happen, a completely amazing thing happened: a guy reached out to me out of the blue, and told me he had a single block of 5 nights in a two-bedroom villa that he wasn't planning on using, so seeing as I seemed to be there on similar dates, if I wanted to, I could just take his reservation – and he wouldn't take any points or compensation for it. So I literally ended up with five nights in Koh Samui completely free. The Internet is a wonderful thing.
So I phoned up USDM customer service. Bangkok fell into zone 2, where you needed 160K miles for first class, and Hong Kong fell into zone 1, which needed only 120K. Normally, a stop in a more expensive zone required more points (obviously); however, this is USDM, where the concept of "normal" is somewhat different from anywhere else. So I confidently told the agent I'm going to Hong Kong, and oh, btw, I'll stop in Bangkok along the way, but yeah, Hong Kong (leaving aside the fact that I was going to be in Hong Kong for two days, and in Thailand for seven). She sounded somewhat dubious, but ended up booking the whole thing anyway, for 120K miles. We were going to fly Swiss in business to Zurich, spend about a half day there, then on to Bangkok on Thai First (probably my favourite airline in first class), then some more Thai to Hong Kong and back to Paris, then schlep it in Air Canada business back home. The only hitch in the plan was that the boy only got a business seat on one of the segments; but another completely amazing thing happened here. After US left Star Alliance, they were no longer able to modify old tickets. One day, a seat opened up in first class on Thai; but of course, USDM could not make any changes to the ticket. Going for broke, I called Thai's US ticketing office and told them that we had a minor sitting alone in business, while award space was available in first – anything they could do? To my utter surprise and shock, they flipped his seat to first class, told me to call USDM to reissue the ticket, I did, and all of us were now sitting up front. Seriously, I cannot say enough good things about Thai Airways.
Anyway, this very long introduction aside, first we were off to Zurich. Funny story: despite always pretending like I'm a regular wherever I go, I get caught off-guard at the most random times. I sat down in my seat, and noticed that someone forgot a tuque. Argh, I thought. Terrible Montreal cleaning crews as always. So I raised my hand to flag a flight attendant, and just as I did that and locked eyes with one, my attention turned to the neighbouring pair of seats, and it suddenly dawned on me that every seat had a tuque. Shit! At that point, the FA walked up to me, and I feebly started saying something about thinking that someone forgot a tuque, and he looked at me somewhat patronisingly and said, "that's our seasonal business class amenity kit." Crap. So much for being a regular.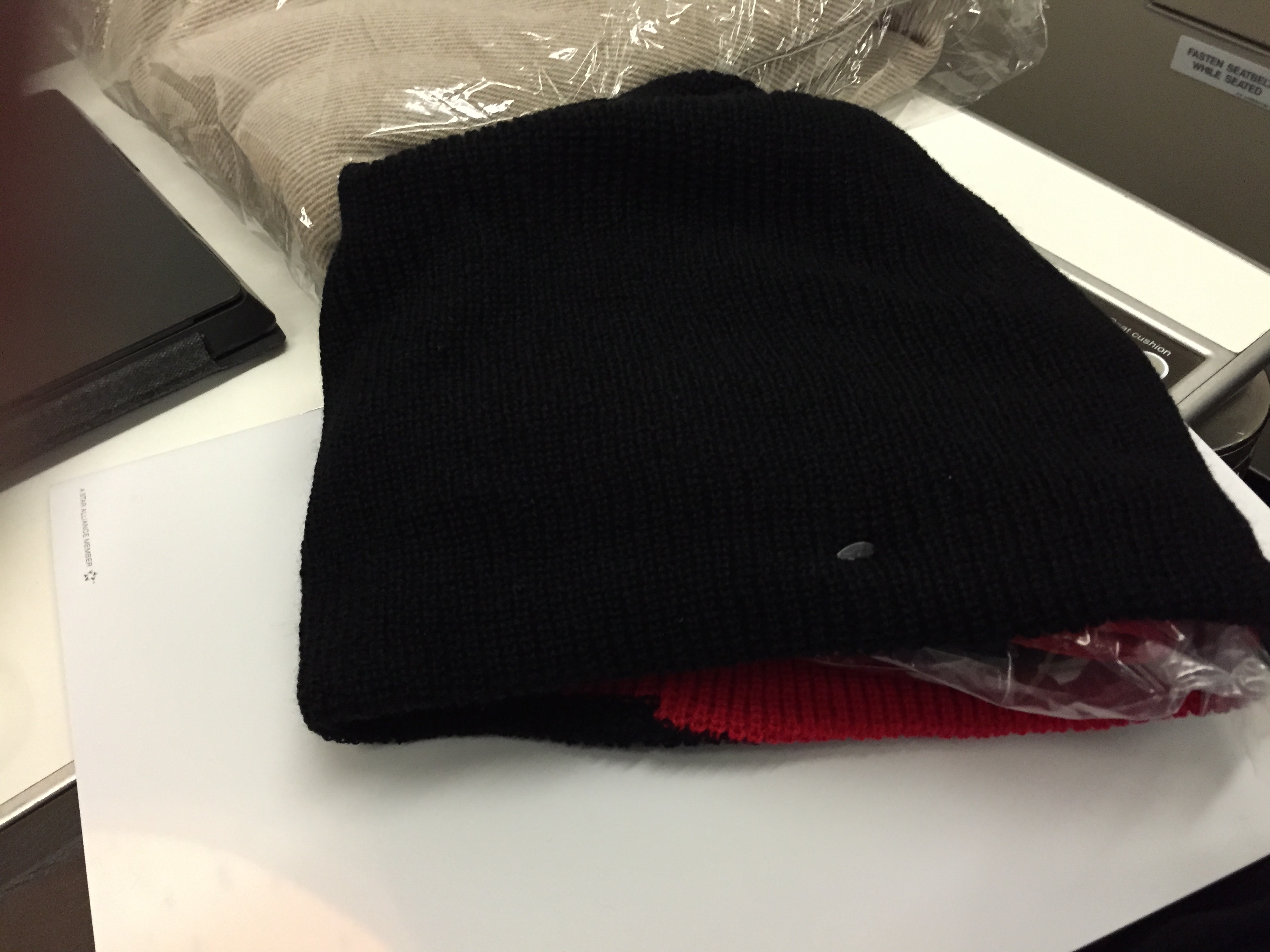 Food on the flight was typical Swiss fare; I never liked food on Swiss (in part, because they bring it out on a plastic tray – at the risk of sounding like an over-entitled ass, I don't think it's in any way appropriate to serve stuff on a cafeteria tray in premium cabins).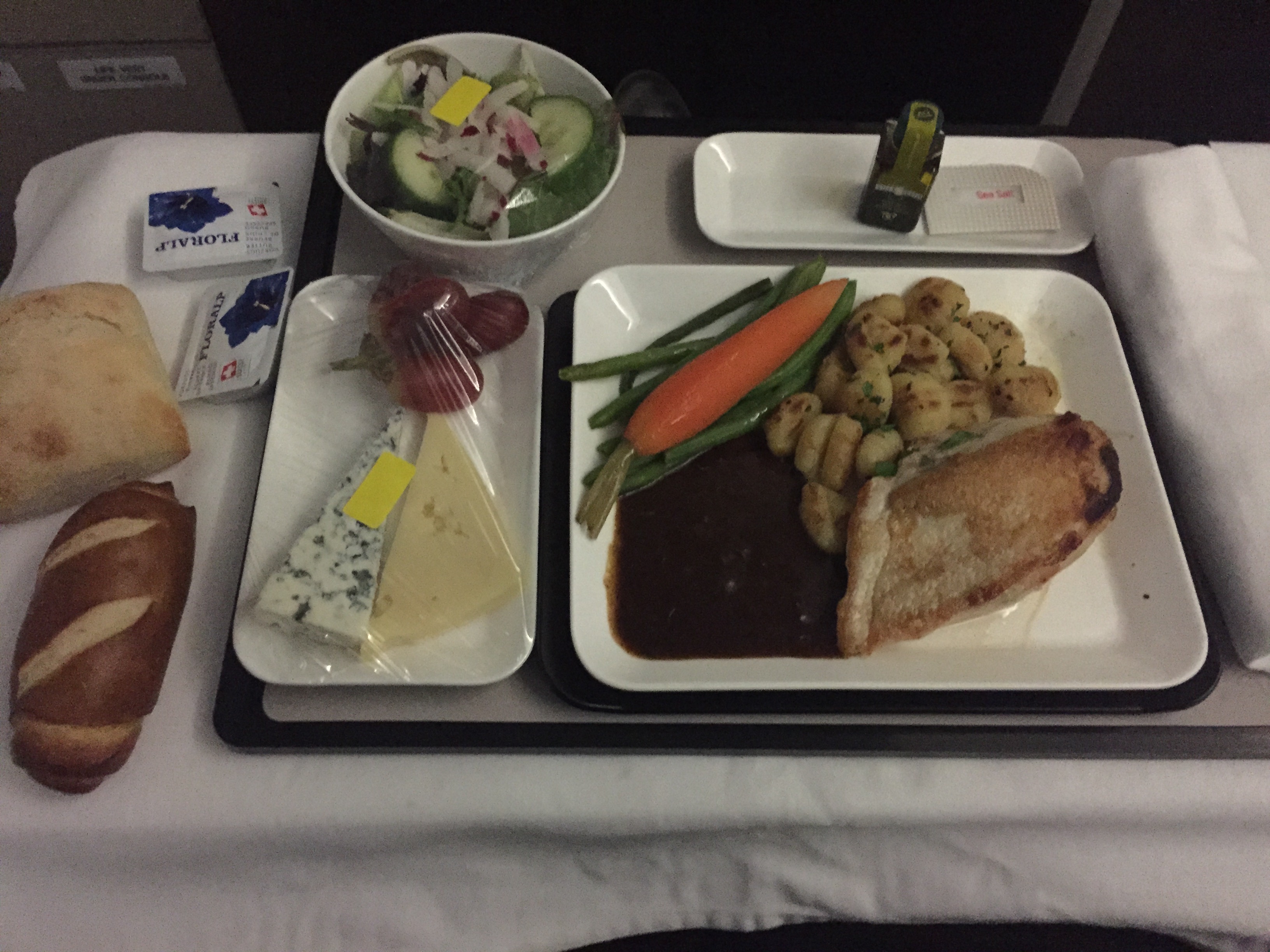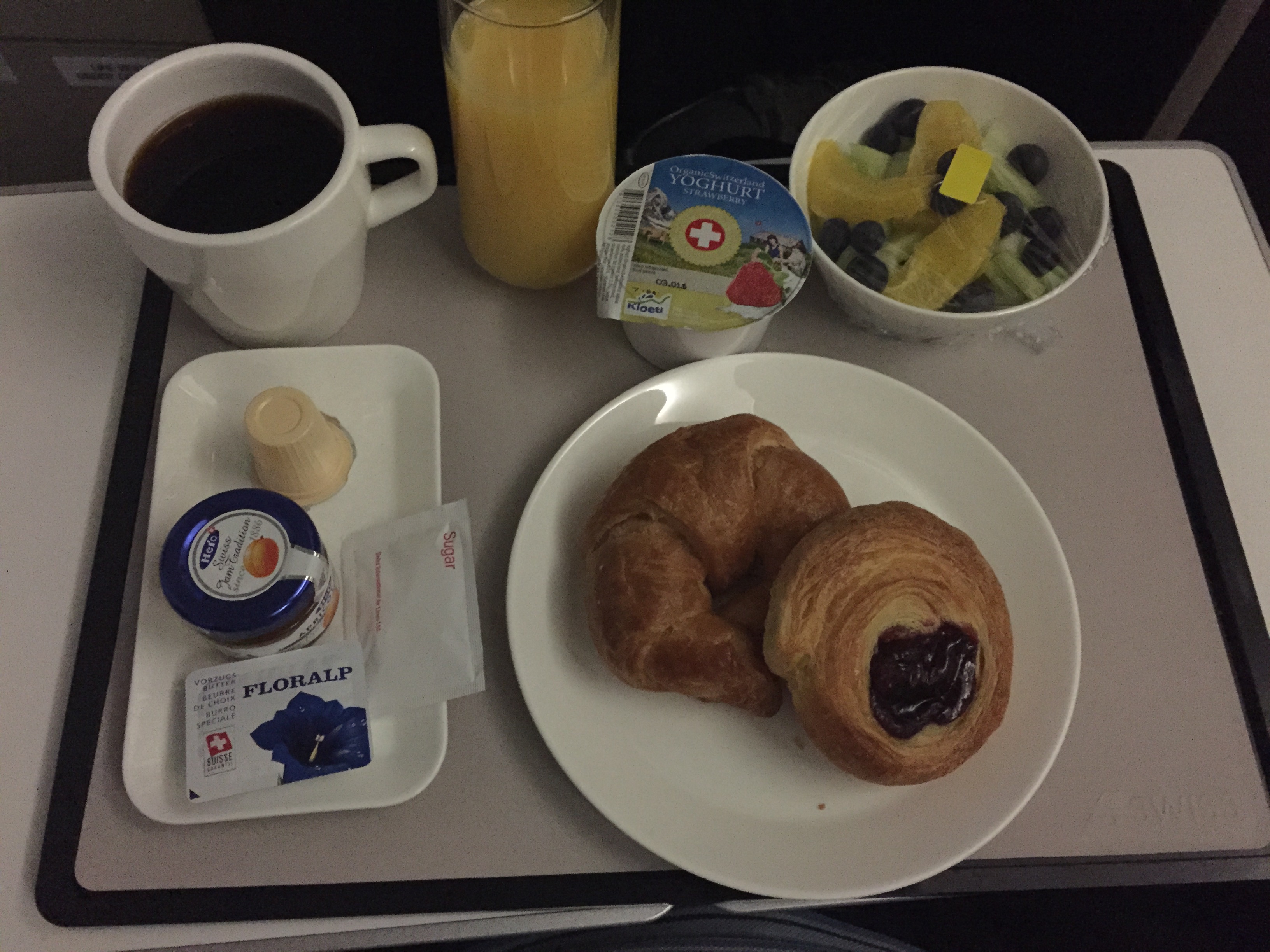 We landed in Zurich at 6:20am; I should mention I absolutely hate the timing of this flight. Departing at 17:30 and landing at 6am means the flight is barely 7 hours long, and that means you land just after midnight Eastern time; this is normally the time to go to sleep, but since you were flying overnight you probably napped for an hour (considering you ate, etc). So it's a great way to feel awful. I much prefer the Lufthansa Munich flight, which leaves at 9pm and actually gives you a sort of night's sleep.. but anyway. Our connecting flight was at 13:30, so we decided to go hang around the city. Considering you can actually take a tram from the airport to the city (in about 40 minutes), the actual train takes you there in about 15, so for an almost 8 hour layover, we figured it was sufficient time to go bum around.
The airport was very, very dead at 6am.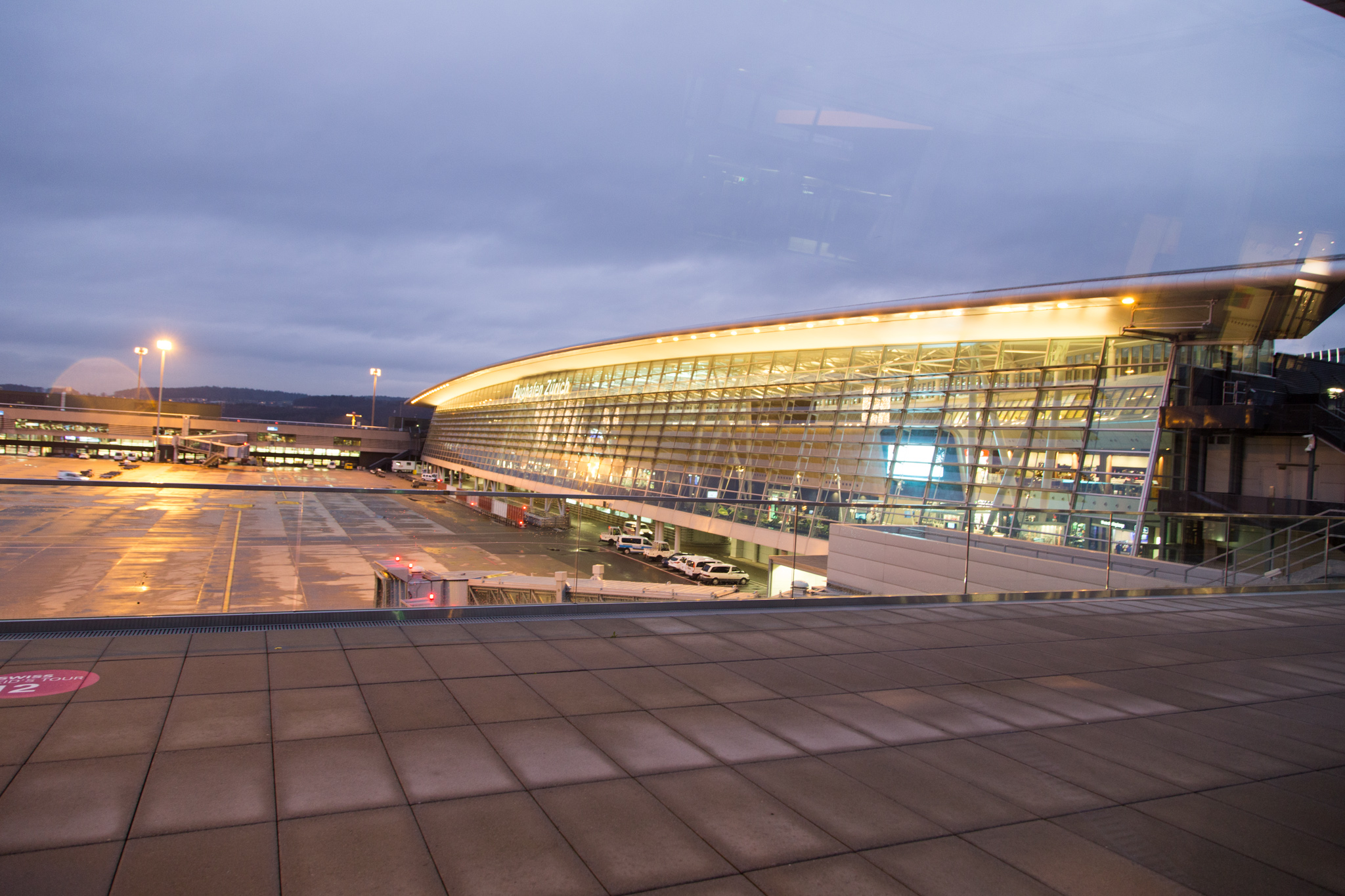 A family of fresh arrivals. Who knows what their next destination is… and in today's severely self-centered world, who even cares?..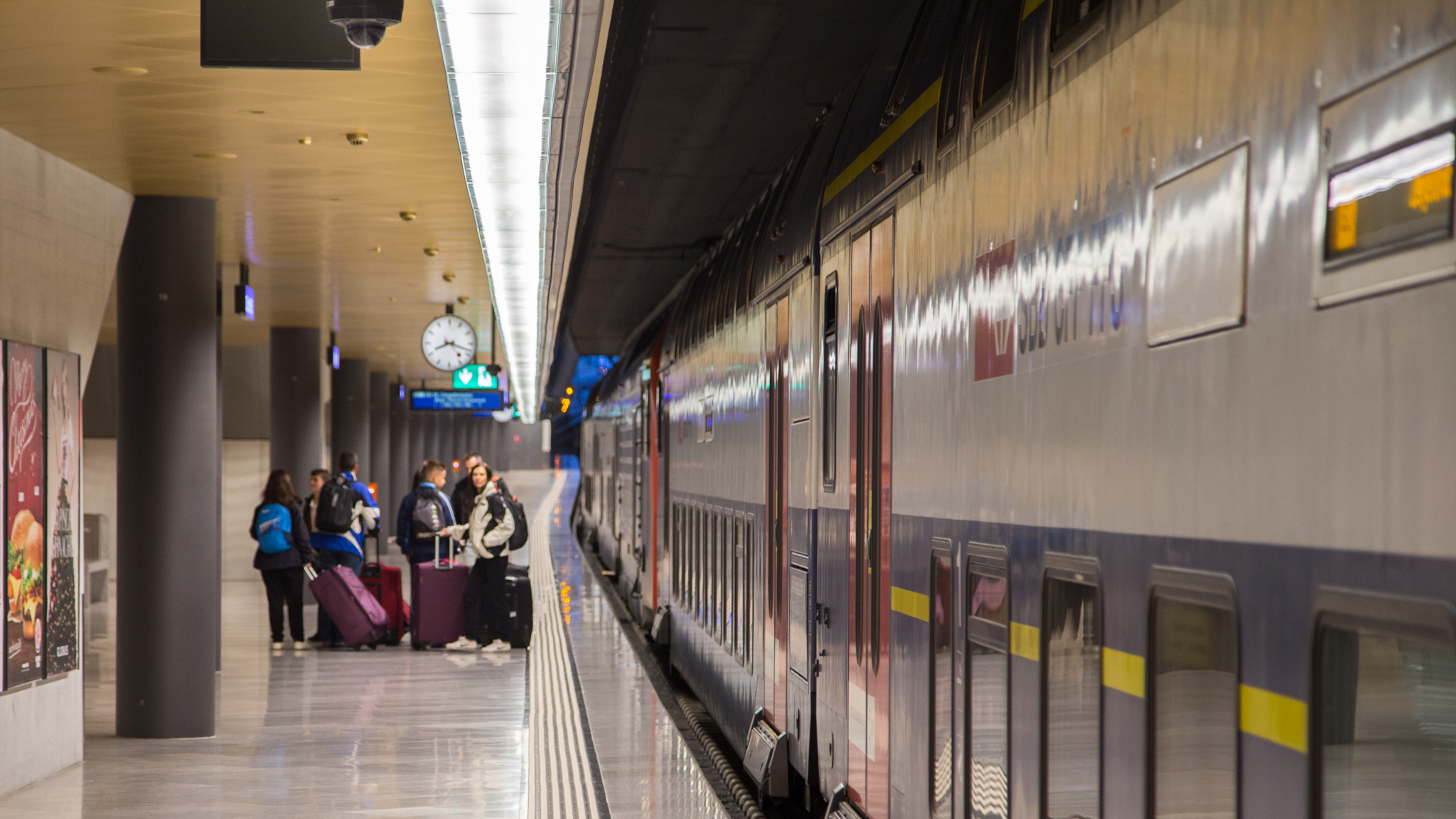 Getting to downtown took no time at all. The city was just waking up, and people were slowly starting to go places. We left on a Thursday night, so this was Friday, a working day still.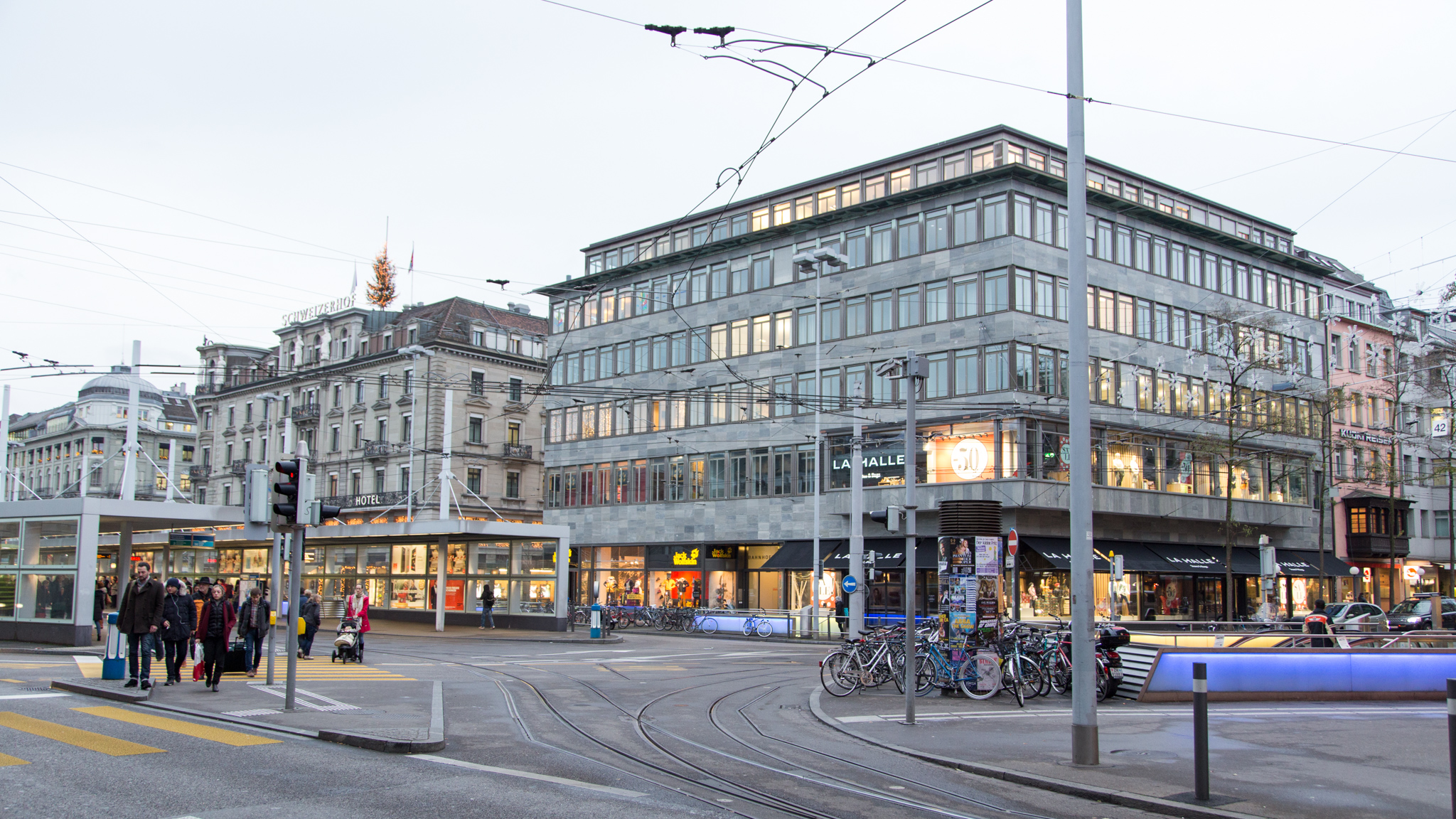 As in every major European city, a river flows through the centre of it.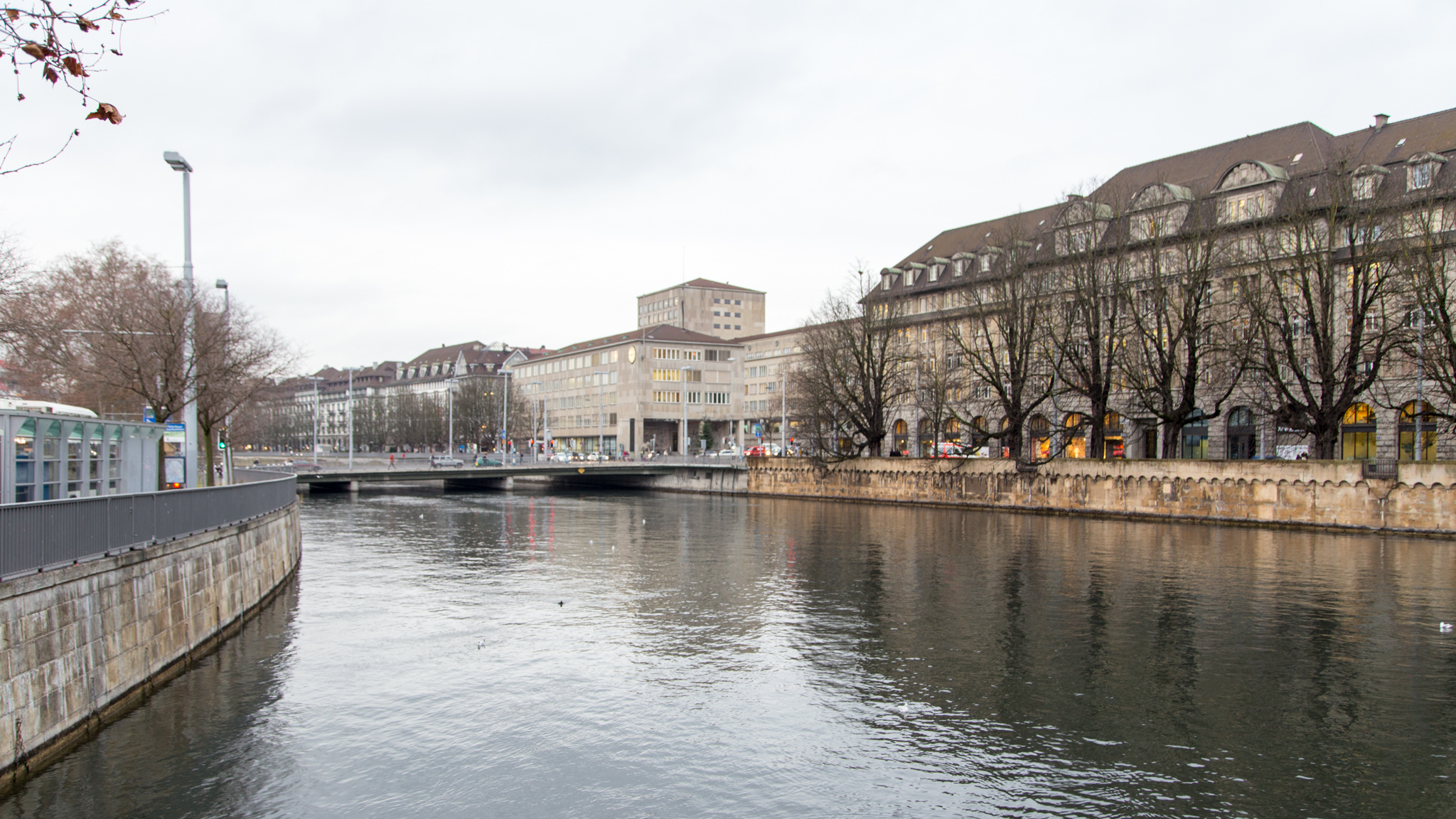 Switzerland is very fond of its street cars, and all cities seem to have them.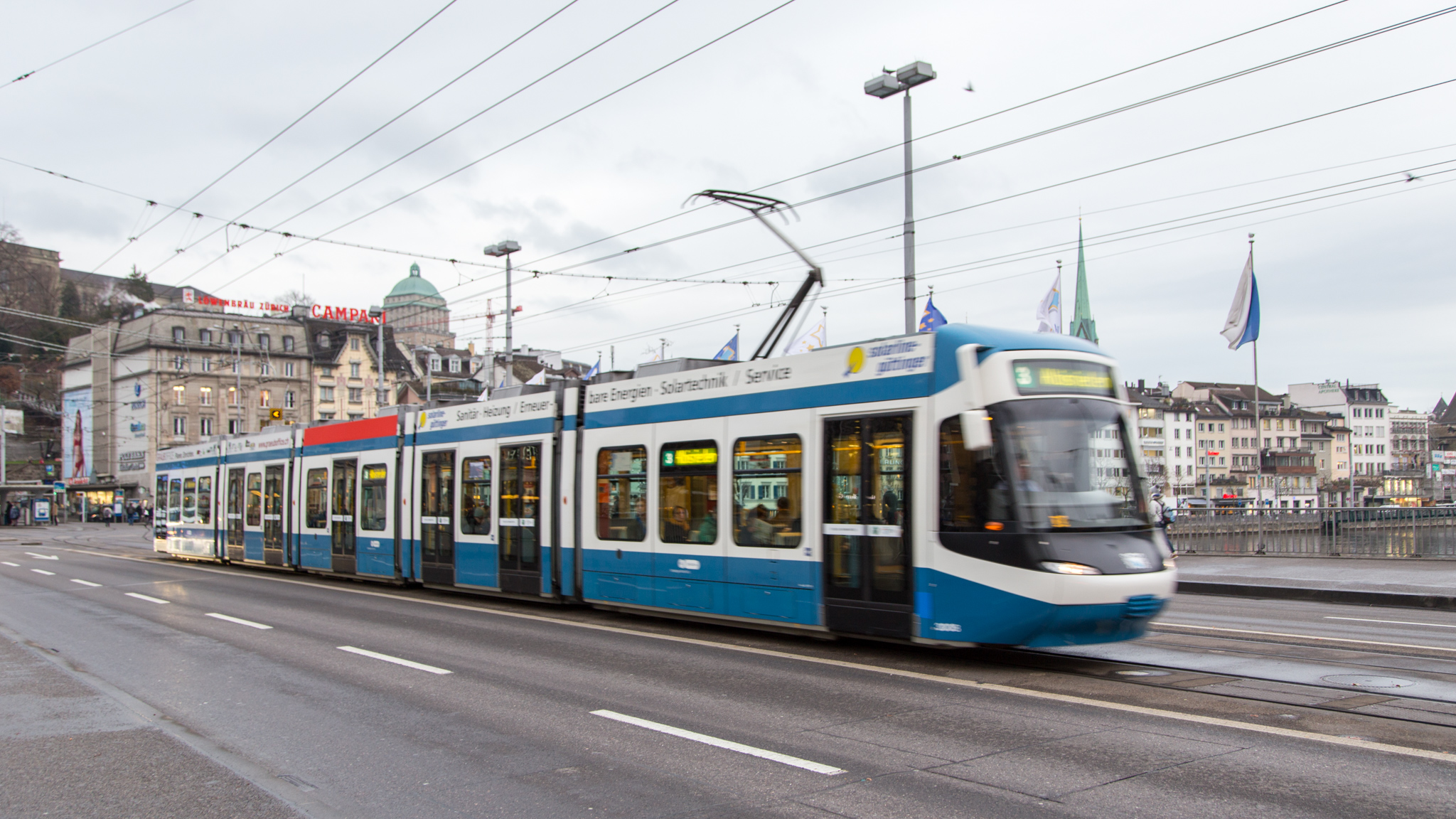 Just in case you might've doubted where Lindt is really from. They sponsor a whole mural here.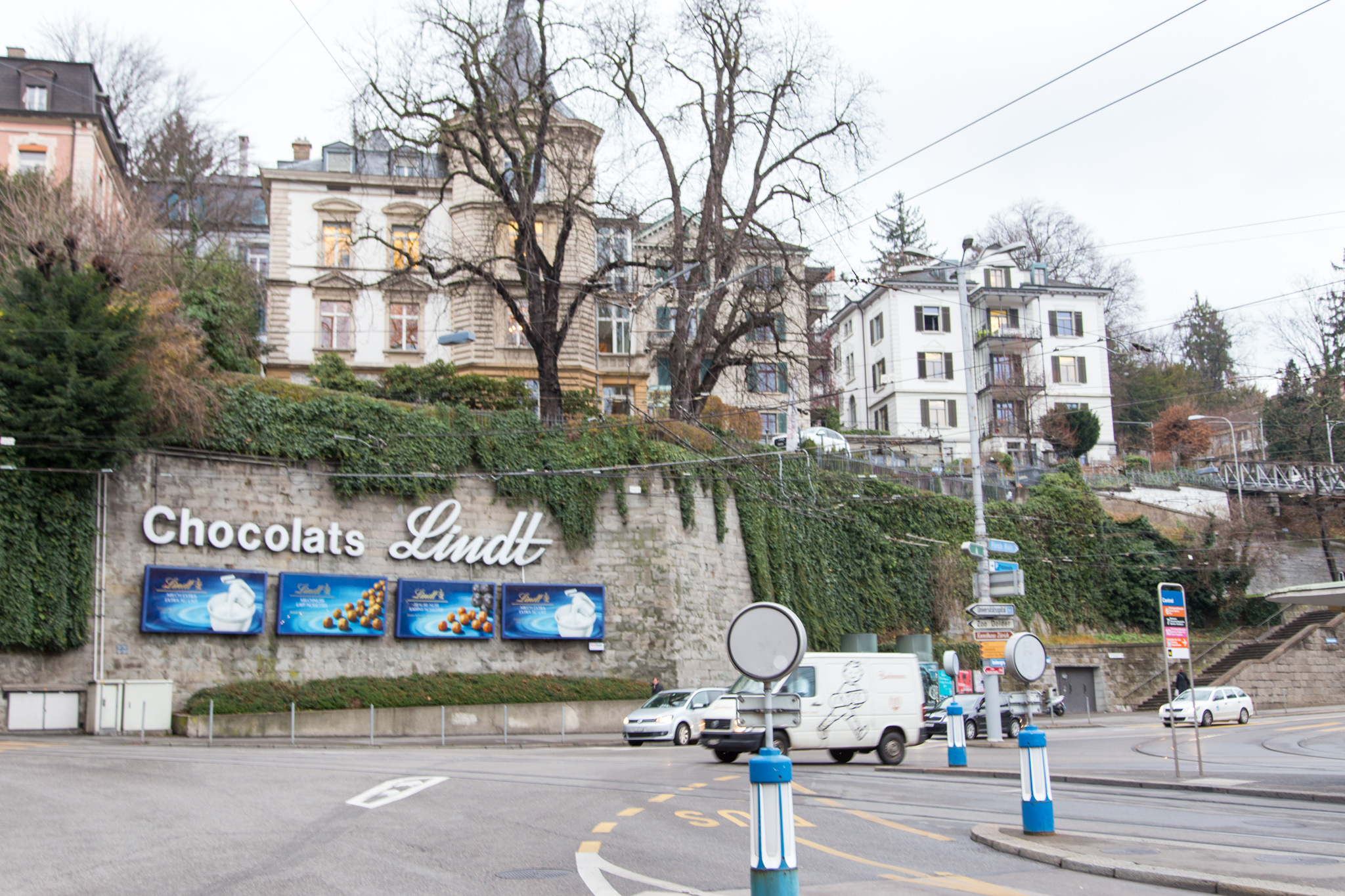 City streets. Oddly, unlike Geneva, the city isn't plastered with watch ads and bank billboards.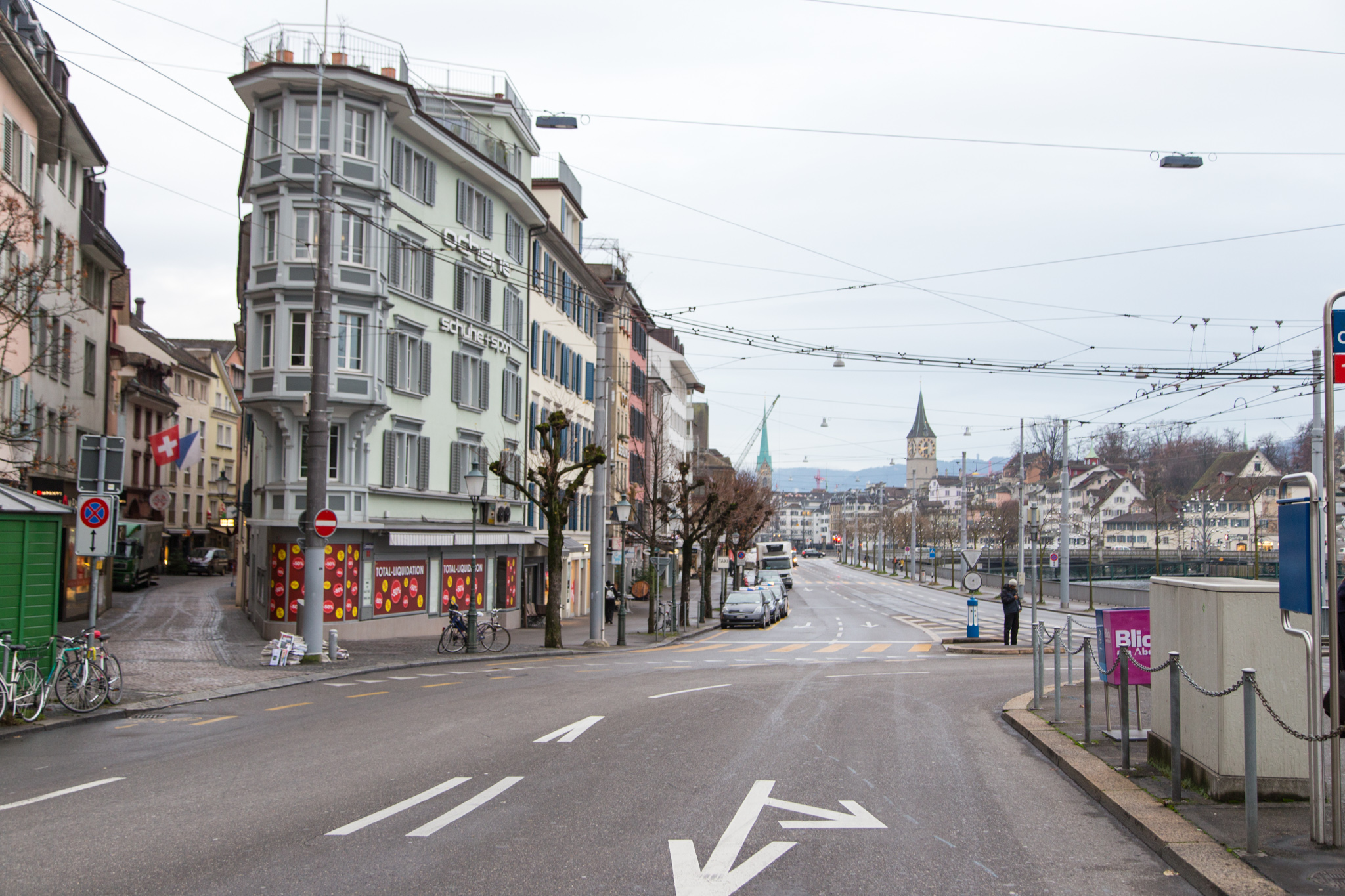 City skyline. Notice the high rise skyscrapers? Yep, me neither. I like this.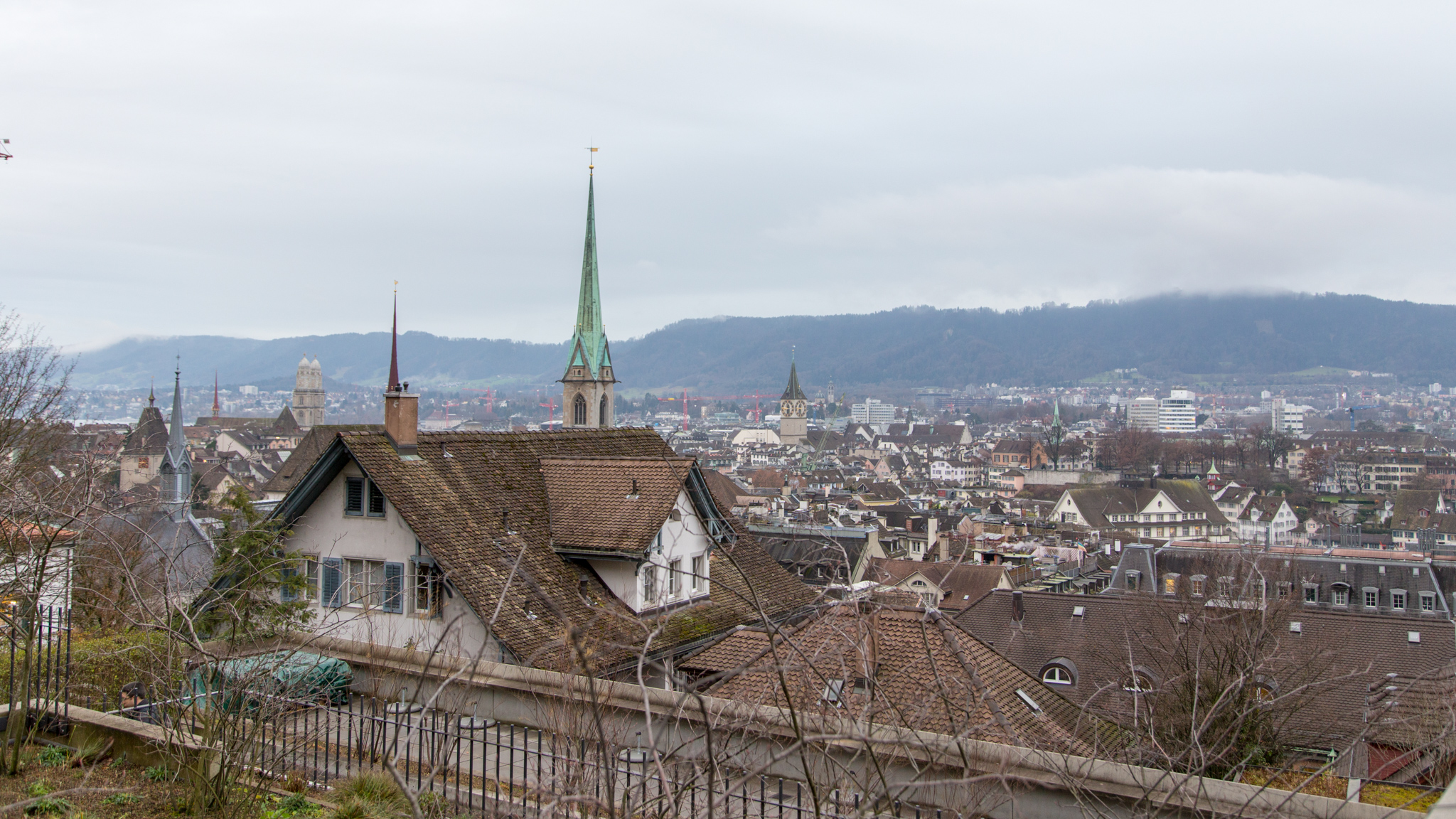 One of my all-time favourite cars – the Land Rover Defender. I don't know what it's doing in Zurich – it's far more at home, say, in the Amazon rainforest, or somewhere in the deserts of Namibia, or maybe in outer space; manicured asphalt streets is about as native to this car as sushi is to Afghanistan.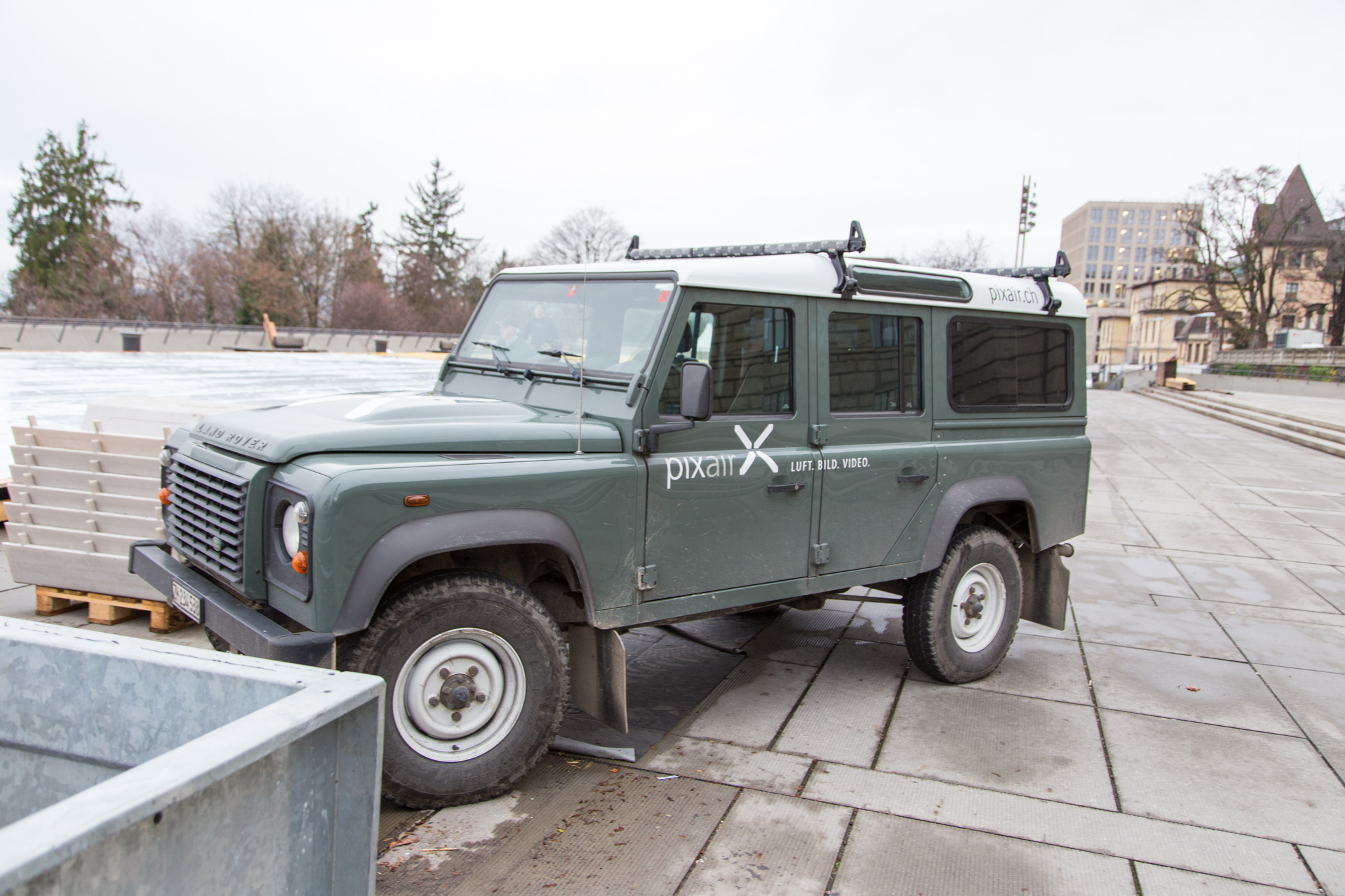 Another shot of the city skyline. Lovely old buildings abound.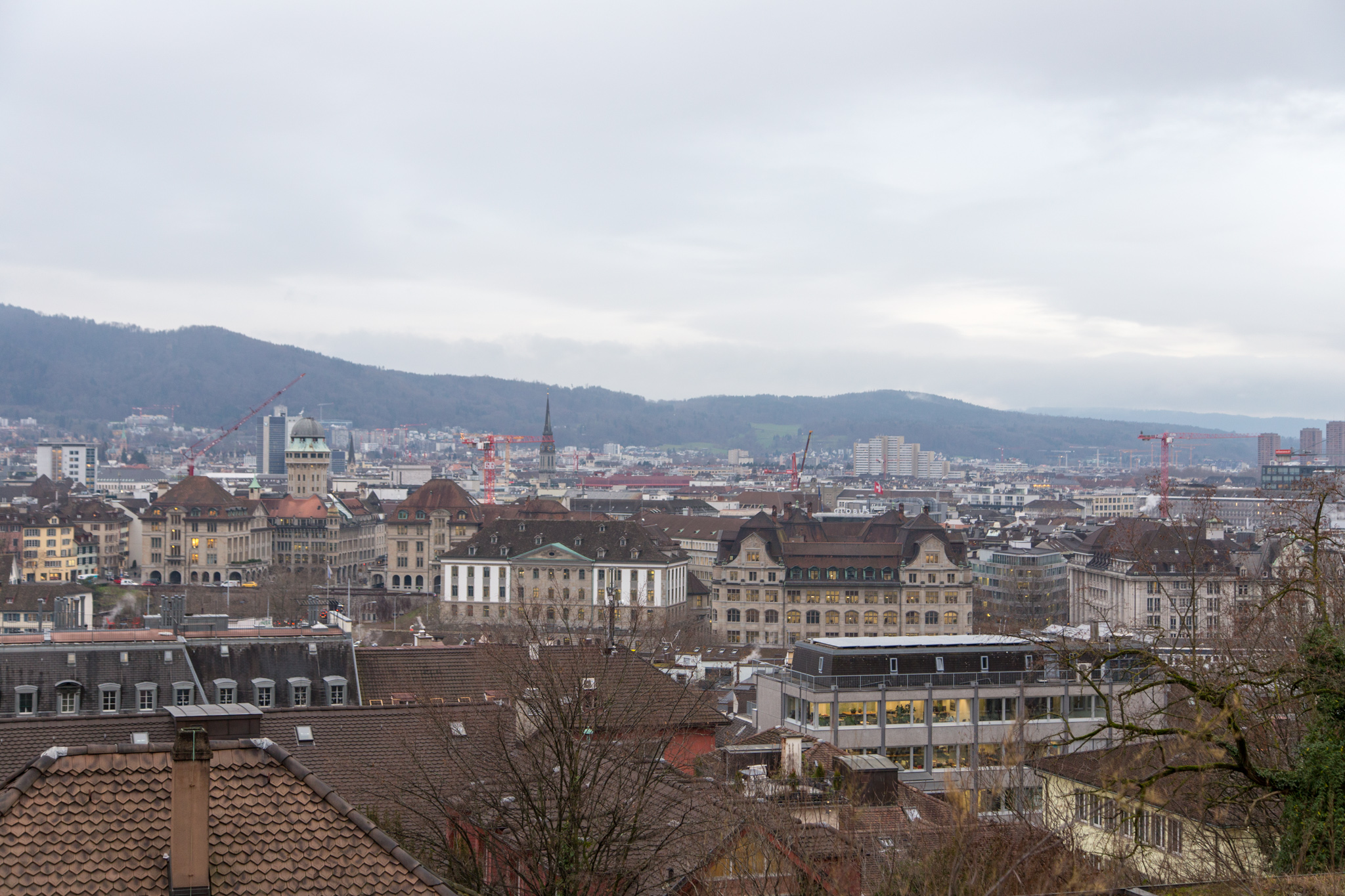 We decided it would be of value to partake in some local culture, so we went to the local natural history museum. Basically, it had a whole bunch of various stuffed animals, which was sort of neat. I'm not sure if you can tell, but we were really struggling to find madly exciting things to do in Zurich.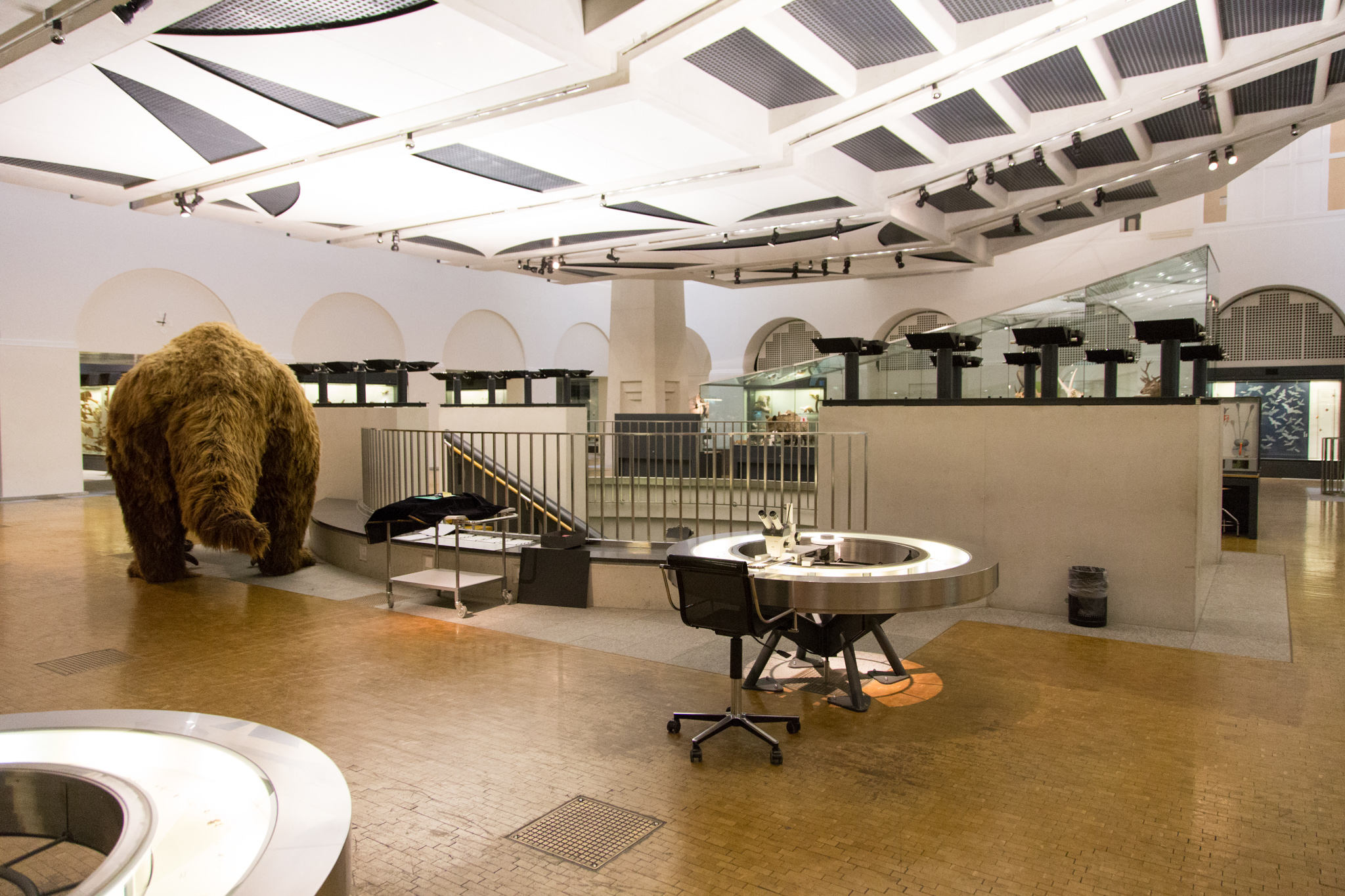 Skeletons!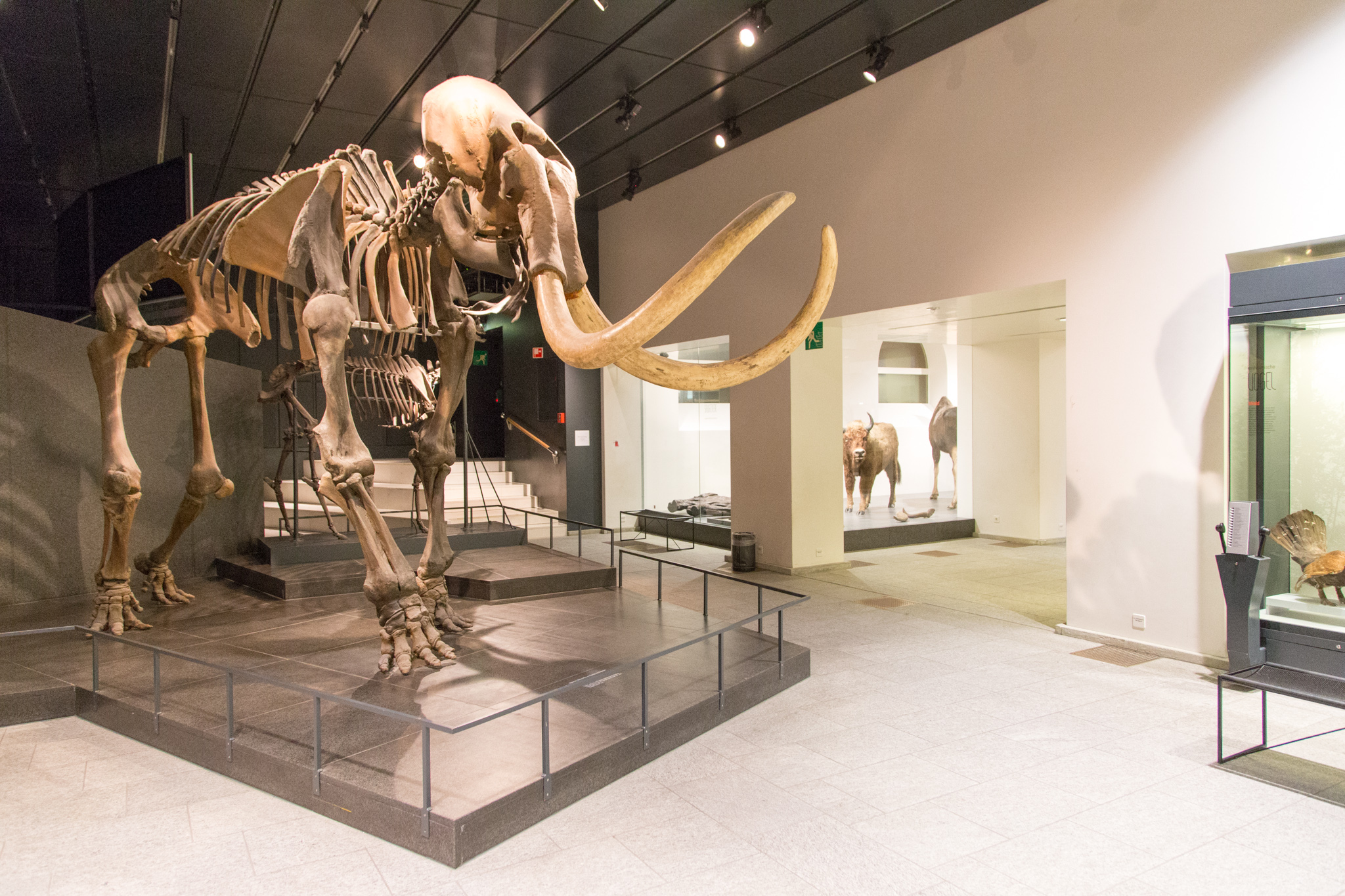 … and stuffed things.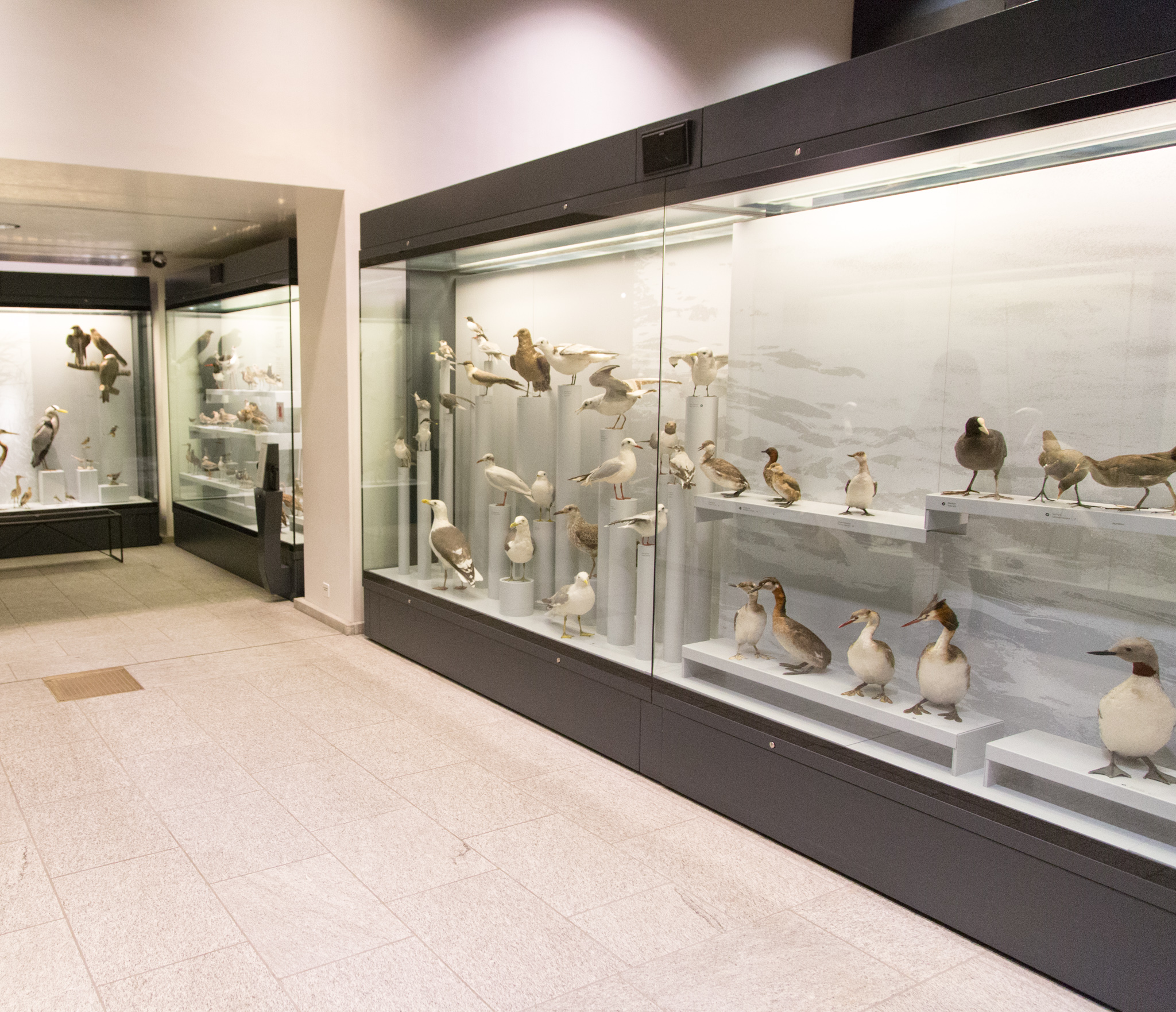 …. a stuffed giraffe.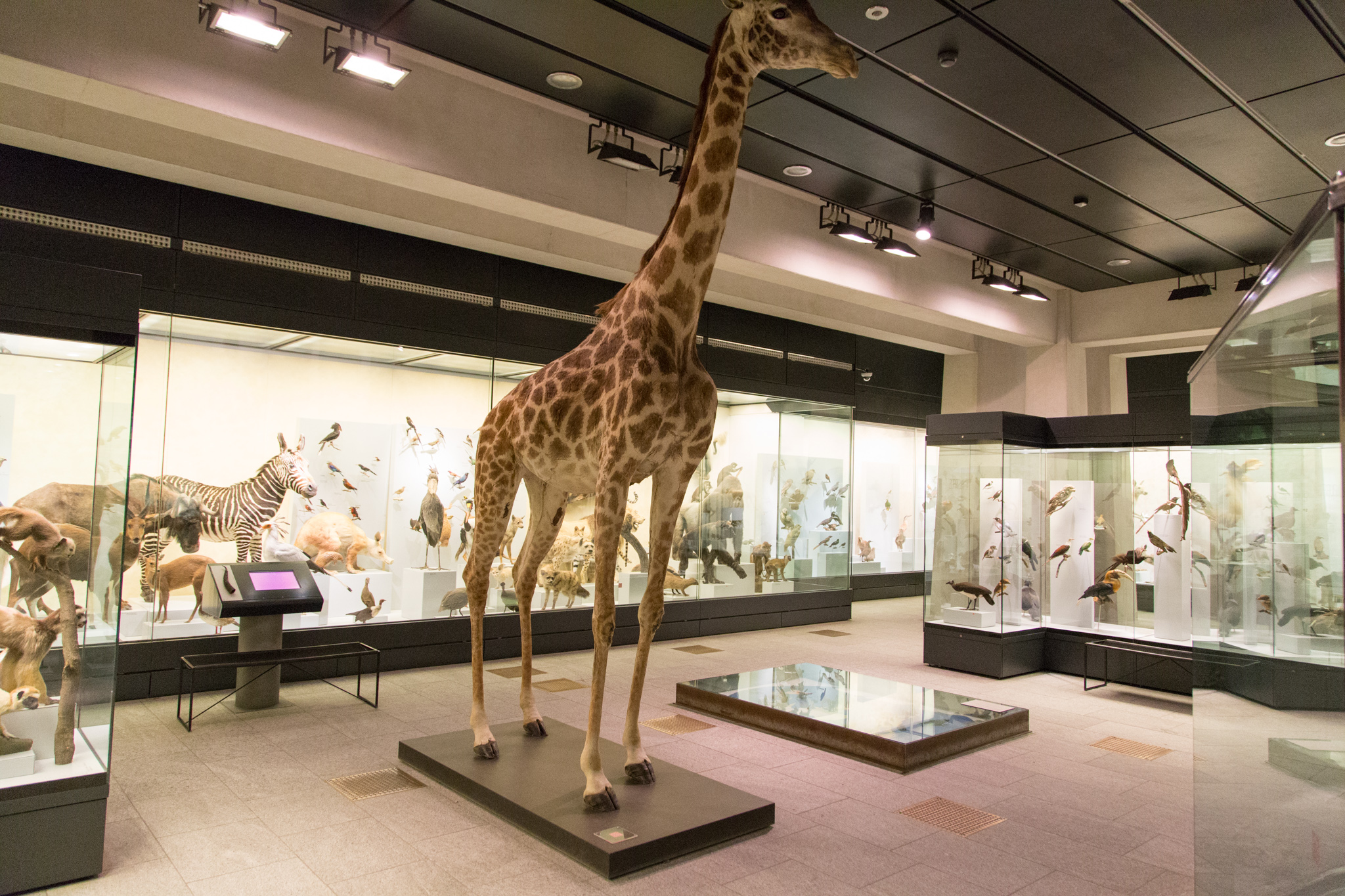 I am always fascinated by people taking pictures with iPads and the like, and so I make it a point to take pictures of them. I can't fathom why anybody would take pictures with such a monstrosity.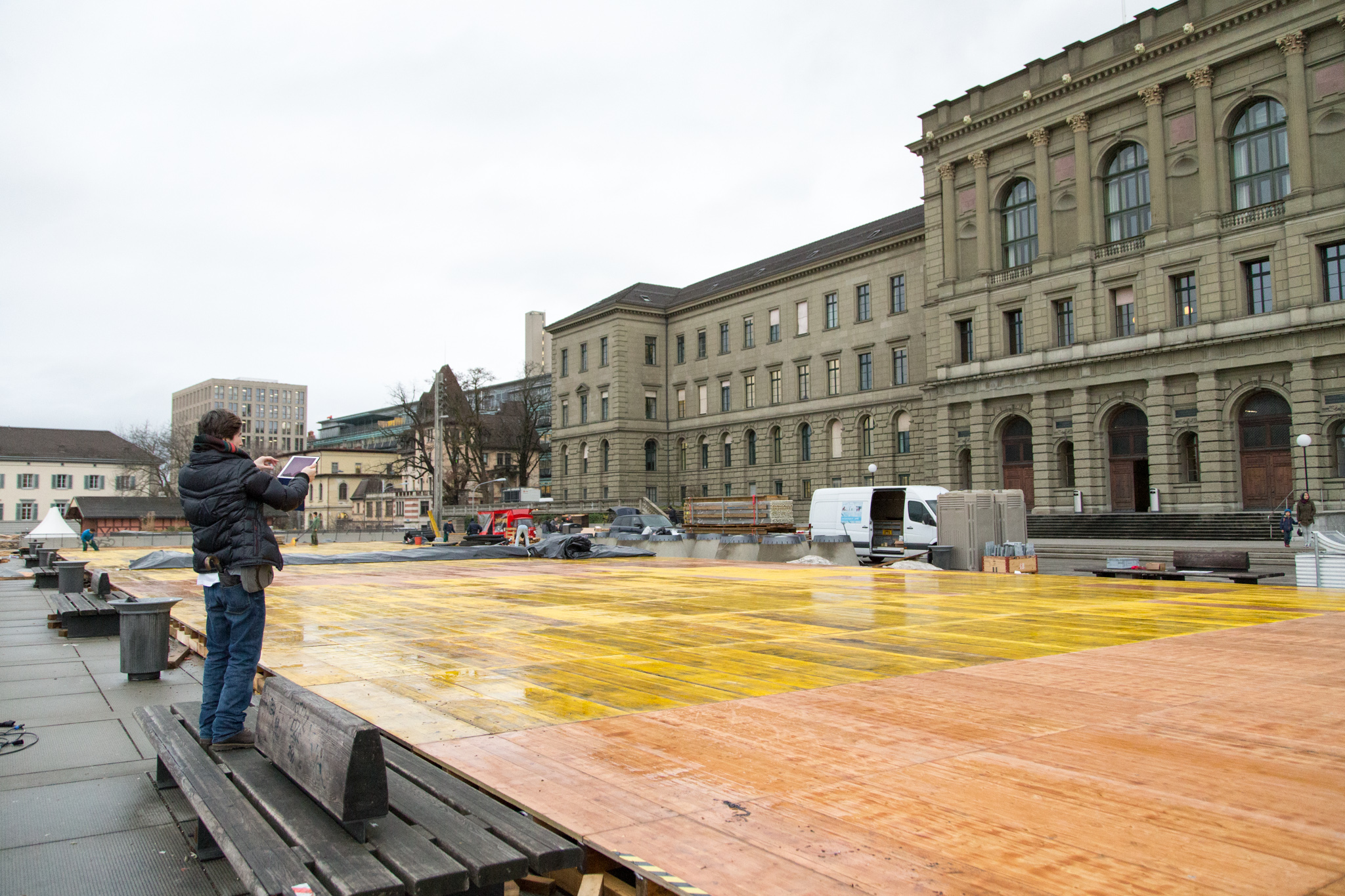 This was the station of the ropeway that took us up to the area that had the museum. Nice little rustic construction.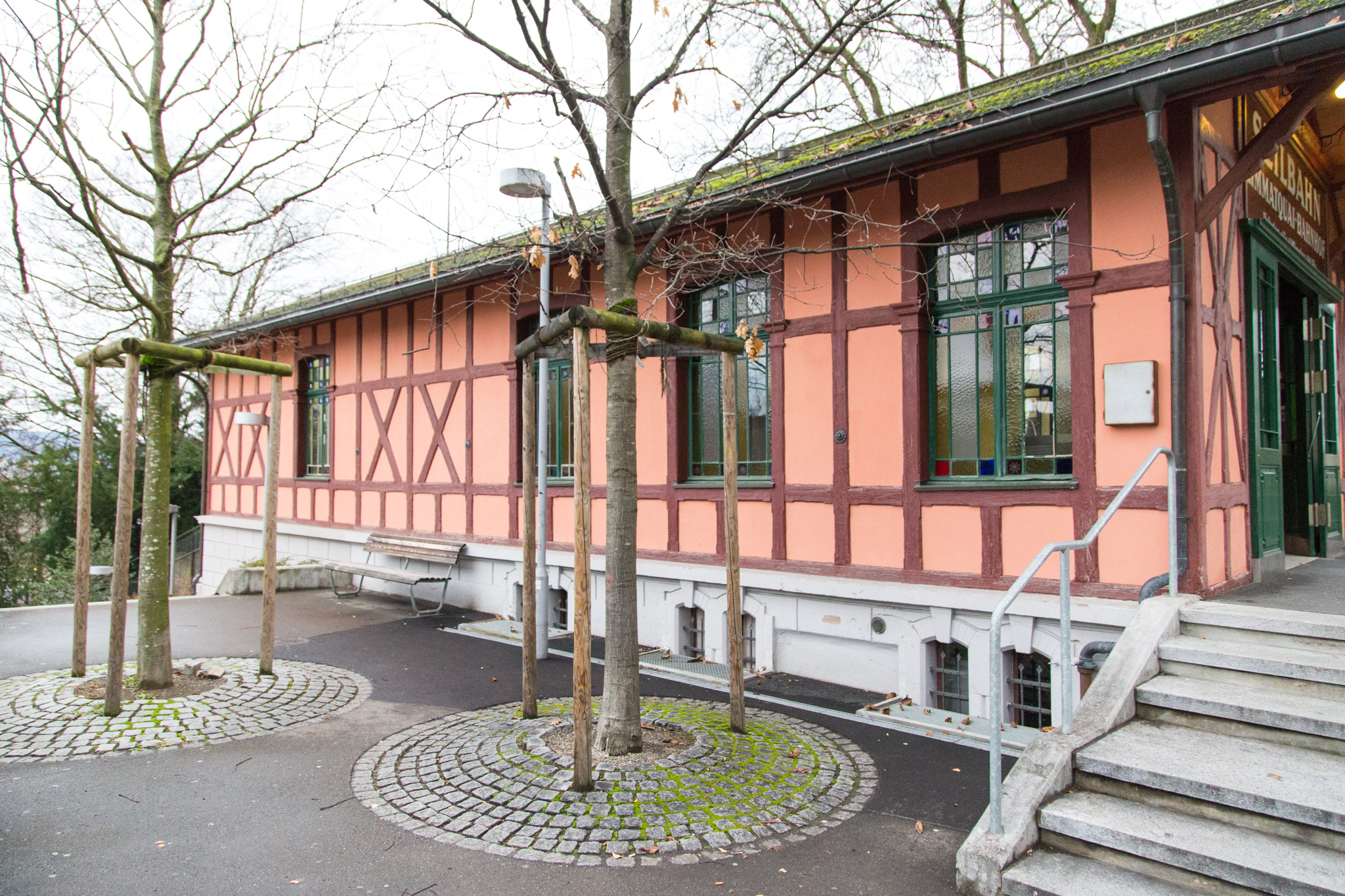 This is the ropeway itself.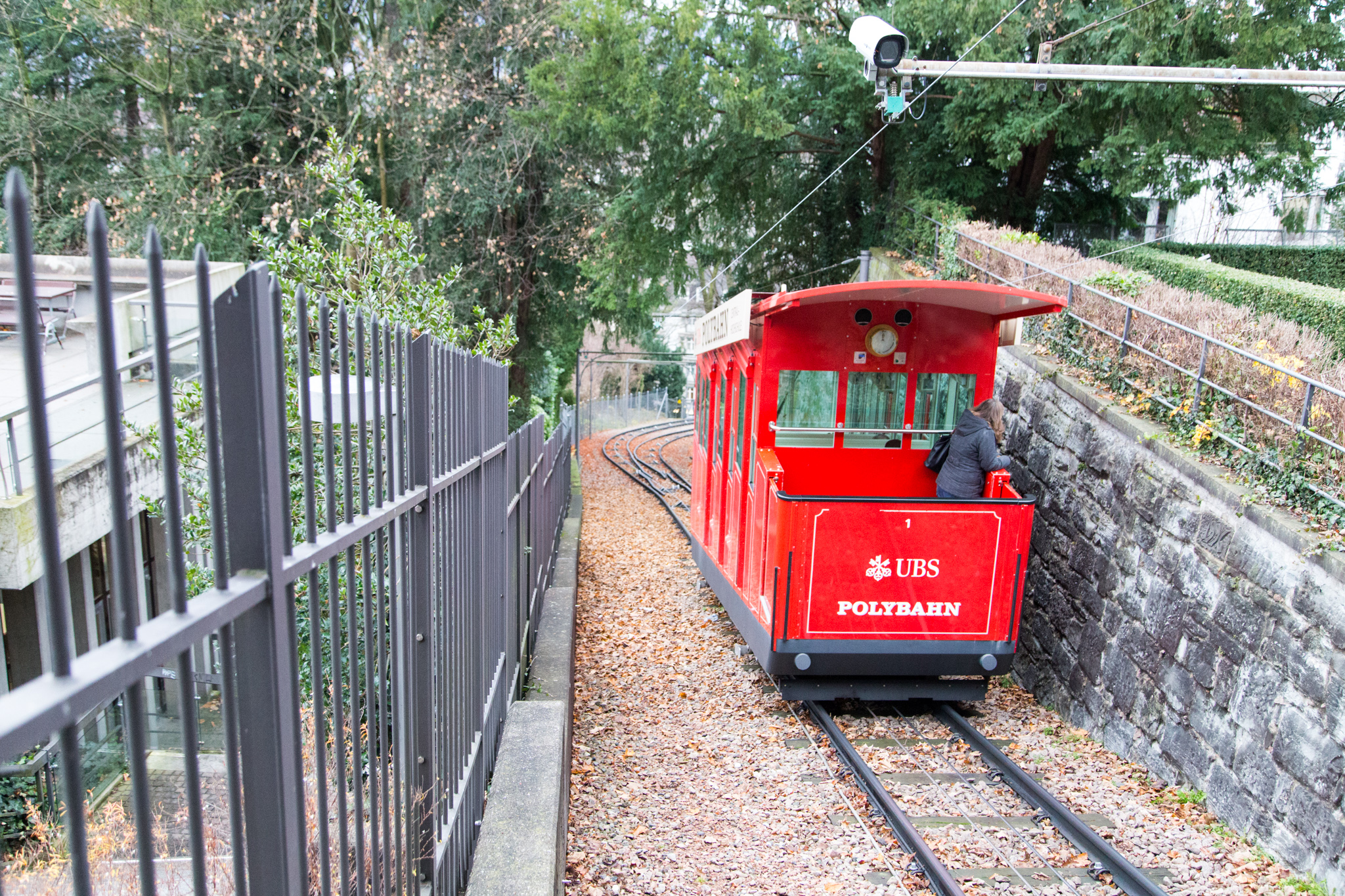 I think I was the only tourist fervently taking pictures of things. Everyone else was just on their way to school or work or whatever.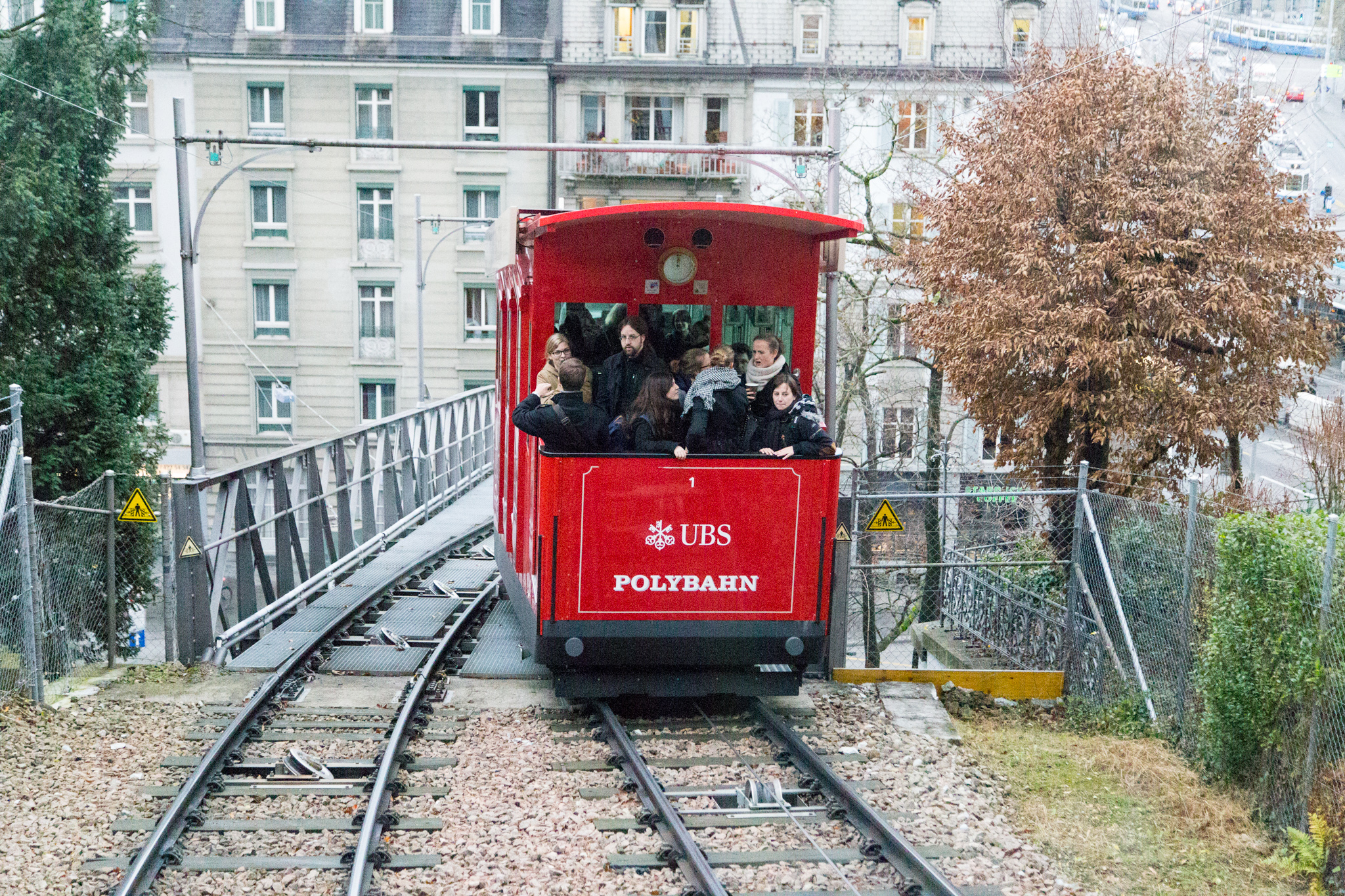 The arrival station. Further down below (on the right) is the tram you can take to go to the airport.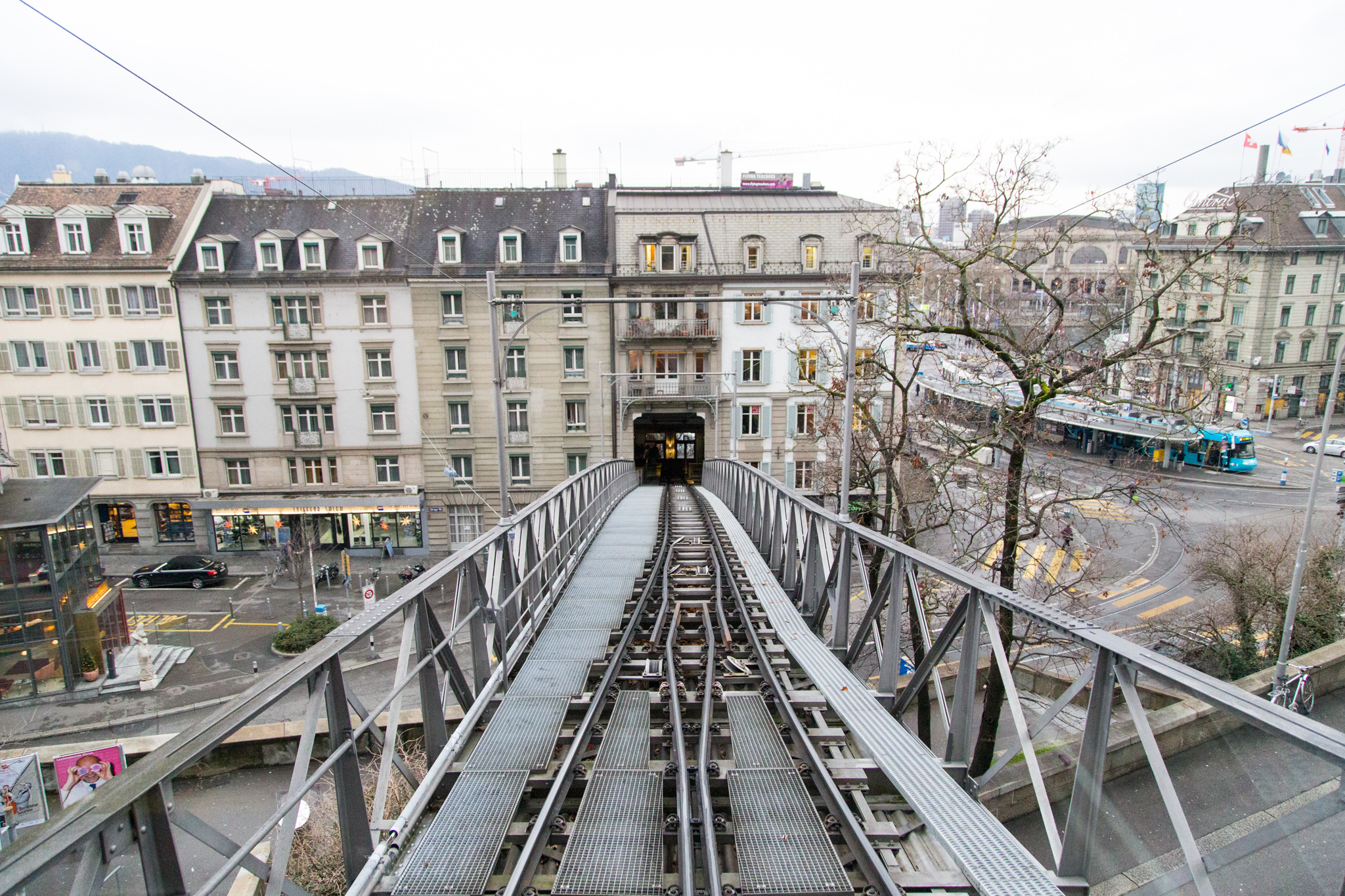 This is what the ropeway looks like. I am really digging for content, I admit.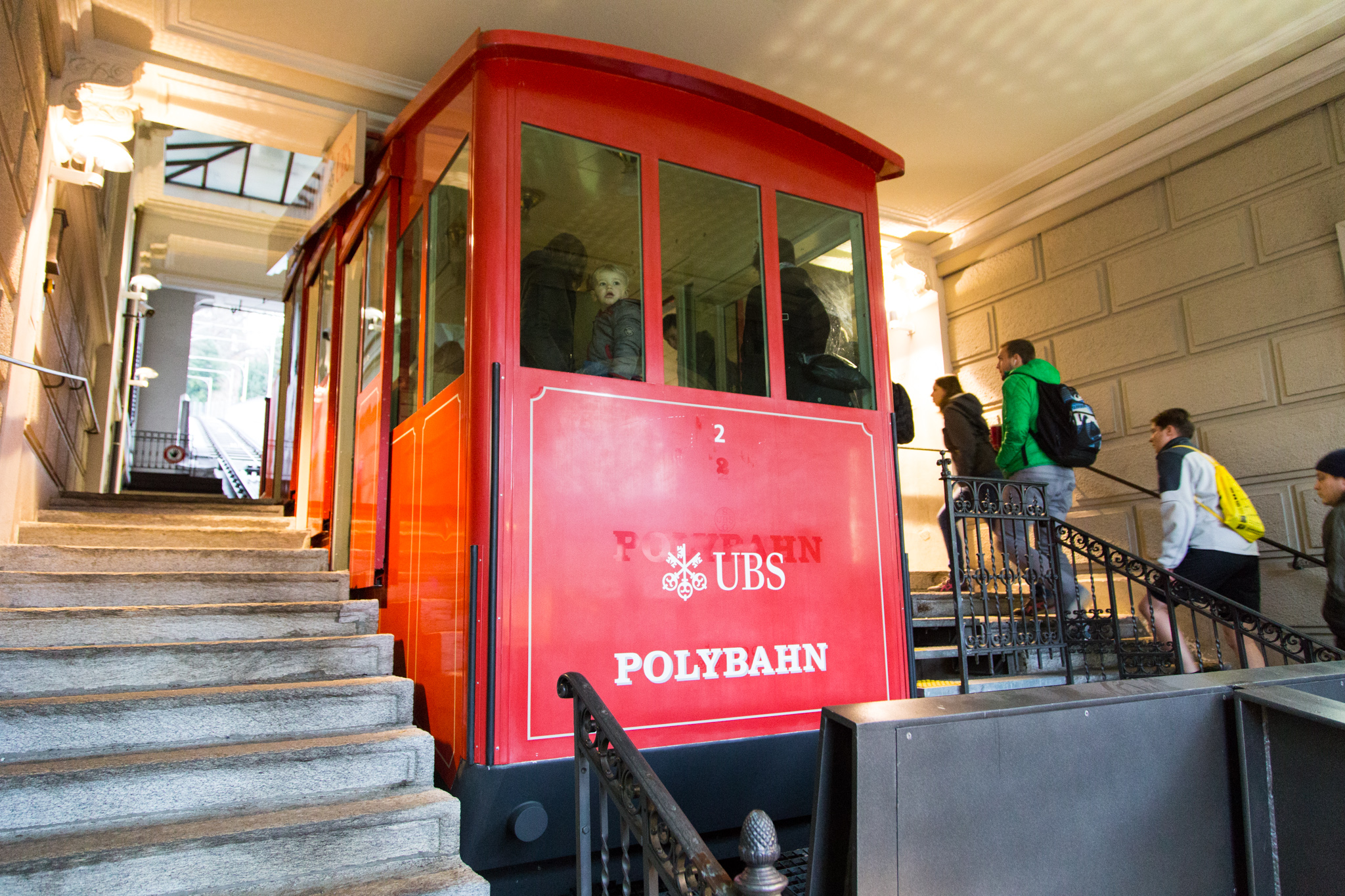 Back to the river.
We went to have brunch in this restaurant. The cobblestone streets certainly carry a certain romantic charm; maybe that's why Old Montreal is so popular with tourists looking for rusticity (is that a word?) yet who don't want to bother actually, you know, flying to Europe.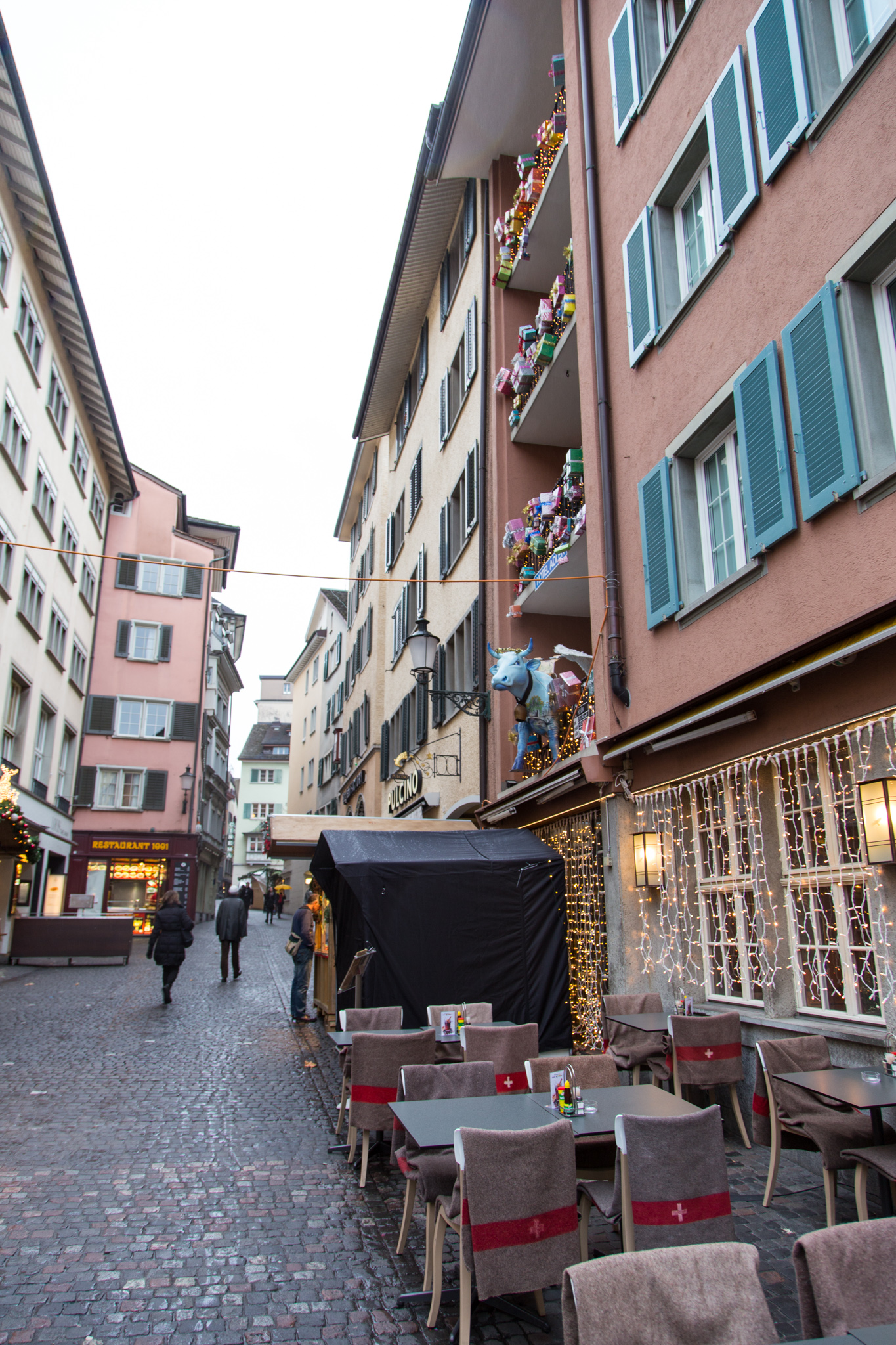 Cafe Henrici.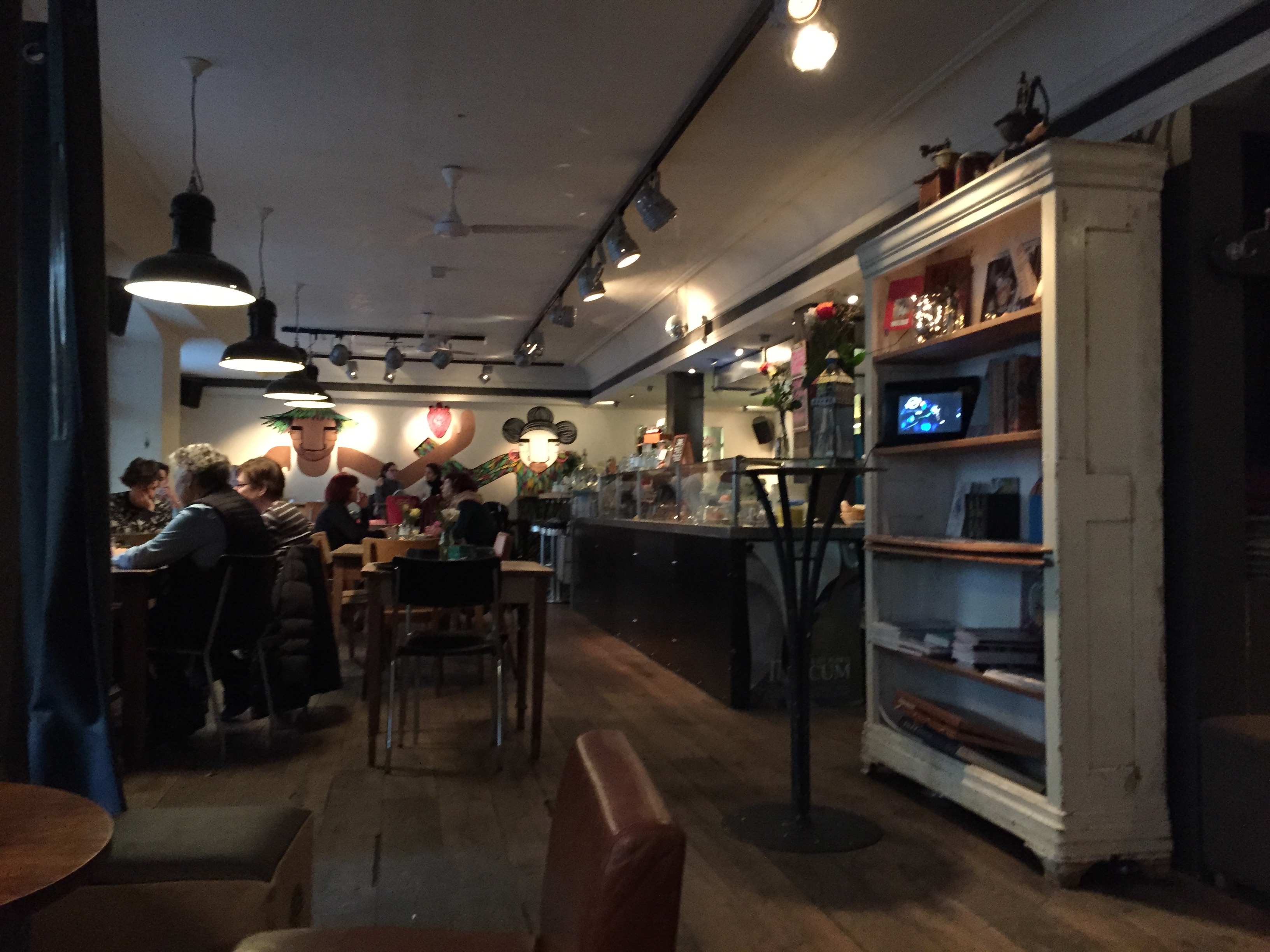 In all fairness, this is the best latte I've had in …. a VERY long time.
Preparations for Christmas (which was to be in about a week) were going full steam.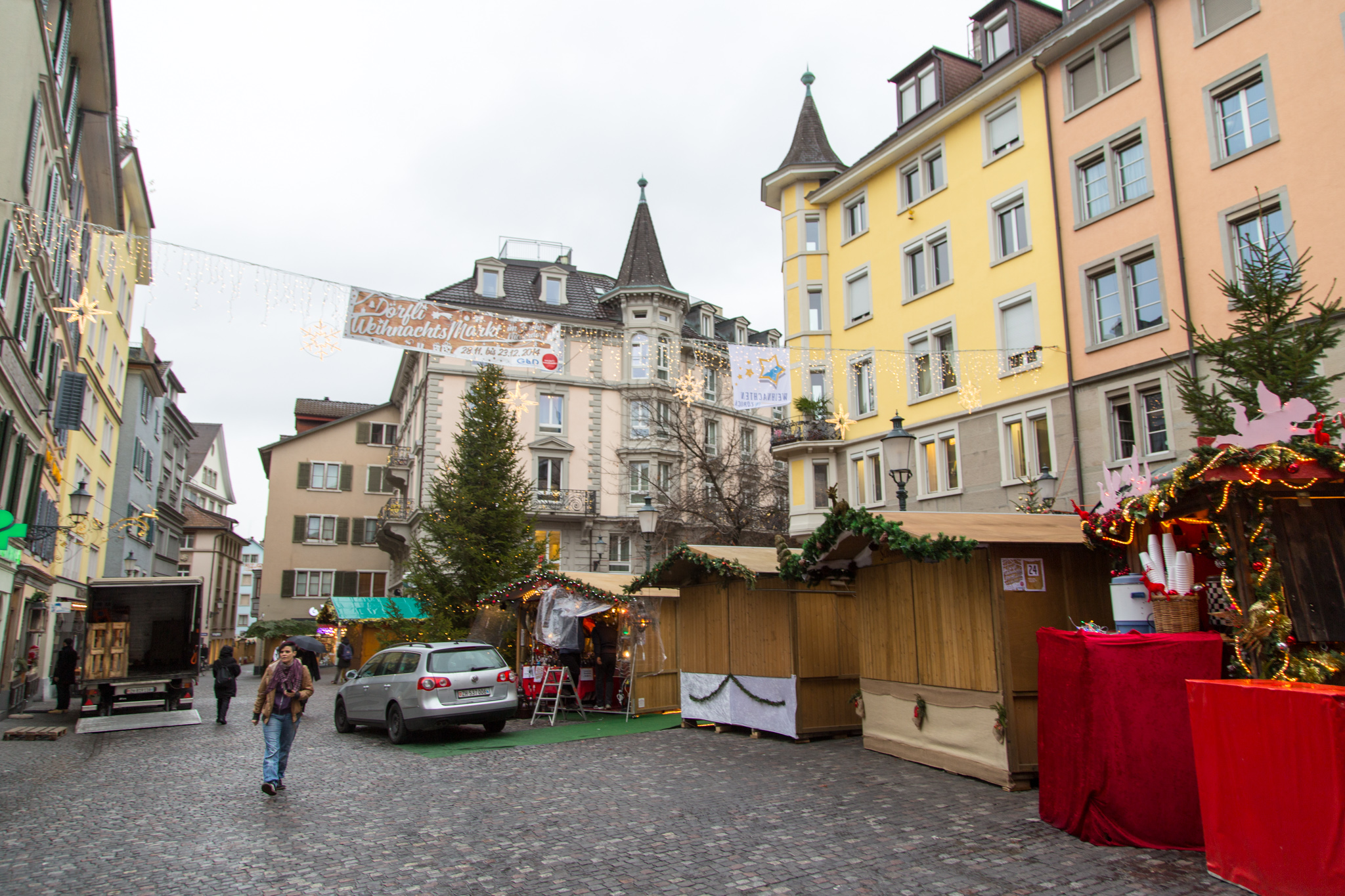 In the main train station, a huge Christmas market was set up.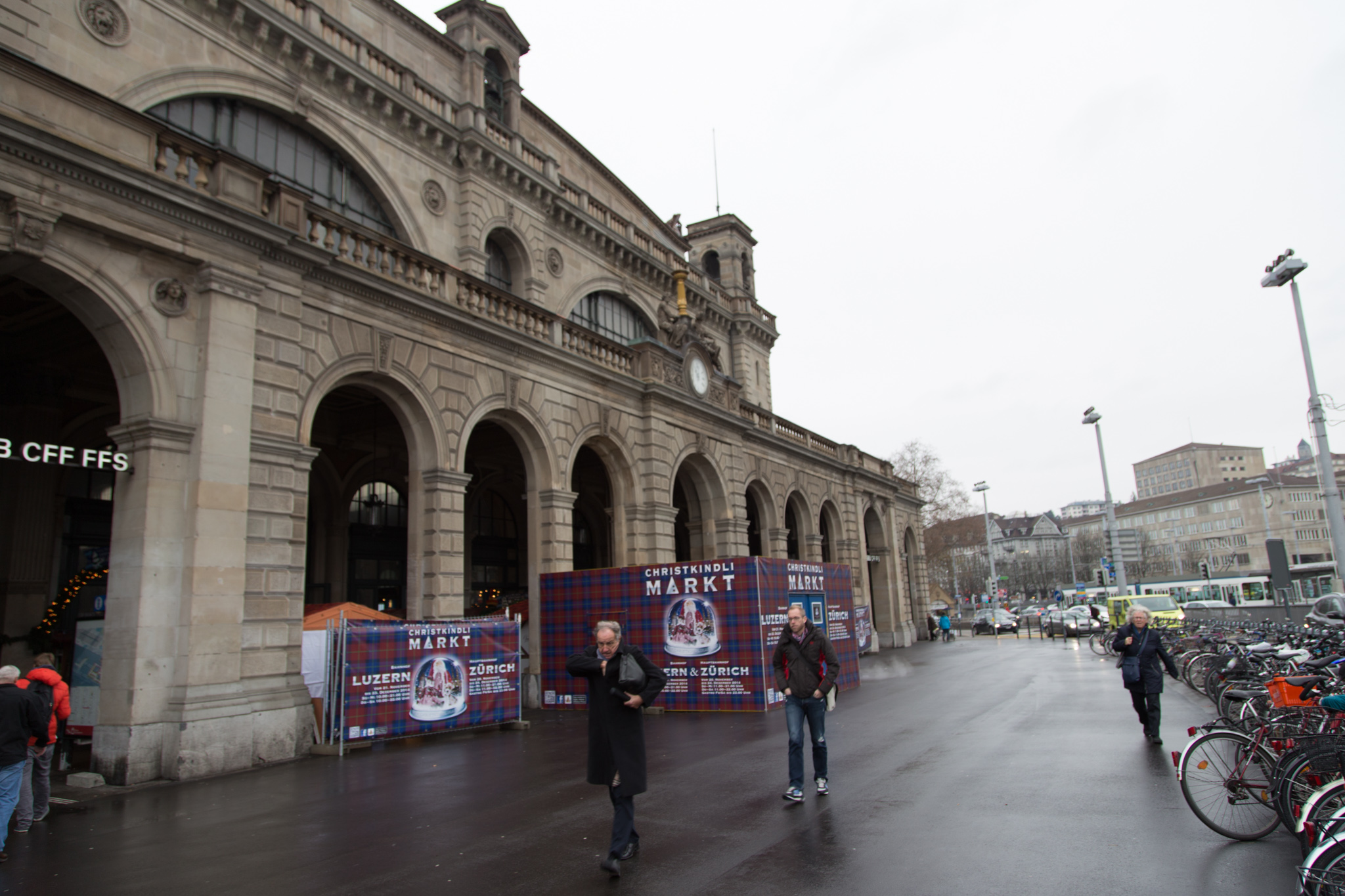 Lots of wares were up for sale, hand made, commercial, you name it.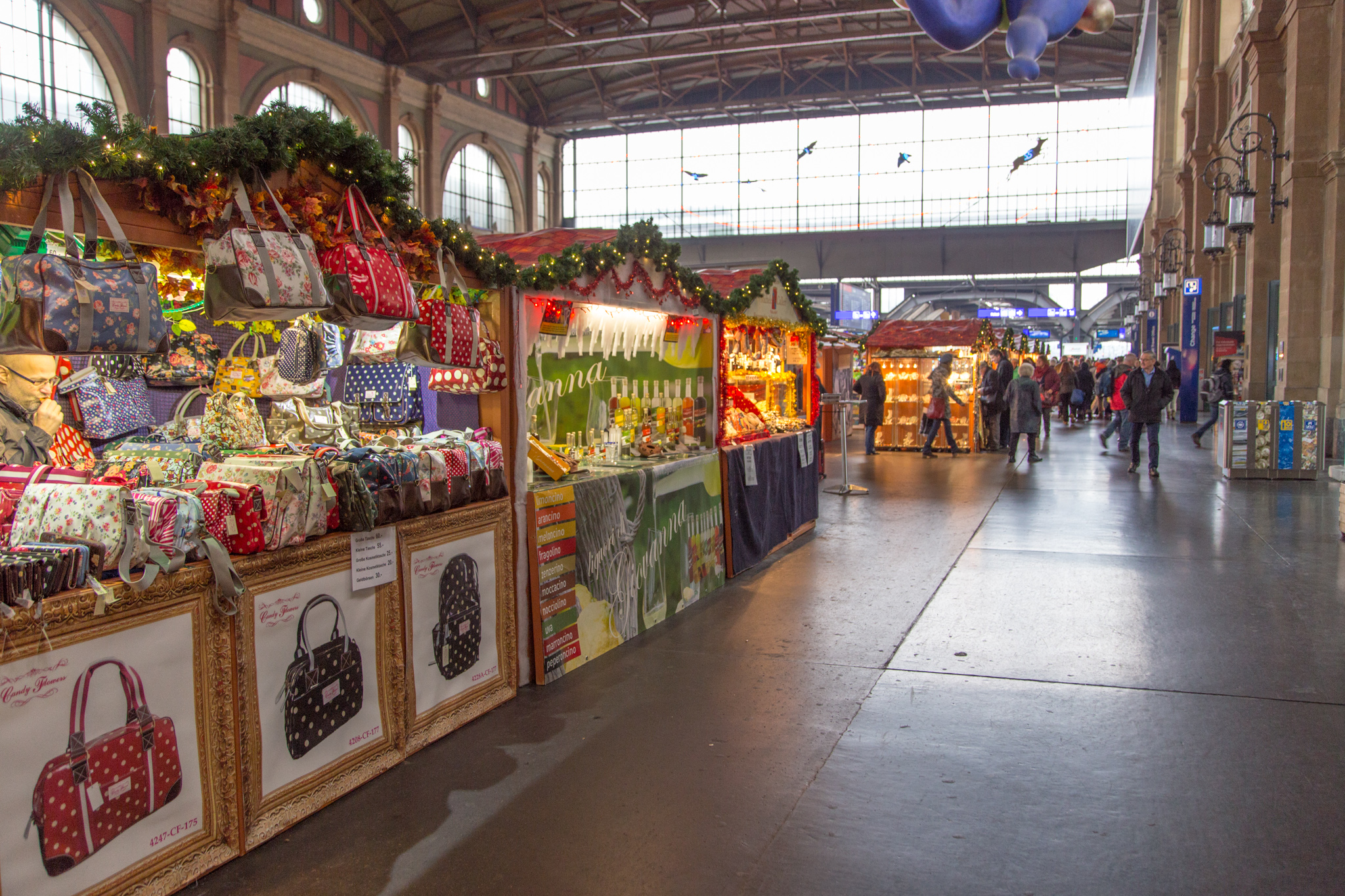 There were foods, goods, local peculiarities.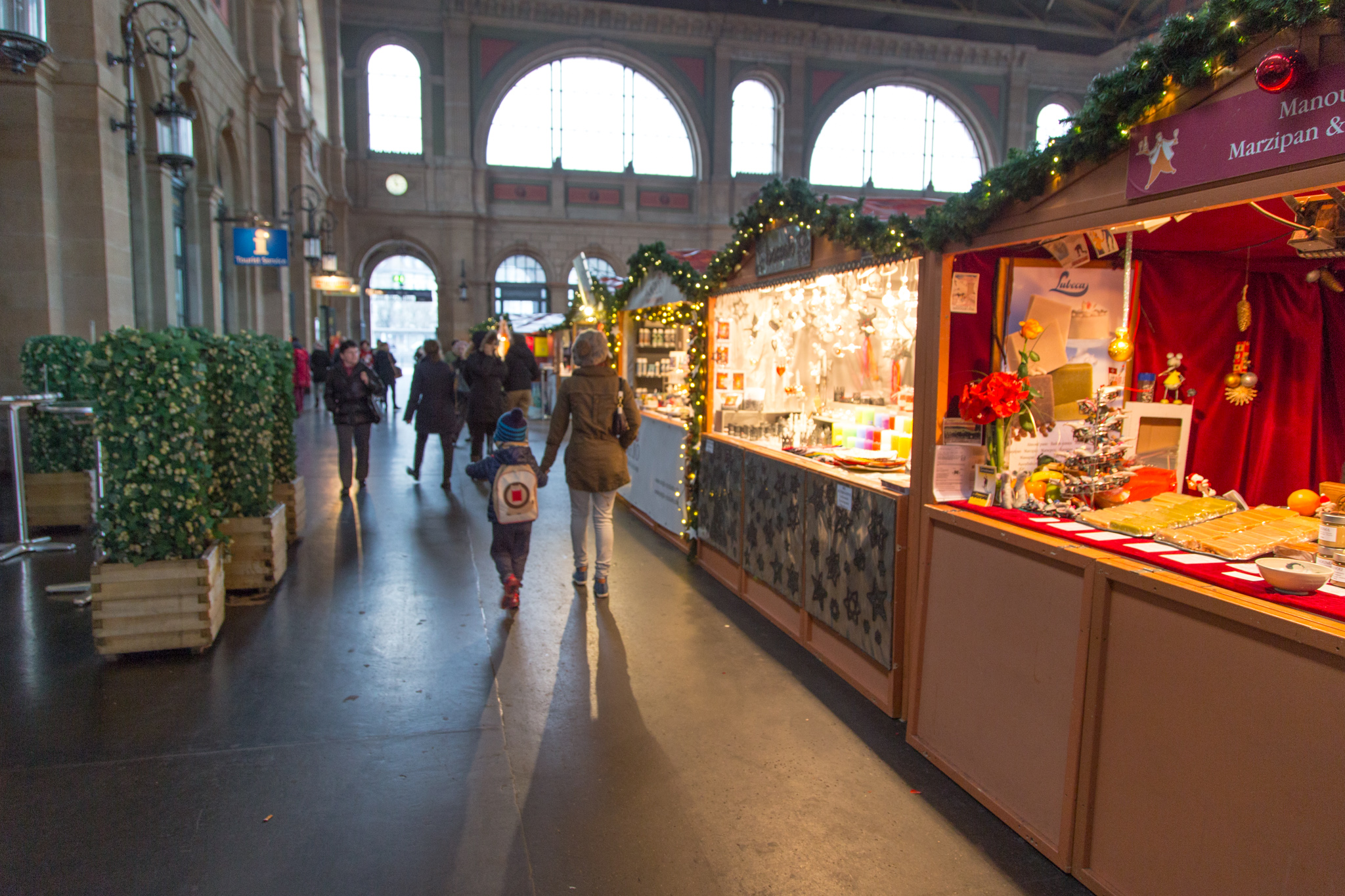 Even local beer.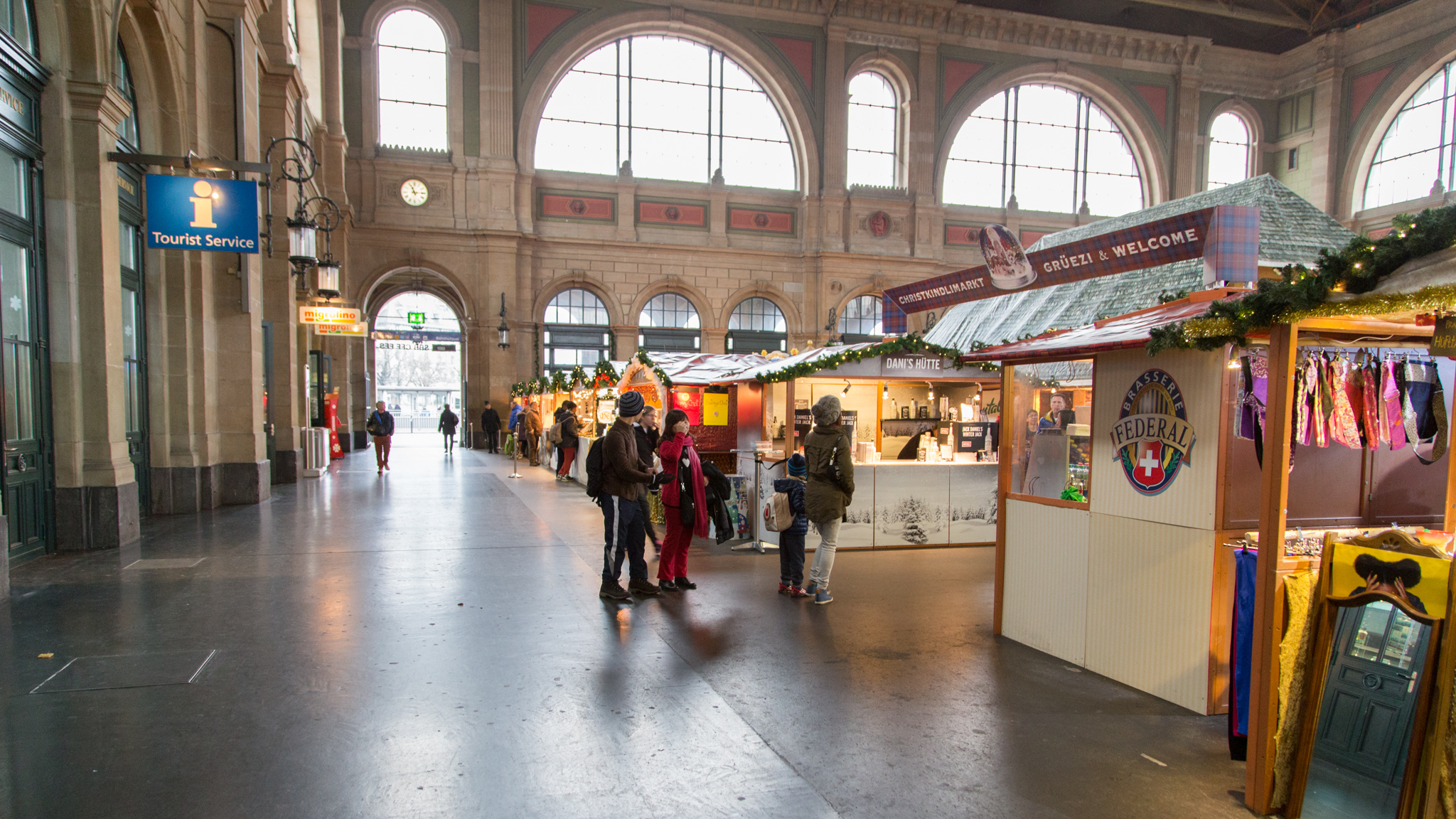 Conveniently, the train to take us back to the airport was right nearby.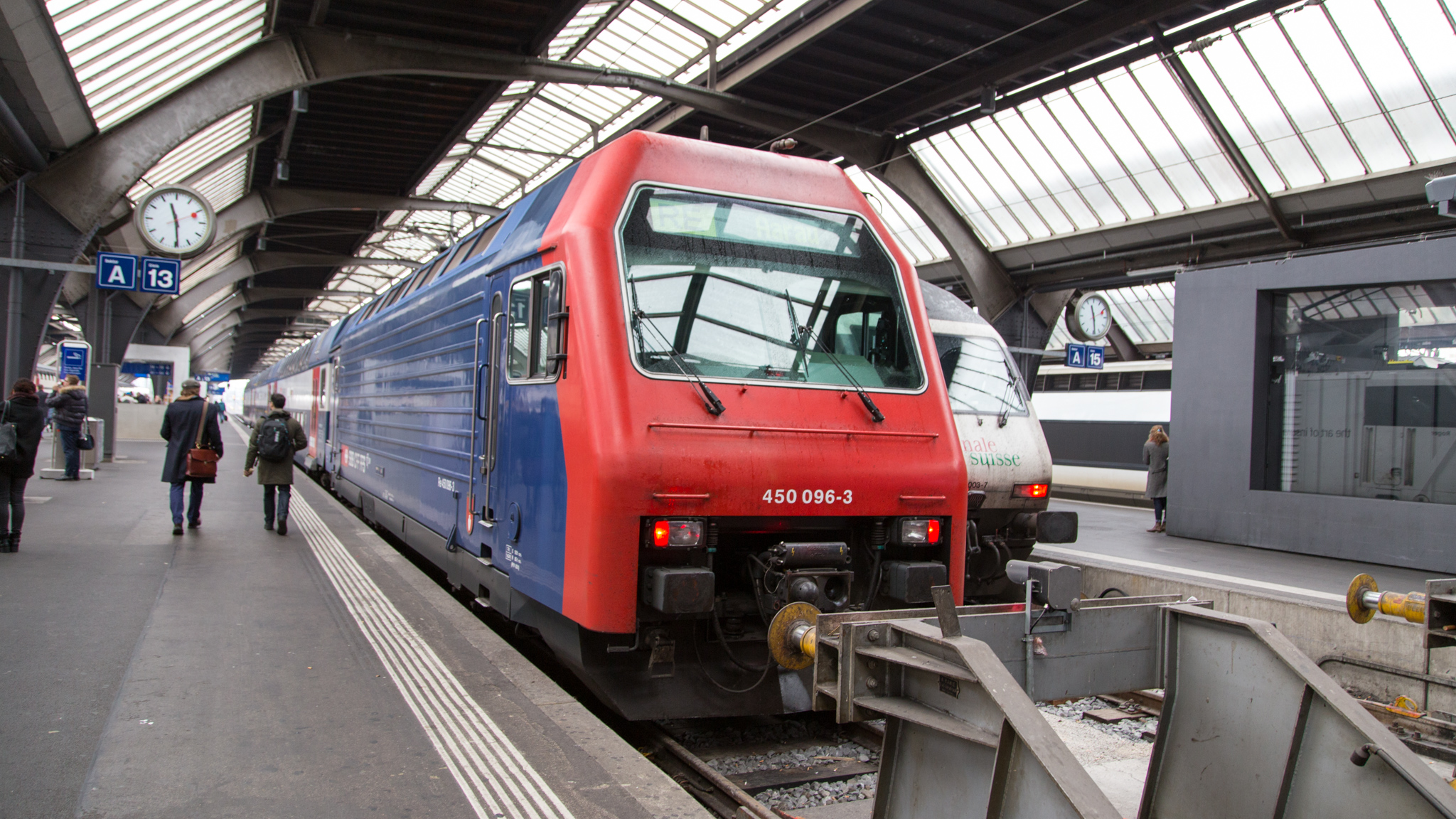 … and so we took it.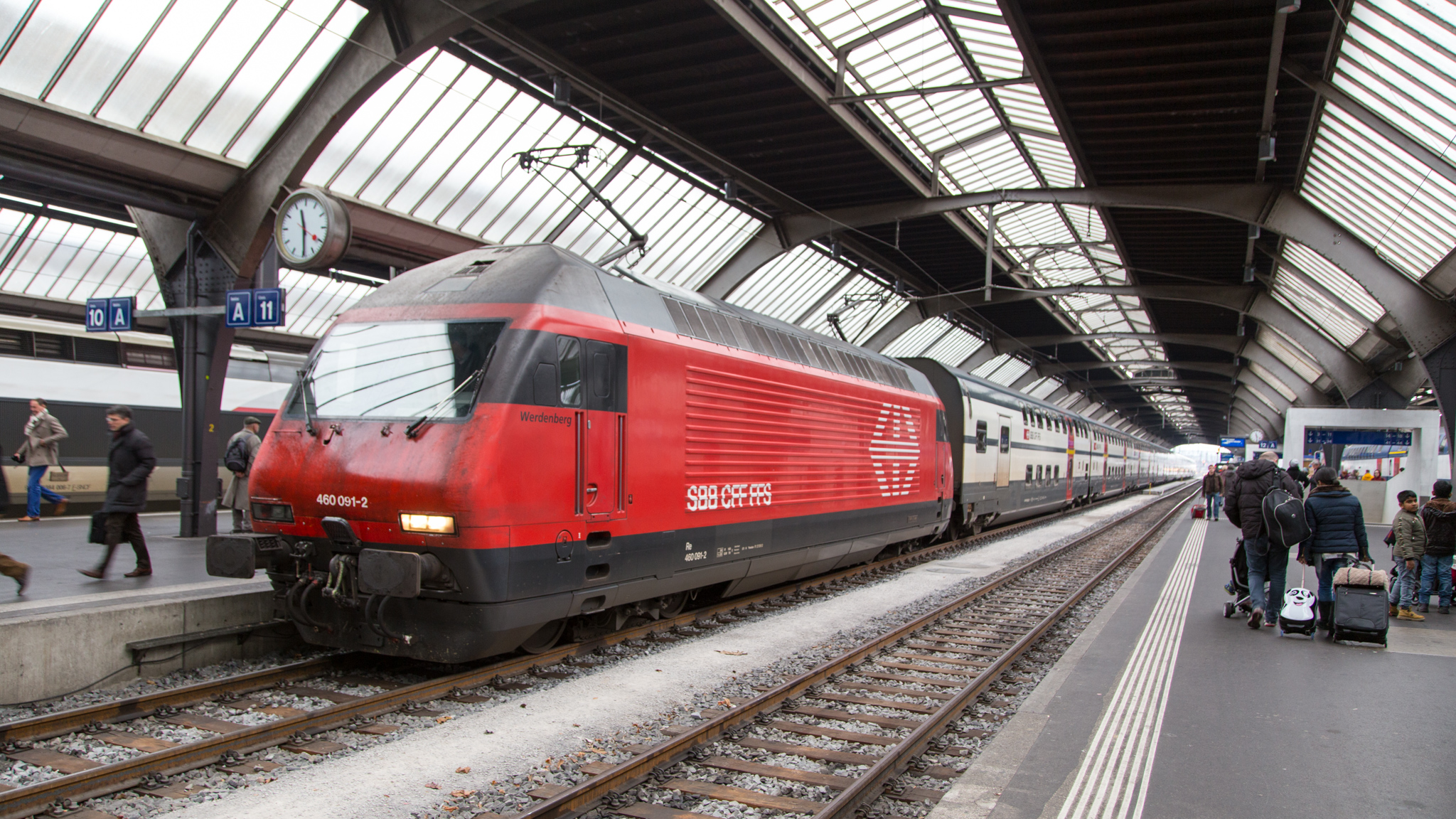 I think as far as posts go, this was probably one of the most content-poor posts I have written. There's a good reason for that, though. With all due respect to the good folk of Zurich, there's just simply nothing to do there. It's a nice, proper, moderately sized Swiss city. It's not a tourist destination per se; most people transit it to either go to the mountains, or switch planes, or whatever. I don't think anyone actually goes to Zurich; I've met people who have and their comment was "yeah, about a day was all that was reasonably justified". Which is not to say it's bad in any way – there's just very little content you can pull from being there for half a day. So there's that.
At the airport, we resumed our exciting flight experience. We missed the lounge because we were late for the flight as usual (us? late? that never happens. I must be lying). Anyway, having seen what it looks like, it was completely uninspiring; and considering even the Swiss First lounge is rather dull in Zurich, a non-local Star Alliance carrier isn't bound to overshadow the local presence, and that's the case here – Thai uses a contract lounge which is completely and totally average. I think the only place I can think of offhand where the non-local carrier has a better lounge than the local one is Los Angeles – where the Qantas First lounge is worlds beyond the American Admirals Club; but then again, beating North American airlines at the lounge game is like murdering chickens with a rocket launcher – you'd have to be a pretty bad shot to miss them. Qantas serves a) food (win!), b) FREE beer (win! and don't tell me "but AAC serves Budweiser!" because that isn't beer), c) has an actual menu! (win!). Anyway, I've completely digressed.
So here's our abode for the next 13 hours. Notice how papers in all relevant languages are offered, even in Japanese, despite this being a Zurich-Bangkok flight. *THIS* is service.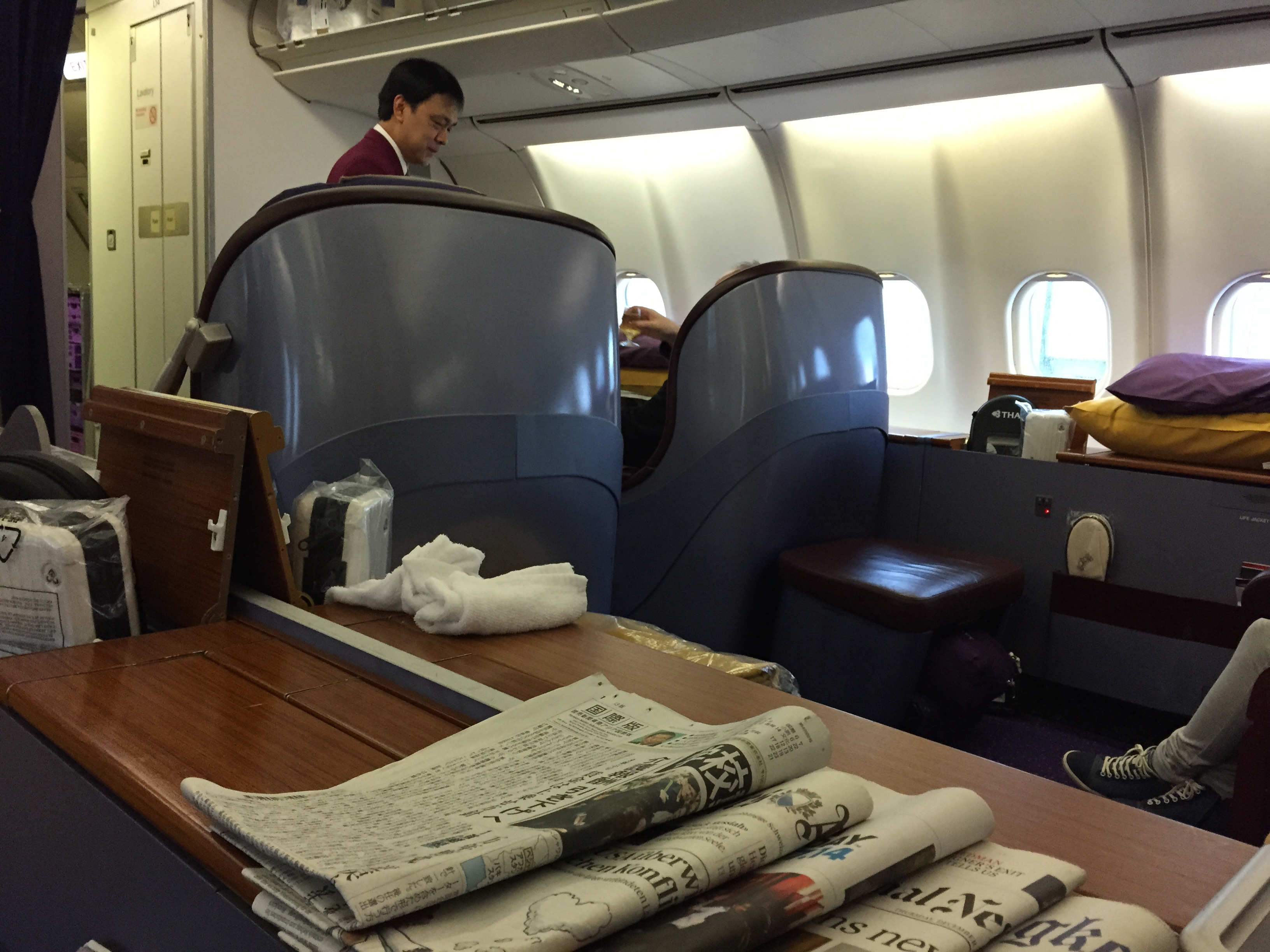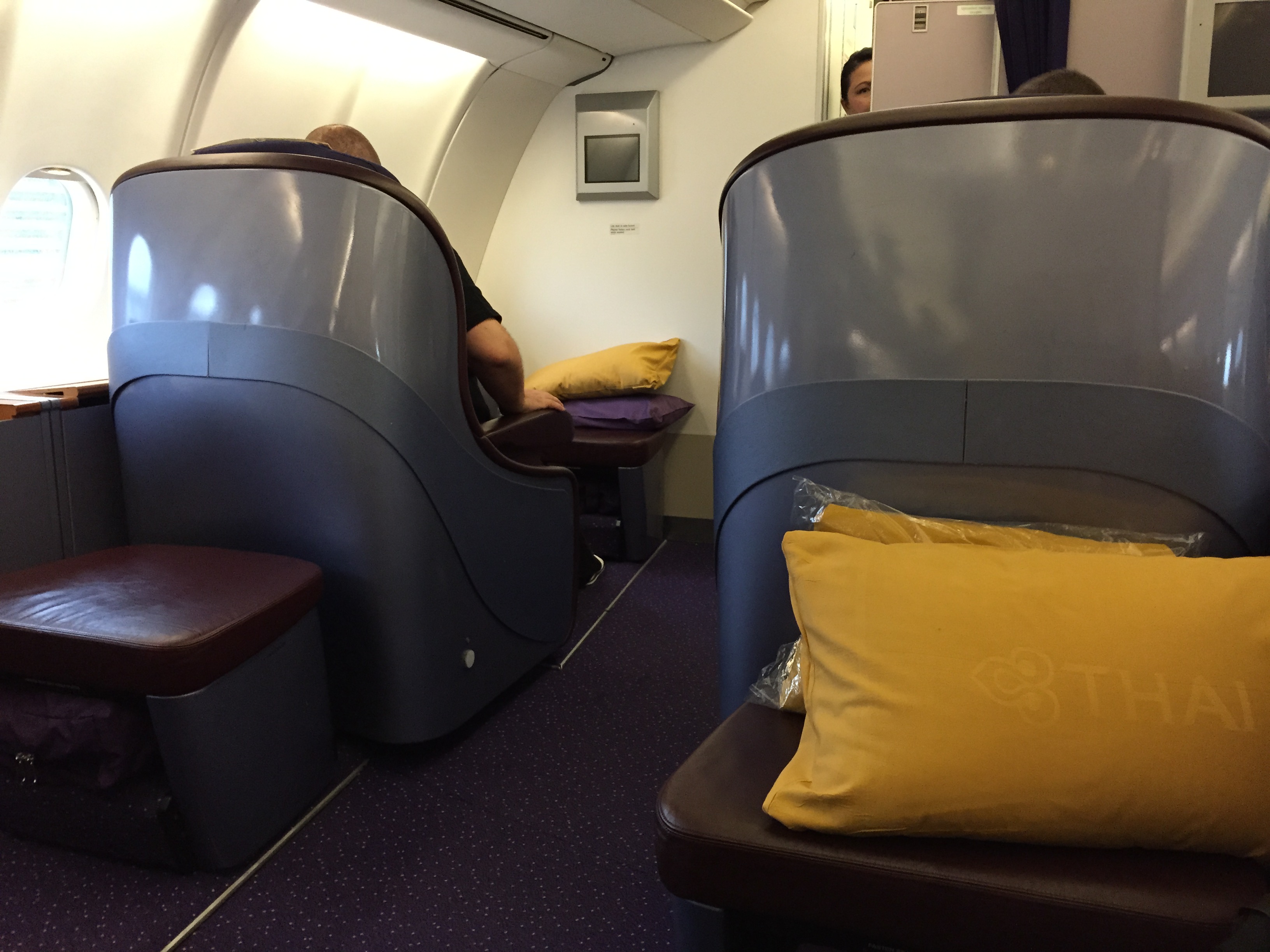 Wine list is very, very decent:
White: (of which the Cruzeau is rated 91 on Cellartracker, and the Monragny about a 90, both $35 bottles):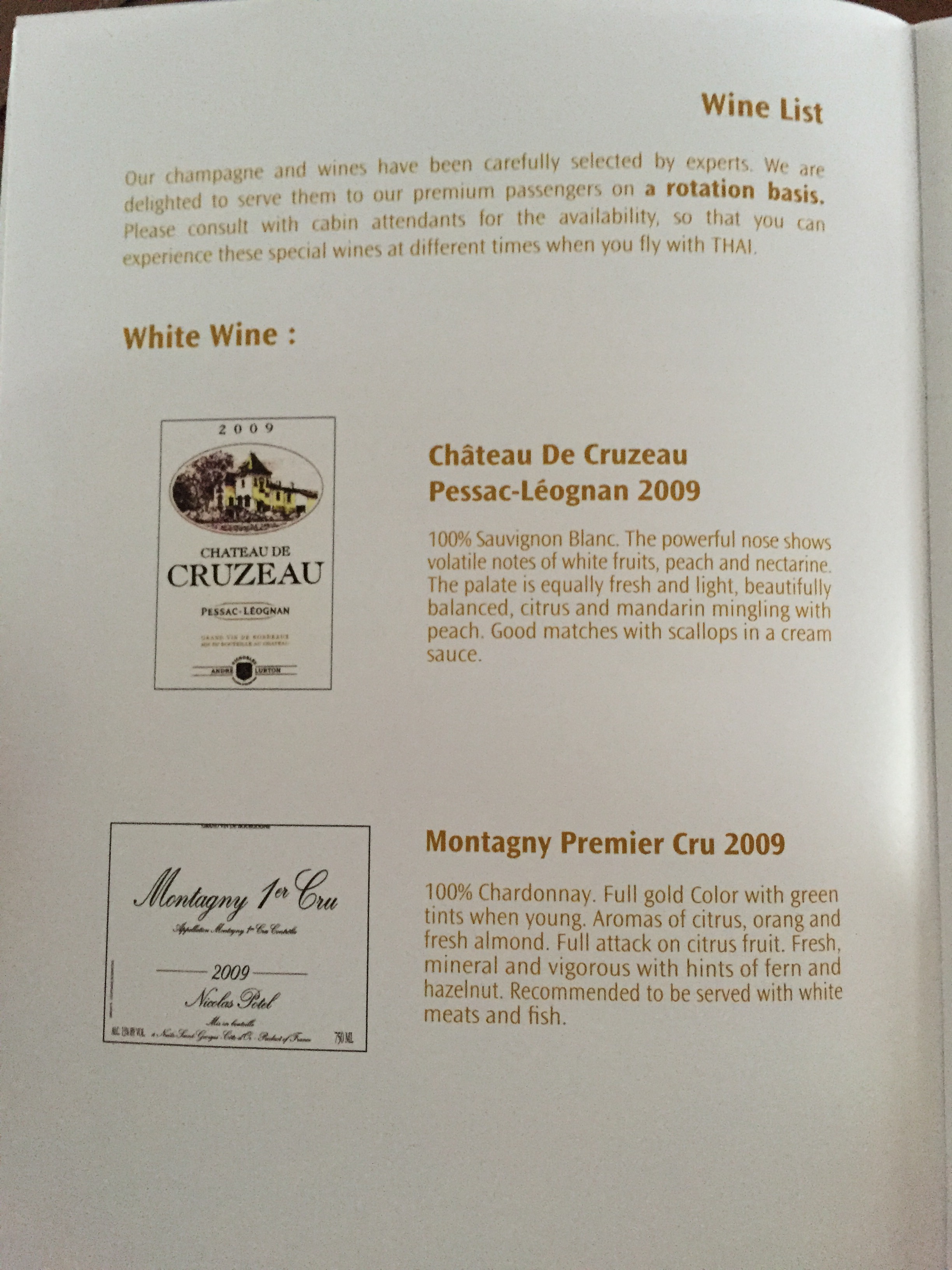 The reds are represented by a Batailley, a 87/$60, not the best representation of the vintage, and the Mercurey is a generally average bottle; so it'll be white later on.