After we picked up our little Honda Fit, we had a few hours to burn before we were heading to dinner at an izakaya by the sea. (Footnote: Hokkaido has amazing food. Its reputation is well-deserved). So I thought, what COULD we possibly do in the time we have, since the drive was to be only about an hour, and we had about two and change to burn? Out came my phone, and what did I find but the Shiraoi Ainu Museum – Porotokotan! Much has been written on the Ainu people, but seeing as they are a Northern nation, very little, if anything ever, is found about them south of Tokyo, which was my more common visiting ground. So this was an interesting opportunity to see at least something about them. Of course, being as it was a very tourist-oriented location, it featured the usual dancing and singing demonstrations, and so on, which was somewhat less interesting than the culture and the background of the Ainu, but it was still certainly worth a visit.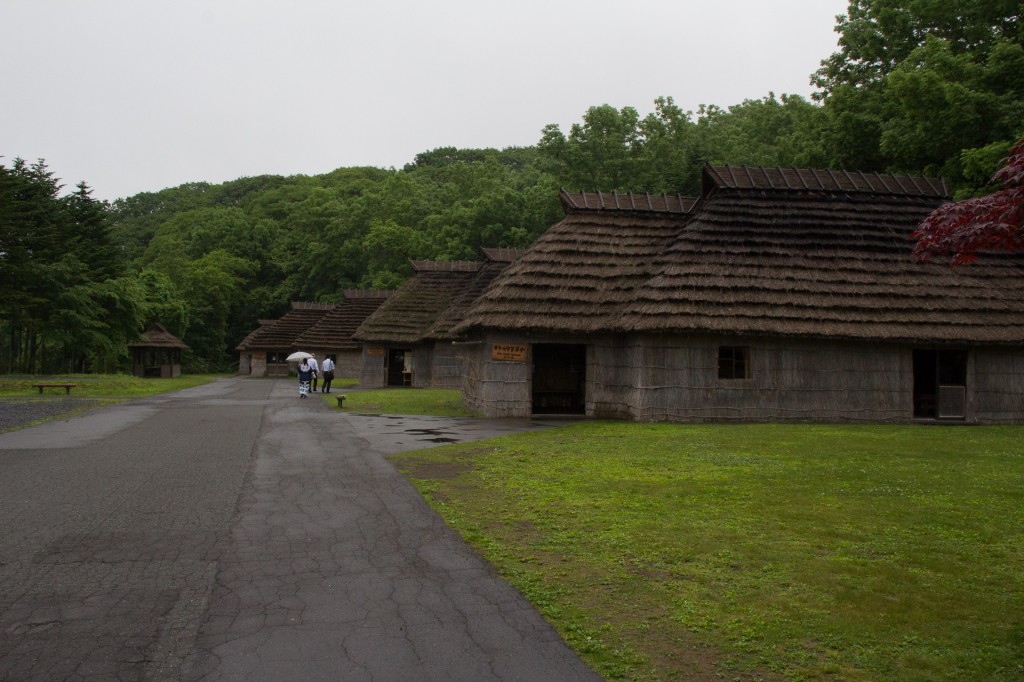 Another view of the grounds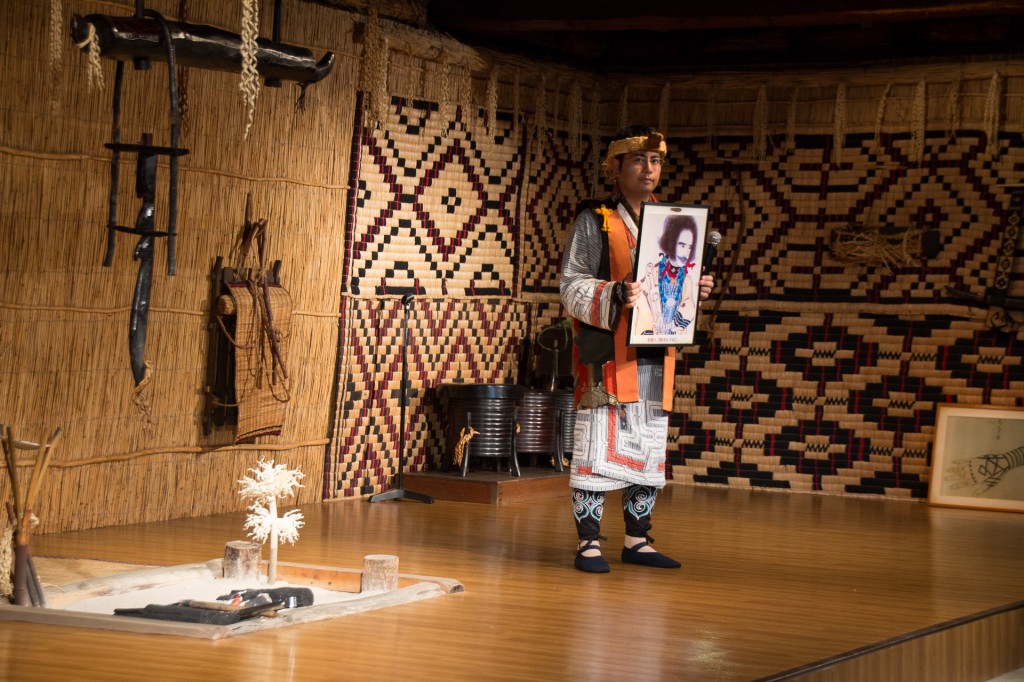 Demonstration of Ainu art, singing and dancing
Bears are clearly important in Ainu culture. The one thing that I wanted to see, having read the reviews, were the bears they had on property – they consider them as deities, and keep them on the grounds. I also didn't take any pictures of that, because I really, really like bears, and the ones here were so miserable in their small cages under the rain, that I felt it to be disrespectful to them to take any pictures of them. I was actually somewhat sad. I'm generally pretty agnostic towards most current issues – not because I don't have an opinion on them, but rather because despite having an opinion, I prefer to document the presence or absence of an issue in this blog, leaving the discussion thereof to a separate occasion in small circles of friends; but these bears really, really looked miserable. I left with this wise thought from a bout of grass: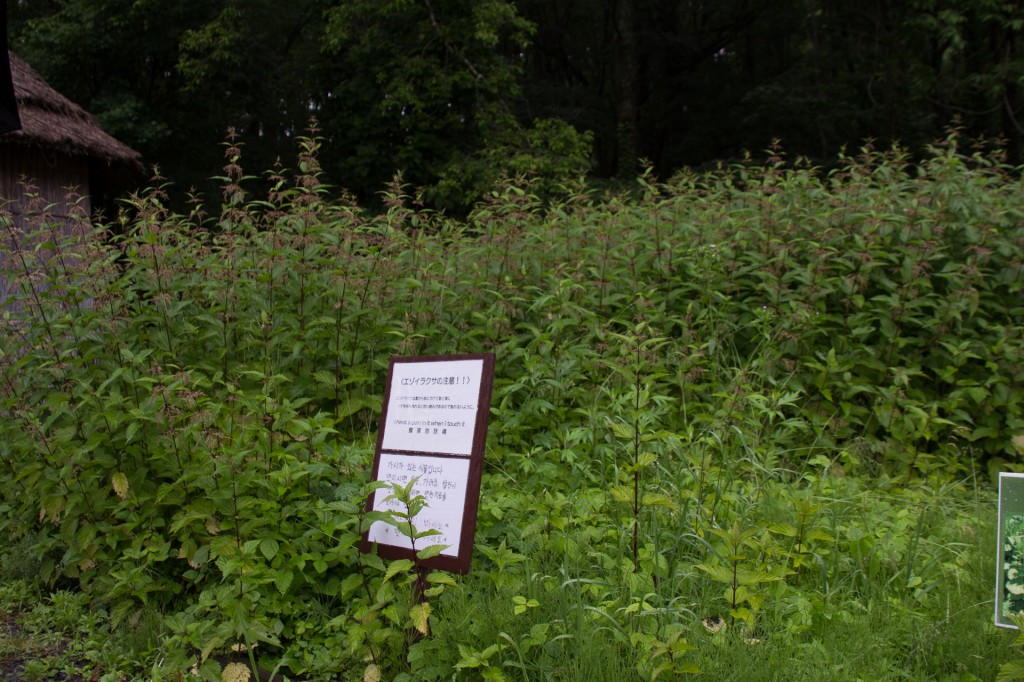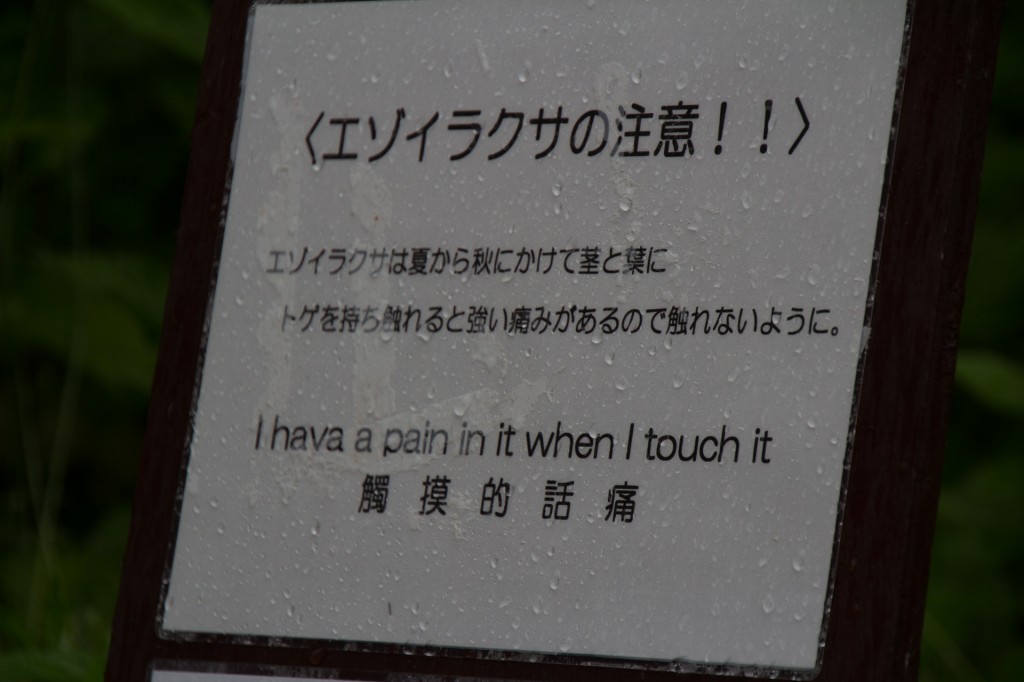 After this, we went off to our planned izakaya, "Kita no ramp-tei" (北のランプ亭):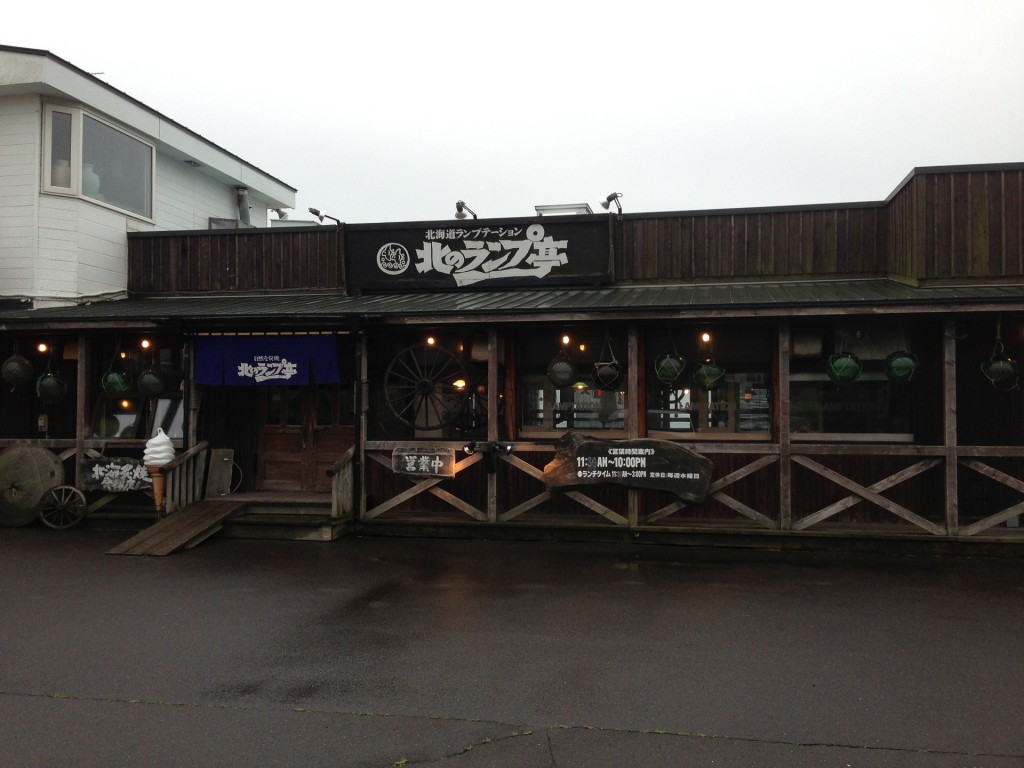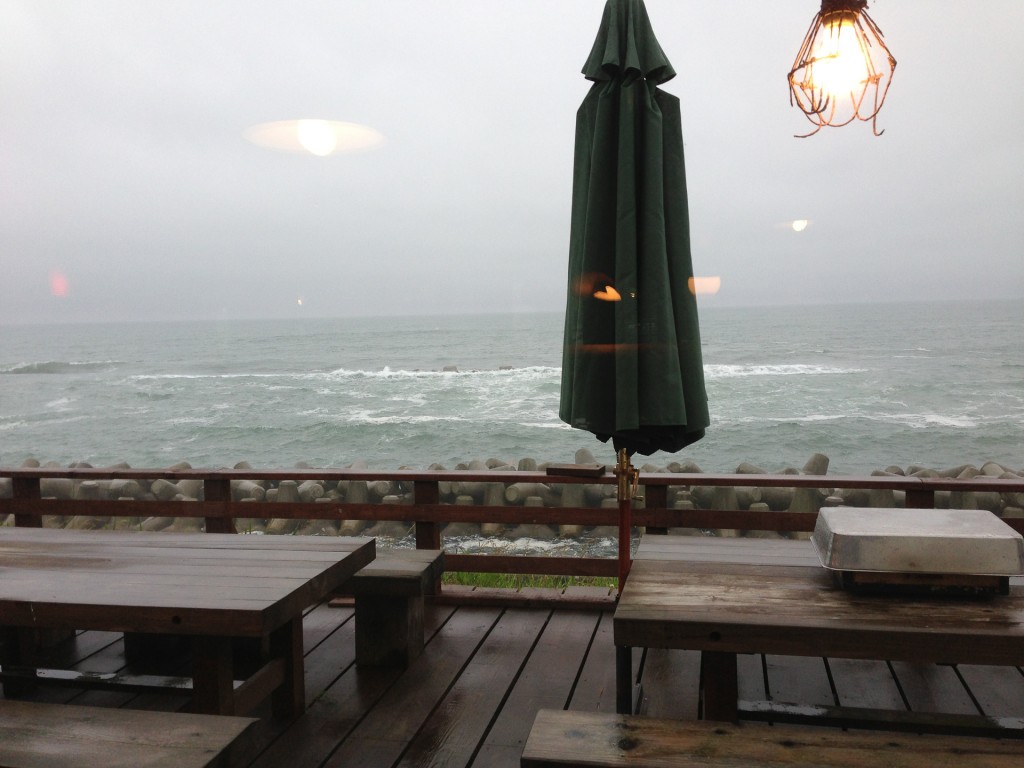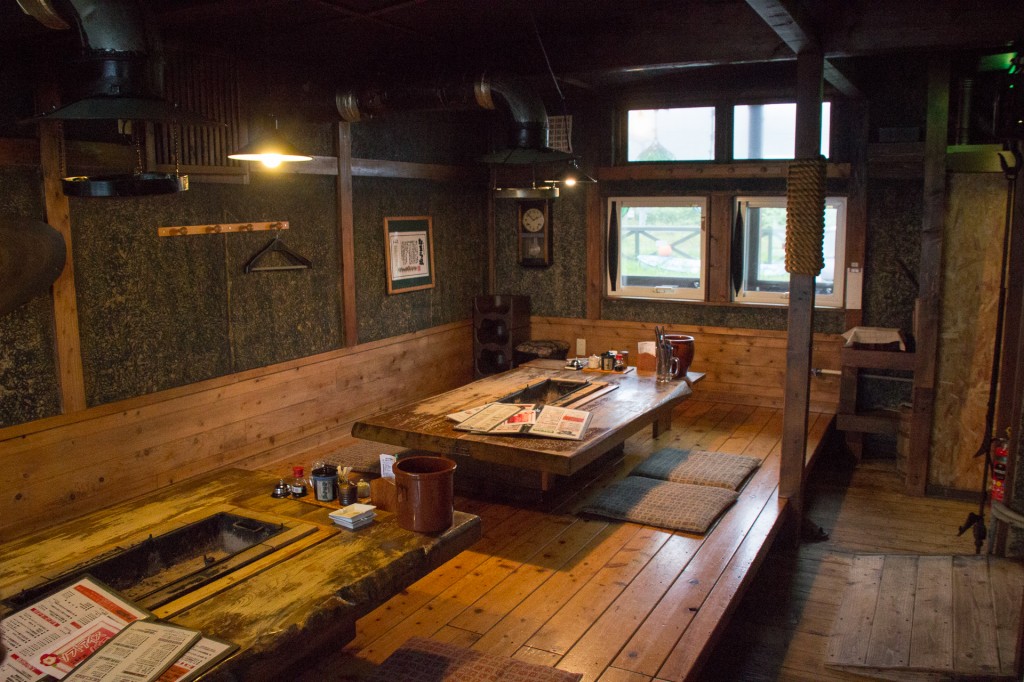 It being on the edge of the sea, I was expecting lots of fresh, fresh, fresh seafood and various other foods. I was not disappointed: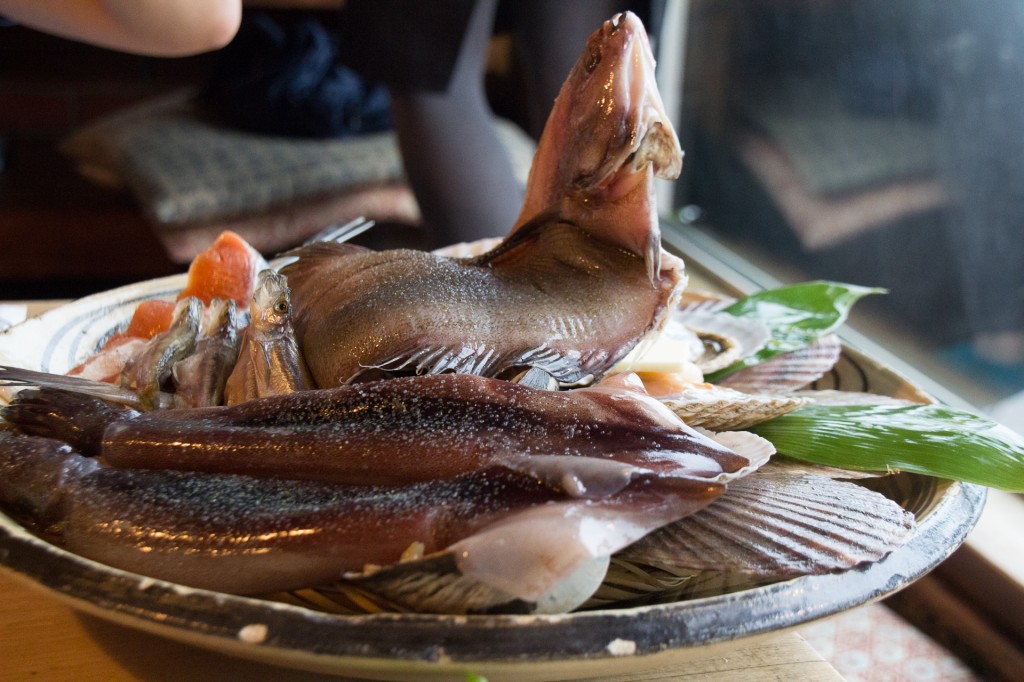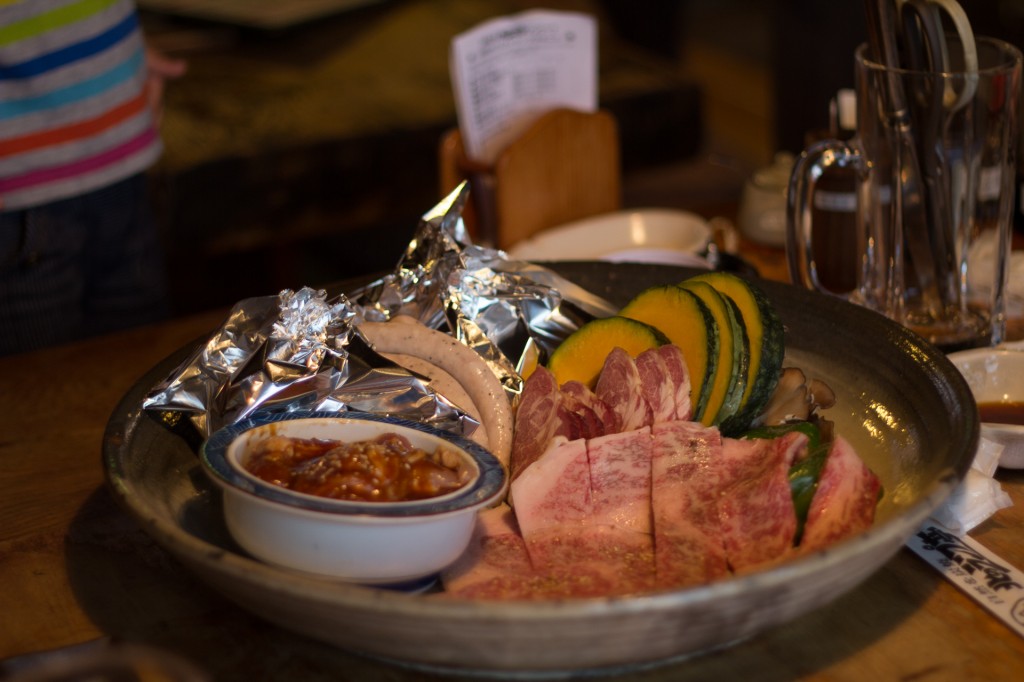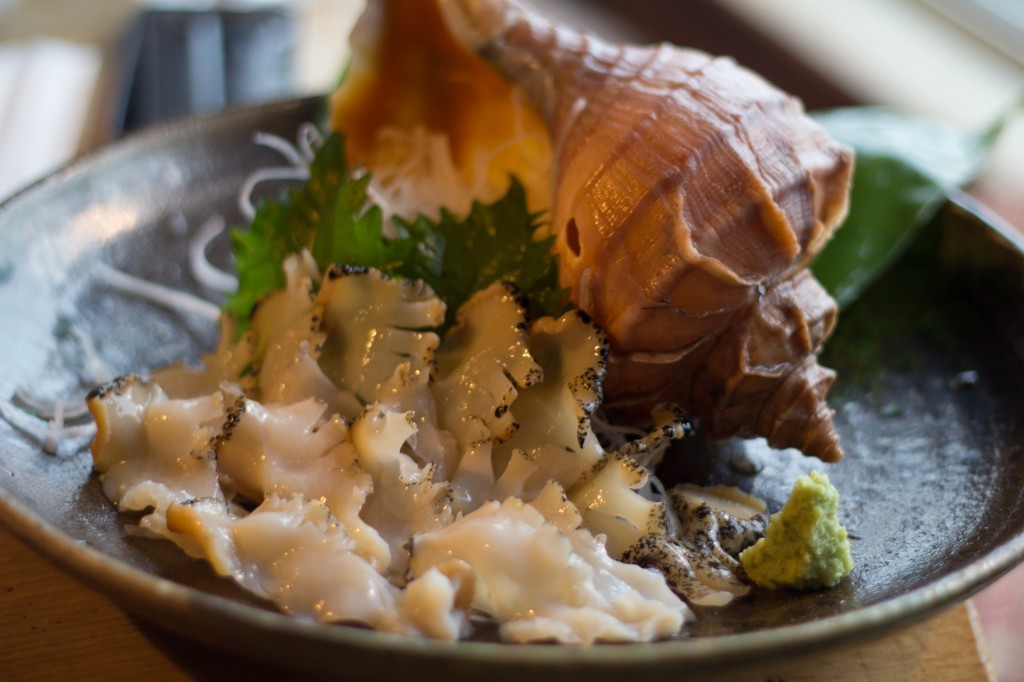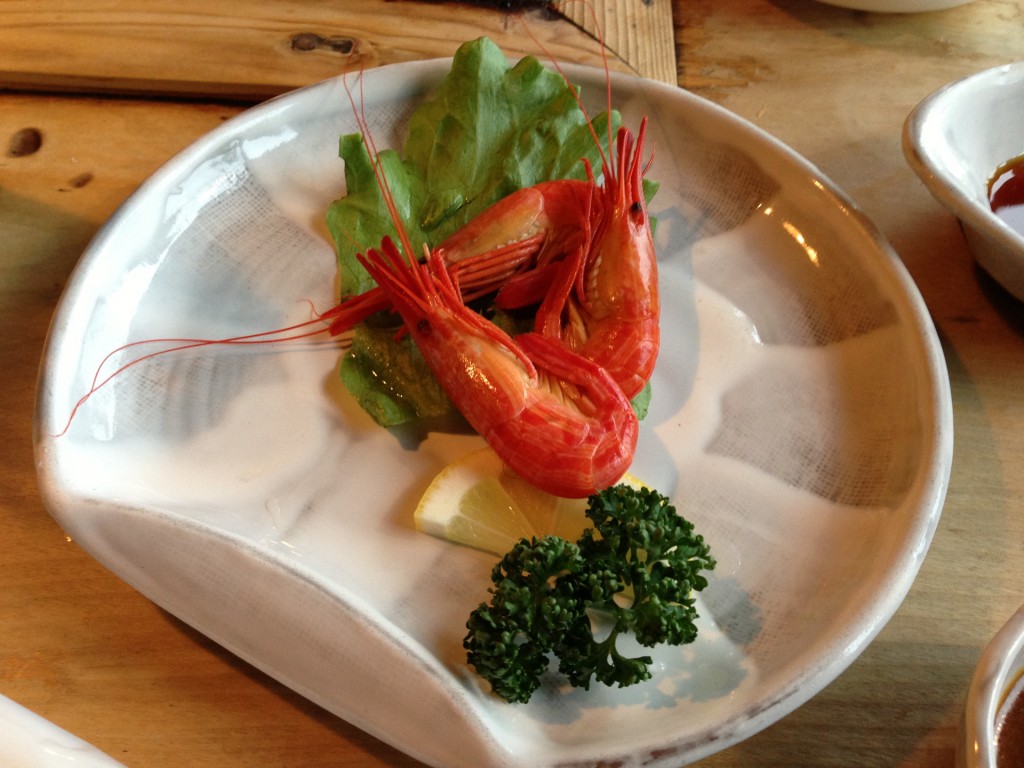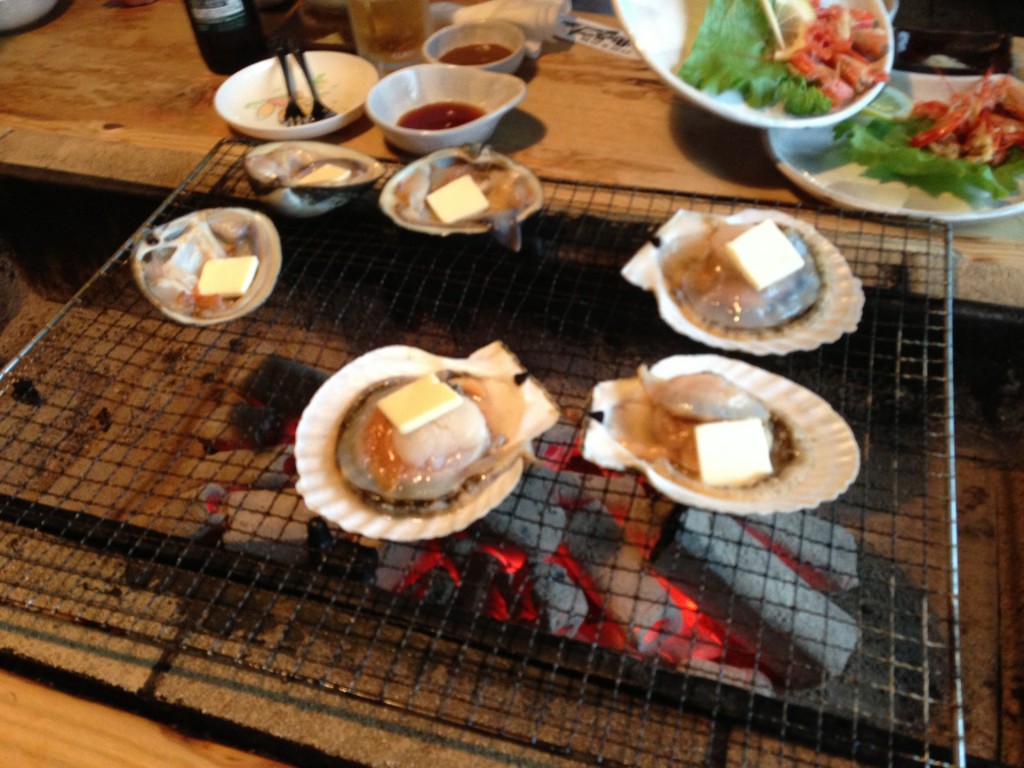 Afterwards, we headed off to our hotel, which was going to be in Noboribetsu, where we were going to see some of the local geysers. Of course, seeing at this is Japan, there aren't many chain and big-brand hotels… but you know, sometimes, maybe it's not a bad thing. It's kind of nice NOT to worry about which night will credit to which program and staying where you HAVE to, rather than where you WANT to. Here, we stayed at the Noboribetsu Grand Hotel (a typical theme in Japan, where hotels and apartment buildings often have absolutely glorious-sounding names). Noboribetsu is known for its devil (Oni, 鬼) imagery, and devil statues are omnipresent – starting with the entrance to the hotel!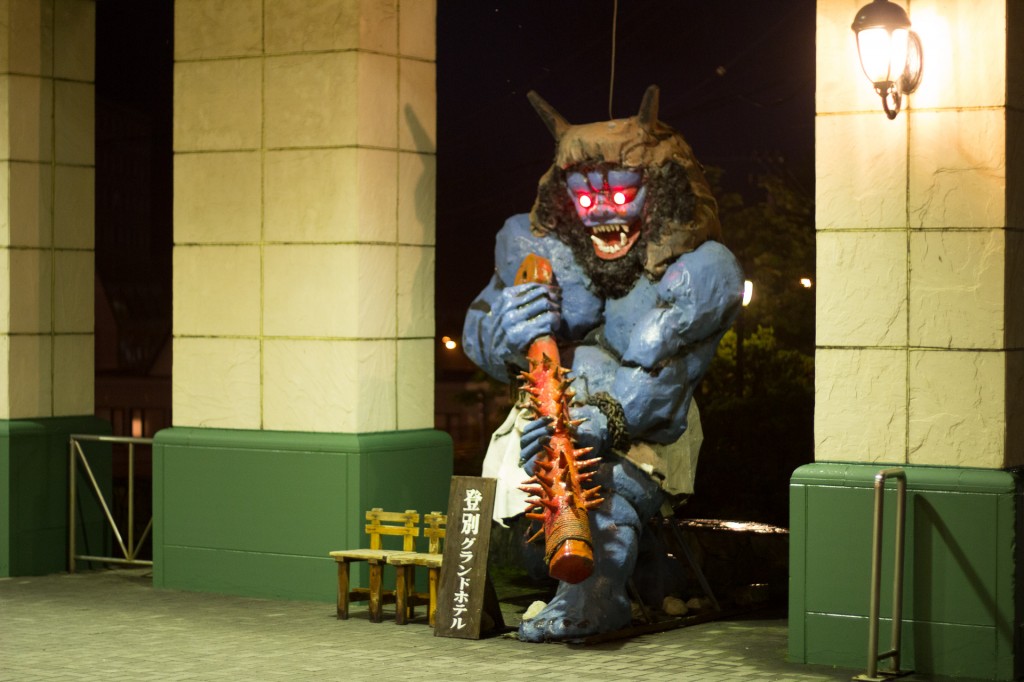 The lobby of the hotel was sufficiently grand: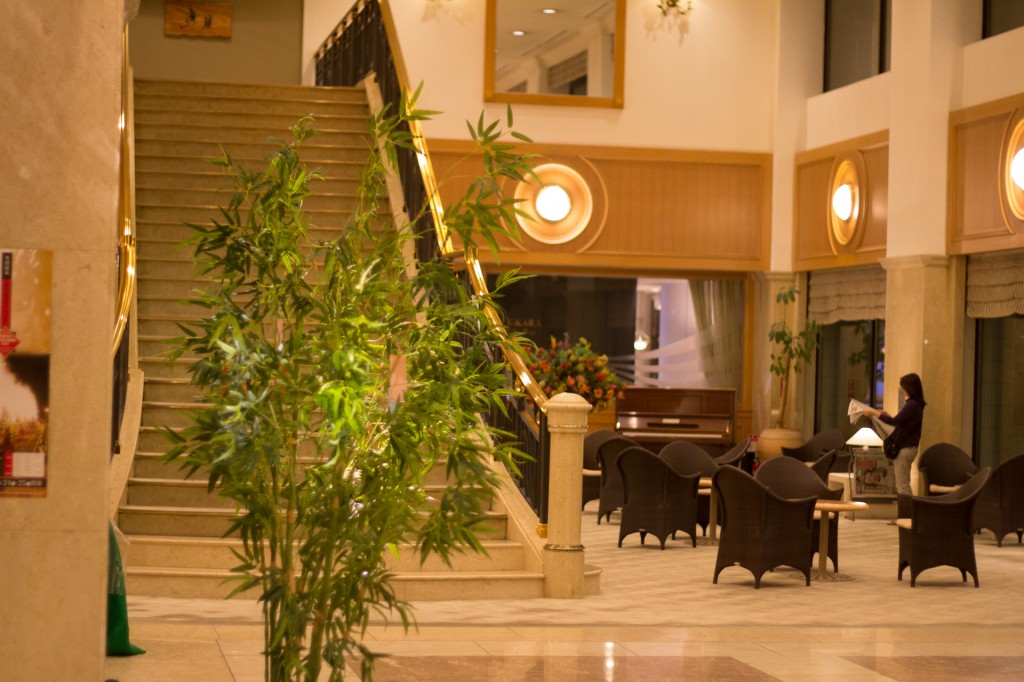 It even had an automatic shoe polisher (by Dremel!):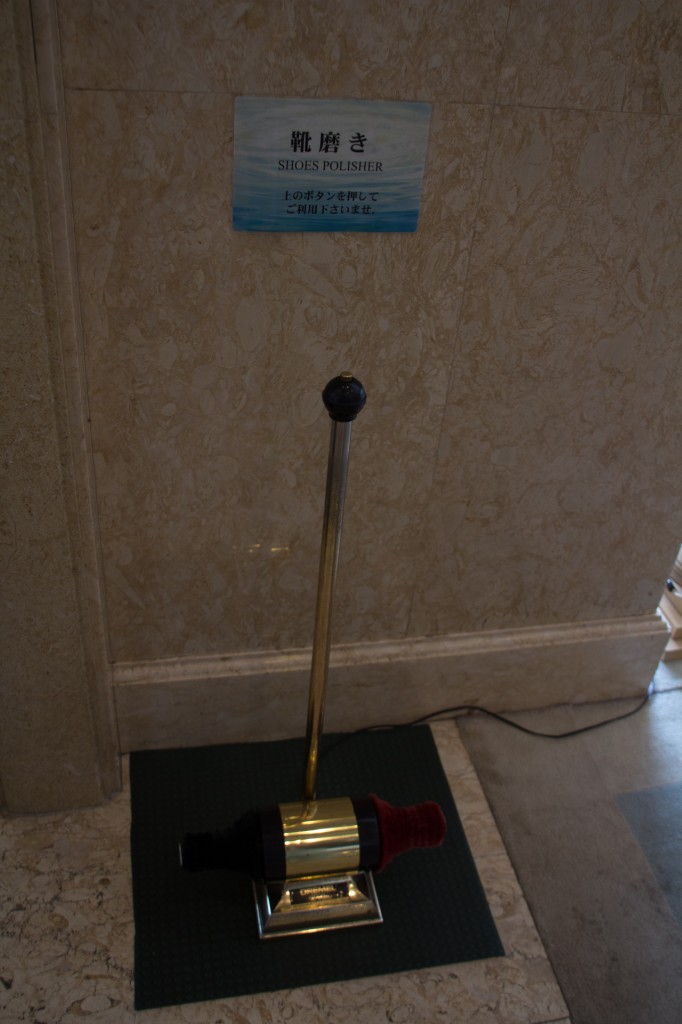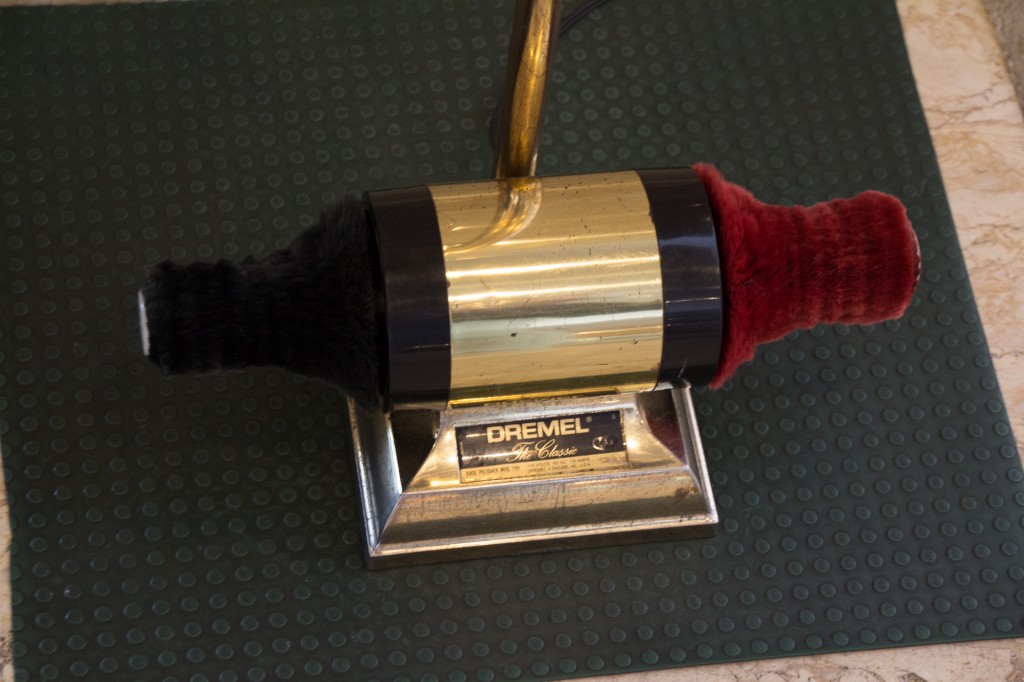 The room would certainly put most Western hotel rooms to shame, though. Separate beds: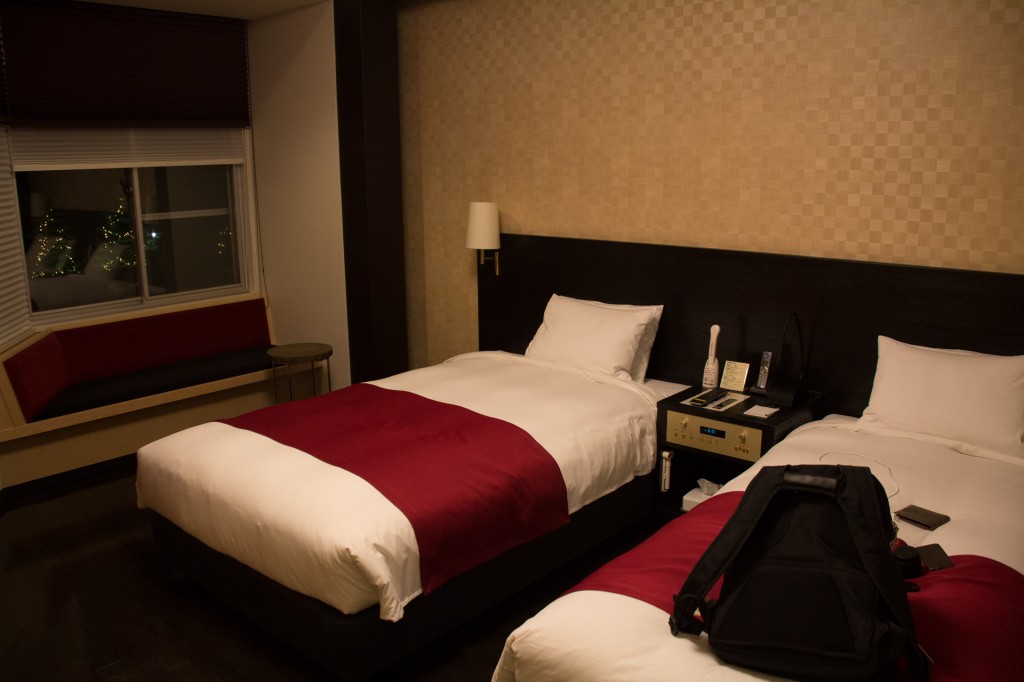 … but who needs them, with a Japanese sleeping area, as well: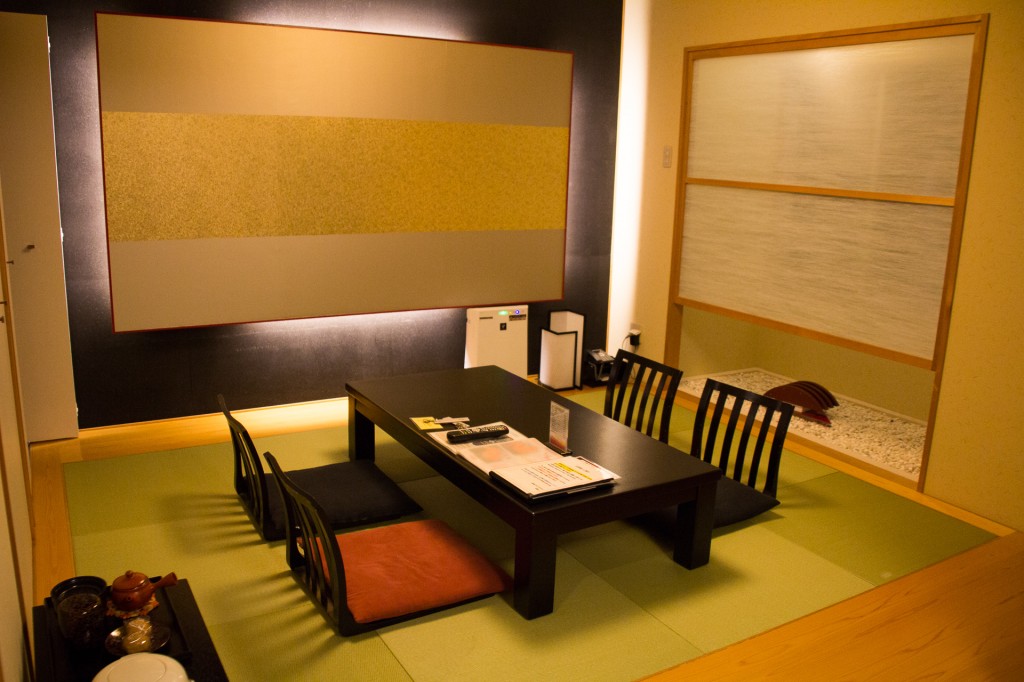 And even our own Zen garden!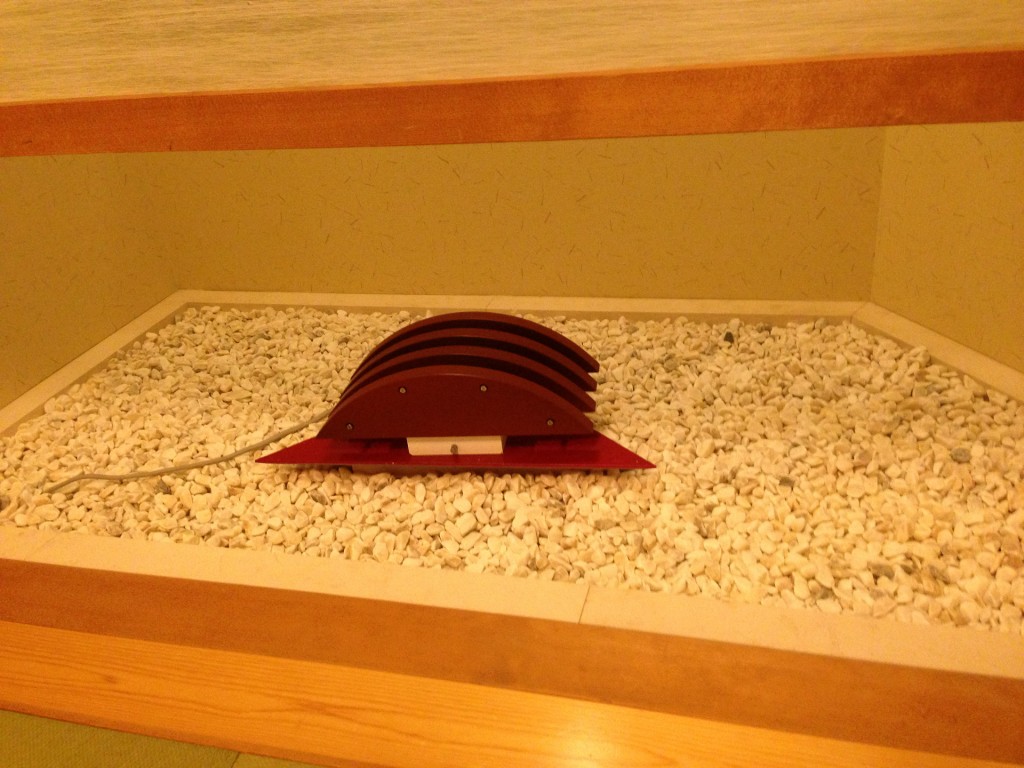 And a washlet-equipped toilet with a control panel rivaling my TV, not to mention with an room occupancy sensor (lights come on, toilet opens up as you enter). The geek in me can never get enough of this stuff.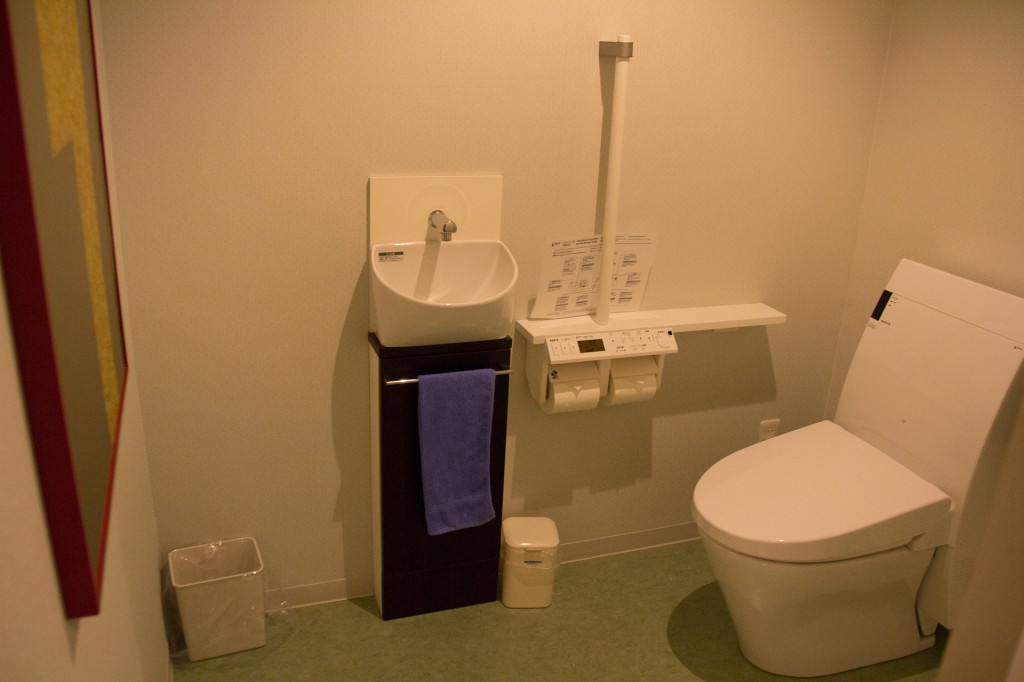 After we settled in, we went out to the Oni Fireworks festival. Night shots are always a bit hard, but here are a few. We were late, as always, so just caught the tail end of it.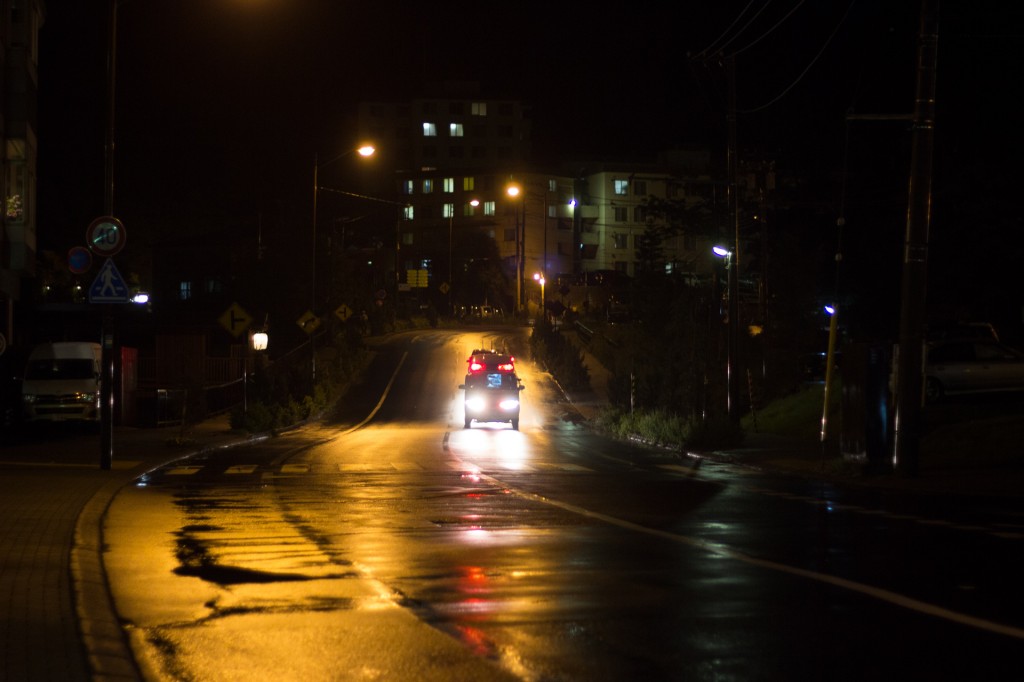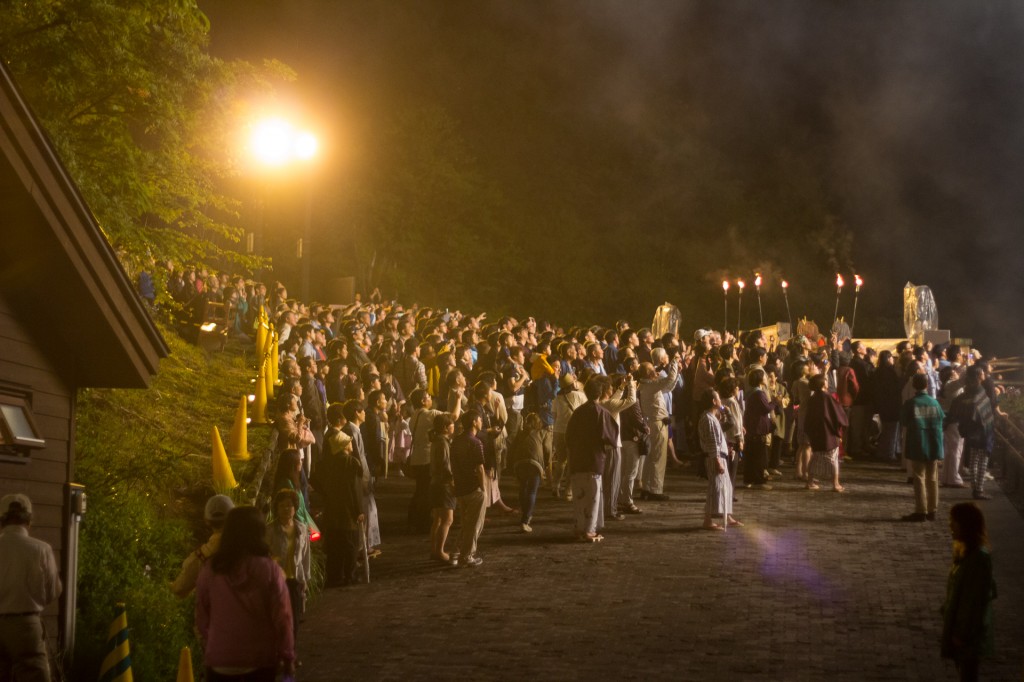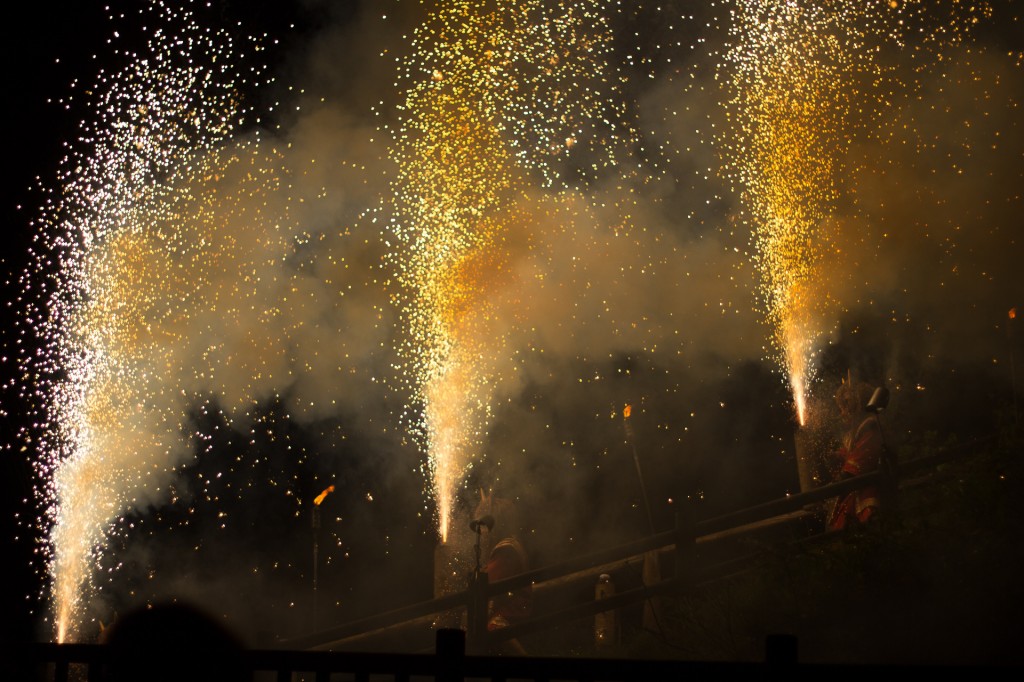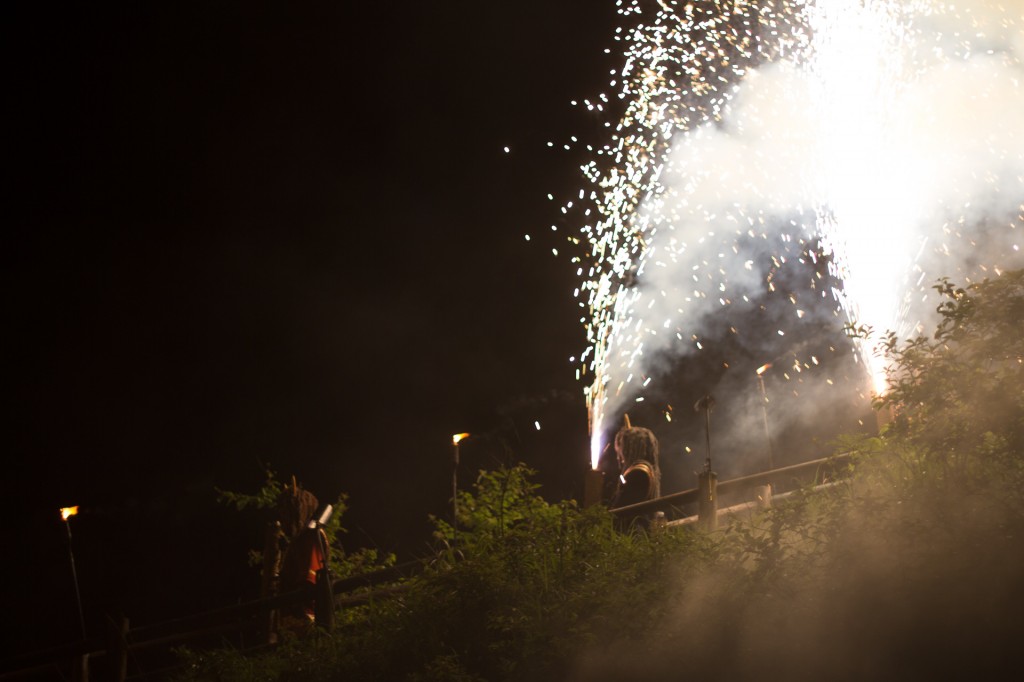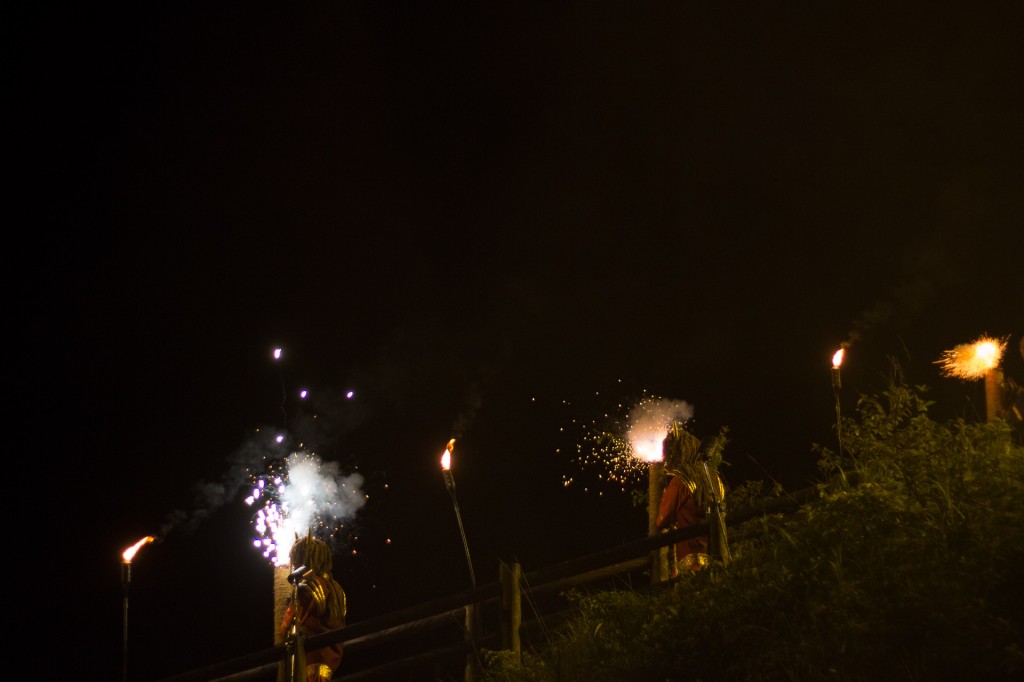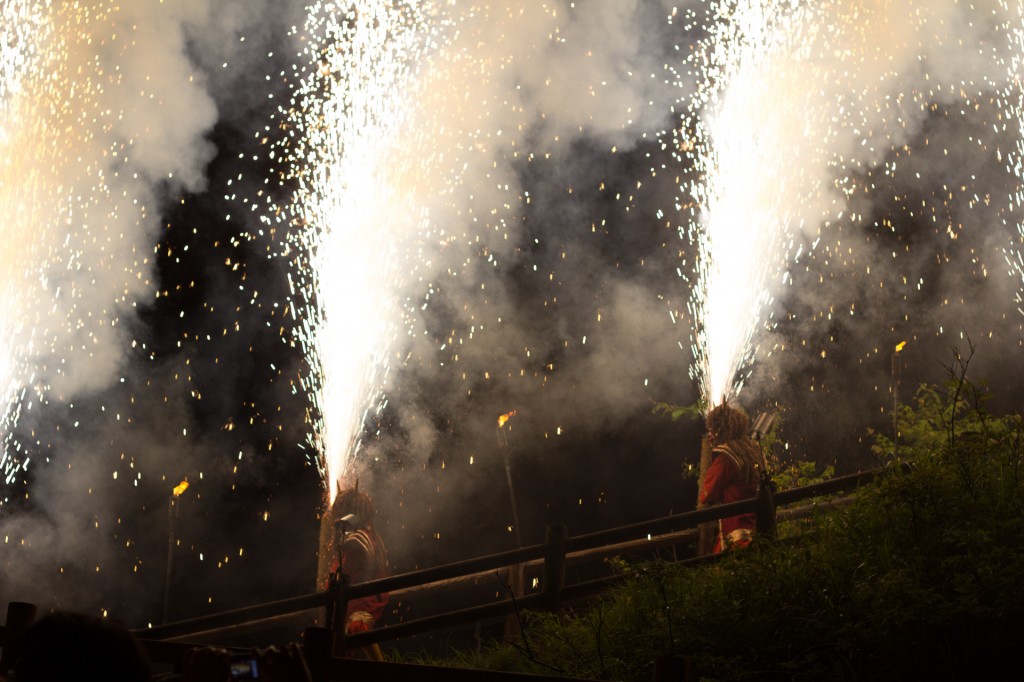 The next morning, we had breakfast at the hotel, before heading out to the geysers. Breakfasts are taken very seriously in Japanese hotels; if it's a buffet, ample choice is mandatory. I'll skip the pictures of all the dishes, but the room was humongous: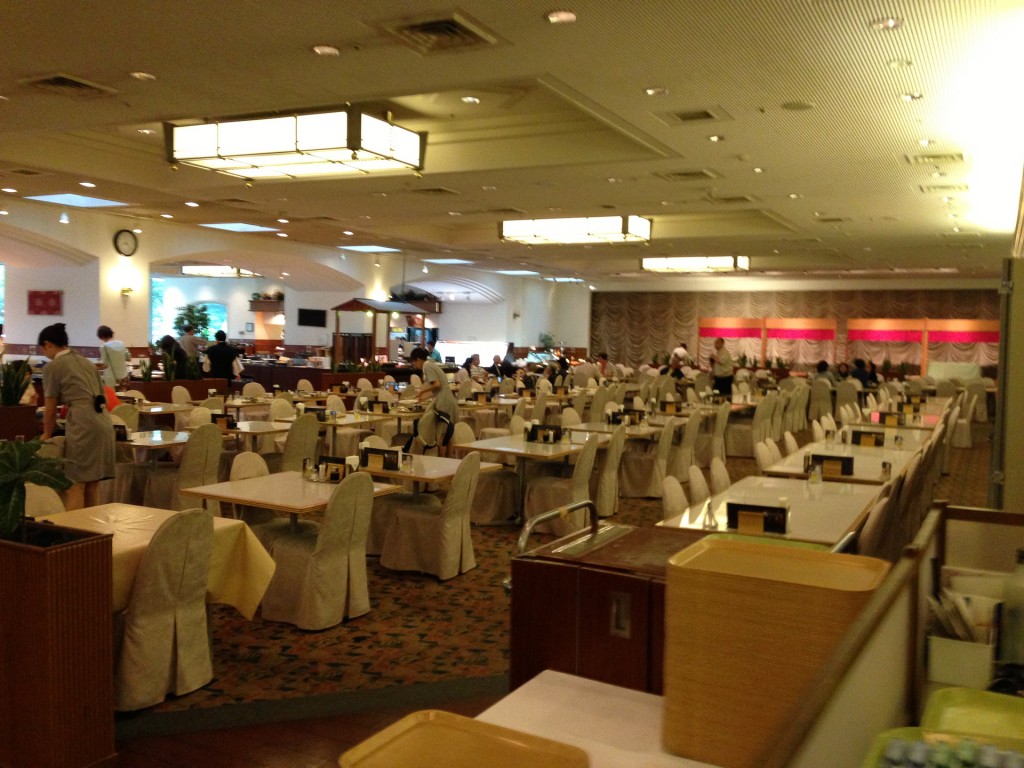 Daytime shots of Noboribetsu: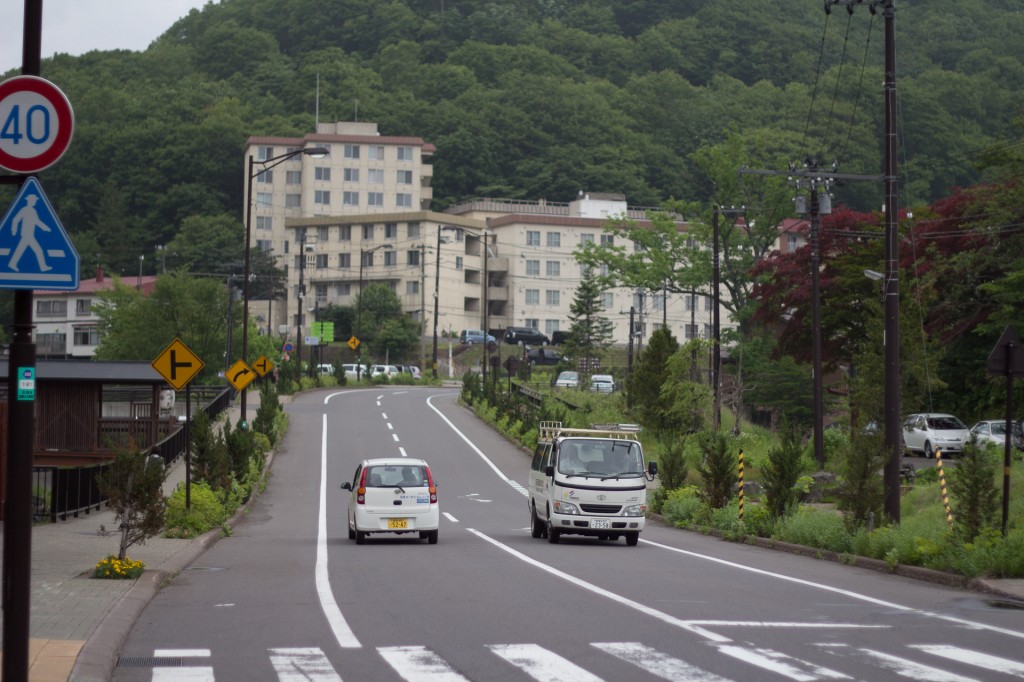 Sengen park geyser: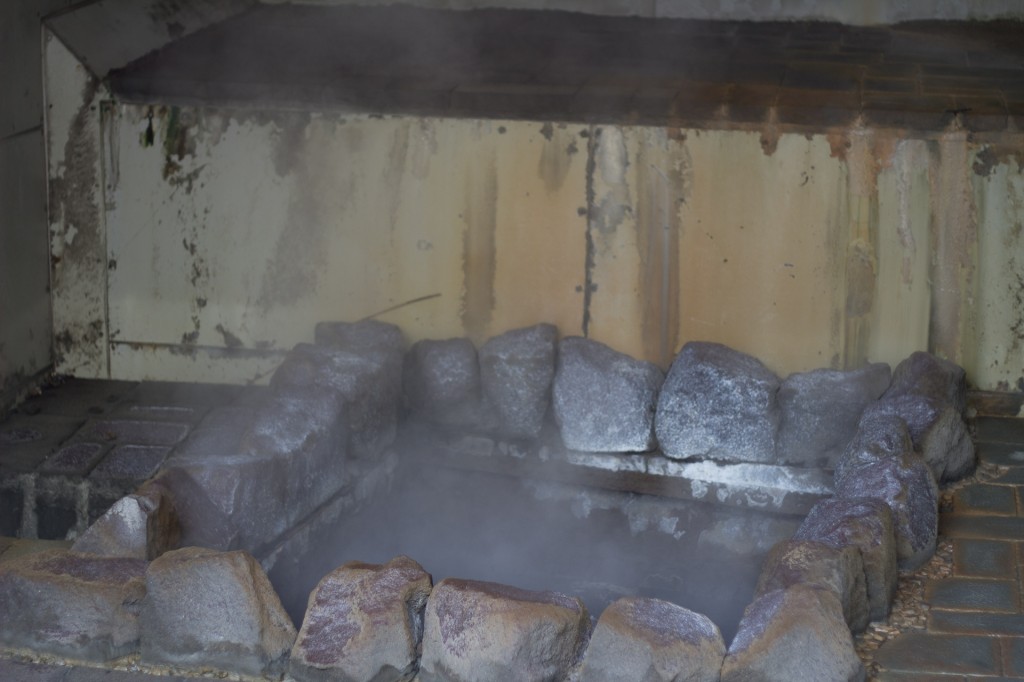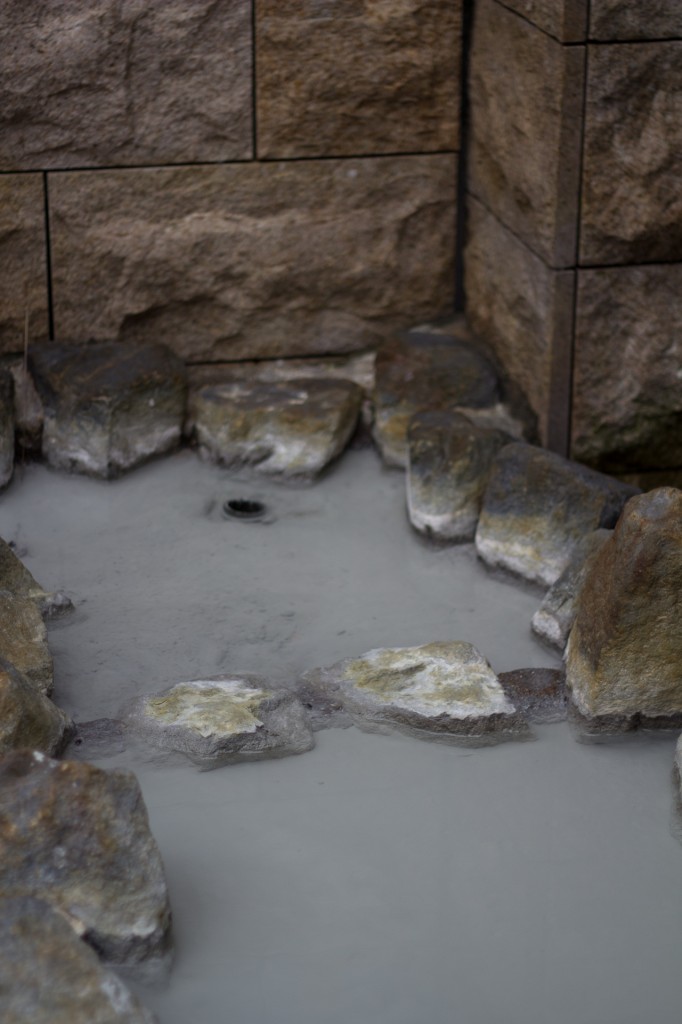 I looked at this and thought, so uh, where's the geyser? Sure, it smells of sulfur, but… don't really see anything. Then I read this sign: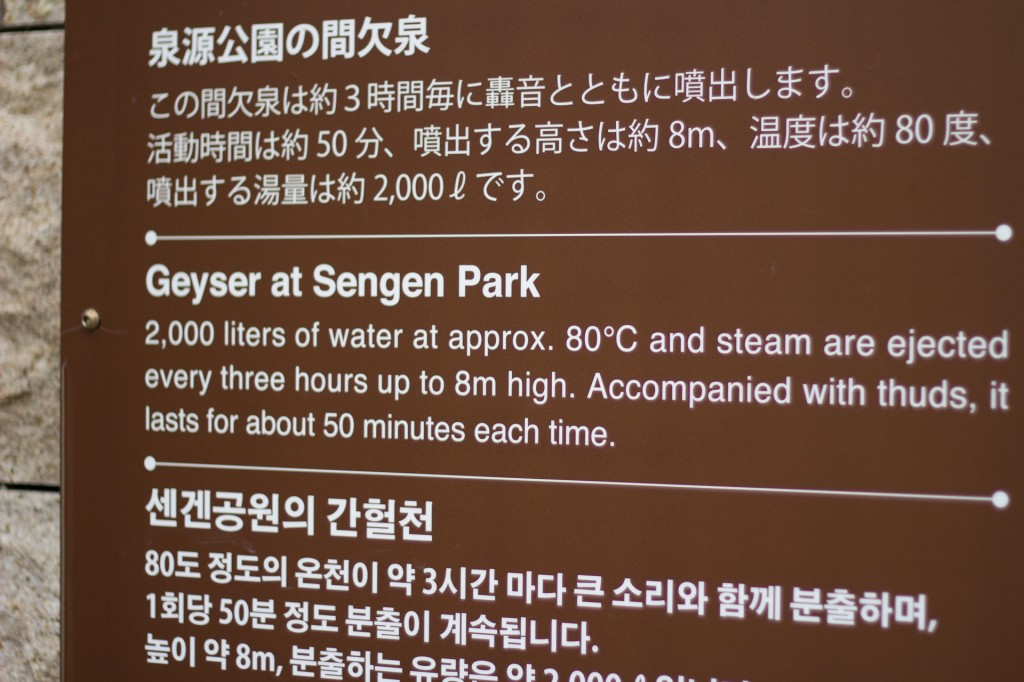 Ahh, I thought. I guess I'm in a lull, except I've no idea when the next eruption is, so off I went. Barely had I gone a dozen metres, when I heard gurgling and hissing … and I came back to this: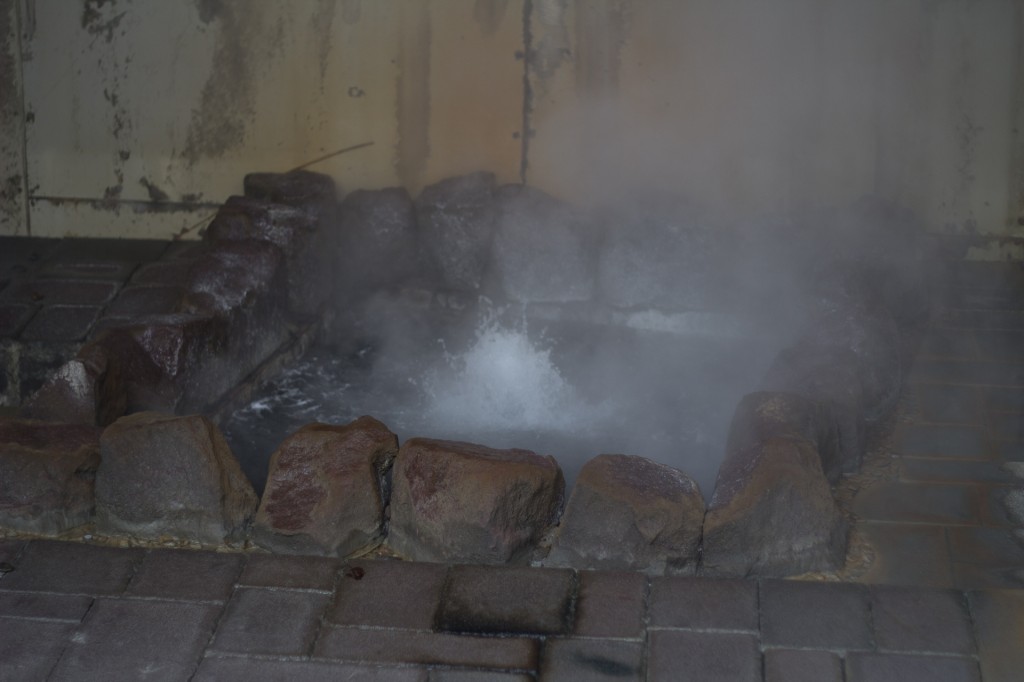 That was more like it. We continued up a path to see some of the larger Noboribetsu geysers that were visible, but not accessible, and saw this view: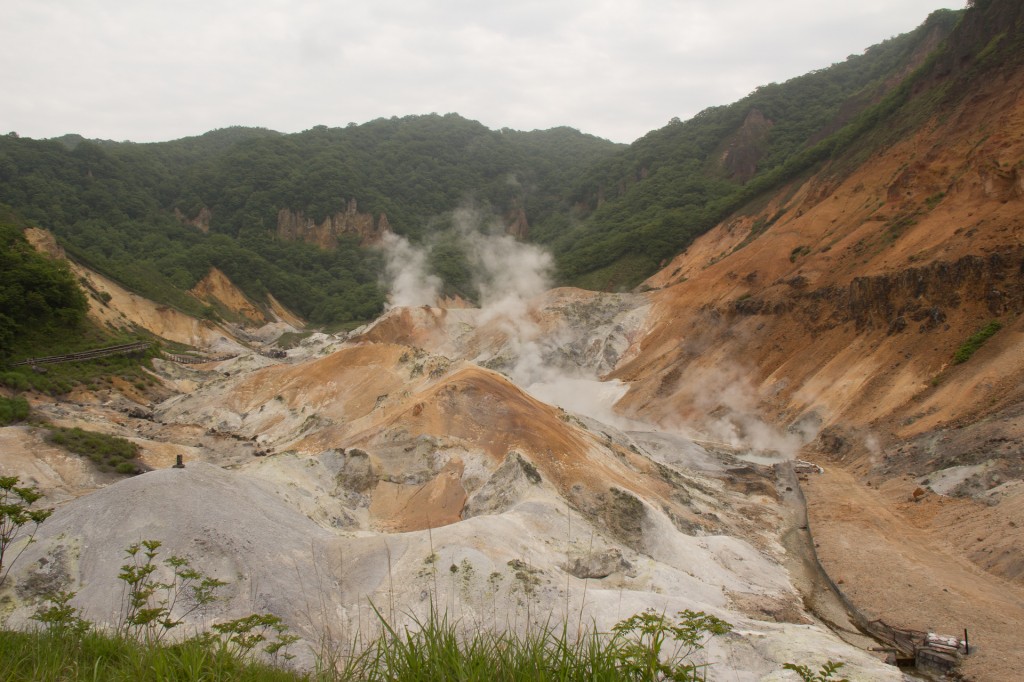 This is where I (re)discovered the iPhone 5's Panorama function.

Heading back, saw this guy with Osaka plates on a matte black Ducati Monster (that's 2,000 kms away, for reference – a pretty long way to come on a motorcycle):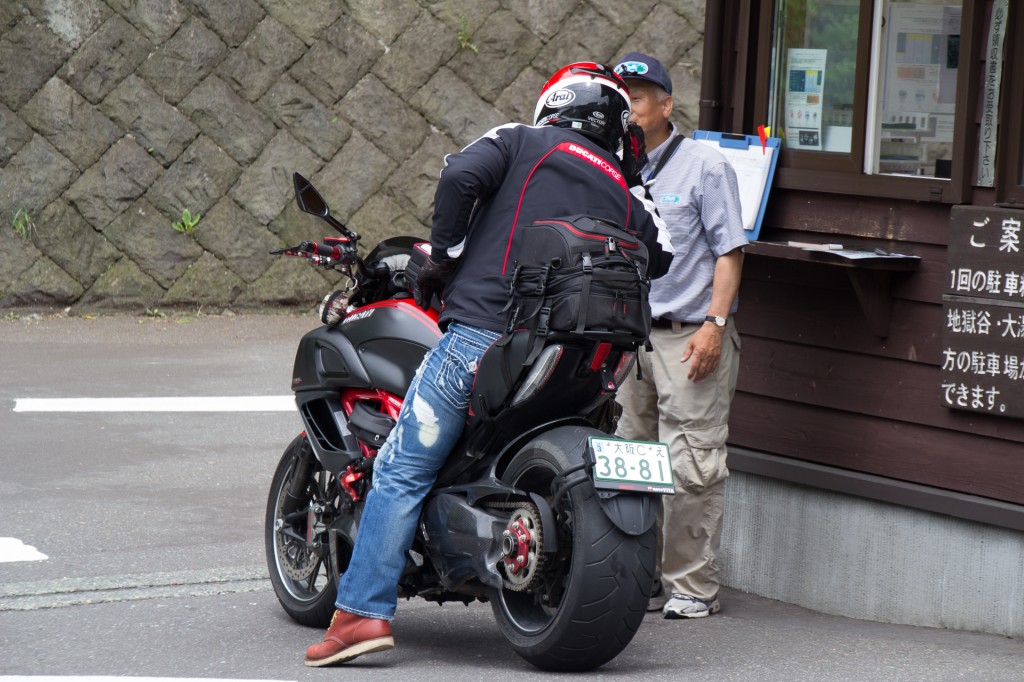 Also passed by this gloriously attractive-looking bar – Bar Seventy One: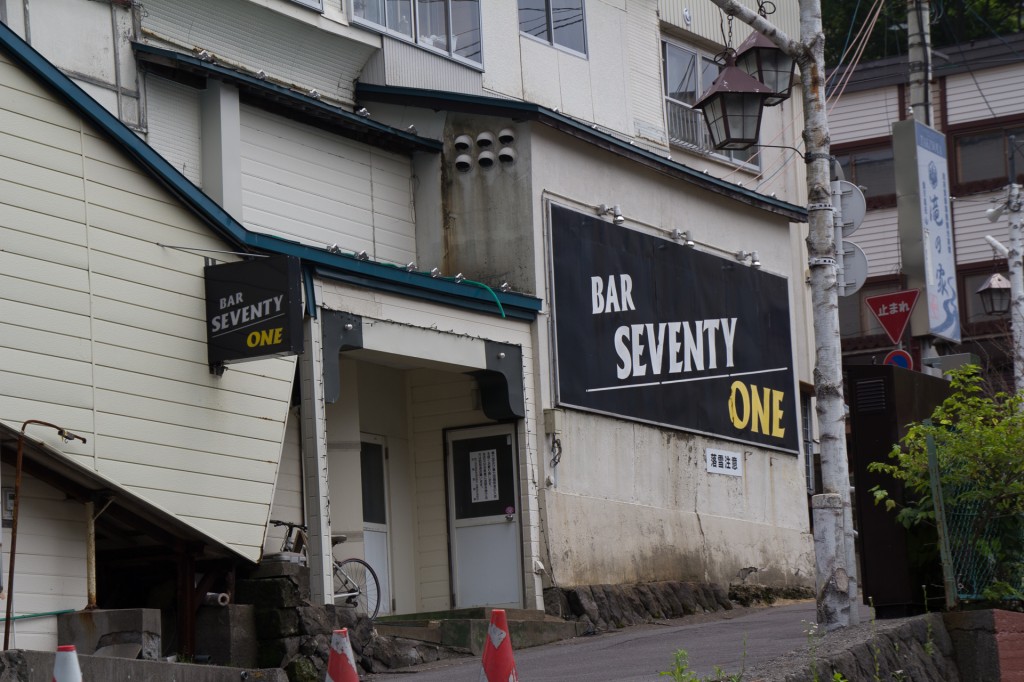 And that was about it for us in Noboribetsu. We now headed off to Sapporo for further fun; stay tuned for that update. A few preview shots of the lush Hokkaido countryside: