The next day, we were headed off deep into the woods – to Jacatra Pension, middle-of-nowhere Hokkaido, and so on. We were going to drive through the mountains in the center, which bode awesome for my driving enjoyment. But first, we had to get a burger. So off to Furano we went.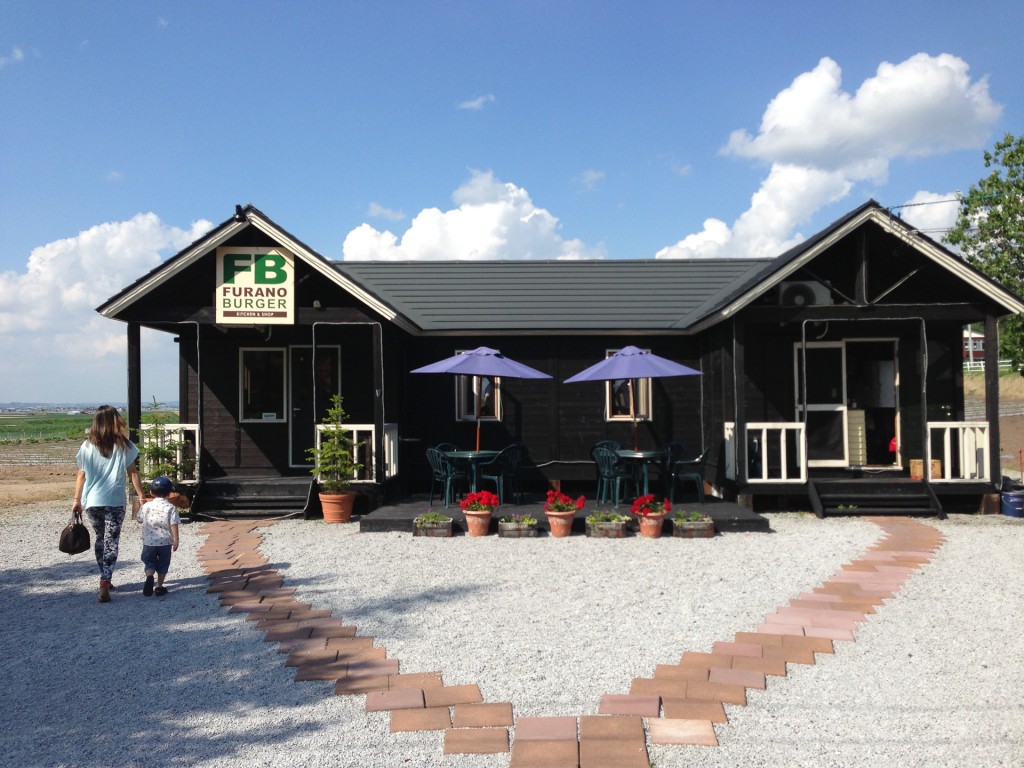 The burger was awesome. Somewhat subdued – nothing like the six-patty insanity that Holy Chuck Burgers serves – but probably far healthier.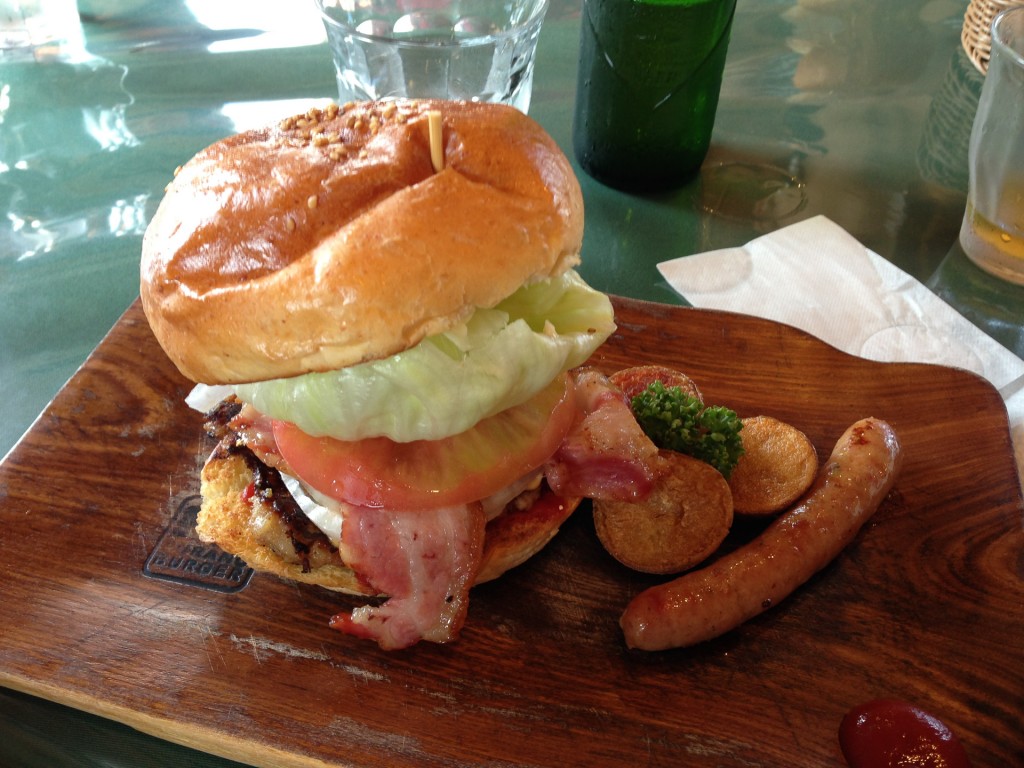 We kept moving. On our way to the Jacatra Pension, we stopped by a pretty flower field. Hokkaido is known for flowing flower fields, and this was one of them.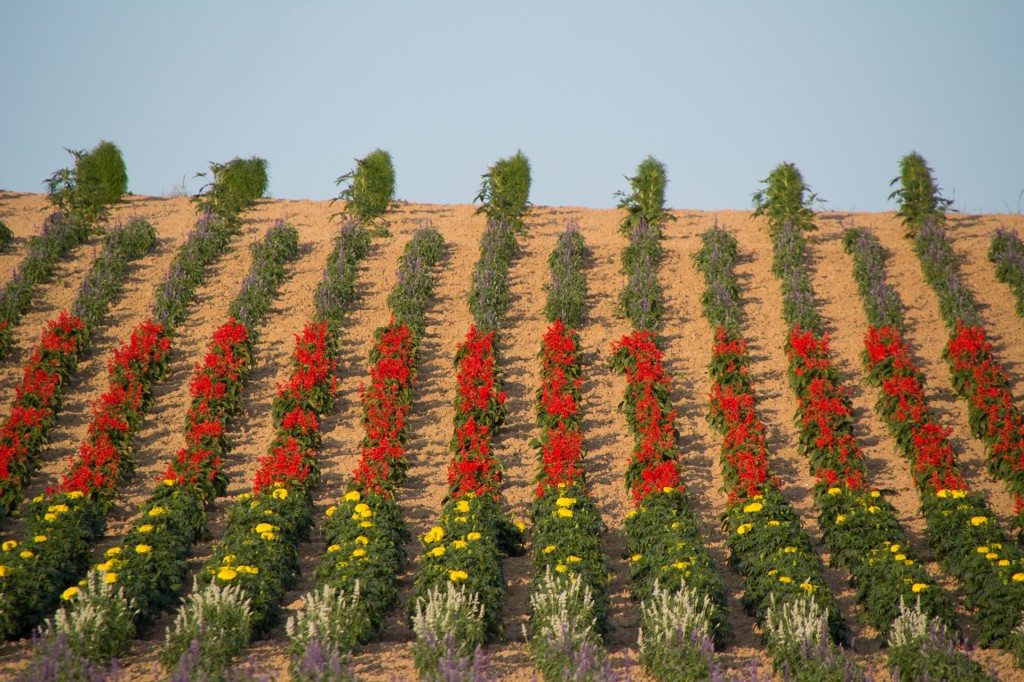 And of course, gaijin humour is present anywhere. Someone "adjusted" this stuffed farmer doll to show the middle finger.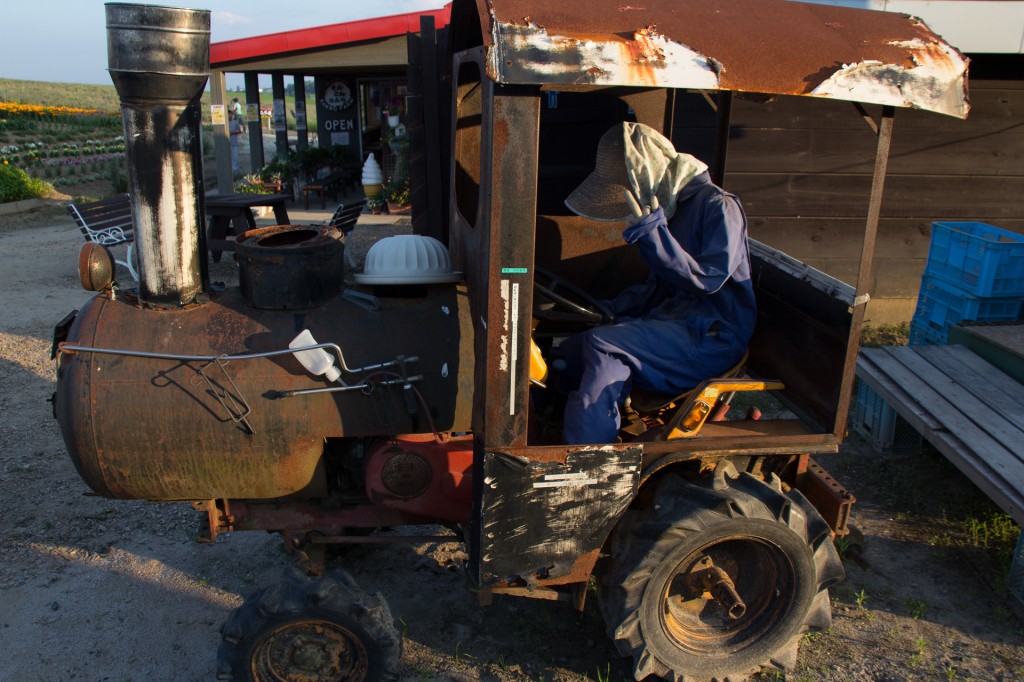 We arrived to Jacatra:
Dinner was yakiniku – self-made grill, where you get all the raw ingredients, and then cook yourself. And eat yourself. And pay for it. Kind of like being at home, except they bring all the stuff for you to cook with. An amusing, yet highly popular concept that usually turns out very tasty, and well.
The next morning, we left Jacatra and headed off to Aoi-ike (青い池), a lake that tends to get very blue – naturally. It wasn't as blue as it could've been when we saw it, but it was still not the typical grey colour.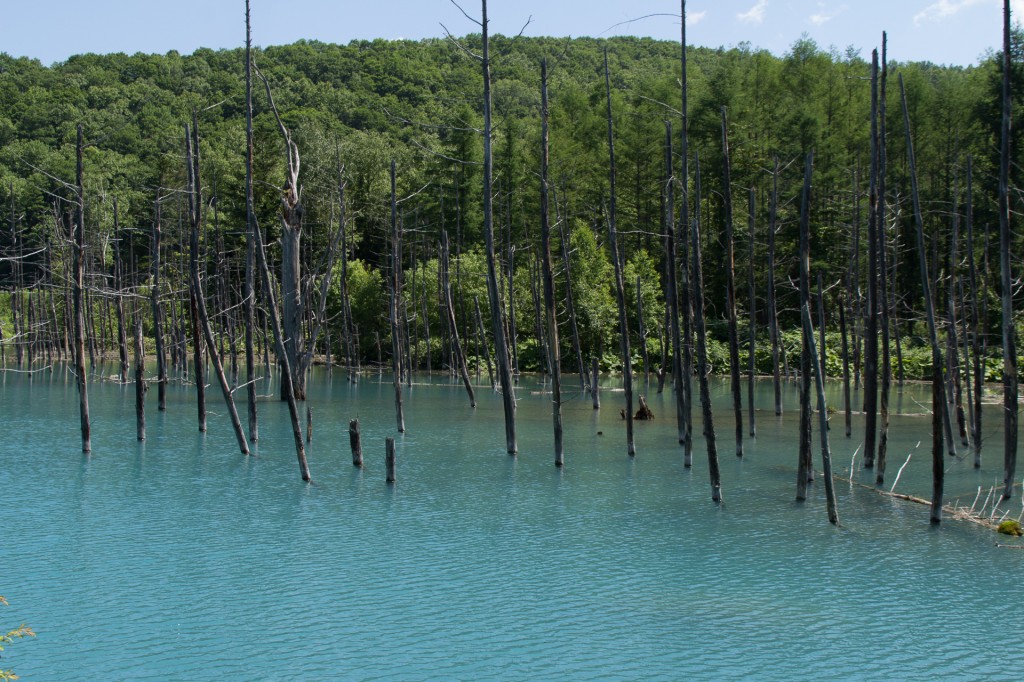 On the way to the Asahikawa zoo, we stumbled upon another beautiful flower field. This one, conveniently, had GPS coordinates on the front signage!
Somewhat lacking the time, and being there in somewhat of a wrong season, rather than actually seeing how beautiful they get, I had to settle for conveniently placed photos of the best seasons.
Sarcasm aside, though, this place was absolutely phantasmagorical.
Through the dream and magic-sphere
As it seems, we now are speeding;
Very  à propos.
A man was quietly and unhurriedly trimming the grass. He may have been doing that a thousand years before, and may continue doing so for another thousand.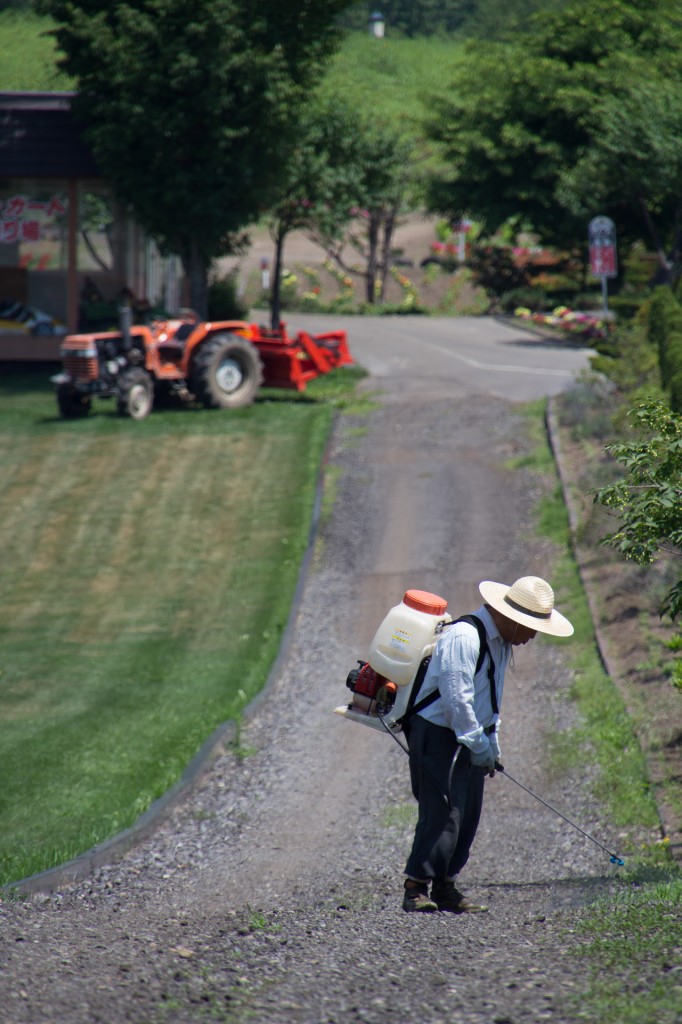 Wide, wide open fields: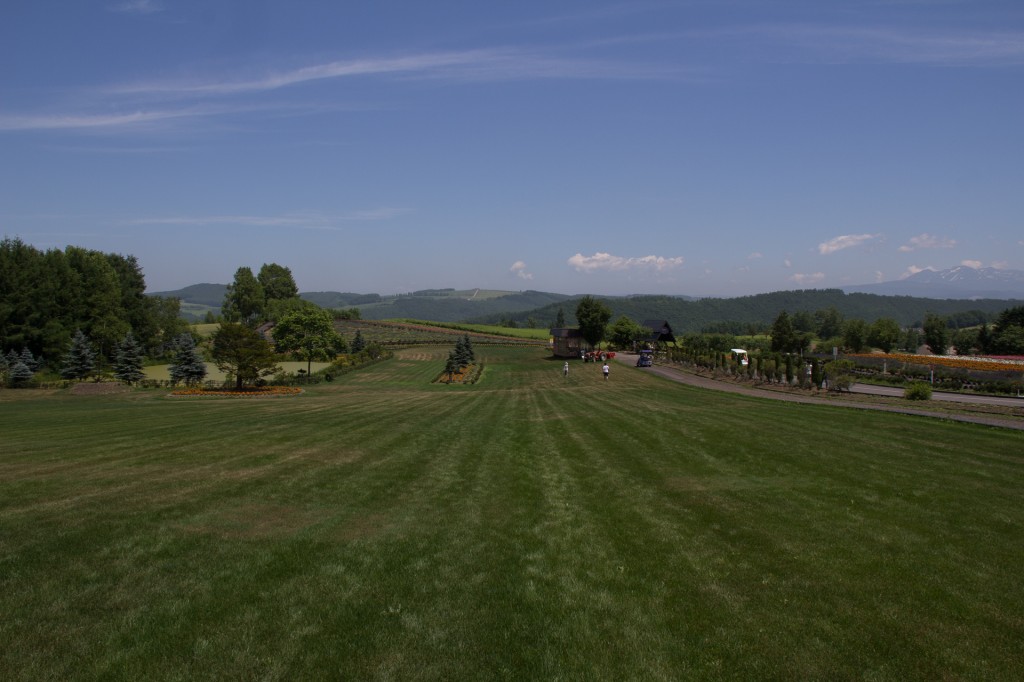 More magic-sphere:
On to Asahikawa Zoo we went. Stopped by some ramen first, though, at a place called Aoba ramen, which is apparently hyper-popular: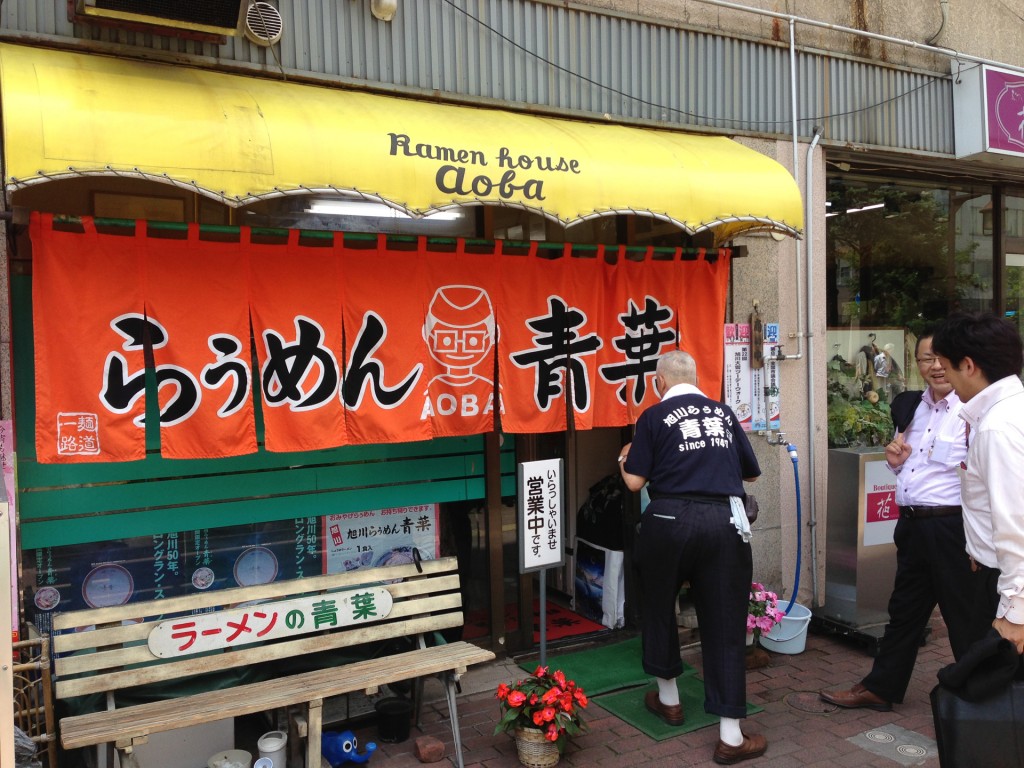 The Asahikawa zoo was pretty cool. They did mention that their presentation of animals is unusual and different, and, having been to a bunch of zoos in my life (where the Singapore one ranked pretty high, if not at the top), I figured there's no way they can one-up it. Well, they kind of did. Not that the animal variety was anything to write home about, but the presentation was cool, indeed.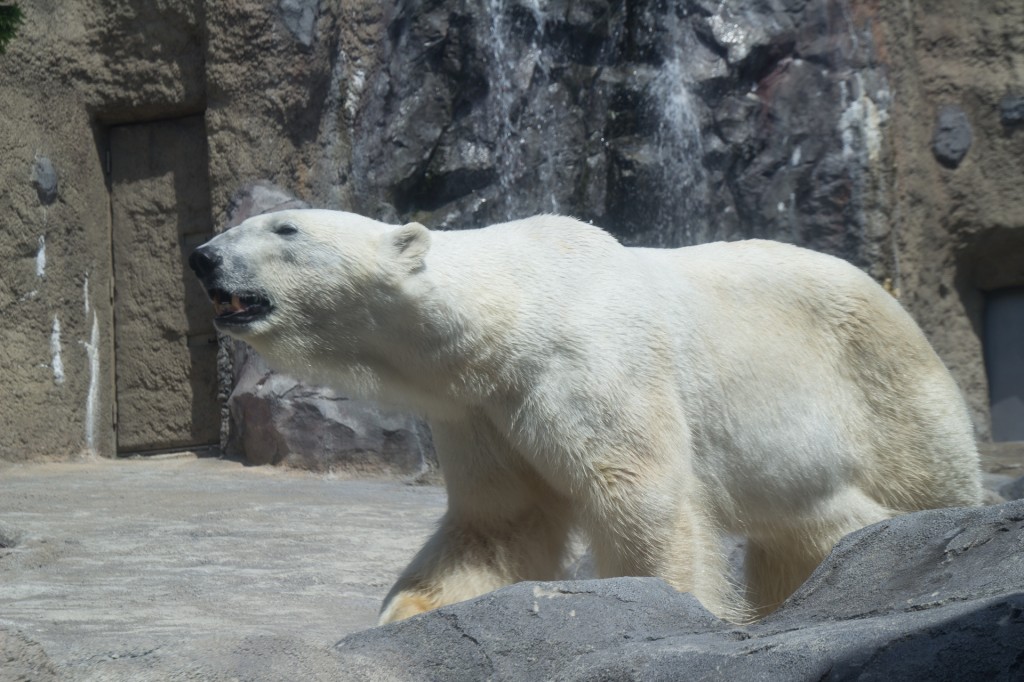 Penguin tunnel was cool – a glass structure built through the penguin habitat so you could see them swim under, above, and beside you:
Lazy kaba:
Pensive monkey: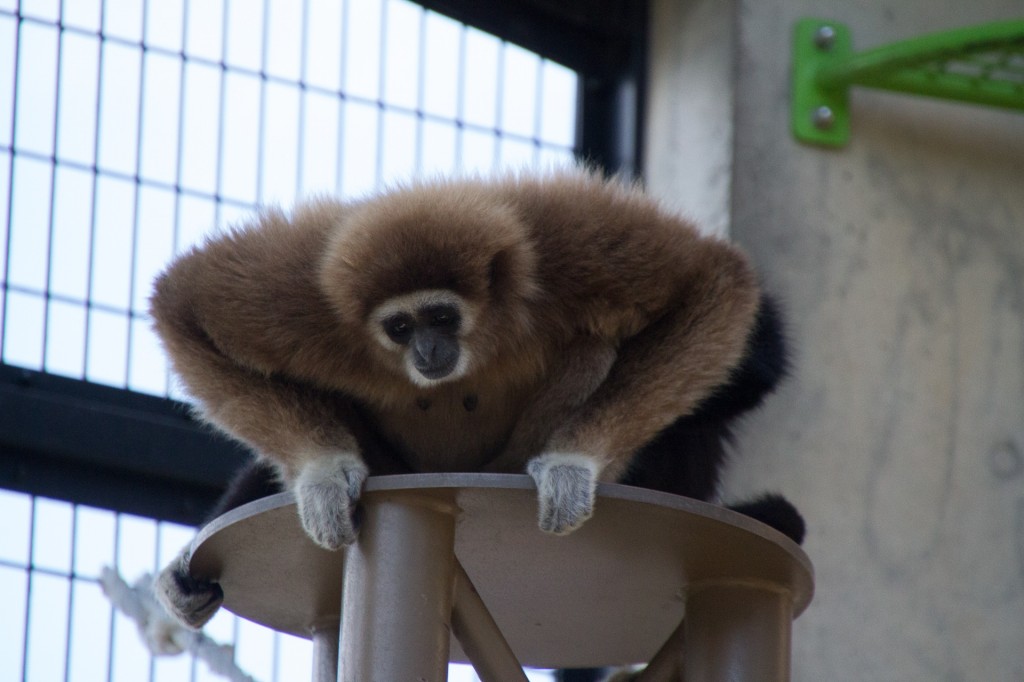 After this, we went straight back to Chitose airport. It was a bit of a drive, and we had flashbacks of Bologna, where we really tested the limits of our poor little Hoda Fit.
Saw a far away cousin along the way!
The blacked out headlights, the LED tails and the Volk G7 wheels are definitely not OEM, so a dose of respect for tastefully kitting out the car.
In the airport, I saw something absolutely fascinating. Even before security, you could buy the following amazing items (quick calculation: $1 is about 100 yen):
The melons I can still understand (Yubari melons are quite famous as gifts, and can fetch prices over $100 quite easily), but live crabs, shells and fish!? I couldn't possibly fathom what the audience for these were. Locals returning from a trip? Why not buy the seafood in a local seafood store, which would be far less troublesome than an airport – even with home delivery? And travelling folk……. well, we are barely allowed to bring anything that might constitute a weapon (forks… knives… nail clippers… hell, even a sharp sense of humour is banned these days) – and here, we have real live damn crabs? This seems like a recipe for disaster if it escapes somewhere in the cabin.
And, of course, how to survive without the Japanese prerequisite?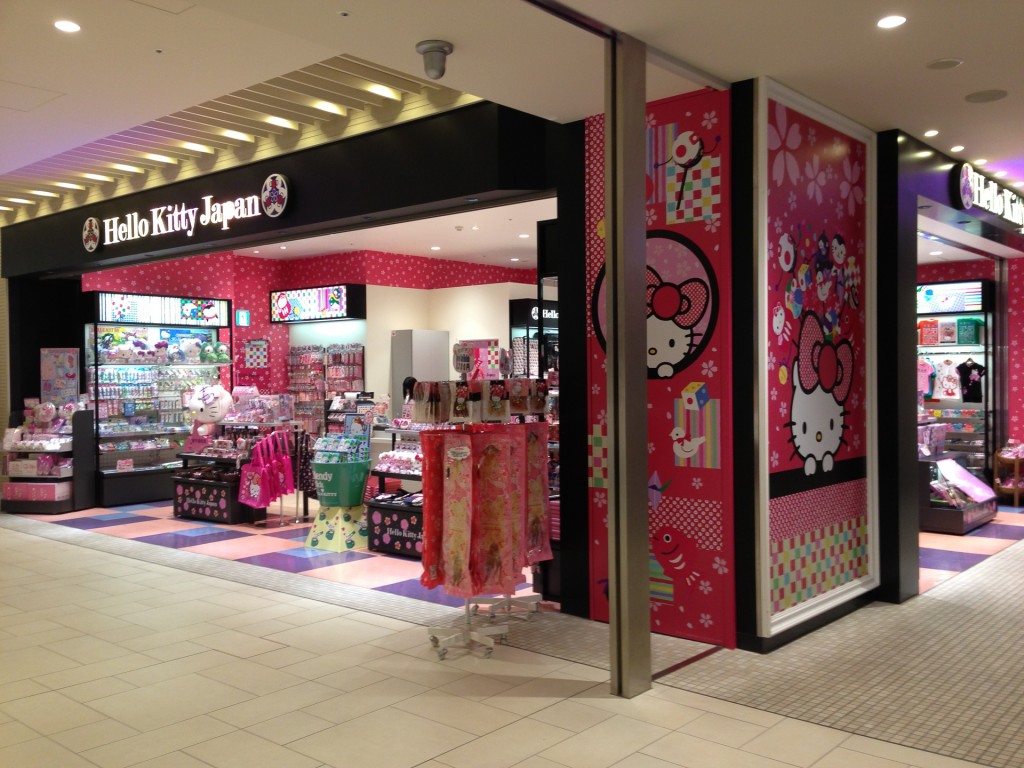 And this was our Hokkaido trip. Much to my chagrin, it was quite short; but now that I know how nice a place it was, I will plan on coming back after I check off a few other places on my list of Japan to-dos.
Speaking of which: the next place we visited after our return from Hokkaido was one I had wanted to visit for years, and yet nobody else I knew was – as was evidenced not only by the general lack of excitement on the part of everyone in my party, but also by these completely empty grounds:
Stay tuned to find out where in Japan this was!