I can hardly sit still for more than two months at a time. Not being on a plane for more than that just seems improbably unpleasant. This is considering I just did a 7-month weekly flight project in Toronto where I flew there every single week, so despite he overarching opinion being that flying in and out of a place week in, week out tends to kill any enjoyment of travel… looks like I passed that one with flying colours.

One if the first posts of this blog was a long diatribe on my RGN (Myanmar) fight with Jet Airways. Eventually, the CTA (Canadian Transport Agency) sided with me, Jet Airways got a painful slap on the wrist, and I had my three tickets reinstated for travel on Singapore Airlines first class and Air Canada business, RGN-SIN-LHR-YUL. But I still had to get to Yangon. I bid my time and eventually got three sets of tickets: one YUL-ORD-NRT using LifeMiles, one NRT-ITM using Avios, and one KIX-ICN-RGN using LifeMiles. All was well, until my wife and toddler decided to head to Japan two weeks early! thereby invalidating my hard-earned YUL-ORD-NRT tickets. This created two challenges: 1) how to get them there, and 2) (far, far more importantly), how to get ME there. I relatively quickly solved part #1 by booking them onto an Aeroplan (marketplace! never thought I would) award on YUL-BOS, and onwards on the ultra-long 13:30 flight to Narita – BOS-NRT on JAL's new Boeing 787. Besides (inexcusably) not having lie-flat seats, it should be an excellent flight, so my conscience was at peace. Shockingly (well, for Canadians anyway), the redemption cost $5 in taxes and $50 in booking fees for TWO PEOPLE (using AA miles), a pleasant refreshment from Aeroplan's highway robbery. Of course, Aeroplan marketplace quickly filled the void with $120 of fees for both.
The family settled, it was time for me to book my own flights. I decided to look around for options. Since I am flying alone, I have significantly more flexibility on what I can book: availability for a single person tends to be far better than for three. My first thought was to route similar to what I had – ANA ORD-NRT in business. Then it occurred to me that it's never a bad idea to splurge, and whilst I could never seat three in F, seating one would be a piece of cake … and out the window went any semblance of reason.
My first thought was to fly Lufthansa First – stop by the First Class terminal in Frankfurt. Then I realised that besides having flown it and it being a great opportunity to try something new, if I were to book it using Aeroplan, it'd cost me north of $1,000, which is silly. I started looking into OneWorld. Sadly, archaic rules of AA prevent me from booking JFK-HKG-KIX on Cathay, because … because American. Who knows. So this got abandoned. Then … I had a stroke of genius. What's one of the most difficult airlines to get F seats on, one so aspirational that legends float around about it – they release a decent number of seats, but in their cockiness, partner with almost no one – so no way to GET those seats except by paying their own exorbitant redemption (or dollar) prices. Who is it?
If you said Emirates, you're spot on. There are only two airlines whose points can get an Emirates seat: JAL (but only return – no one-ways, so this doesn't help) and Alaska Air (!). Having collected a ton of SPG points over the last year, it occurred to me that I could get myself a seat on EK for "only" 60,000 SPG points (together with an MBNA Alaska Air MasterCard), which was a pretty solid deal… so I set out to explore the options.
First, I scoped out JFK-DXB-KIX. Annoyingly, it appeared that either there was no first class on the DXB-KIX segment, or (which is more likely) no seats were being released, since it is served by a 3-class 77W. Same case for NRT. Besides no F seats, I didn't really want to fly a 77W, since, well, it's not like I've never been on one. JFK-DXB is served by an Airbus 380, so I see no reason to skimp on the subsequent leg. So I found a flight to ICN: seats were available, and it was being served by a 380, and all I'd need to do is spend 15,000 Delta points to get a flight on Korean Air in the back of the bus on ICN-KIX. This seemed like a good idea.
Fortunately, I was still waiting for the Alaska Air card to come in, and I kept on exploring my options. Suddenly, it hit me: why fly to ICN and schlep in the back of an Airbus 321, when I can fly to HKG, spend some time there (there's a pu erh shop I need to visit anyway), and just … grab a seat on a Cathay Pacific 747? Avios short haul First is actually pleasantly affordable: just 30K and $50, and if done as a transfer from Amex during a promo, it's less than the welcome bonus of the Amex Personal Gold card! So this was settled.
Now I decided to review my Dubai stop. Initially, I was connecting right away: the JFK flight comes in at 8am, onwards to HKG is at 10:40. I've not been to Dubai for a few years, though, and it has changed dramatically since the last time I went. And while in the UAE, why not go for a scenic drive, too?
So I added a two day stop in DXB, and when IHG approved a half-hearted best rate guarantee attempt I made at the Intercontinental Times Square, I got a free night in NYC on the outbound, too.
So my final itinerary looks like this: first stop in NYC, overnight, JFK-DXB on EK, stop, drive to Al Amn and Abu Dhabi and back to Dubai, DXB-HKG, visit good friends and a tea shop, then HKG-KIX, then KIX-ICN-RGN, then RGN-SIN, beg the SQ agents to allow a one-night stop, then SIN-LHR and back home.
Flight map would look like this: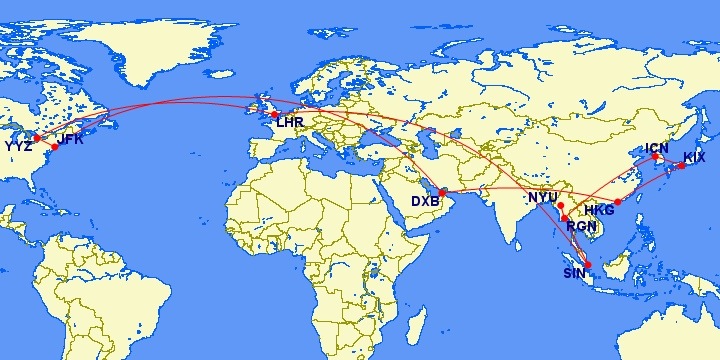 Needless to say, I'm excited. Sure hope I will be able to do the trip report much sooner than the last one, which took half a year to write up.