Since I'm flying premium on Emirates, I am entitled to their limo pickup service, which is excellent – considering my flight is out of JFK (Kennedy) airport, it's easily a $65 ride from Manhattan. The only problem is … I assumed it worked like Uber where the guy calls when he is close by. So I was the good citizen – expecting a pickup at 8:20, I checked out around 8 and just camped in the lobby of the hotel for a good 20 minutes, progressively getting more and more irate because no driver showed up; when I finally went outside to look, I saw a Lincoln with my name on it. Apparently, the doorman was supposed to tell me but didn't – and the driver sat there waiting for almost an hour. Wonderful.
As always, though, nothing bad ever happens without something good: when I was angrily browsing around Emirates' website looking for the contact info of the service, I noticed that they reinstated their Hong Kong limo service which they suspended on Feb 28: so now, I will get limo pickup in Hong Kong, which is completely awesome.
Having departed at 8:30, I figured we'd make it anyway, though maybe with a bit of a delay; indeed, we hit construction traffic, and it took us about an hour to get to the airport, which is fine. I took a quick parting shot of the car, in the odd case anybody cares:Off to checkin I went. When I am having some kind of a relatively unique experience, I always have a certain trepidation that something is not going to work as expected.For instance, of all the first class check-in experiences I have had, apart from Lufthansa's first class terminal in Frankfurt I have yet to experience an "amazing" one. Hell – I've yet to experience a *smooth* one (and granted, it's probably my experience alone, but hey – we do not write travel notes based on others' experiences). LH in Kansai lost my son's ticket and offered to fly me and the wife but leave the son. LX in Montreal got stuck with a passenger so the supposed priority lane finished AFTER economy finished checking in. Etc.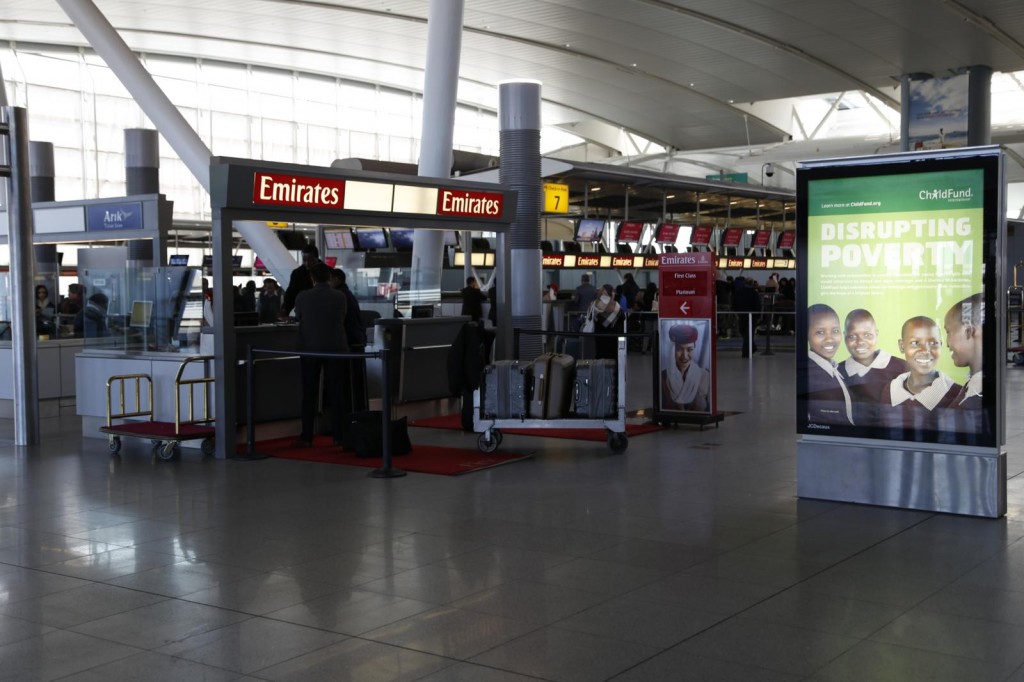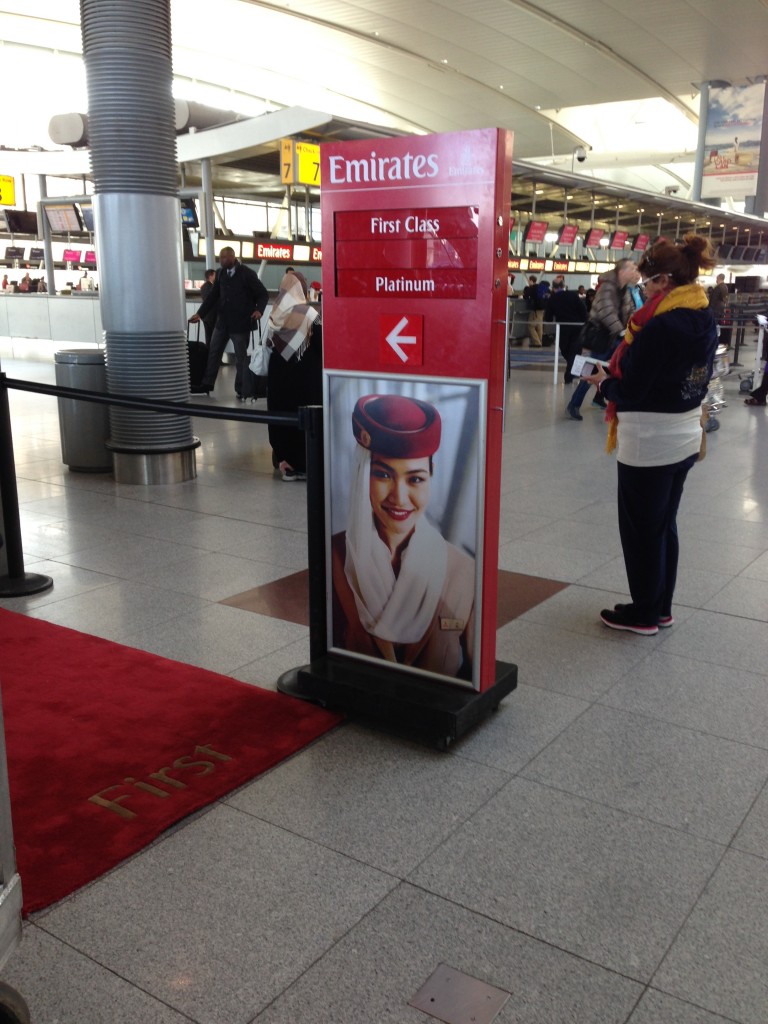 So I show up to the Emirates counter. One employee – three people waiting. Bad sign already. Recall that I'm running somewhat late for my flight. Finally she gets to me (after I've considered three or four times to go to the economy gates) and prints my boarding pass. Bam. No lounge invite. She asks me how I got my ticket, whether it's a reward – I say yes – she says "oh sorry no lounge in that case". I tell her to check her sources – I didn't have breakfast at the IC and I'm starving and I just waited for people to complain about their bags for fifteen minutes – I'm not taking no for an answer, and an award ticket is just as eligible for lounge access as is a paid ticket.
She calls a "Rajesh" then a "Davinder" and confirms that I do, in fact, qualify for access. Profusely apologising, she reprints my boarding pass. Finally, I'm on my way.
Now that my access was cleared, off I went to the lounge.
In Kennedy, Emirates has a single lounge: not the chateaux they have in Dubai, but rather a single decently sized lounge for all classes (first and business). A relatively unique feature is that you board directly from the lounge – no need to return to the gates. They had a reasonably decent food selection, good wines (Brunello de Montalcino 2008) and Veuve Clicquot as champagne – nothing better than mixing a mimosa with Clicquot. Heh.
And what I'll be flying today: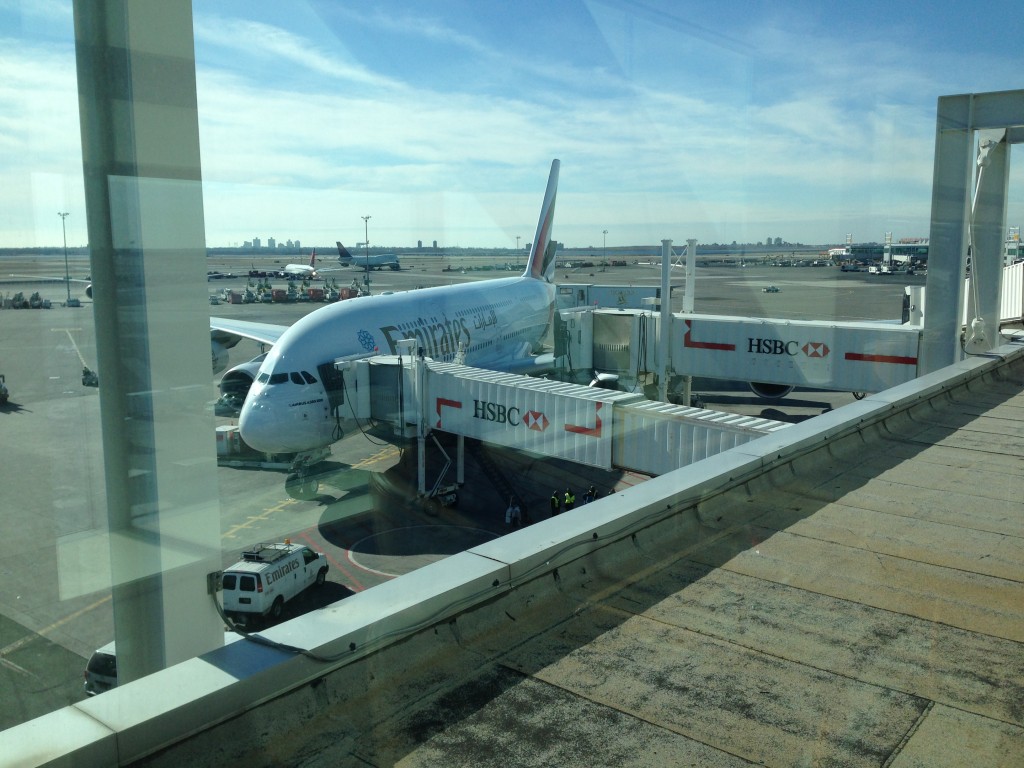 Interestingly enough, there was a rather noticeable police and Secret Service presence in the lounge. Some VIP was flying; he looked like he was a Nigerian oligarch, especially considering his entourage. He flew in first, whereas they all flew in business; and on arrival to Dubai, he was met by a UN representative (because he had a tag on him) and a uniformed army representative. I did my best to figure out his name (being the stalker that I am) but failed – all I did determine was that
Qorny Uwais
was on my flight, as well, which I can hardly say is anywhere as impressive. There was another ultra-VIP who was personally escorted to the flight: before they began boarding, the gate agent hunted down that person in the lounge, quietly took him to the gate (without announcing boarding), took him to the plane and came back and only
then
announced general boarding. I feel like I saw an "I/O" tag on his bag, which would make him part of a very small, very elite invitation-only Emirates status holders, which Emirates generally issues to individuals who control a great amount of income for Emirates (i.e. senior travel budget holders at companies, etc.). It is a status that cannot be earned.
So with all the preliminaries complete, boarding began. The Secret Service-protected VIP was boarded by his staff (interestingly, he didn't carry any boarding passed or bags, everything was staff-carried). On entering the plane, a number of people were welcoming passengers; business class passengers were directed towards the business cabin, and when I handed my boarding pass and he saw it was F, he immediately summoned another flight attendant, who introduced herself, called me by name, and personally took me to my seat. A nice touch. I was offered magazines, newspapers, Arabian coffee, dates, and champagne; except she promised Dom and then apologetically delivered Cliquot because apparently, Dom is only after takeoff. Heh.
And so here we are.
Some people have referred to this as "gaudy". I can see  the logic behind it, but I feel it's entirely appropriate given the fact that UAE loves to do everything BIG.
Boarding of the ENTIRE plane was completed in about 25 minutes – from the moment doors opened at 11:30, the plane left at 11:55. very impressive, albeit 30 mins late – I wonder how it will play out for my arrival. Amusingly, nobody cares about cell phone usage in first; I typed up a bunch of notes before we got to the takeoff runway.
Here's a strangely unlikely shot: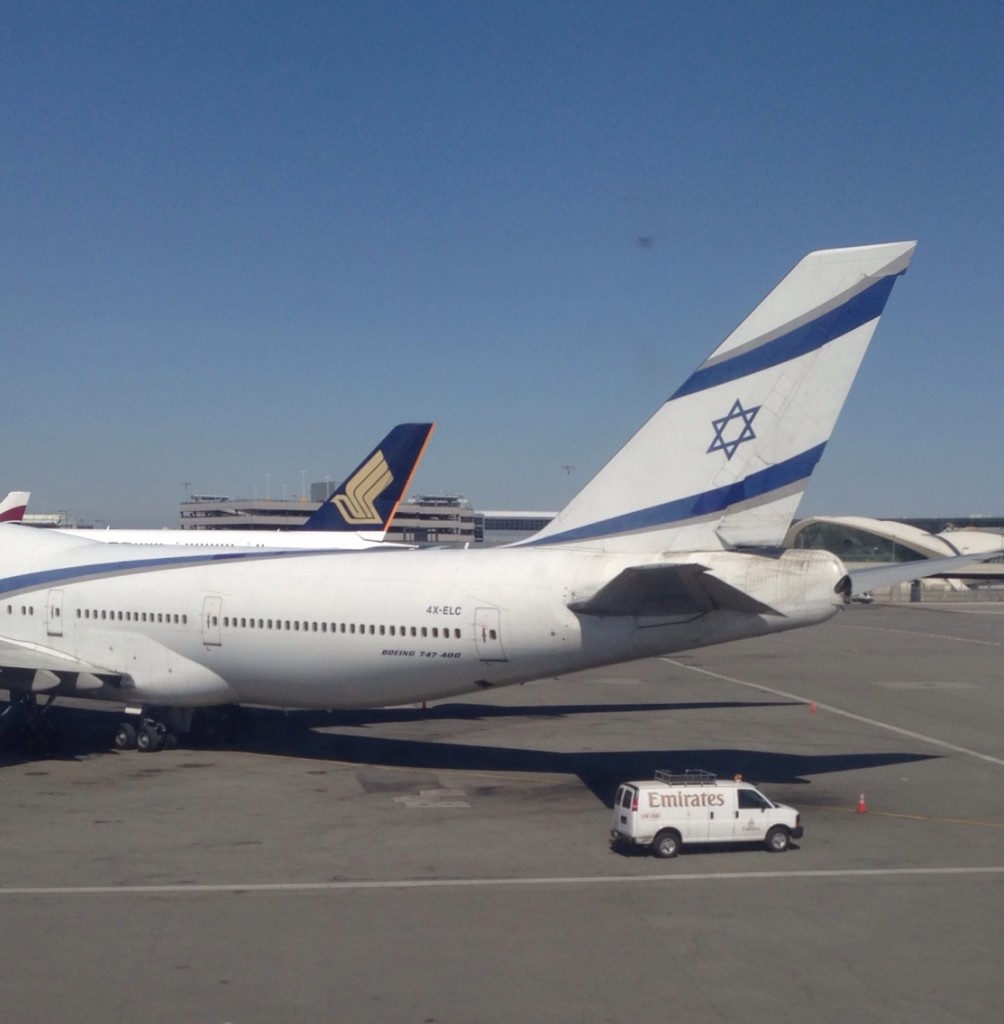 And geek paradise (tailcam!):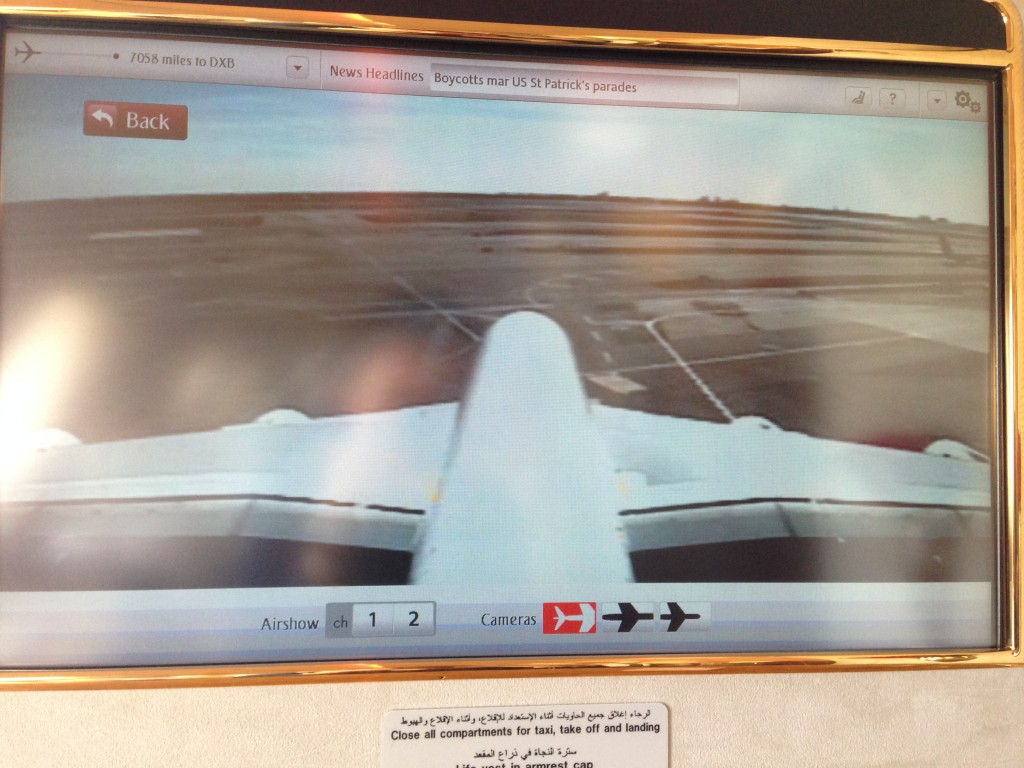 After departure, my seat became "unlocked" and I became able to use the seat controls. As well, the somewhat expensive OnAir Internet became available ($10 for 30MB, then 70c/MB). Food and wine menu was brought out, as well as shower reservations. I asked for the shower to be made available about 3 hours before landing.
The food menu is full of individual items that you order a la carte. I figured I shouldn't overdo it, so I'll stick to a few dishes at most – ordered steak, caviar (of course) and a cheese plate for dessert.
The caviar plate: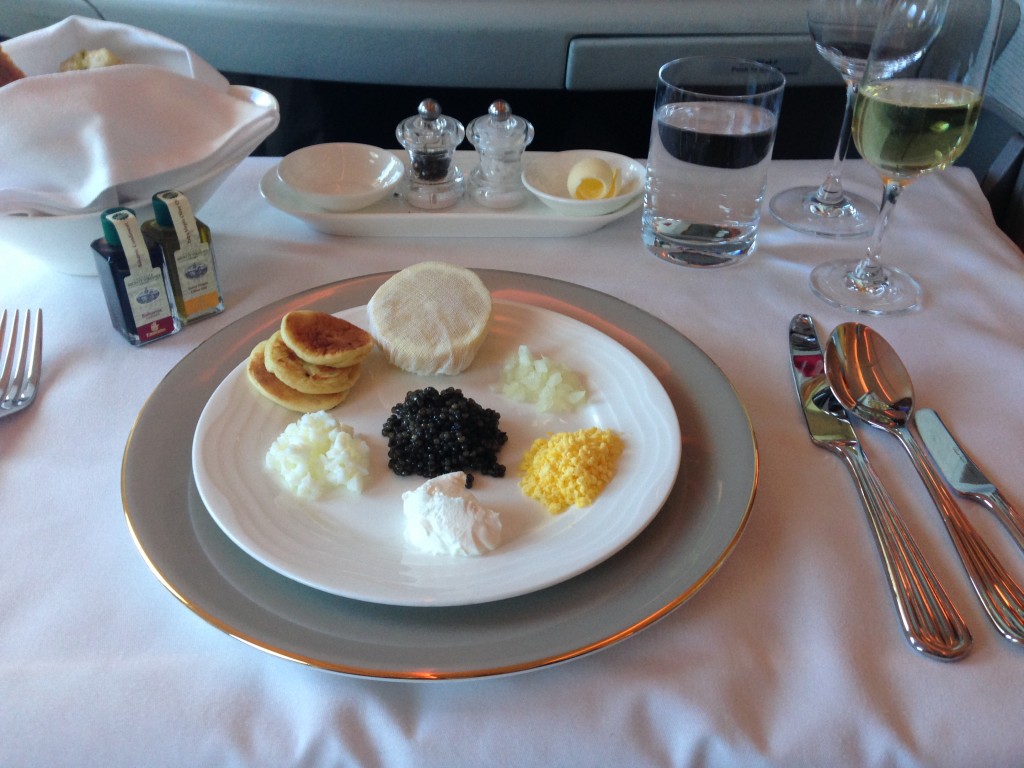 The caviar was somewhat disappointing. It's Iranian; it is said with good reason that Russian caviar is far superior.
The steak was quite decent: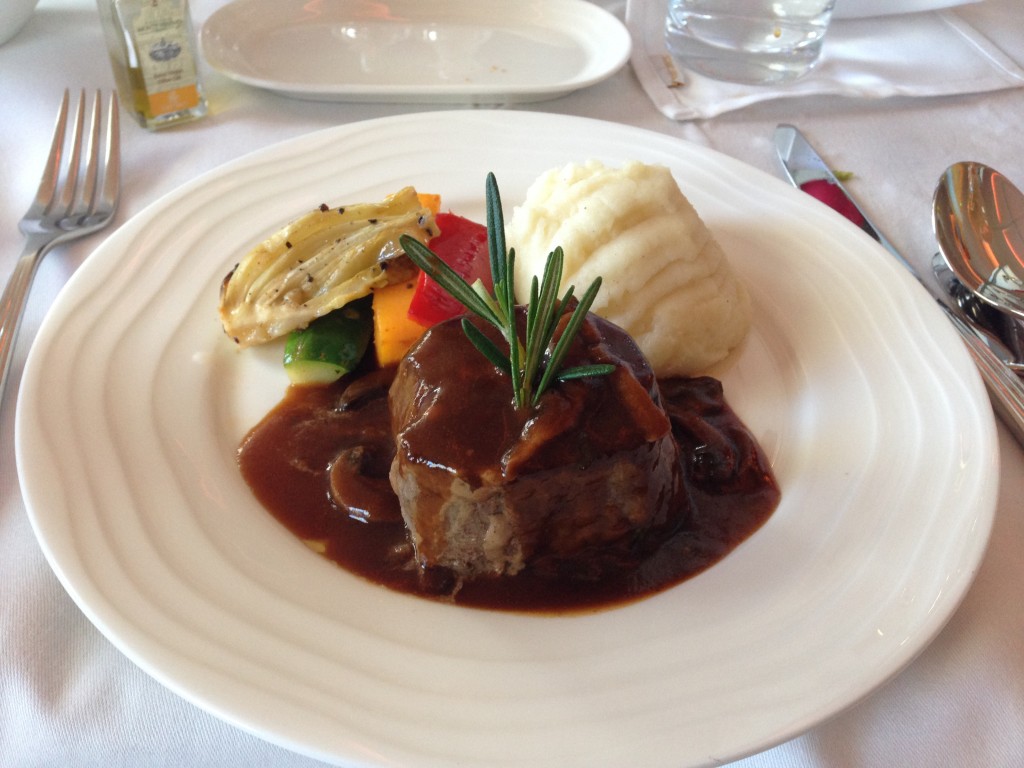 Once again, though, it wasn't mind-blowing. I guess in thinking about it, I'm not sure where and when I've ever had mind-blowing food on a plane (okay, after all, it's just plane food – let's be reasonable here) – but certainly it felt a lot more polished on Swiss (and the Balik salmon is impossible to beat, with no argument). The caviar on Lufthansa was better, as well. #firstworldproblems.
The wine list was interesting: the whites were severely under-represented, with the best being a 2011 Australian "modeled" after Burgundy; but the reds were very fine, with a 2004 St-Emilion and a 2000 (!) Cos d'Estournel, which turned out to be excellent. This topped off with a 1974 (!) Graham tawny, of which, apparently, there are only 6 kegs, all reserved for Emirates First. Now this, I like. I paired this cheese plate with it:
After this lunch/dinner, I went for a walk. Walked through economy to see what downstairs looks like; was full of people. Not much I can say. But the plane wasn't *packed*, so a number of people had full rows to themselves.
Coming around the back of the plane, I went up the stairs to the lounge; was fully expecting to get rejected ("sir, go back down to economy"), but the F crew already informed the lounge staff that I was coming, so no questions asked. Lounge was small, featured a wide variety of drinks, and was completely empty. I had a beer, took a few pictures and left – not sure what I could do there, since I couldn't even socialise with anyone. But it was nice. I then went to sleep. Figured might as well, considering the amount of driving I have to do once I get to Dubai.
Walked back forward through business class; definitely nothing to snort at – lie-flat beds, just less space than First, but nevertheless an entirely acceptable experience.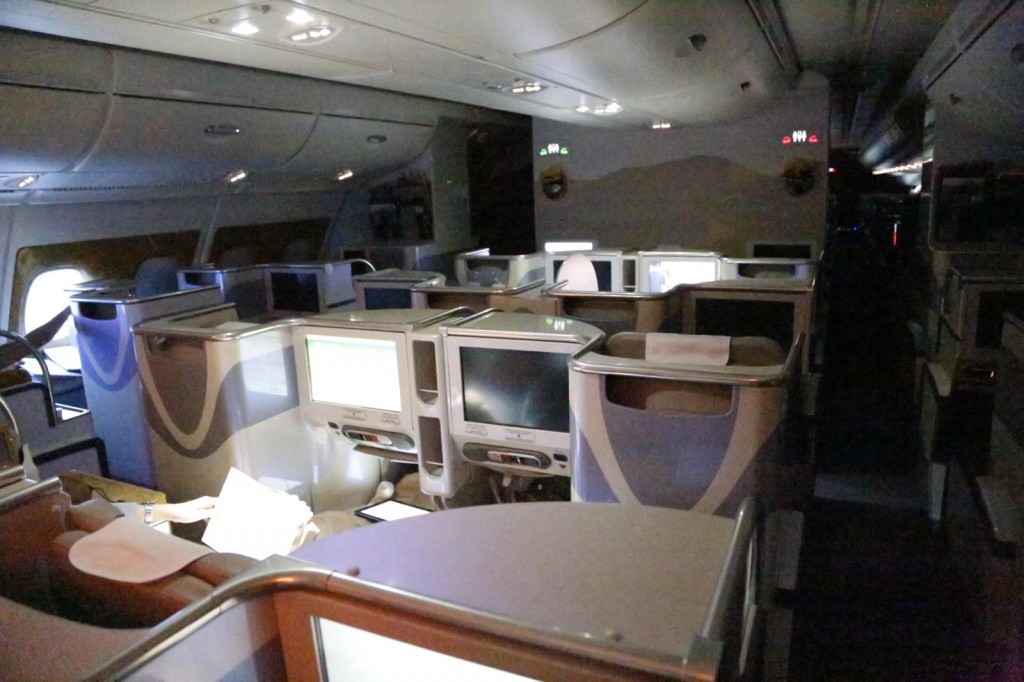 Woke up about 2h45 before landing. Inquired about shower; apologetic staff member explained to me that there's a hot water issue and they need to reset the heater, which will flip a loud fire alarm, which will wake up all the sleeping crew; I was asked whether I could wait a bit. Clearly, I couldn't demand they allow me to wash myself at the expense of setting off a fire alarm, so I resigned myself to waiting. Of the two forward washrooms, one had broken lighting, too. Kind of comical, for such an elite setup.
Interesting thing – we were flying over Baghdad when I saw a huge flash near the horizon. Not sure what was yonder, but looked like a large explosion of some sort – but then again, I probably shouldn't jump to conclusions.
Finally, about an hour later (1h45 before landing) the lead FA came to let me know that the shower has finally been prepared. And so… here it is. More or less the entire point of this part of the trip (corny and shallow as that sounds)!
The bathroom is pretty big – even by earth standards – and humongous by airplane standards. The floor is heated! The shower has a timer – 5 minutes – and if you're still soaped up when it's done, too bad for you. 🙂 It turned out to not be much of an issue at all, though. The water pressure was on the low side, but again – #firstworldproblems. However, the water was instantly hot: that was surprising.
All in all, success has been achieved. I don't know where this falls on the "top must do"-s of a lifetime, but it seems like taking a shower in the air should fall in there somewhere.
Breakfast came and went.
It was fine. Fruits and an asparagus-topped omelet.
And now, we're on final approach to Dubai. I am reminded that, despite everything, this is low-rise a city in the middle of the desert.
Landing in Dubai Airport. I wonder who the home airline is?…
Oh – it's the airline that buys A380s like I buy Q-tip packages.
The airport is all glass and metal. Absolutely spotless and clean, everything shines.
Looks like I wasn't the only one happy to be off the plane and up for new adventure!
In the next installment… joys of shopping malls in Dubai, a day in Abu Dhabi, and how to enjoy dinners!