Day 3 started on arrival to Dubai International Airport. Not to sound grumpy, but zero ground service was offered. No golf cart to pick me up. No welcoming. Nothing. The VIP on the flight got a military and UN welcome, but I got nothing. That's relatively annoying. On the upside, immigration was ultra-quick – the security guard zealously guarding the gate marked "Fast Track – Business/First" looked at me suspiciously and asked, "Business?" and I replied, "First." – he stepped aside, let me through, the immigration officer burped, "Welcome to the UAE" and I was on my way. Thanks to Steven Harper for allowing Emirates to fly to Toronto so that I can skip paying $92 for a two-day visa.
Exiting the terminal, I was excited to see my Sixt representative and see what car I'd be getting. Seeing as I am Sixt Diamond, I had high hopes. I exited, looked around, saw many men with placards with names on them … except mine. I looked around some more. Nothing.
I phoned Sixt. They asked me to go to across the street and wait 10 minutes in front of National Car Rental (?!). This was certainly profoundly annoying. Eventually, a man drove up and, apologising profusely, took me to the rental office (since Sixt is located in Terminal 1, and my arrival was to 3).
After all was completed, I ended up with a one-class upgrade. I booked a Nissan Tiida (=Versa), something like this…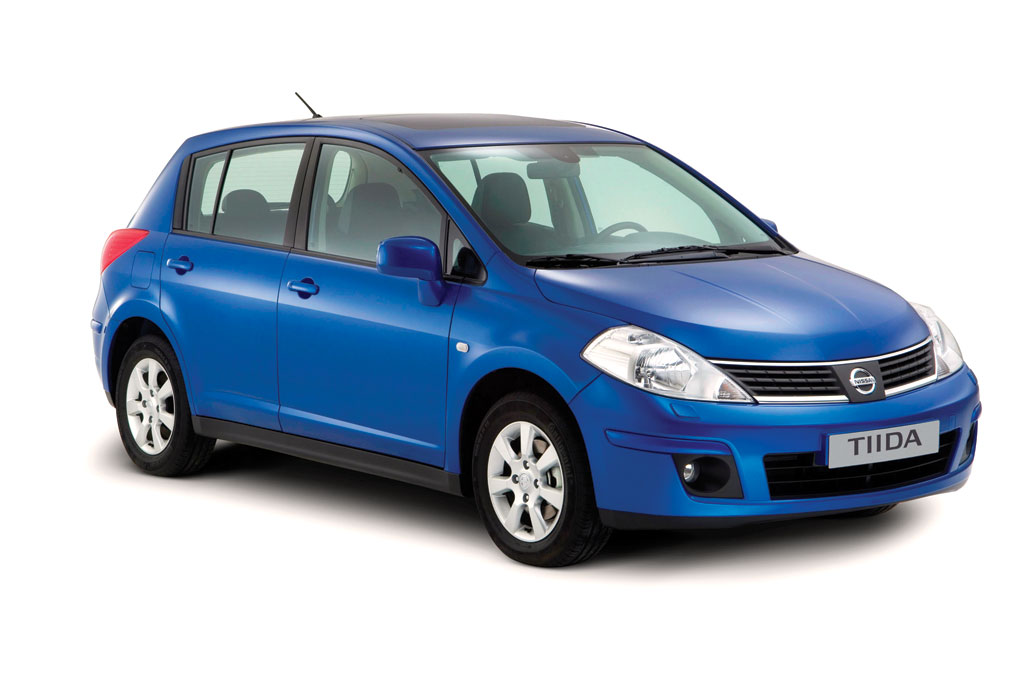 …and while I was certainly not expecting an S-Class, I was hoping for something a bit fancier, especially since I'm planning on having afternoon tea at the Burj al-Arab. Then again… unless they give me a stretch, pink Rolls-Royce Phantom Drophead, I can't see anyone at the Burj being impressed, and in a positive spin, my car had a… ready for this?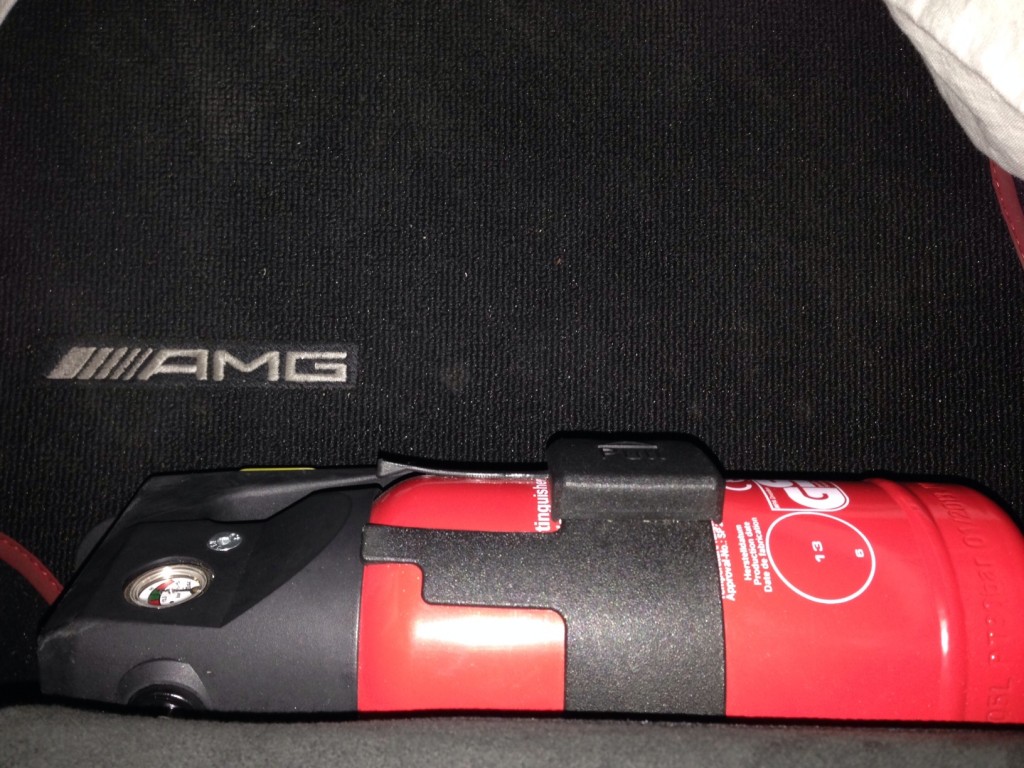 That's right: a FIRE EXTINGUISHER.
One of the questions you'll see me ask a number of times during this trip will be "but … WHY?!?" – such as, "why an ice slope in the desert?" or "why scrap the old airport and build a new one instead of expanding the old one?!?" or "why an aquarium in the middle of a shopping mall?!?", and so on. The answer to that is eloquently phrased in Dr. Dre's song, "Natural Born Killaz", in which he essentially says "'cause I can" (wrapped in some gunshots and interlude). I'm not 100% clear whether that particular song was going through the head of the man who configured my car and sent it to a rental agency, but except navigation, the car had EVERY POSSIBLE OPTION. Parking sensors, folding (electric!) rear sunshade, panoramic roof, Recaro racing seats, red seatbelts, fire extinguisher…….
That said, here are some more pictures of the car.
So I hopped in the car and got on my way. The goal was to go to Al Ain to see Jebel Hafeet… but after talking to a few people, it seems it wouldn't have been worth the 4 hour drive (2 there, 2 back), so I decided to go straight to Abu Dhabi instead.
First, however, I realised that I have no dirhams, and while I should have taken the hit and converted some money at the airport, I decided I'd do it along the way, except I had no idea gas stations and the like don't take credit cards (at least, non-Gulf-issued ones – none of my cards worked). So I made an about-turn and decided to go to the Dubai Mall. Since I wasn't going to Jebel Hafeet anymore, I figured I'll have brunch at the mall, maybe see the Dubai Fountain, change money, and be on my way.
Short background: the Dubai Mall is adjacent to the Burj Khalifa, the tallest building in the world, and is the biggest shopping mall in the world, with the biggest fountains outside. It has the biggest ski rink in the desert (i.e., it has one, whereas no one else does, which automatically makes it the biggest), the biggest aquarium in a mall (once again, for the same reason), and the biggest dinosaur skeleton in a mall. But I'll let the pictures tell the story.
The map of the stores in the mall: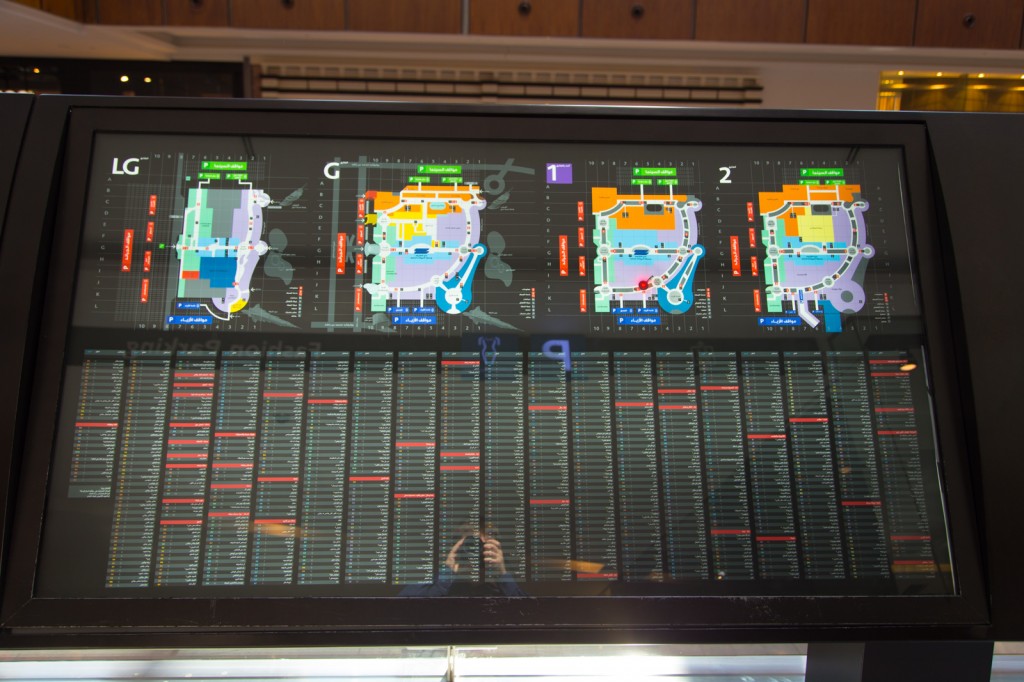 One of the absolutely endless hallways: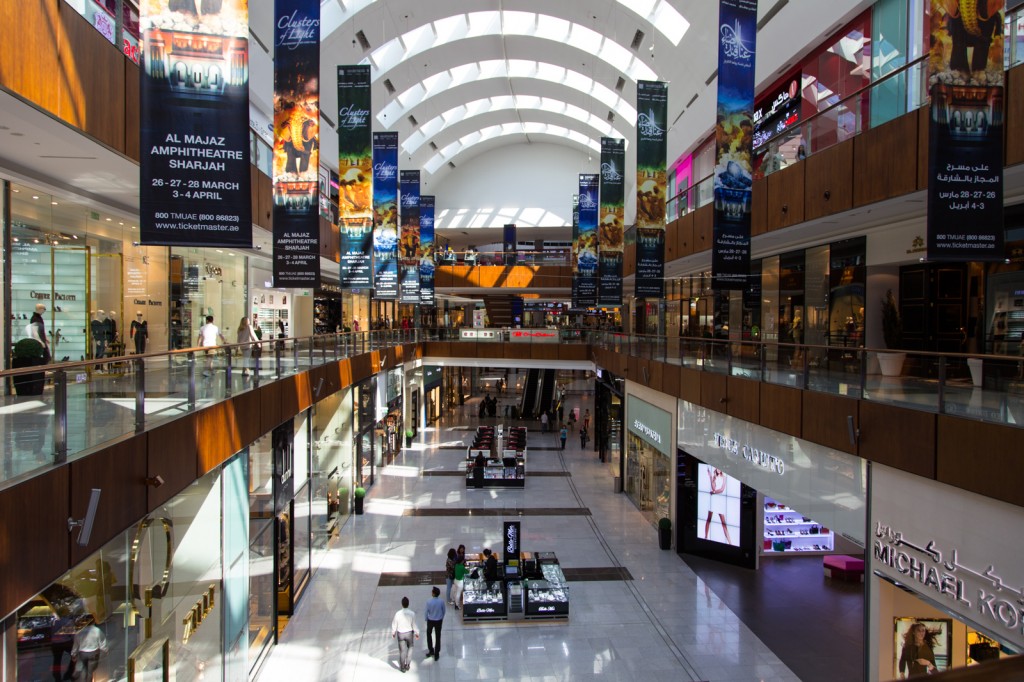 This was completely bizarre: a kaiten-sushi restaurant, i.e. conveyor belt sushi, where you pay based on the plates that you take – except instead of sushi, there were sandwiches, cakes and the like. I suppose it's not a bad idea, it was just extremely unusual to see this!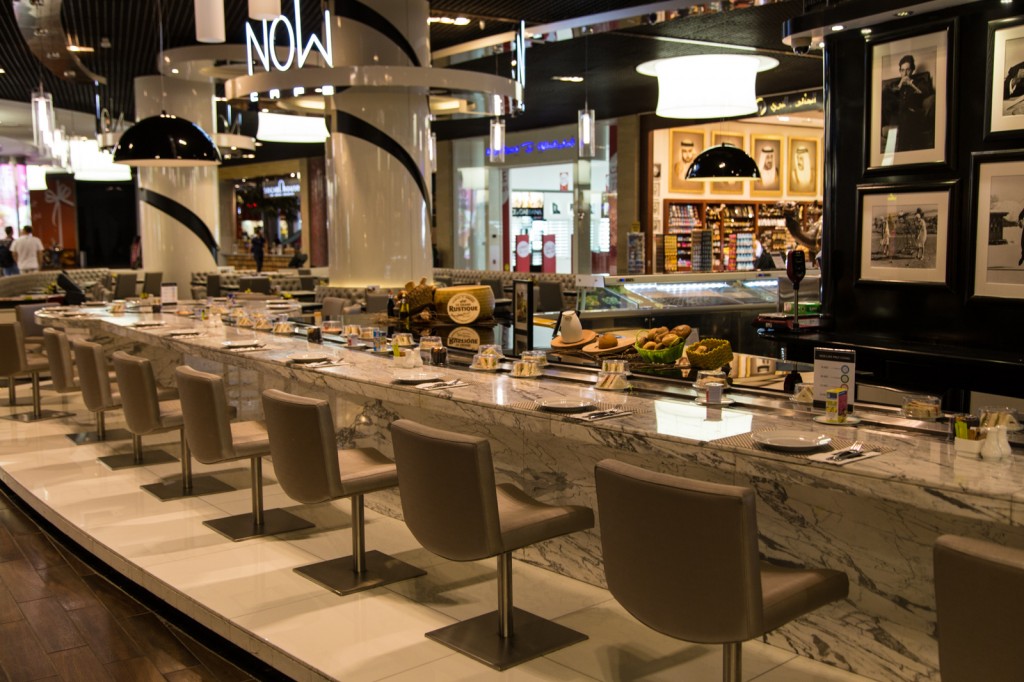 Since there is literally EVERY store in the Dubai Mall that's worth anything in the world, there's no surprise that Laduree is there, so it should probably be little surprise that there's a Tim Hortons… but still, there are far more Russians than Canadians in Dubai, so I don't know what the reasoning behind it is.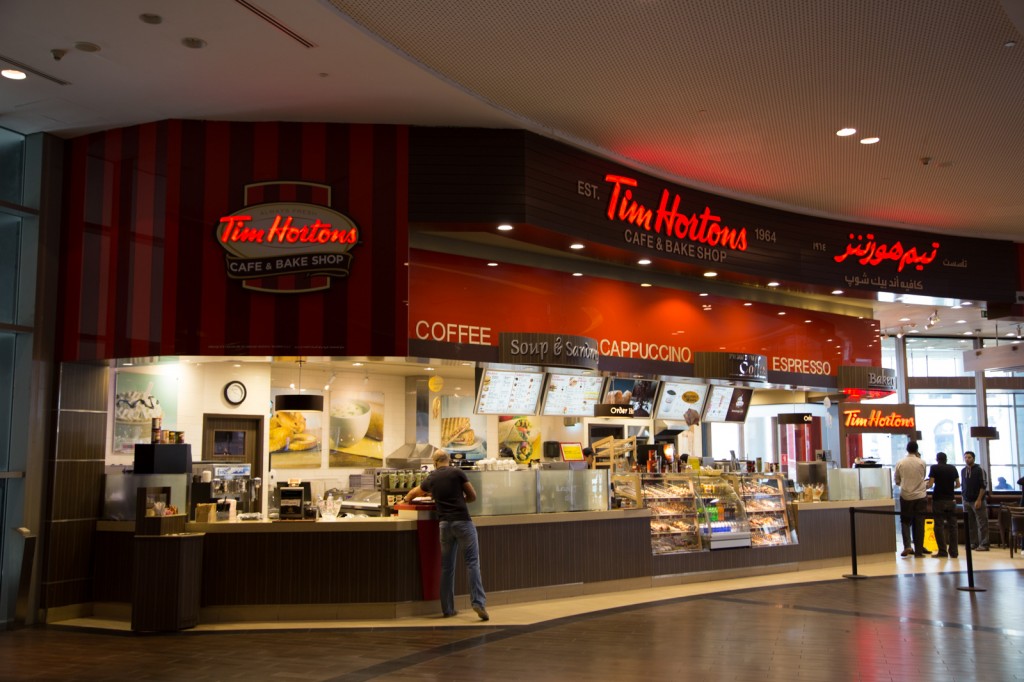 Right next the Tim Hortons was an exit outside, which led right to the Dubai Fountain…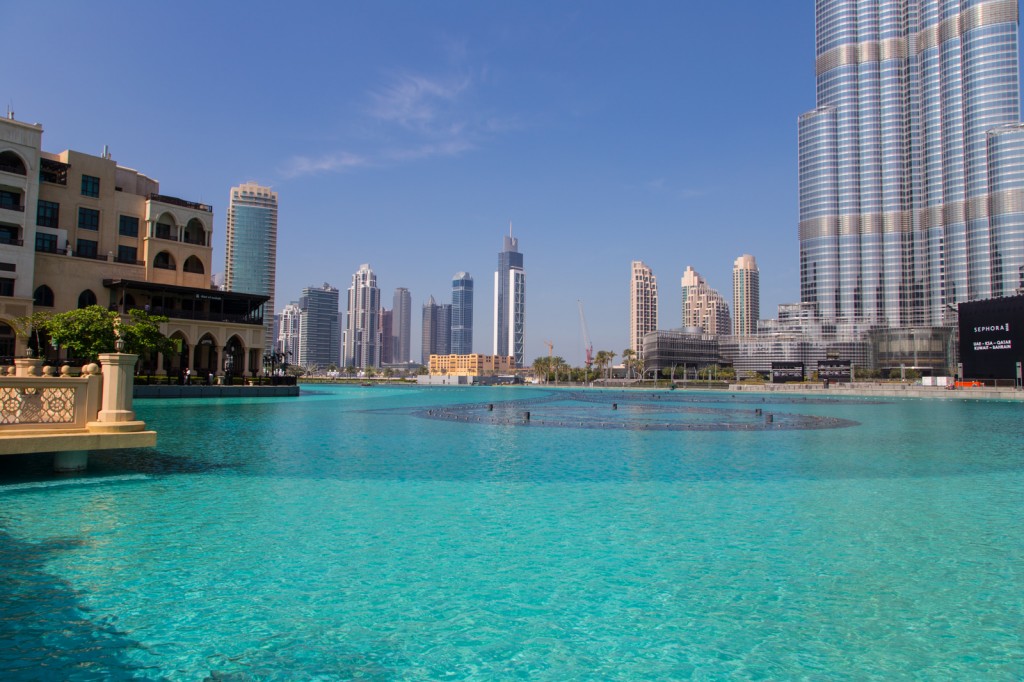 … and the tallest building in the world, the Burj Khalifa (originally named the Burj Dubai, but once the financial crisis hit and Sheikh Khalifa bin Zayed al Nahyan, the ruler of Abu Dhabi, bailed Dubai out, the tower was renamed in his name):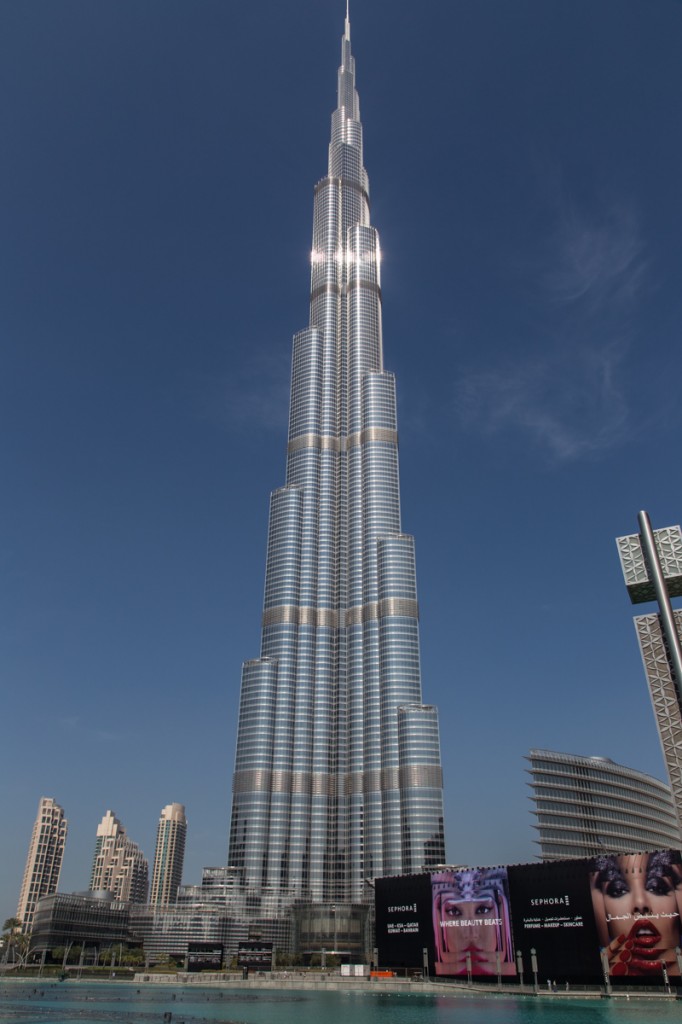 I was waiting for the fountains to manifest themselves, but a security guard told me it was only in the evening that they would, so I left and began to explore the mall, instead. I found a model of downtown…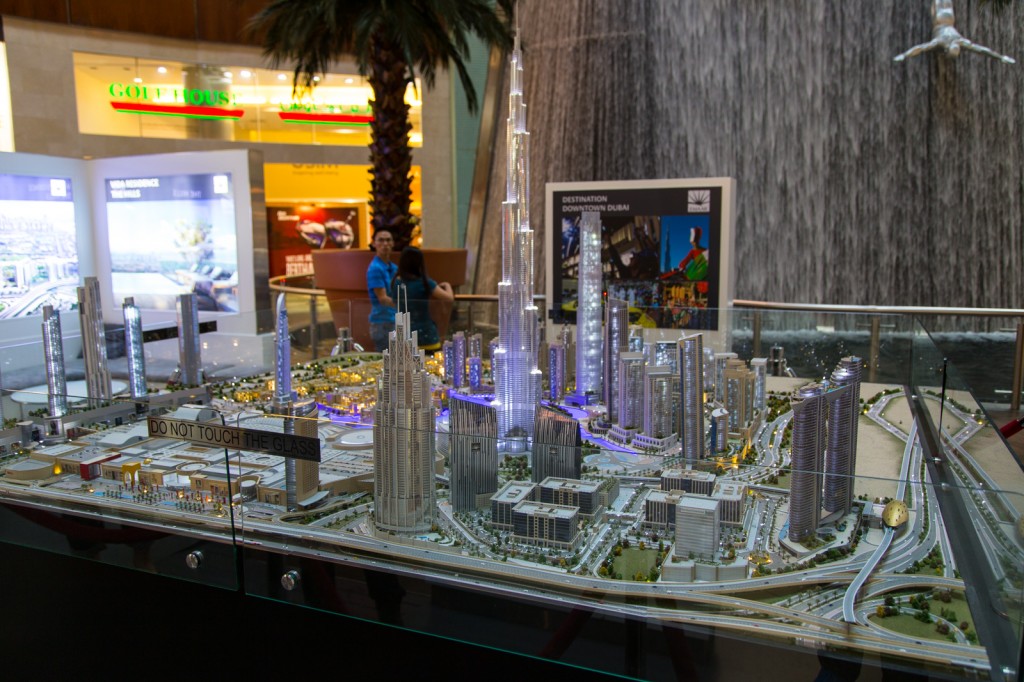 … a waterfall …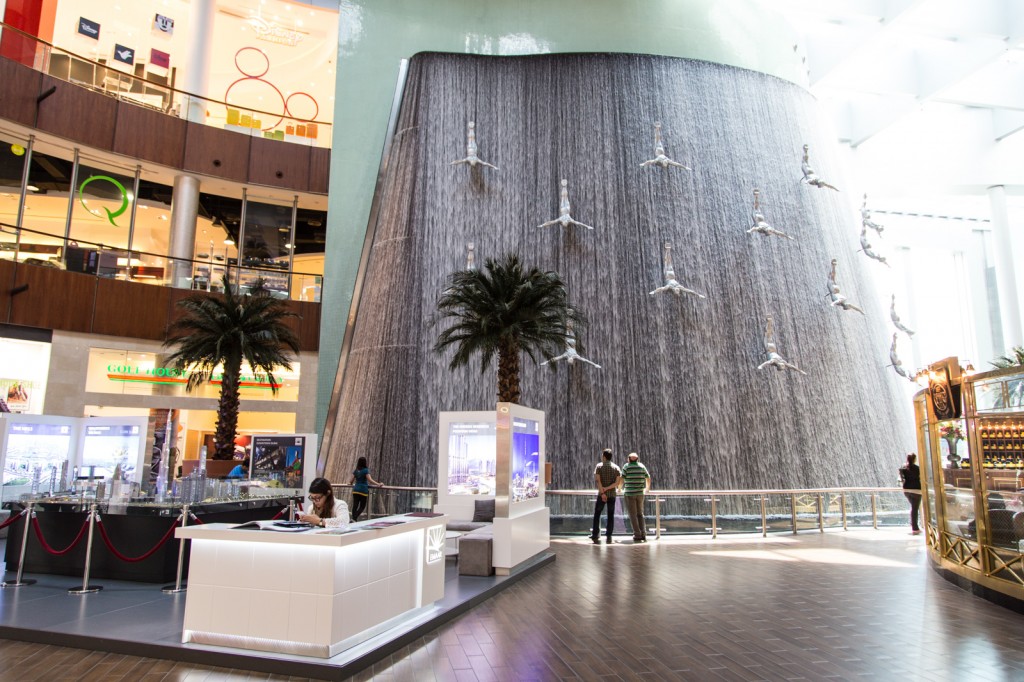 … an ice rink …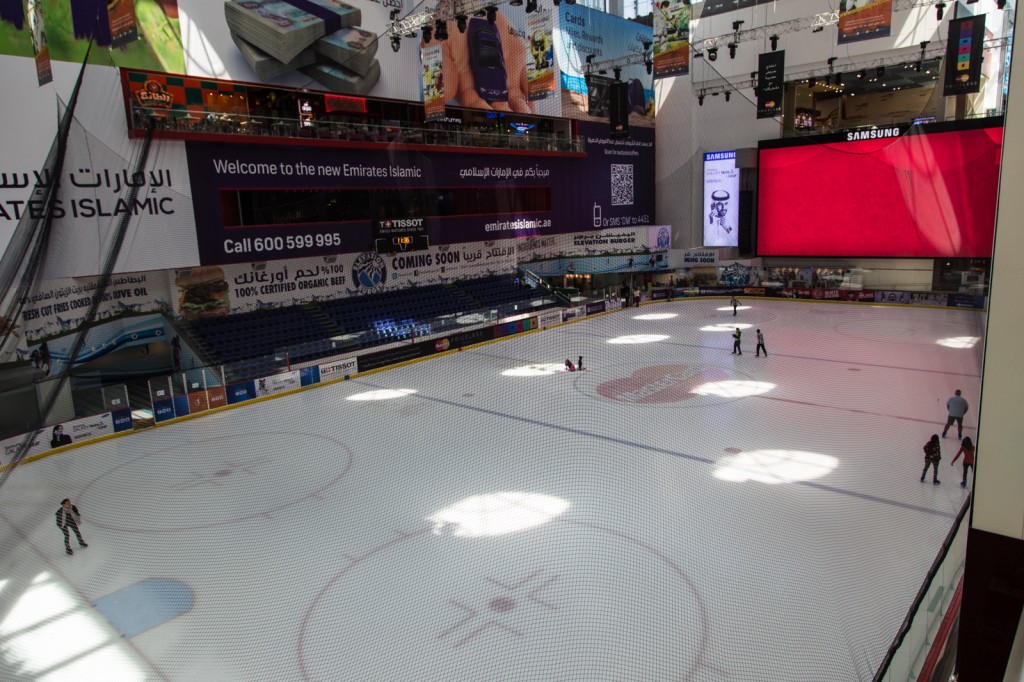 … a dinosaur …
… and an aquarium …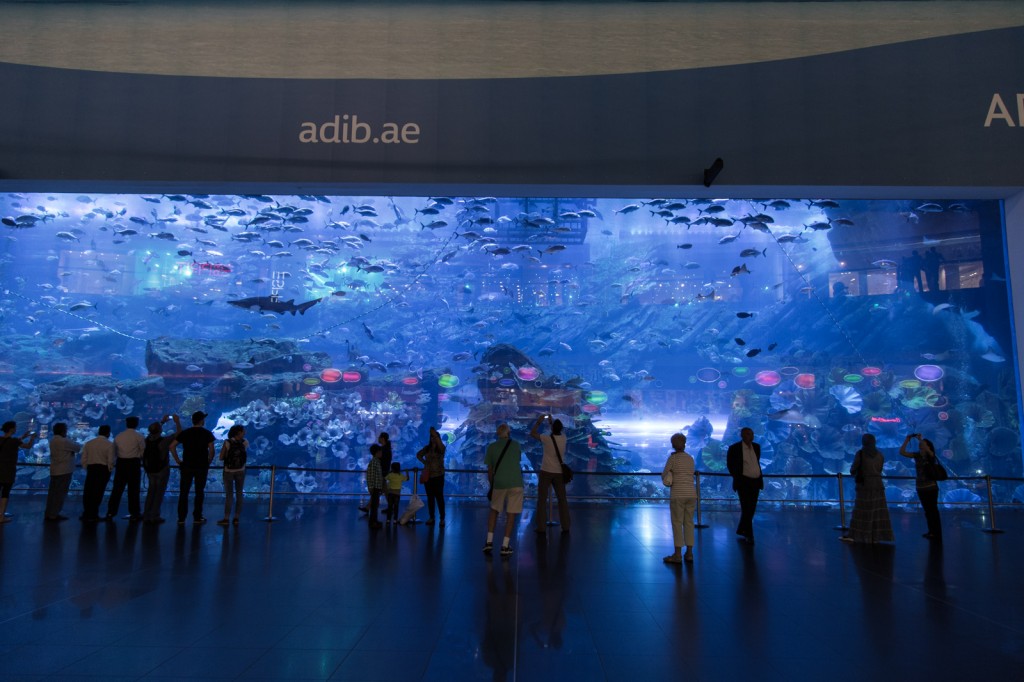 … with sharks …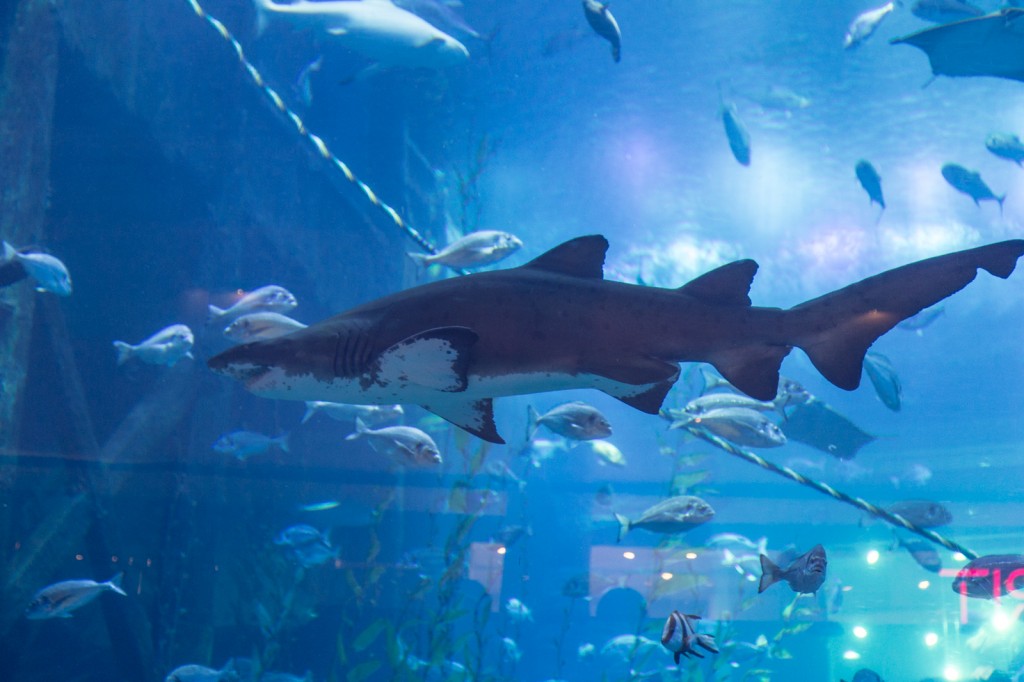 … and tunnels!!!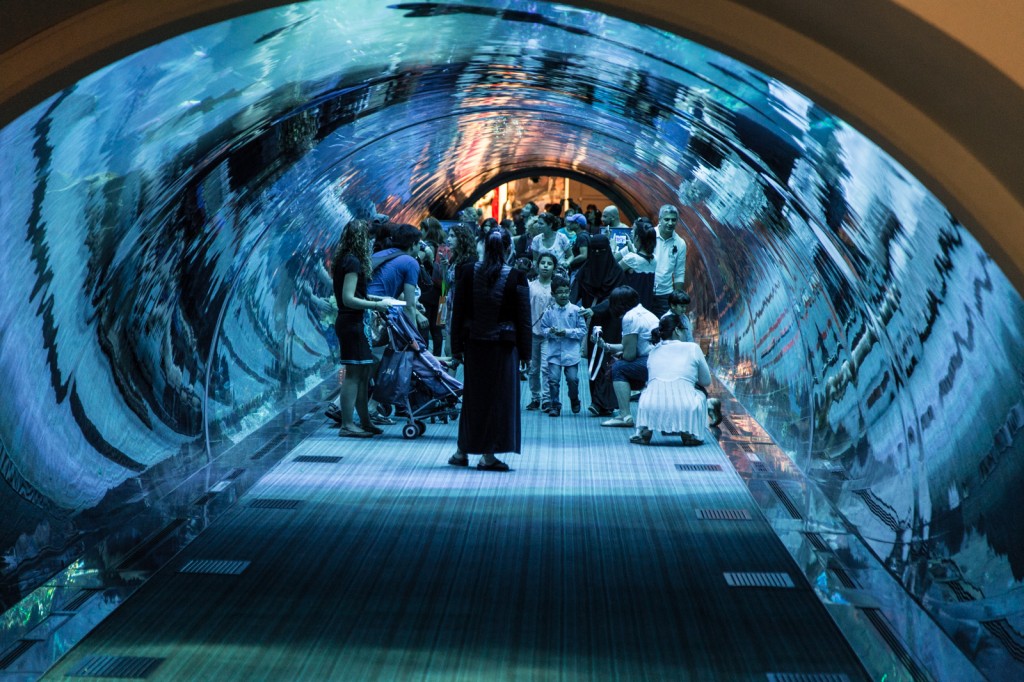 … which cost $25 to enter and seemed to be sponsored by Blancpain, of all companies, which seems completely counterintuitive (since it's a watch company, and I can't fathom what relevance it has to sharks – but then again, neither do I have any clue what relevance it has to sponsoring Lamborghini racing).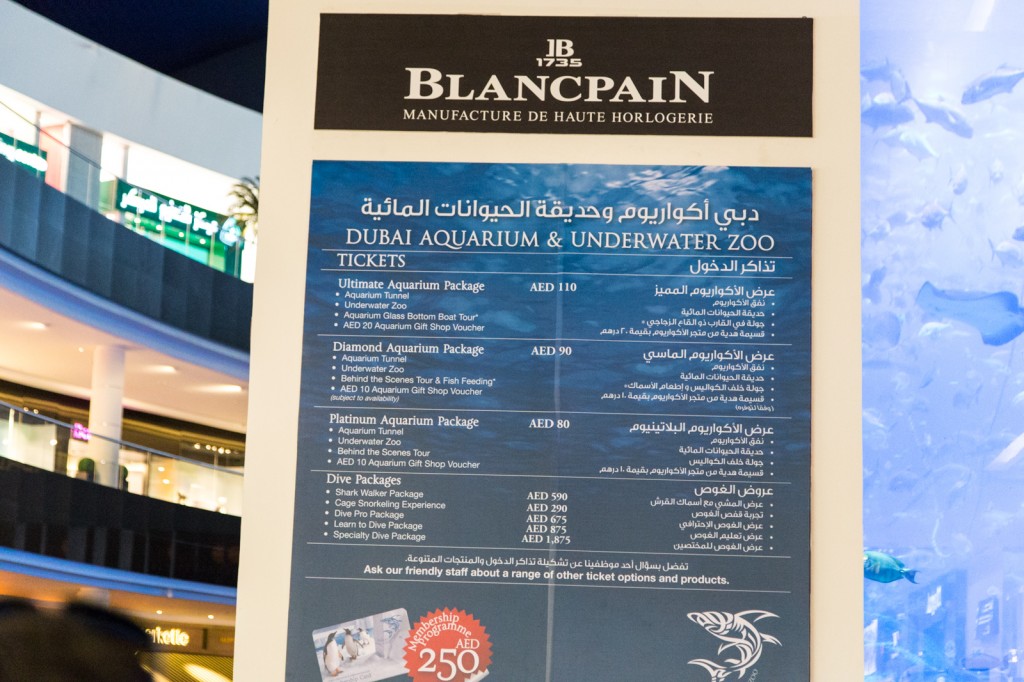 Eventually, I decided I've enjoyed this "big"-ness enough, and went to find my car (which is not as intuitive or easy as it sounds, but more on that later) and drove off to Abu Dhabi.
The drive was interesting. It's a completely perfect, impeccable highway through the desert, something like this: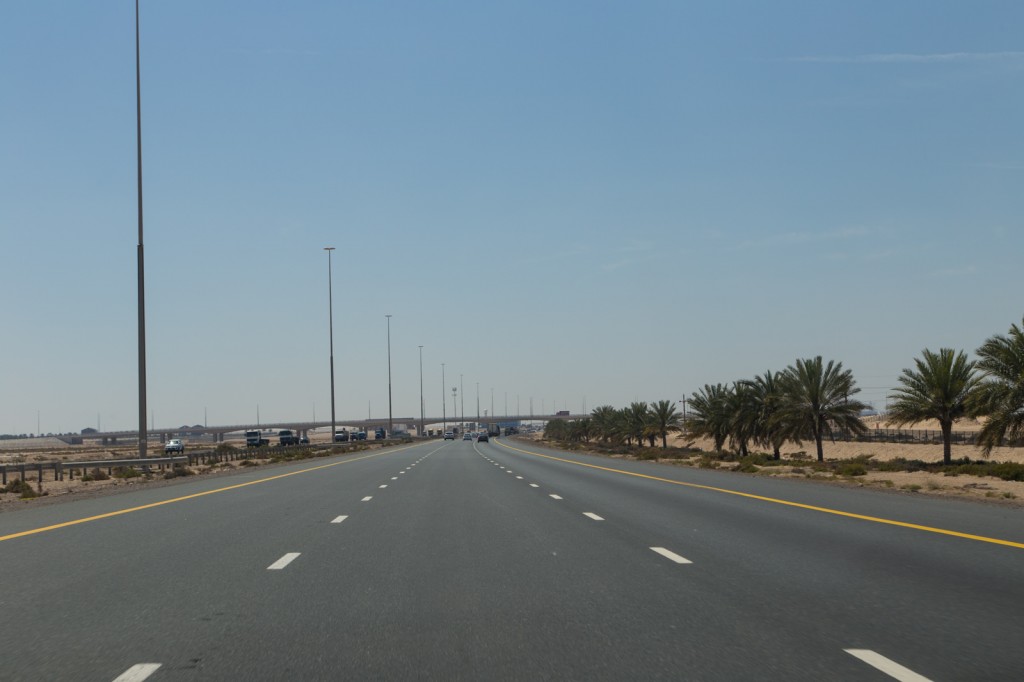 … and like this … (I swear, this is about an hour away, so at least 120km away):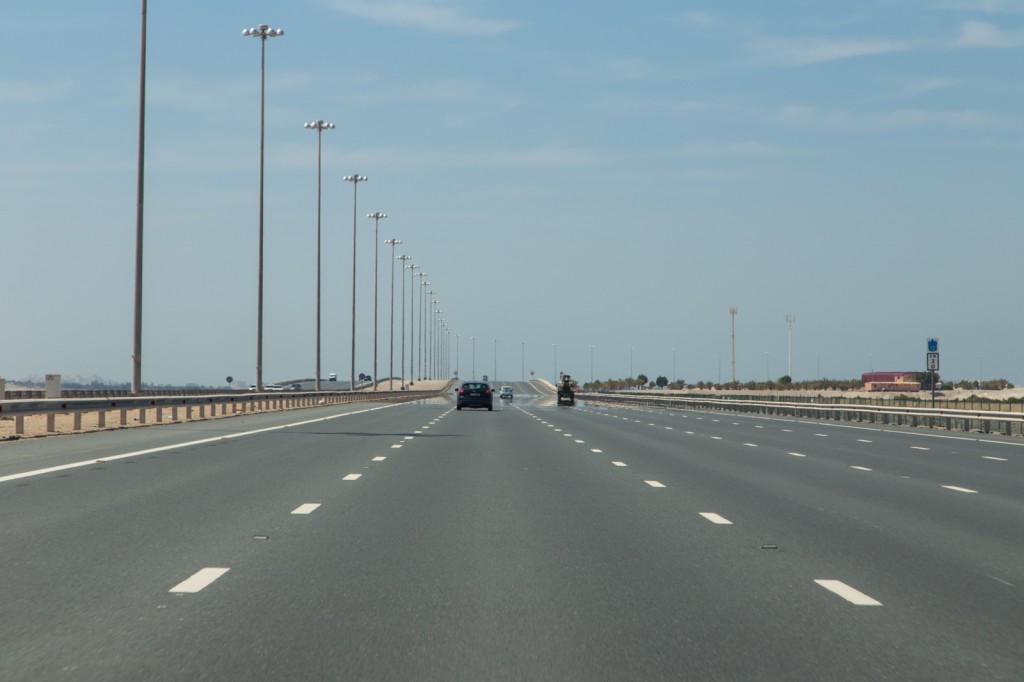 By the time I arrived to Abu Dhabi, I was reminded of the overarching tendency of the Emirates to "borrow" things, such as the Marina Bay Sands….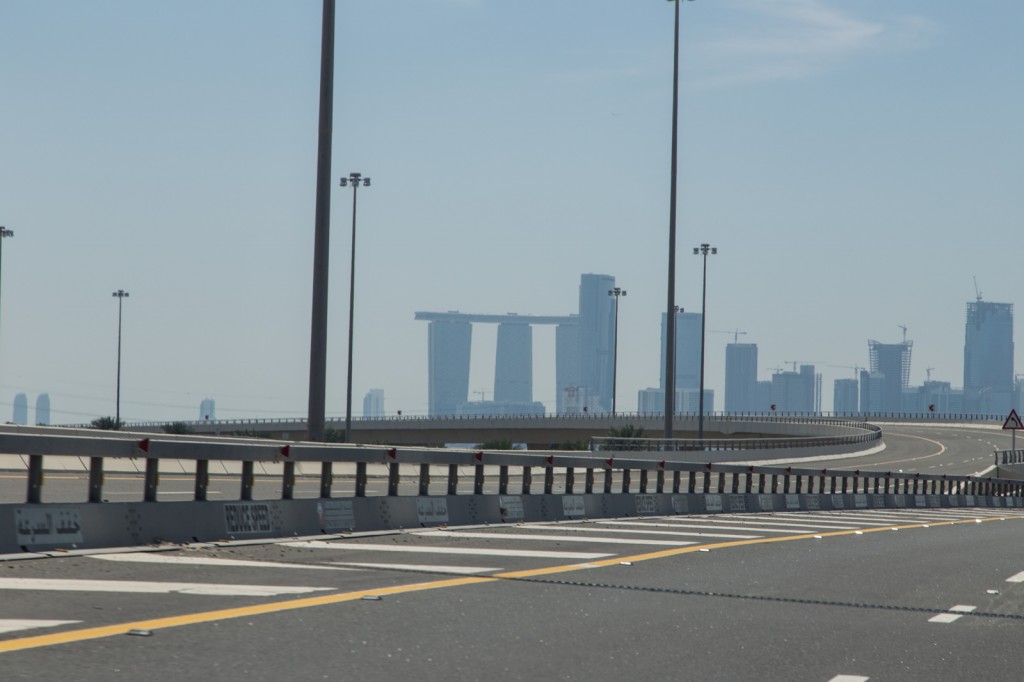 … and the Louvre!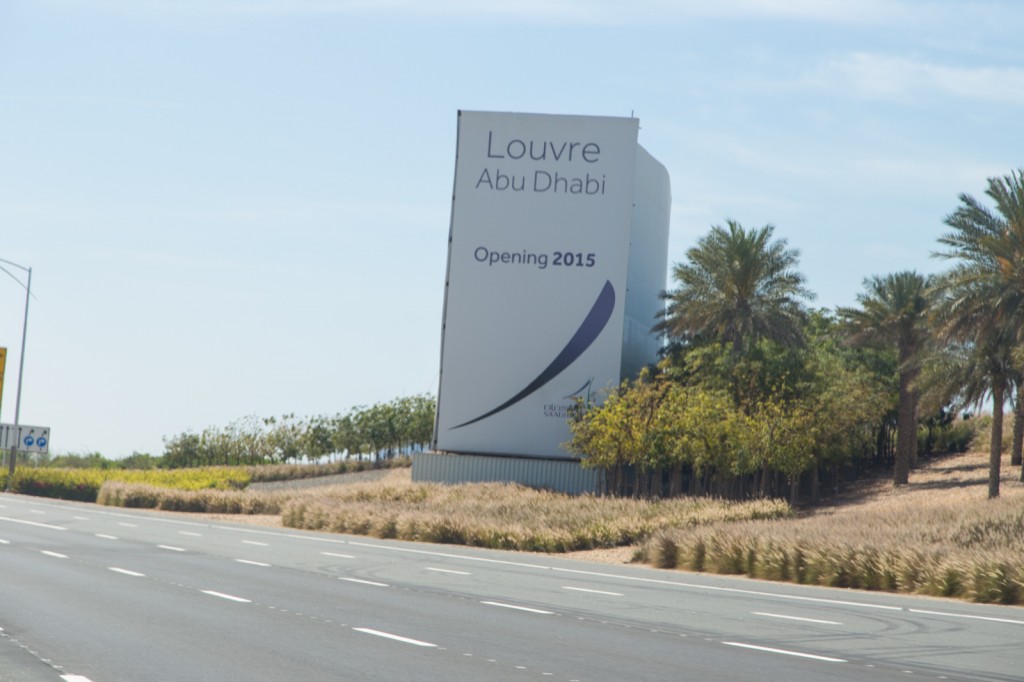 The challenge of driving on this wide a highway for this long a time is usually sticking to the speed limit. This is helped, in part, by the multitude of photo radars; the one thing you should NOT do, though, is follow someone who's speeding. I did this for a while with someone who was speeding about 20 km/h over (and look for his brake lights), but he pulled over to a rest stop and I had to wing it on my own. A BMW 750iL flashed by me at that point, probably doing 200 or so… and I got very happy and decided to follow it – but quickly gave up because it didn't look like he was paying any attention to radars. His plate also had a weird symbol on it that seemed vaguely familiar, but that only clicked later, when I drove by the presidential palace and saw that it happens to be the emblem of the UAE. Doh! Definitely – my country, my rules, my speed radars.
Since I abandoned Al Ain, I got into Abu Dhabi very early. I went to check into the hotel, where I was informed that despite the room being on points, all standard Royal Ambassador perks apply, including free minibar – feeding my closet kleptomaniac. I emptied the minibar, then realised I just arrived, so I put it all back, and left the hotel to go explore. But I took the opportunity to take some pictures.
Hotel from the outside: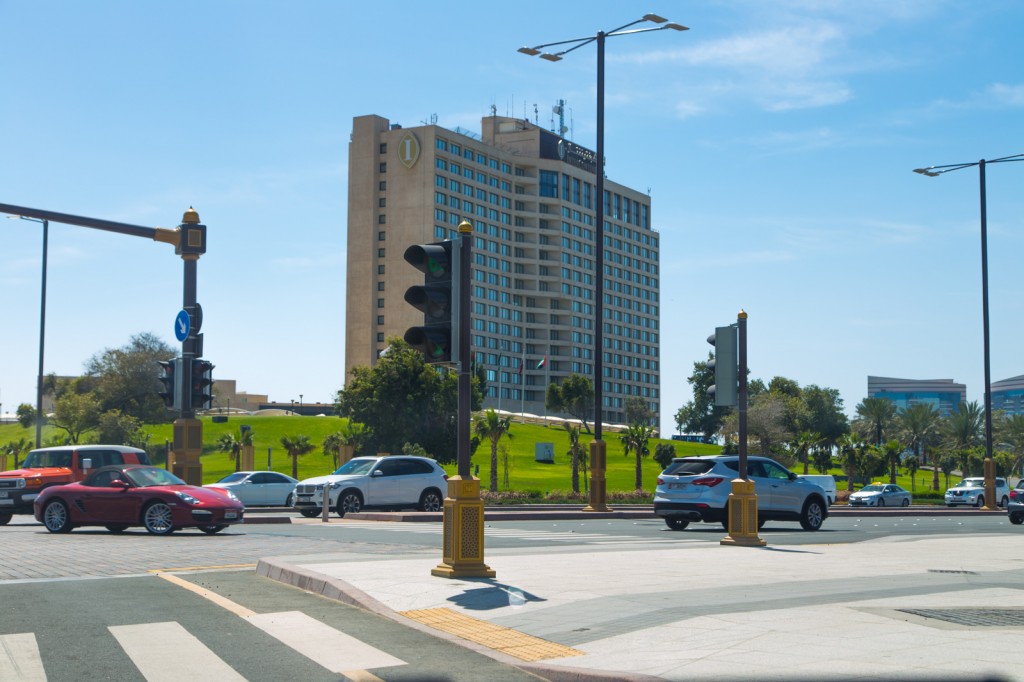 Lobby:
The room:
The view from the room: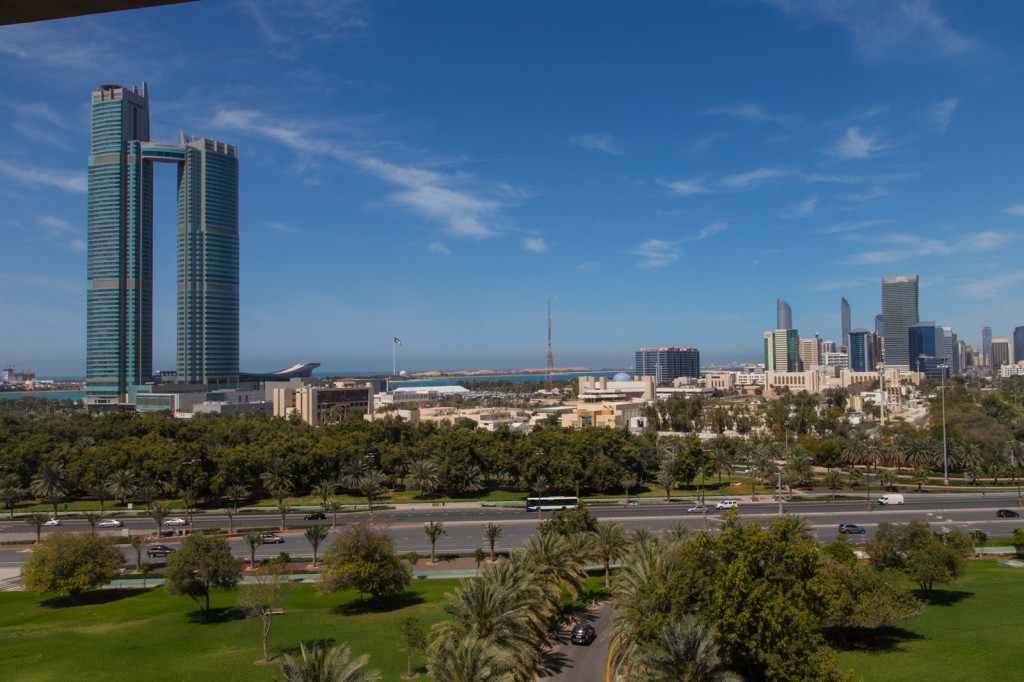 First visit was to the Abu Dhabi Heritage Village. Considering there really isn't much history per se, in the Emirates, a great effort is made to preserve what exists of old and teach others about it. I think it's an important undertaking considering how much of a "rich Disney" image there is (perhaps more so of Dubai than Abu Dhabi, but still) – and it is not helped by things like Louvre Abu Dhabi, which is about as close to "I have many monies, may I throw at you" as you can get (see picture above in the post). So locations like the Heritage Village are important.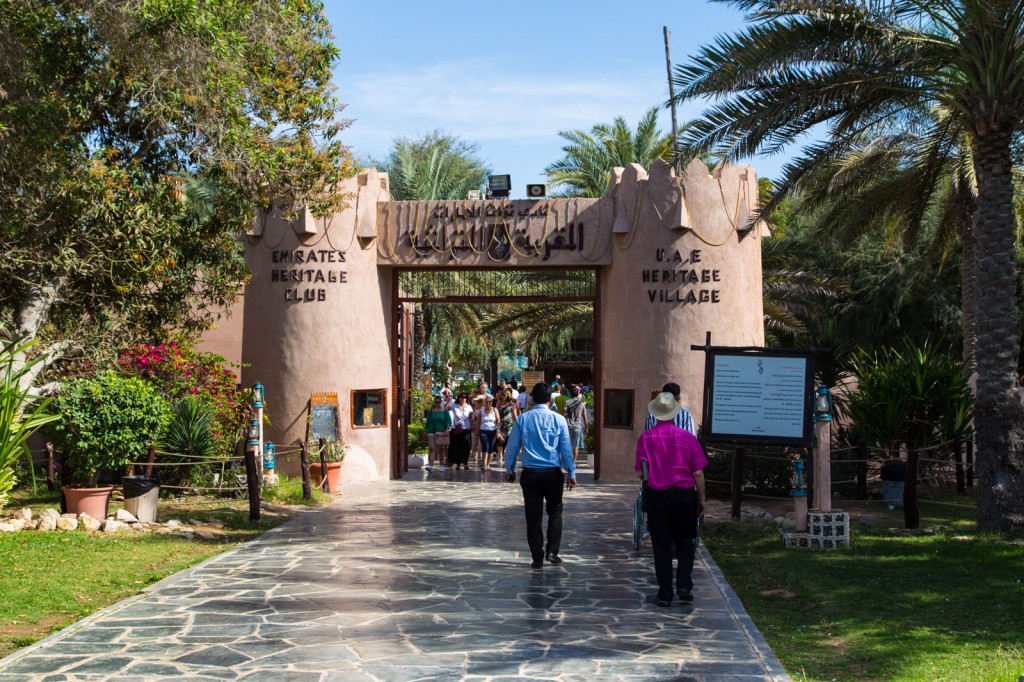 Incidentally, remember that symbol I mentioned that I saw on the plate of the 750iL that passed me going far beyond any reasonable speed limit? It was this one:
So yeah, definitely a symbol of the Emirates (says Tourism Police here, but that's a general emblem of the UAE).
Various shops selling various cultural trinkets: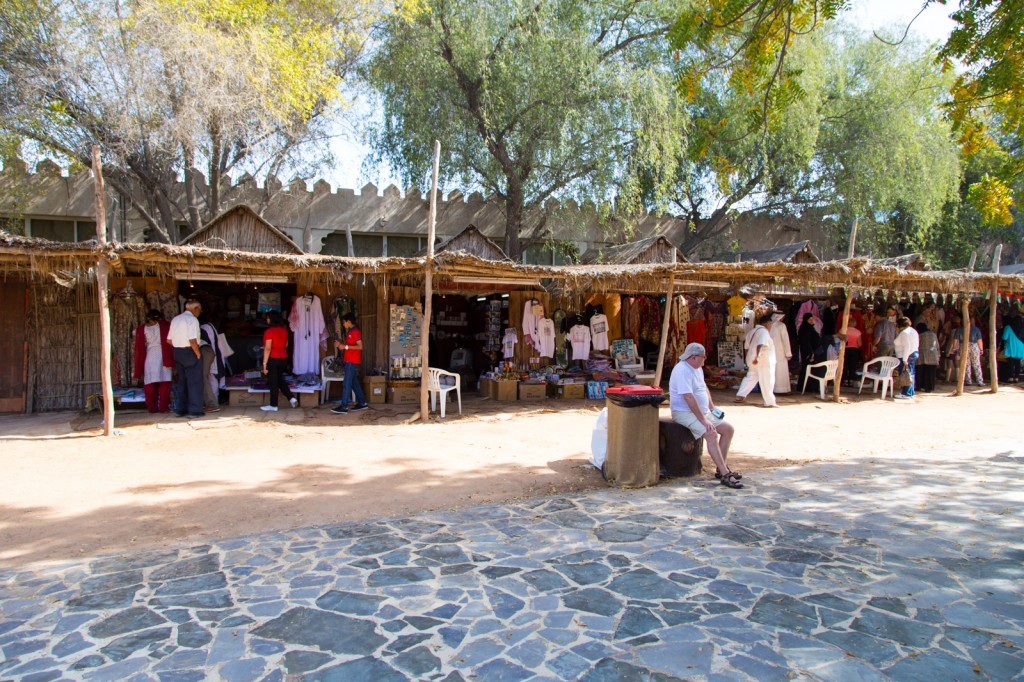 A section of the Heritage village is reserved for an endangered and hard to find environment that lies at the root of Emirati history. Okay, I'm kidding. I have no idea why this is even here.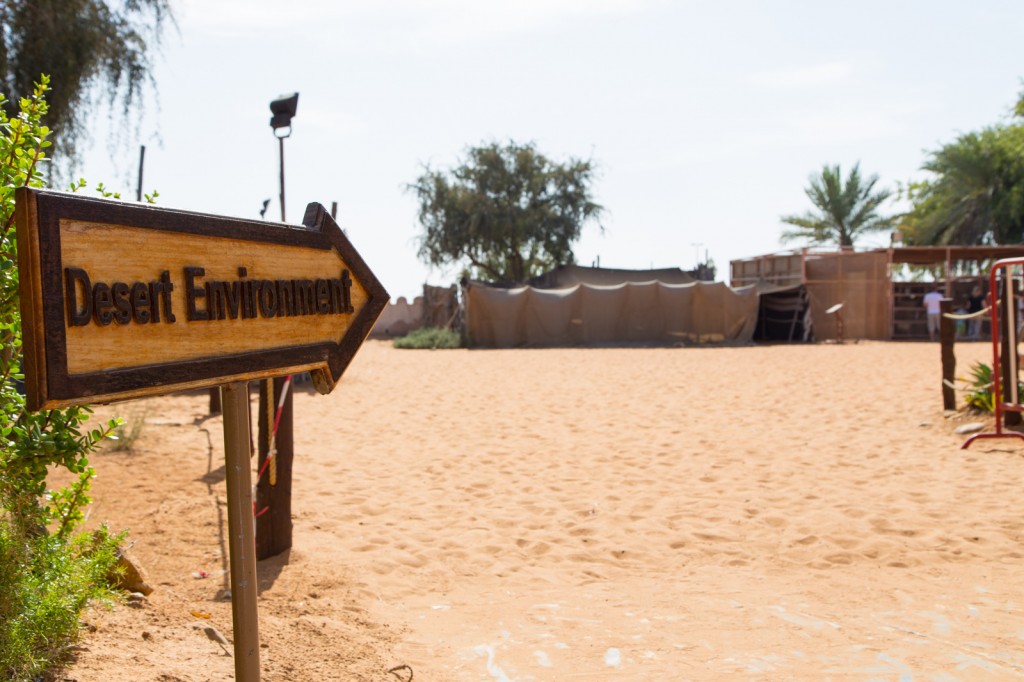 Because really, one could just … go outside, more or less.
A view from downtown from the Heritage Village – more construction underway…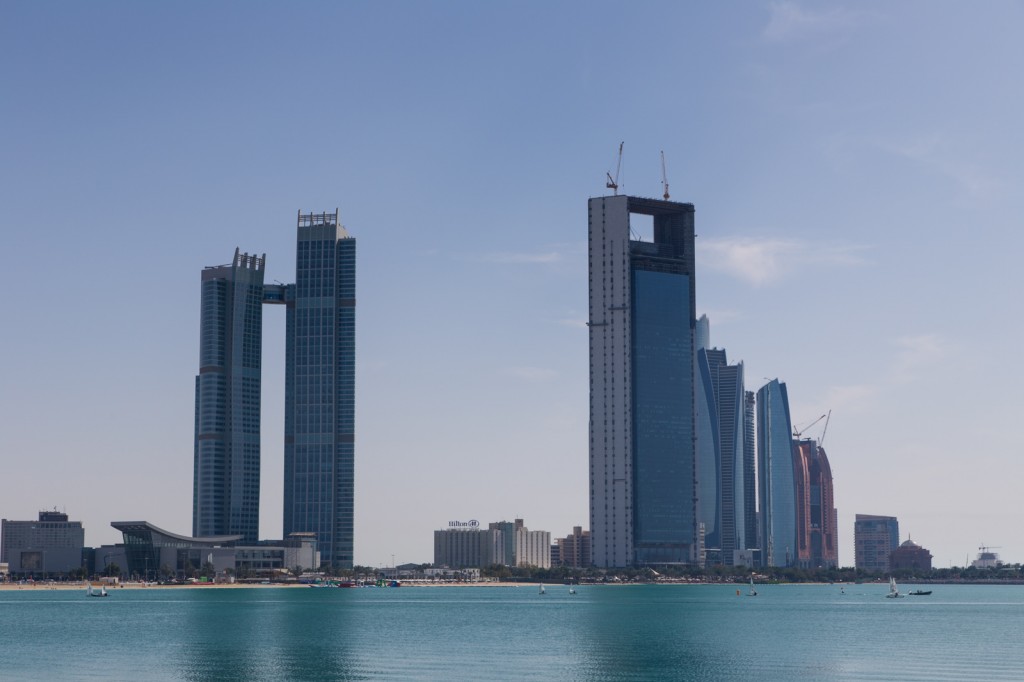 While I was taking pictures of the water, there was a few sea-doo'ers who got pulled over by water police (!!!) and either ticketed (less likely) or just told to slow down (more likely).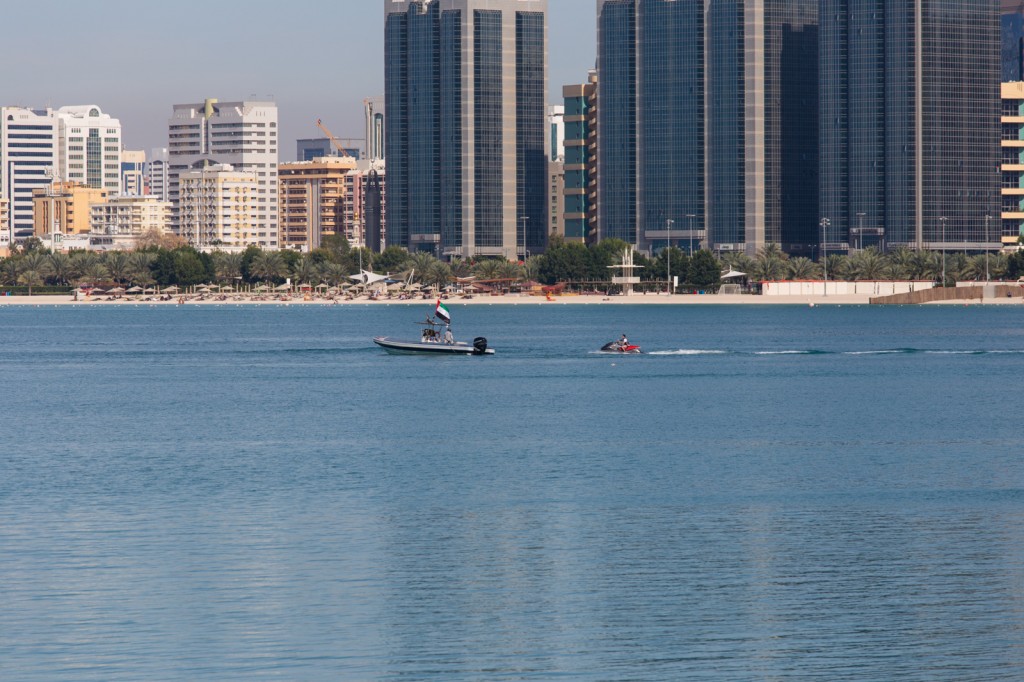 I then went on to walk around the Heritage Village. Mostly, it was a collection of alleys.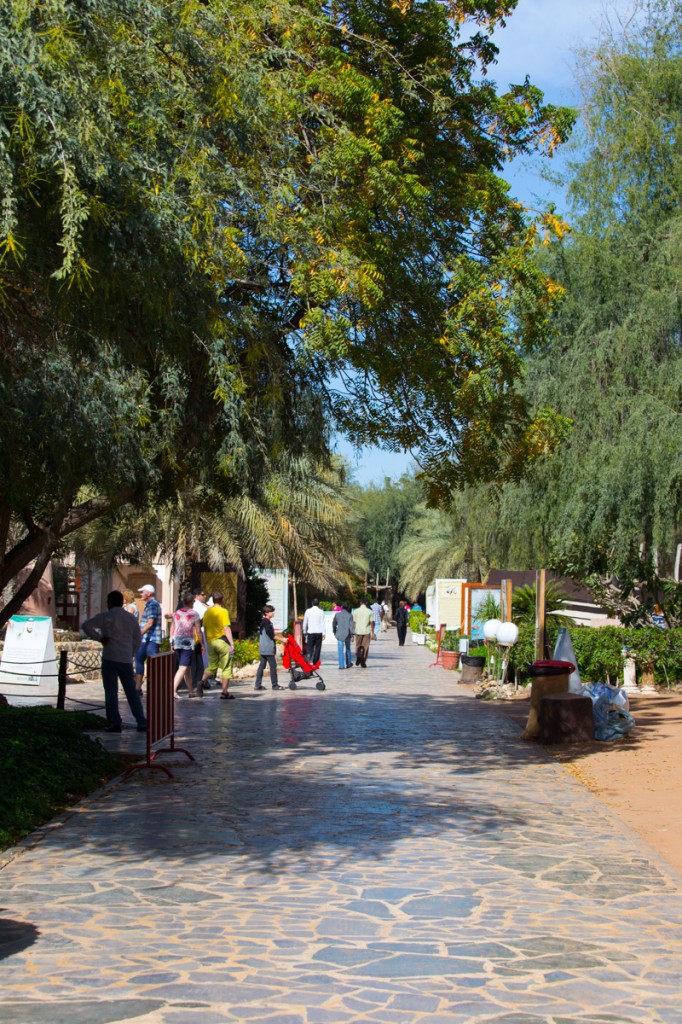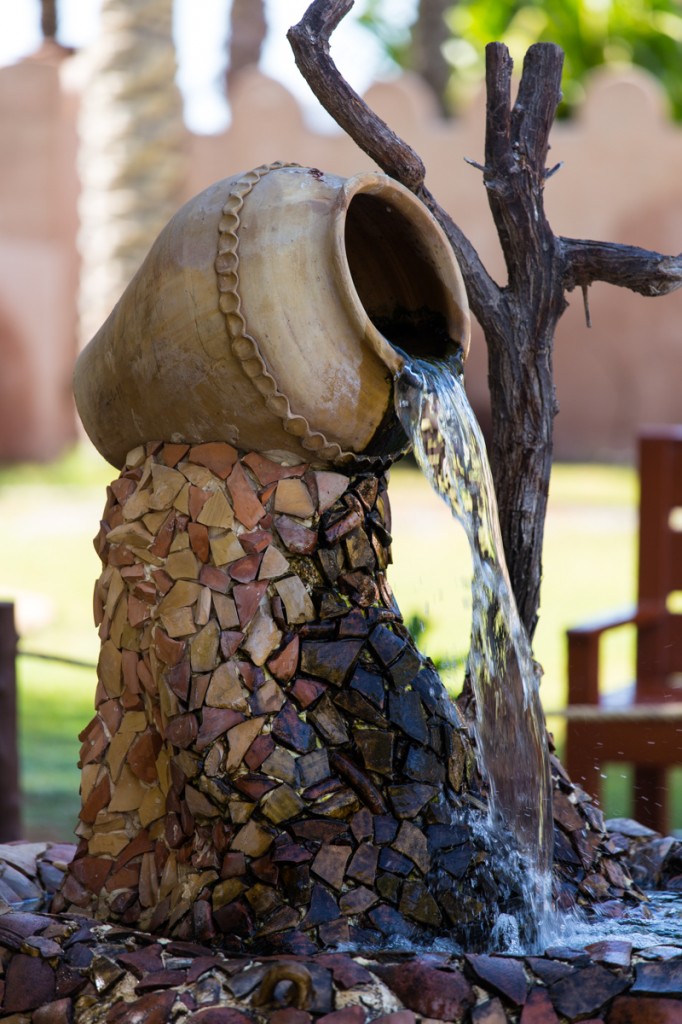 There were also a few workshops where the workers were supposed to be showing off their art, but only the glassblower was (to a group of Russian tourists).
The other workshops were empty.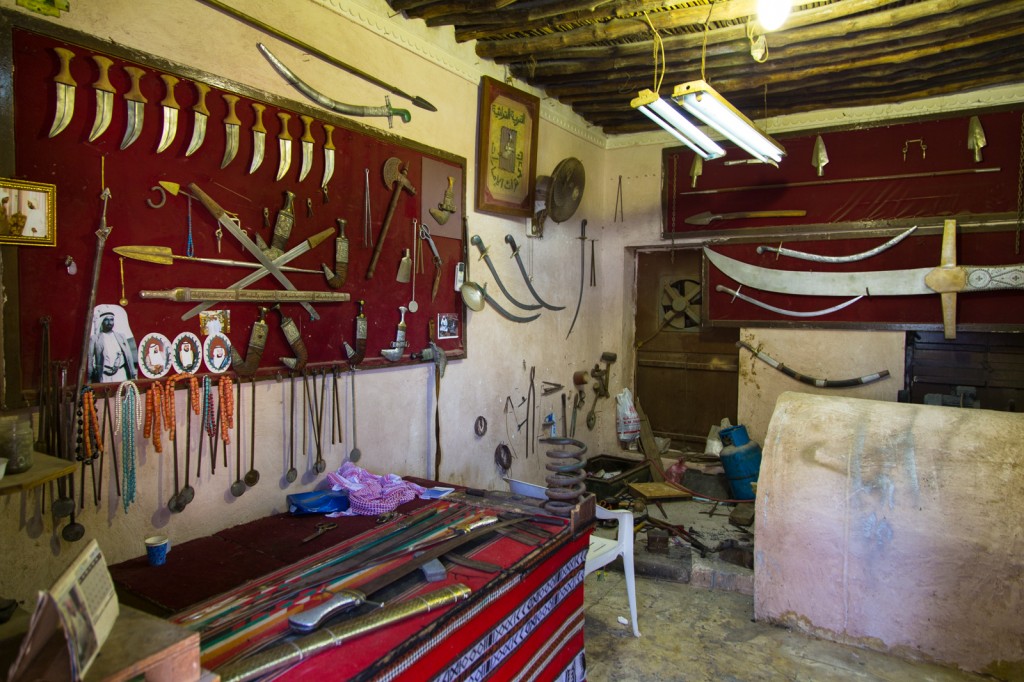 Under the benevolent eye of the Sheikh, a worker toils dutifully.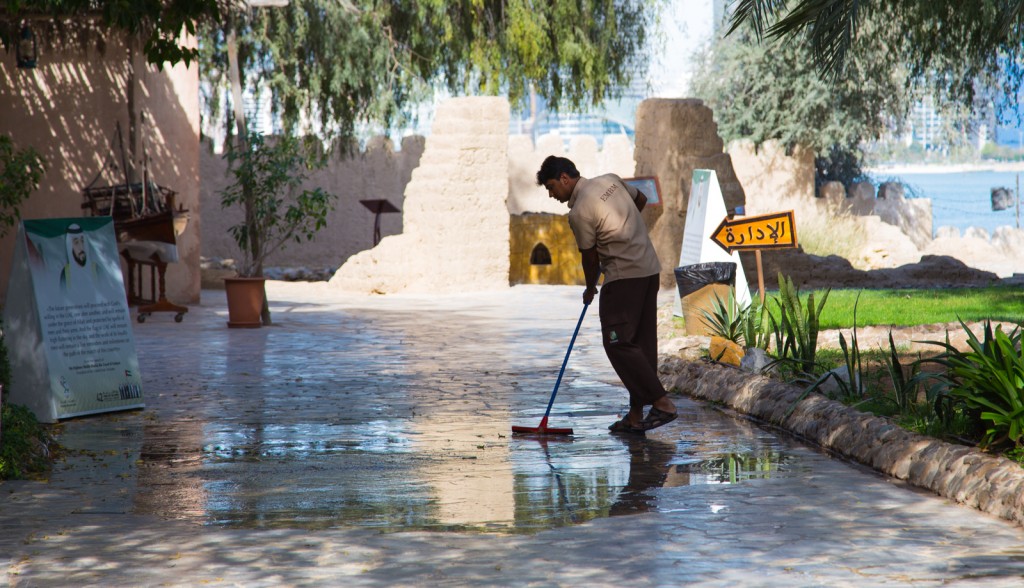 After the Heritage Village, I went on to the Sheikh Zayed Grand Mosque – the largest mosque in the world. Its relatively recent vintage (built between 1996 and 2007) does not prevent it from being the key worship location for the country, and for many a pilgrim from the world.
But before that, I ran into this completely bizarre situation: standing at a light, surrounded by Range Rovers, the driver of the Porsche Cayenne ahead of me stuck a huge fluffy toy out of his car, put it back, and drove off with the Range Rovers. I have no explanation for this.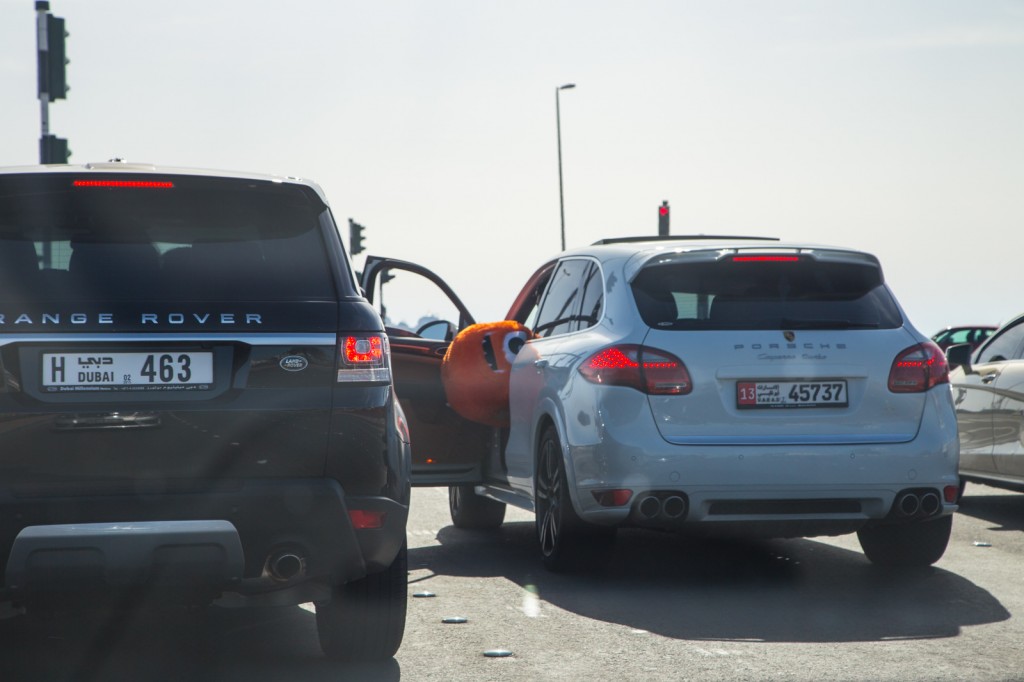 Here is the Grand Mosque. As you see, some construction cones are still lingering nearby.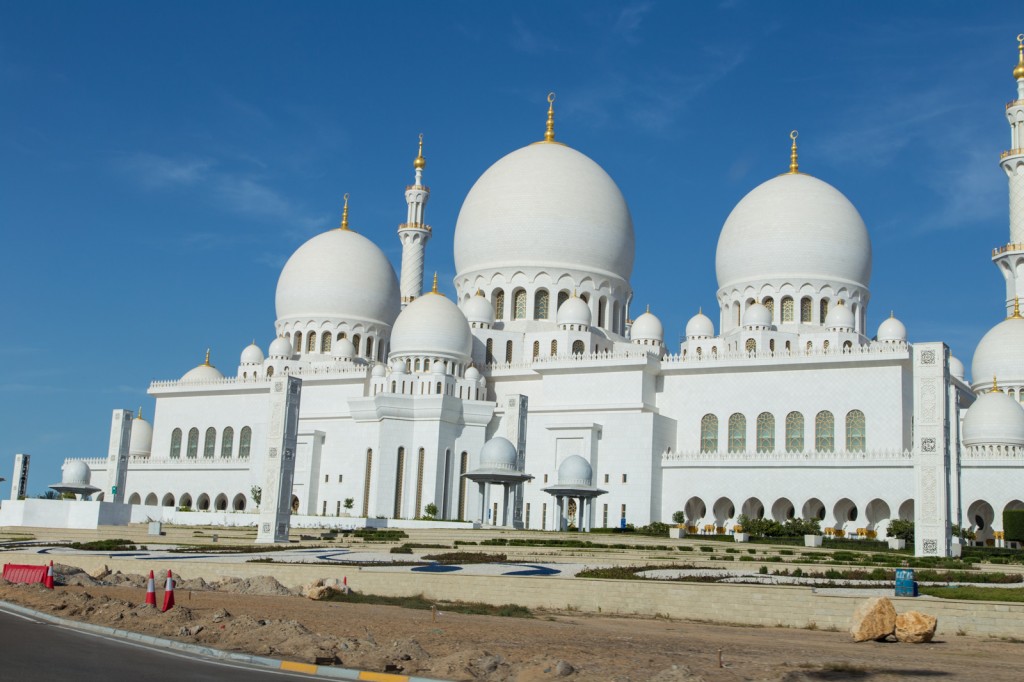 It's very difficult to explain the scale of this mosque. Also, it's hard to explain the grandeur. That said, if we leave aside the fact that it's essentially the same age as most average people's cars, it's a very beautiful mosque; and were it to be kept in this very state for the next century or so (which is not impossible, given the abundance of cheap labour – a point I will continue to harp on over the course of my observations), it would truly be considered a key historical monument.
More architecturally perfect, fabulously golden archways…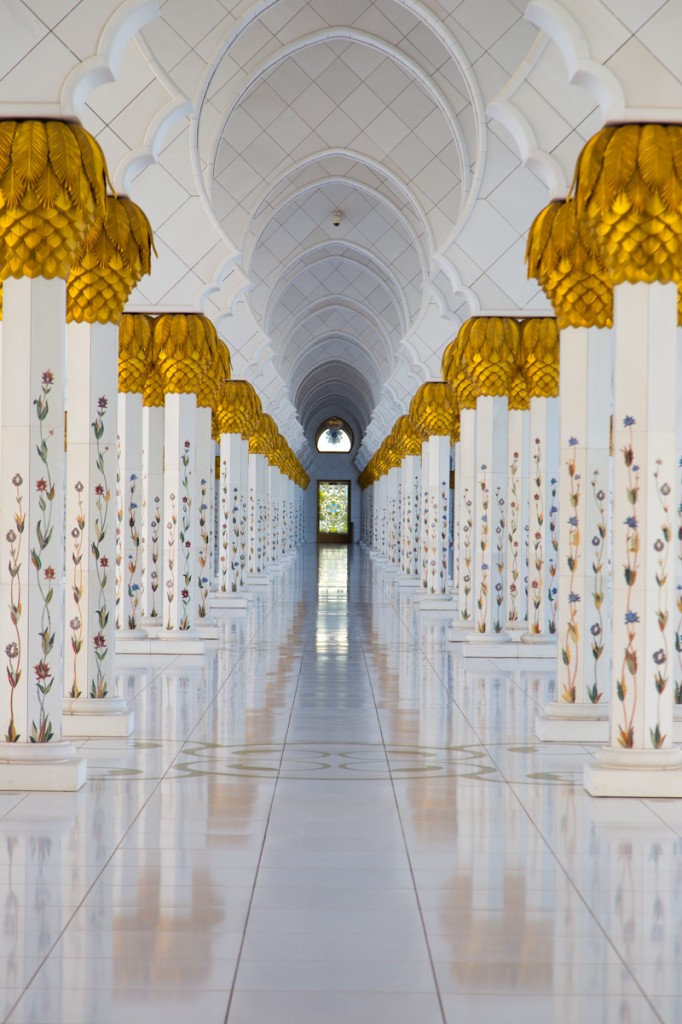 … and more "independently contracted" cleaning staff toiling under the ever watchful eyes.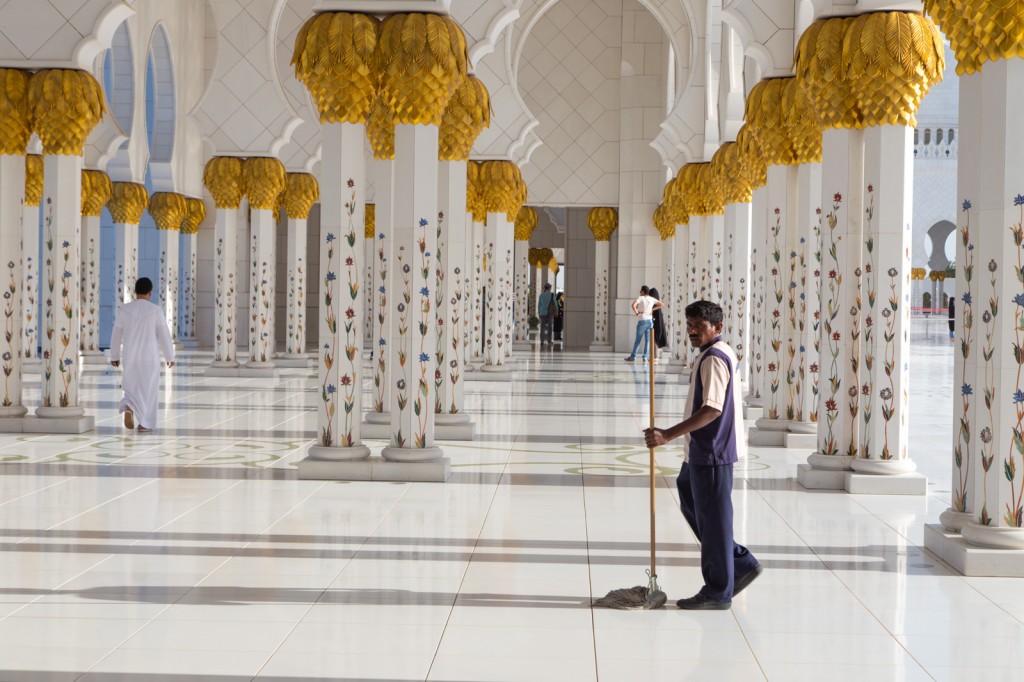 The courtyard is so white (due to the marble) that my camera is having trouble keeping up with the few other colours present: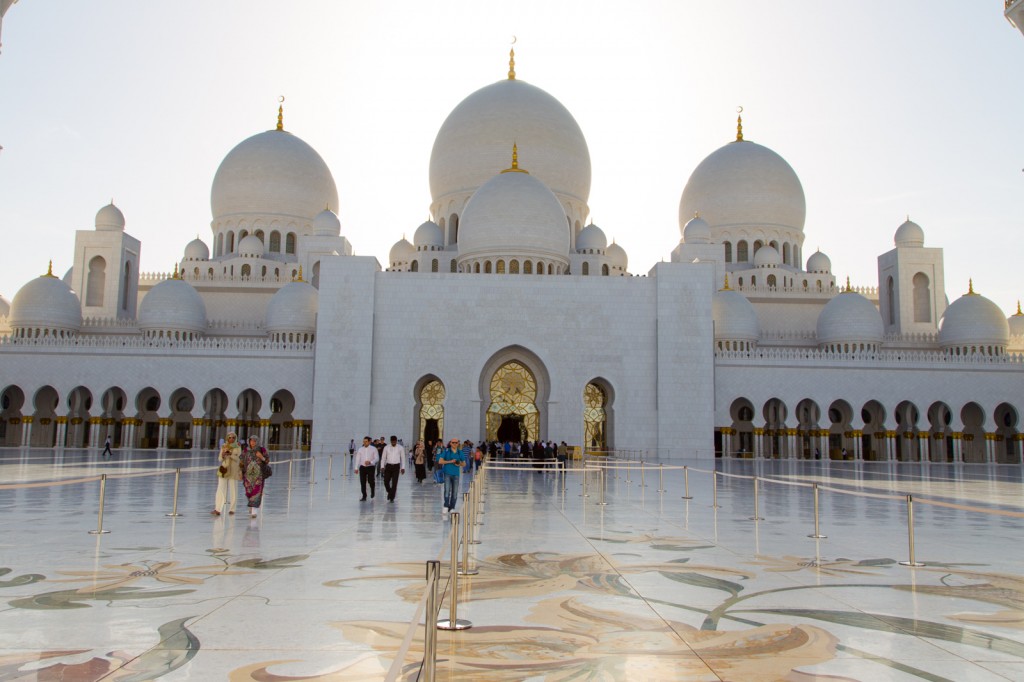 The inner décor is just as ornate, and just as impressive:
The detail on the chandeliers is quite impressive, as well: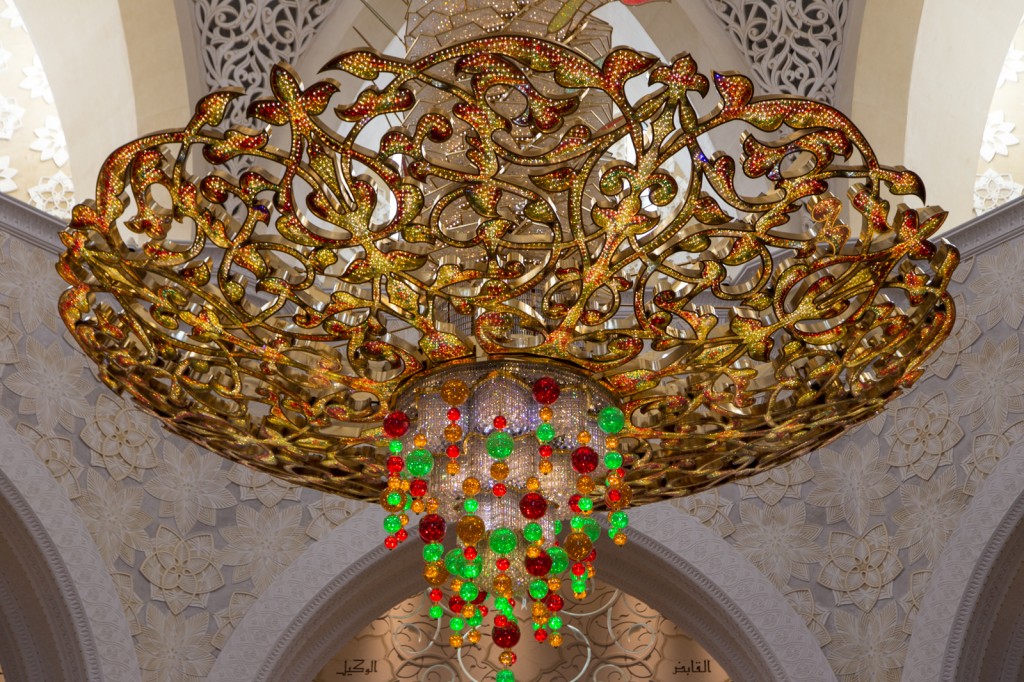 On the way out, I came across this pair of strange individuals. I imagine these aren't native Emiratis (else I have no explanation for the baseball cap), but I thought it made it look all that more comical.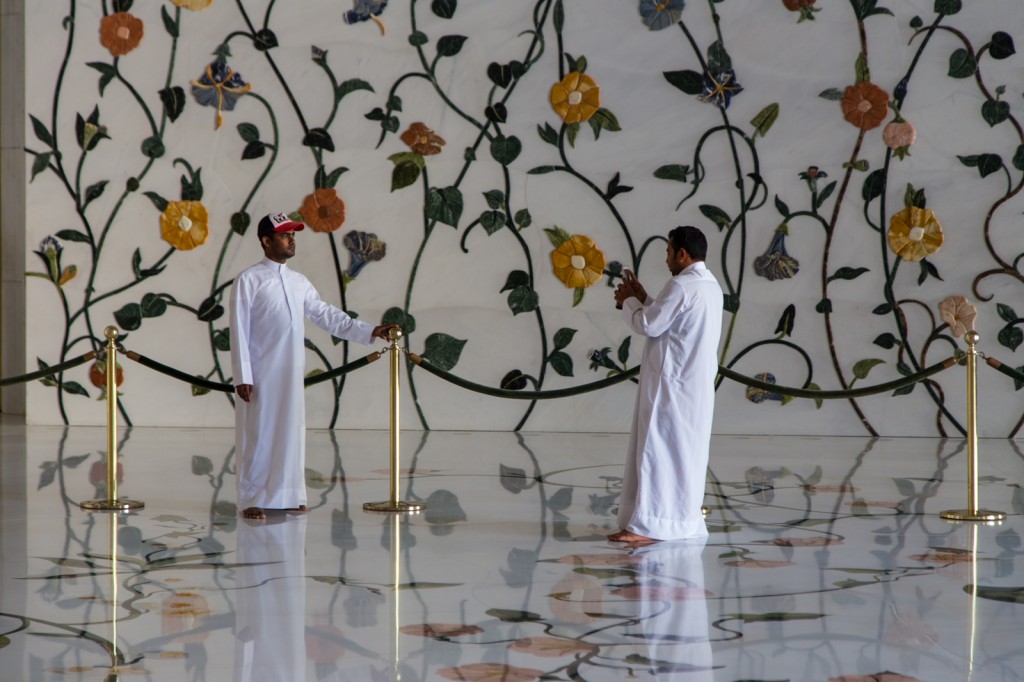 On the way out, I spotted this plane landing just above the mosque (the airport is not far away). Somehow… this looked strangely out of place, in a number of meanings.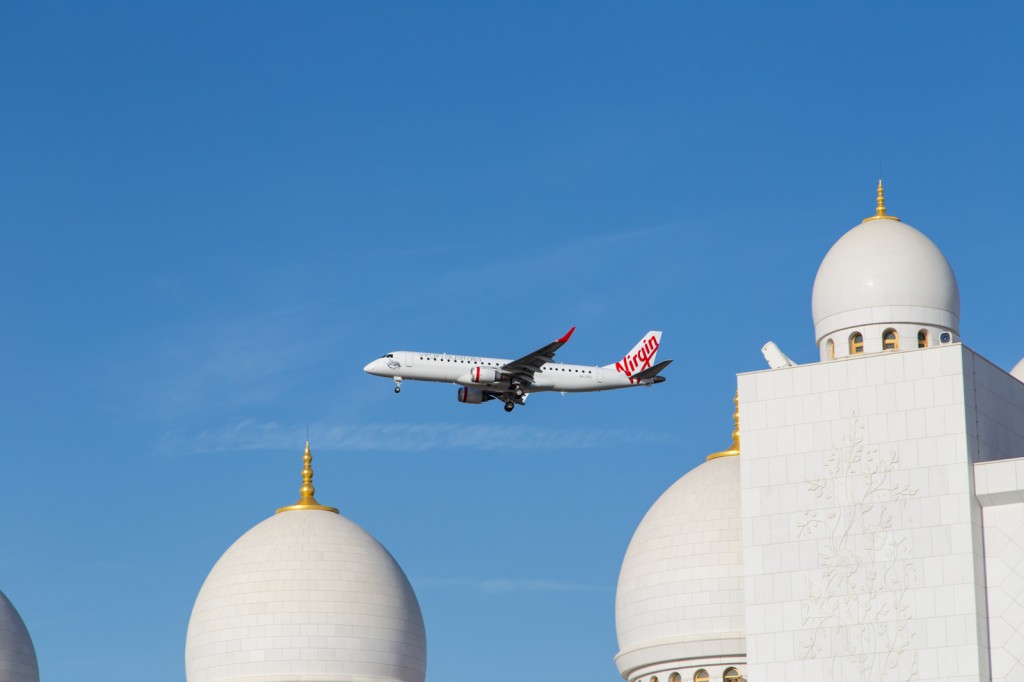 And some more cleaners…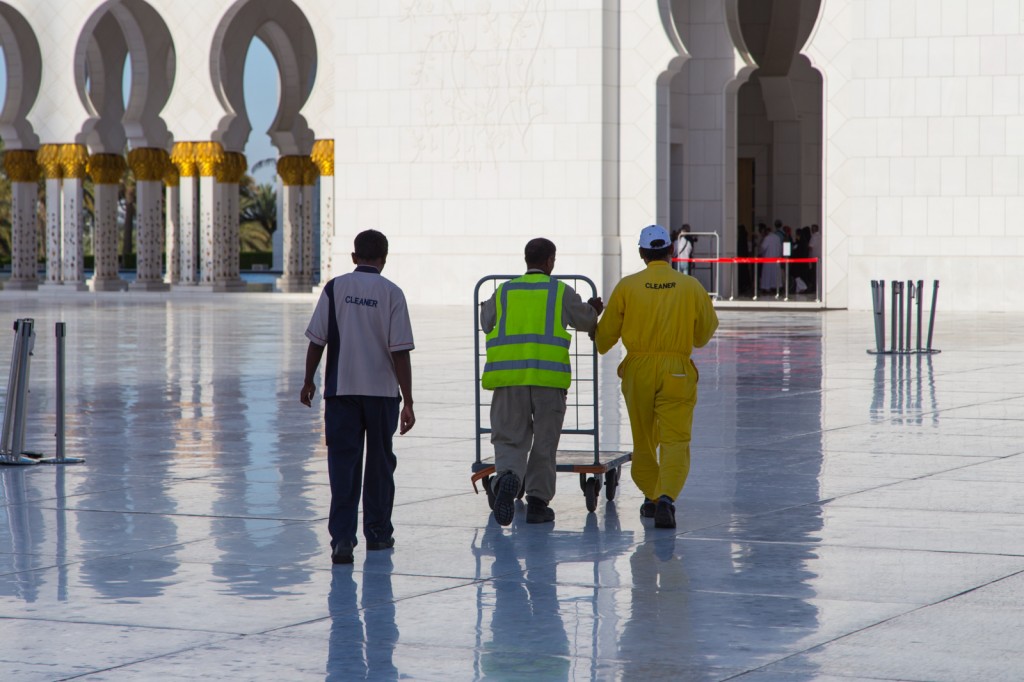 … under the ever-watchful eye.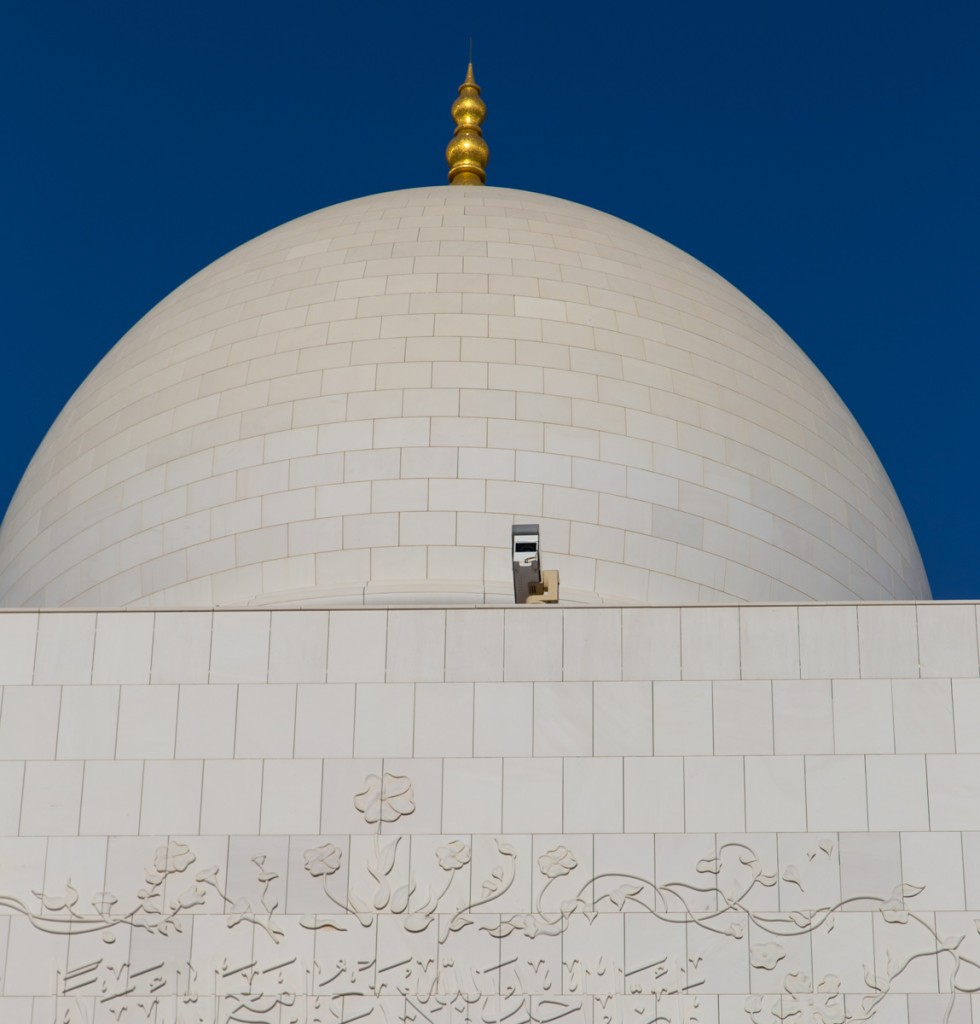 Taking one final look at the place…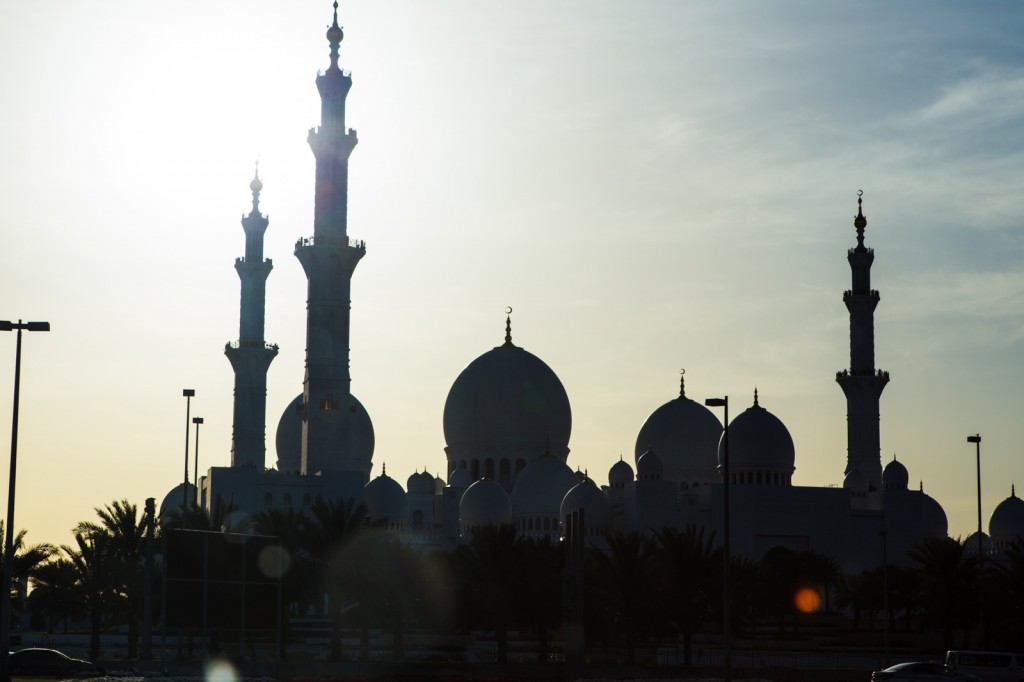 … I was off to another curious location in Abu Dhabi: one called Masdar City. Without regurgitating the wiki on it, it's essentially a fully self-contained, autonomous city in the desert that creates its own power and functions in a completely sustainable way. Having seen it on the National Geographic and other outlets, I wanted to see for myself what the city of the future (or the next rich people's fad, depending on which article you read) looks like.
The funny story was how I got there. There aren't any specifically clear directions, except one set that I found that told me to follow the signs towards "Presidential Flight" and right at the last roundabout, turn right, which apparently had you wind up in Masdar City. Since I was too busy navigating roundabouts, I took a left at the last roundabout – obviously following it towards Presidential Flights (and I draw your attention to the fact that the airport was right there, so that should give sufficient indication of what exactly this means). Needless to say, I very shortly found myself at the tail end of a one-way road with a checkpoint and two guards pointing AK-47s at me. I stuck my hands out of the window, and when they approached, I explained that I appear to be lost, and am looking for Masdar City. To their credit, they neither shot me nor were in any way rude (or eloquently versed in English) but they did their best to explain to me that at the roundabout, I should have taken a right turn, just like the damn instructions told me. Then I was on my way.
The interesting thing about Masdar City is that cars are (normally) not allowed inside. So individuals with business there arrive to the visitor parking lot outside, then use these "personal transport vehicles": you get in, and push the only button, and the fully electric vehicle takes you to the inside parking lot where you can access the city.
A huge electronic welcome board shows various projects around the world that tackle environmental challenges.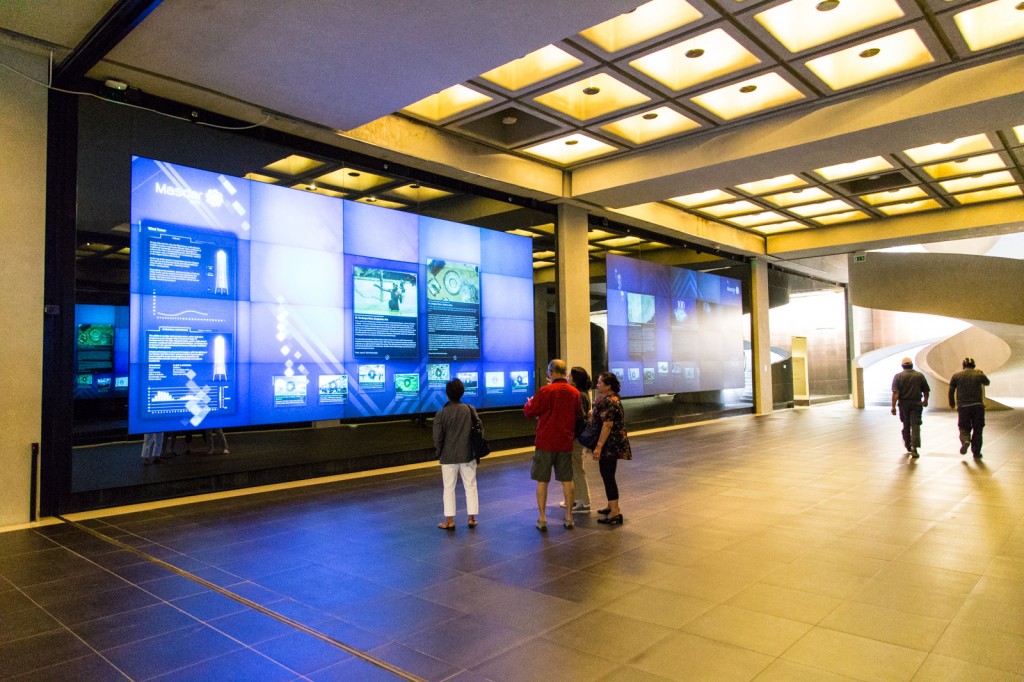 After a bit of bumping into closed doors, I was in the centre court.
The design of all the constituent buildings is done in such a way as to optimise wind traffic, improve heat management and otherwise make the buildings "efficient". It makes them look a little bit weird (and a little bit like bees' nests), but it does achieve the requisite effect.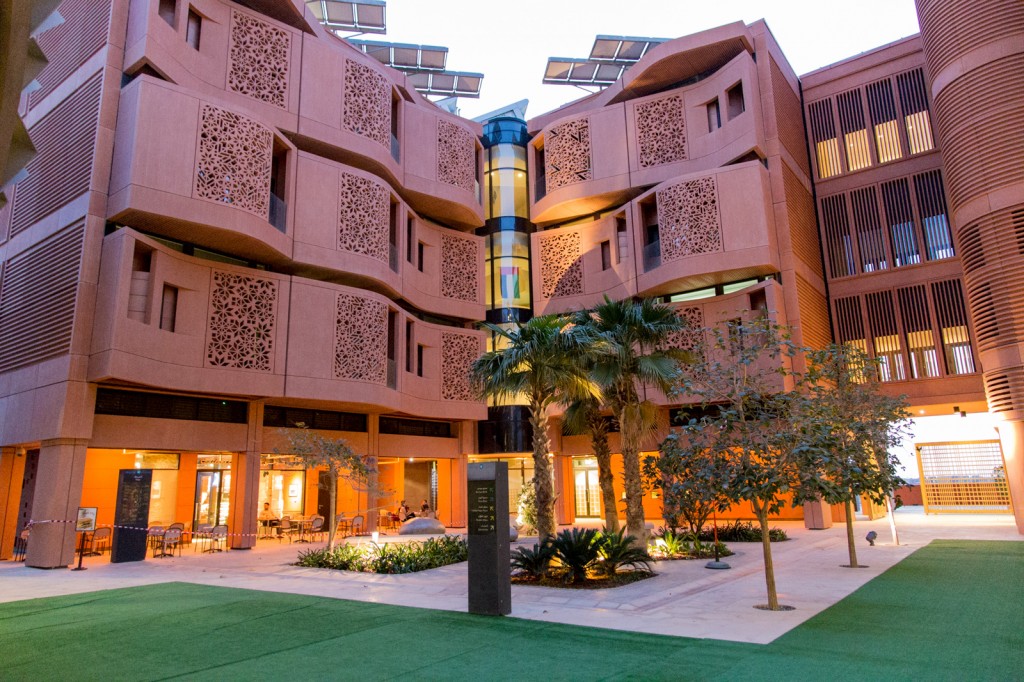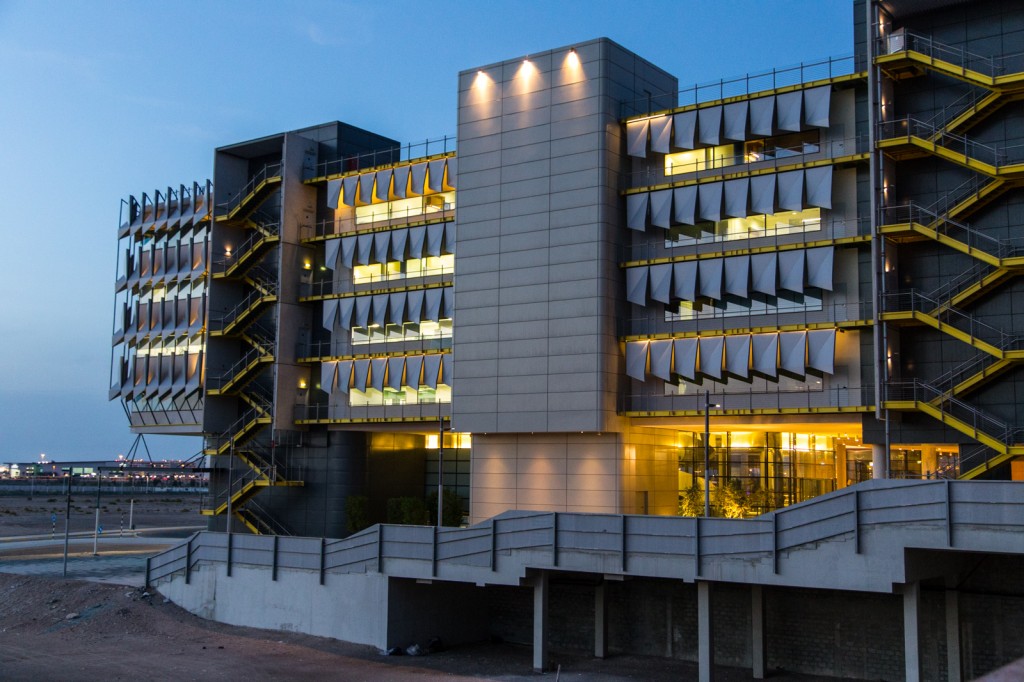 Walking around, I stumbled upon some cars driving around. I guess even a fully self-contained city can't do without outside pizza deliveries 😛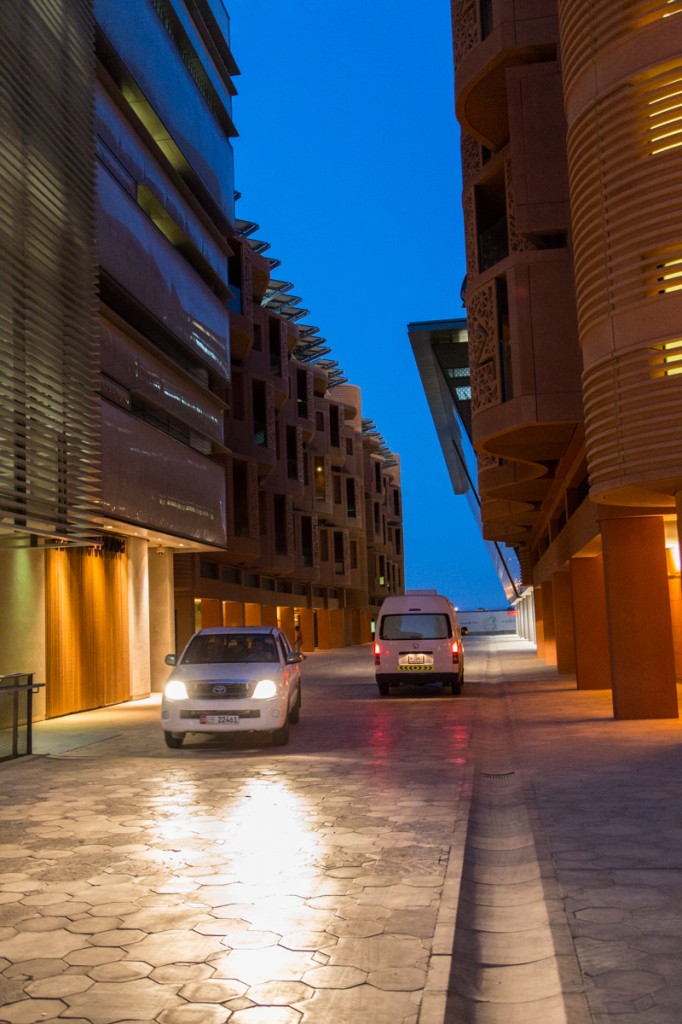 I passed by a cool LED-backlit fountain on the way out: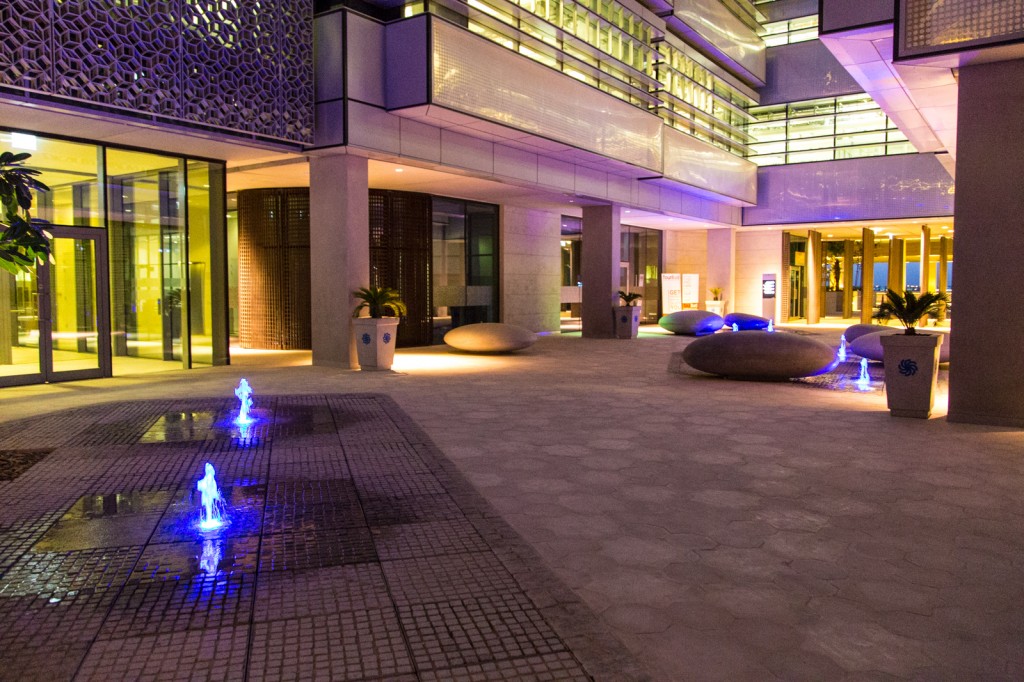 … and a personal transport vehicle which seems to have suffered a core meltdown and was in a state of complete shutdown.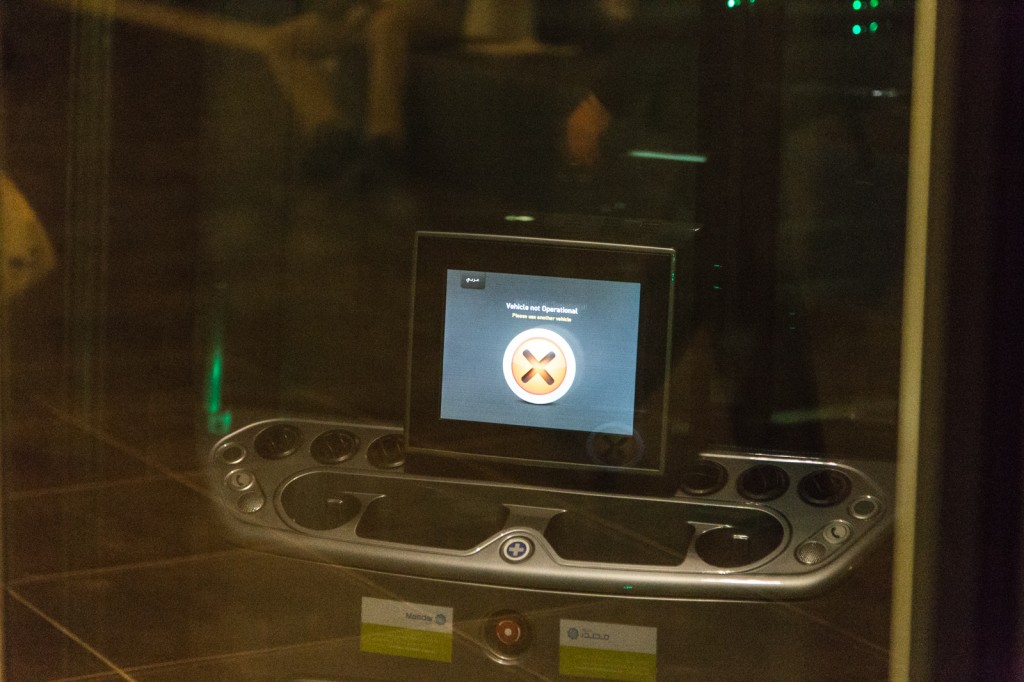 All in all, it was a very interesting visit. Obviously, the setup isn't without problems. The fact that LED and CFL lighting is used everywhere, means that everything is in semi-darkness (because these technologies actually suck for lighting in most cases). There is also an utter lack of … anything, really – since most … things require electricity, and it is the most valuable commodity here, it would appear. So there are no stores except a few coffee shops, no real services except two banks, and no people, since they're either out somewhere where there is more light, or they're just … absent.
But if I were to imagine a city of the future, it would probably share a lot in common with Masdar City. Except the stupid delivery vans.
Leaving the city, I hurried to my dinner appointment: I wanted to try something "special", so I booked dinner in the kitchen with the head chef of Bord Eau, the Shangri-La Abu Dhabi restaurant. I love experiences like this, so I was looking forward to it.
I enjoy finding randomly complicated things to do and eat. This time, I found that the Bord/Eau restaurant in Shangri La Abu Dhabi has a "eat in the kitchen" offer, where for some incomprehensible sum of money (500 Dhs, whatever that's worth), you get a table set in the chef's kitchen and get fed there. Pretty cool. So I booked it and went.
Of course, this is Shangri-La, so ultra-opulent entrance is required: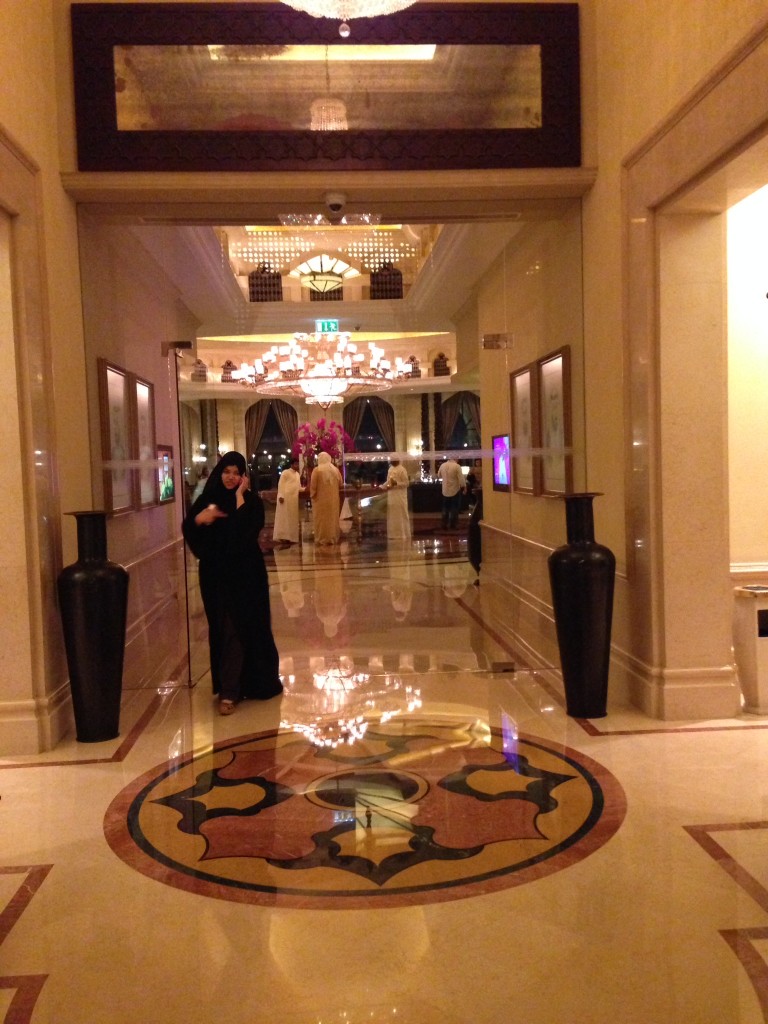 Restaurant entrance: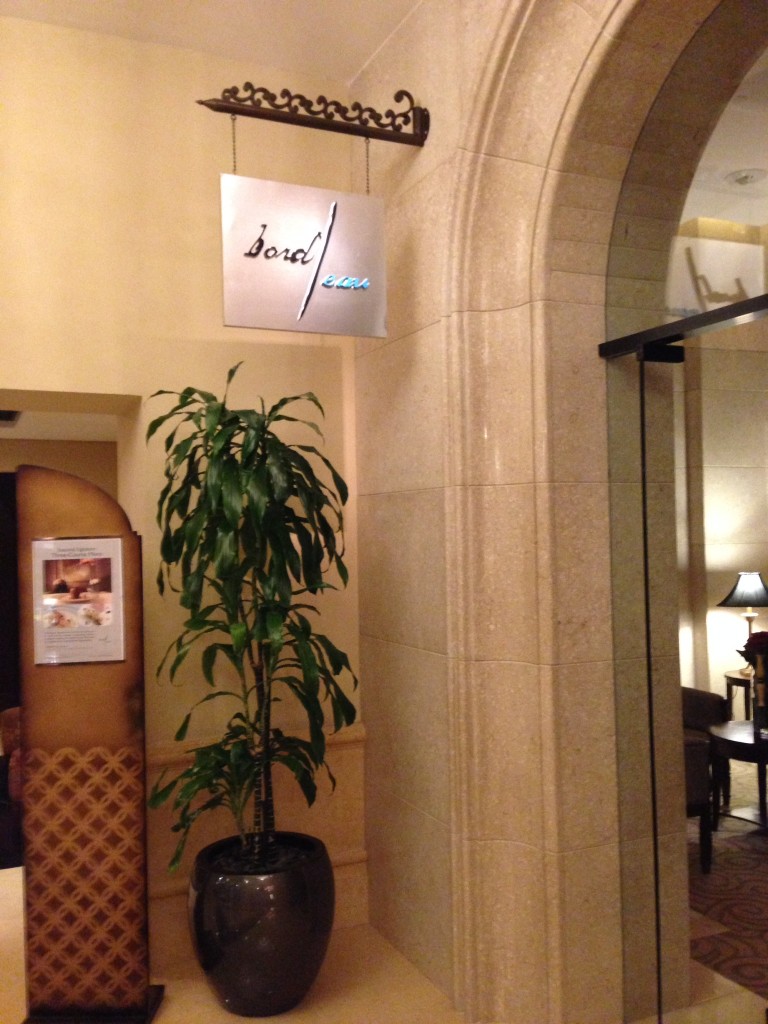 Kitchen staff: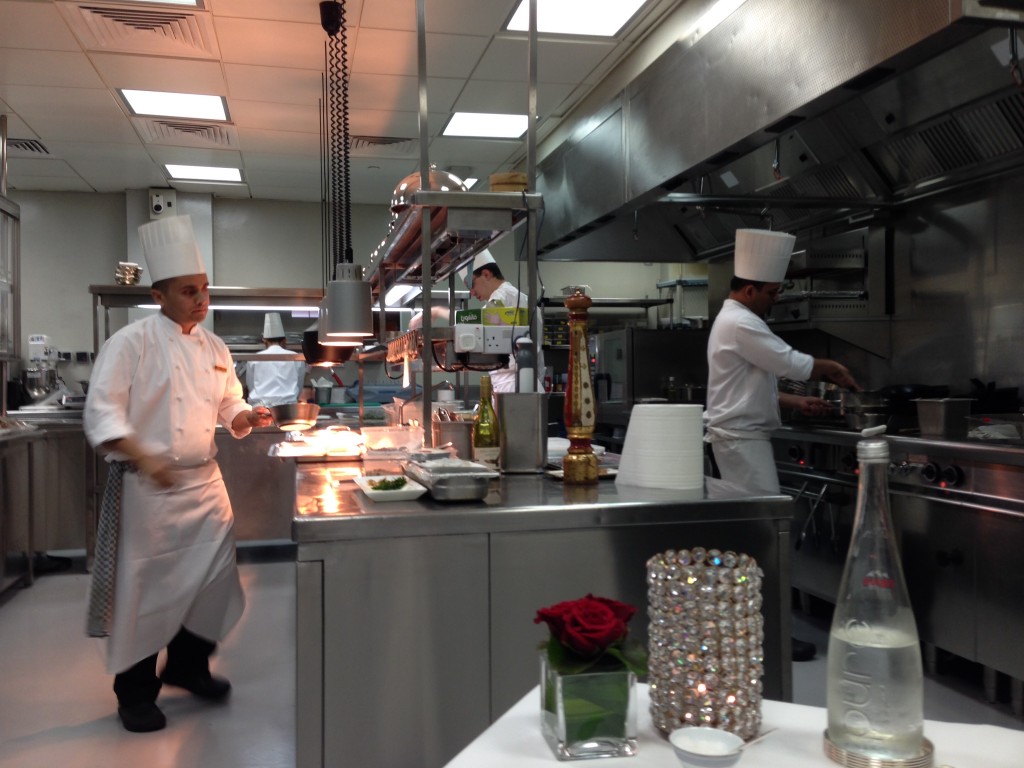 The chef himself: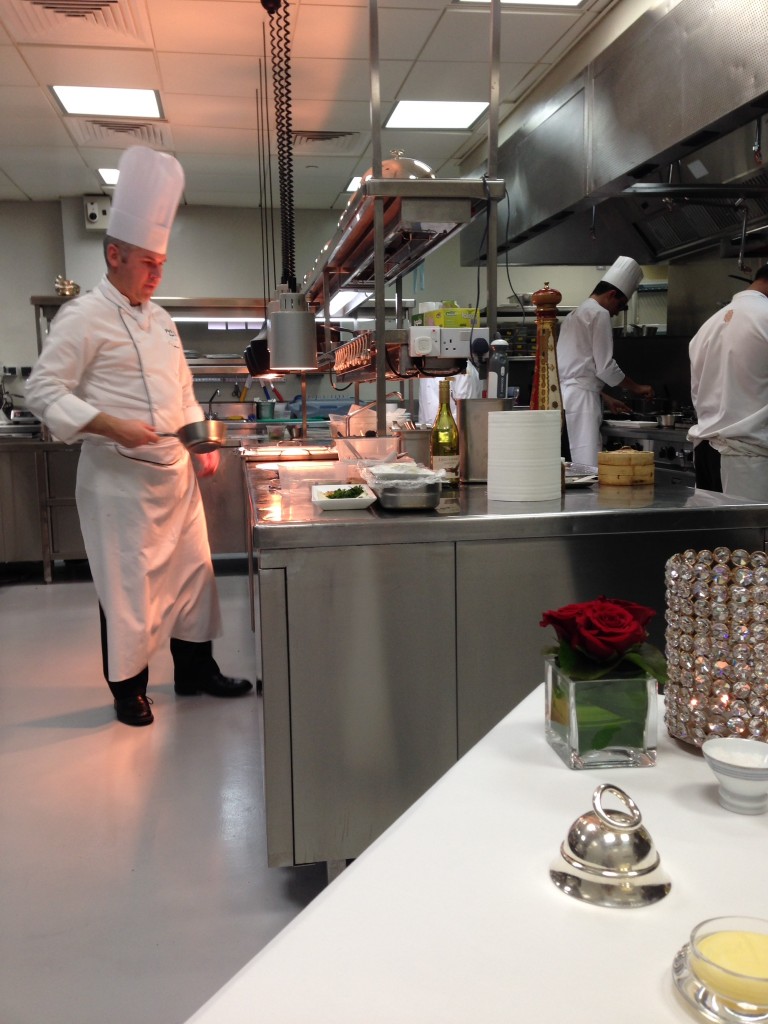 Table setting: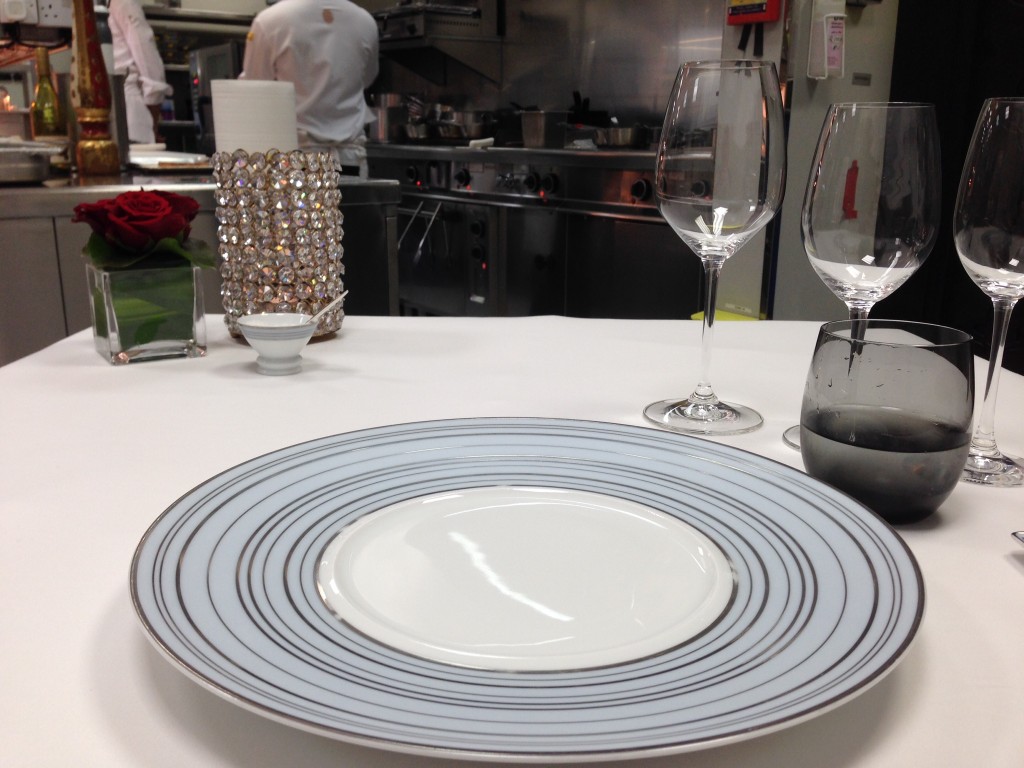 Good choice of water (for $12, it bloody better be!):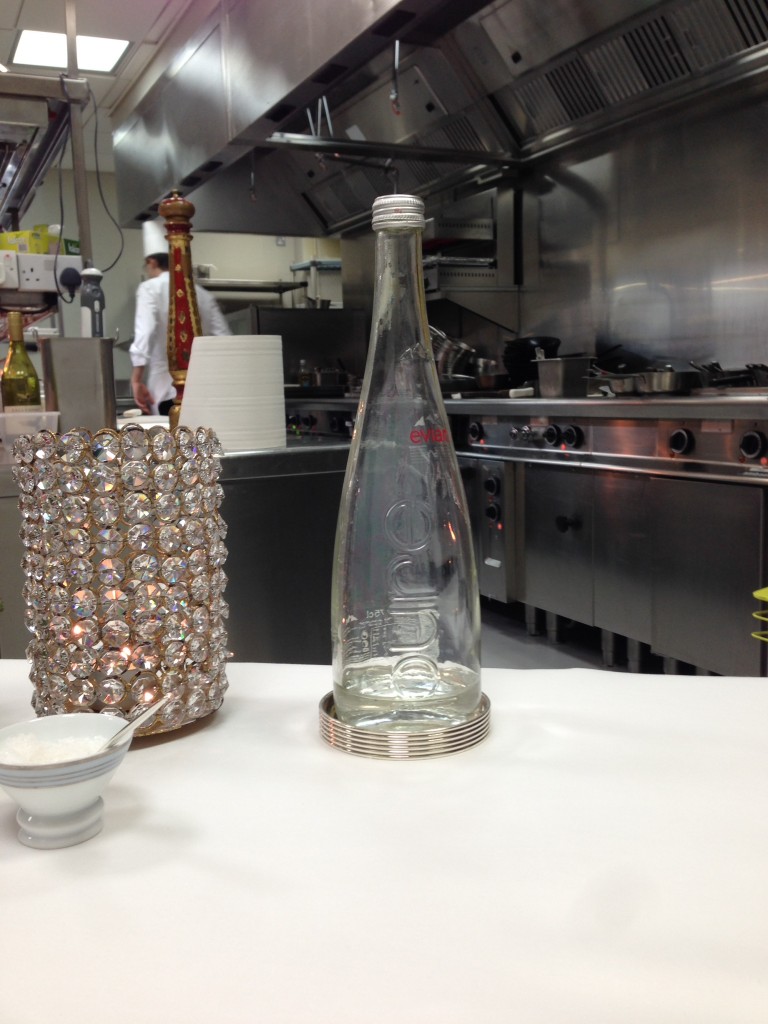 A nice touch: the butter has the restaurant's logo: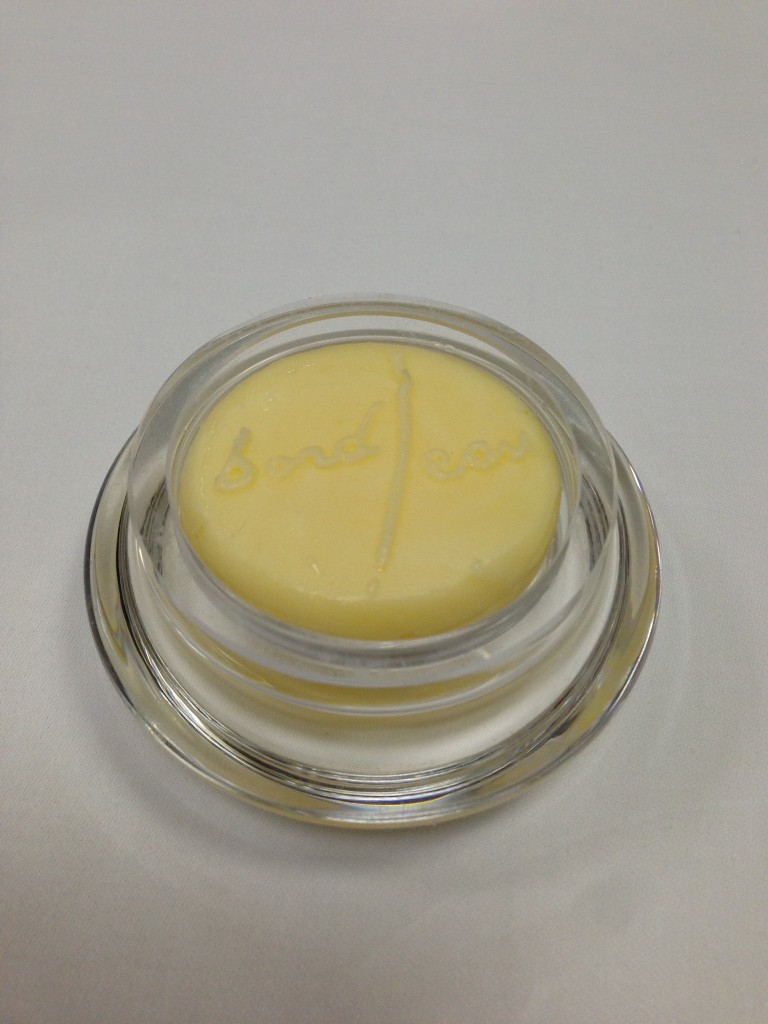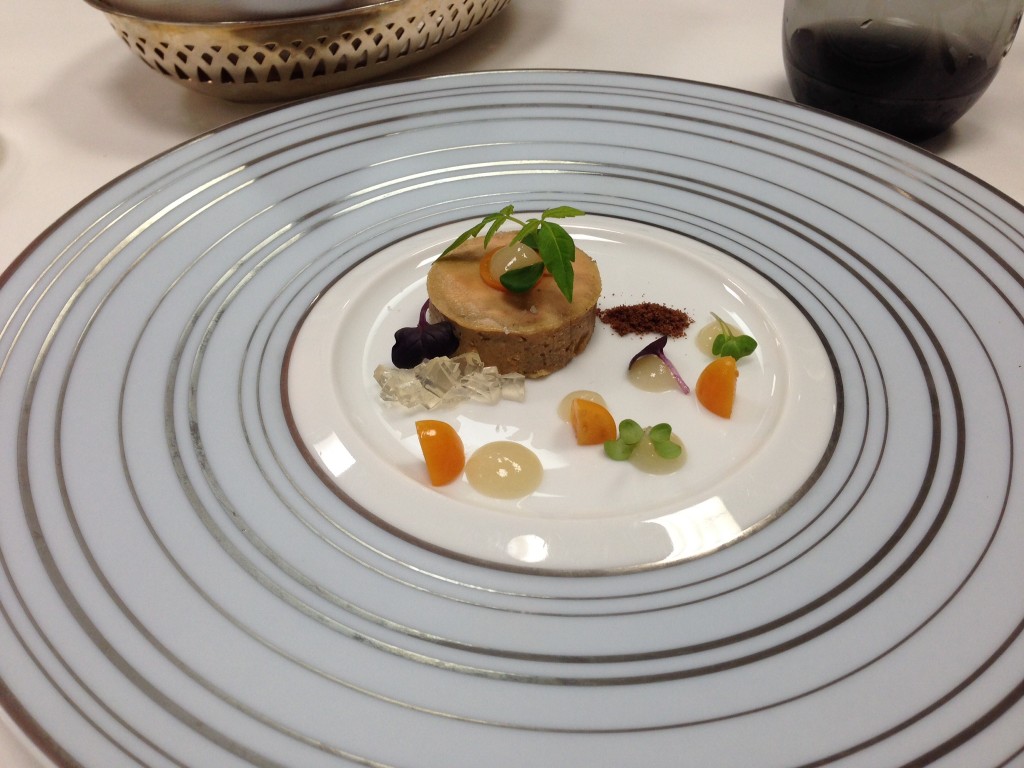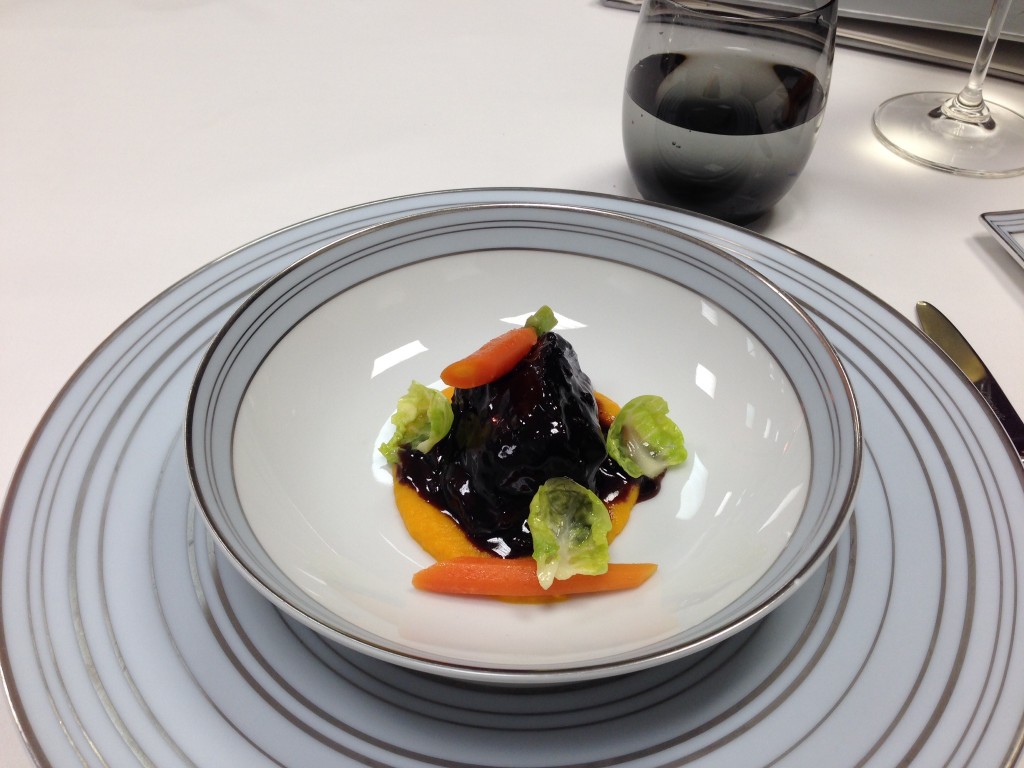 Halibut topped with gnocchi, cream of asparagus and caviar (to add a hint of saltiness):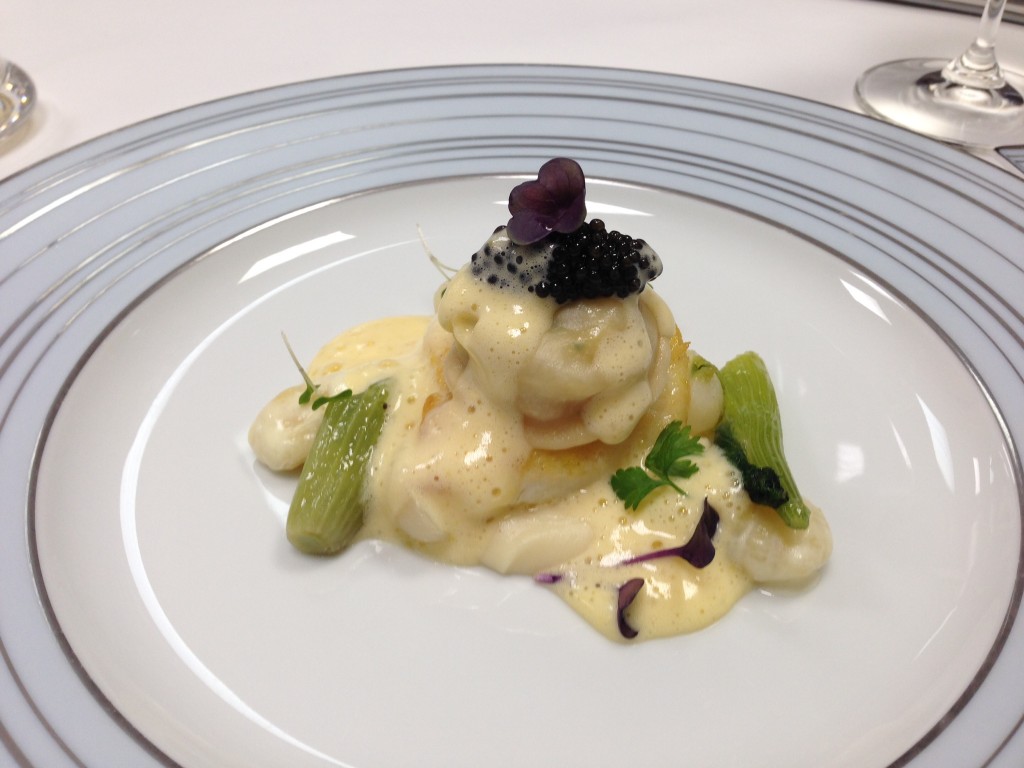 Wagyu Australian beef (which I've never understood, as I've always felt like Wagyu should be Japanese… anyway, whatever):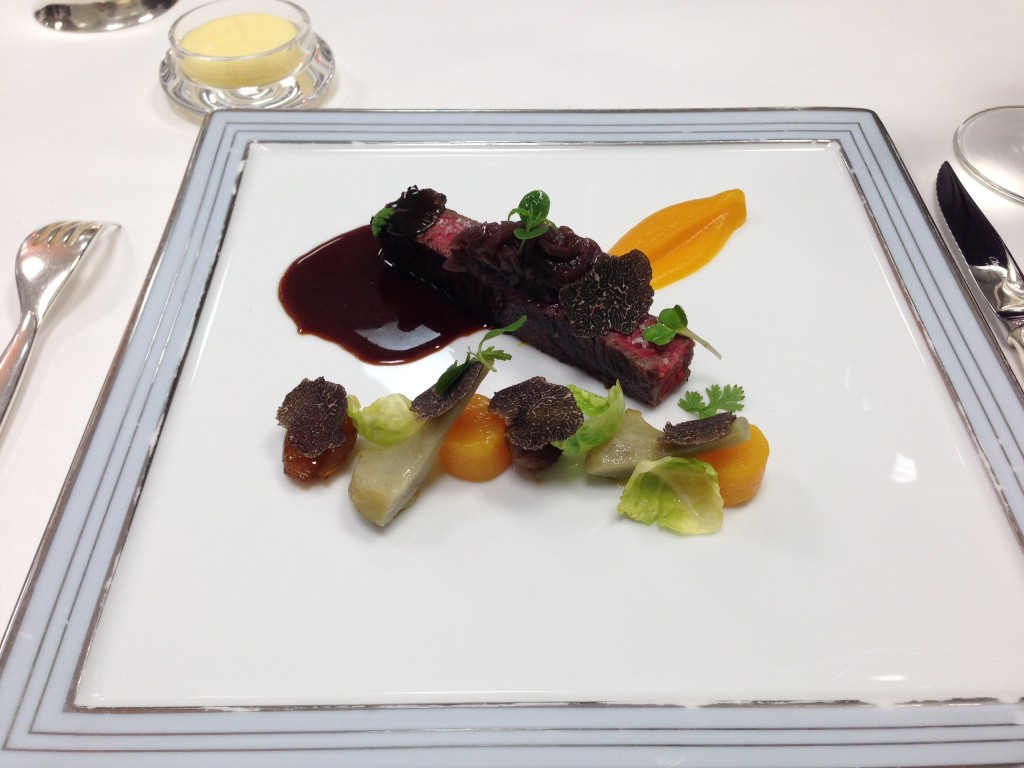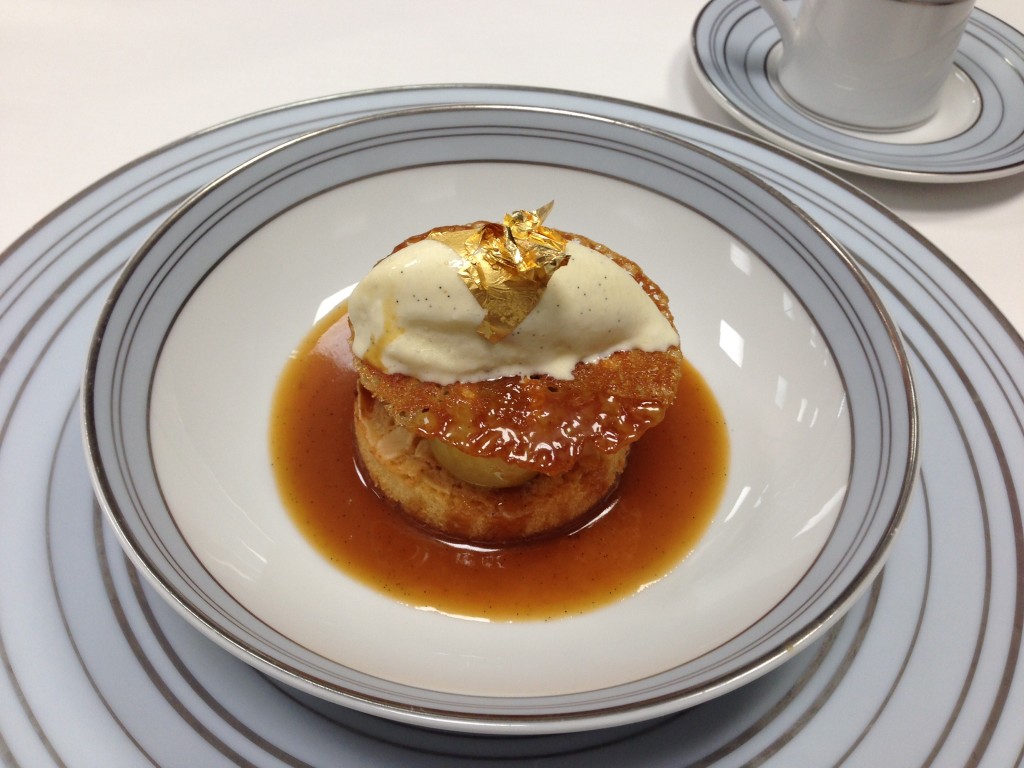 Spent a lot of time chatting with the chef, an Irishman who moved all around the world, wound up in New Zealand, and is on a somewhat temporary gig here in Abu Dhabi before doing some time in Hong Kong next year and retiring in his house in New Zealand.
He seemed to believe that my hobby was travelling around the world sampling restaurants. I didn't discourage his perception. I also feel like instead of a five course (which are all above), it was at least a seven, because I forgot to take pictures of two of the dishes.
All in all: just a shade under $300 with two glasses of wine (!). I think this is the most expensive solo dinner I've had so far. I think if I were actually paying for this, I might be a bit more picky about bits and pieces here and there, but considering I was using Shangri-La points to offset the cost, my out of pocket cost was somewhere in the $20 range, so it was a pretty good meal, all things considered.
I then returned to the Intercontinental and went to sleep, since I was leaving the next morning to Dubai, and my schedule was packed.
In reviewing this day, of all the things I had planned for it, I pretty much only got to the Grand Mosque. I did go to Ferrari World, but entry was in the $60 range, and I didn't think I would enjoy it due to lack of time. I then pretty much replaced it with Masdar City, since I wanted to visit it initially but cut it, thinking I was going to Al Ain.
All in all, a typical day in any of my trips, where I plan A, B and C and end up doing B, X, Z. But tomorrow, I would tirelessly try to follow my schedule once again, so stay tuned to find out how that panned out…