Since my interests tend to revolve around cars, planes and watches, it should hardly be a surprise that any trip will discuss at least some, if not all, of these. I didn't have time to explore watches in great detail on this trip, so it will just be a footnote, but cars in the Emirates definitely deserves its own post.
I should footnote this post by saying that it's hard to justify posting any cars of the Emirates, because unlike any regular city, where you'd see something fancy and admire it, in the Emirates, anything less than $100,000 on a car (in North American pricing) seems to be pedestrian. As a result, there are so many "impressive" cars that it's complicated to single any of them out – so I tried to go for ones that had at least something notable about them.
A Dodge Charger is one of these, seeing as Dodge does not sell this outside the USA: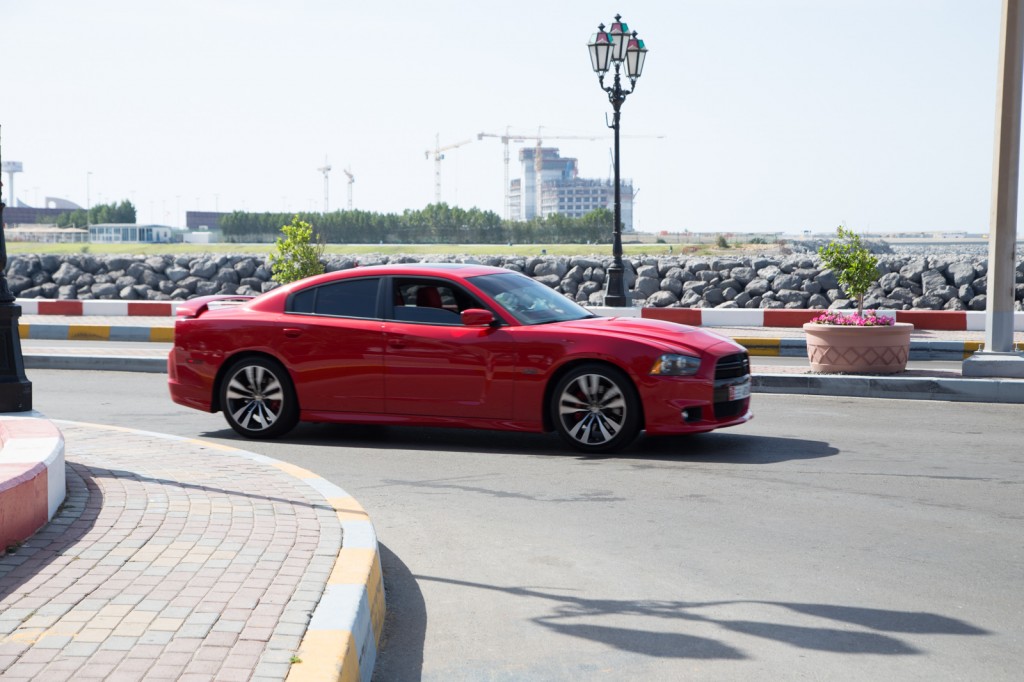 So is the Golf R, of which I saw literally at least half a dozen, despite it supposedly being a *RARE* car (sniff). On the upside, NONE was "Rising Blue", and so I feel at least a little bit better. It seems that the entire Rising Blue production ended up in North America, since whenever I see Golf Rs, that's the only colour I come across…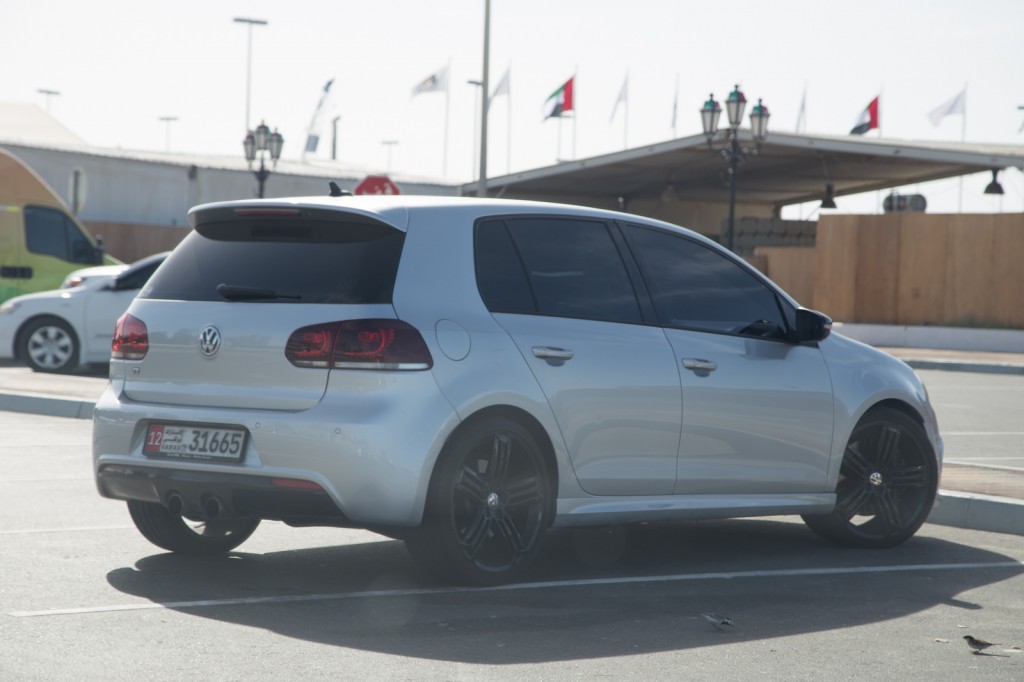 The A45 AMG is the car I would buy in a split-second if they ever imported it (or the entire A-series range) into North America: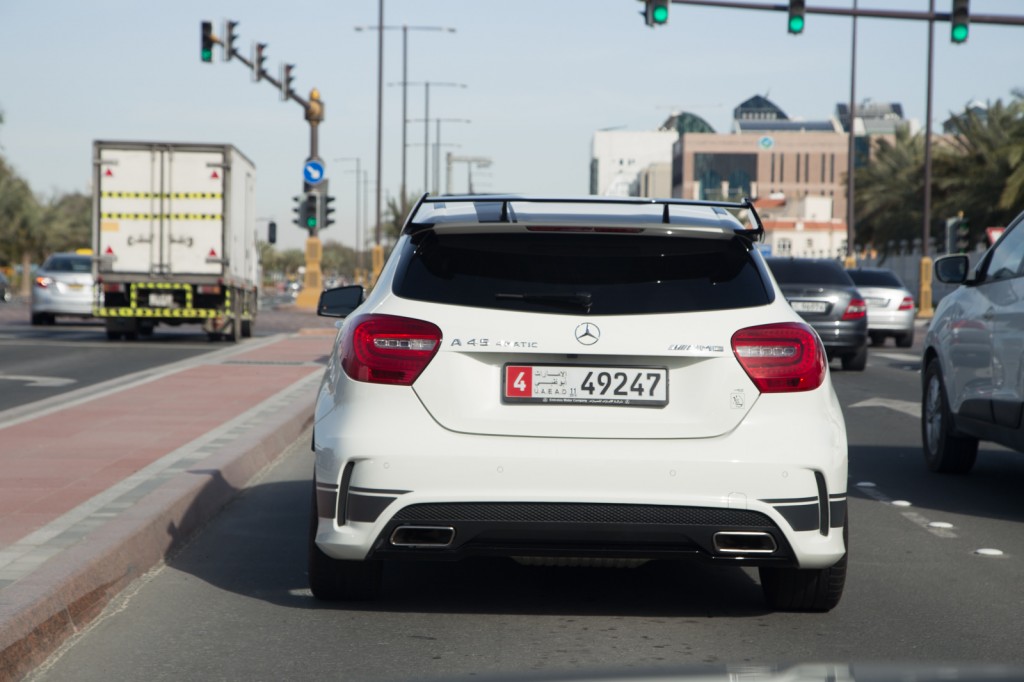 Inexplicably, I have seen this a number of times, but people drive with plastic bags over their cars. Isn't it … hot?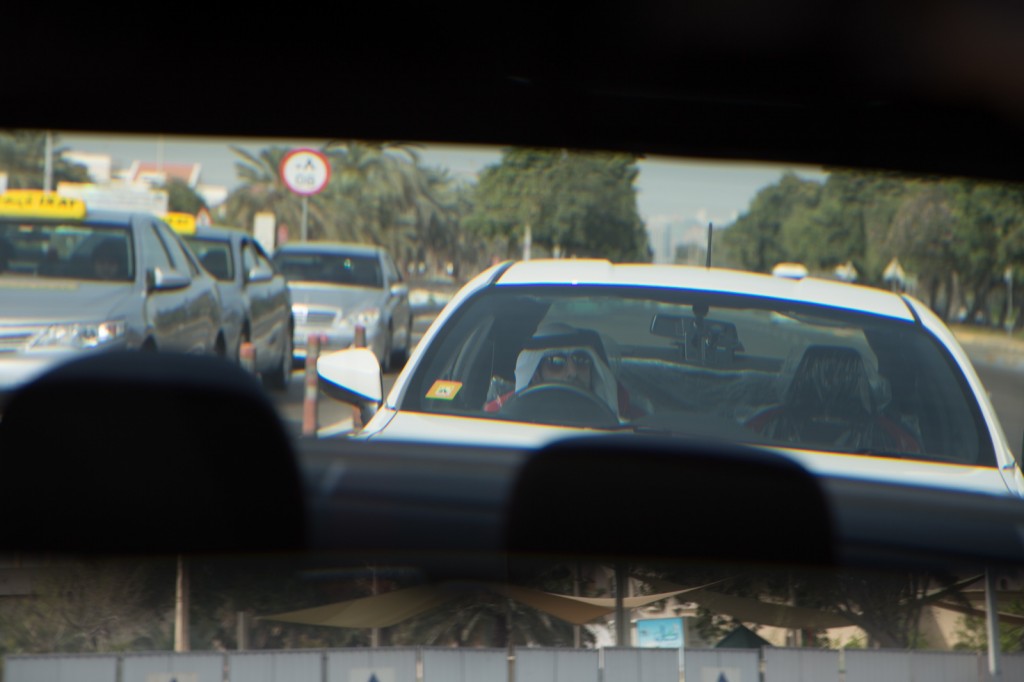 Not all cars are outrageously expensive. Some are… incomprehensibly rustic.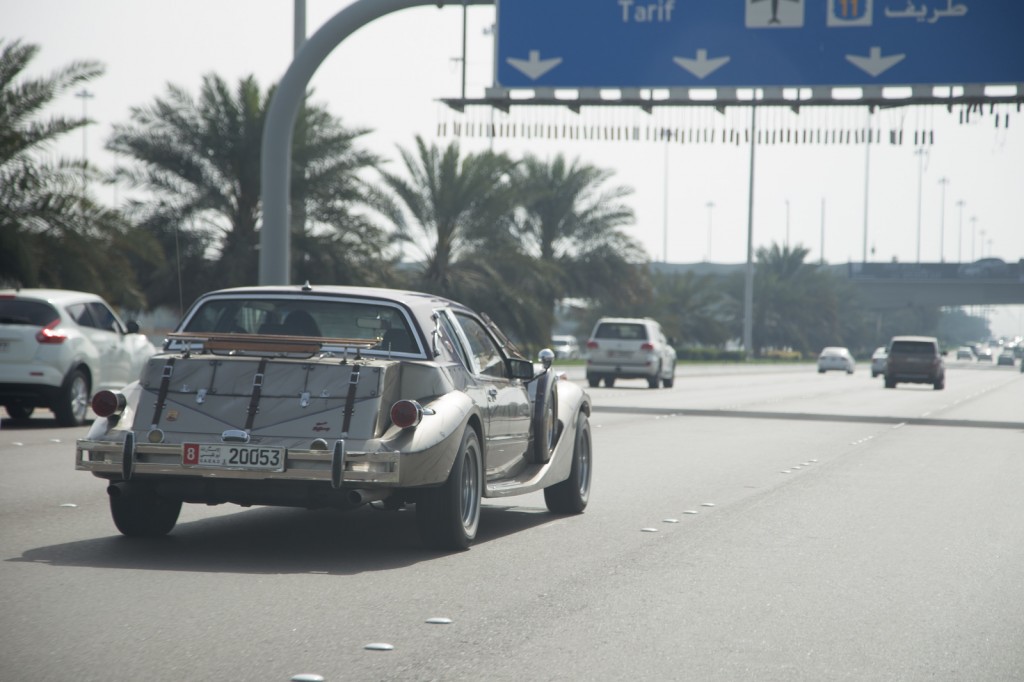 Renting a car? Why not a Maserati? "Thank you Dubai" indeed, it seems.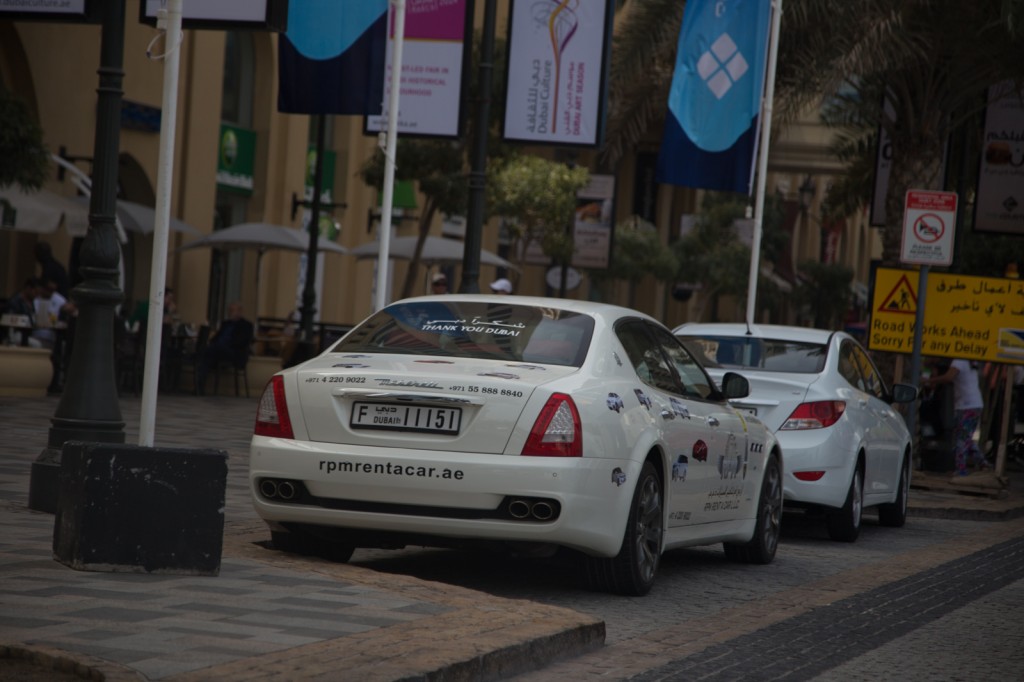 A Ferrari California and a Porsche Carrera S side by side? Sure.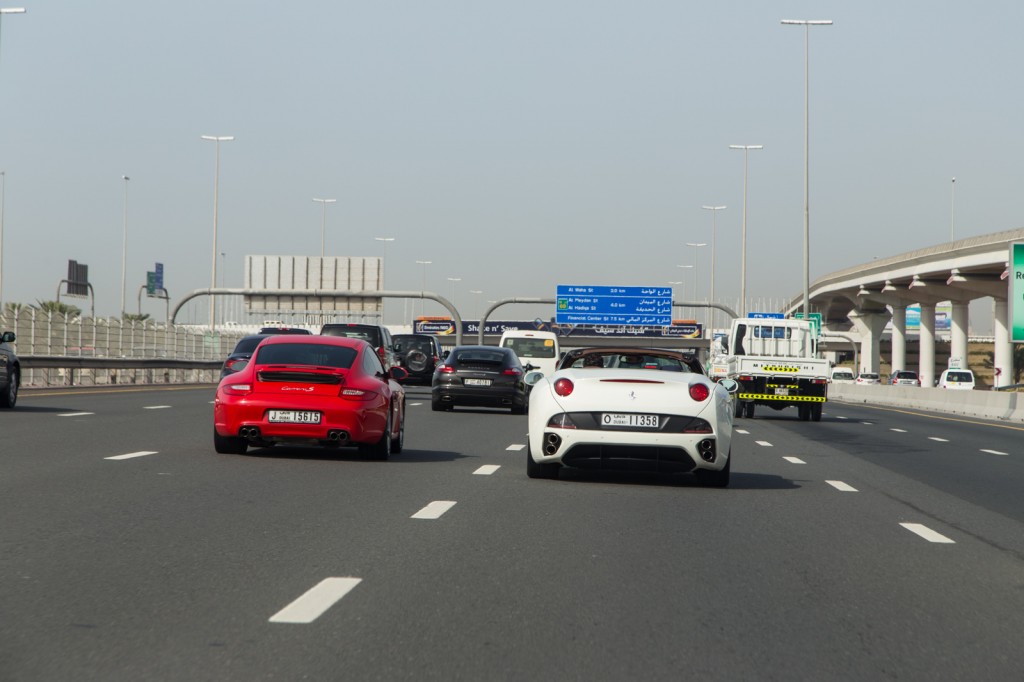 I was driving by a store that was called "Exotic Cars Dubai", and I felt obliged to get off the highway and come back to it, because I simply felt I had to understand – considering the context, what exactly is considered an "exotic" in Dubai?
As usual, Dubai does not disappoint.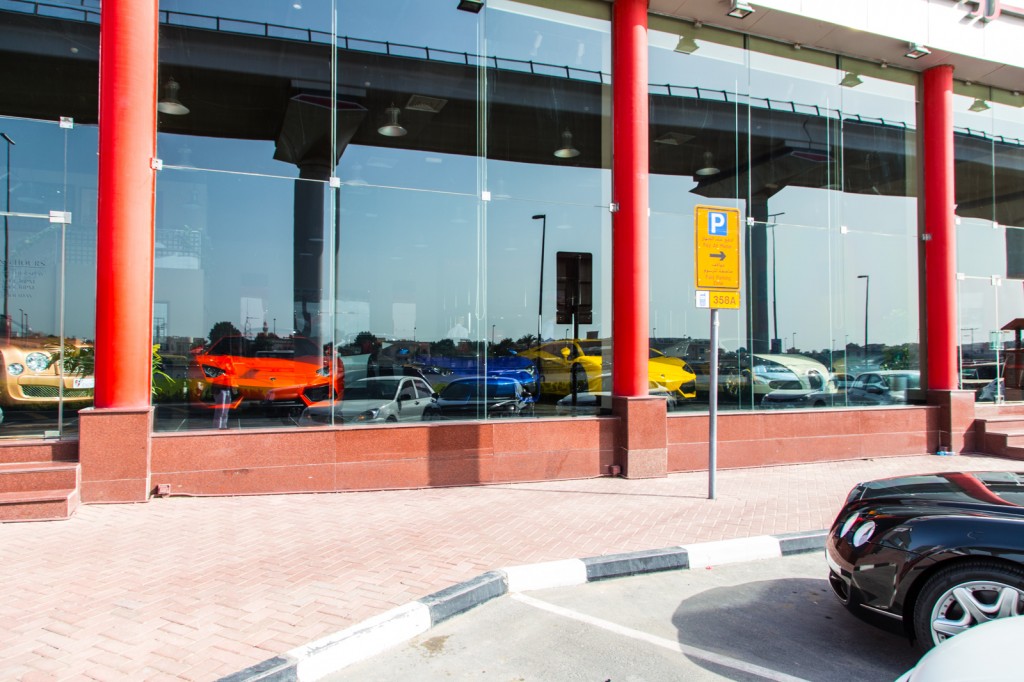 That pedestrian Bentley in the parking lot (probably the floor sweeper's) is overshadowed by THREE (!!!!!!!!!!!) Aventadors, a gold Bentley Mulsanne, and a two-tone Bugatti Veyron Grand Sport.
There was an Audi dealer right beside which featured a (comparatively rather mundane) Audi R8 "plus" in matte blue.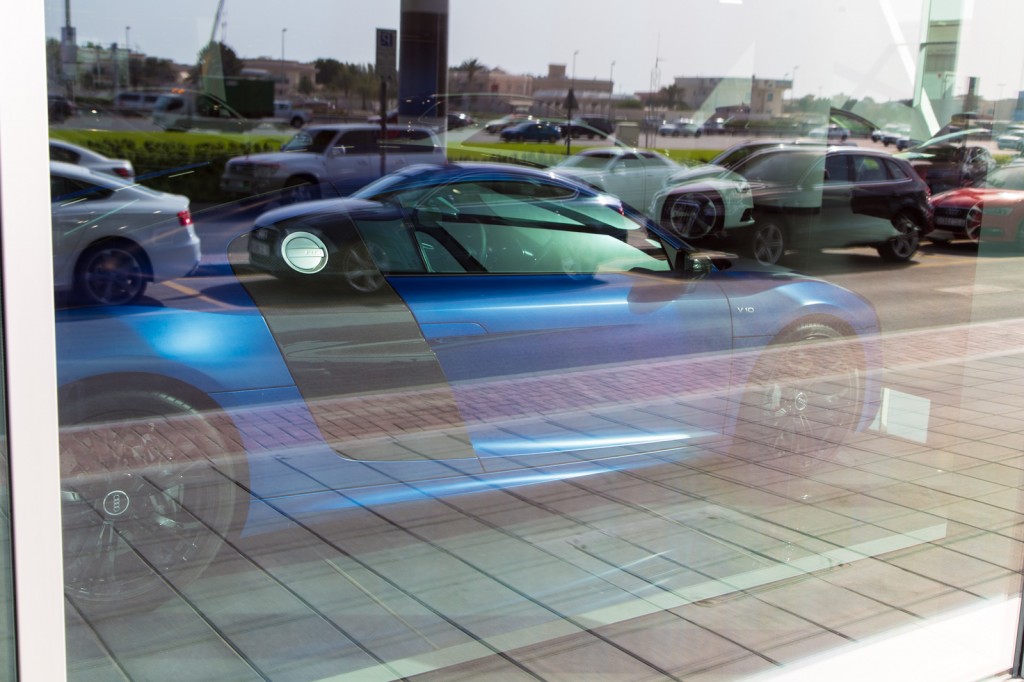 Driving onwards, I came across a few Phantoms…
… had dinner in a hotel which had a few other Phantoms up front (those are DIFFERENT bordeaux coloured Phantoms, imagine the owner's chagrin…), as well as a Maserati and an Aston Martin (and really, it looks like if your hotel doesn't have at least one or two Phantoms at the entrance, you might as well shut the damn thing and go home)…
… came across a sausage…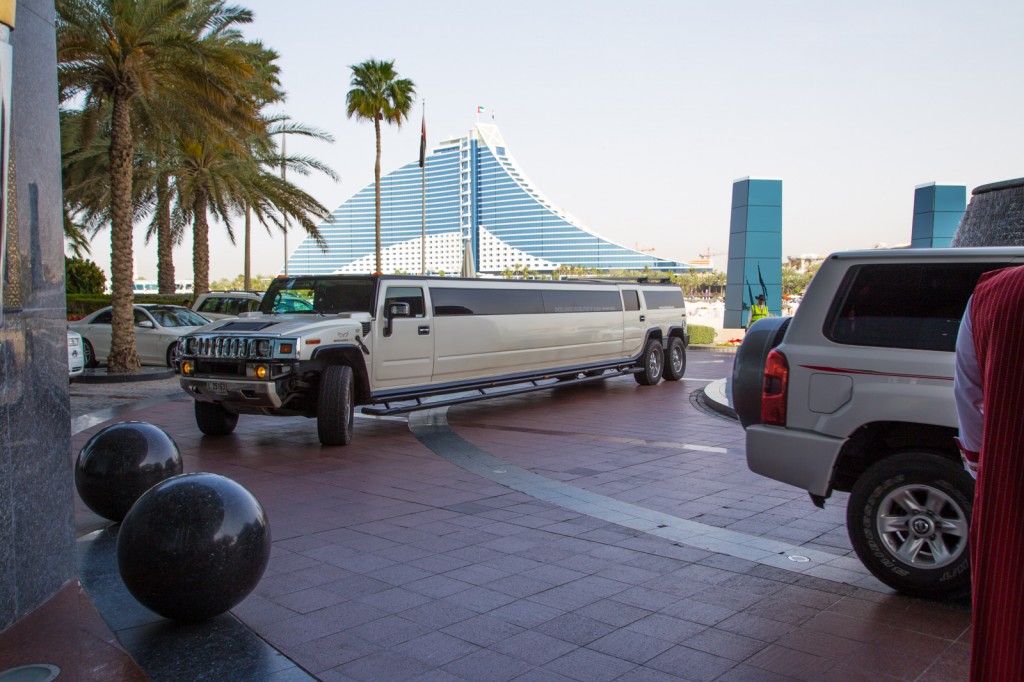 (that blocked traffic for EVERYONE)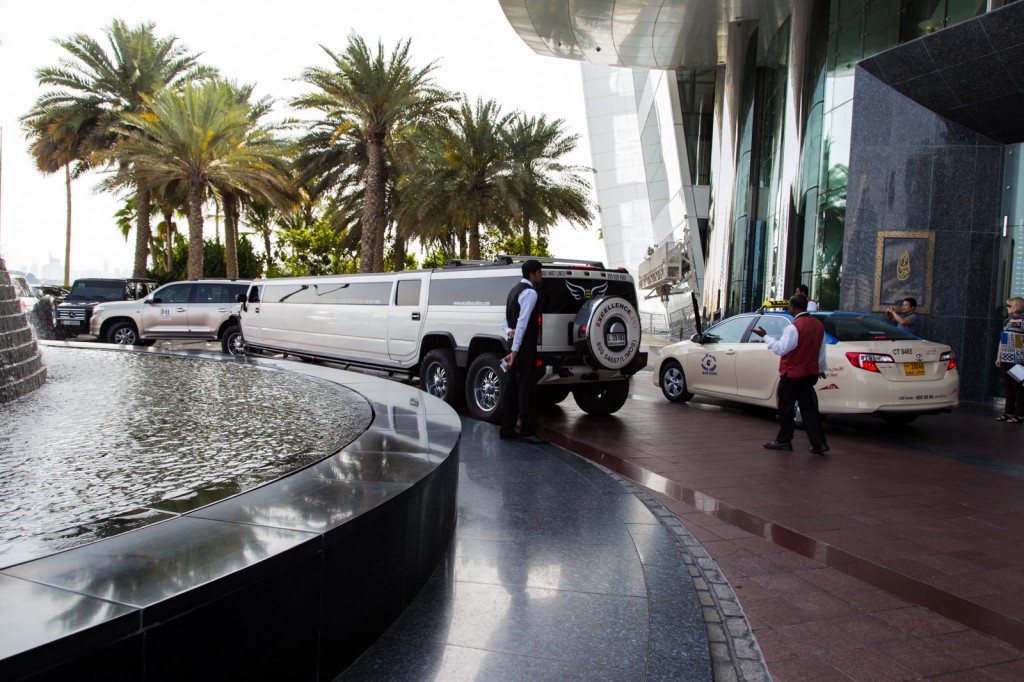 … came across a few more Phantoms, of which one fully chrome one from a country ranked 150  out of 189 in GDP per capita, i.e. 40th poorest country in the world…)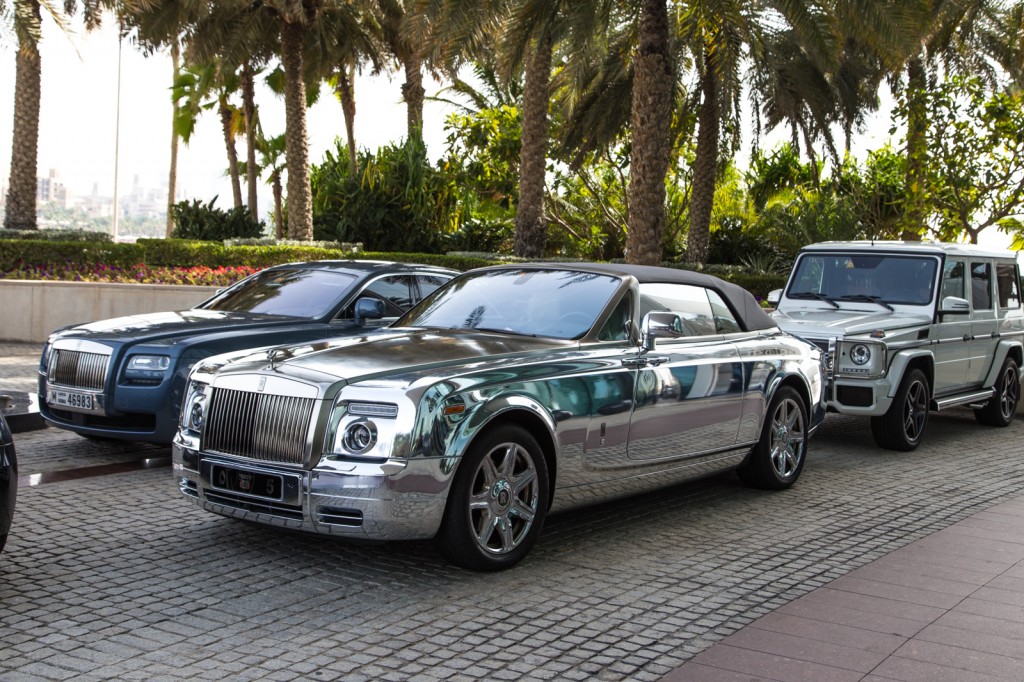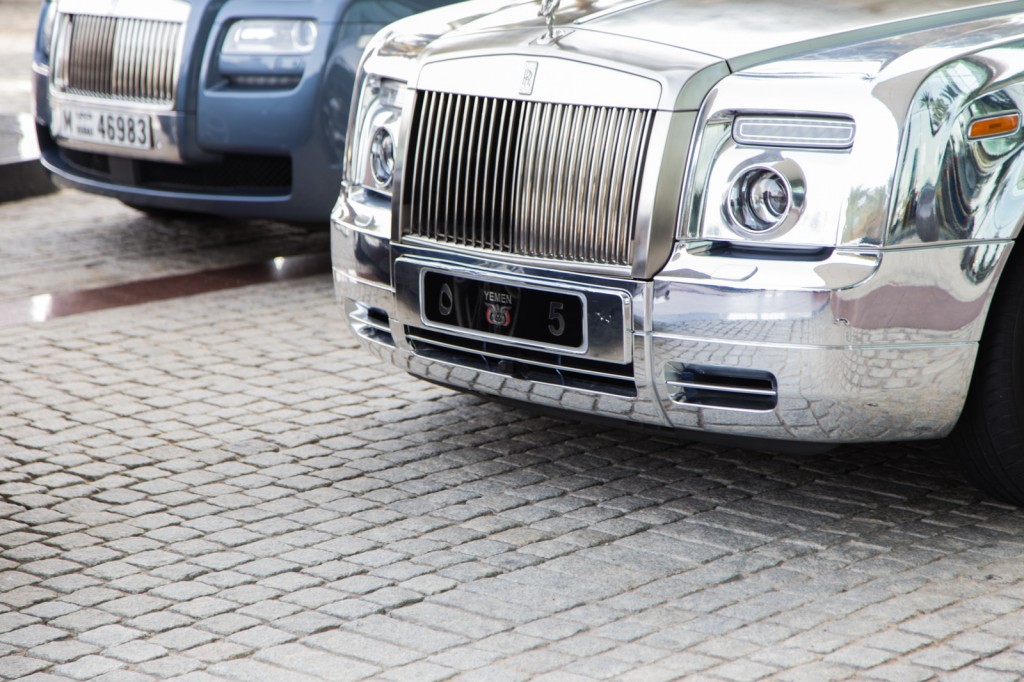 … came across a joyful Saudi family outing, with (likely) the younger, poorer brother driving with the license plate "3"…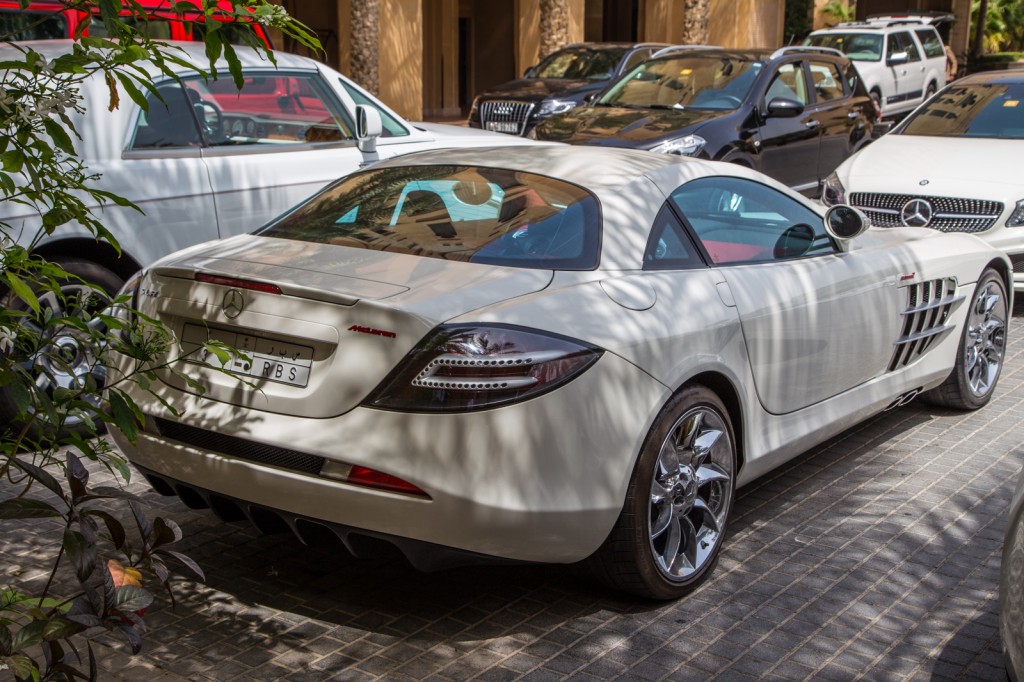 … the elder brother with "2"…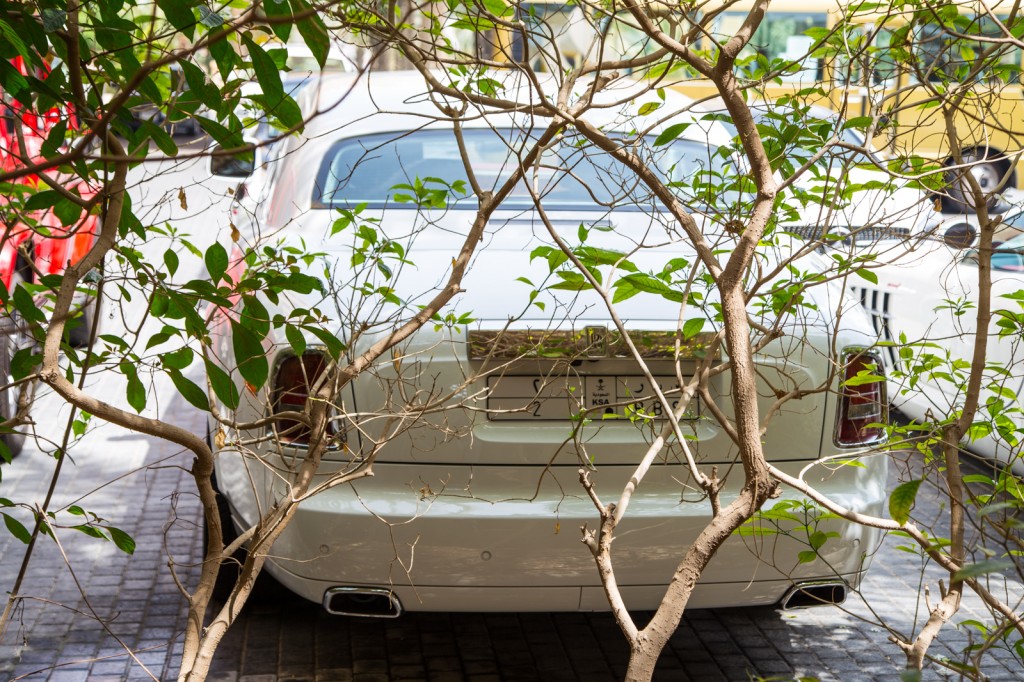 … and papa with "1"…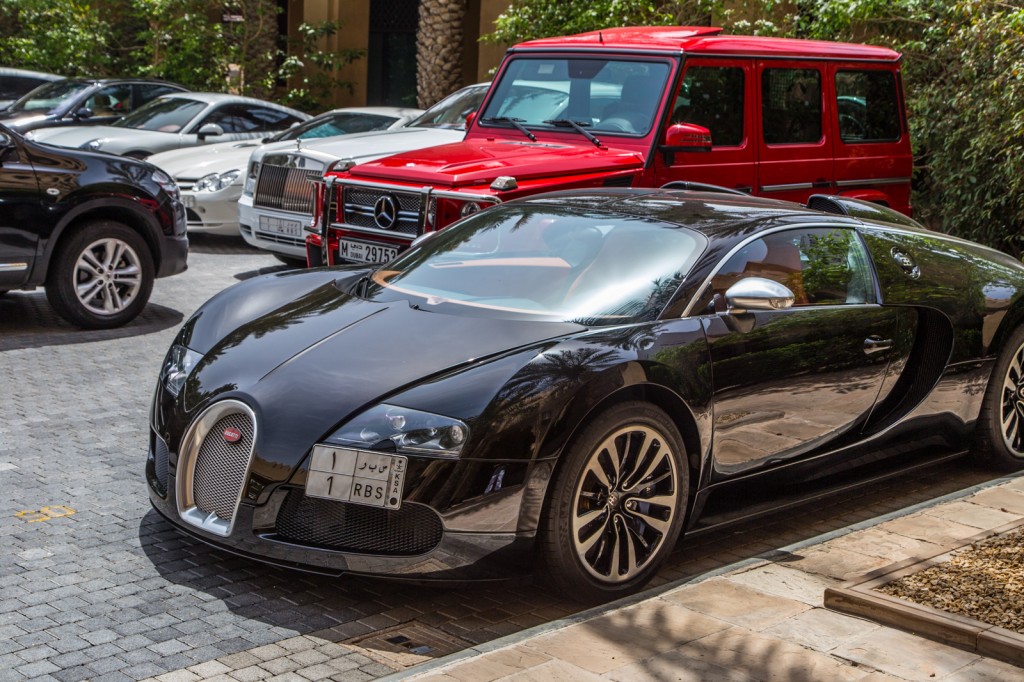 (another view):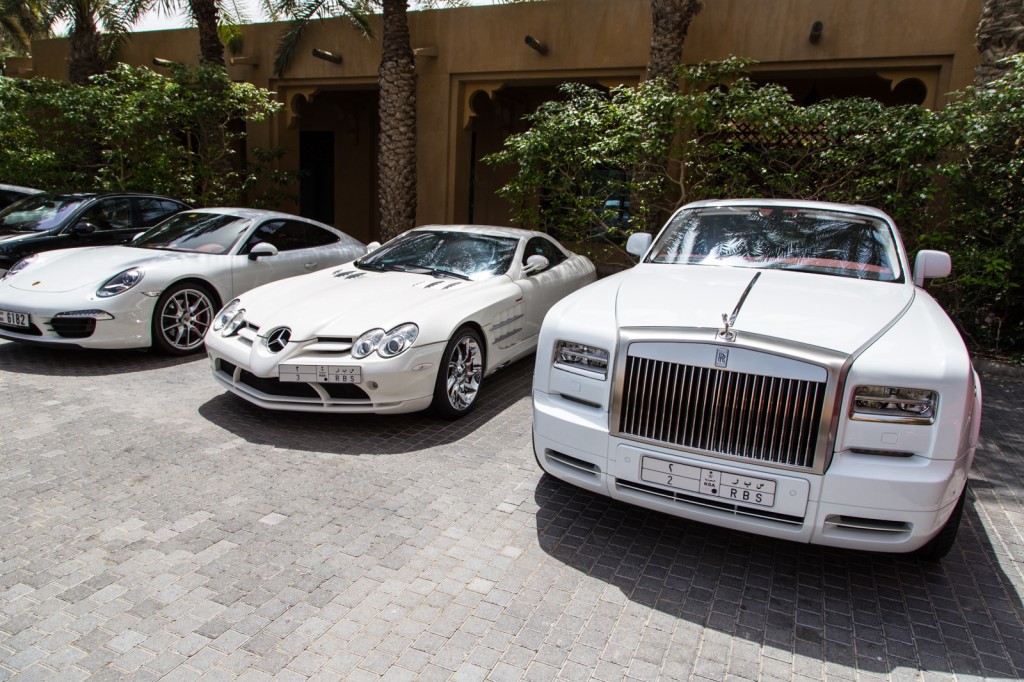 To be entirely fair, I should comment that despite the fact that there's about $2-2.5 million dollars of cars in between these three pictures (and the Porsche in the background worth a little bit more than a replacement set of tires for the Bugatti), the license plates were likely worth significantly more than that, as based on what I know about Saudi Arabian (and other Middle Eastern) license plate allocations, single-digit plates can be worth as much as $14 million in some extreme cases. Considering these even come from the same series… yeah, the cars are just decorations to the plates.
After this, going back to the hotel and having the valet park my car next to a 458 Italia was hardly impressive anymore.