On this day, more adventures awaited! Opulence of Dubai, more eating, more malls, and of course, what adventure would be complete without a visit to the Burj al-Arab for afternoon tea?
Leaving the Intercontinental Abu Dhabi, I headed off back to Dubai. I was resolved to follow my plan for this day, which had me visiting things more or less by the minute – with directions between each.
This (very similar) highway took me back:
One very peculiar thing about Emirati highways are the speed limits. This is the usual speed limit sign: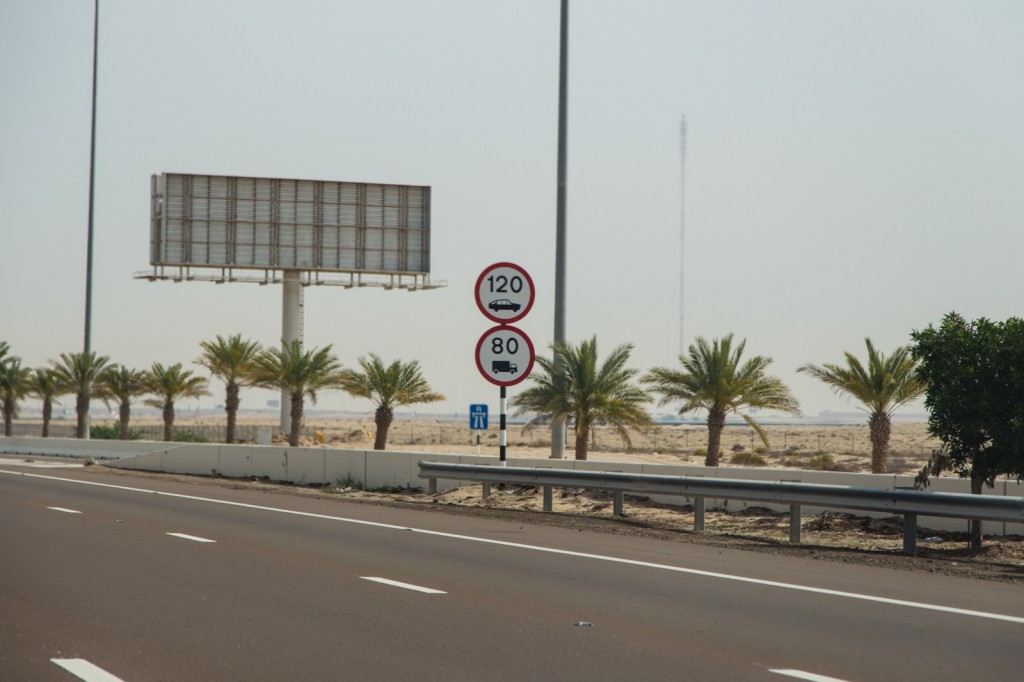 I mentioned photo radars before, but frequently (usually after major merges with other highways) there will be a huge warning sign that will inform drivers that photo radars are vigorously enforced and that they are set to 140 km/h. A reasonable man then asks, "why even bother with a 120 km/h speed limit? Just claim it's 140!" A reasonable man would be wrong to ask "why" in Dubai, as stated earlier.
But back to our sheep, or skyscrapers, to be more specific. While Abu Dhabi tends to be a bit more plain comparatively, Dubai is flamboyant in its building design, with odd shapes, varied colours and generally unique architectural flair. I wanted to go to the Dubai Marina, since I consider it to be one of the more glamorous locations in Dubai. Some shots of buildings along the way: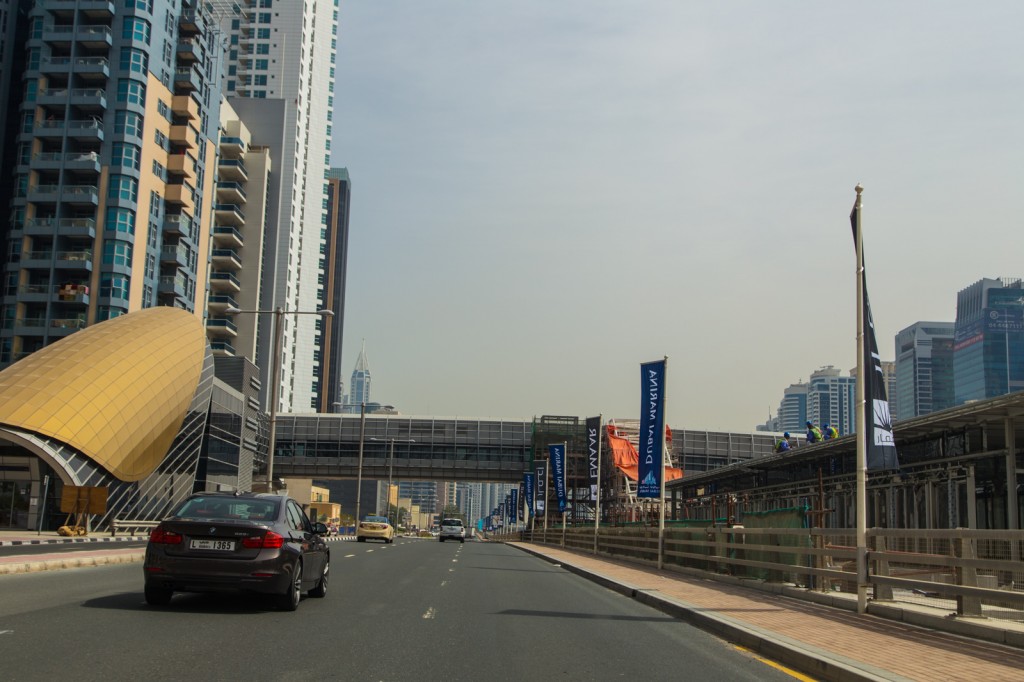 Construction is still rampant. It seems like every time I come to Dubai, despite there being many years in between, it's more and more buildings and yet everything is still under construction. In between my last visits, an entire monorail system has appeared…….. and yet there's abundant construction everywhere anyway.
At the Dubai Marina, I was treated to some pretty views.
I hung around for a while, but lacking anything other than taking pictures of things that didn't really go anywhere, I left and went on to The Palm – a man-made island complex. It's full of nice individual-owner buildings like this…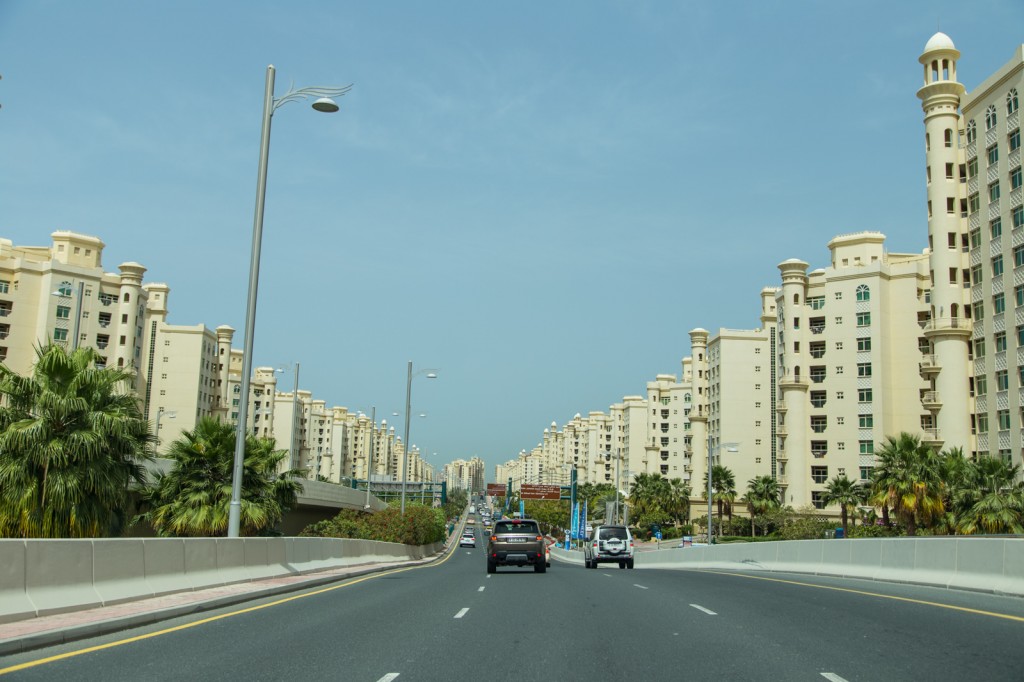 … and hotels like this (this is The Atlantis)…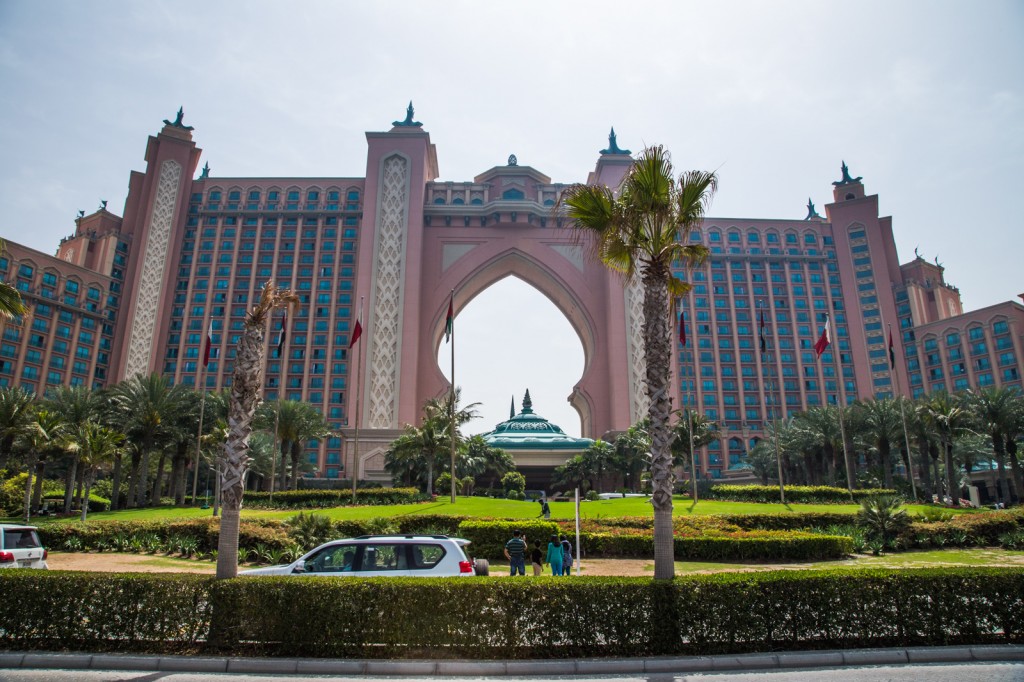 Didn't have a chance to go inside Atlantis, but there are underwater restaurants there, various entertainments and so on… but I was running short of time (my Burj booking was at 13:30), so I off I went to Madinat Jumeirah for my next visit. It's a hotel+upscale shopping mall complex where souvenirs are sold and many tourists hang out.
At the entrance was a family of Saudis' cars (which I mention in my Interlude post), but the one thing I have never been able to understand is why people take pictures of themselves in front of art objects or other people's property.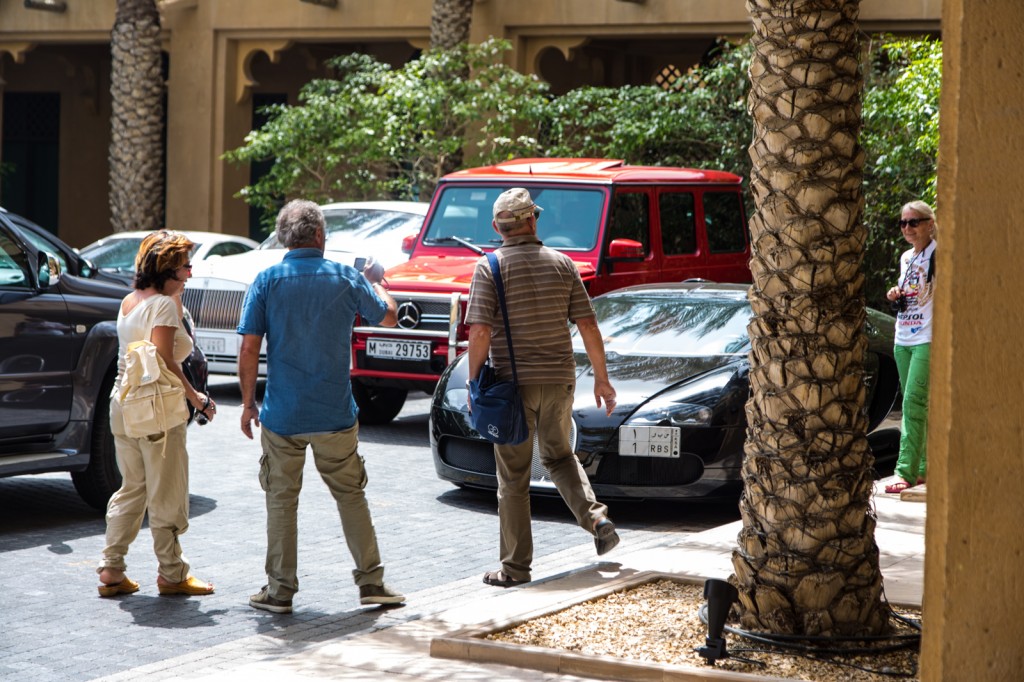 From the pool/lounge club of the Madinat, one could see my next destination: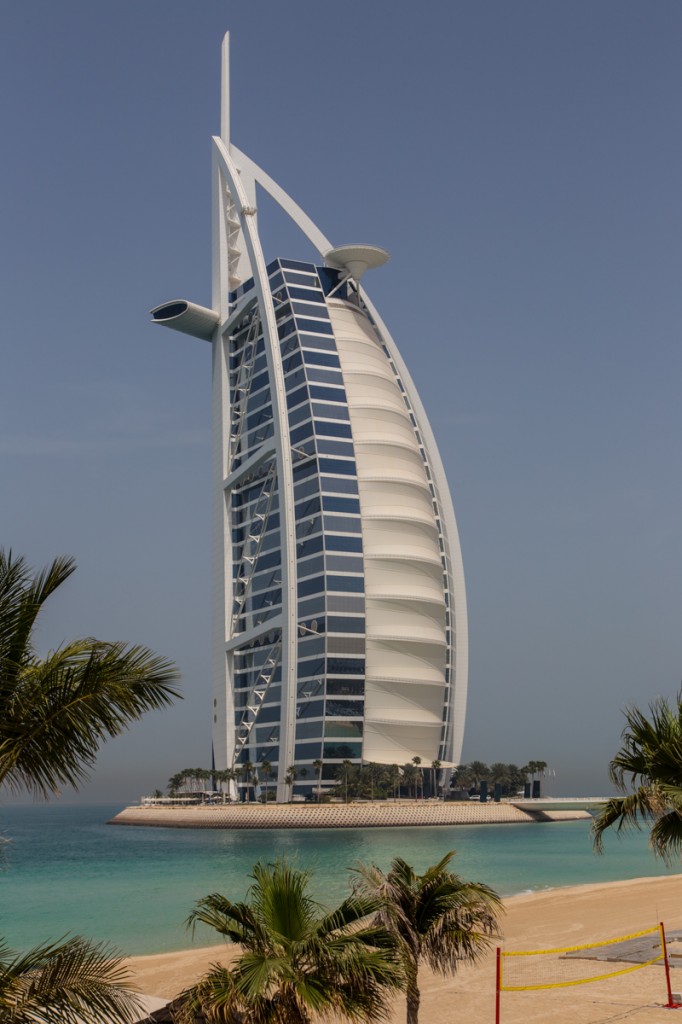 This is what the Madinat looks like from its beach: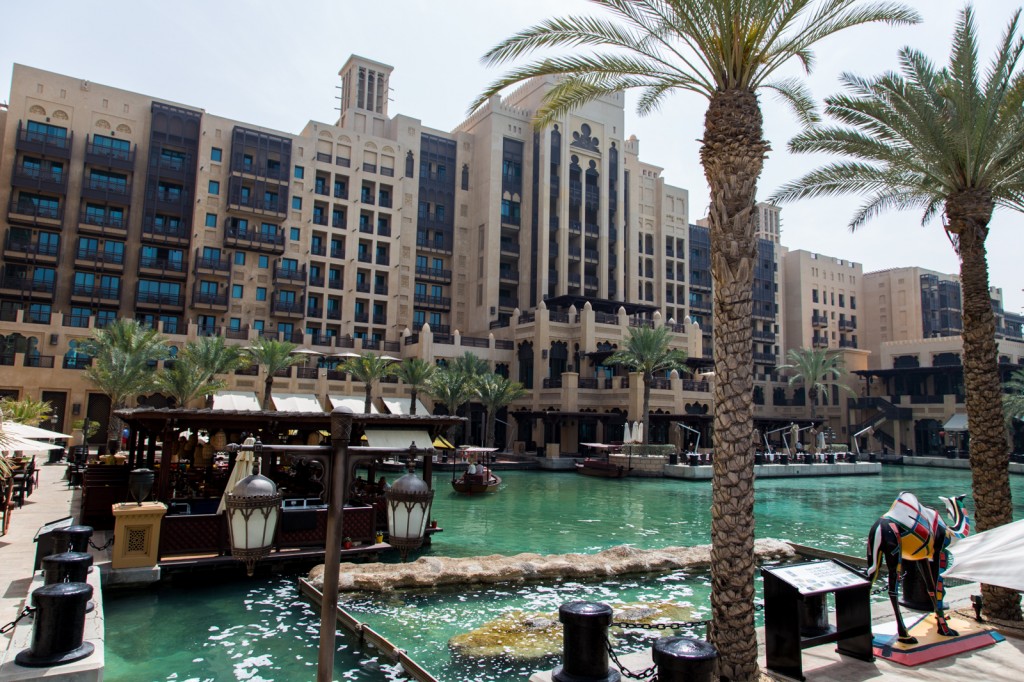 Since time was pressing, I ran back to the car and headed off to the Burj al-Arab.
Since Jumeirah (the owners of Burj) had to come up with a way to milk the tourist industry of additional revenue that they couldn't do by filling the rooms, they created packages that granted access to the Burj and allowed the tourists to get food. Having read about the afternoon tea at the Skyview bar, I decided to give it a try.
The way the visit is set up is like this: you drive up to the bridge that connects the hotel to the mainland, and a security guard checks your reservation on his iPad. He then waves you through. You drive up to the entrance of the Burj, where a dozen valets descend on you and wrestle your car away from you (so you should seriously consider not showing up in a beater). You hand over your car, and head off to the sea of Chinese and Russian tourists taking pictures of everything.
The lobby is full  of gold and opulence and dancing fountains.
The lobby has various interesting shops, of which obviously only the watch ones interested me. Came across a pair of really interesting models – an F.P. Journe Remontoir d'Egalité avec Seconde Morte and a de Bethune DB28ST. Both of these are notable for their "dead seconds" effect. Normally, one of the main reasons one buys a mechanical watch instead of a quartz one is to move away from the dead seconds (i.e. the second by second clicking of the hand), but the 'dead second' complication in mechanical watches adds that effect back (and adds a significant boost to the price tag, as well, since it's a very complex modification to do).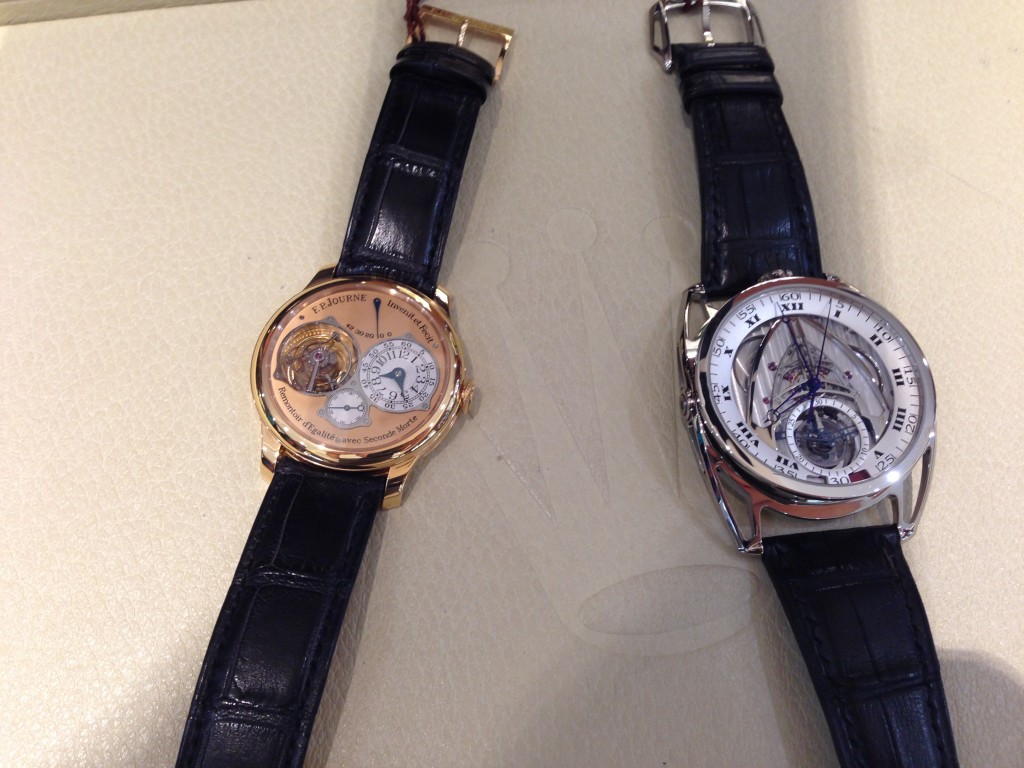 It was enjoyable to have about $500K of watches in front of me on the table.
I went on to my afternoon tea appointment. To get there, I had to take a gold and glass elevator.
No pictures of the elevator, since I couldn't have any vantage point that didn't include at least three pictures of myself.  But the lobby upstairs looked like this: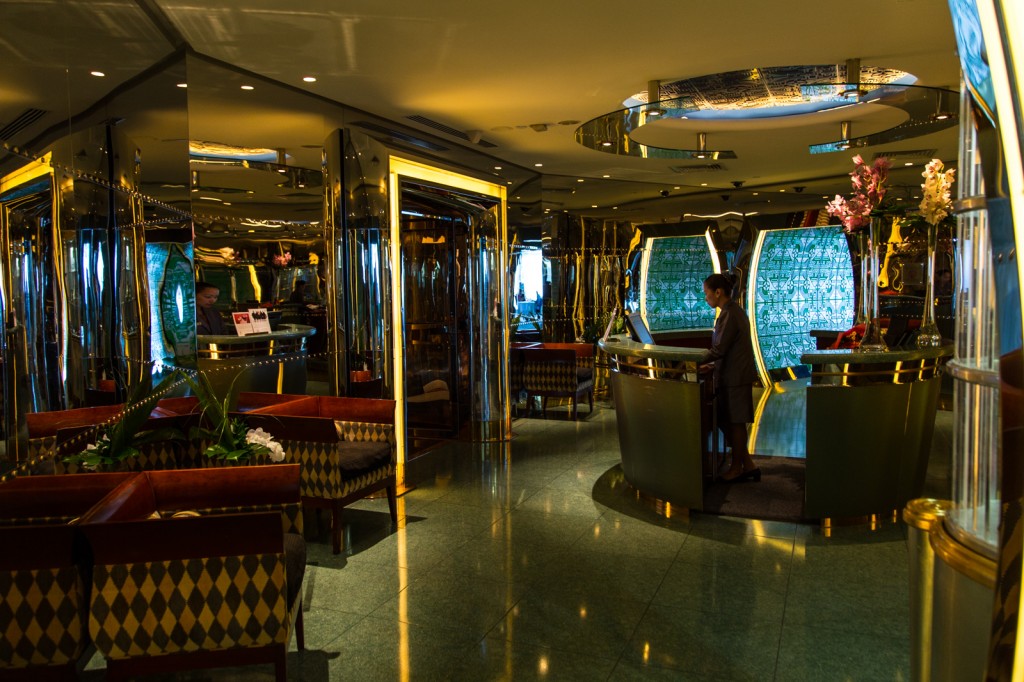 When I was seated, I was treated to this view: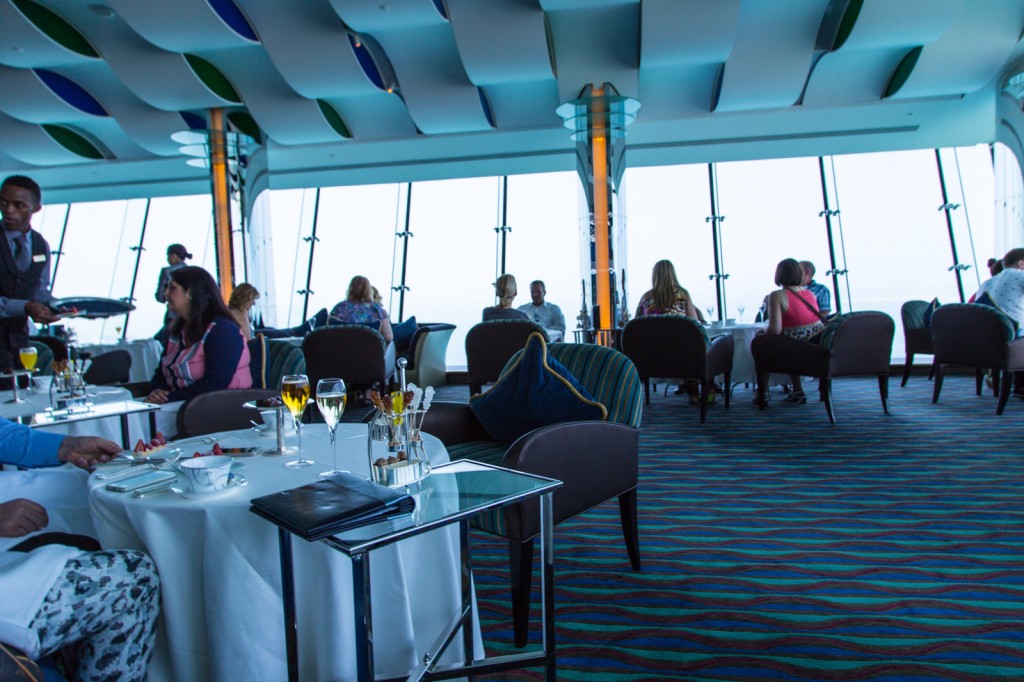 The food looked like this. First course was a berry tarte: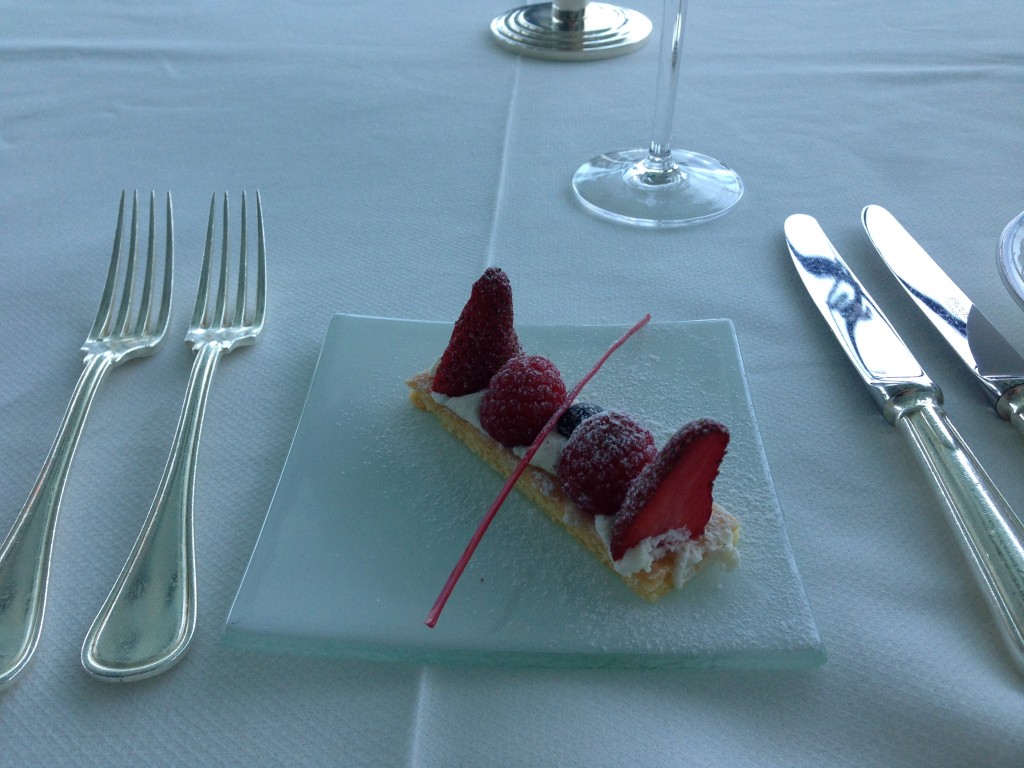 Next up: an etagère of sandwiches.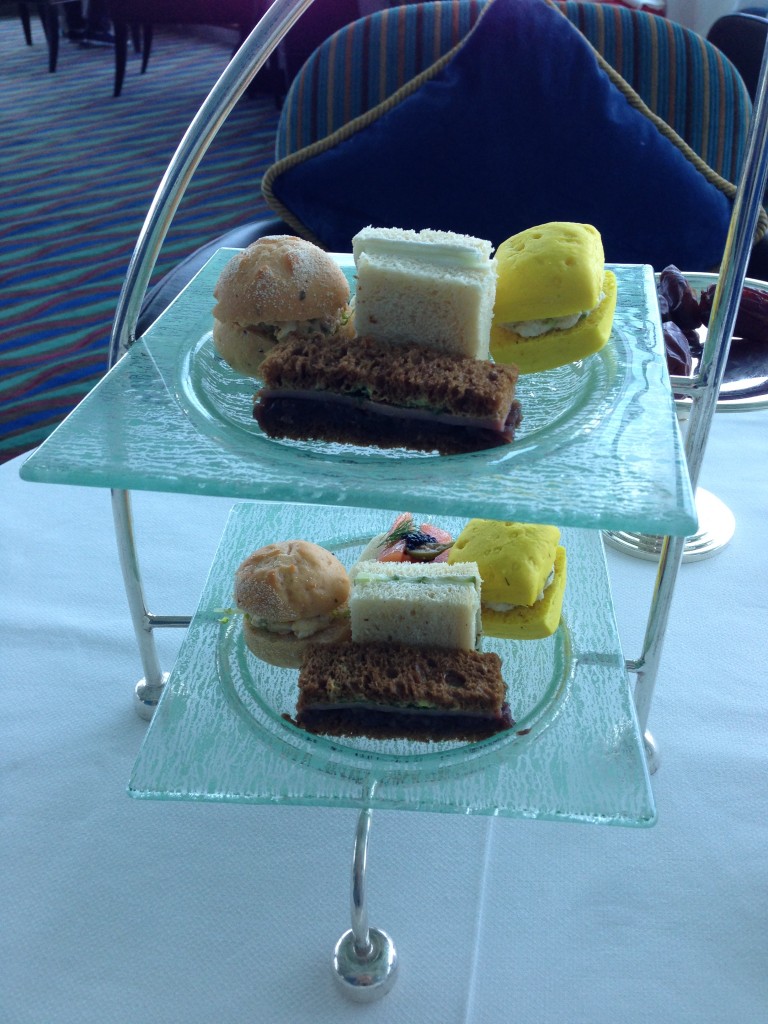 I was initially quite annoyed that they didn't heed my "window table" reservation, but in the end, it turned out to be more of a blessing than a curse due to the constant lineup of people taking pictures over the shoulders of those sitting near the window.
In the meantime, my final course arrived – an etagère of sweet things: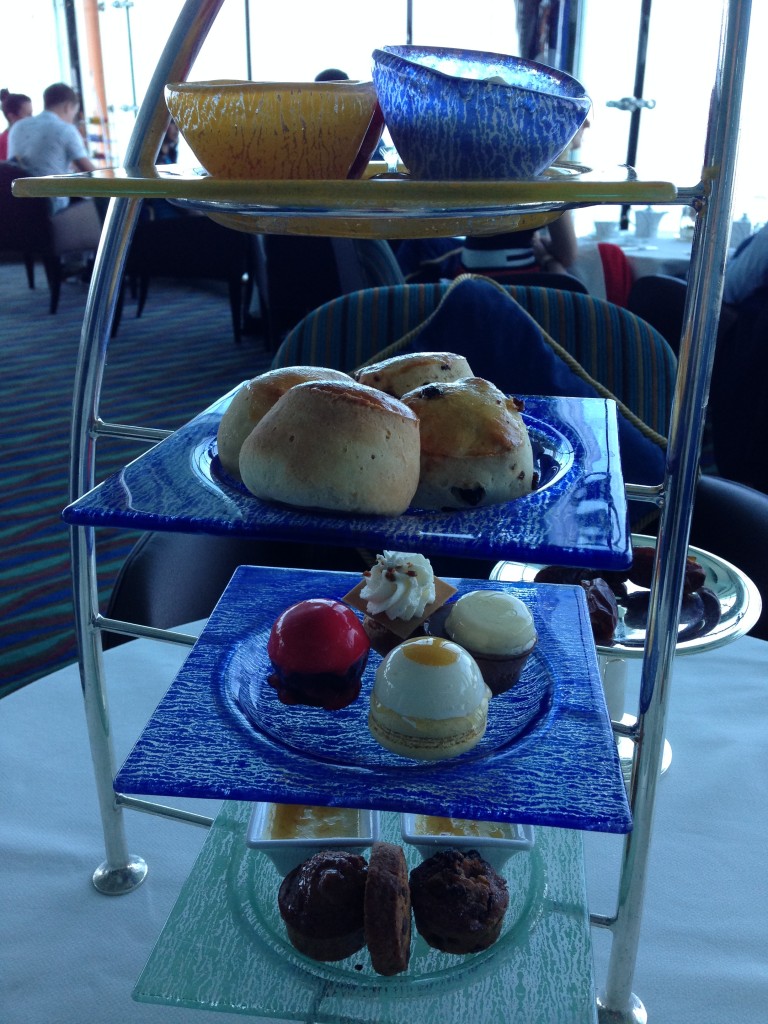 I went to the washroom in the meantime, and was reminded of the opulence – when Terre d'Hermès is used as toilet freshener……………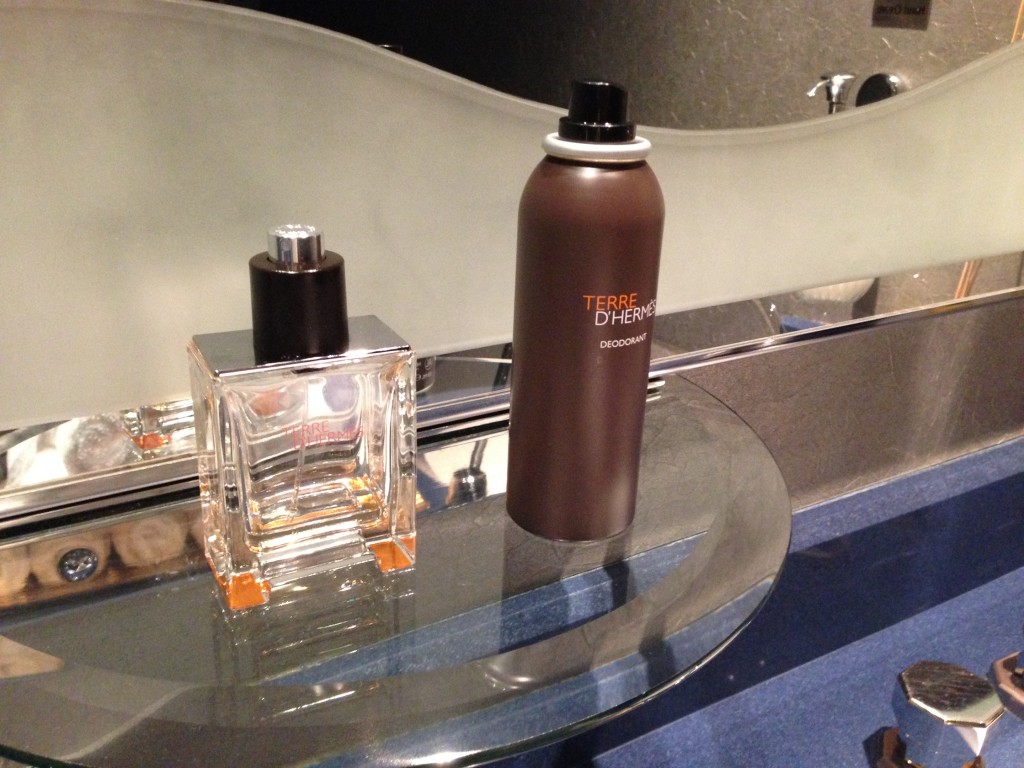 Before leaving, I took a few shots of the view. This is towards Burj Khalifa…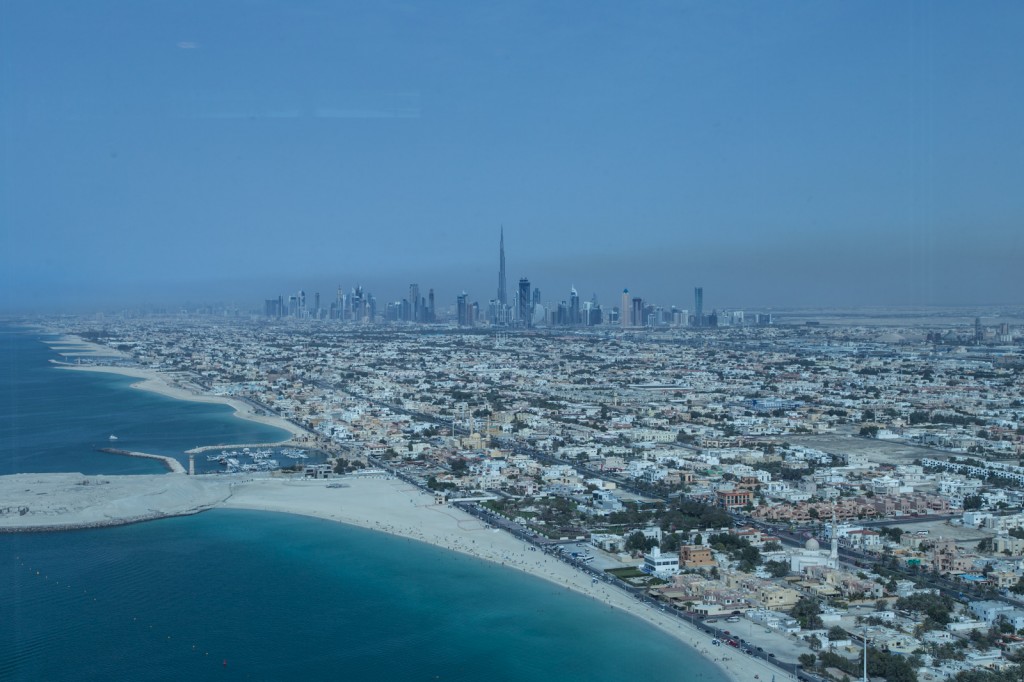 … and this is towards "The World", a group of man-made islands made to resemble the world map, where Brangelina are thought to have bought Kenya, and the only real house standing is the one you can sort of tell in the picture (and the whole thing appears to be sinking, anyway).
In retrospect, I'm not sure this experience was worth $170. On the other hand, it's maybe better to split the cost: if you figure $40 for the lift ticket to the observation deck, $60 for food and …… $60 for luxury tax or so, then it becomes more palatable, particularly because the food is somewhat average (but a waiter who corrected my pronunciation of "pu-erh" isn't, quite as much). So overall the experience was 'neutral' for me, which is what I wrote in the comment card, as well.
Leaving the hotel, I ran into a chrome Rolls Royce from Yemen at the entrance, as well as a sausage limousine Hummer that blocked the entire roundabout (but didn't seem to bother anyone) – those are in my Cars of Dubai post.
I went to the Intercontinental Dubai – Festival City to check in. Despite being on a Best Price Guarantee (i.e. a free room), I received a suite upgrade, which turned out to be a very nice room, indeed.
The view was not terrible, either: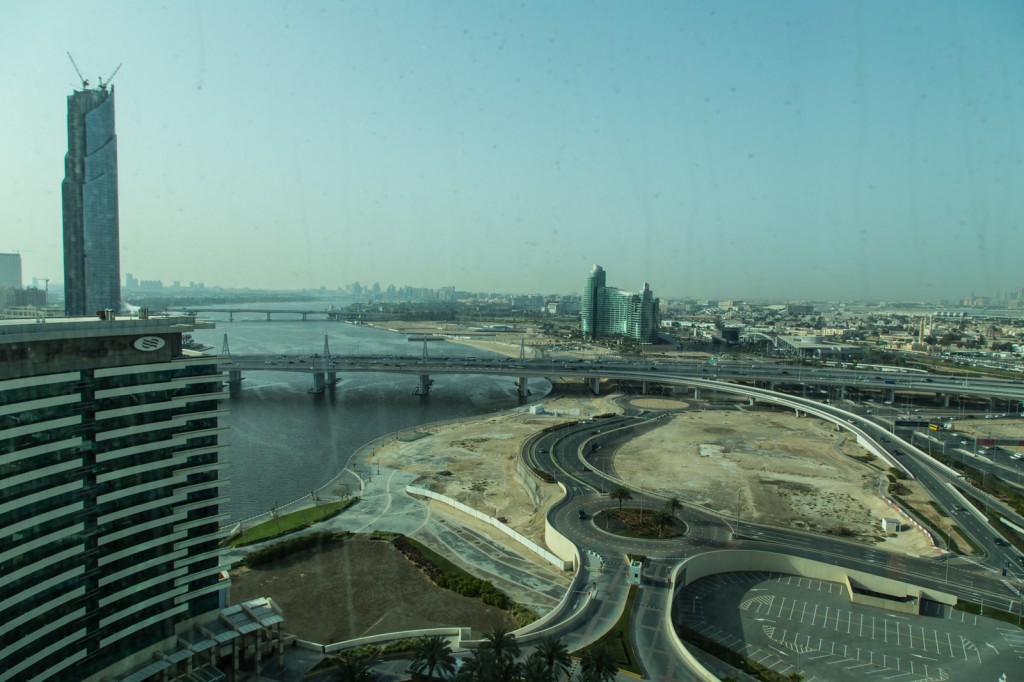 After checking in, I decided to head out to Deira, to take a boat across the Dubai Creek, in pretty much the only activity left in Dubai that cost 1 dirham. I don't think there's absolutely anything else you can do for 1 dirham in Dubai except throw them at people.
I arrived to the Deira Old Gold Souk.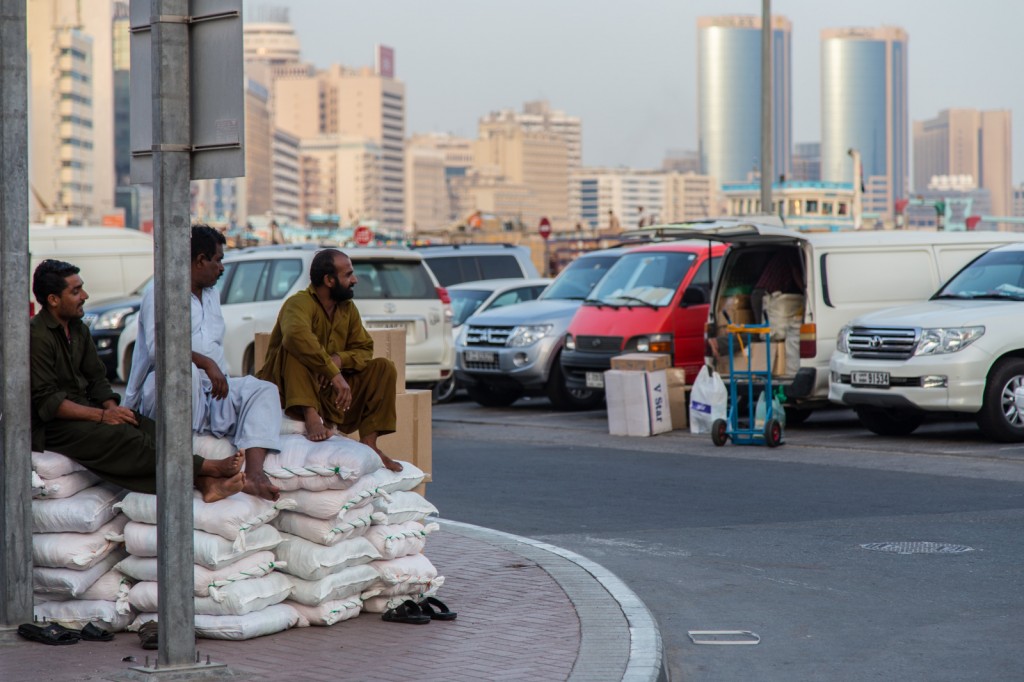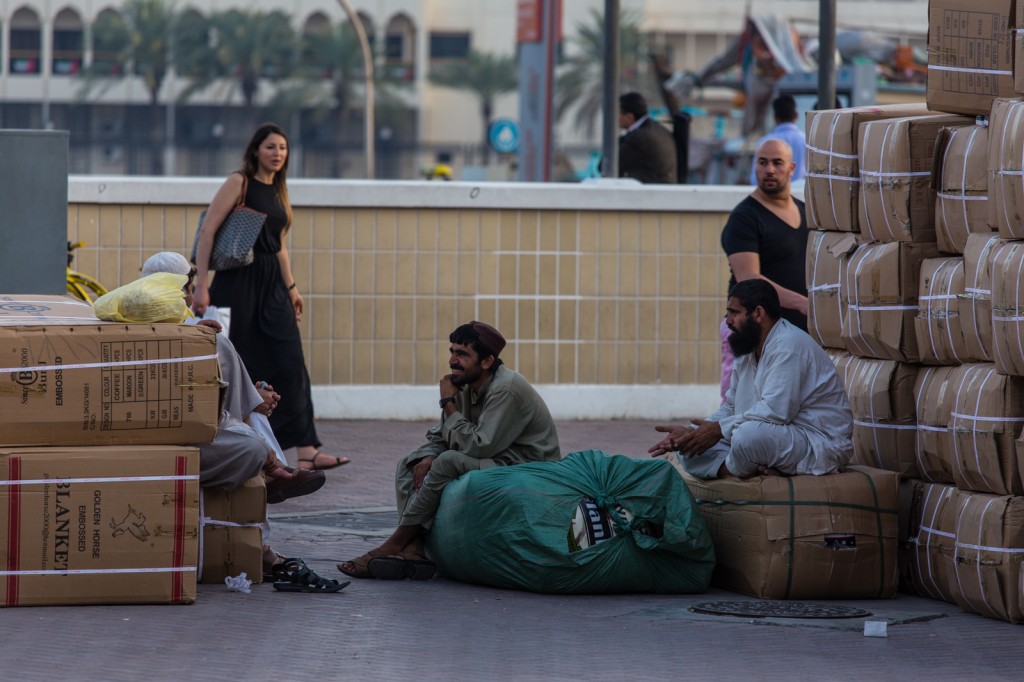 The superimposition of the merchant ships, cargo loads and twin Rolex buildings seemed very Dubaiesque.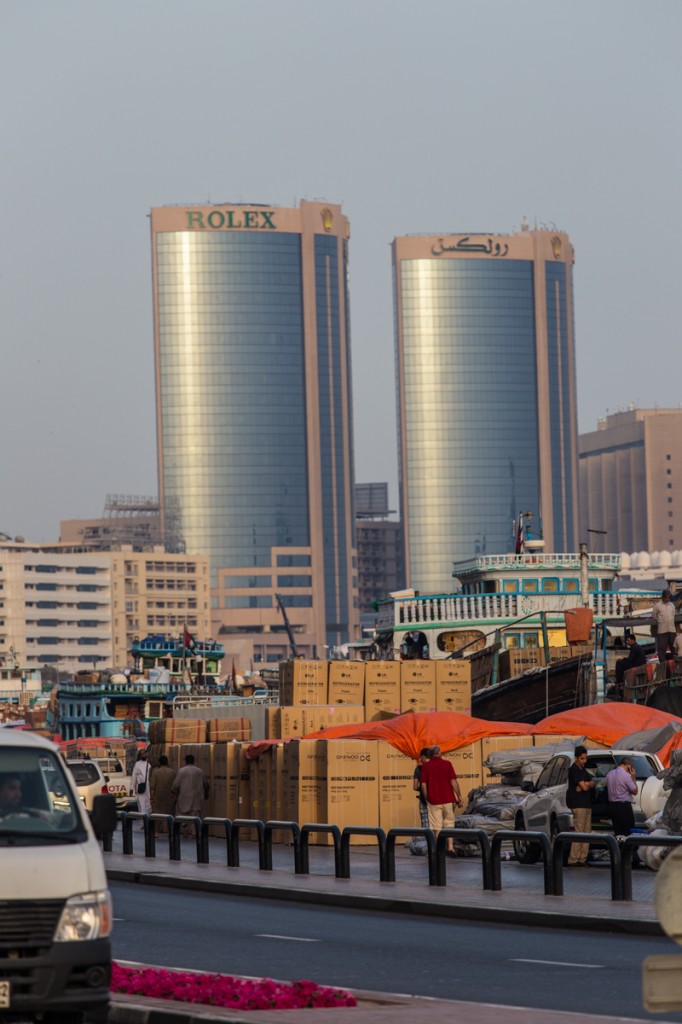 The spice market (although these days it's also the "cashmere and fake Rolex market", of which the sellers do not hesitate to rapidly inform you):
I went to  board the boat.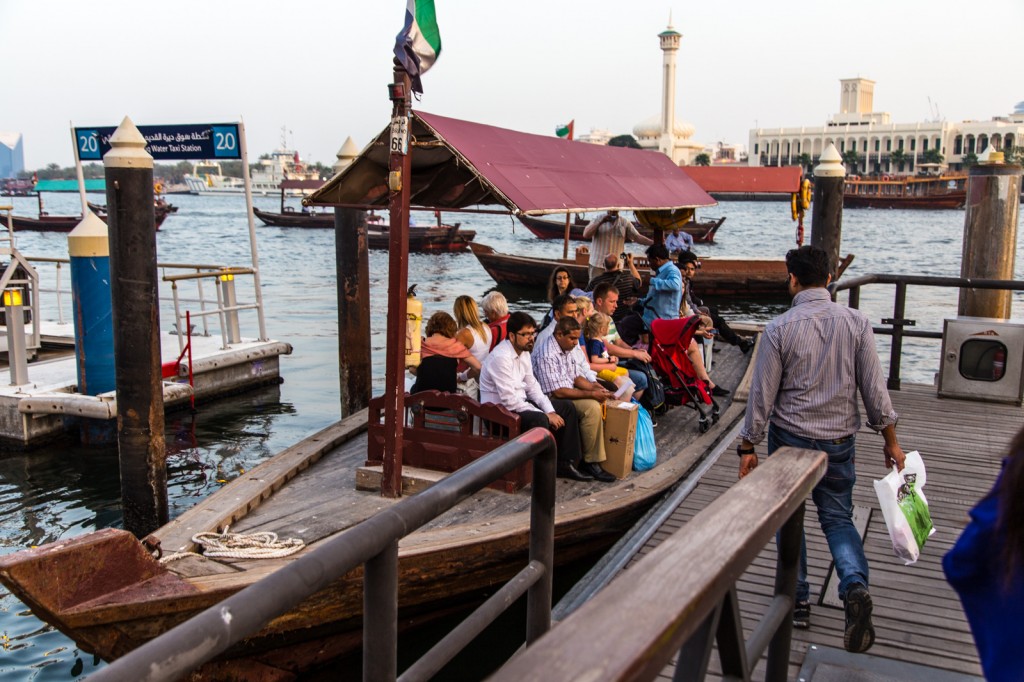 A boat man was listening to his iPod. A very strange contrast.
Some men were watching somewhere far away across the water.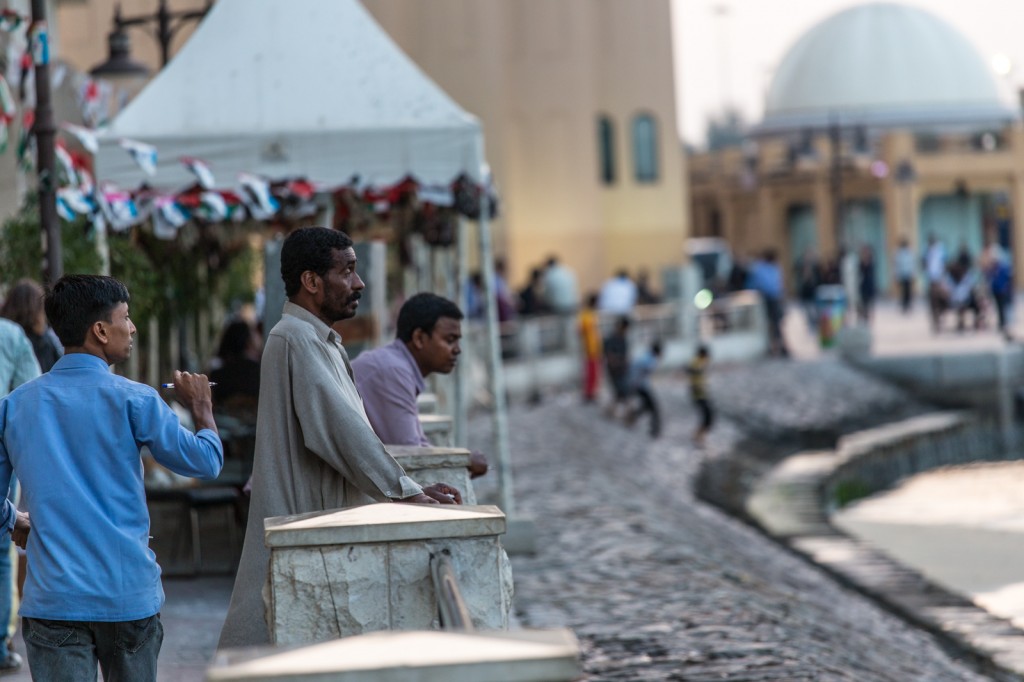 A parking lot on the Dubai side (i.e. after crossing the river). The next two shots were taken with a lens I just got my hands on – the Carl Zeiss T* Planar 50mm f/1.8, a manual lens from the 1980s. I think both shots (but especially the first one) worked out surprisingly fine, despite me being a child of the autofocus era.
A man reflecting on something.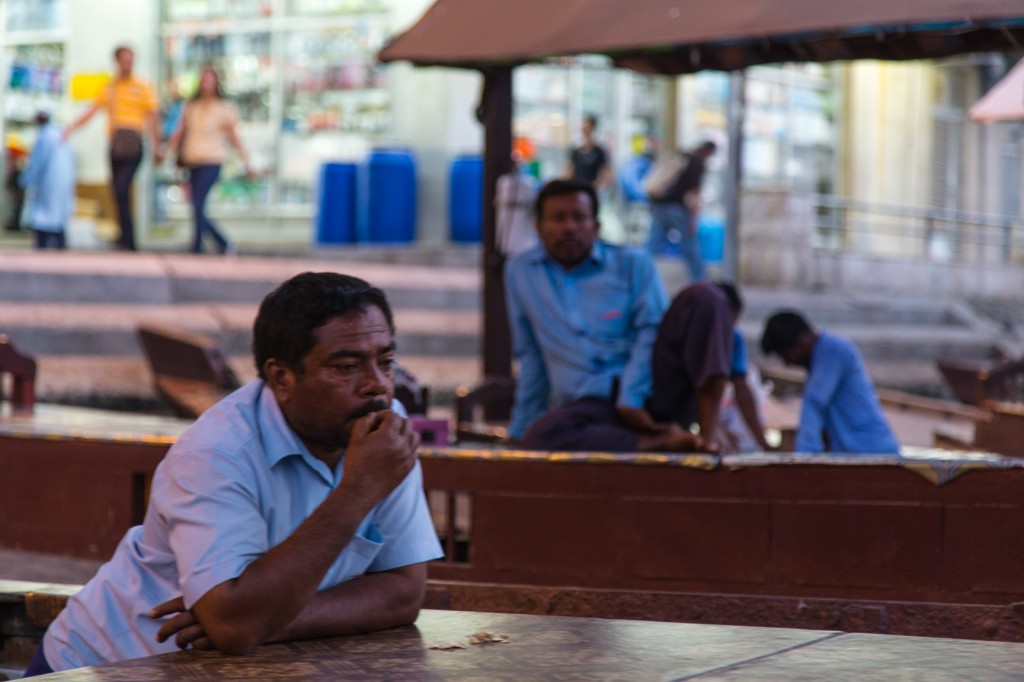 Still reflecting, even in this shot.
After this experience was over, my next stop was the Dubai Fountain. Set at the foot of the Burj Khalifa, it's the largest fountain in the world (or something of the sort: it's definitely the -est something). Every day at :30 and :00, an impressive symphony of water and music is played, and it's all billed as somehow sustainable and energetically responsible.
The fountains are actually quite impressive. Still pictures do NOT do them justice. Look them up on Youtube, as these are really very cool.
The only problem…………….. unlike the Hong Kong Symphony of Lights, these only last 4 minutes!!!!!!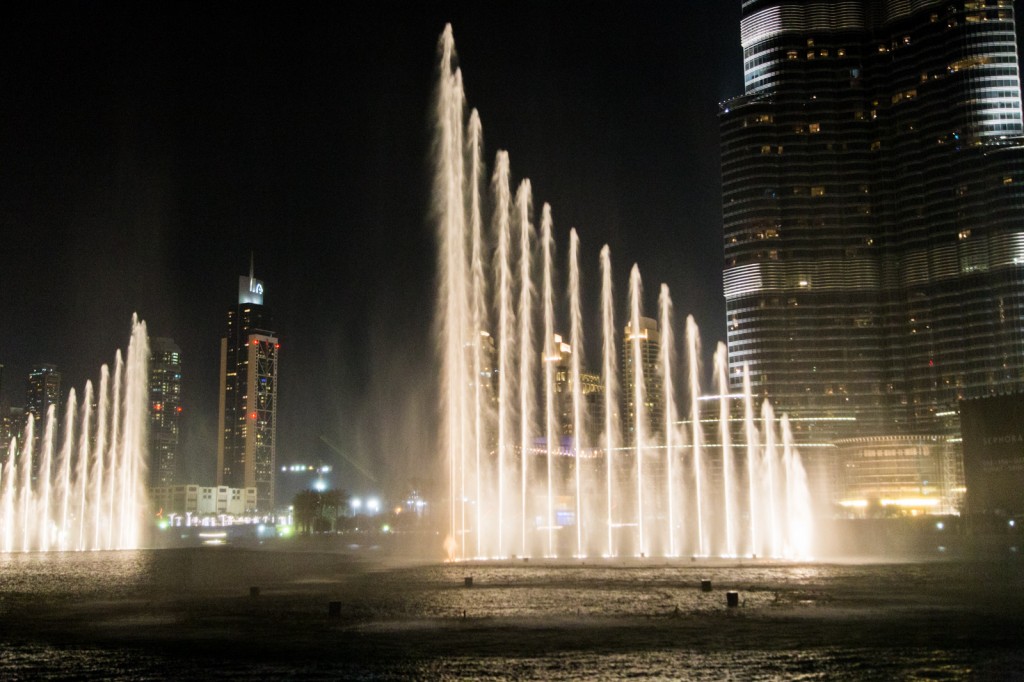 And then this entire sea of people has to be navigated to get out.
Walking through the mall, even audio shops have BMWs in them… somehow.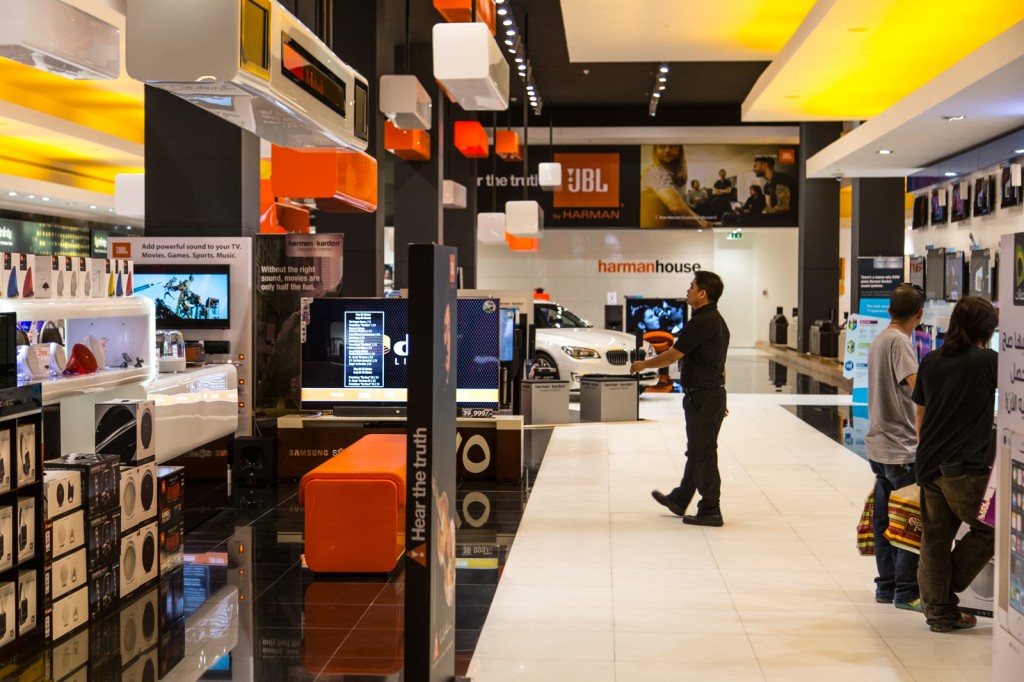 After leaving the mall, I headed off to the Shangri-La to grab dinner at the Marrakech – a Moroccan restaurant. It wasn't anything outrageously splendid, but for the sake of completeness, I felt I should report on it.
The entrance and the view is as good as ever, considering it's the Shangri-La.
The wine card was amusing, because I ordered three different wines, and of them, two were unavailable. Good thing they didn't ask me for feedback after eating there!
The soup was absolutely excellent, though, so much so that I forgot to take a picture before I ate most of it!!!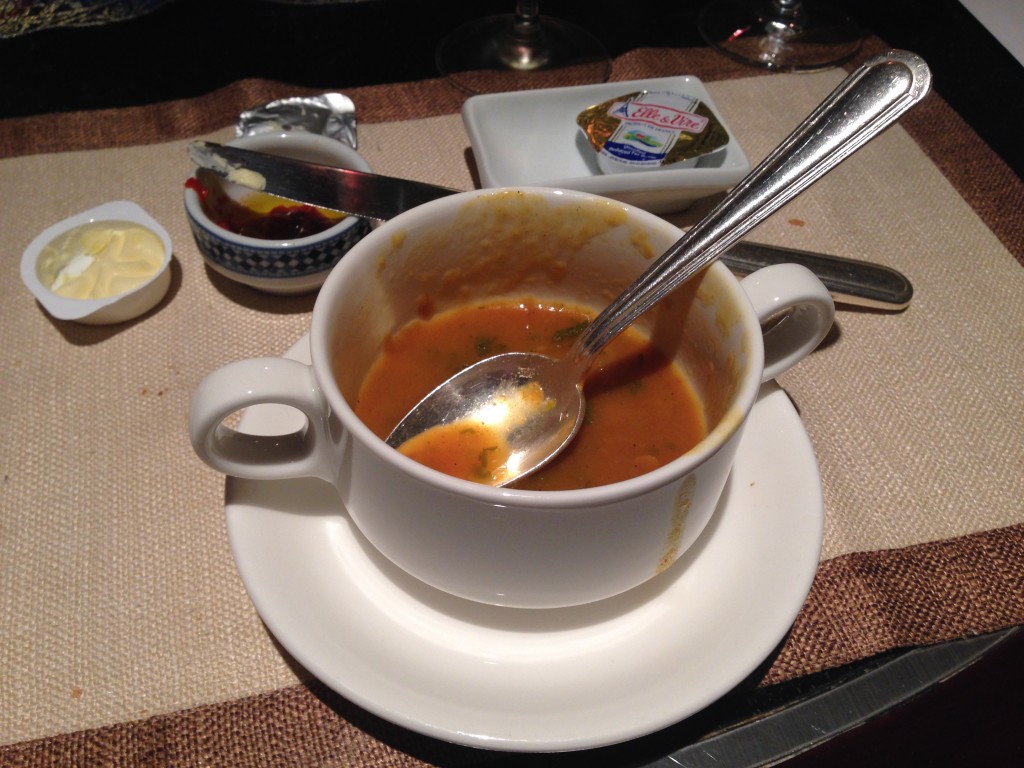 The chicken and beef dishes were quite good, as well:
After dinner, I went walking around (within the limit of the possible, considering Dubai is really not a pedestrian city) looking for some locations that I previously visited.
The Fairmont Dubai hotel. In 2006: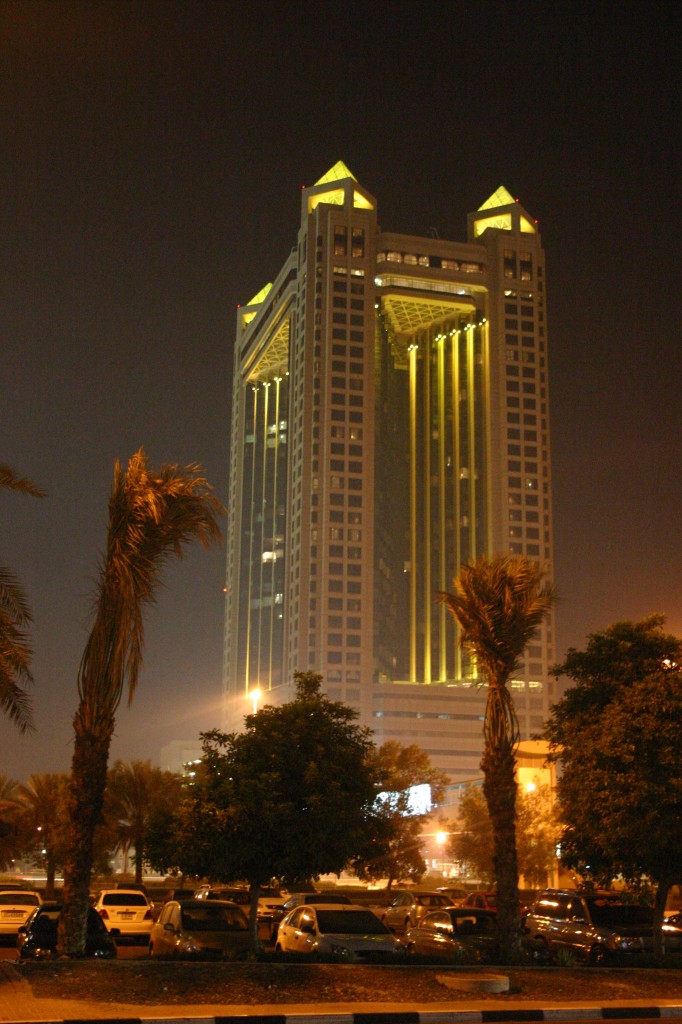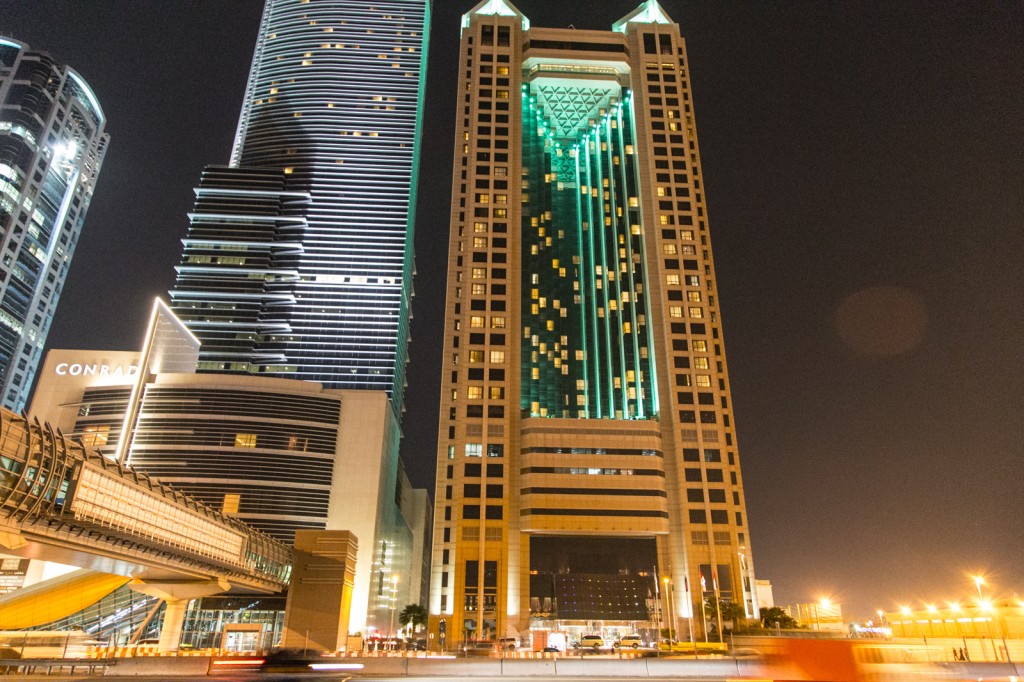 It's not a very good comparison because digital photo technology used to be far worse in the day, but here's a shot of exactly the same area in 2006 and 2014:
2006 (notice the absence of the Conrad to the left):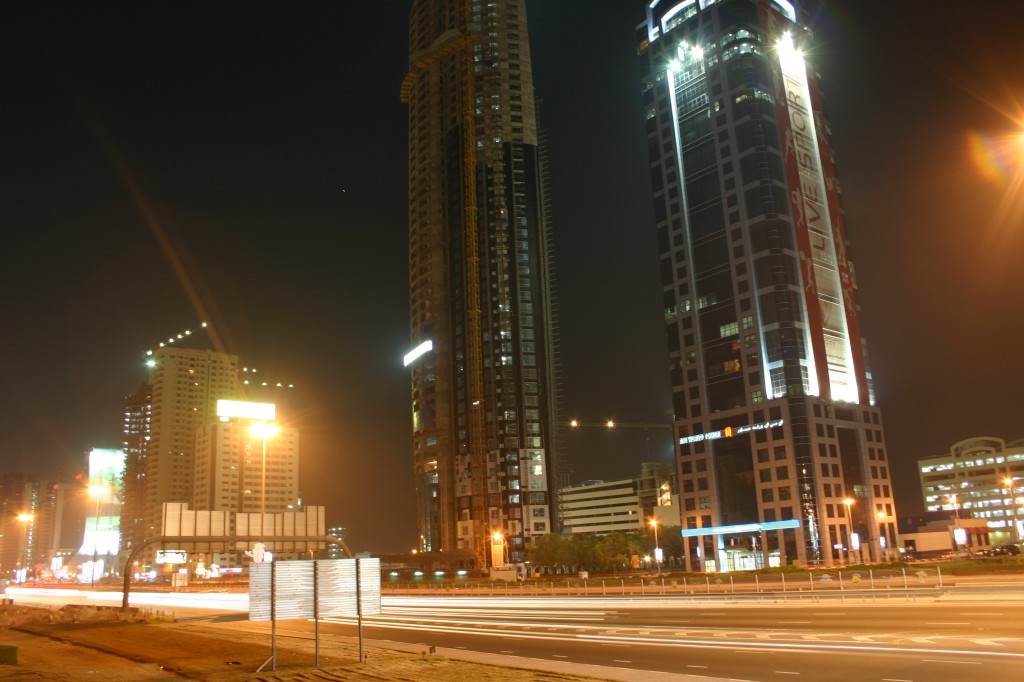 2014: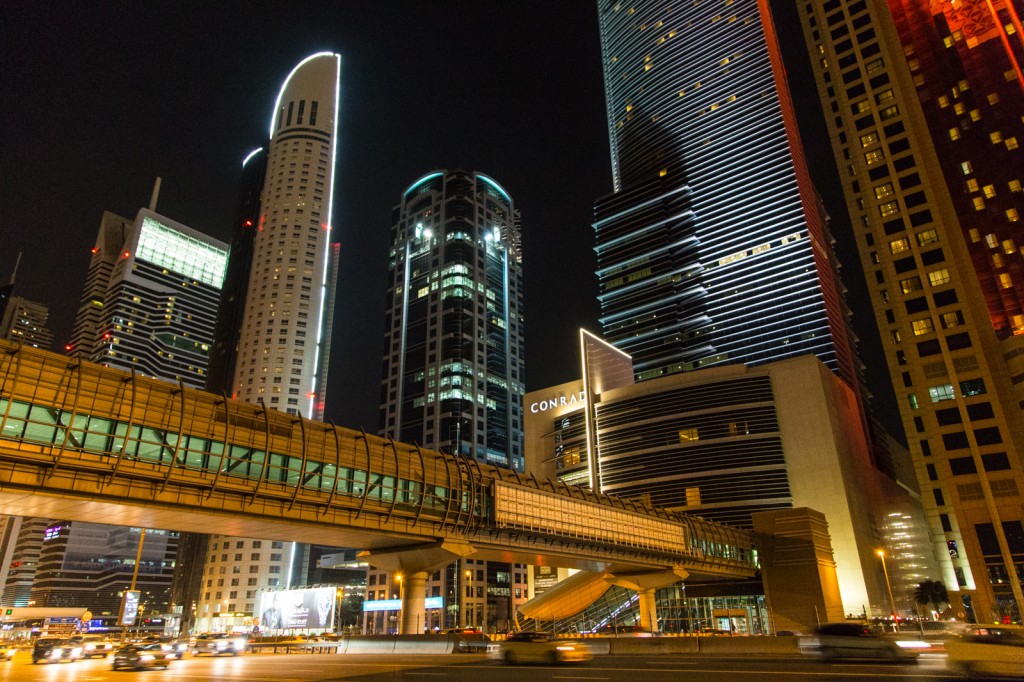 Another shot of the vicinity: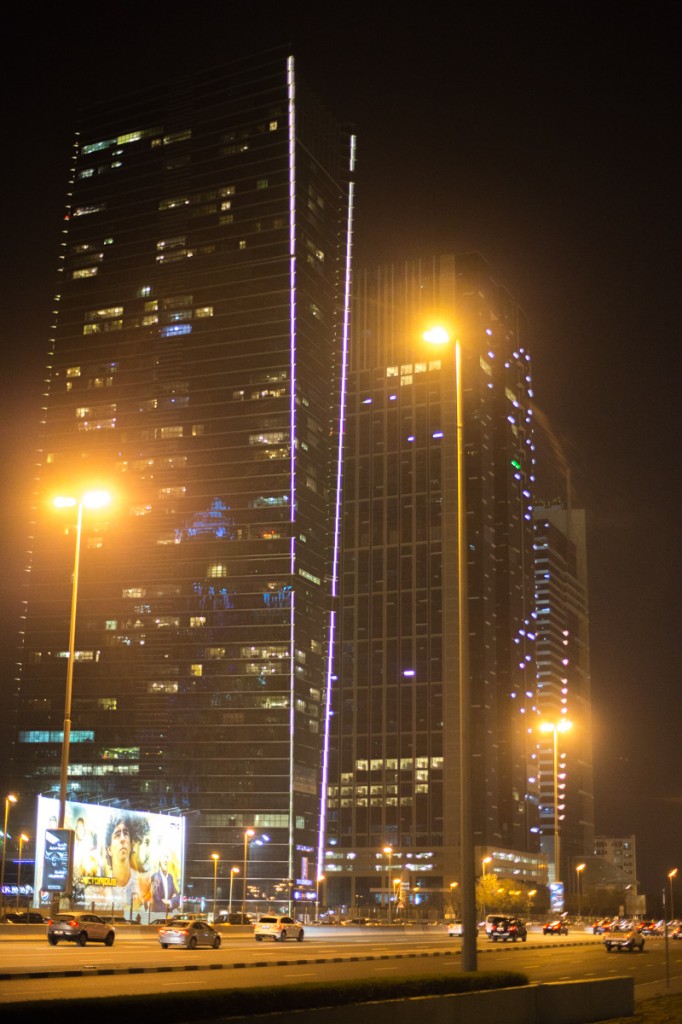 Went back home and was treated to this night view from the Intercontinental: