Since I had very little time to actually visit anywhere, I packed my schedule to the gills (I think I keep mentioning this, but it's important to understand that I neither had time for sleep, nor jetlag). I got home from yesterday's trip at close to midnight, and I had to get up at 4am (!) to make it for my 5:30 tickets for Burj Khalifa, the tallest building in the world, just in time for sunrise.
I left the hotel quite early to make sure I make it on time. I've mentioned before that the parking lot for the Dubai Mall is enormous, and here's proof of that, listing the empty spaces at 5am in the morning: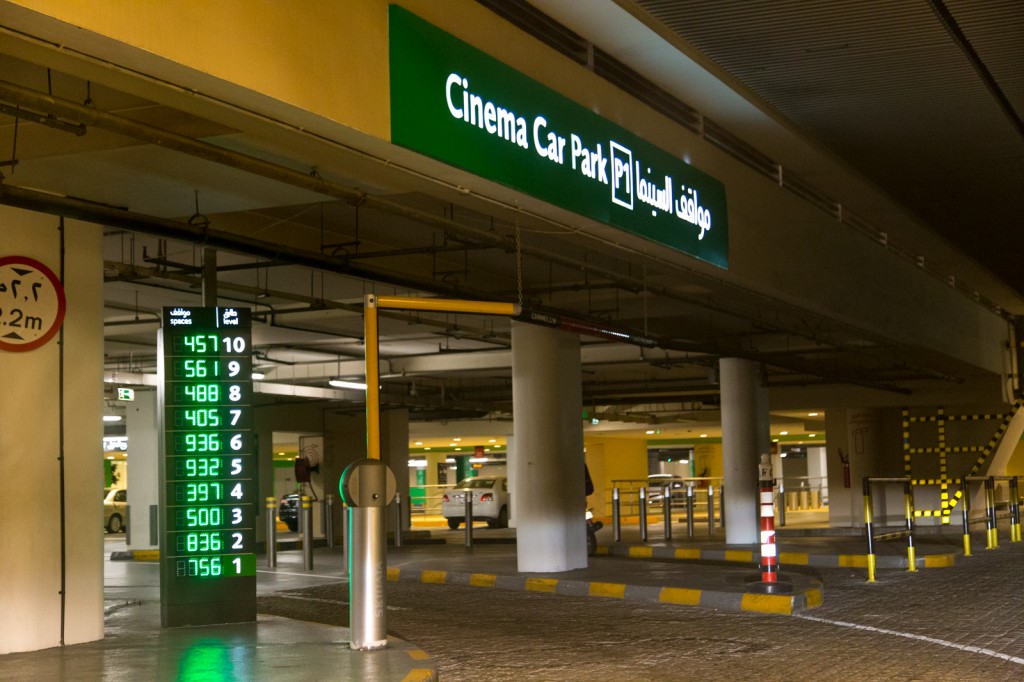 That's 6,268 parking spaces only in the Cinema Zone. There are two other parking areas (Grand and Fashion), totaling to just over 14,000 parking spaces. This is in comparison to about 1,000 parking spaces in the Hong Kong Ferry Terminal, or about 67 spaces in the Montreal Trudeau Airport which always seem to be taken.
Of course, nobody comes at 5am, so here's a shot of something you will likely never see unless you're as insane as I am: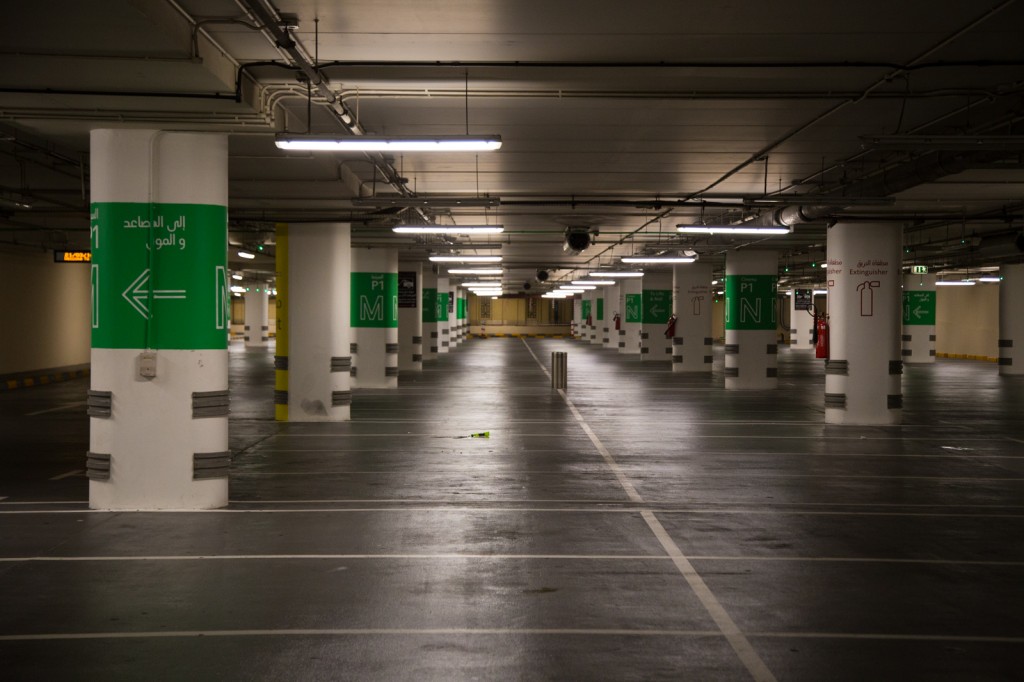 The 05:30 opening for sunrise at the Burj Khalifa seems to have been a relatively recent affair, with the mall operators not quite being in sync with it. First of all, Cinema Parking is recommended, and there's even a sign on the wall for it: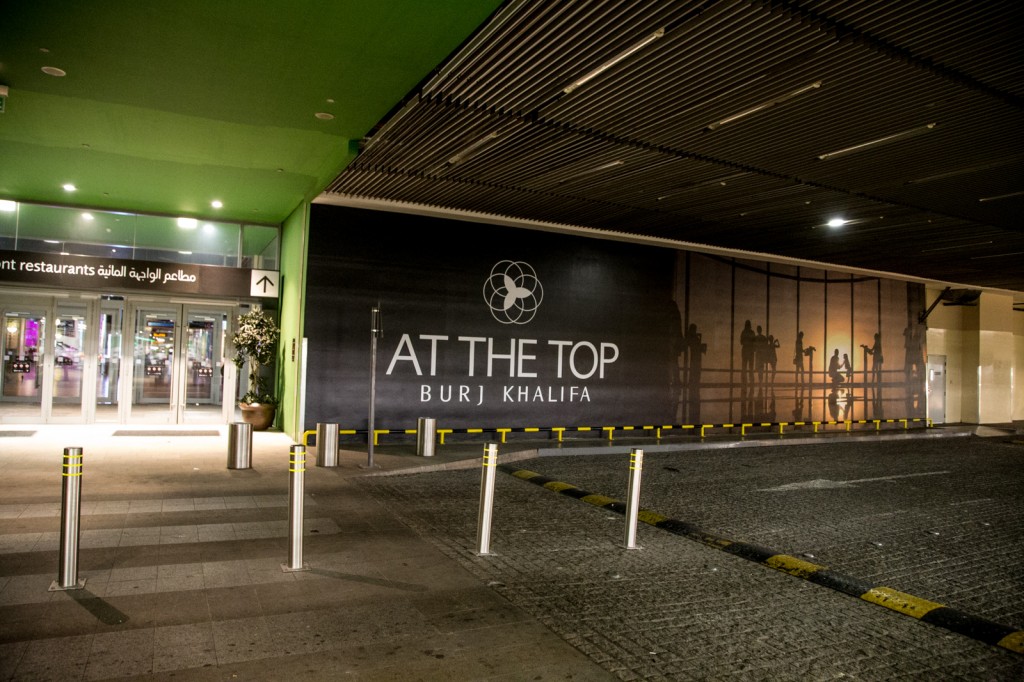 However, the doors just beyond that are locked. I wiggled them for a while, then I started gesticulating wildly hoping to attract attention of one of the security guards, since it was getting to be 05:15 and I had a flight to catch at 10am, so I really had no time to mess around with formalities. Eventually someone came, and I was able to exercise my clearly touristy appearance to request assistance. I told them I was here for the "At the top" sunrise event, and he told me that although the mall is completely shut still, I should walk straight, never deviate, take the elevator up, then down, and get there.
Here was the first problem: the recommended parking was exactly at the opposite end of the mall. This was annoying.
So I went in and walked all the way to the At the Top entrance. In passing, I got to snap some neat shots of Dubai Mall with precisely nobody in it, which is, I am certain, a situation rarely experienced there.
After fiddling around with paths and stumbling upon a security guard (who, unlike the ones in Abu Dhabi, did not point an AK47 at me), I found my way to the Burj Khalifa entrance. After fighting with the ticket issuing machine and explaining to no less than three sets of Germans how to use it (do I really look like an enlightened, informed tourist guide?!), I was in.
This is where the glorious propaganda started. Before I get into it, you would do well to read on the story of the Burj Khalifa.
First, we were greeted with a room that featured a scale model of the tower, made of crystal.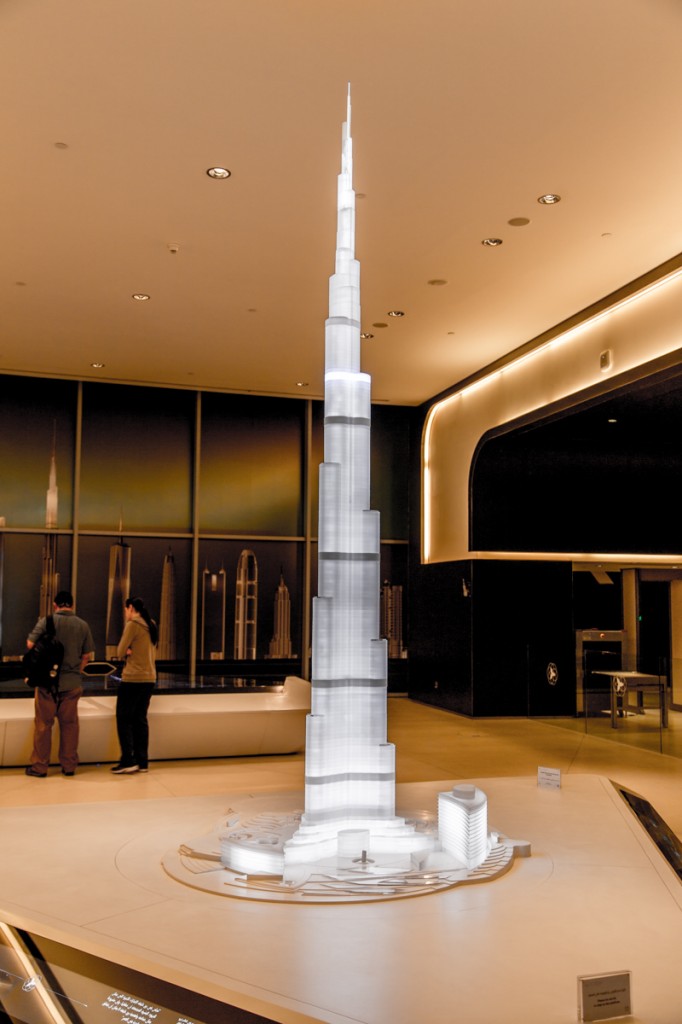 We then went through a tunnel that featured historical imagery of Dubai, including falcons, agile handymen and playing children, and psychedelic imagery of electrons, ions and tachyon-based protoplasmic ion fields.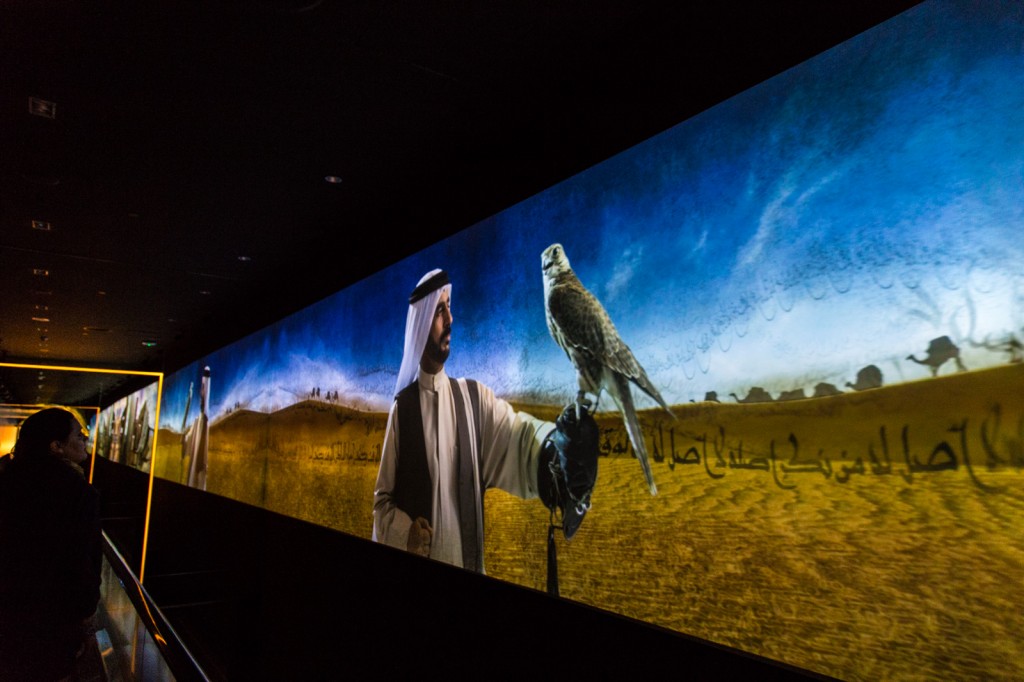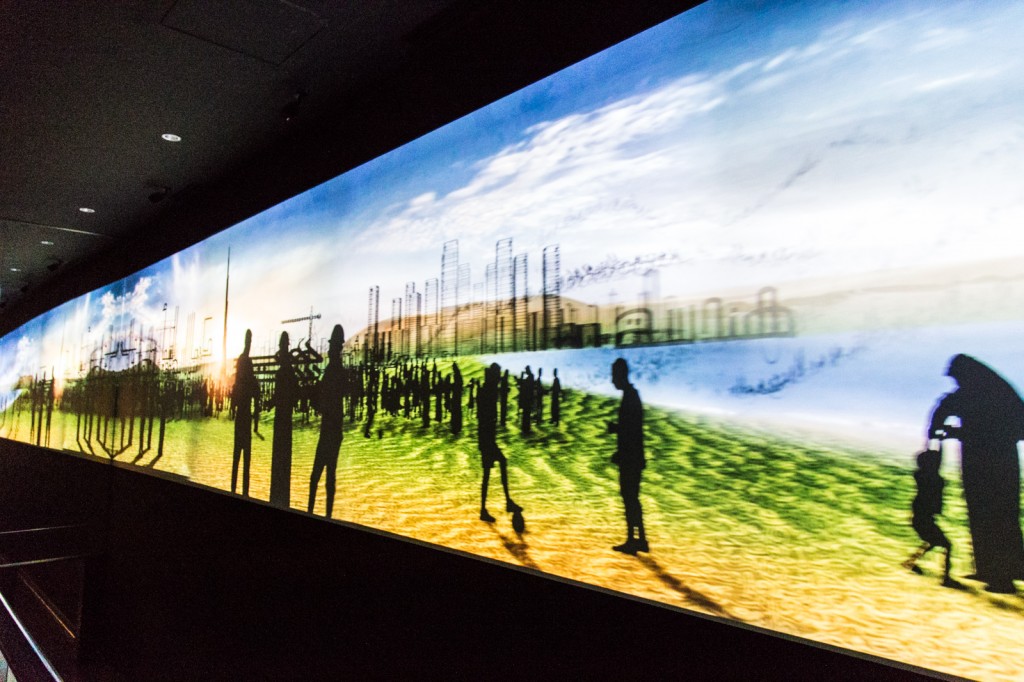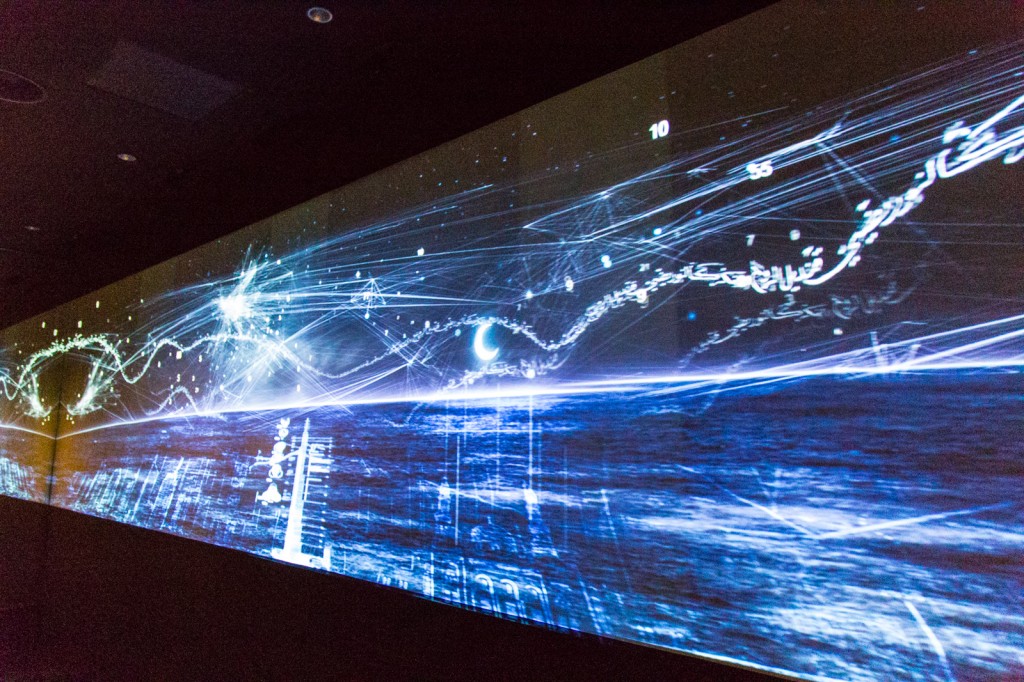 We continued on to some verbal propaganda about glorious benefit for great win.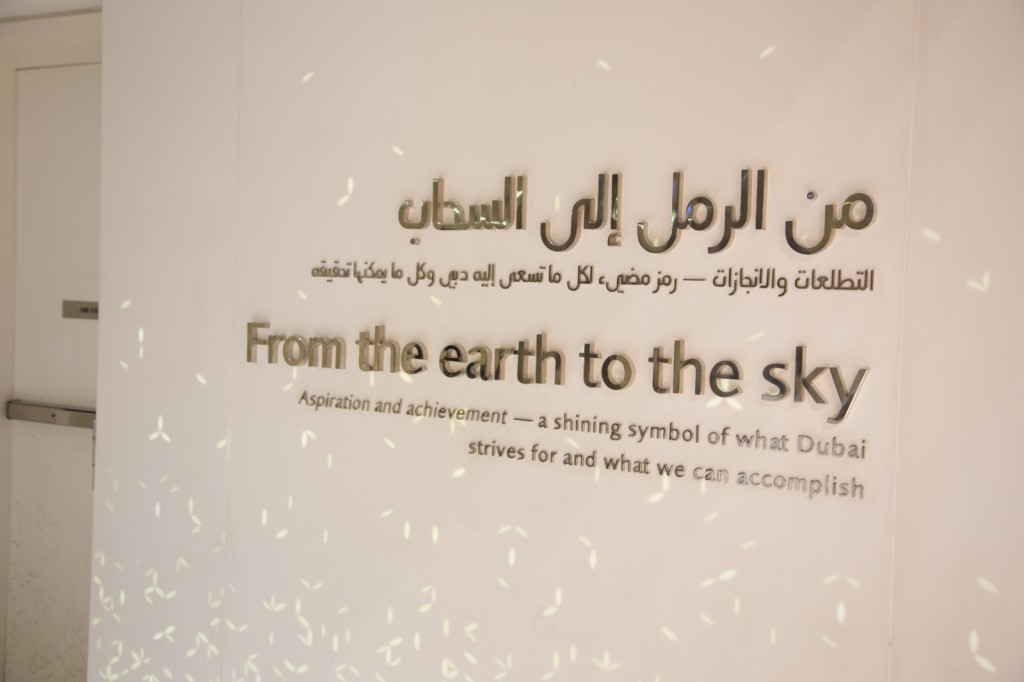 … and on to some more propaganda about attracting the capitalist elite …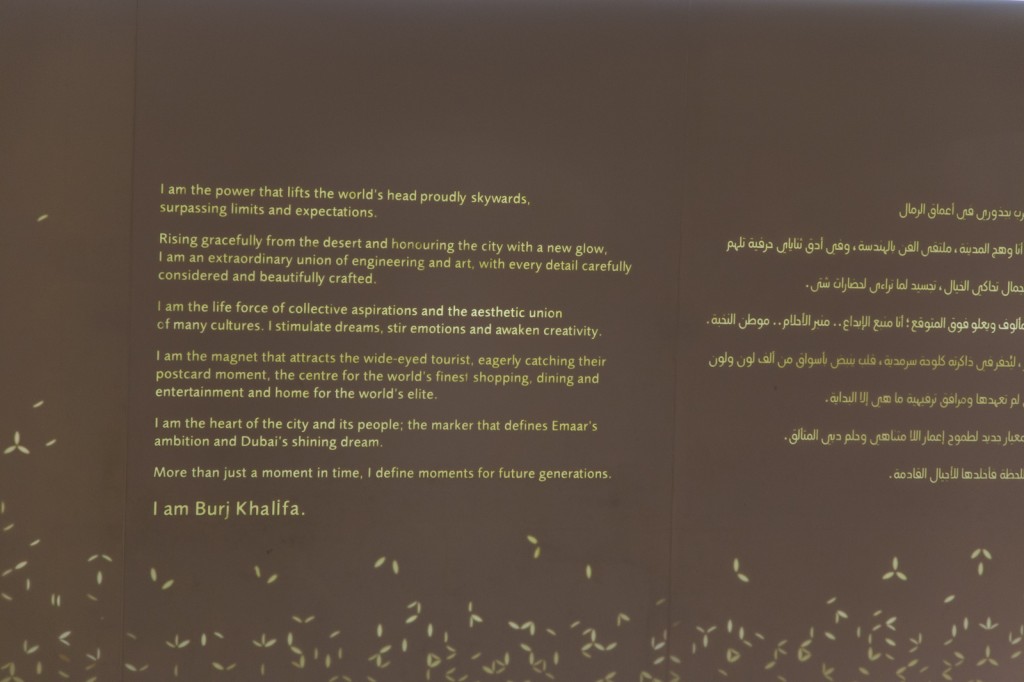 We then took a hyperspace elevator to the top, which apparently takes no more than 60 seconds, but for some reason (unlike pretty much every other big tower elevator in the world) doesn't have glass windows – only LEDs that move upwards and then explode in a flash. Obviously, it made the tourists ecstatic with joy. The cameras were working overtime.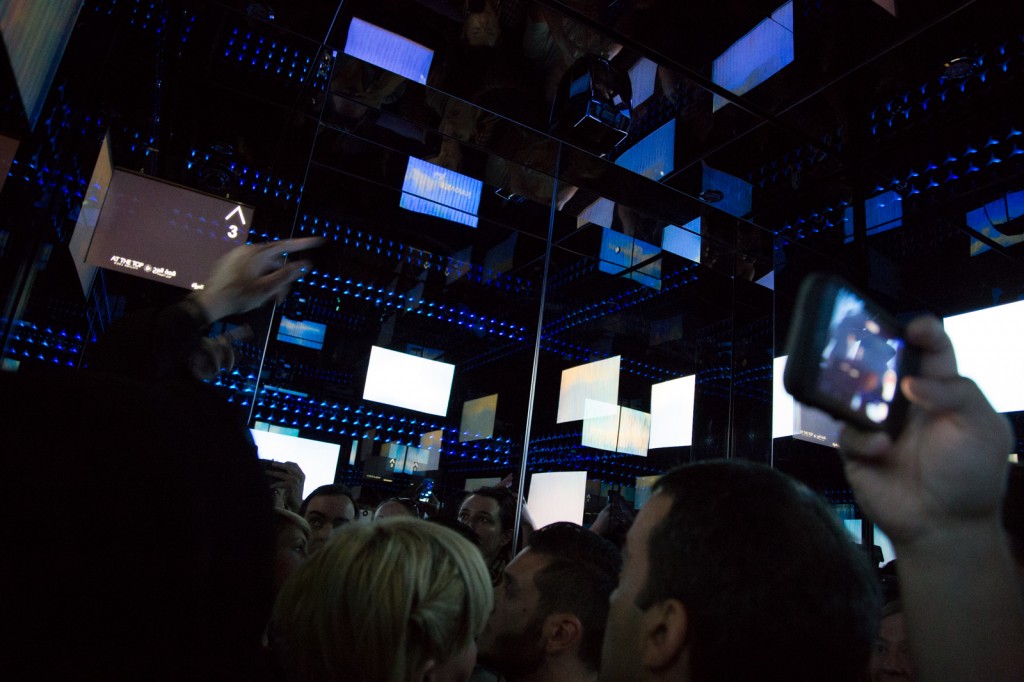 Once at the top, we were treated to some beautiful views of Dubai and everything it constitutes.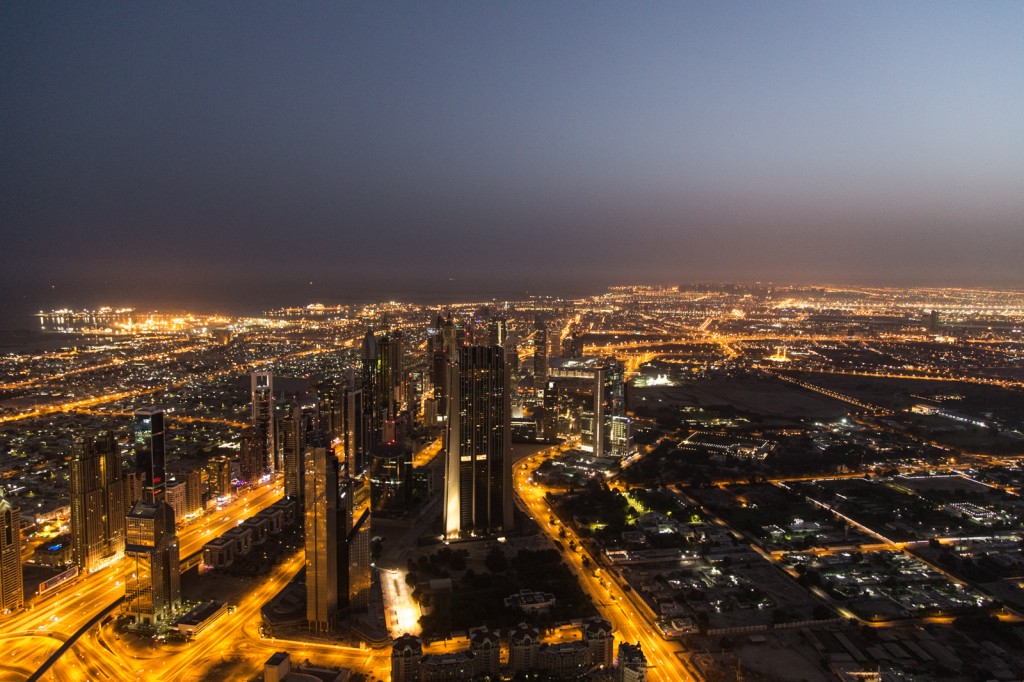 The crowd was slowly growing. Apparently I wasn't the only one insane enough to wake up at 4am (though I do still believe I was the only one to have a flight later that morning!)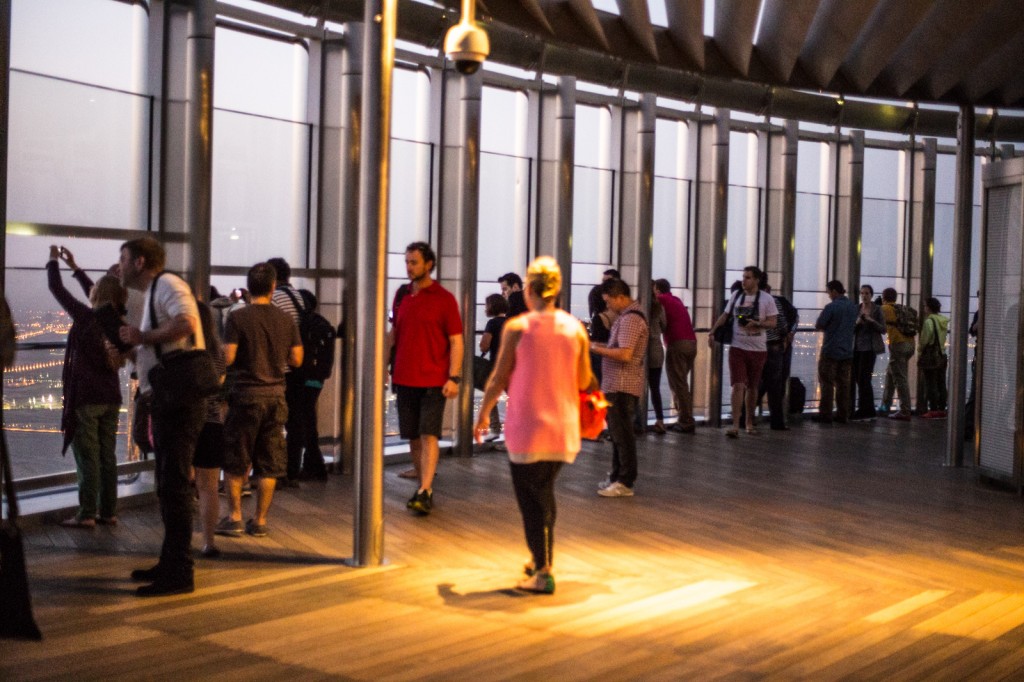 Despite the tower being almost a kilometre in height, this is how much tower I did not get to climb: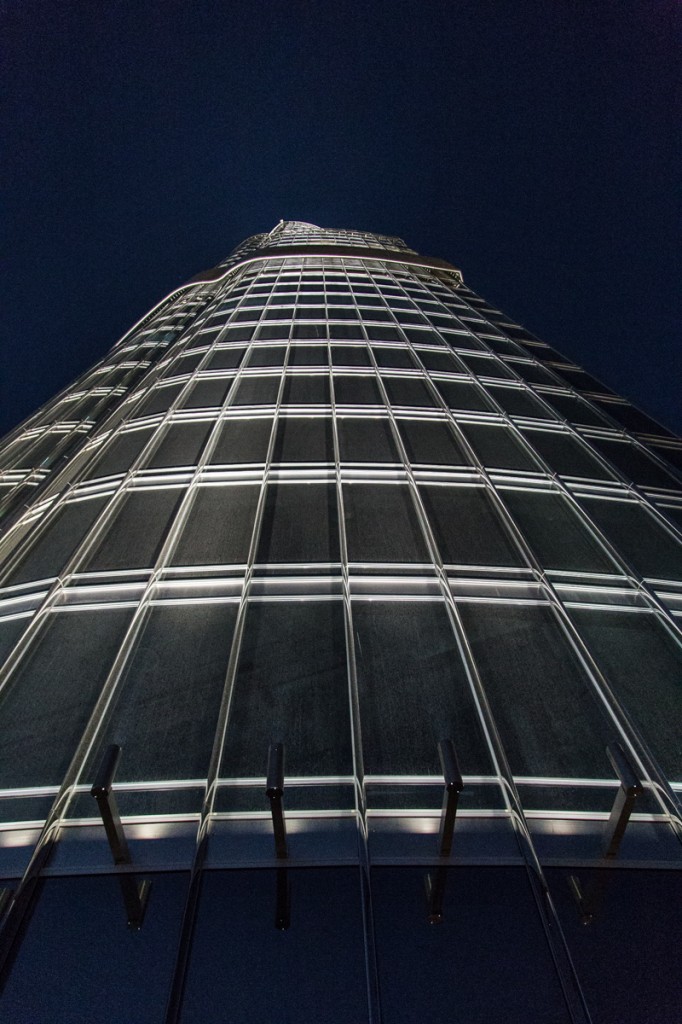 After waiting around for some time (almost an hour, considering we were allowed in at 05:30 and the sun came up at 06:22), I present to you – sunrise over the Arabian Desert.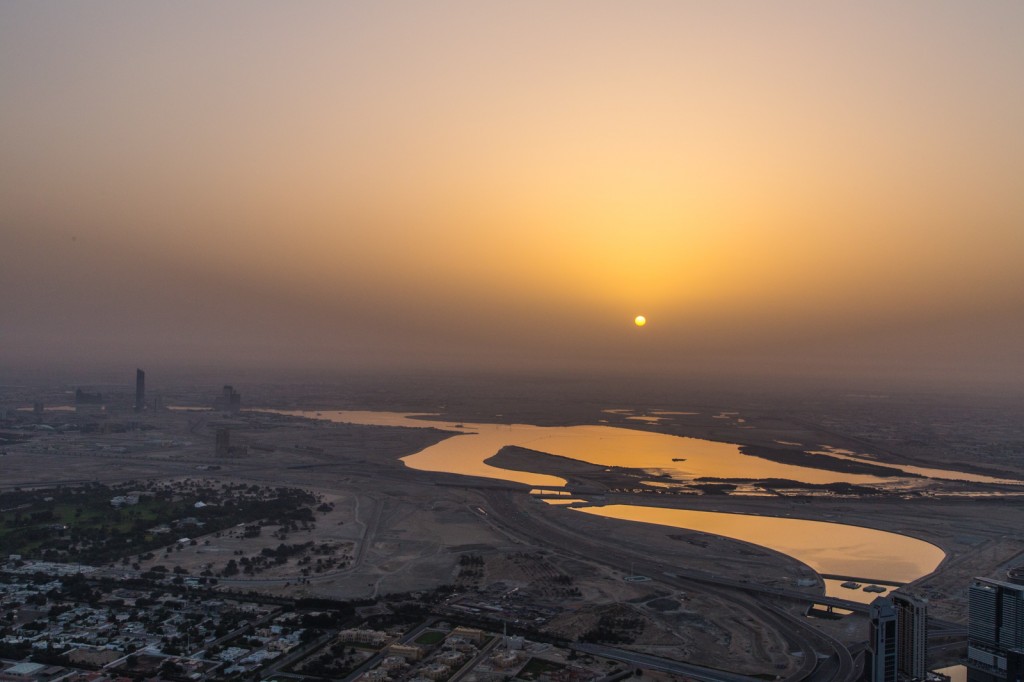 The city looked different now: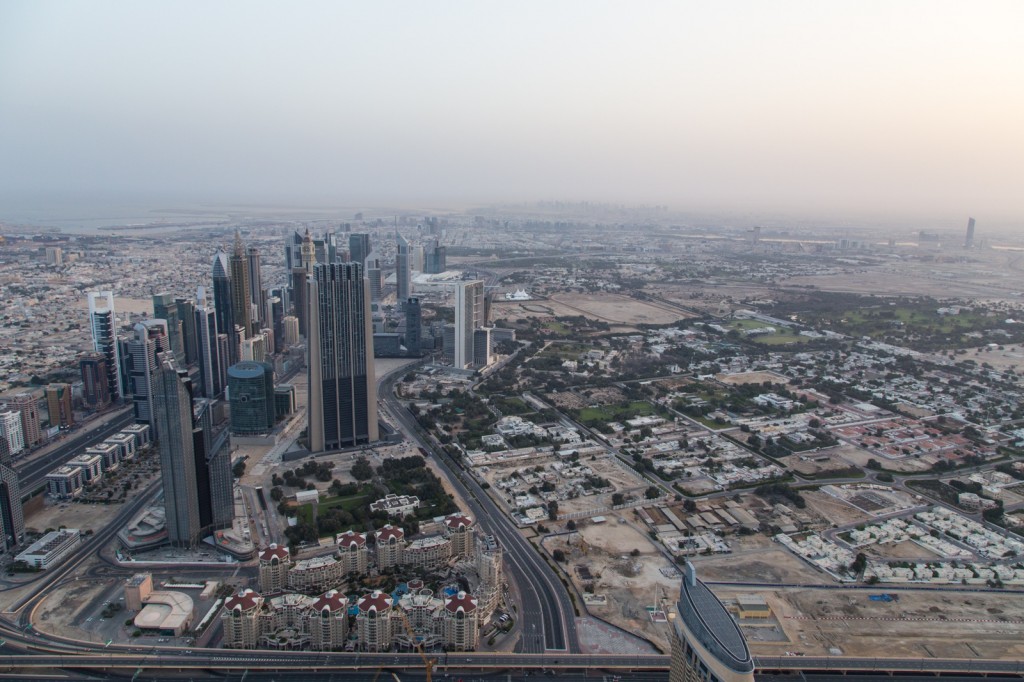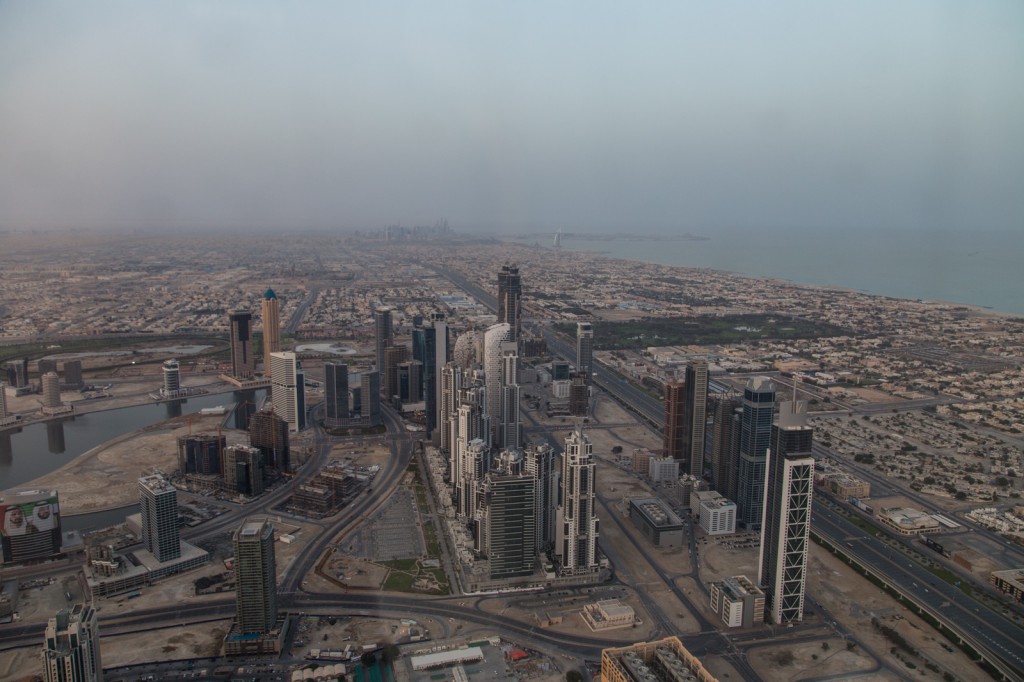 As did the crowd: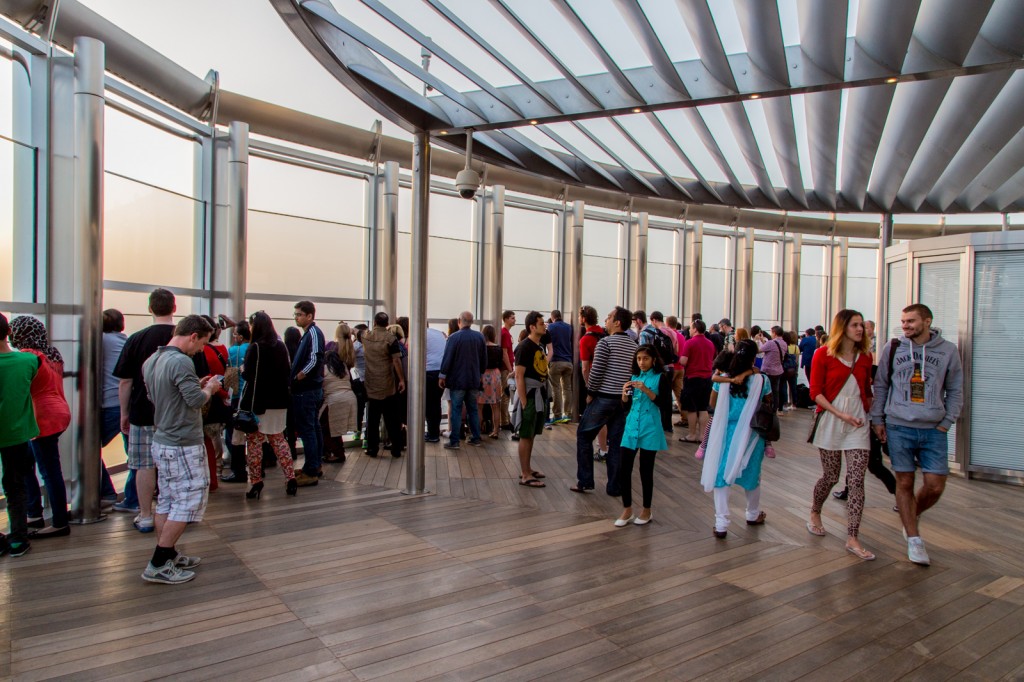 I have to say this. I have no problem with big towers. I also have no problems with cultural heritage and being proud of a people's achivement. But making a huge building into a monument to national pride, success and glory (especially considering it was built by the hands of Bangladeshis and Indians!) is hardly a path I condone. With all due respect to the UAE, while it is incredibly impressive to build an almost-1km building, it's cheesy to glorify it into the history of Dubai, as well as put the observation deck at 452m where the CN Tower's observation deck is at 447m. That's a 5 metre difference, but the Skypod of the CN Tower has a glass floor and a view that looks like this: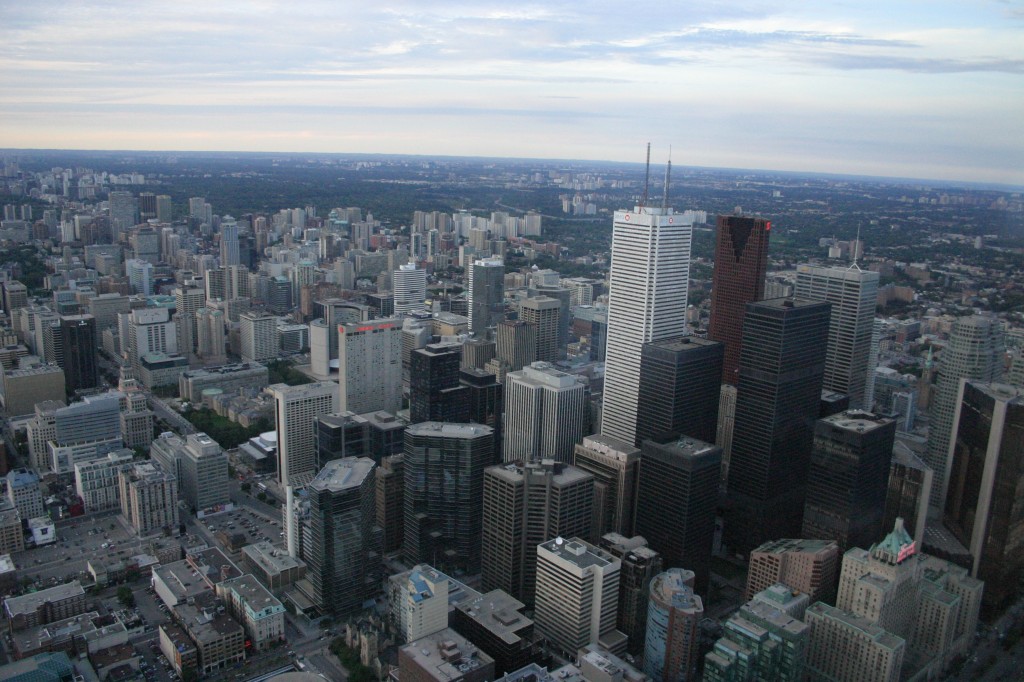 It costs the same, about $40, but the view is arguably 'busier', which is something you want in a tall tower (the above picture is from 2007, so it's even more "busy" with skyscrapers now). While the residential and the restaurant/nightclub sections are obviously taller and higher, it is the boring publicly accessible section that is the cash cow, and I would have hoped for it to be higher and somewhat more impressive. It is somewhat similar to the Burj al-Arab: it's splendid, it's spectacular, it's awesome – but in the end, it leaves you with nothing but a "I've been there and I see no reason to go back" feeling.
I returned to the Intercontinental to grab a light breakfast before getting to the airport. It seemed that I had sufficient time.
The Club is a very nice one.
The food selection was quite good:
The view was fairly nice, as well:
I ate what I could find and it was time to run to the airport. It was getting to be 7:30am and my flight was at 10; I definitely wanted to explore the Emirates lounge, so I needed some time for it. I fortunately packed yesterday night (which is why I went to sleep at 1am, and woke up at 4am), so it was a quick process to check out, return the car (where the clerk harrassed me about a ding on the rear left wheel – I guess in these parts of the world, taking the house insurance is not a bad idea, since the valets really don't care about your car), and finally got to the Emirates First Class counter.
I previously mentioned that Emirates did not have any ground service for First Class passengers (unlike Thai or Lufthansa), and this sort of explained why:
The place wasn't exactly a zoo, but considering this was JUST for First Class and Skywards Platinum customers, this could be considered a very elite version of a zoo. This was unbelievable. I had to wait a good 15 minutes for a checkin agent. No wonder nobody gets ground service!!!!!
After some time navigating immigration, shuttle trains and the like, I finally made my way to the Emirates First Class Lounge.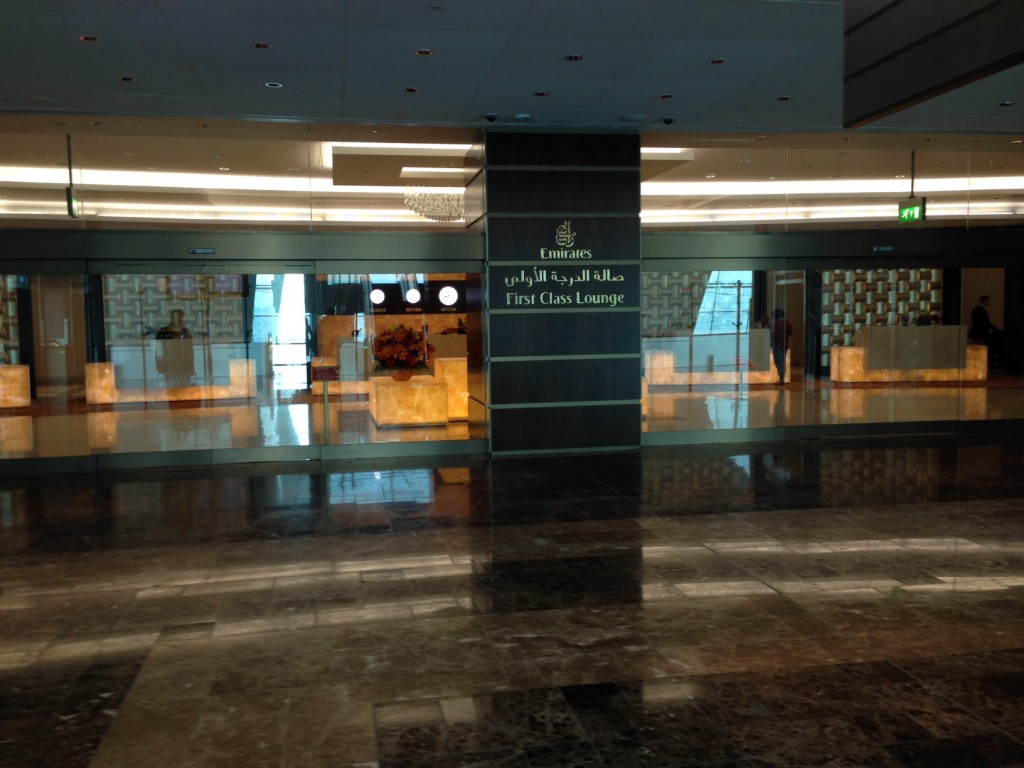 Pretty much nothing prepared me for what lay beyond. I went to the counter to meet the lounge dragon…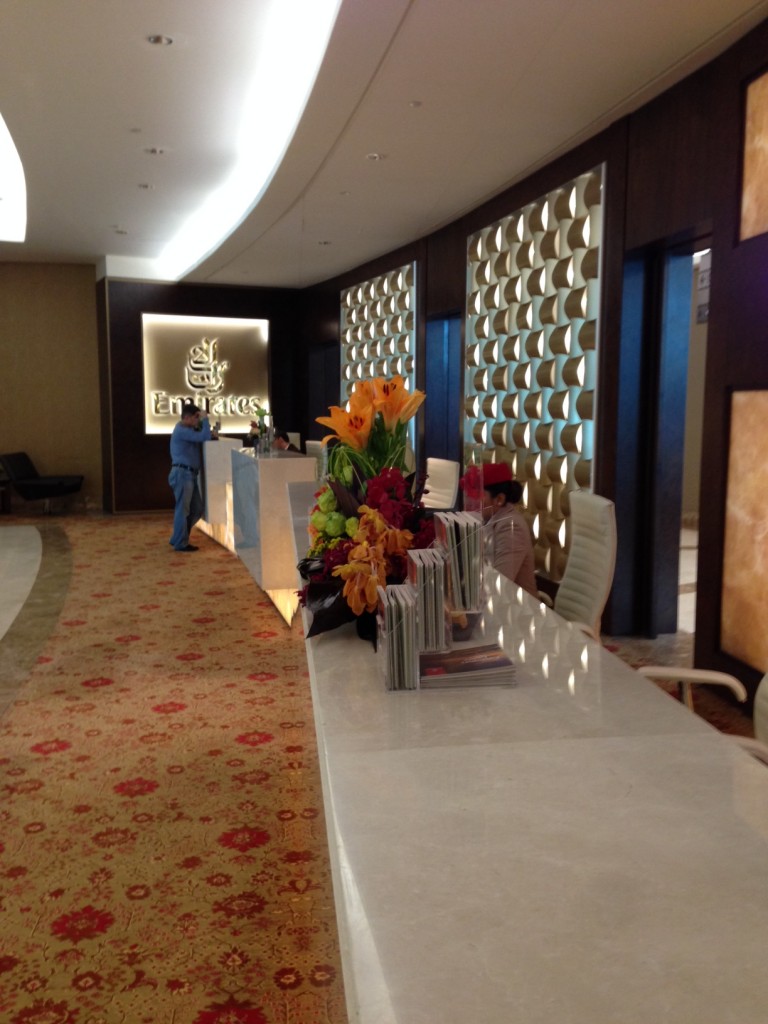 … and once I was let into the lounge, I discovered….. another airport inside.
Most airlines have a normal size business lounge, and a small first class lounge with careful and attentive service designed for the select few. But what do you do when your first class clientele is a ZOO of people because first is the new economy? Well, you just take over half of the airport and a few floors and do one for business and one for first.
There are ENDLESS corridors (and 25 gates, many of which service A380s). This lounge is basically the size of the international wing of the Montreal airport. There are duty-free shops, perfume stores, a very nice watch store, a quiet room, kids area, a wine cellar with wines for sale and FINALLY, I got to the sit down restaurant. It has a FULL kitchen with a dozen chefs in it and a bajillion staff. They have a full menu you can order from; and even stuff off the menu: they didn't have eggs Benedict on the menu – but I asked and it was no problem. He also mixed me one of the best mimosas I've had in a while, but maybe it's because it's mixed with Moet & Chandon and Cointreau. I think one of the worst insults you can throw at an Emirati is that they aren't THE (XYZ)est at something. I mean seriously. Even the bread basket is completely impossible to fully consume: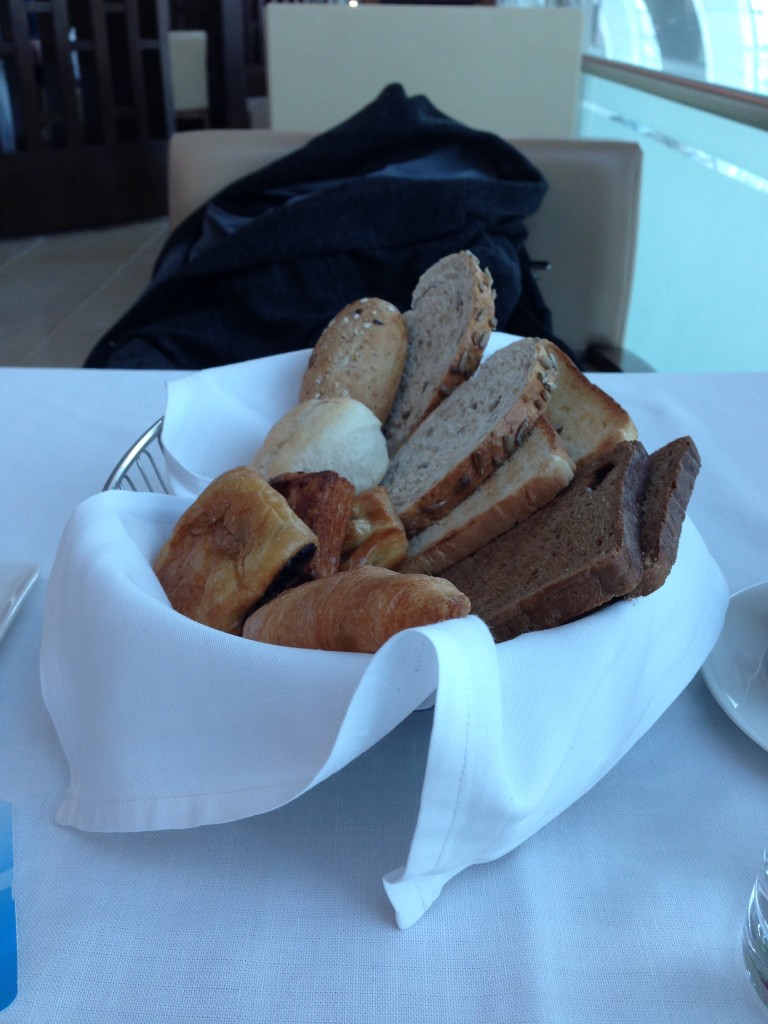 In the meantime, my eggs Benedict arrived: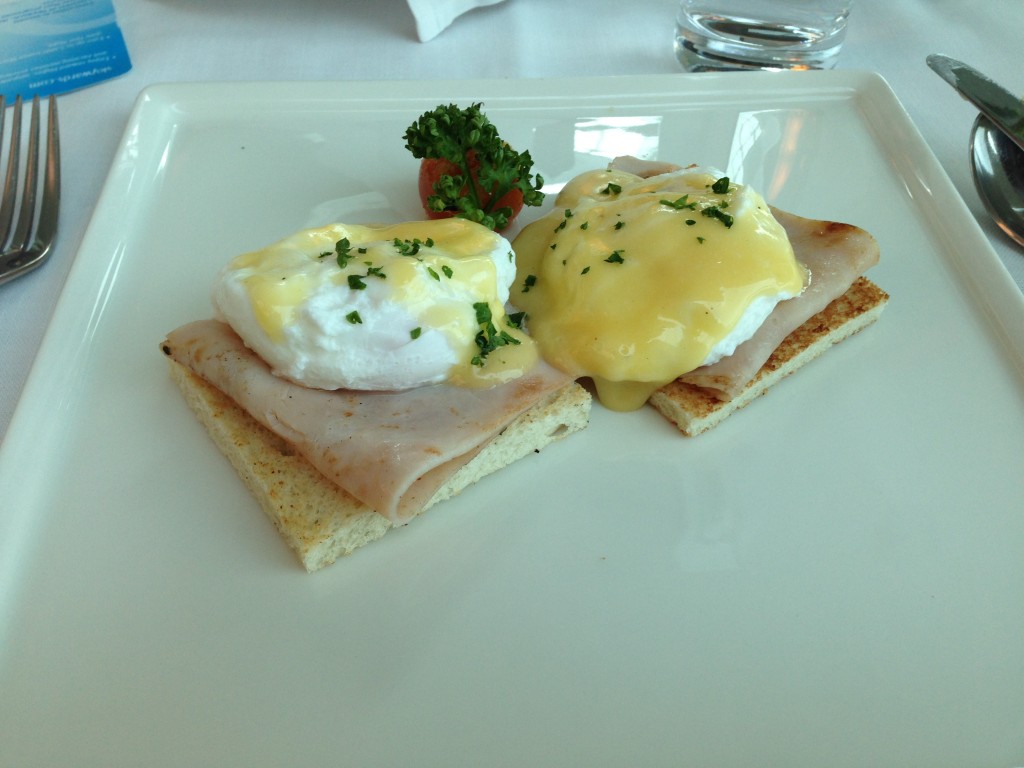 Just in case I wasn't satisfied with my à la carte dining (breakfasting), there was a full buffet available, as well:
It was almost time to head to my flight, so I was faced with this sign that reminded me that I'm in an airport inside another airport.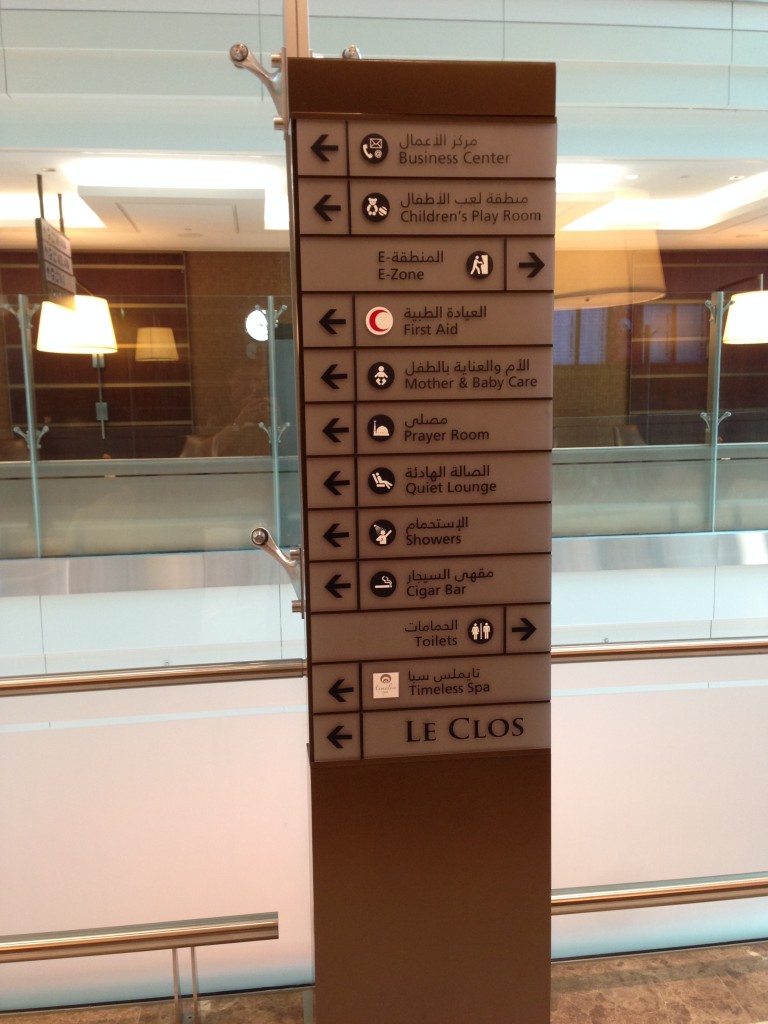 This reminded me that there was also a cigar bar that I missed, d'oh.
Instead, I decided to look at the departure board, which basically listed every city in the world.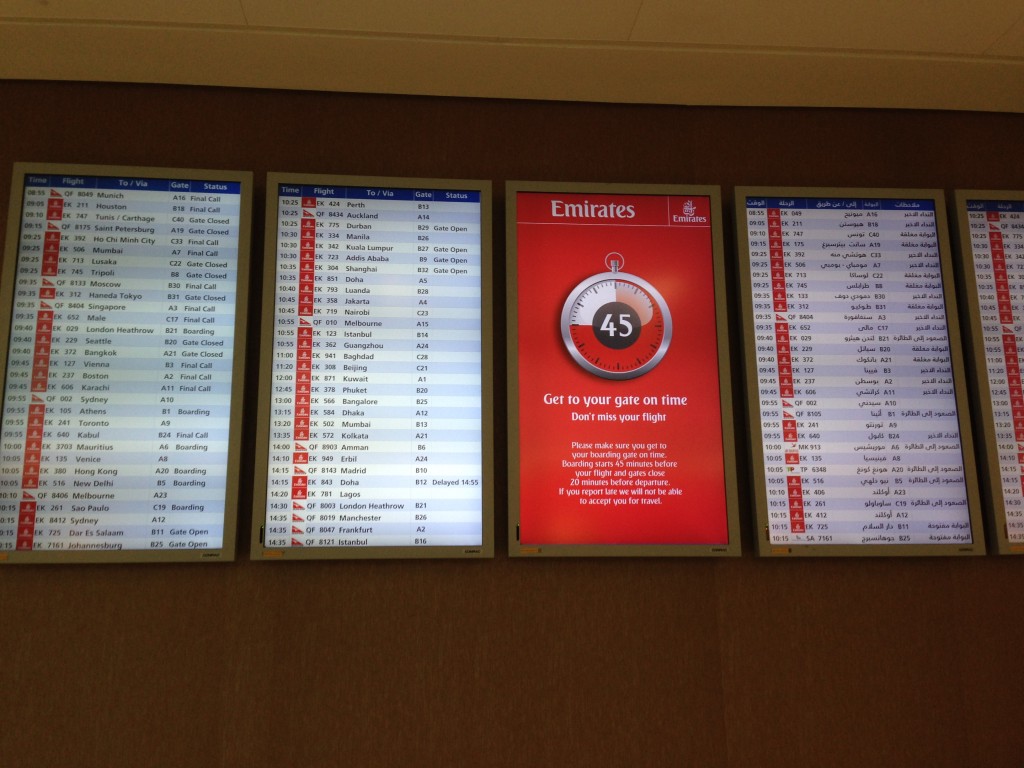 On my way to the gate, I came across another restaurant which seemed to be a little bit smaller than the last one, but still featured a full buffet and so on.
When I finally got to the gate (you board from the lounge, just like in JFK, i.e. this was only for first class boarding), there was a queue AGAIN.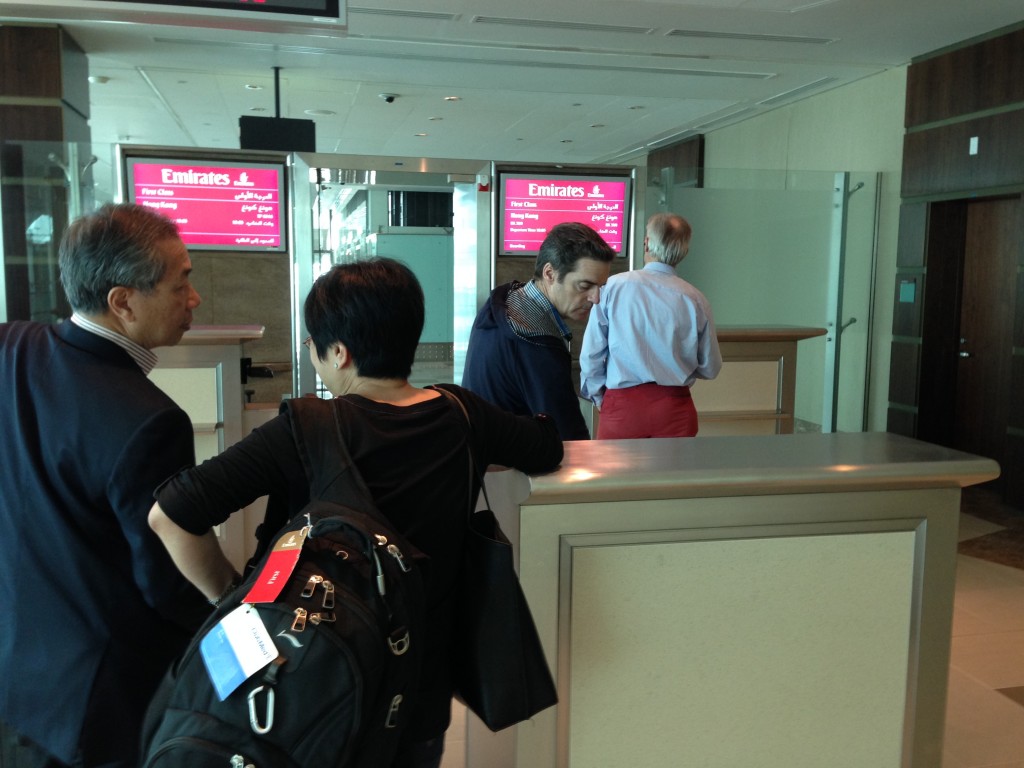 Finally, after passing through the gates and going to the jetbridge, I saw what we'll be flying today; not that it was any particular surprise as I chose this route knowing that it is served by the A380, but still, always a pleasure!
Onboard, it was much of the same as before.
Decoration on the staircase leading downstairs: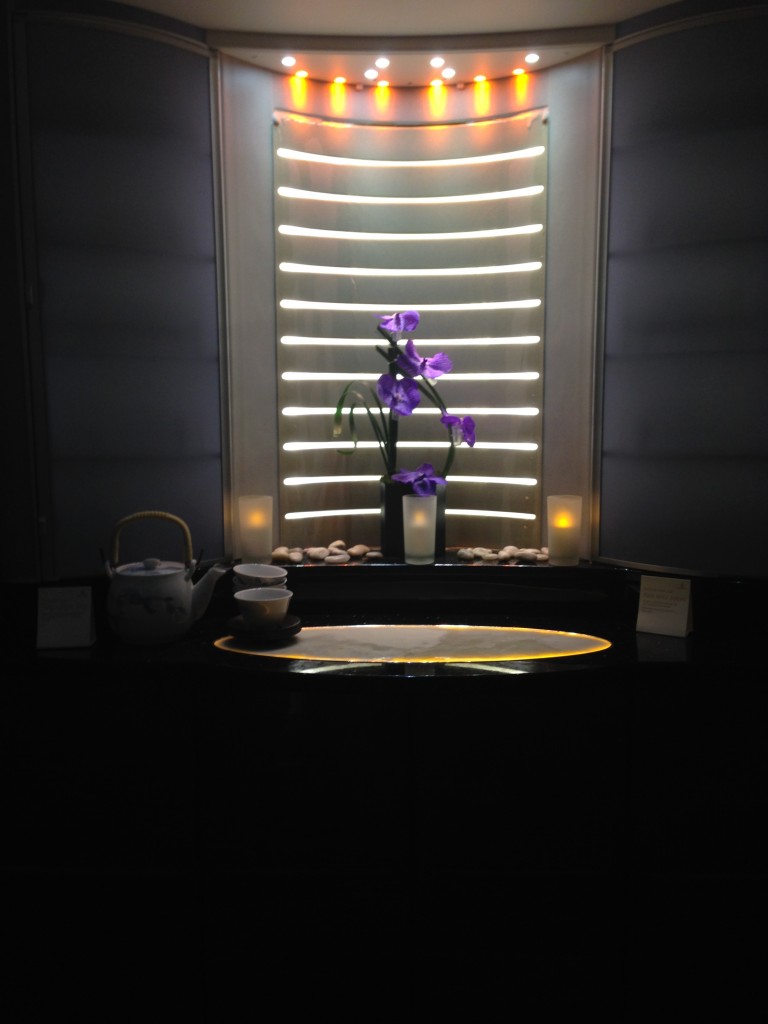 That which is called "back of the bus" on most planes, but is "bottom of the bus" here:
Business class, for the moderately successful middle managers among us: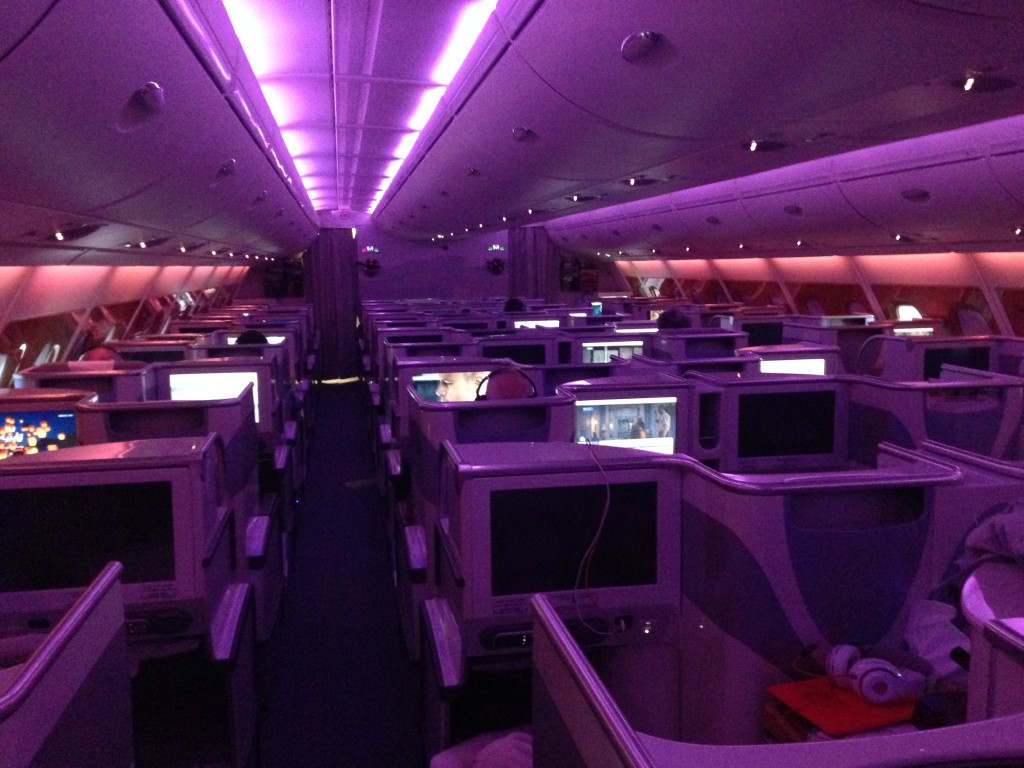 The lounge: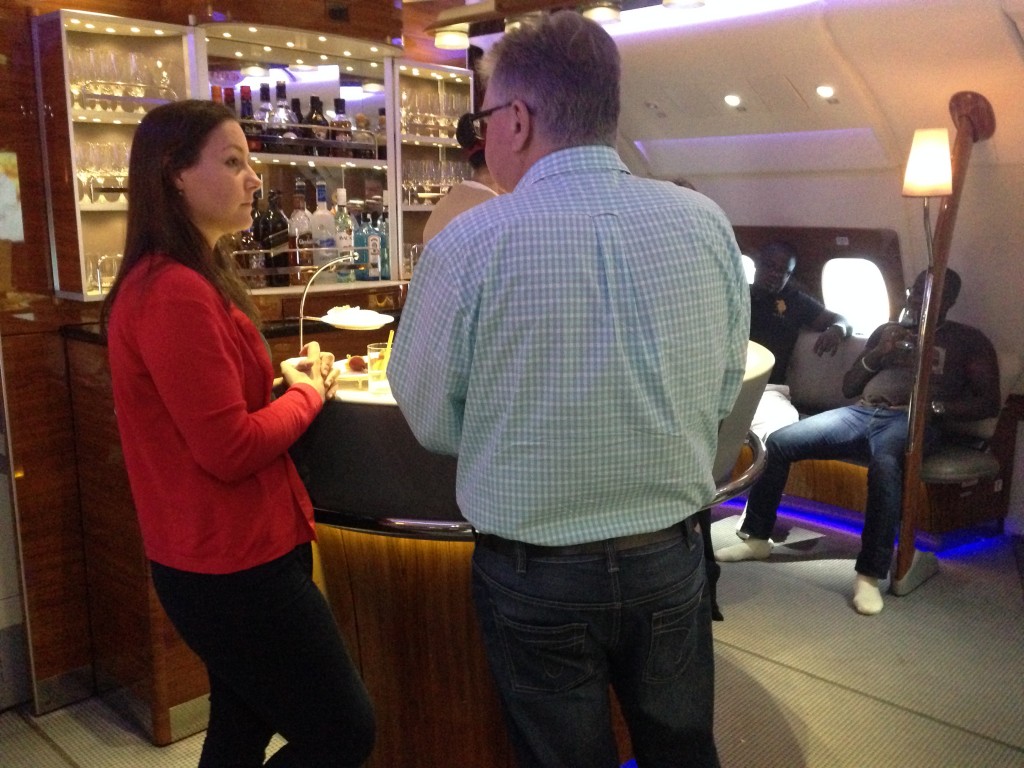 Funny story happened in the lounge. I really wanted to test their claim that your premium drinks follow you there (since it's the same lounge for first and business class passengers). So on arriving there, I asked for a Johnnie Walker Blue Label. I was told that only Black Label was available. I sipped on some annoying Heineken, and went back to the front, where I mentioned to the head steward that I couldn't get a Blue Label, despite really wanting one. He jumped up and said, not to worry! Head right back to the lounge, you have another 15 minutes or so before your steak is ready, I will have the Blue Label follow you right there! So I headed back, and within seconds another flight attendant quietly showed up, handed a bottle to the bartender and gave her hushed instructions. Next thing you know, I had a far friendlier bartender than before hand me a glass of Blue Label, and another passenger comment, "hmm, someone has taste in whiskey!" Was amused.
By then, my steak was ready, so I headed back to my seat to eat it. Quite little time was remaining on the flight – and I still had a shower to catch!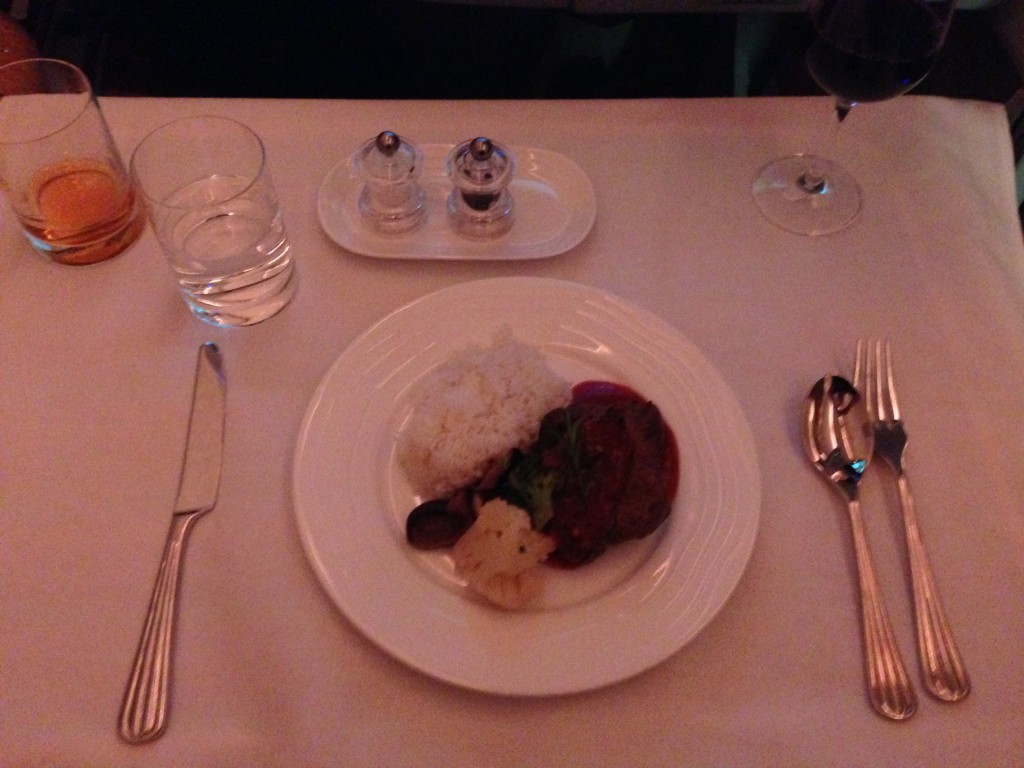 The steak was absolutely nothing special  it was decent, but nothing out of this world (I guess I've yet to have a great steak on any plane in any class of service, so nothing new here).
The shower was completely unnecessary, since this was a day flight and I was shuttling between two hotels, but hey, there was a shower on the flight, so who WOULDN'T take it, right? 🙂
I realised I didn't comment on the amenity kit from the last flight, so here's a few notes on the Emirates amenity kit. Somewhat comically, as everything else with Emirates, everything is a bit of a up and down of emotion (like the showers…. that weren't working, or the caviar…….. that wasn't great at all, etc.). The amenity kits are provided by Bvlgari. It's always exciting to open one of the kits… untold wonders await. Will it be the opulent Hermès toiletry that Thai has? Or the makers of USB drives, bathtubs, perfume, pens and chairs, Porsche Design, that Lufthansa serves up in its new First?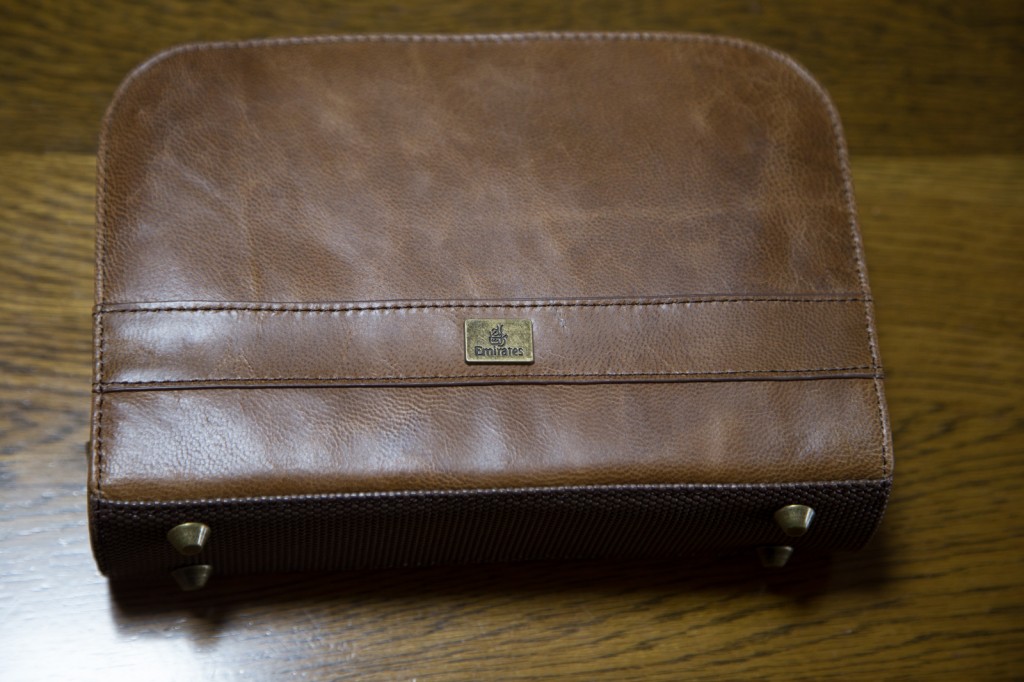 The kit itself is made of leather, and is huge. Impressive – as all first impressions on Emirates are, so far. The first thing to come out is Bvlgari cologne that is apparently unisex (though the amenity kit is technically men's). We're doing fine.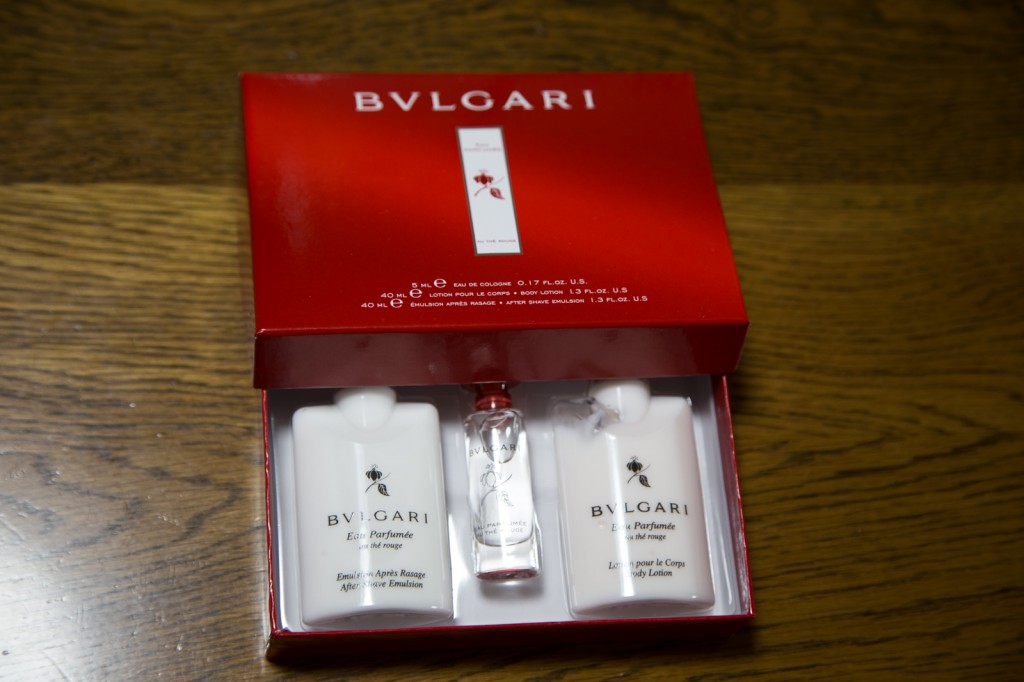 The second thing to come out is a Gillette shaving cream. I can live with this – after all, how many companies make upscale aftershave……… right? Right. Let's go with that theory.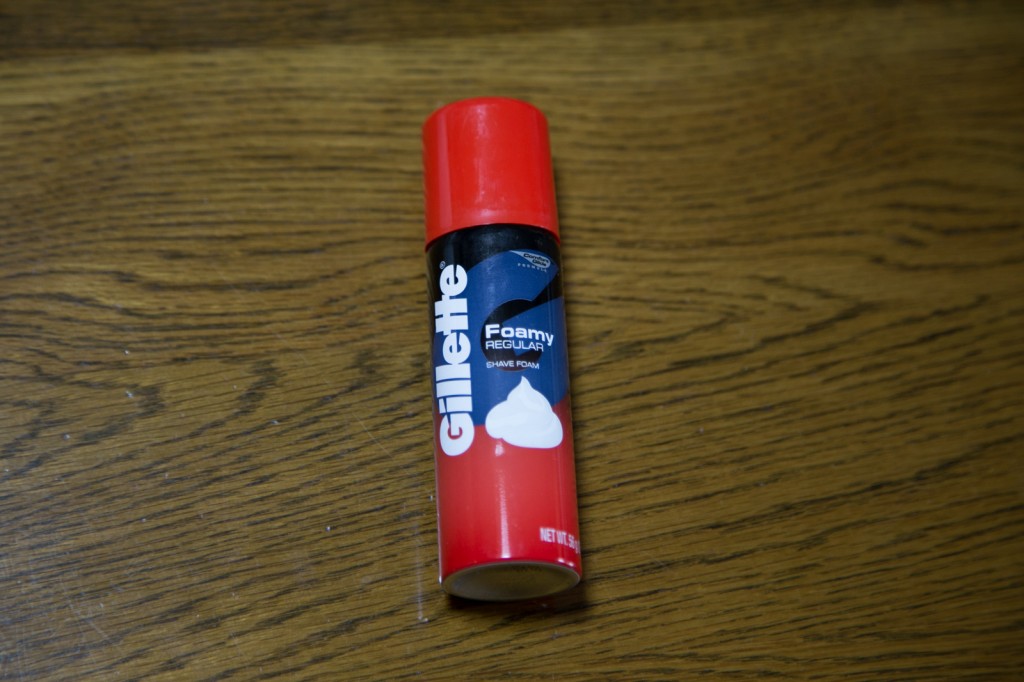 The next thing to come out is ………. Axe deodorant.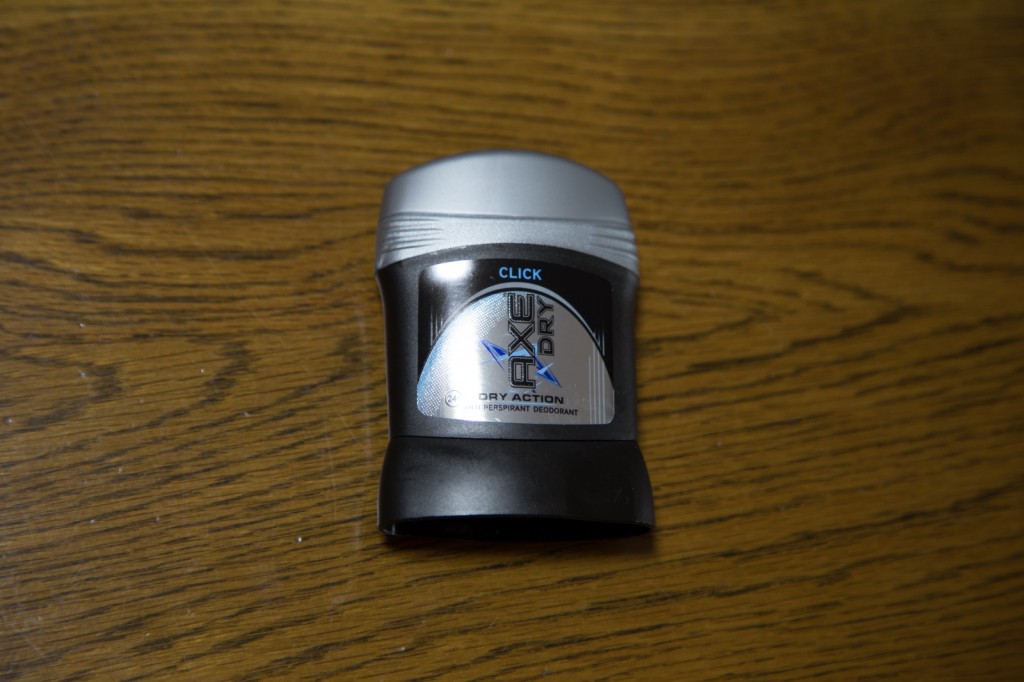 Axe.
The stuff that makes prepubescent boys horny because it has been ingrained into them that Axe scores chicks.
Axe, in one of the world's supposedly most luxurious airlines.
This turns me off so much that I pack it all up and decide to throw it on eBay the moment I get a chance. It also speaks volumes of the lack of class I have been insinuating thus far, but I guess class can't be bought with money.
Arrival to HK was painless, although the lack of priority lanes at immigraton and a complete lack of ground service still pains me greatly (and I forgot to apply for my e-channel immigration pre-authorisation. Oh well, next time), though on the upside, a Mercedes limo was waiting for me, which saved me $50 to get into the city. Score!
Next up, a day in Macau – the ex-Portuguese playland of the rich Chinese mainlanders who take betting far too seriously, where casinos rule, and where casinos are sandwiched between high-end luxury shops where people buy goods, then go to the casinos to blow money, and then go to the pawnshops right behind to pawn it away… and where a weird mix of European and Chinese culture prevails!