I arrived to Hong Kong late at night, and checked into the Intercontinental Grand Stanford. A very nice hotel that has extremely reasonable rates compared to the main Intercontinental on the harbour, and with some of the rooms, it even has somewhat of a harbour view! As mentioned in my NYC post, I had a limo scheduled from the Hong Kong airport to the Grand Stanford – a surprise to me, and a surprise to the limo driver (apparently) since he suggested I book it through the hotel, rather than the airline, from now on – since they "ceased service". All I knew is it was back, and it was free, and that's a wonderful deal since it basically adds 50 bucks to ticket value!
Checking in, I got the standard Royal Ambassador benefits, which included free minibar and a suite upgrade – but unfortunately, no club (and as a friend of mine later informed me, I should have negotiated for no suite access and club instead, since the Grand Stanford apparently has one of the best clubs in the Intercontinental chain – oops). The room was actually very nice, though being alone, it hardly made any difference; though to be fair, since I was meeting my friend, we were likely to have much better breakfast than the hotel would offer (and we did – more on that shortly).
Slightly obstructed harbour view (it was late, so most buildings' lights are turned off):
Hallway of the hotel: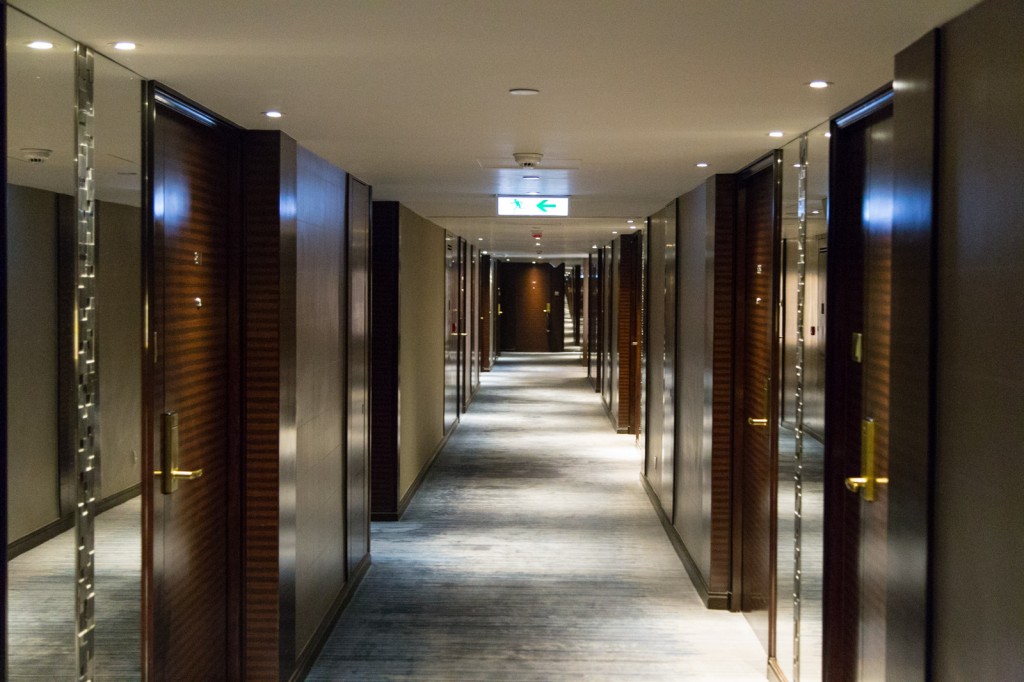 Lobby of the hotel:
I met my friend in the morning, and we went for a walk. I can never get enough of Hong Kong, especially the juxtaposition of the decrepit old buildings on the new ones, so here's some random photography from the streets.
Eventually, we made our way to the ferry terminal on the HK side, and took a boat to Macau. The terminal was somewhat of a circus, but apparently nowhere nearly as much as the Kowloon side would've been following the arrival of a few boats from China.
Parting shot of the HK skyline: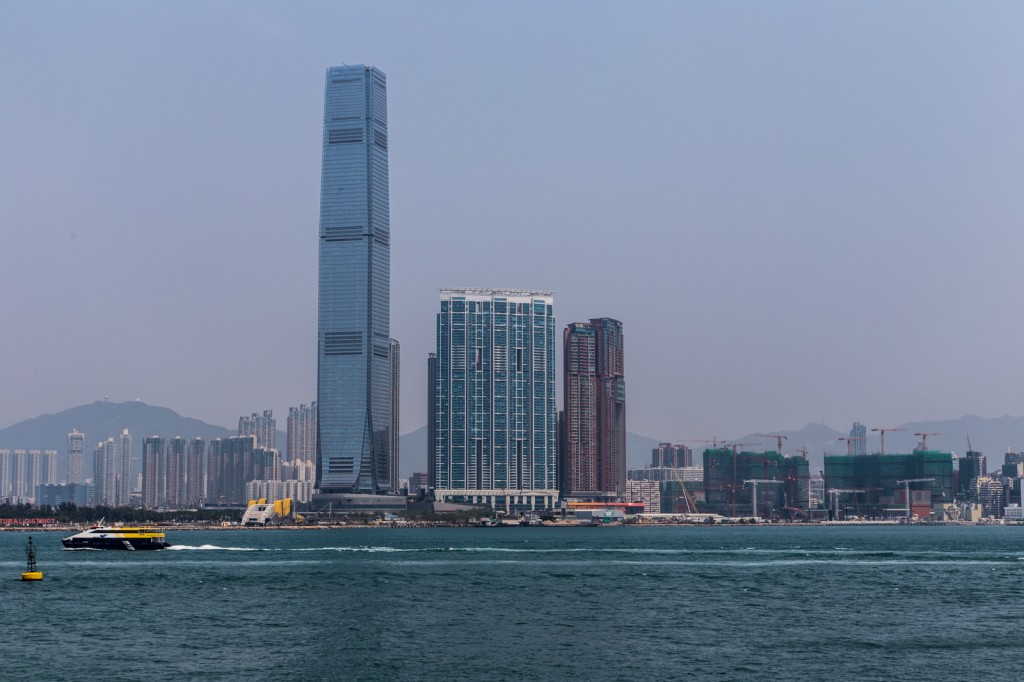 Saw a really amusing thing on the boat to Macau. Tried to get the best shot of it; failed miserably, this was the best I could do: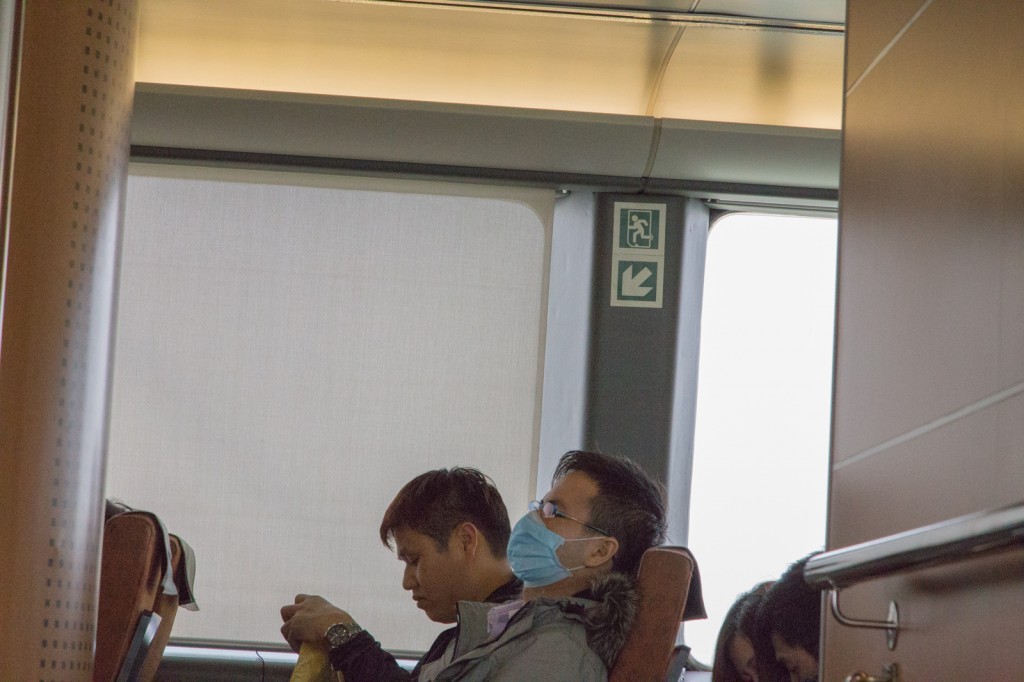 Context: the man in the row across suddenly took out an envelope which contained literally stacks of cash. He put them on the seat tray in front of him, and started taking pictures of them. As my friend commented, "he knows this will be the last he will ever see of that money."
Arriving to Macau, despite knowing it's an ex-Portuguese colony, it was still peculiar to see Chinese and Portuguese on the same sign: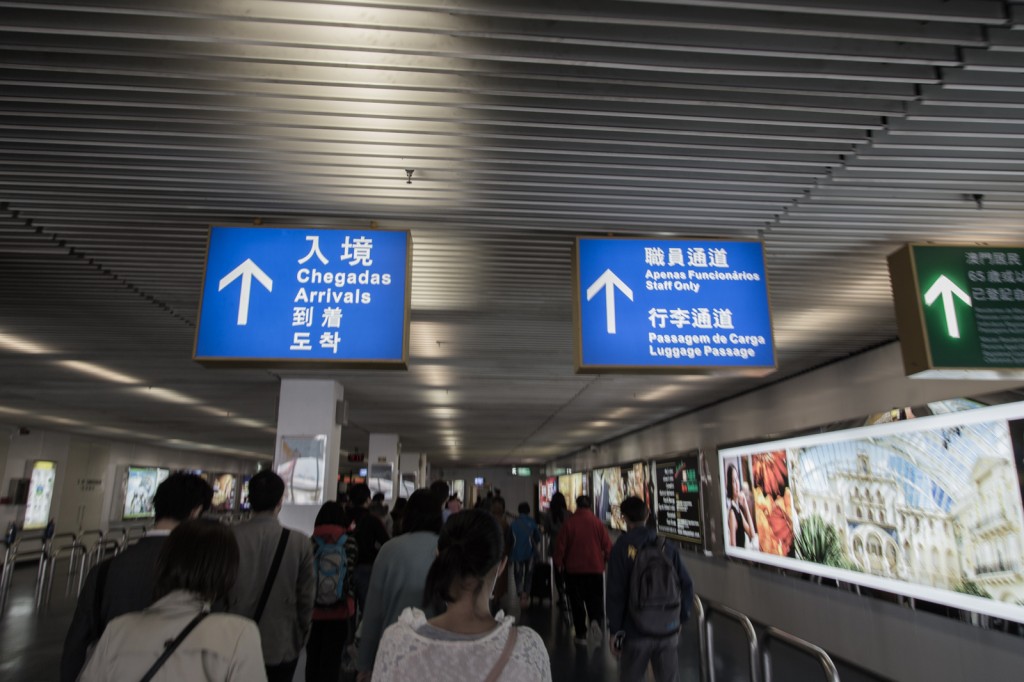 Exiting to the waiting area, my friend picked up a tour guide who  would take us around Macau for a few hours.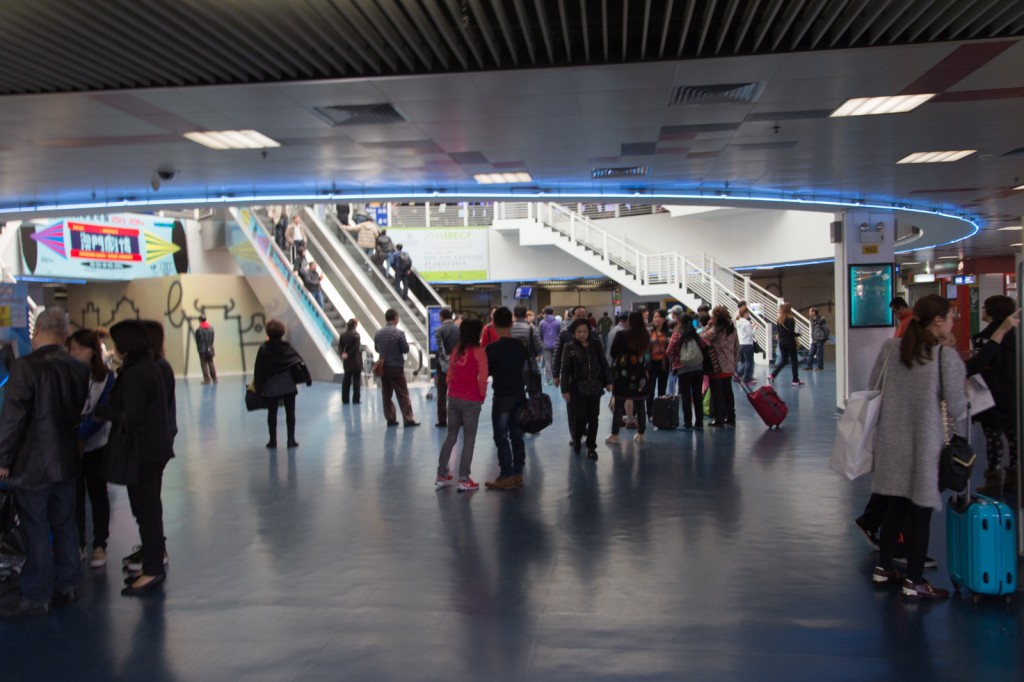 Our first stop was Fisherman's Wharf; an artificially pseudo-European waterfront development initially aimed at cultivating a sort-of European array of shops and cafes, and in reality culminating in a rustic (=according to my friend, "badly built") look that was literally infested with wedding photo studios and … that's about all. The overall look definitely accommodated the aspiring couple that would avoid having to travel to Rome or somewhere else similarly "antique":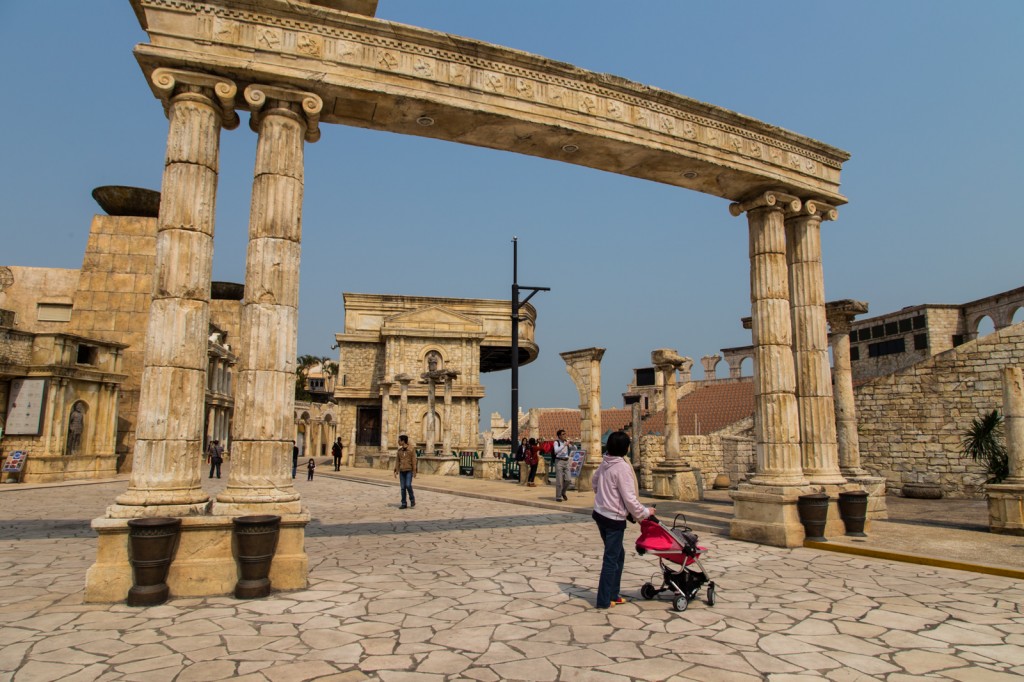 Enamoured couples were to be seen here and there with hordes of photographers in tow: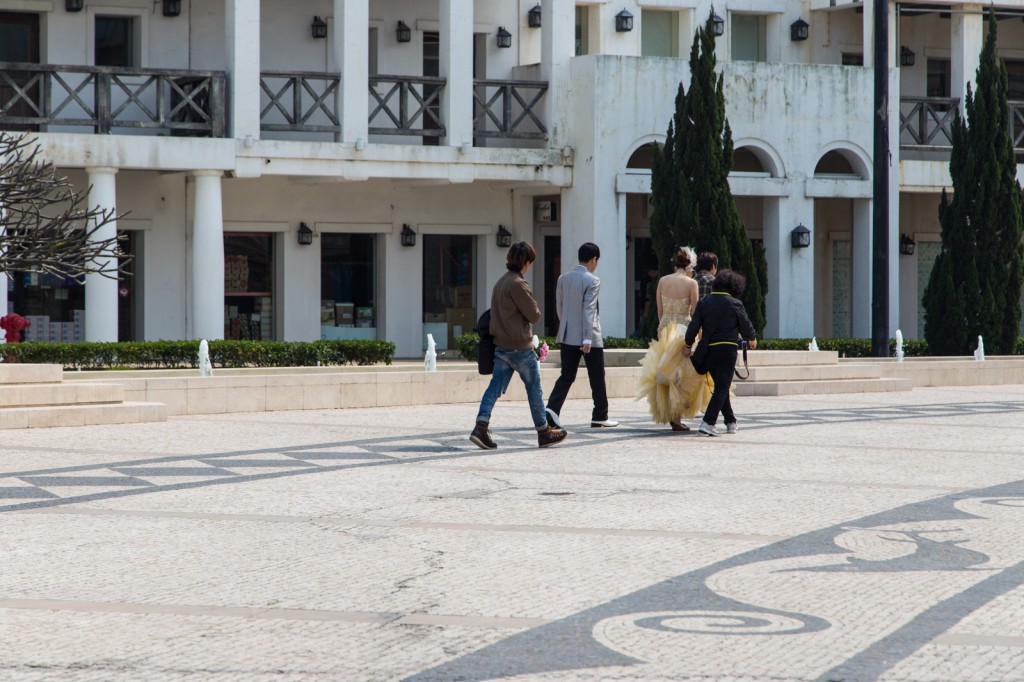 Of course, for those not entirely appreciative of Roman ruins, far more modern settings were available, as well: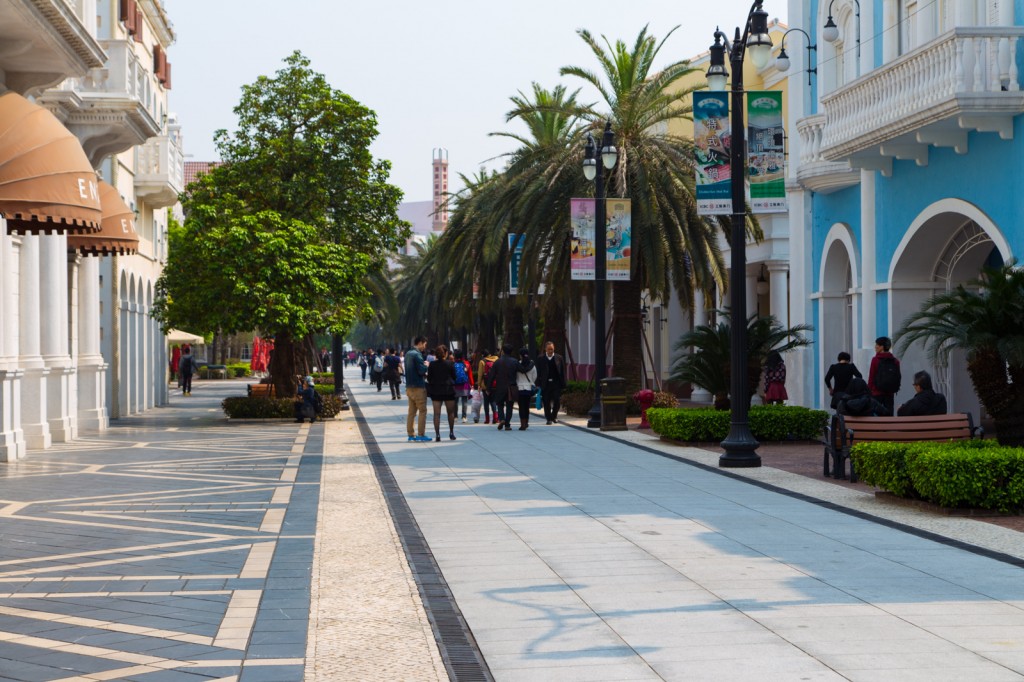 … with fountains! (and cracked pavement)..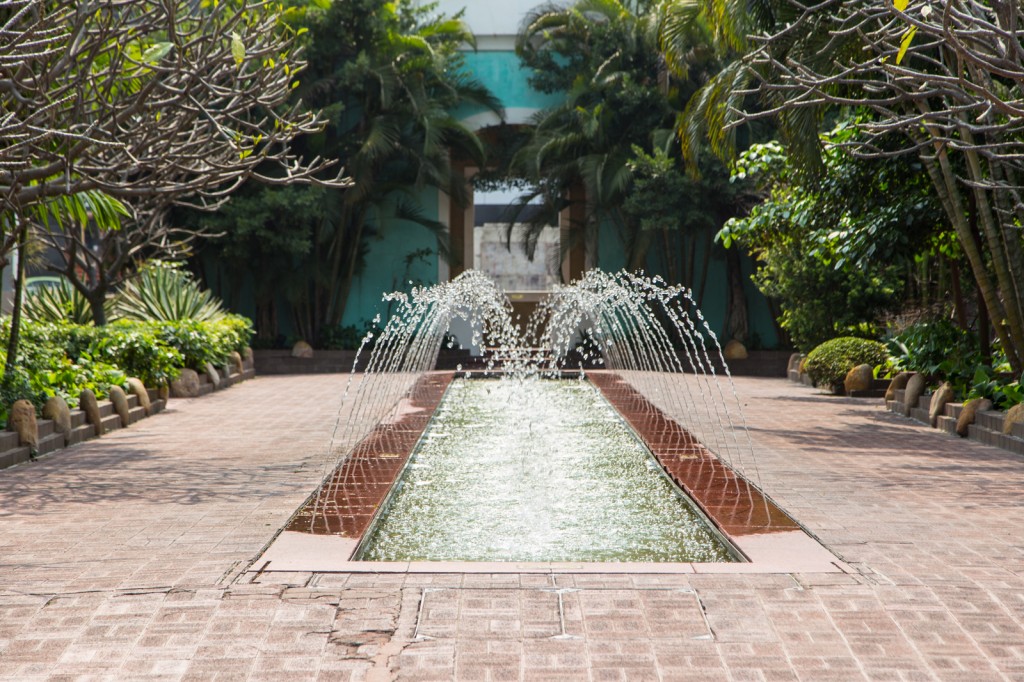 … pseudo-Germanic building façades. NB: we actually went into one of the stores peddlings its wares out of one of those buildings, and were somewhat unsurprised to learn that behind the second and upper floors is actually……………….. absolutely nothing. No offices, no floors even. Inside the stores were just really, really, really high ceilings.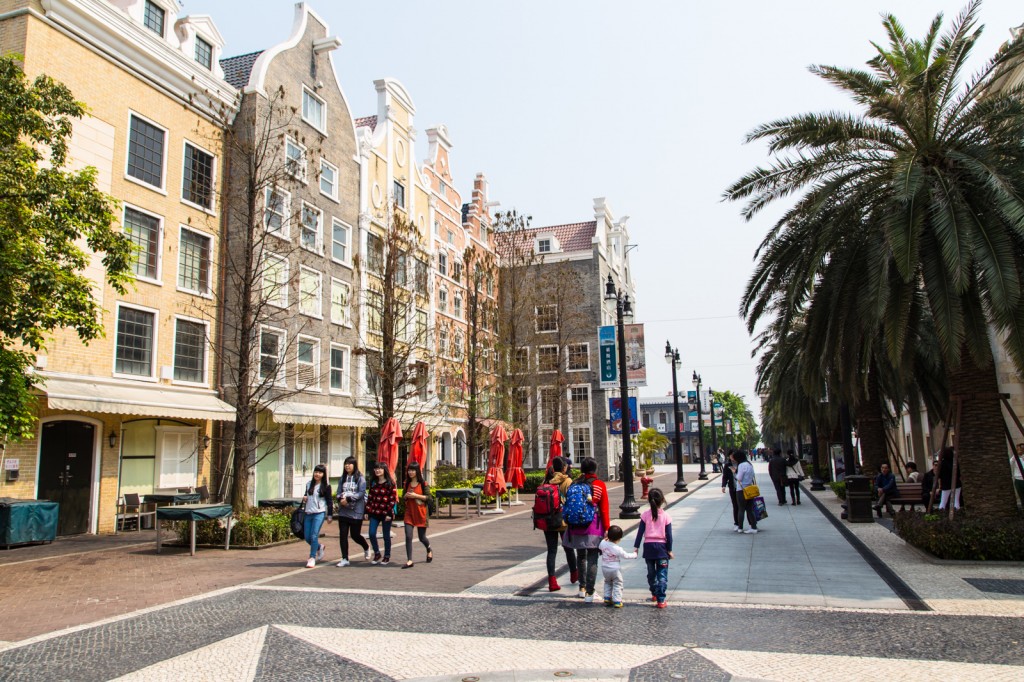 … and just outright weirdness, with Roman ruins on the right and full-glass modern on the left.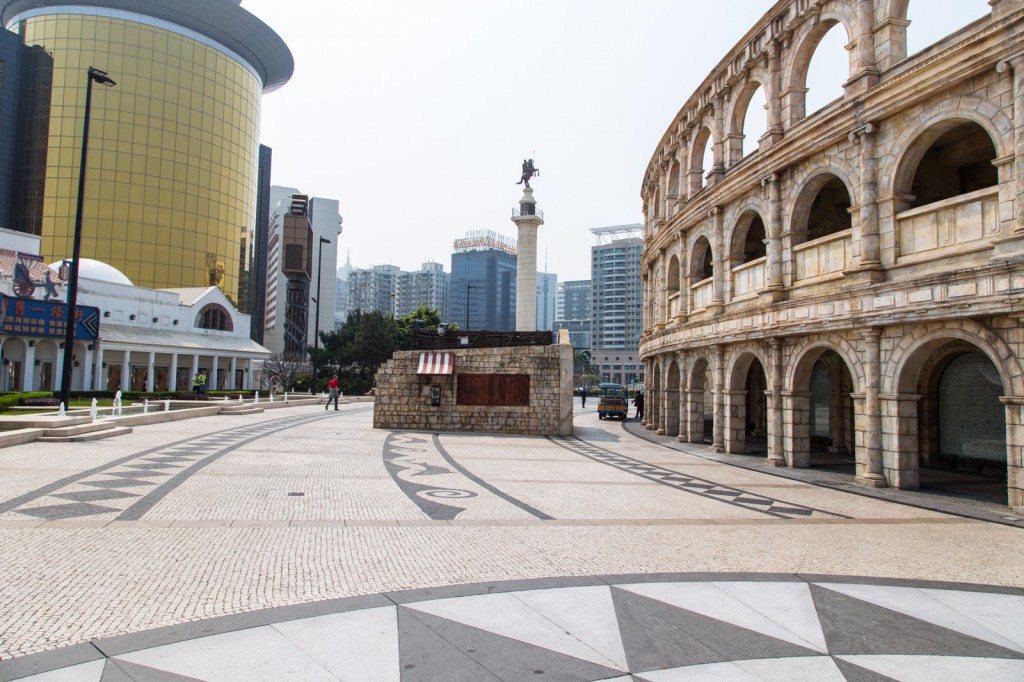 Wedding photo agencies abound (no, I don't know why it's called "It's Skin")…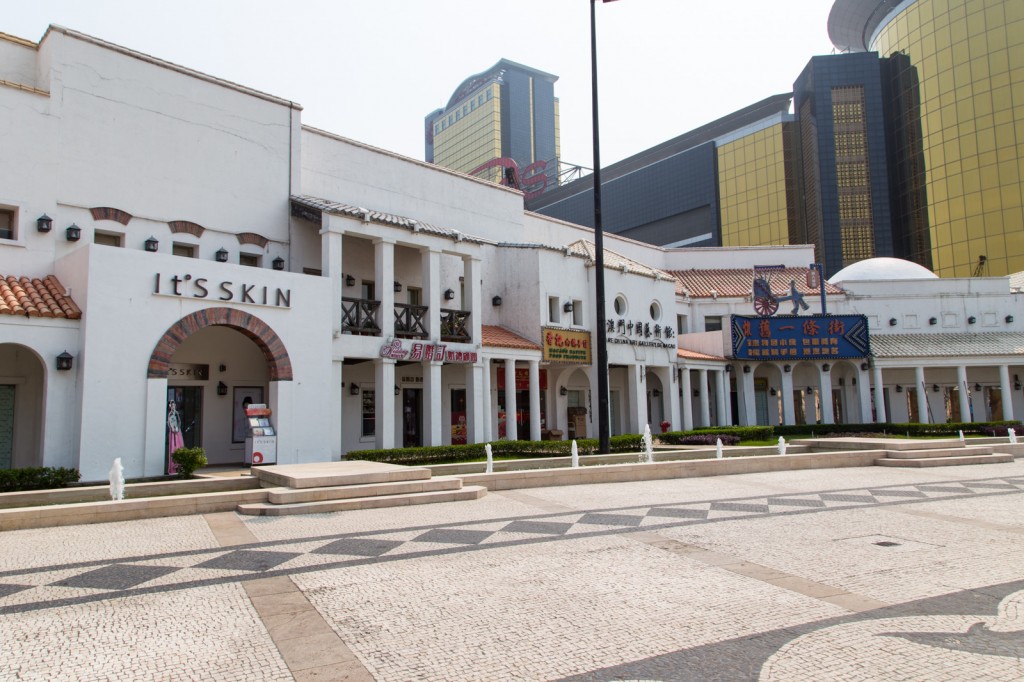 … and hot Bentleys, of course.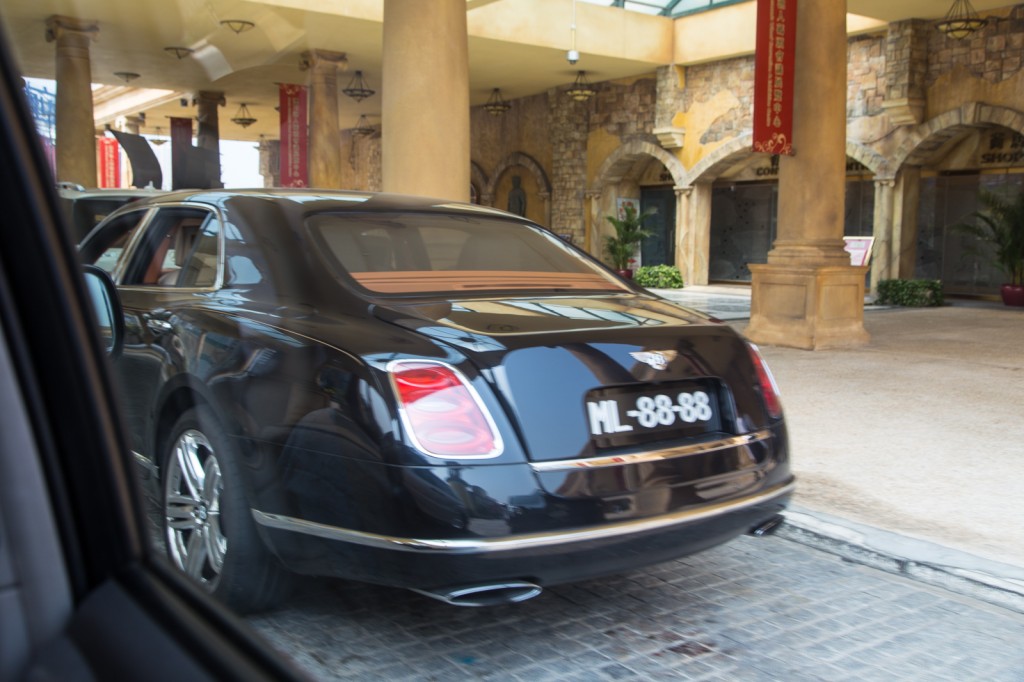 After taking in a healthy dose of nouveau-riche urban planning (to be fair, this was nothing like the Chinese fake entire cities and villages), we went off to some of the more old-fashioned Macau.
First stop was the Statue of Kun Iam (the Goddess of Mercy). Built in celebration of the handover of the territory in 1999 to China, it is, apparently, one of the only Goddess of Mercy statues that do not face the sea.
I took no pictures of the museum inside, but it mostly showed artefacts from the building of the statue, as well as the gifts that China gave Macau upon the handover.
We continued onwards. One must not forget that Macau is known for its casinos more so than its bronze statues, so mandatory shots of the more egregiously humongous ones (we'll get back to them later, these are driveby shots):
MGM: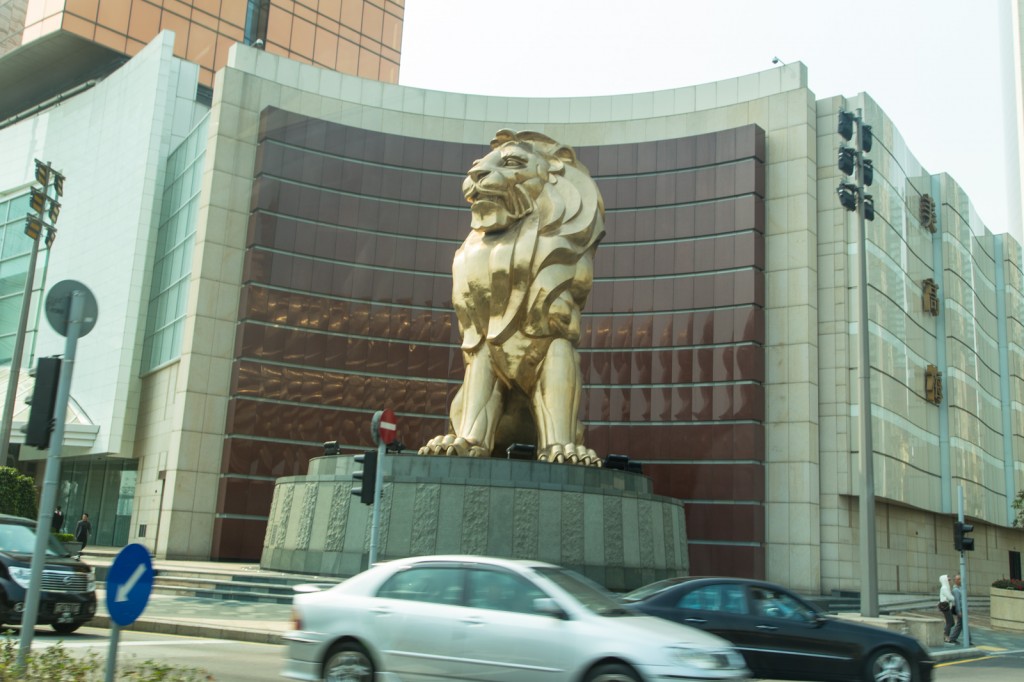 Grand Lisboa, Wynn, and the old Lisboa: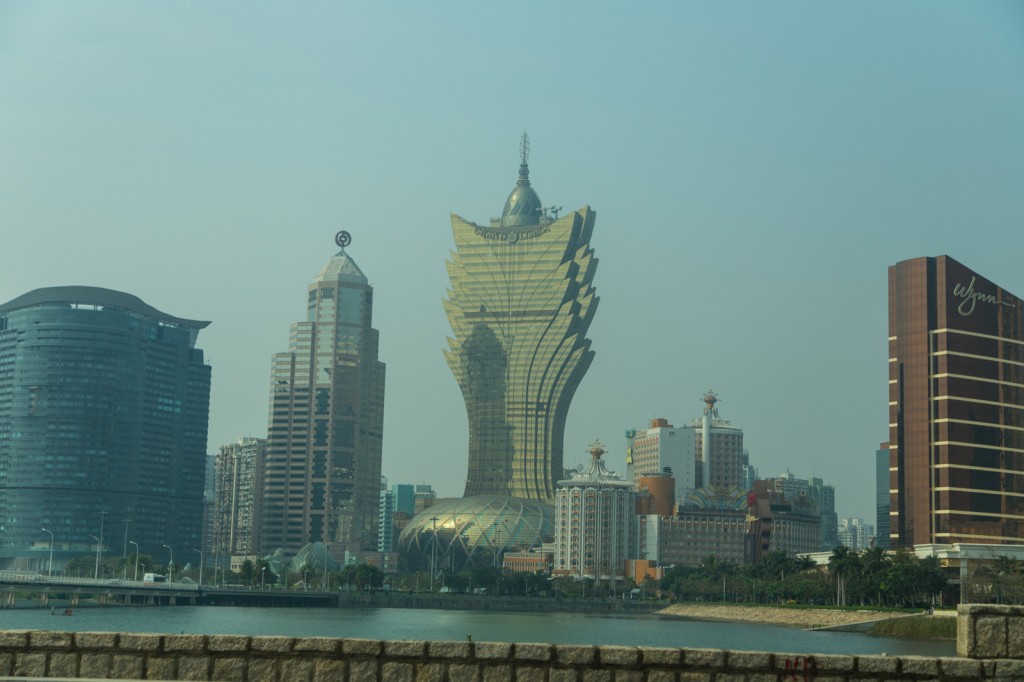 New, modern apartment blocks…
… and what's essentially favelas – shantytowns. Of course, to be fair, Macau shantytowns are a pretty far cry from Sao Paolo ones, and these buildings are likely worth a fortune, since they're right in the centre of the tiny territory.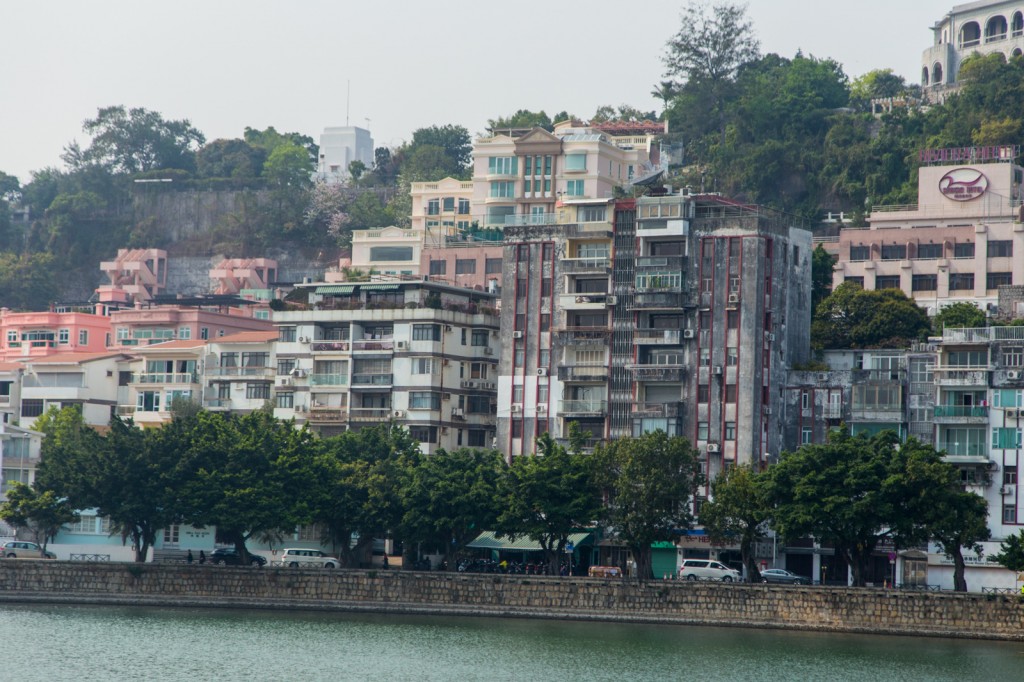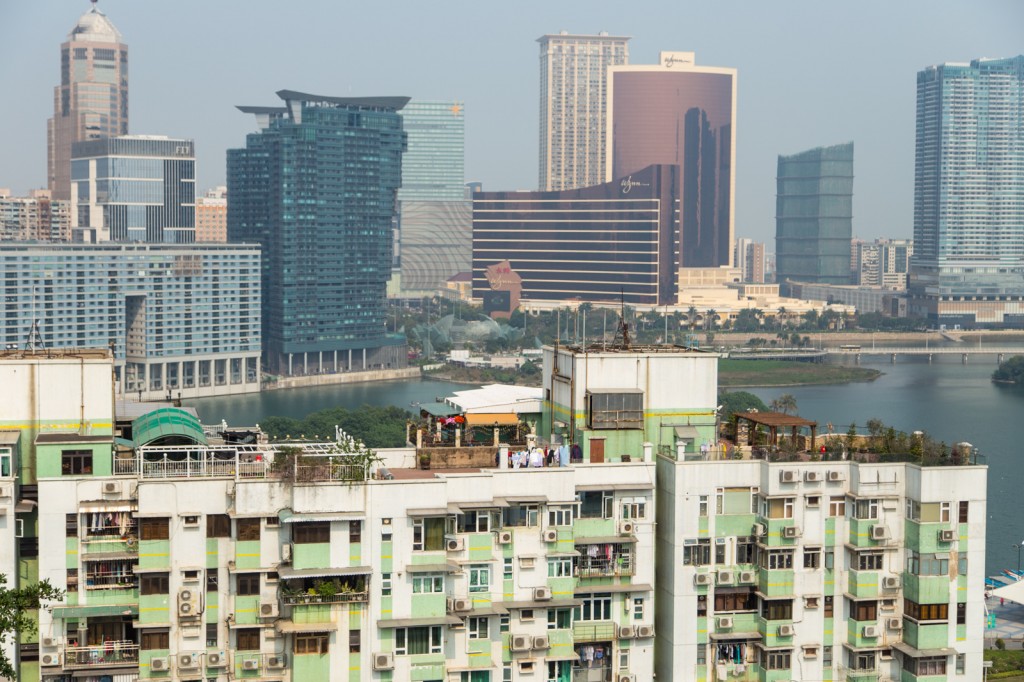 Stopped by to take a picture of the Macau Tower, but honestly, after Burj Khalifa, I was a bit tower-saturated. Bungee jumping from the top seemed like a good idea, though, but I didn't have time – maybe if we stayed an extra day.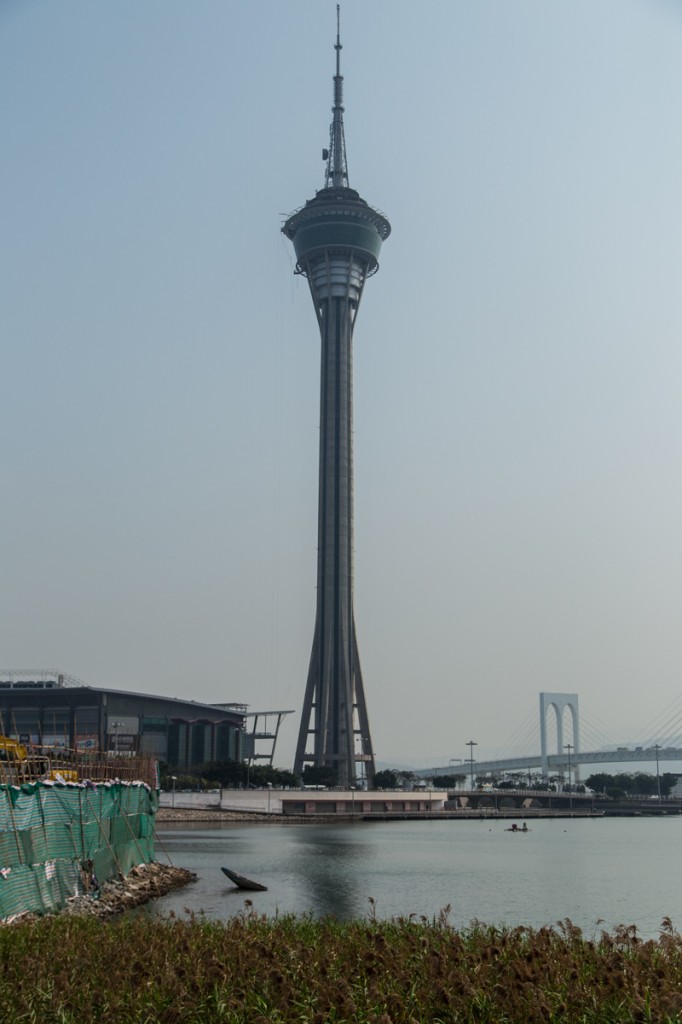 We continued to the Our Lady of Penha church. Seeing as it was a Saturday, weddings were still numerous.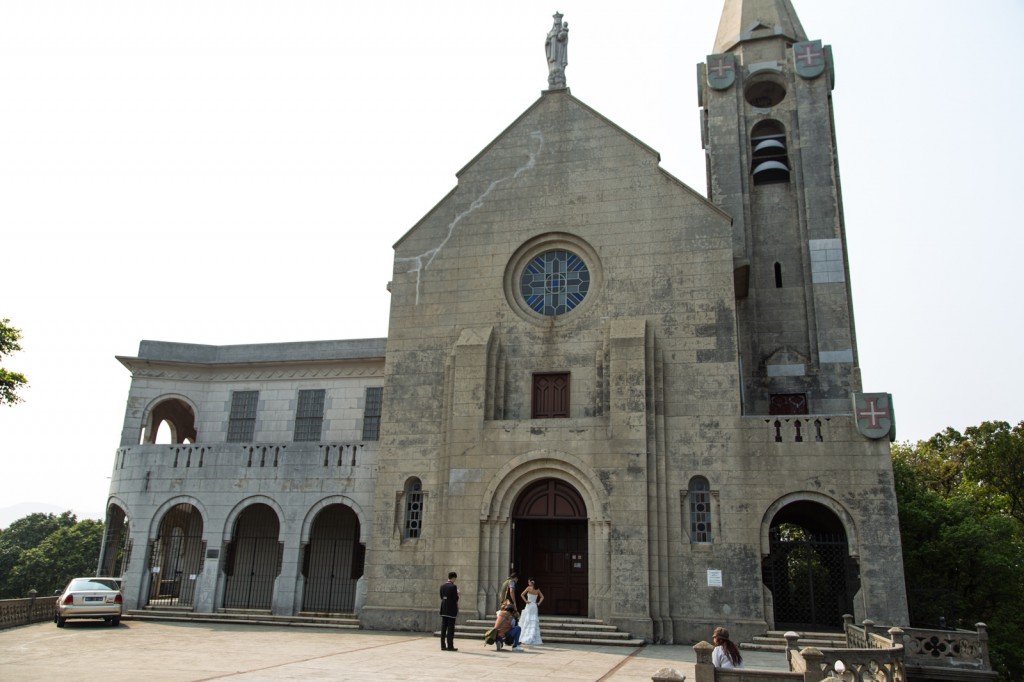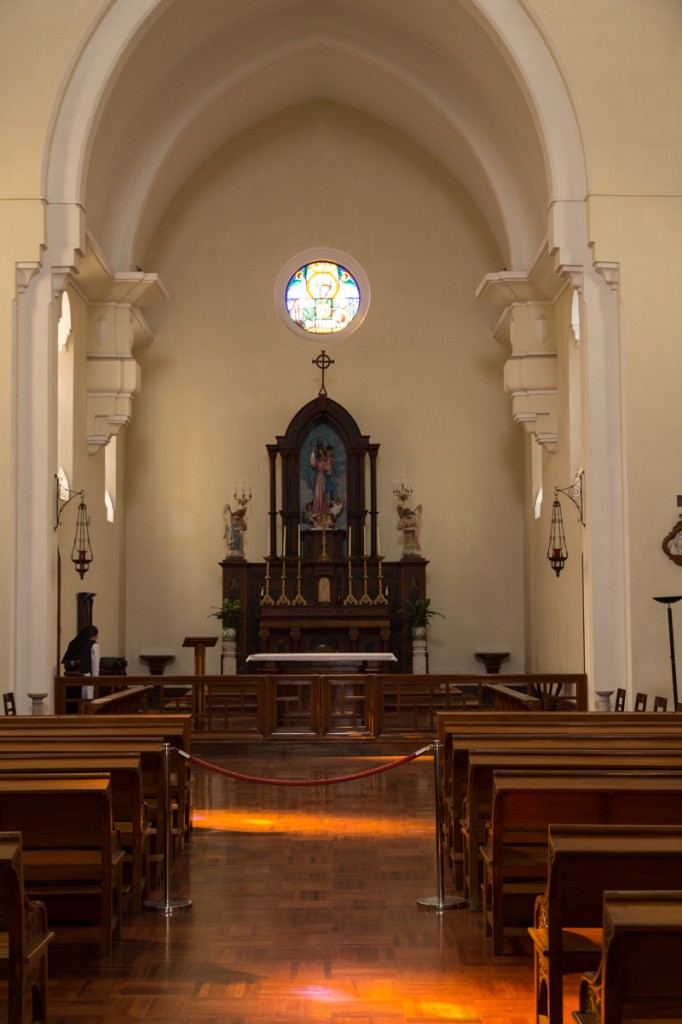 Passed by these gates on the way down from the church (and it's located quite a ways on on the hill, so most of the houses in the neighbourhood are rather nice, to put it obliquely). Behind the gate was a Bentley and a few Mercedeses.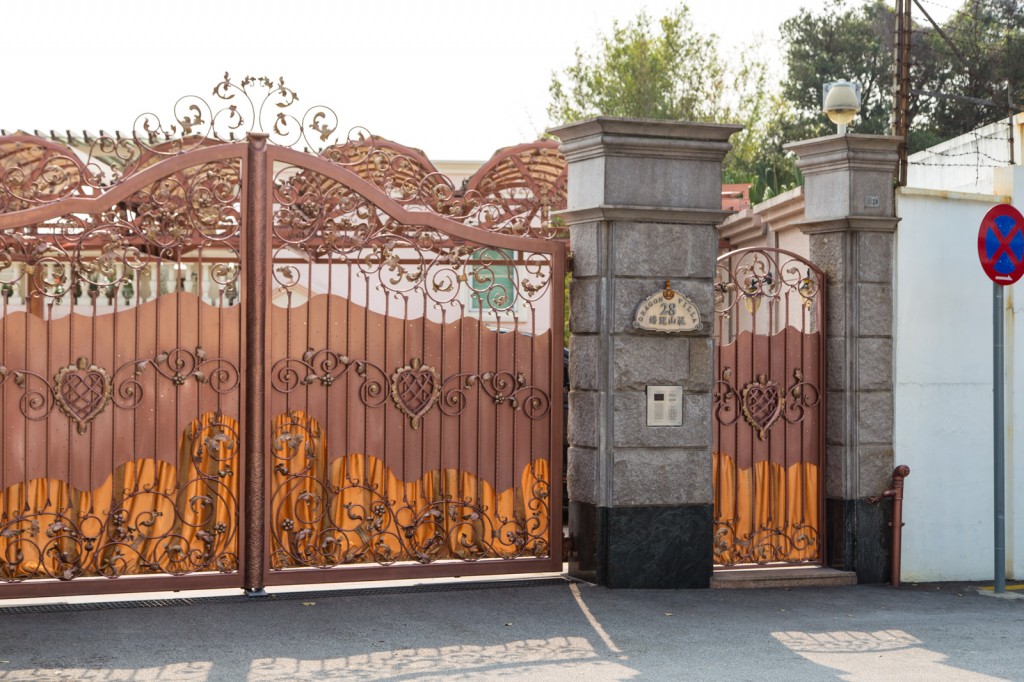 We then went to the old city centre, where there was a complete flood of (mostly mainlander) tourists.
The suitcases are an interesting phenomenon: while most people would abhor touristing around with a suitcase, many mainland China tourists come to Macau and Hong Kong not so much to sight-see, but to buy either cheap or unavailable things, and ferry them back to China. This got so bad that Hong Kong instituted bans on certain products, such as baby milk powder following the milk poison scare in China, which briefly completely emptied Hong Kong baby formula stocks as hordes of mainlanders bought everything that was available and resold at a profit in China.
More old streets in the city centre – some with somewhat few people…
… and some with not quite so few.
Some happily making use of their awesome electronic gadgets…
… and some taking a well-deserved break from shopping for goods for resale.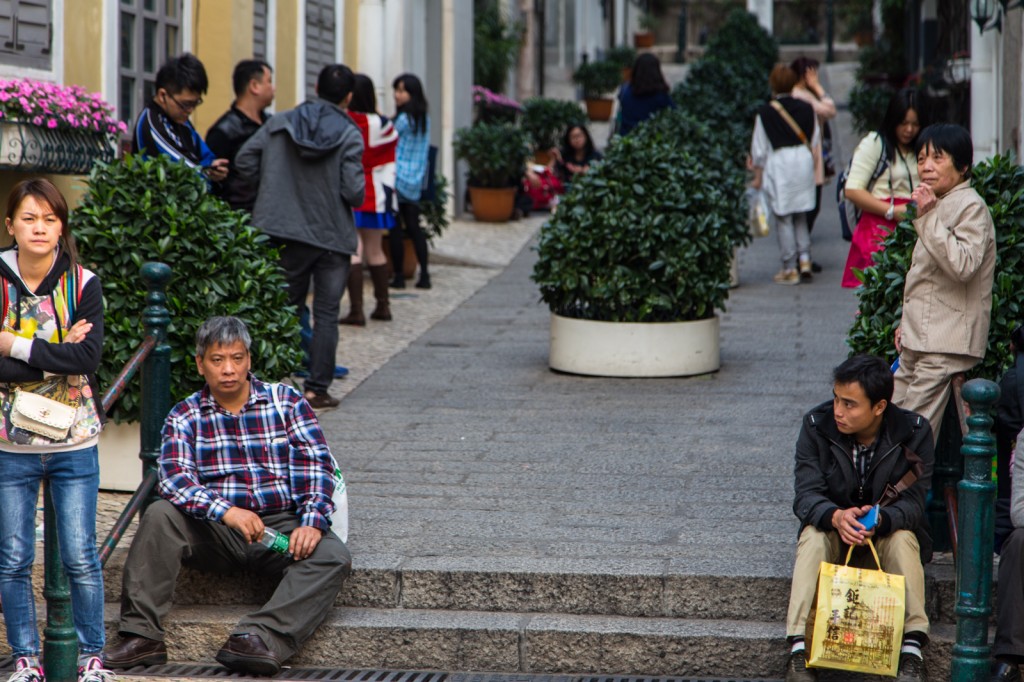 Amongst all the weddings, this one was quite conspicuous in the complete absence of Asian attendees: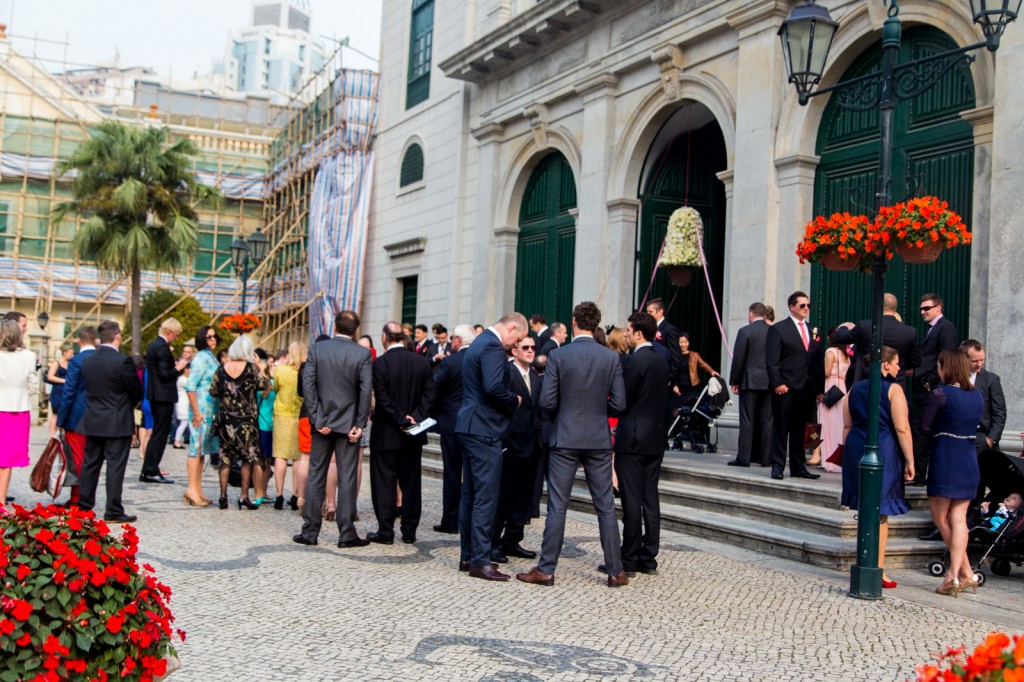 After we had about enough of exploring the old city centre with its hordes of shoppers, we went to another tourist trap (though, I suppose, deservedly so): the ruins of St Paul's. Ever since the church burned down in 1835, it has retained an almost-mythical status, and is featured on Macau currency and other symbols. Only the façade is left.
Rear view: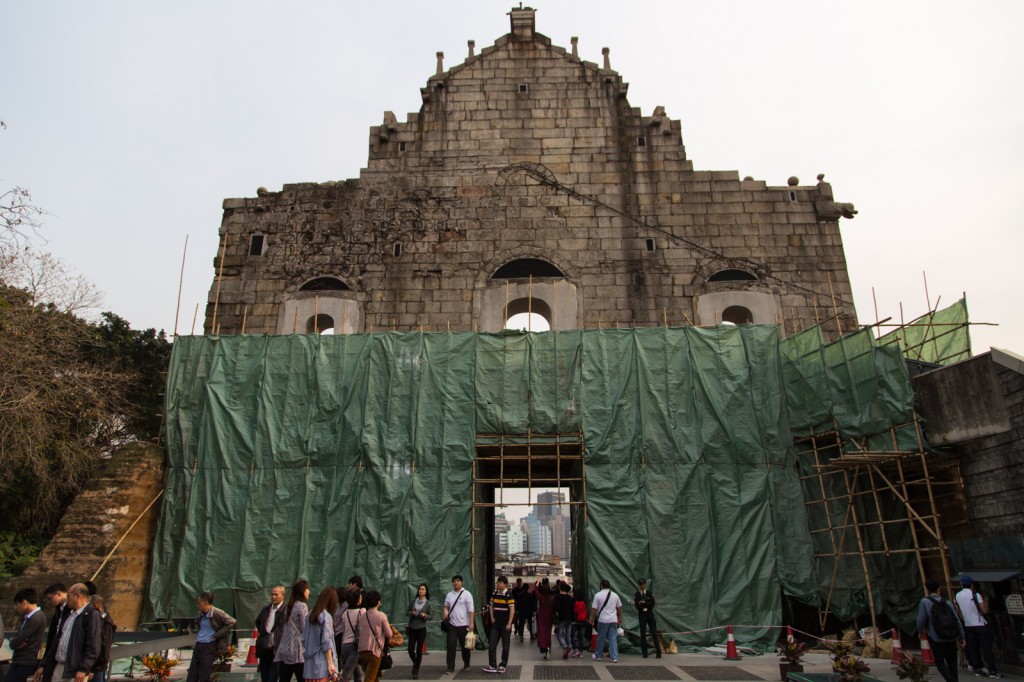 Of course, it goes entirely without saying that it's a very popular place with tourists.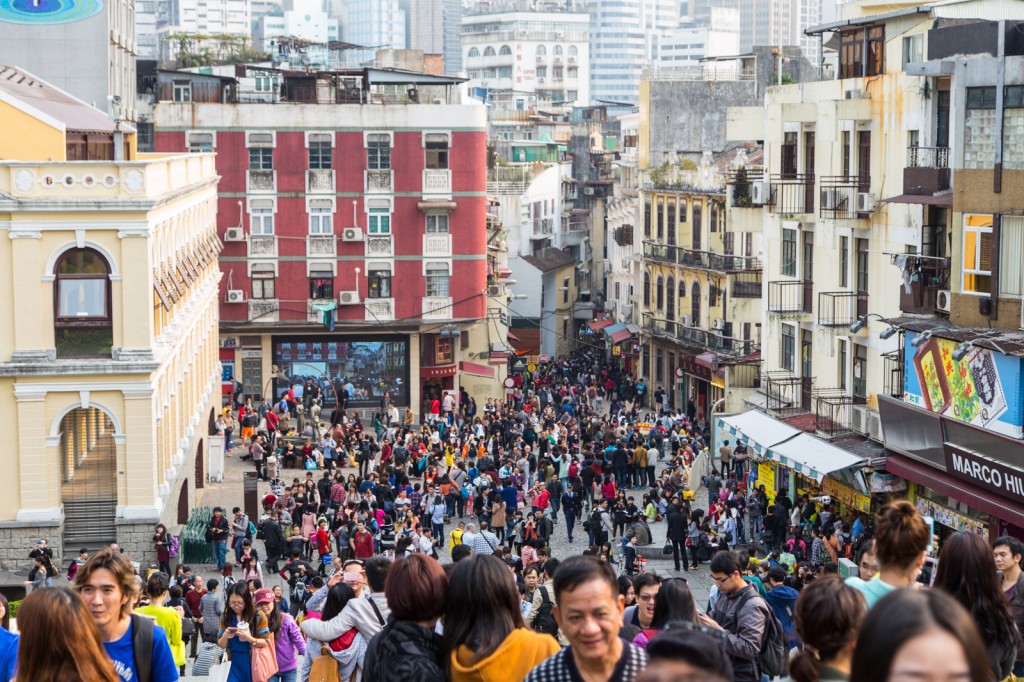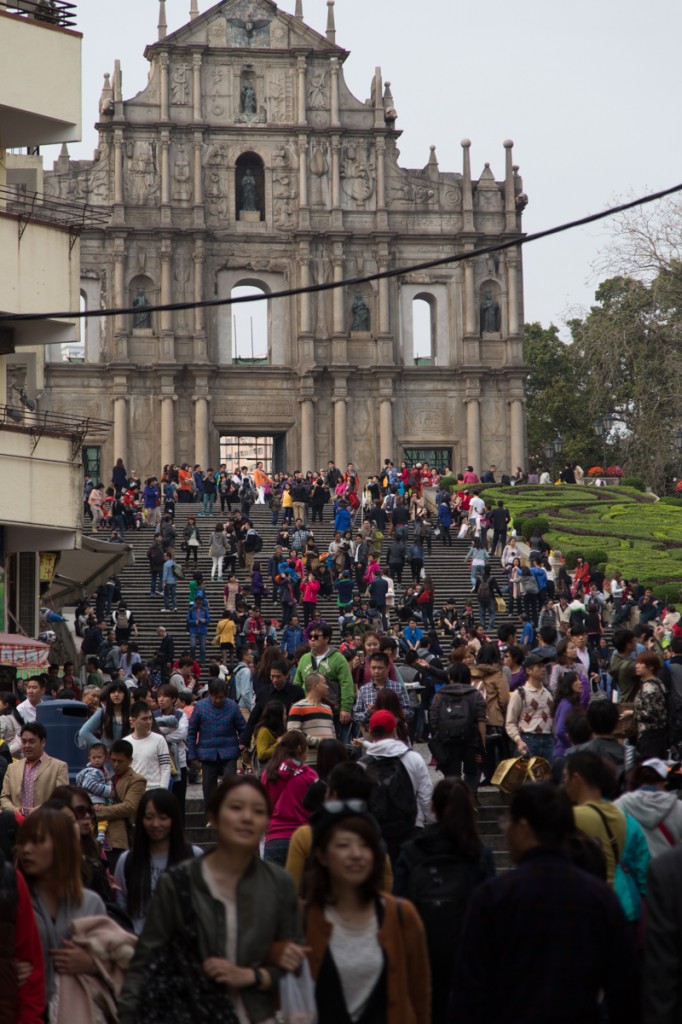 More … "rustic" local buildings (which, incidentally, completely fascinate me – look at the illegal add-ons on the roofs – it's entirely how the old Kowloon Walled City was built, and it's a completely incredible facet of Hong Kong / Macau construction):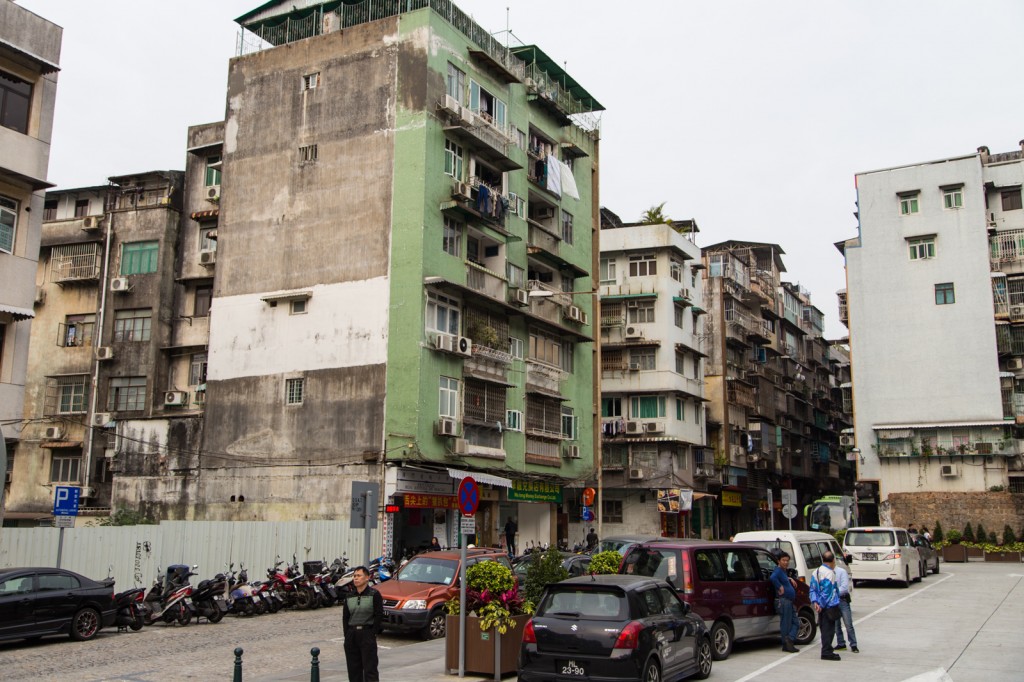 At about this point, we finished our tour and went off to wander on our own. Of course, having seen some of the old and historical construction, it was time to abandon history and see what powers the "today".
Welcome to the casinos.
First, we went to the Lisboa – Stanley Ho's old casino. If I described it as glitzy and glamorous, I'd certainly do it a huge disservice, because nobody goes for such quaint vocabulary in the Macau casinos.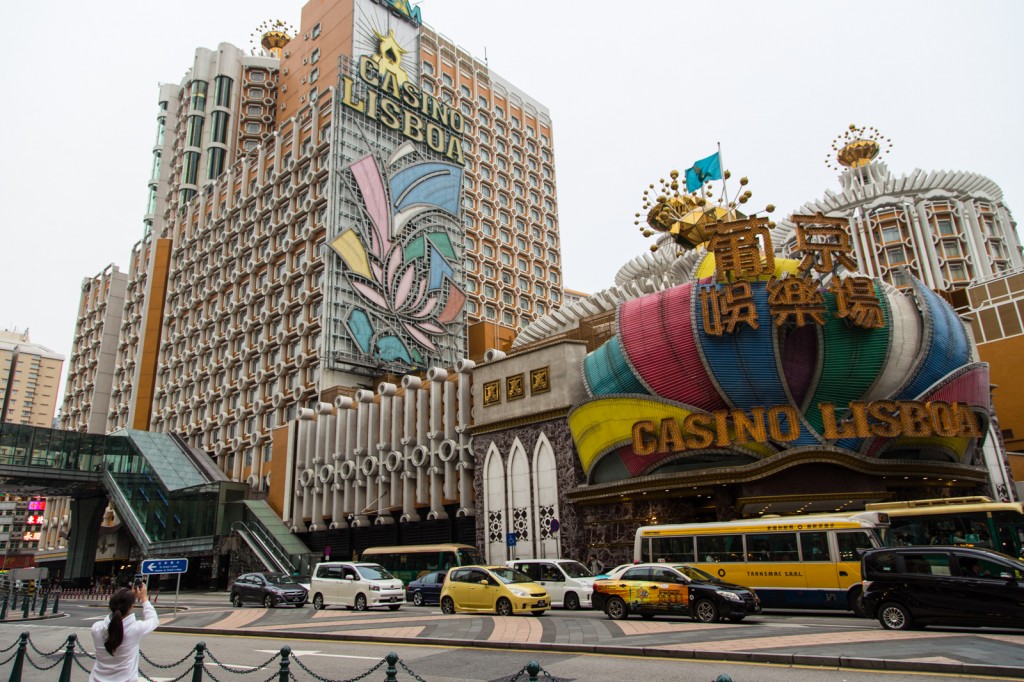 Floors upon floors of ultra-concentrated mainlander players blowing away hundreds of thousands of dollars.
Stanley Ho has a penchant for art, and many of the casino's walls are covered with it; at the entrance, his most impressive pieces are on display.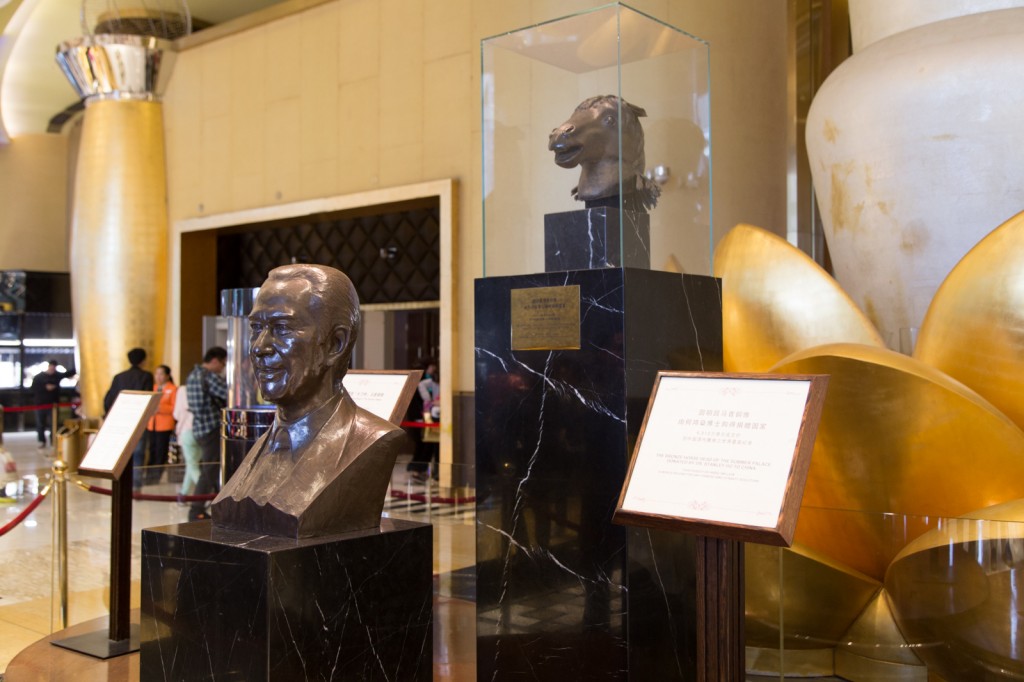 Amusingly, the plaque about the horse head doesn't describe its provenance (besides saying it's from the Summer Palace of China), but it does say that it was bought for HK$69 million (just under $10M). Same for the huge emerald – it says it's a 200-carat, but little else of any actual factual value. It just shows where the priorities of those attending this "exhibit" lie.
Apparently, the expectations are on point.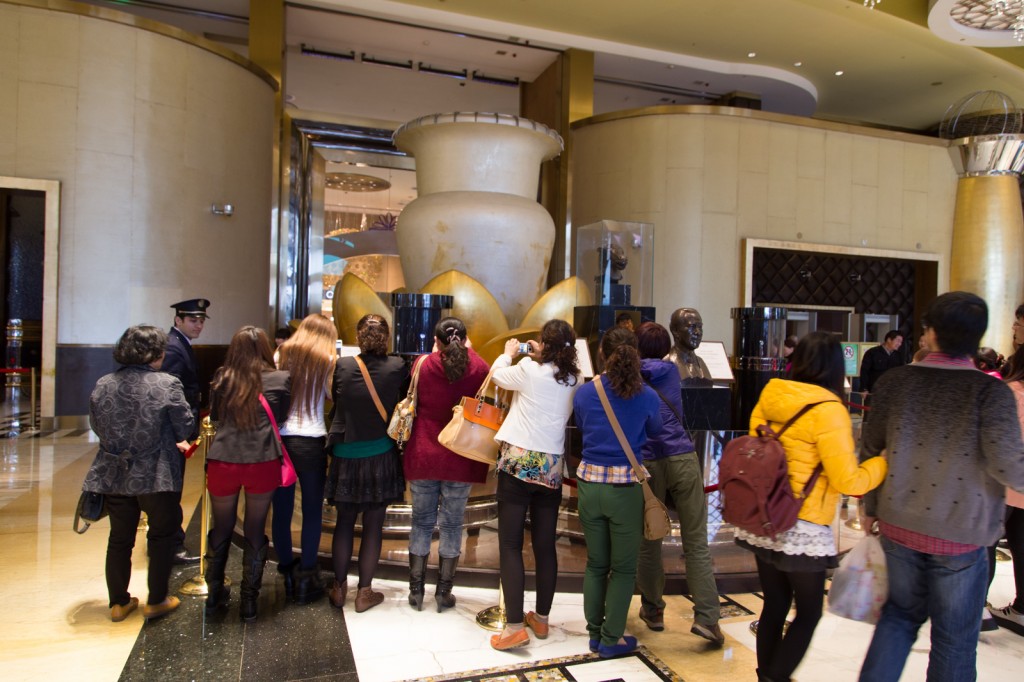 More casinos outside, and even an occasional apartment building stuck in between:
The Wynn had an interesting show where they had a room in which a very ornate ceiling opened up, and various things happened. Apparently, on the hour, a dragon came out; and on the half hour, a tree came out from under the floor, and everyone started throwing money at it. Very strange.
The natives also seemed to pray to some sort of a god that I couldn't quite figure out the provenance of; they did look like they were praying to something, though.
We went outside the Wynn to explore some of the ultra-fancy watch and luxury goods shops…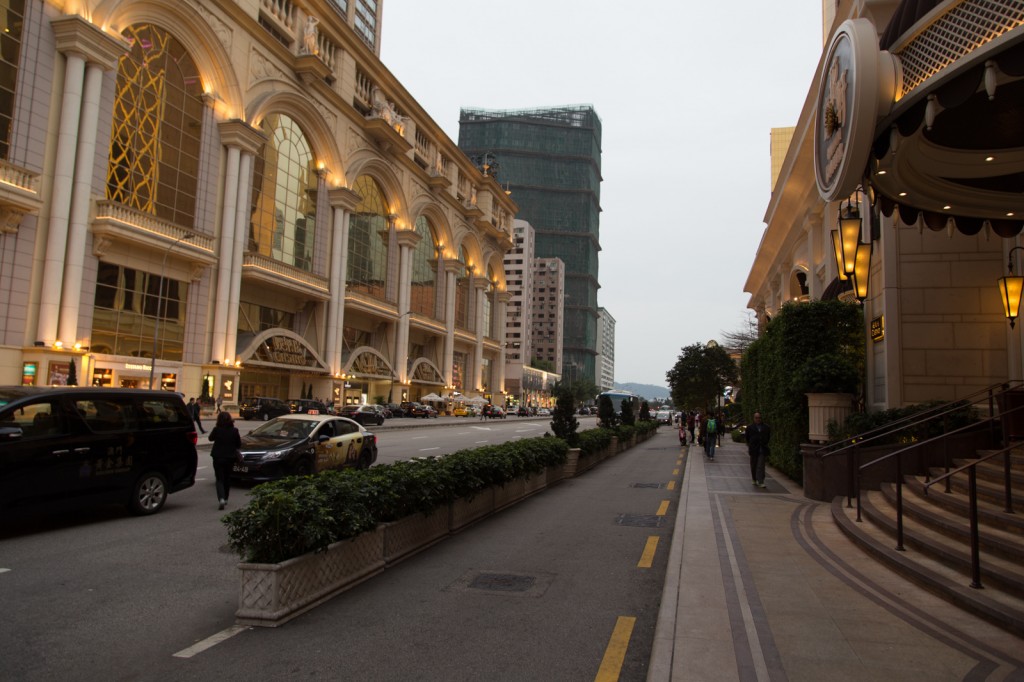 … and a few places on the street right behind where they apparently end up right afterwards (yep, those are pawnshops, and a HUGE array of them, no less).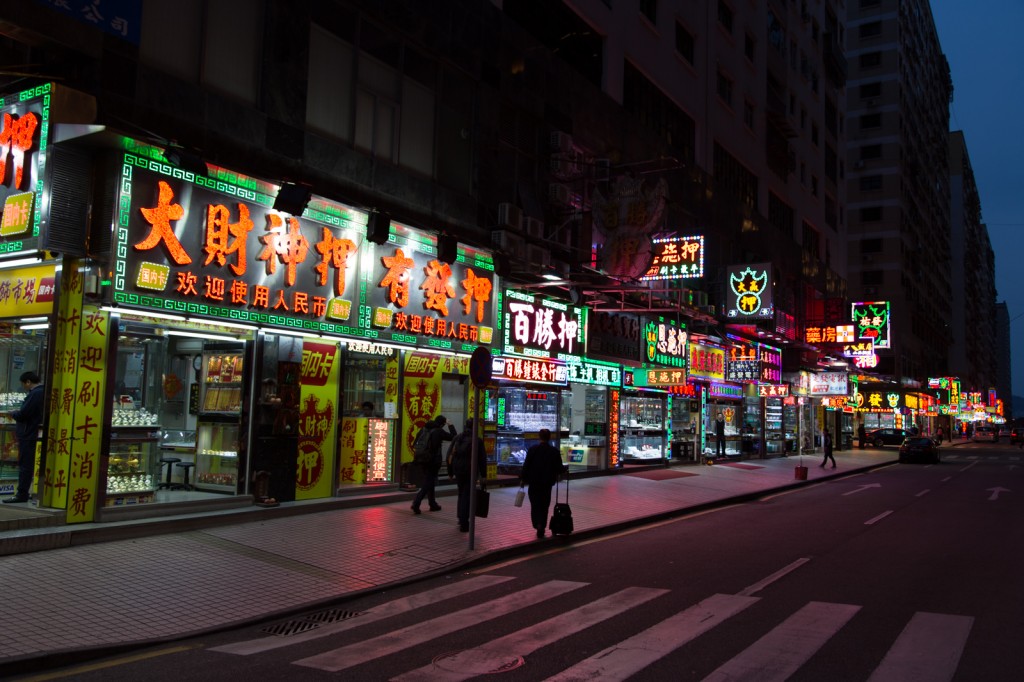 Did I mention the casinos have glitz? This probably needs no comment.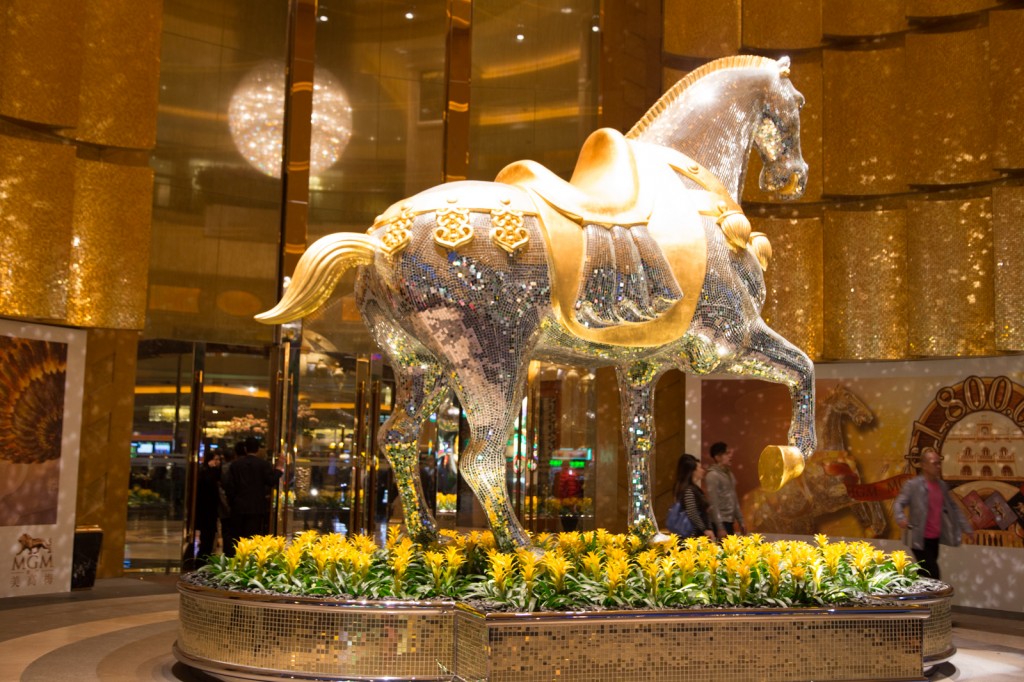 It's a little bit like the silver camel outside the Emirates Towers in Dubai…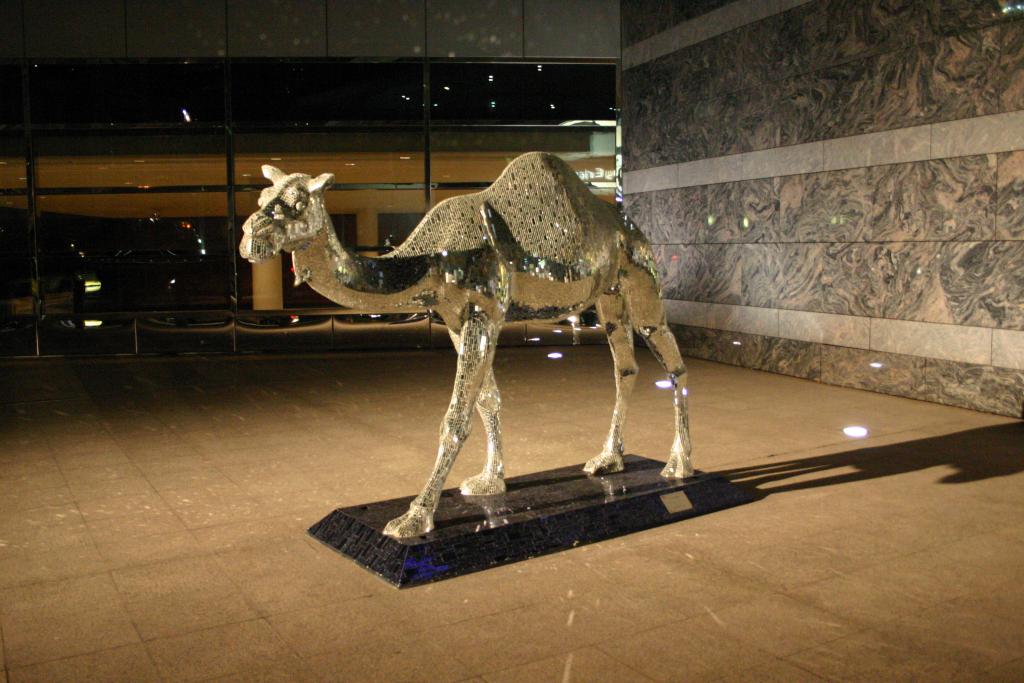 … but like twice the size and three times as shiny.
After seeing the fountains of the Wynn, we went to have dinner back in the old city centre, which looked quite different by night.
And then it was time to head back to HK and sleep. That wraps up the Macau trip, stay tuned for the next update – the flight from Hong Kong to Osaka, Japan in Cathay Pacific First Class… and all the Japan stuff after that!