So thus ended my (very) short stay in Hong Kong, and it was time to move onwards – to Japan, again. Much to look forward to there, since besides the usual dose of Japan, I had a few interesting side trips planned, plus, hey, it's sakura season, so you can't ever go wrong with that.
But that's later. First, I had to get there, and my first trip on Cathay Pacific would take me there. When I was initially planning the trip, I had a few choices – instead of HK, I could have stopped by Seoul and used points to fly Korean Air in economy from Seoul to Korea… but after looking at my options, it occurred to me that only 30K of Avios points, which can pretty much be had with a single signup to an American Express card, would get me there from HK in first class. Since I consider points a currency with a limited shelf life, I figured, why not – plus, I've never flown CX before, and based on all I've heard, it's truly a five-star airline. So I "splurged", if that can be said of a free credit card and $50 in taxes.
Unfortunately, unlike Emirates, there is no chauffeur drive. More so, in Hong Kong, either based on some arcane fare non-discrimination law, or just general disarray (despite it being a really, really nice airport), your ground priority ends at the first class checkin counter. They have cool free-standing terminals for first class checkin, unlike the usual lanes and counters, but neither security nor immigraton has any priority lanes for elite or premium passengers.
The checkin process is incredibly smooth: there are far more counters than passengers (HELLO EMIRATES), and it actually feels "premium" to be there.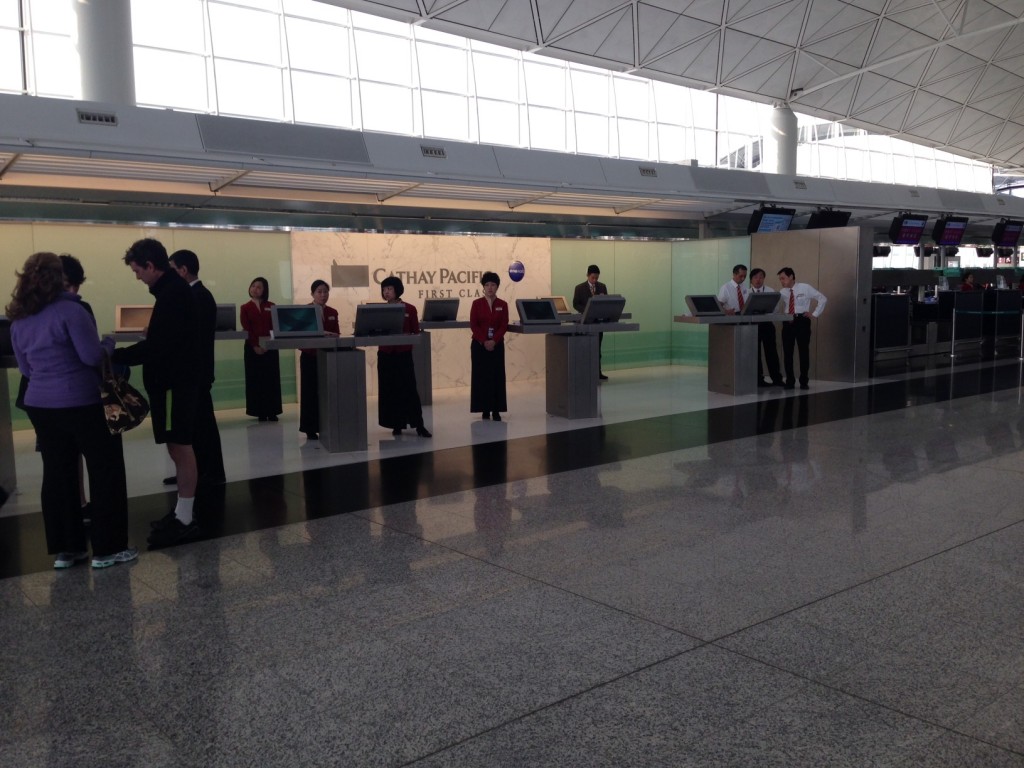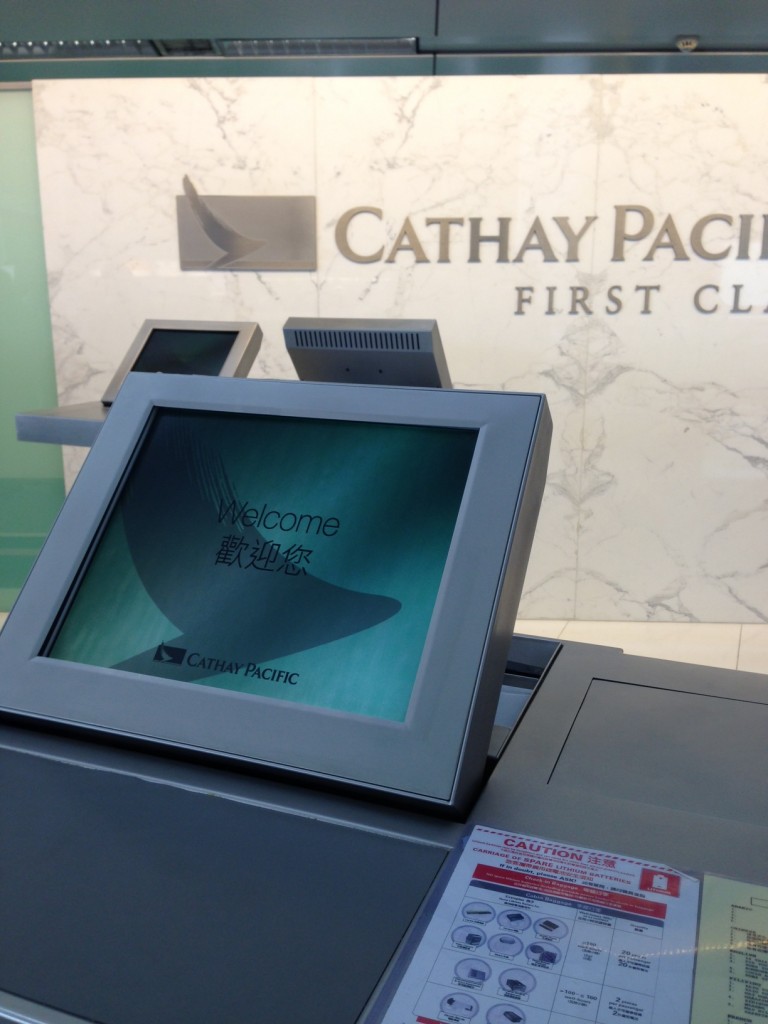 The LCDs display your flight info and details as the agent checks you in, so that you're well informed in case you're about to fly somewhere you didn't expect. 😛 In the meantime, someone comes to pick up your bags and you're left with a boarding pass and a pleasant feeling.
That feeling pretty quickly evaporates once you get to the immigration line. Of course, I didn't think of getting the e-channel fast track, which I've previously complained about, so I had to suck it up. Note to readers: before, you used to need something like 6 visits to Hong Kong within a calendar year to qualify, but these days, any elite status (in fact, some even don't seem to require status, such as Swiss, where simply having a membership appears to be sufficient) with several participating airlines will allow you to get it. However, you can ONLY DO THIS after arrival. You pass immigration on entering, and then immediately go to the e-channel registration desk – before leaving the airport or even the secure area.
I got lucky that a lane opened right next to mine, so in the ensuing chaos I managed to gain about an hour's worth of queue time, so shortly after I was through, and faced this sign: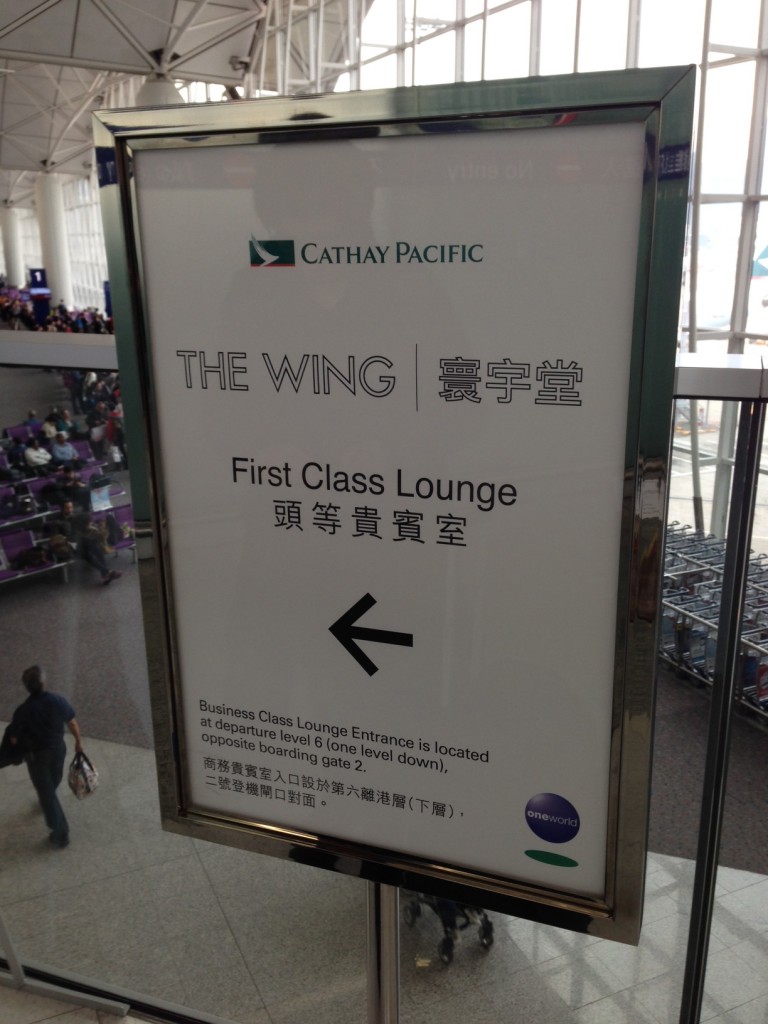 The Wing has gone extensive renovations, and is now a very modern first class lounge. Sadly, since any pedestrian that has oneworld Emerald status is allowed to access it, it's not as exclusive as, say, the Singapore Airlines Private Rooms or the Lufthansa First Class Terminal (though technically, LH allows its own Senator elites to access that one, but there really aren't all that many of those), but it's still far nicer than most regular lounges.
The entrance: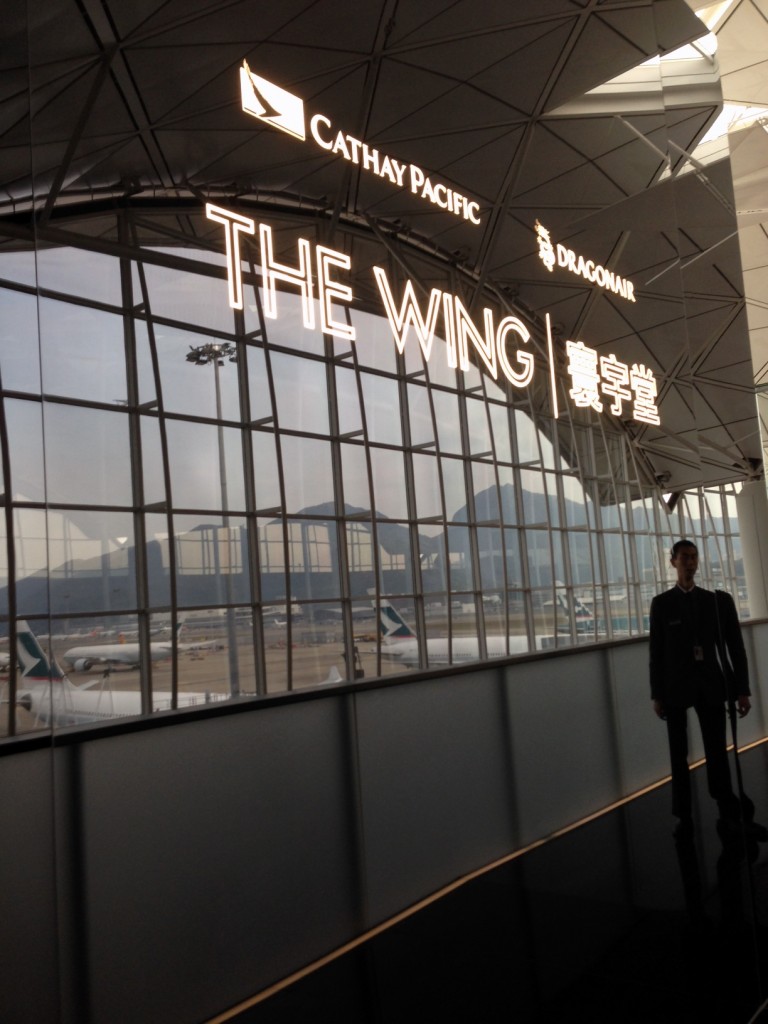 The menu, so to say: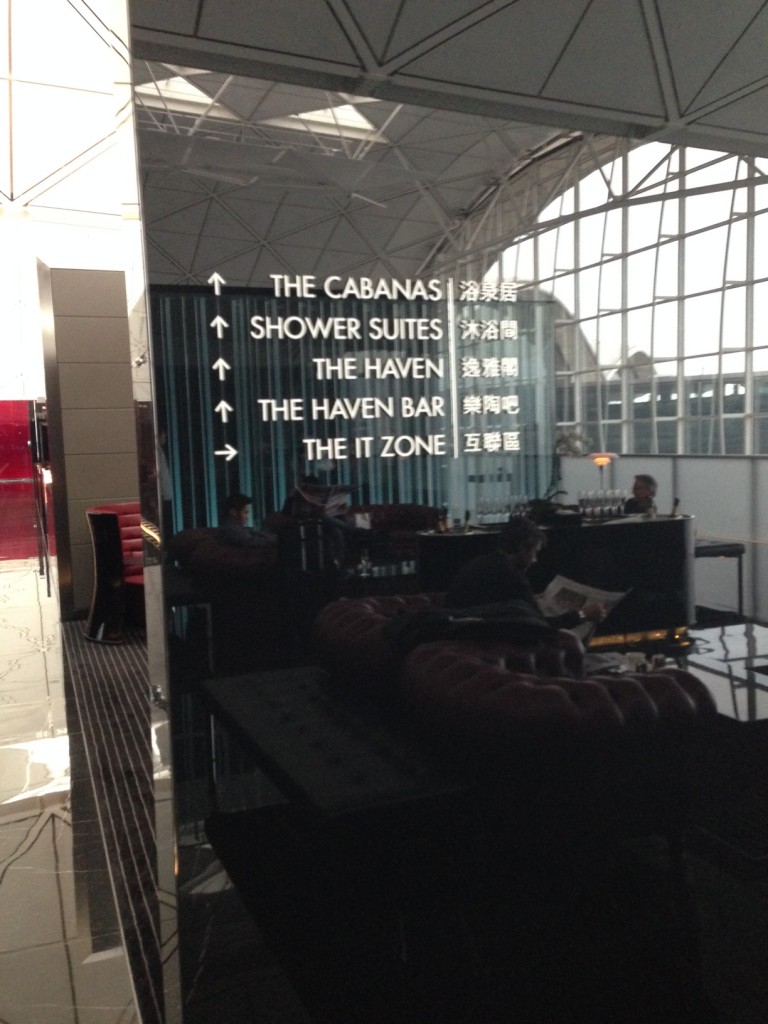 The champagne bar ("the Haven Bar" in the above menu):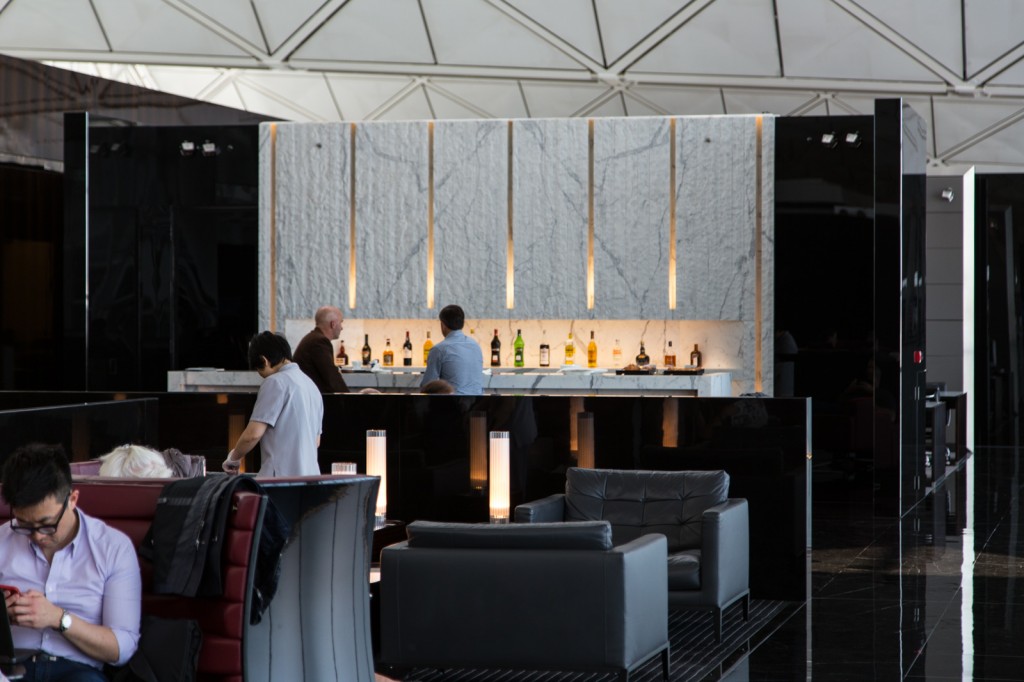 I went on to the sit-down restaurant. Since I wasn't able to get breakfast at the Intercontinental, I had to eat somewhere!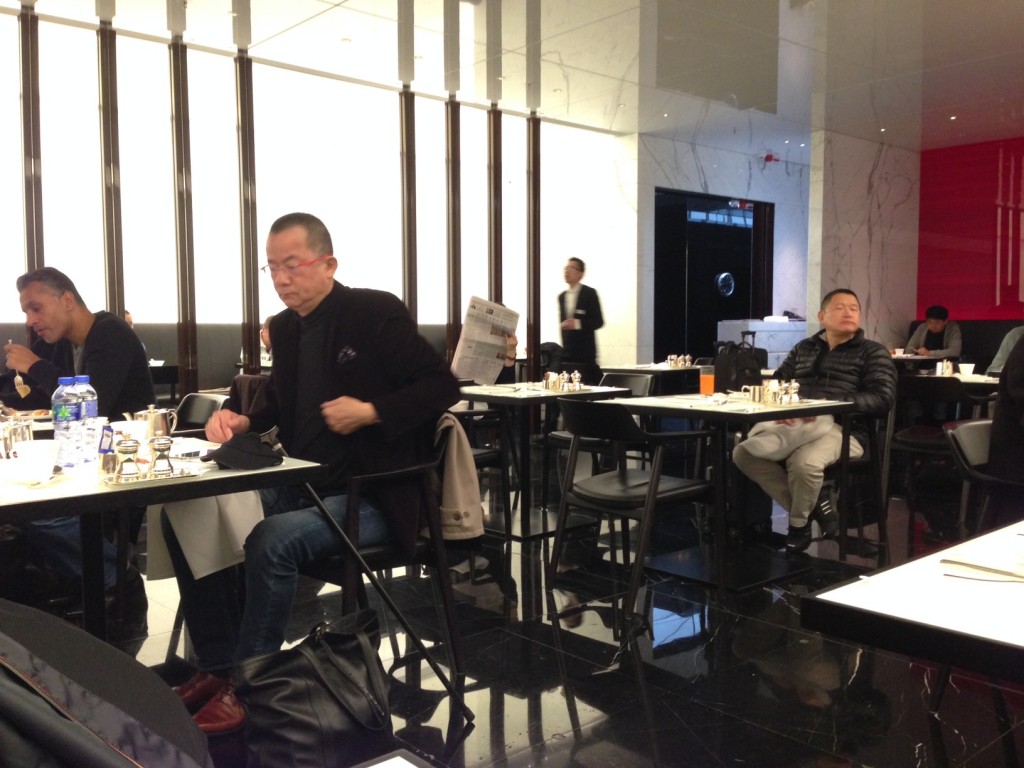 The  menu was promising: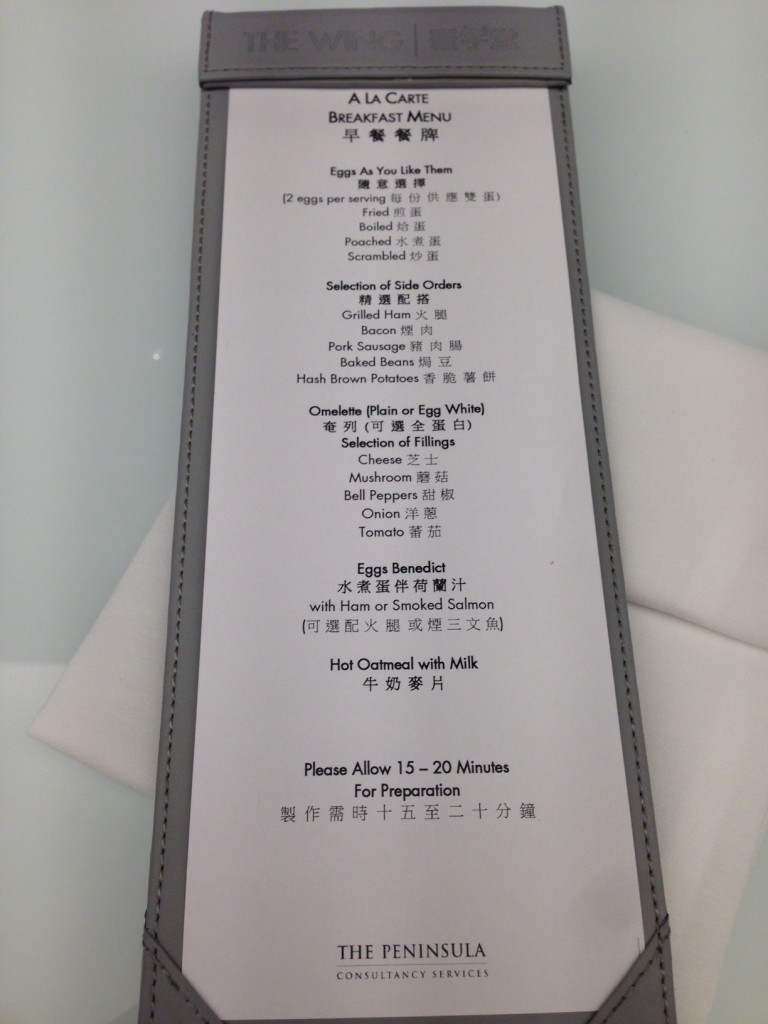 The mimosa was quite good, too: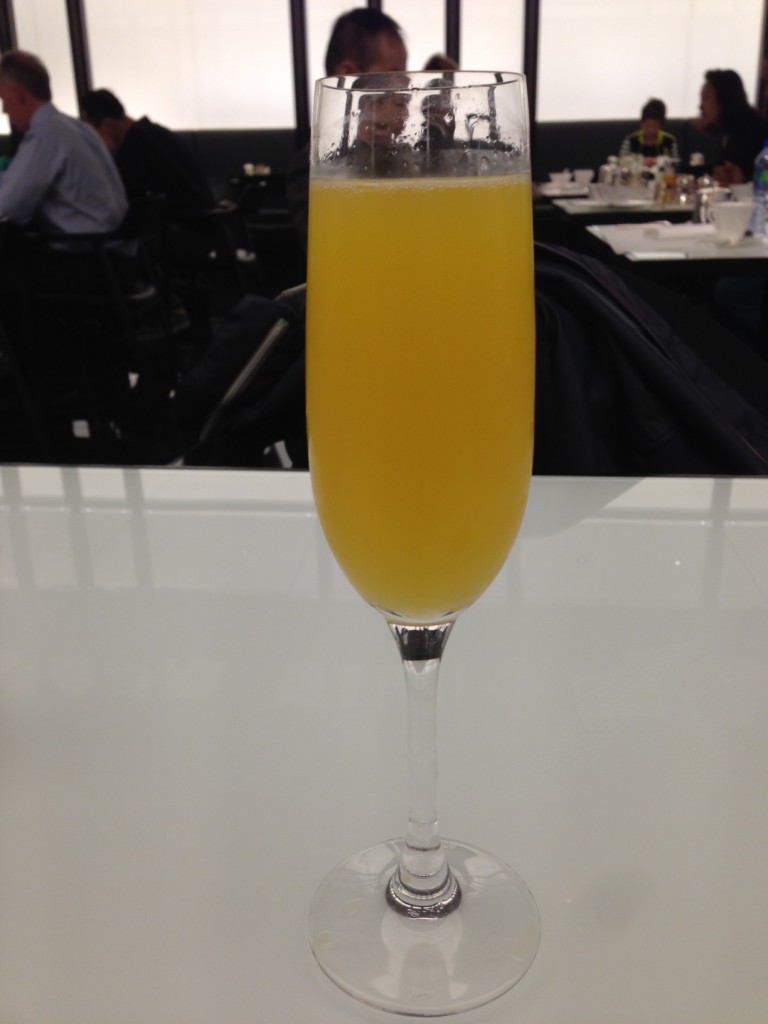 The eggs Benedict was pretty good, but absolutely tiny: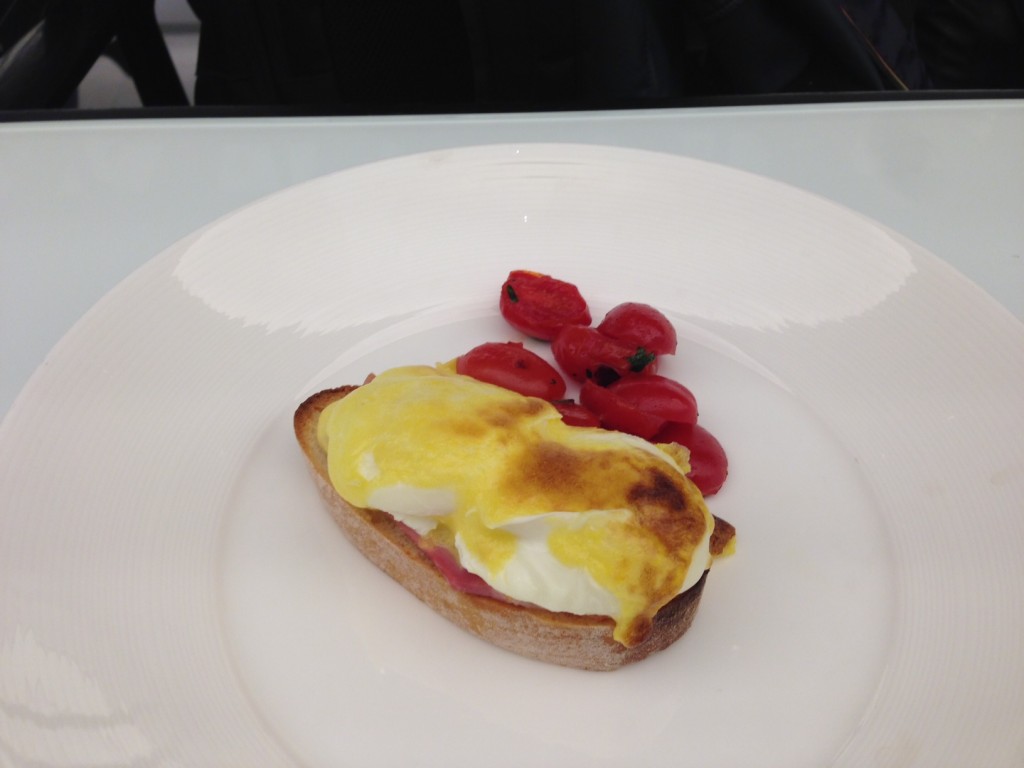 The buffet bar was pretty extensive:
Overall, the service was pretty good, but felt like typical HK service, which means brusque, almost unfriendly, but efficient and proper. For instance, when I asked for orange juice, the waiter pointed at the bar and told me it was "over there", and yet when I asked for a coffee, it showed up immediately (and it was good!).
Then, an annoying thing happened. I was trying to manipulate a newspaper, and being part of the Internet generation, I don't know how to handle paper very well. So I was unfolding it when I heard a falling sound and the sound of broken glass. Crap. I knocked over my mimosa glass and it not only spilled, but broke. This is where the efficient service came in: a half dozen people immediately descended on me, one moved me to another table, one moved my bags, several cleaned the table, cleaned the broken glass, and another then returned with a replacement mimosa and coffee. Awesome. I felt like an idiot, but at least it was all pretty quickly hushed up.
I wanted to test their service a level further, though. I wanted a "ying-yang" – the tea+coffee mix that is a typical street drink in Hong Kong. It's weird as hell, but *I* like it. I forgot to grab it somewhere this time, and I felt bad, since I don't mix any good ones myself, and I really like it. So I asked the waiter for one. It took him a few minutes to understand: in a lounge where people drink Hennessy, Johnny Walker Black (or Blue in some cases), I was asking for a street drink. He looked at me like I fell off from Mars (recall that I just broke a glass, too) and said "Ying yang????? NOOOOOOOoooooooooo!"
So I left and went to the champagne bar to further get … relaxed before the (now 30 minutes delayed) flight. No Krug was being served (I've almost given up searching for this elusive animal), so I camped there for a bit and when the time came, I headed off to my flight (which I then realised was at the other end of the other terminal, so a train had to be taken).
When I arrived to my gate, my plane was parked there, which is always a good sign. I was flying one of my favourite planes, so this was looking like a good day: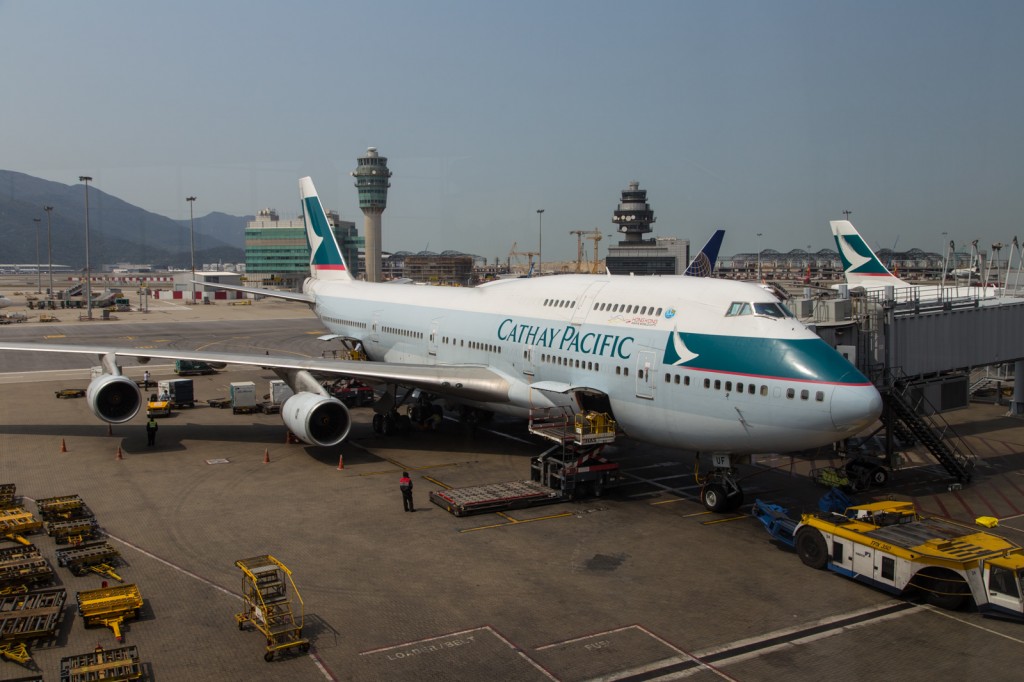 It looked like the fare non-discrimination act was in full force, once again, though. This is what I encountered: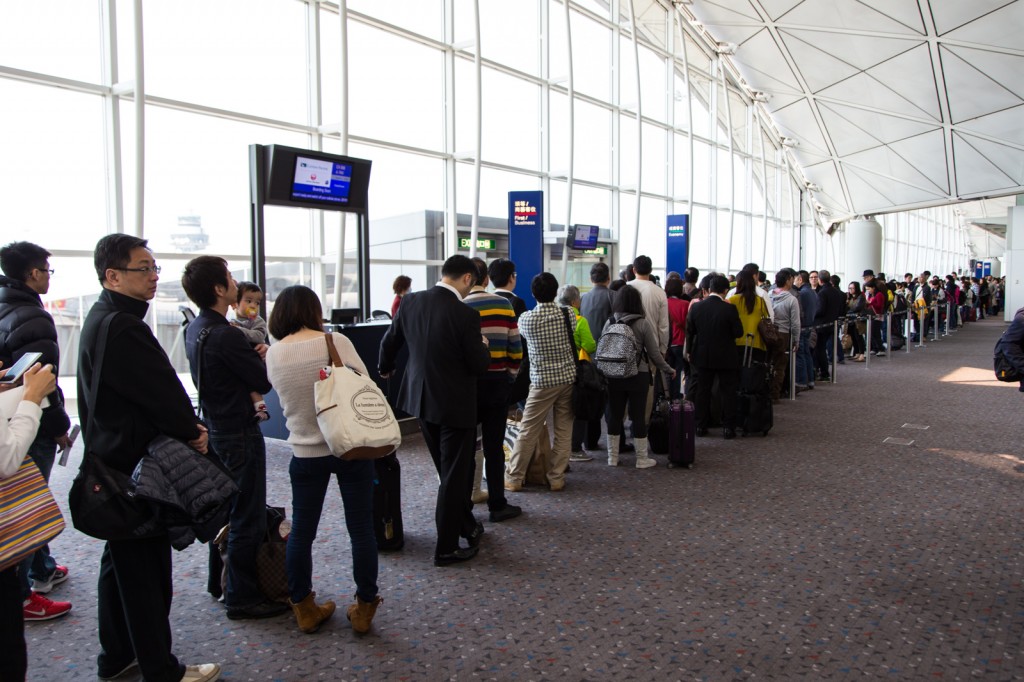 They were all lining up to a single boarding gate. No priority for anyone. Despite my general allowance for human cooperation, altruism and world peace, I was done with this. When boarding started, I just cut through the line and went to the head. The man behind me started demonstrably sighing, oohing and aahing, and waving his head around. Out of concern for his well-being (excessive head-waving and sighing tends to cause light-headedness, and eventually, during prolonged such actions, can cause brain damage), I turned to him and asked, "I'm sorry?". He looked at me as if I were a descendant of the most evil representatives of the most evil of empires, and condescendingly said, "What, there is no concept of a line?" In the years of flying where not a single gate agent has questioned my belonging to the premium lanes, I wasn't about to let another passenger do so, so I showed my boarding pass, and said, "Sorry, first class." He shrunk back, crookedly apologised, and I went on to board. He should follow my blog more. 🙂
Onboard, I settled into my seat: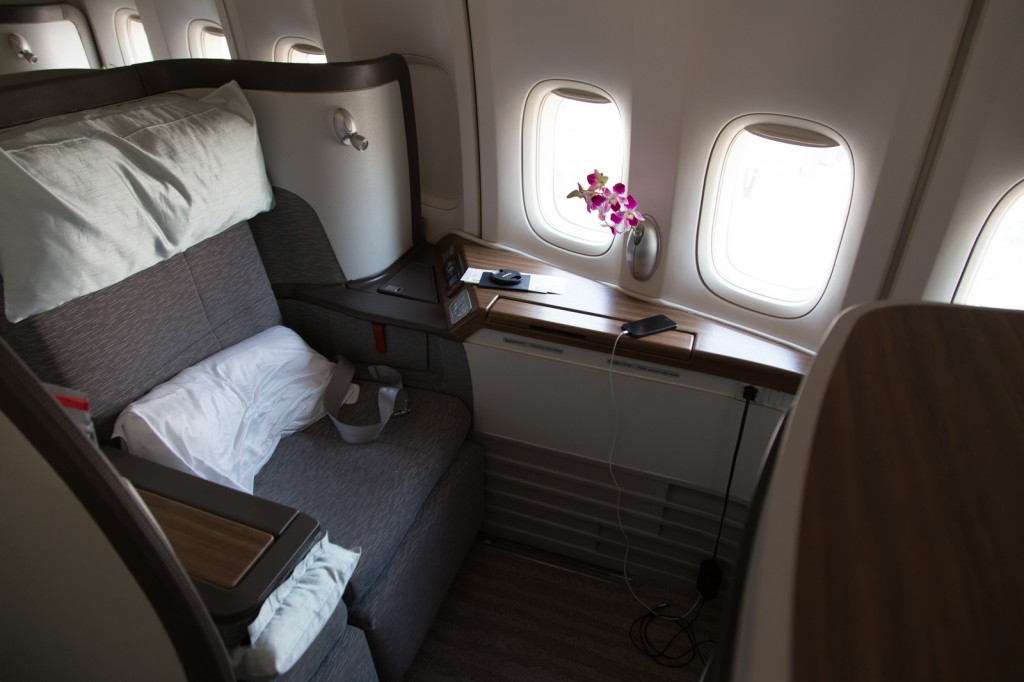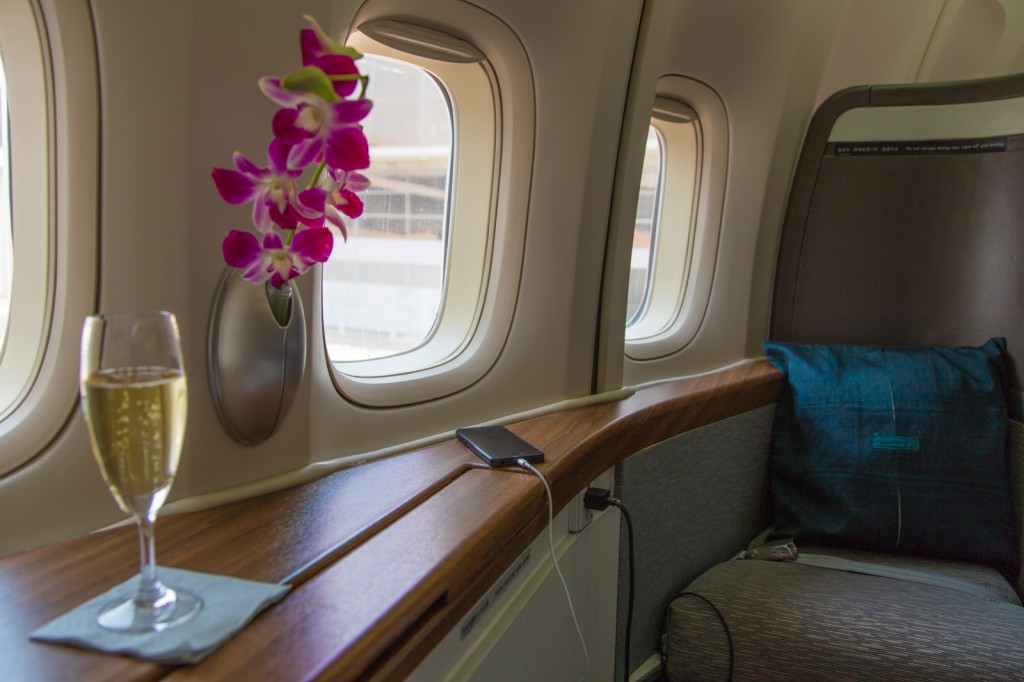 (the flower was real!)
The LCD was pretty large…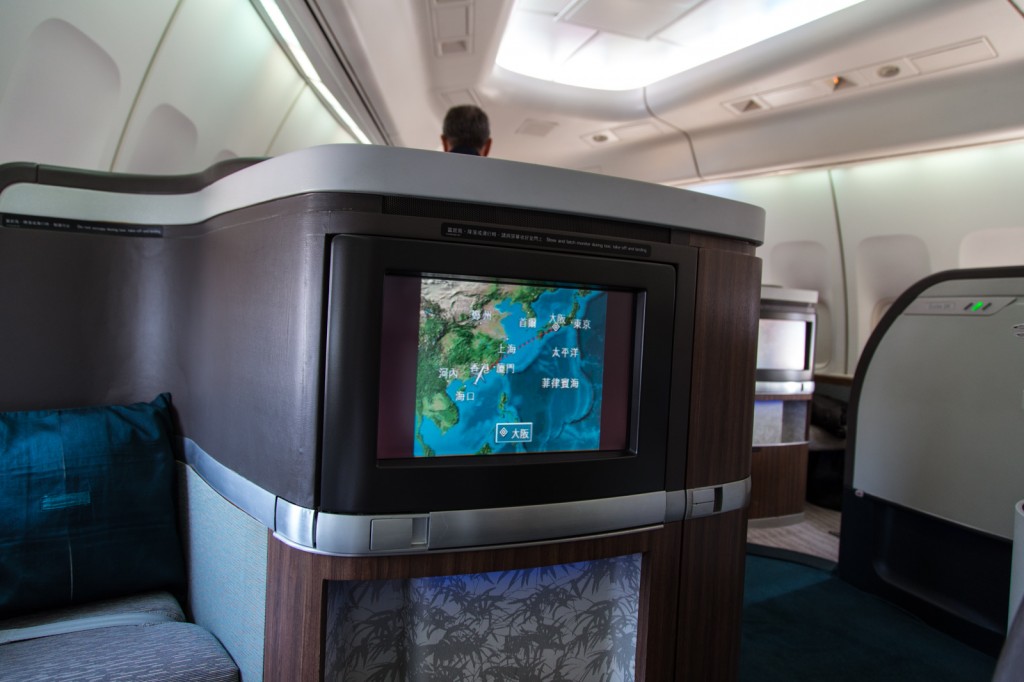 … and apparently ran Linux, since it crashed and was rebooted mid-flight 🙂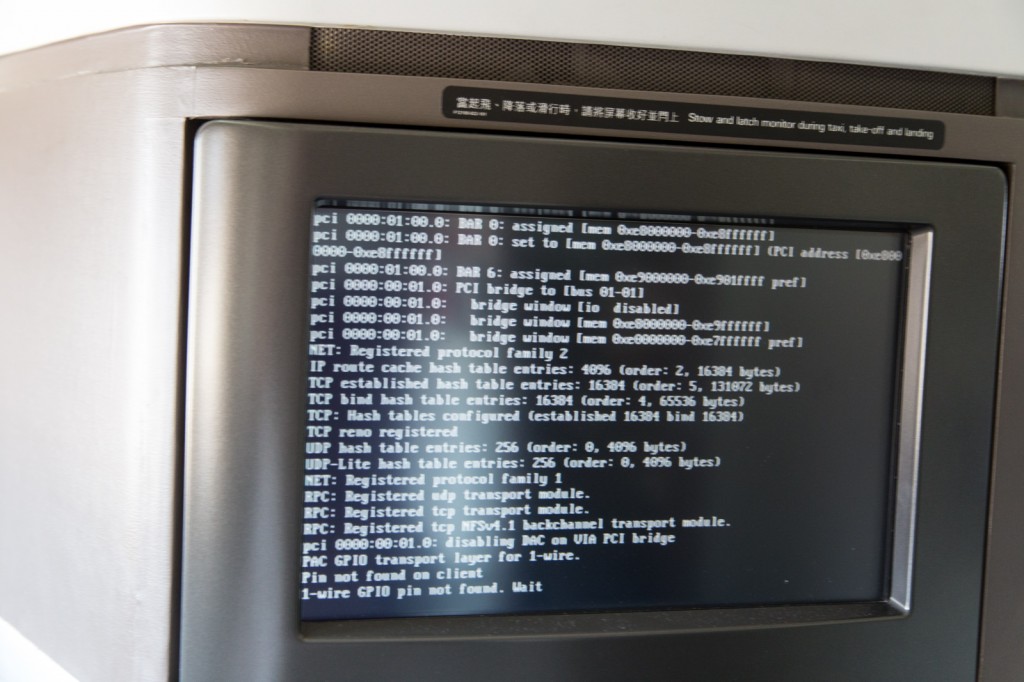 My seat also featured a live mosquito which later became dead as we gained altitude. Hehehe.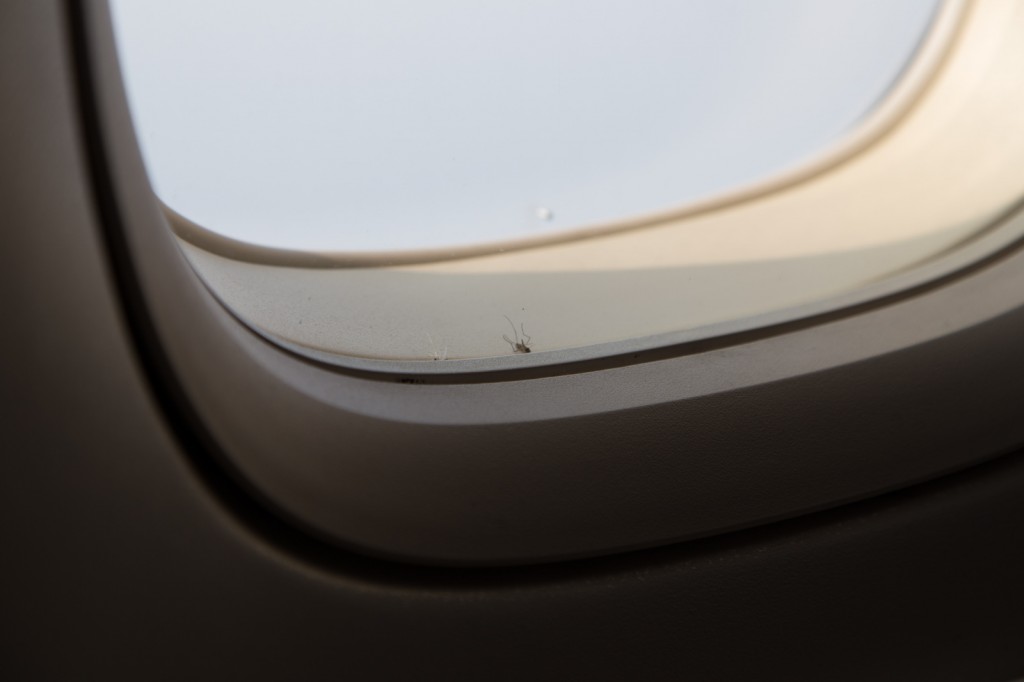 But I joke. So far, this was arguably one of the best first class seats I've ever been on. The armrest that is in the first picture folds up, and the ottoman on the other side is perfectly suitable for an adult to sit on during dinner, so for the first time ever, I found a better substitute for the Swiss seat: while the Swiss first class seat allows dining for two, the Cathay Pacific seat would comfortably allow dining for three if the third is a child (I'm not sure an adult would fit there). The ideal family vacation.
Leaving Hong Kong, I was reminded of just how far-reaching American airlines are:
That's right: three United planes! I still am impressed at how United flies the most random routes in the world, like some intra-middle-Eastern routes and so on, and of course between Bangkok, Hong Kong, Tokyo and such.
After we took off (and the mosquito in my window died), the food came out. Even though it was a short 3-hour flight, the food and wine were plentiful. Sadly, no Krug again (they were serving Amour de Deutz Blanc de Blancs 2005, which isn't terrible, but it is not Krug).
Entree was herb marinated smoked salmon, which went well with the Louis Jadot Meursault 2011: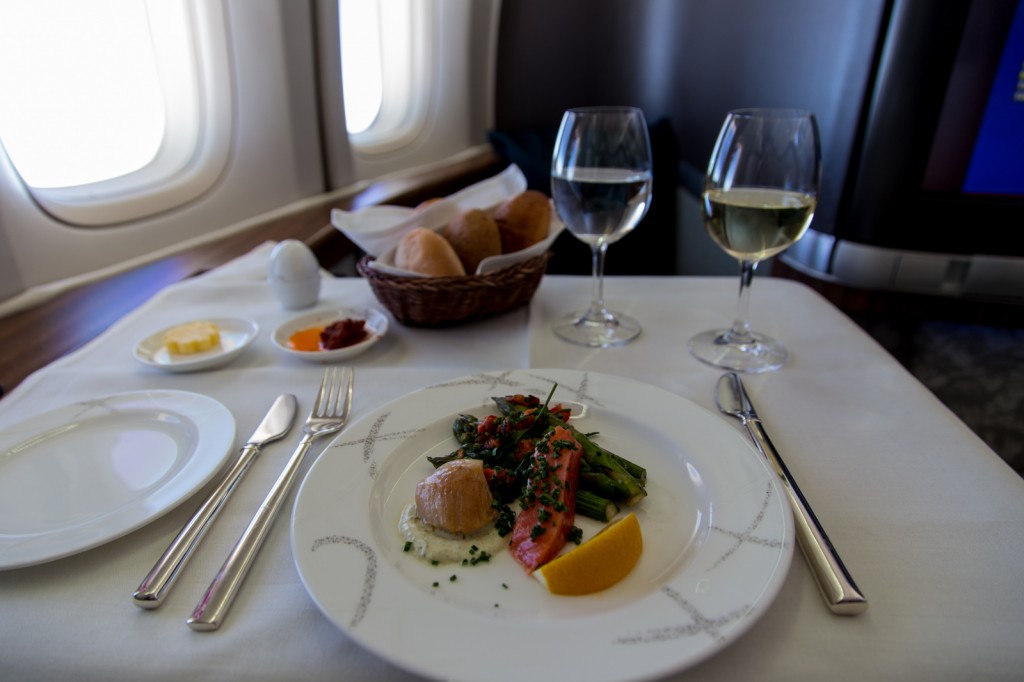 Then leek and potato soup, same wine: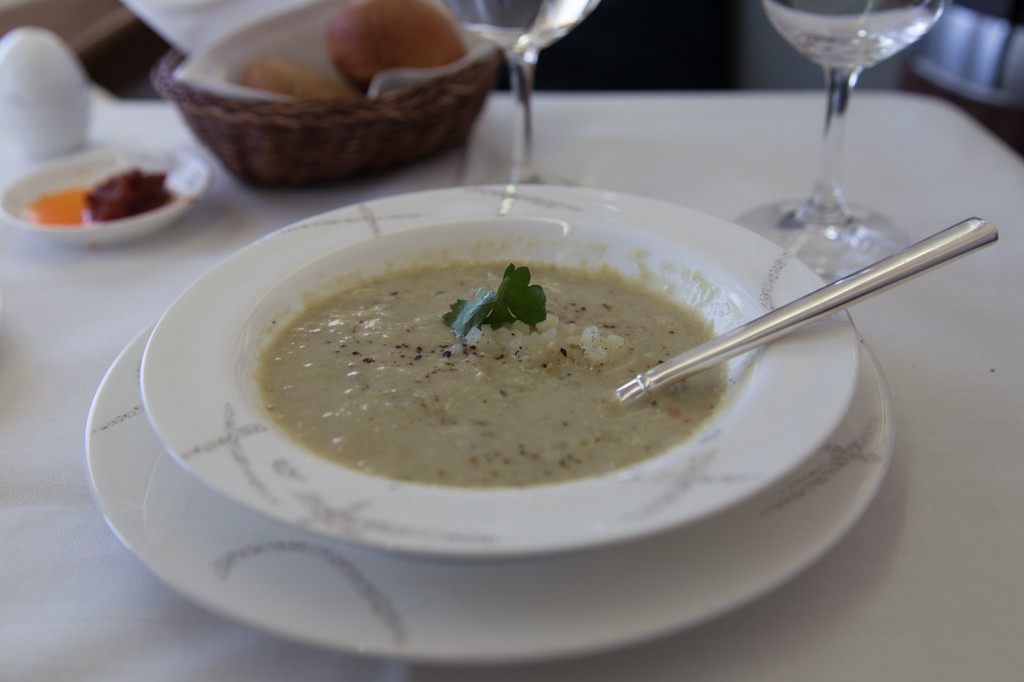 Main dish was pan-fried chicken, and here, I changed to their Saint-Emilions. Apparently, the someliers of Cathay Pacific have done the tours, and have sourced a few different varieties of Grand Crus that they're serving on their flights:
This flight was serving Château Haut Brisson. It seemed to pair reasonably well with the pan-fried chicken (as well as any food/wine do at 35,000 feet where you basically don't really taste anything anyway).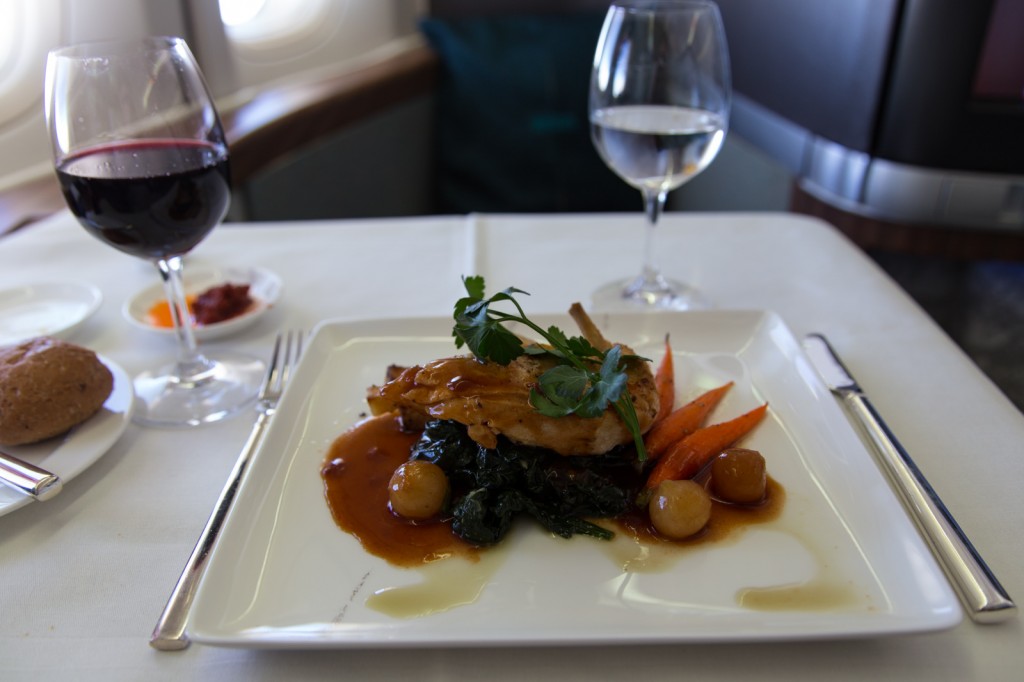 Then came the cheeses (Chaumes is what I was after, the others were more of a side benefit)…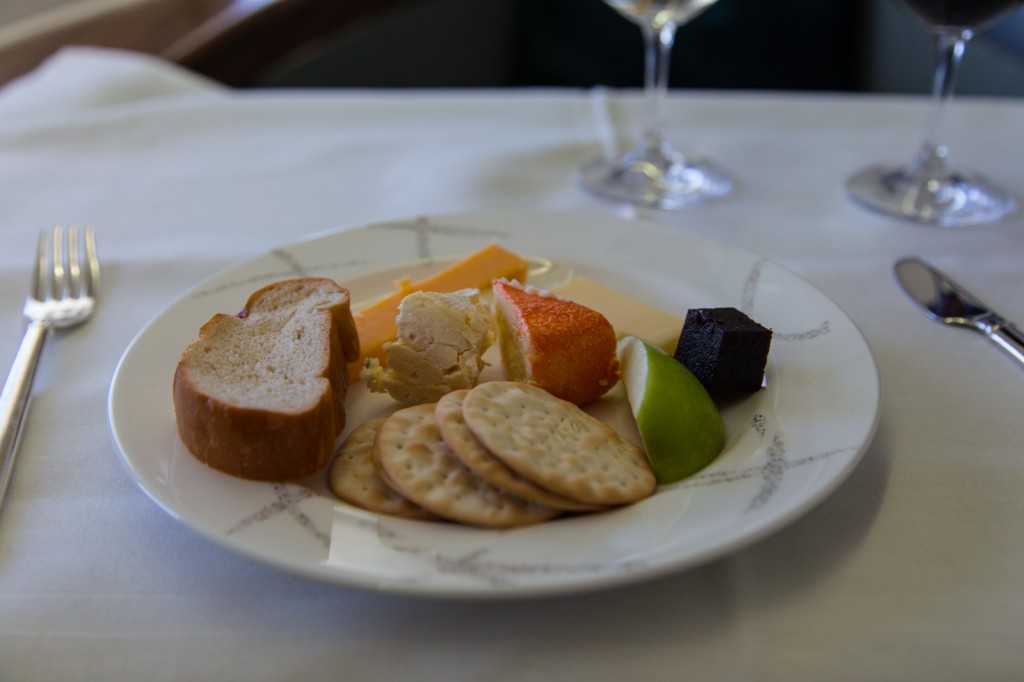 … and the apple strudel, which one can rarely go wrong with.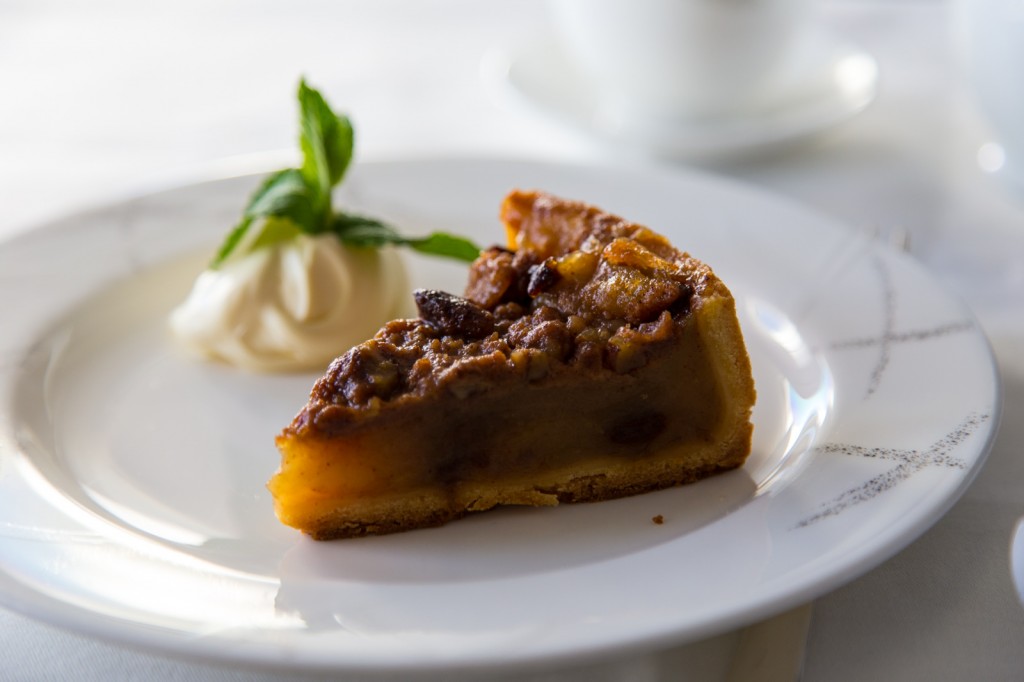 All that put together, and the flight time just ebbed away pretty rapidly. All would be well, and this would be the end of this flight story, were I not to be greedy, and/or were I to be a bit more clueless (or 'less', depending on point of view, I suppose).
Background: because I stayed at Intercontinentals the entire way, I emptied the minibar every time, seeing as my Royal Ambassador status entitles me to free minibar contents. Whites, reds, whiskies – anything that was drinkable, I emptied into my suitcases, which progressively grew in weight. So by the end, I ended up with a pretty decent collection of everything. Except on this flight … I actually _read_ the customs declaration form for Japan, and it turned out I am allowed "3 bottles of 750mL". This was going to be a problem, as I blew past that limit a long time ago with the wine bottles alone – let alone all the single-use whisky/bourbon/vodka/gin mini-bottles. I had to decide what to do. Getting a customs violation on entry to Japan wasn't really part of my plans, so I had to improvise.
On arrival to Kansai, I had a wonderfully smart idea. I decided to dump the excess. So I picked up my suitcases at the baggage caroussel, and immediately went to the washroom. Conveniently, there was one for the disabled, with plenty of space to move around. I actually couldn't remember how many bottles I brought back, so I took out 5 half-bottles of wine, and discreetly put them on the window ledge, then packed up all my suitcases and left. Passed through customs, joyfully answered all the questions, was waved through. Got to the parking lot, was about to pay for the parking space, when I reached for my wallet which was in my backpack… and had a distasteful realisation that in my brilliance at avoiding customs problems, I appear to have left my damn backpack in the very same toilet, right next to the damn abandoned wine bottles. FAIL.
So I parked my suitcases in the car and ran  back to the terminal. Obviously, my stuff was behind the doors that say "NO ENTRY AFTER EXIT". Obviously, I wasn't about to obey that, since, well, the longer I wait, the more unpredictable the situation would become. So I stood near the door (in front of all the waiting relatives and friends, who looked at me rather quizzically), and the moment someone exited the doors, I slid right in. I'd probably get shot for doing this in the USA, but I figured, this is Japan, so it can't be all that terrible. There were obviously a number of security guards there, and I just held my passport in my hand (for some reason, as if that created more legitimacy for what I was doing) and told them I forgot something in the washroom (in Japanese, of course). They looked at me and said "oh sure, just go ahead, it's that way".
So I ran to the washroom, just fast enough to make it before the cleaners, but not so fast as to get anyone's attention. Kind of a rapid duck walk. Got to the washroom…….. and it was clean as a whistle. No illicit alcohol, no backpack. Fail.
I went out and saw the cleaning ladies. I guess they go in after every guest, which is probably how it stays so clean in the first place; not that I cared about this at all at that moment (so I don't even know why that idle thought came to mind). I asked, "sorry, but I forgot a backpack" – and she said "oh oh yeah yeah that policeman over there has it!". Double fail.
So I went to him and feigned a look of utter joy on my face pointing at my backpack, and pointedly ignoring the paper bag he had in his hand with a bunch of wine in it. I said, "great! My backpack!!"; he looked at me with a glint in his eye, gave me my backpack, then asked to see my passport, which he immediately compared to the 55 elite status baggage tags I have hanging off it, like spaghetti. Then he held up the wine bag and said, "would this be yours, as well?" I looked him straight in the eye and said "Absolutely not. But what's inside?", and after looking in, "Ooooh! That looks tasty!!!" He just shook his head and walked away. I evacuated the premises as fast as I could.
Once again; this would have probably gone down very differently in the USA (to start, my backpack would have probably resulted in a bomb squad and locking down the whole airport……), so I guess I appreciate Japan for still being a normal country in many ways.
Next up … travel notes from inside Japan!