This is a running commentary on our round-the-world trip. For other parts of the narrative, please see all posts under this tag: [ Trip Reports  ]
—————————————————————————————————————–
Next stop on our round-the-world trip: Singapore. To get there from Bologna, we had to fly through Istanbul. The drive from Monsanto, where we were staying, to Bologna was pretty interesting – having left late, as I always tend to, I ended up flogging our poor pathetic Ford Fiesta 1.2 to achieve unheard-of speeds of up to 160 km/h (only downhill, though; when going uphill on the A2, I could barely break 110), especially after getting stuck in some random traffic that seemed to have been caused by … nothing in particular, as there was neither an accident nor any sort of construction.
We arrived to the airport minutes before the gate closed. Literally, minutes – the agent told us that had we arrived five or ten minutes later, she would not let us on irrespective of our booking class. It didn't help that the plane was on the apron and there was no gate to get to it – had to take the bus, and walk across the tarmac.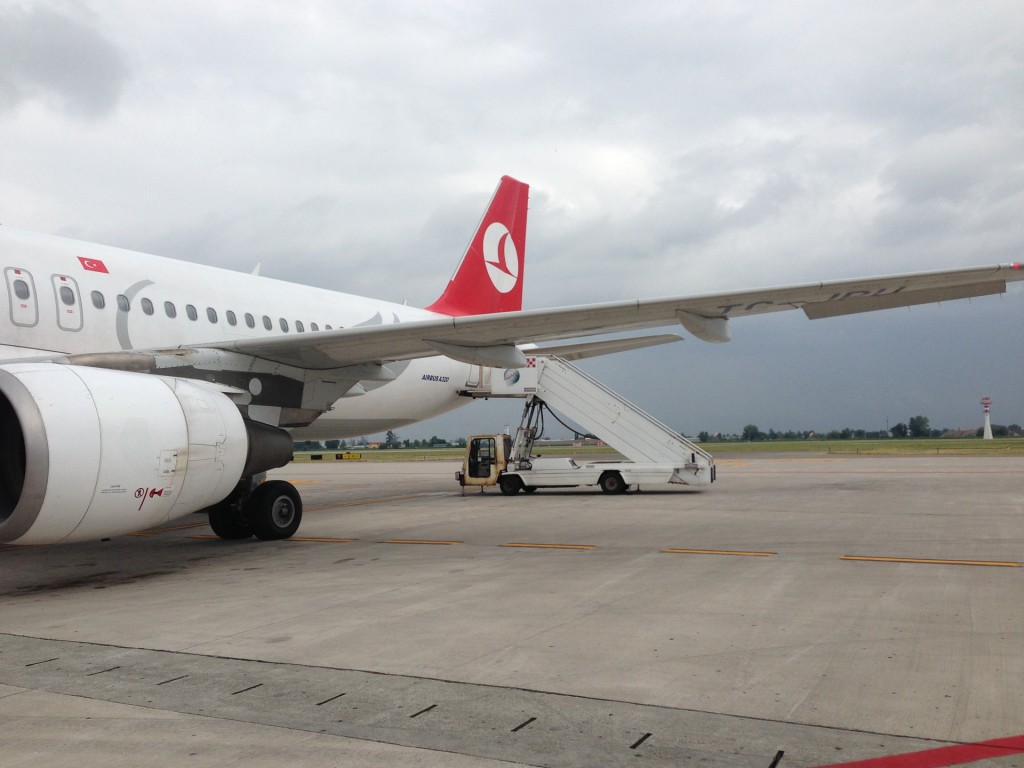 A random Aeroflot plane was parked there. Gone are the days of Il-76s and Tu-154s flying everywhere… Airbus and Boeing these days.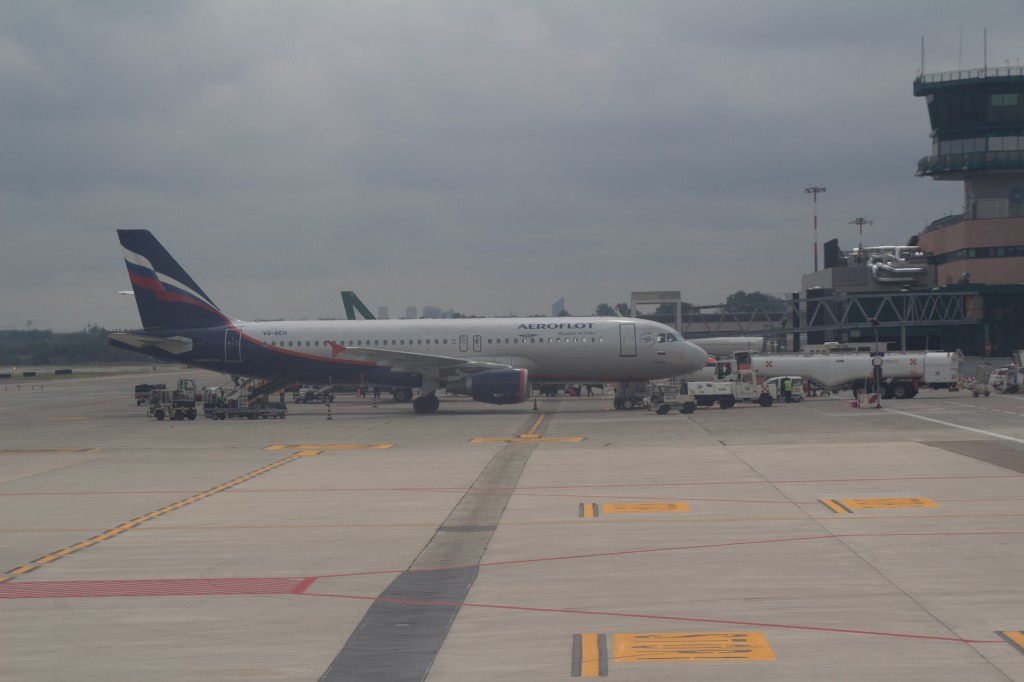 Taking off from Bologna.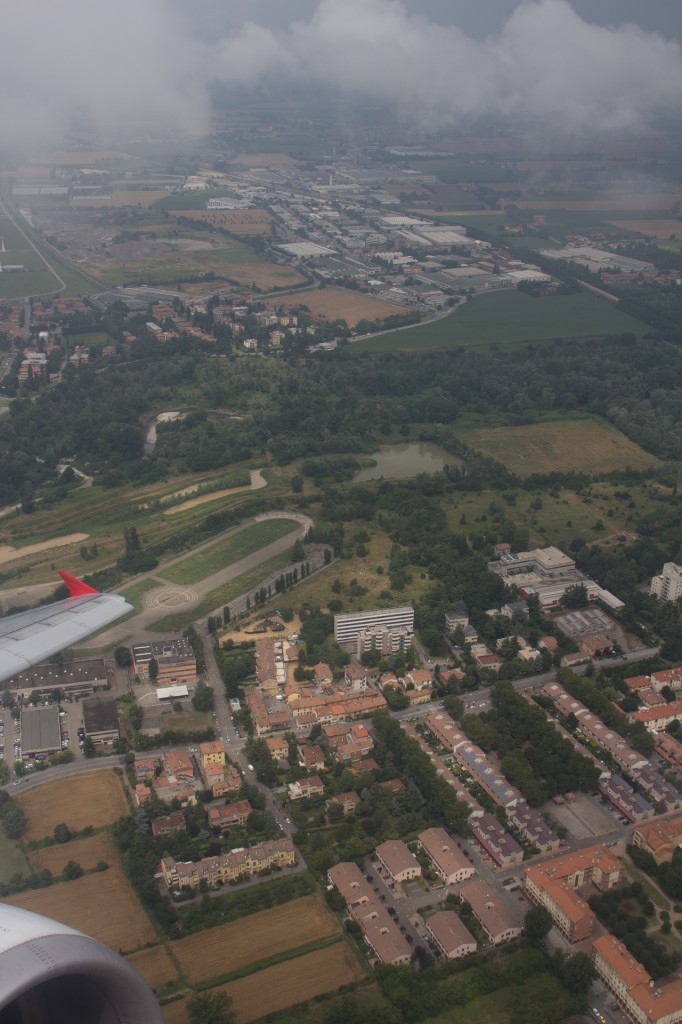 The seat (compare this to the normal European business class of literally EVERY other airline, where they give you three glorious economy seats where they block off the centre. Turkish actually gives you a "real" business seat, akin to what Air Canada flies trans-Canada (unless you happen to be on the YYZ-YUL flight that continues on to GVA, in which case you get the herringbone business class for your 50 minute flight; anyway, that's an aside):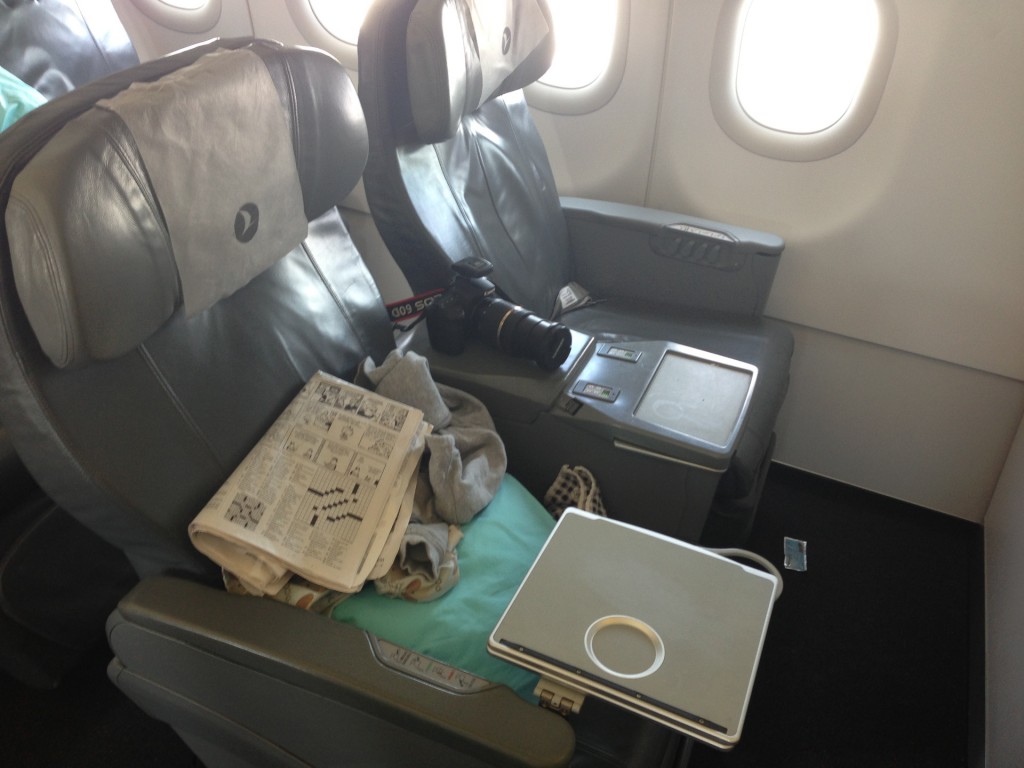 The menu (look! there is a MENU! I am starting to understand why TK won Skytrax Best European Airline):
And the food: (do not forget that this is barely a 2-hour flight):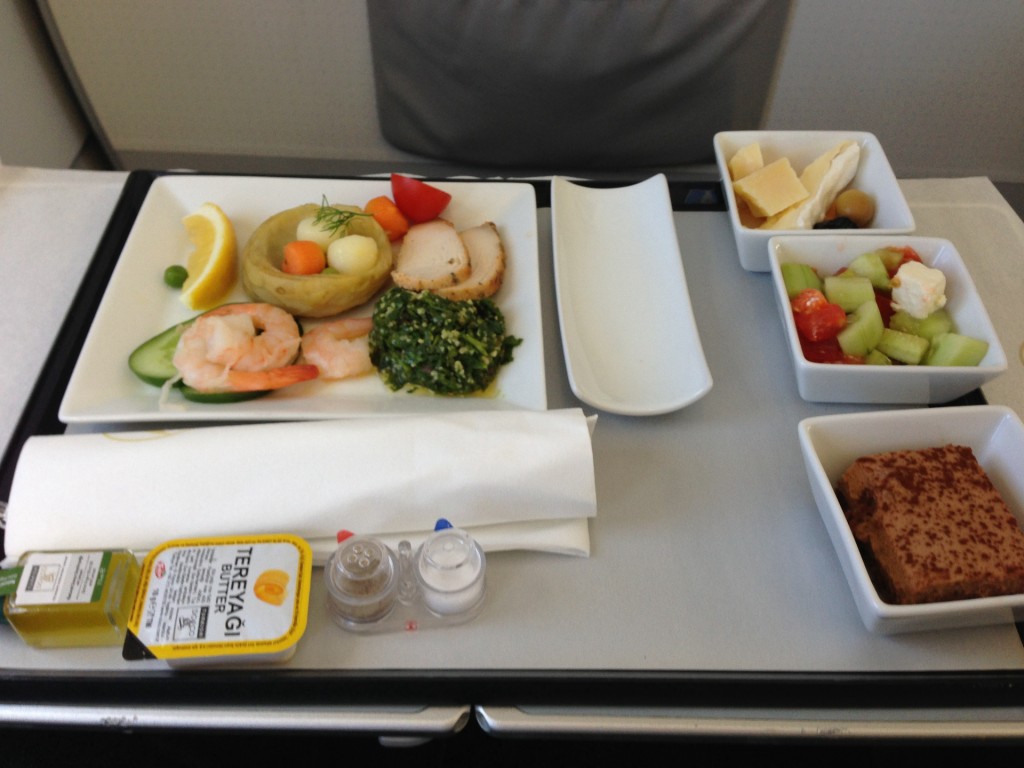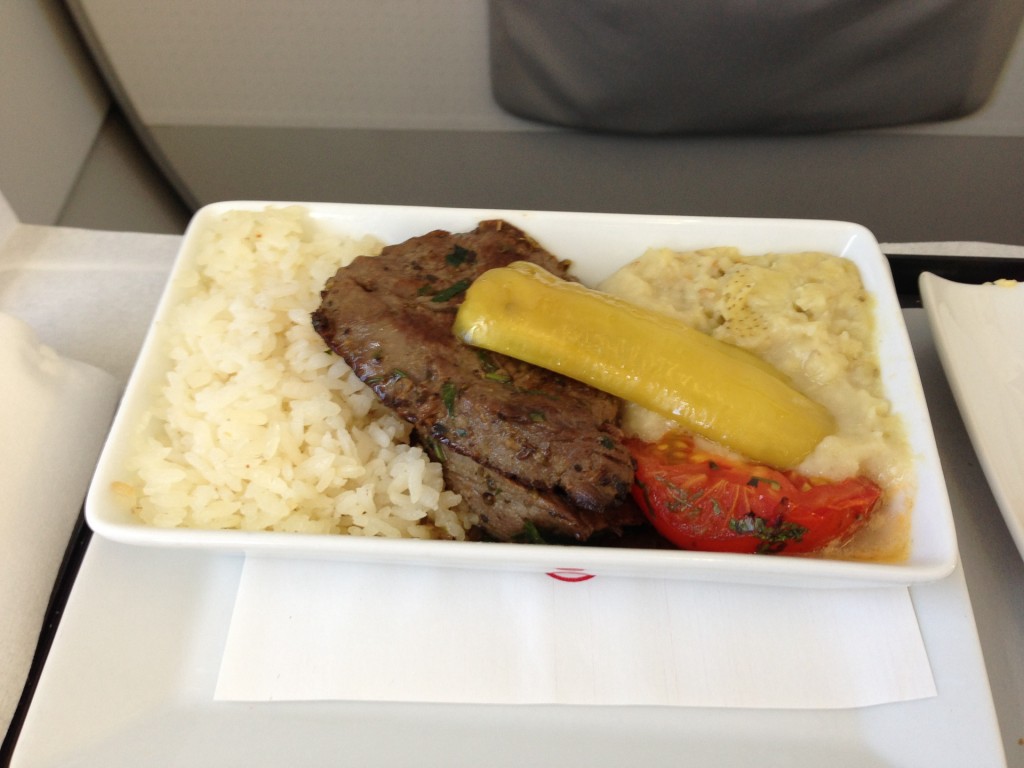 Extremely impressed with Turkish Airlines European business class. It is, in fact, a bit of an understatement, even.
On to Istanbul. I made a terrible mistake booking this flight, for two reasons (in retrospect): a) because I'm a flying geek, and b) because I'm an idiot, and do not learn. Explanation: for the former, I have heard much about the Turkish Airlines CIP lounge in Istanbul – some consider it as being one of, if not the, best business-class lounges in Star Alliance. Of course, I had to try it. The latter part relates to how much time one can reasonably spend in the lounge. I had two flight choices: leaving at 12:00, landing at 15:00, and leaving at 18:00, landing at 21:00. Our onwards connection to Singapore was at 00:40, so my thinking was, that would give us barely 2.5 hours to explore the lounge.
This is where the "idiot" part comes in. Please learn from me, and NEVER spend more than 2-3 hours in any lounge. I should have learned when we got stuck in the Thai Airways First lounge in Bangkok, where we spent 10 hours there – we had a private room and waiters who followed us around, as well as free massages and so on, but even that was torture. Of course, the original plan was to go out and explore Bangkok, but alas, the fish that my better half had on the inbound flight kind of killed any hope of doing that. Anyway, the point is, anything over 3 hours in any lounge is idiotic and should not be done. I should have spent that time in Italy. Not that it would have helped my maniac driving in any way, but at least we could have had some tasty lunch somewhere.
Don't get me wrong – the Turkish lounge is spectacular, see below. There's even a movie theatre and a pool table. But it all gets old, very old, after about 2 hours, when you've discovered all the food hidden in nooks and crannies (either they have very bad planning, or they are attempting to do a bazaar-like atmosphere, where food stalls are here and there), there is absolutely nothing left to do.
Before the lounge, though, a few airport shots:
This madness made me REALLY, REALLY want to run to the lounge, so we did. We were greeted with this imposing entrance (the men aren't actually dancing a Turkish dance of any sort):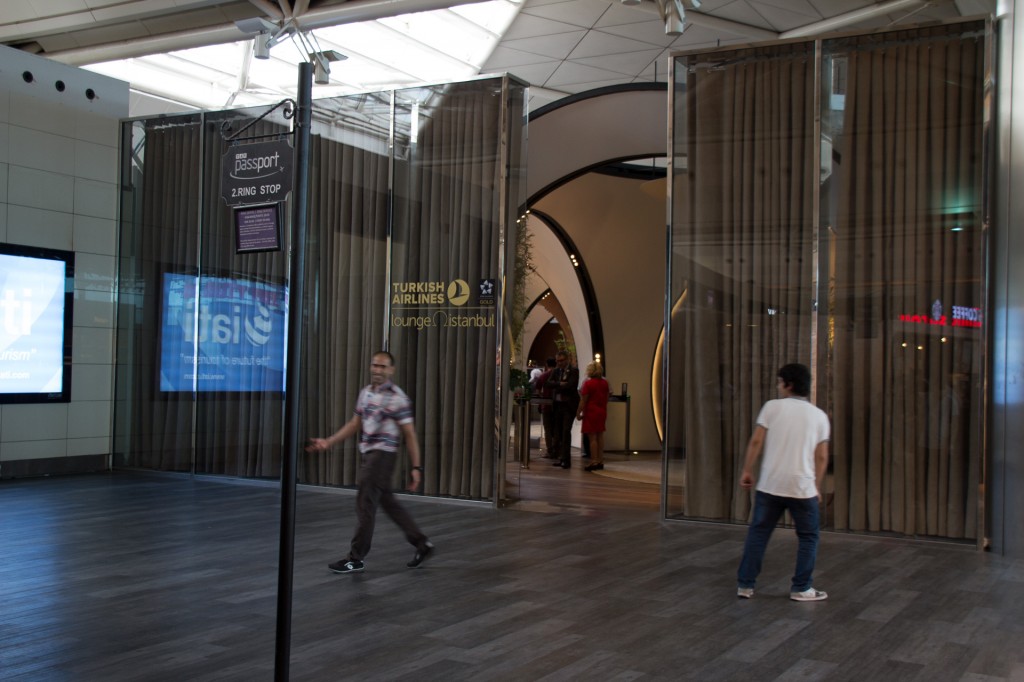 The inside of the lounge is not any less imposing: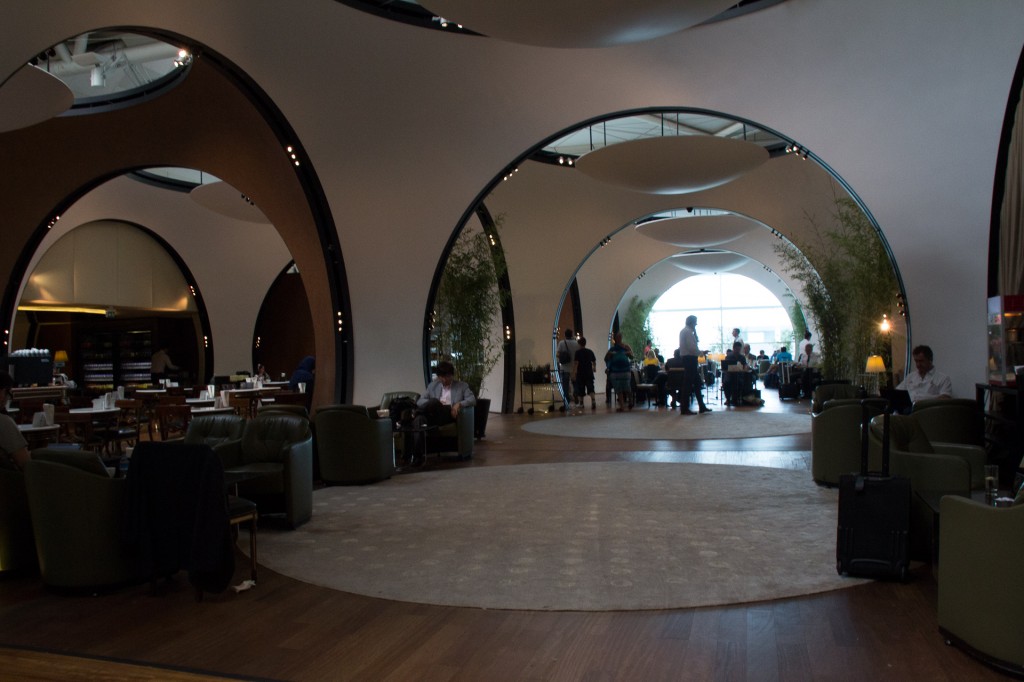 It is so spacious that even if you pick your nose, no one is likely to notice: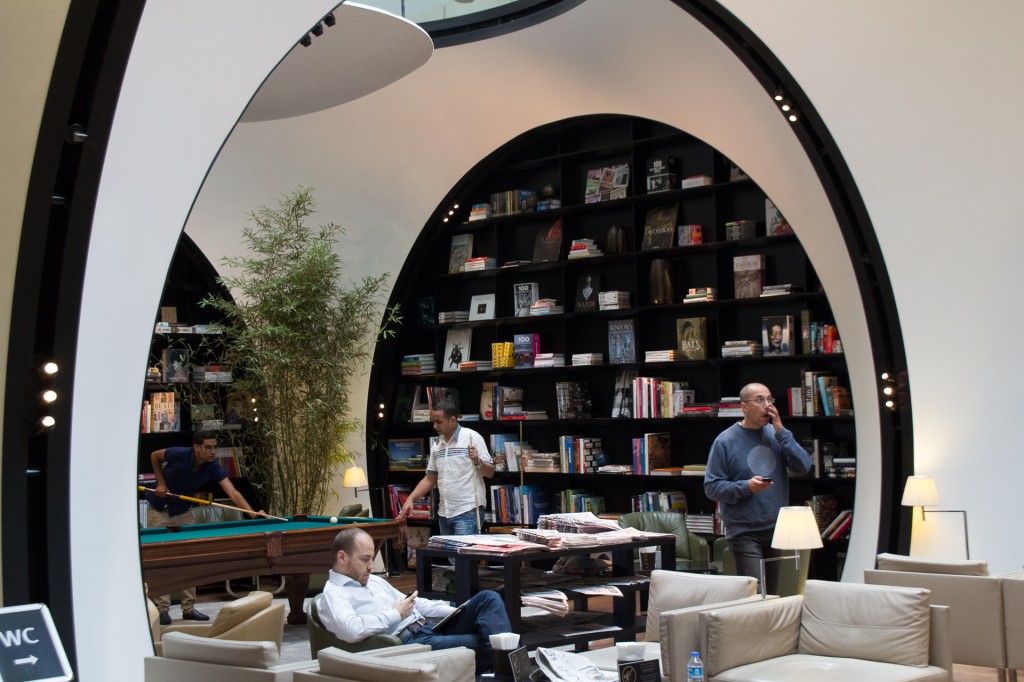 More open space, and food, food, food!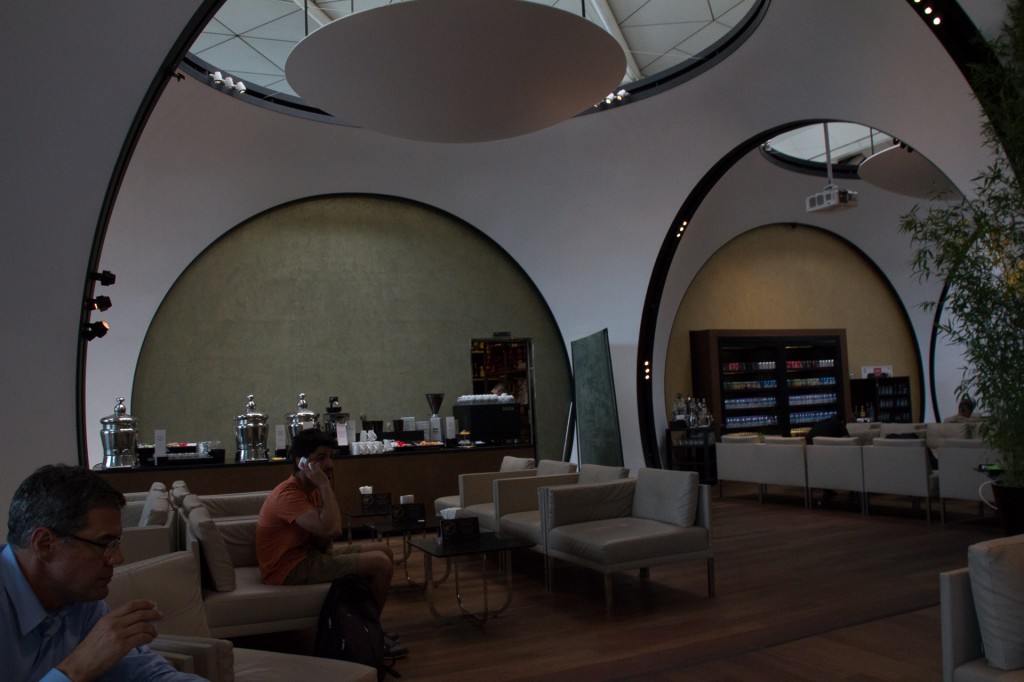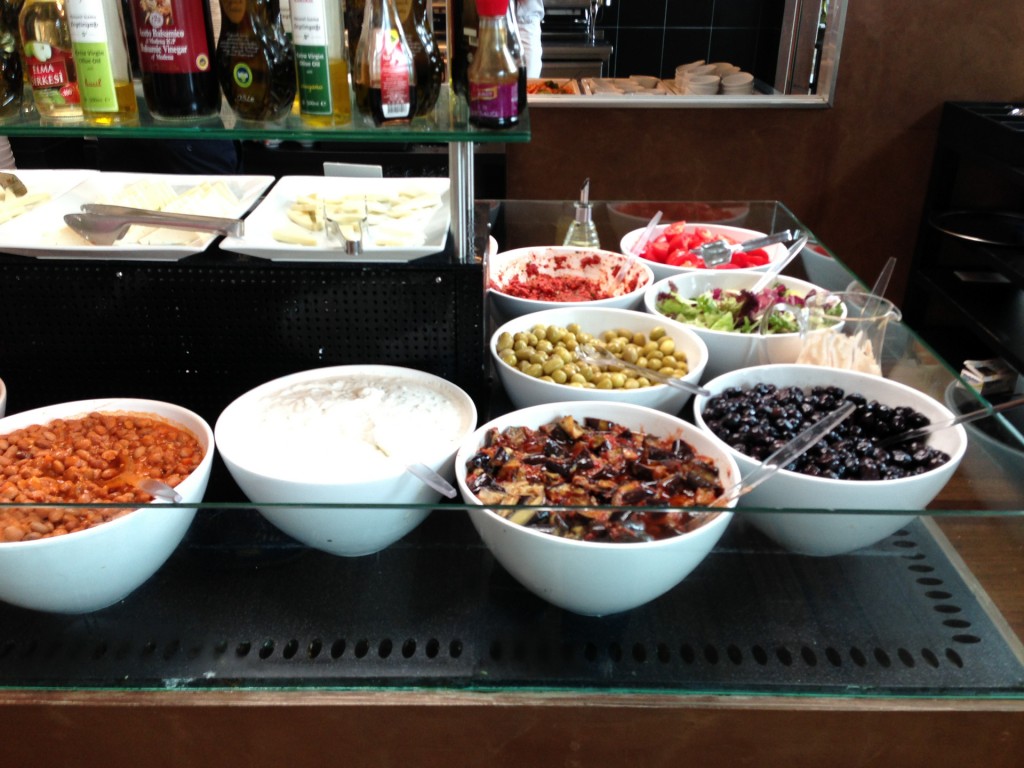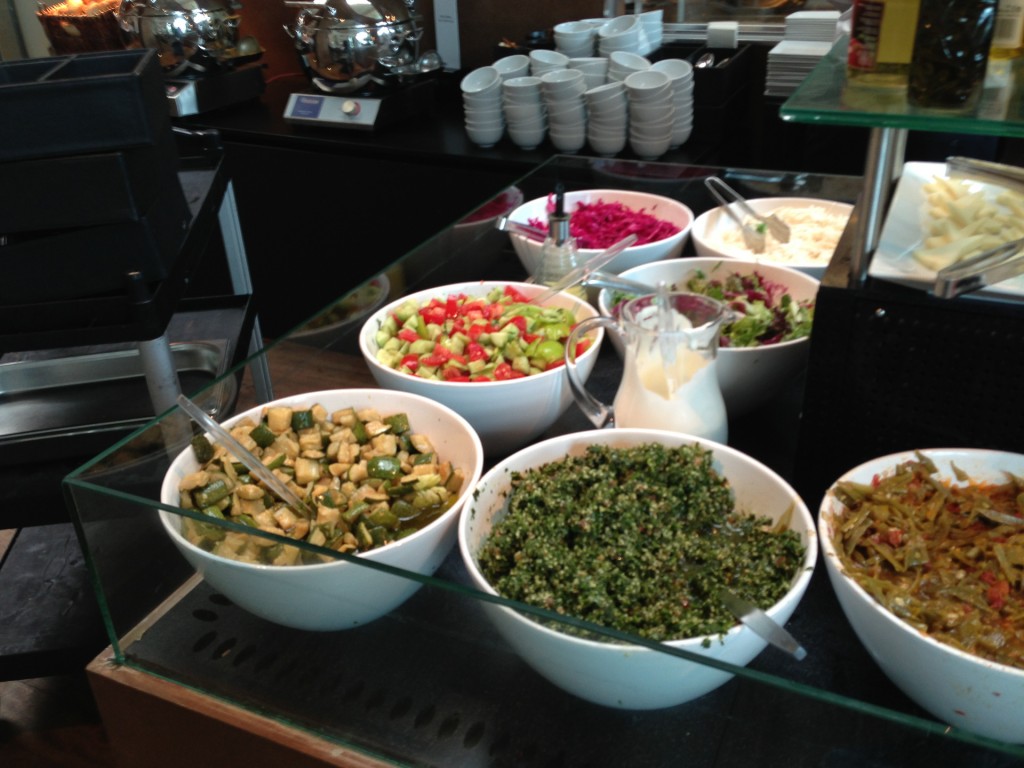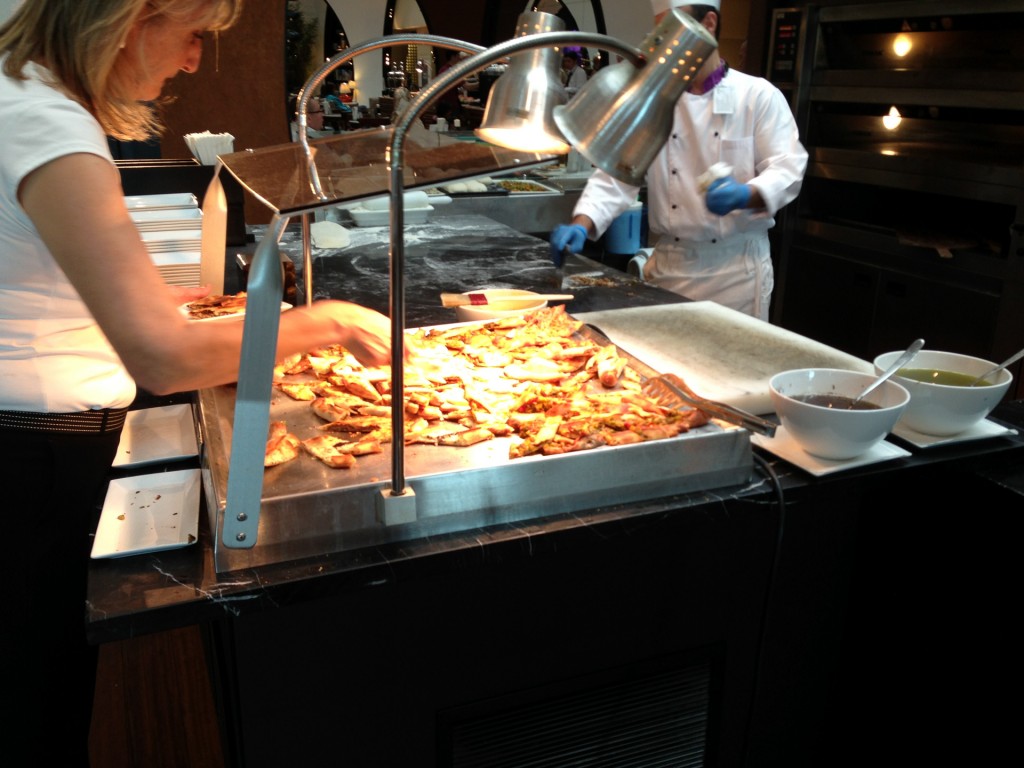 The NSA command centre newsroom: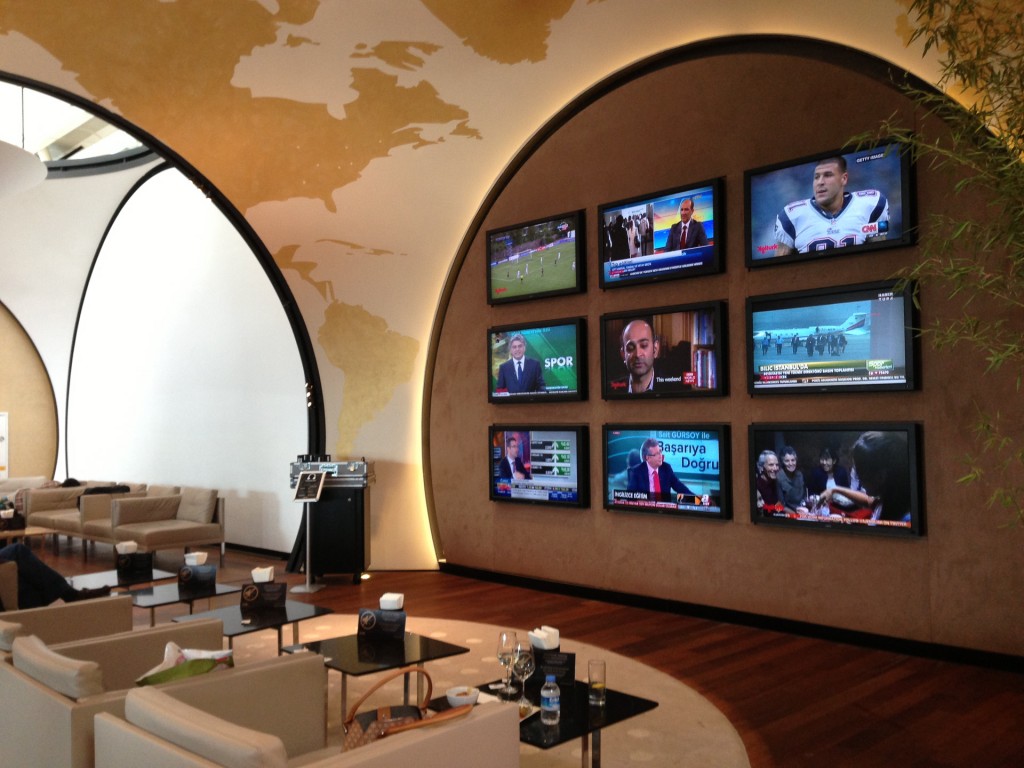 A club/ballroom sort of area, with a real legit piano (though unfortunately an electronic one, that just sat there playing by itself):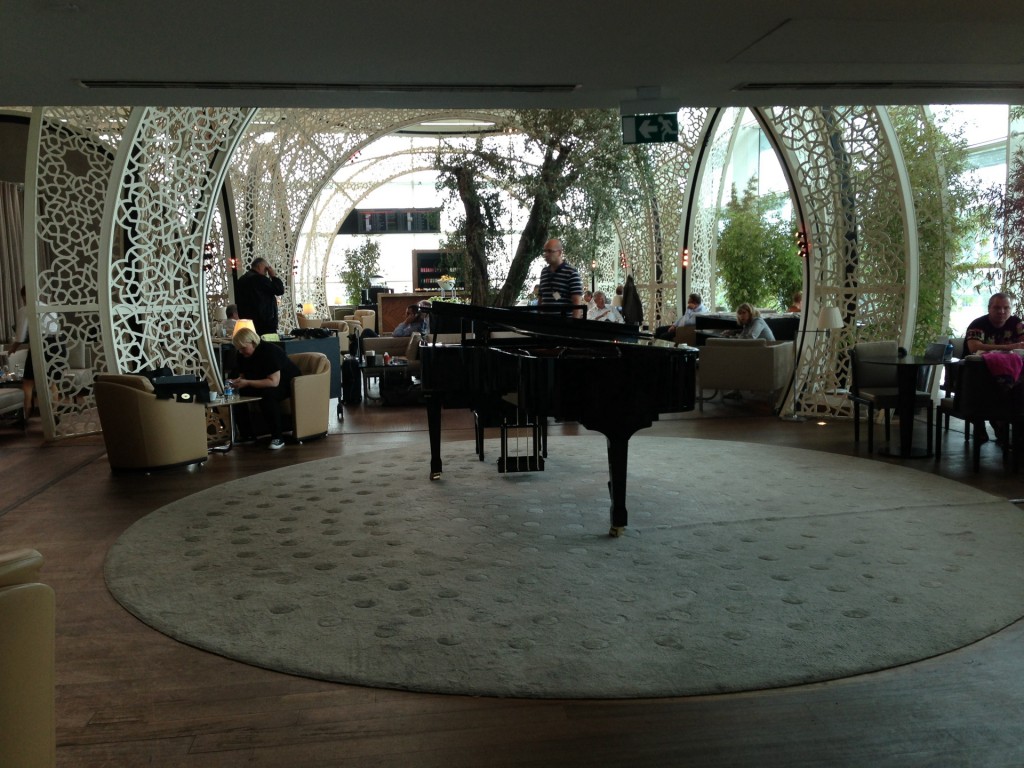 Continuing with the tuxedo cocktail bar trend, the movie room with a Sinatra concert playing: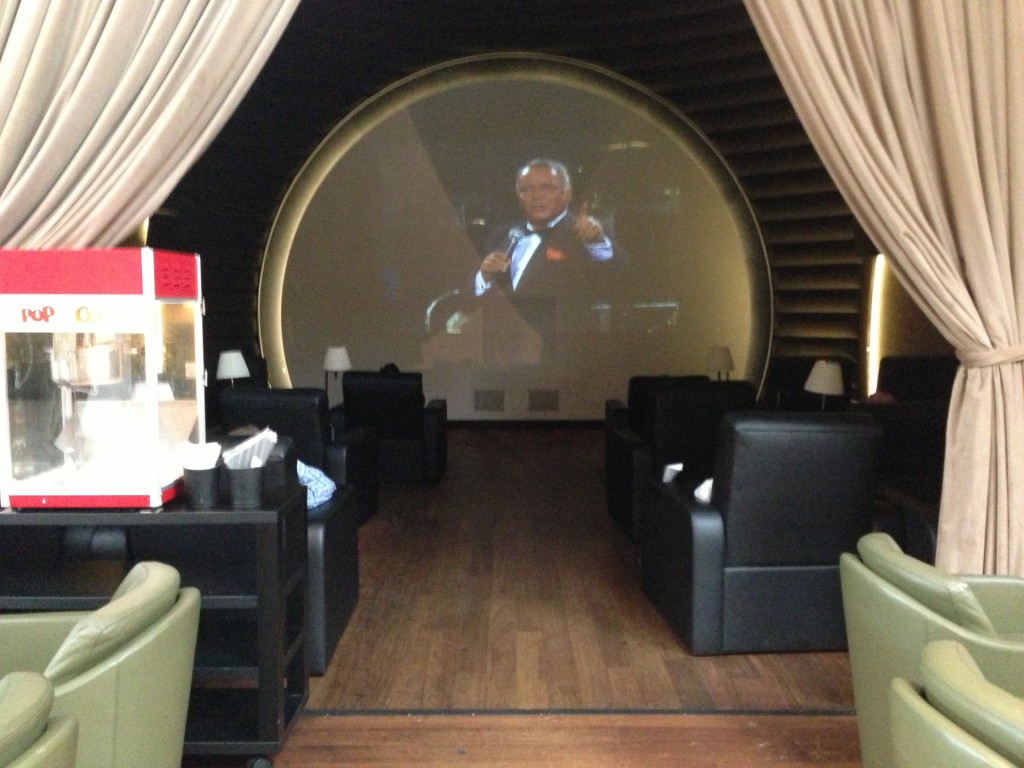 For all the Russians in the lounge (and there were plenty), here's a library with numerous books (I guess besides Russians, it's also for idiots who scheduled their flights wrong and had enough free time to go through most of these books):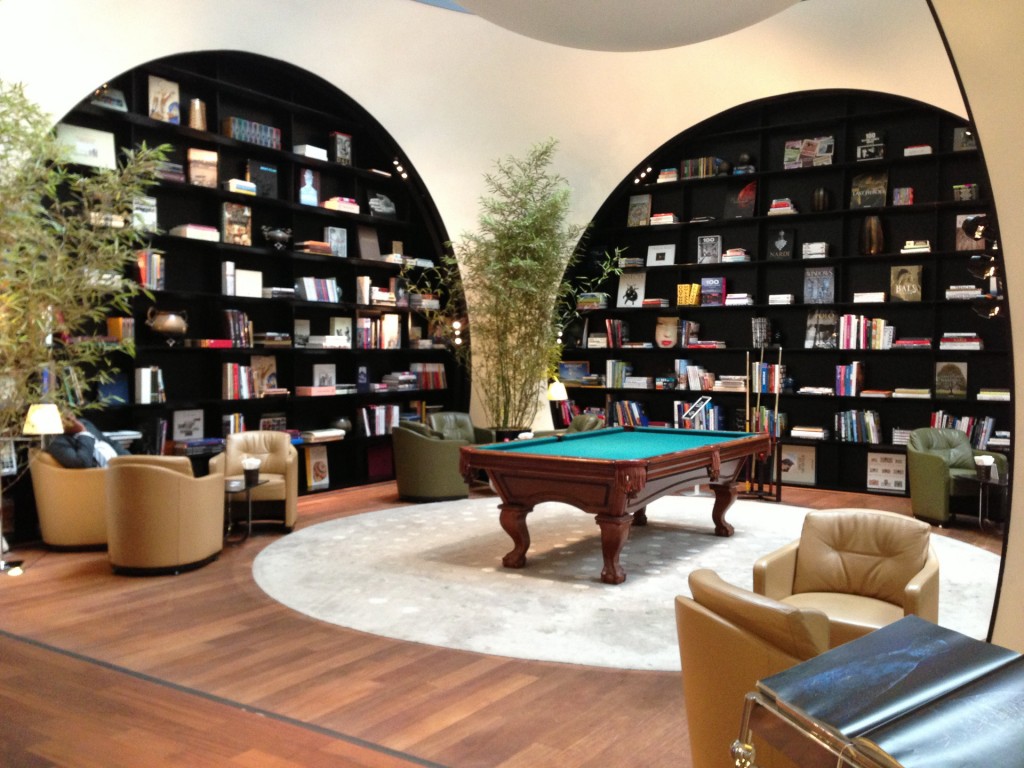 Drinks for when you've been in the lounge for so long you know the names of all the passengers: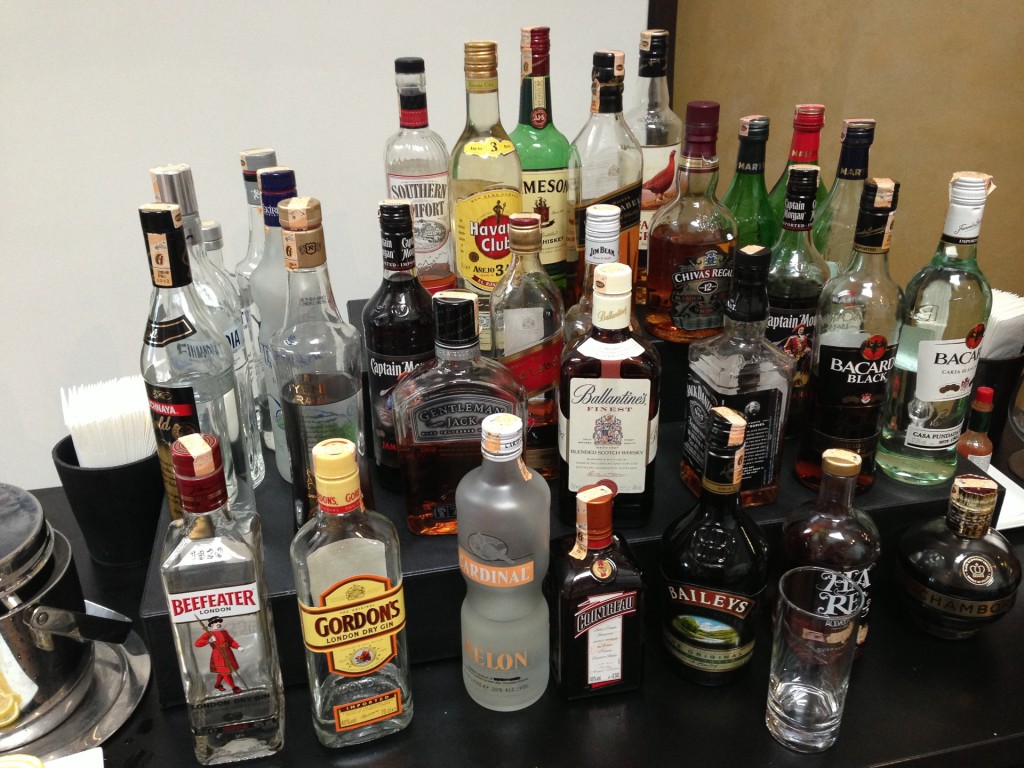 When I saw this happen, I realised I should better take a walk, before the same thing happens to me.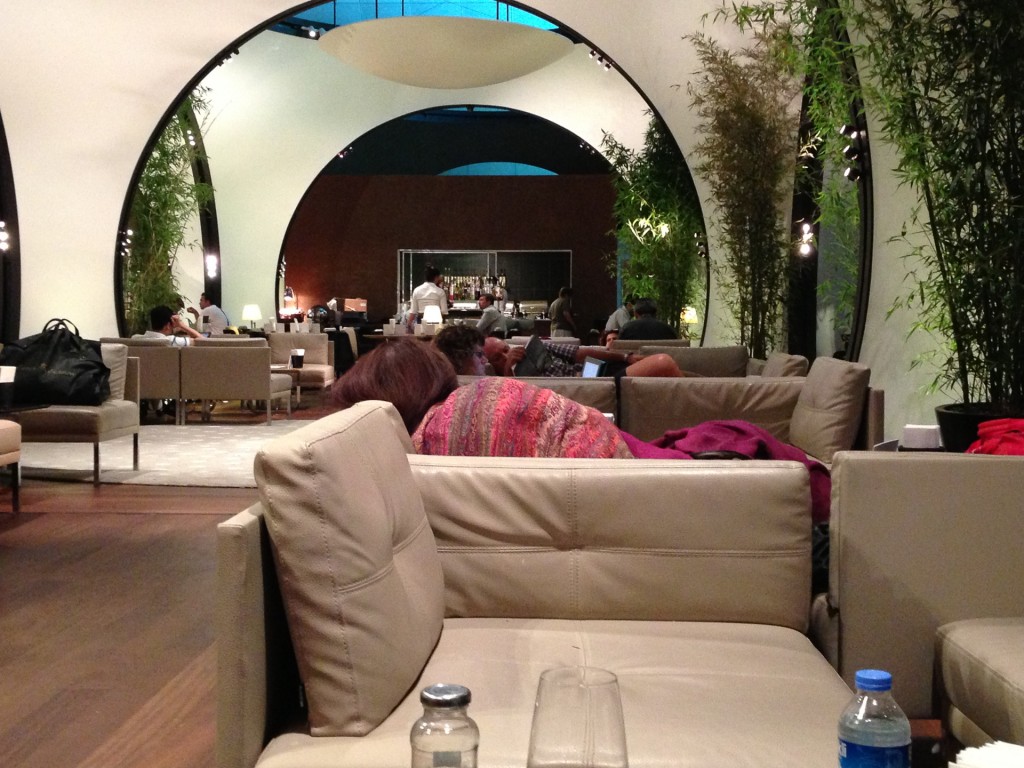 Going outside, I thought I was in San Francisco or something. Or in Cupertino. Or in a college classroom.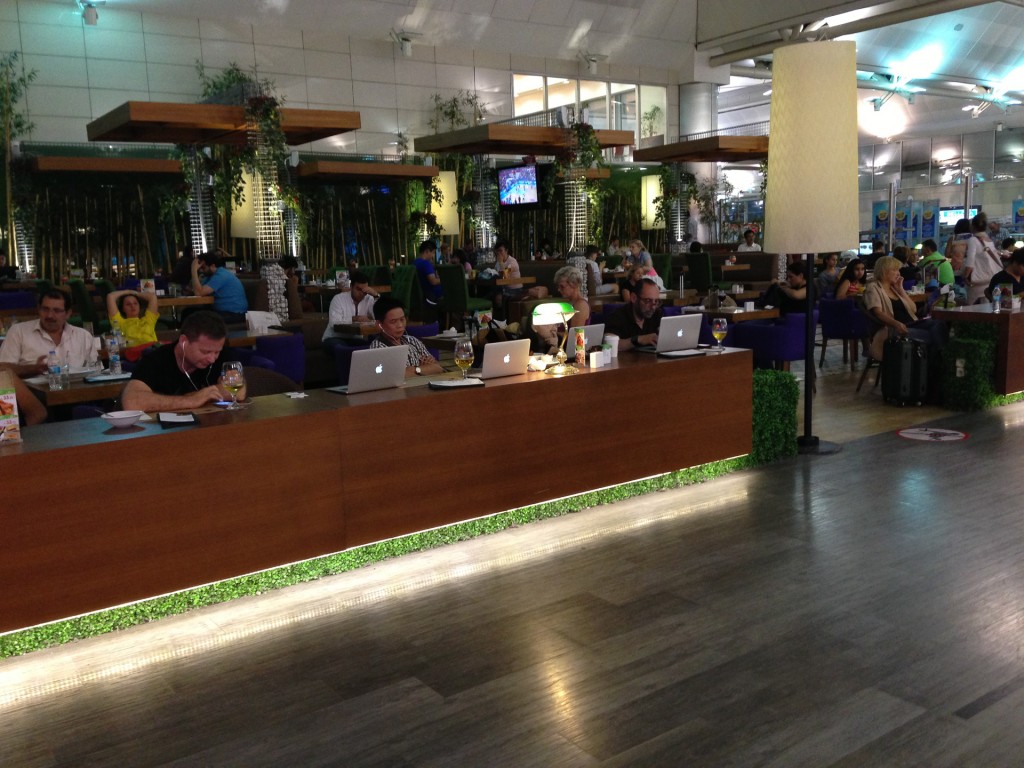 Anyway, midnight FINALLY rolled around, and off to our flight we went. Incidentally, one of the reasons I booked the flight through Istanbul was to try the new 77W reconfigured business class on Turkish – I heard good things about it, so I decided to give it a go.
Seats were not disappointing at all: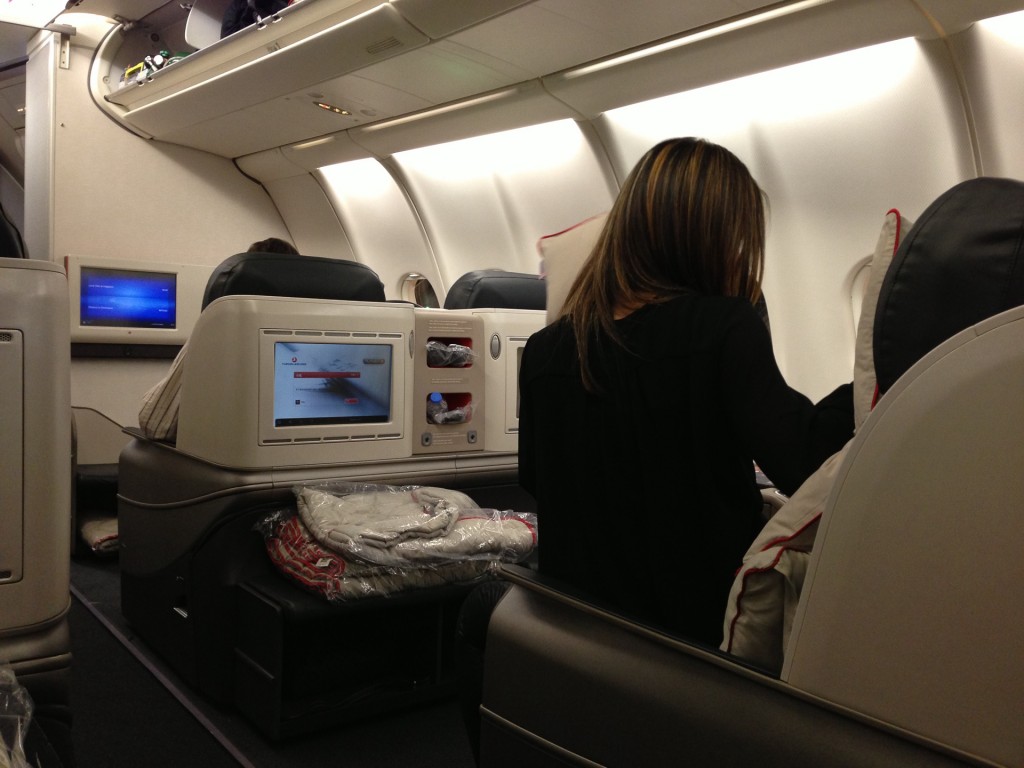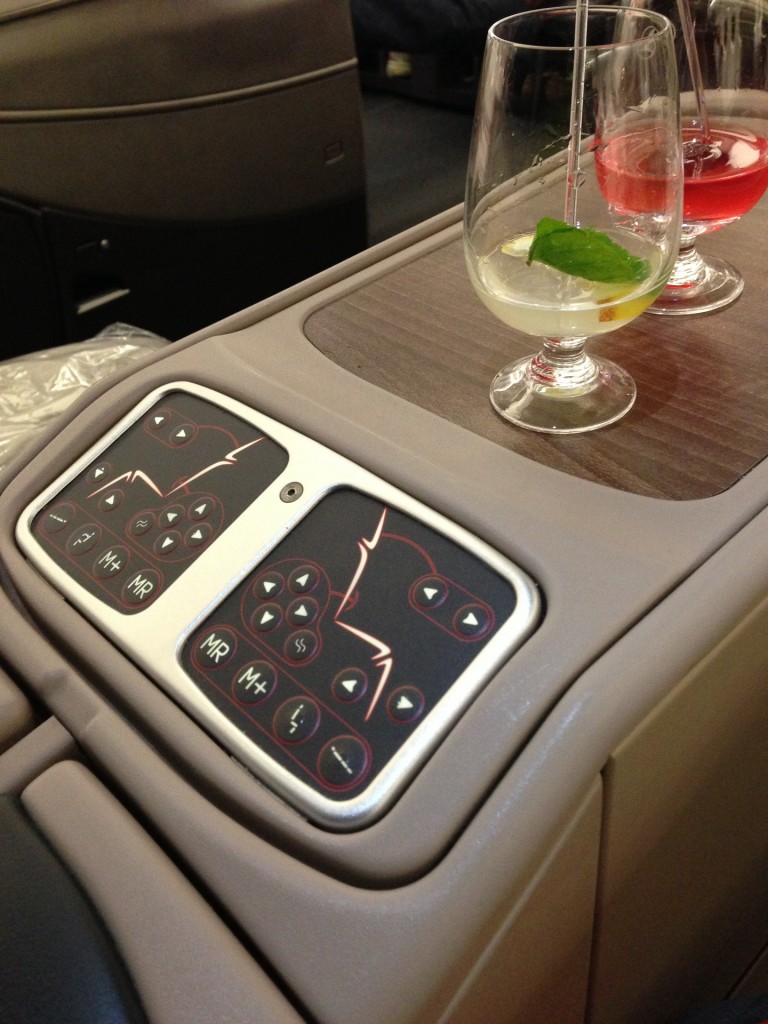 Finally, airlines installing flight cameras. It's one of the best inventions ever. Absolutely love it.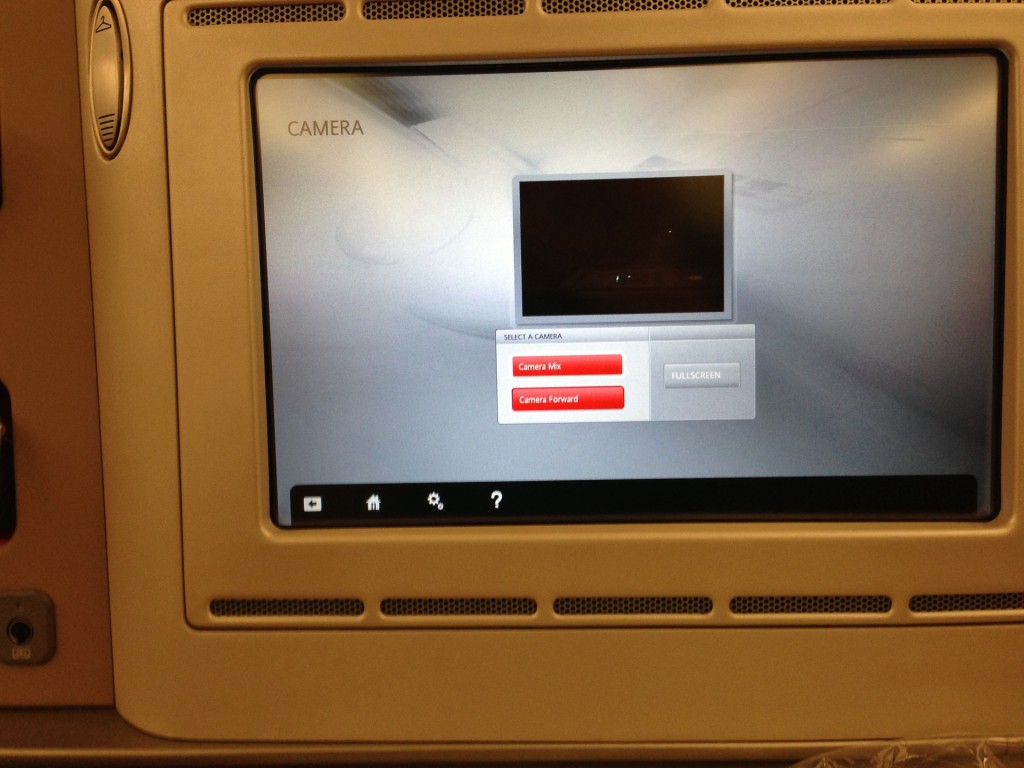 The menus looked very promising. The wine list was excellent! I don't really like Chablis, I find it a little bit plain for what it is, but hey, a Premier Cru, it's a decent bottle. 2008 was a good year for Burgundy, so it made for some reasonable wines.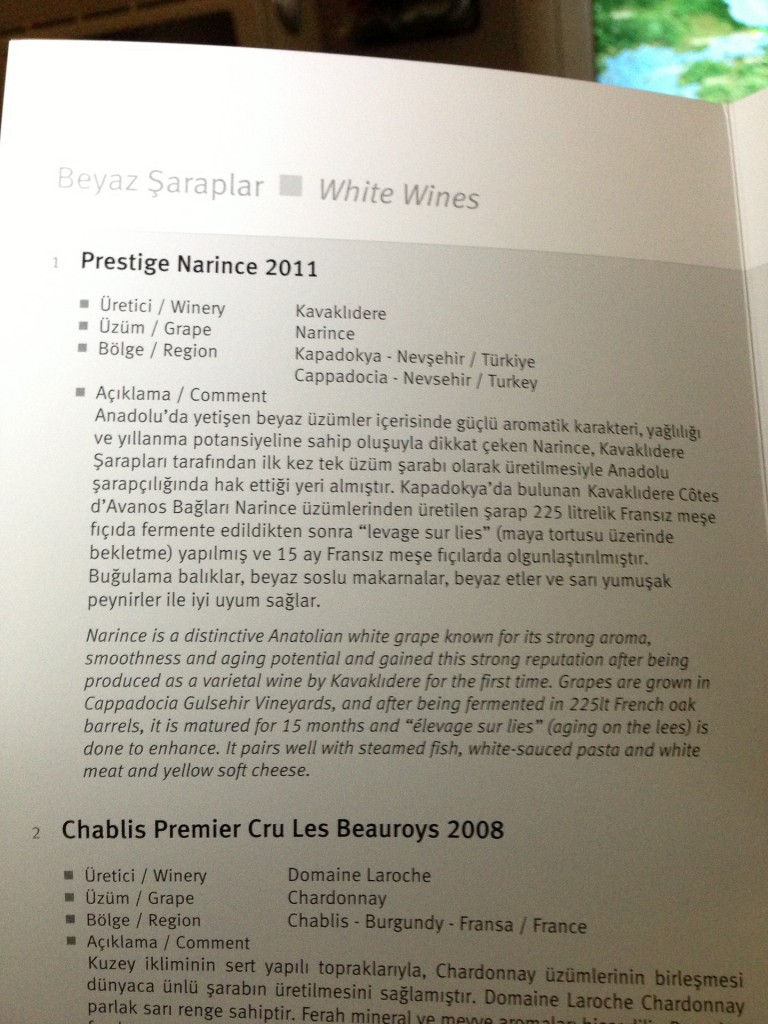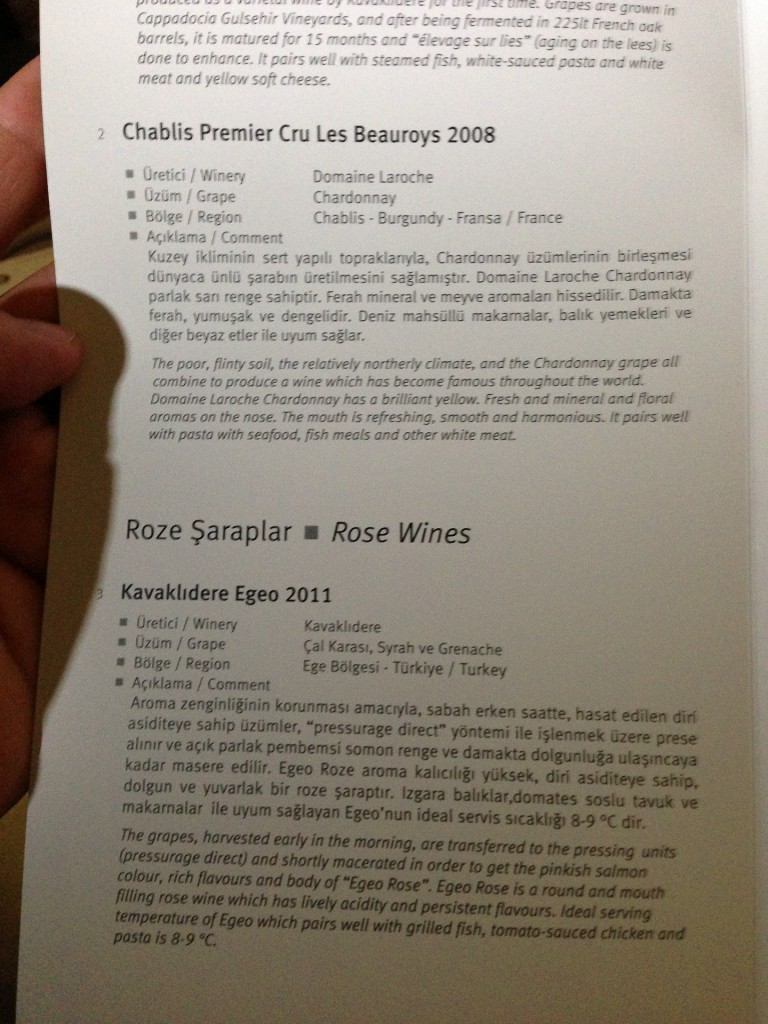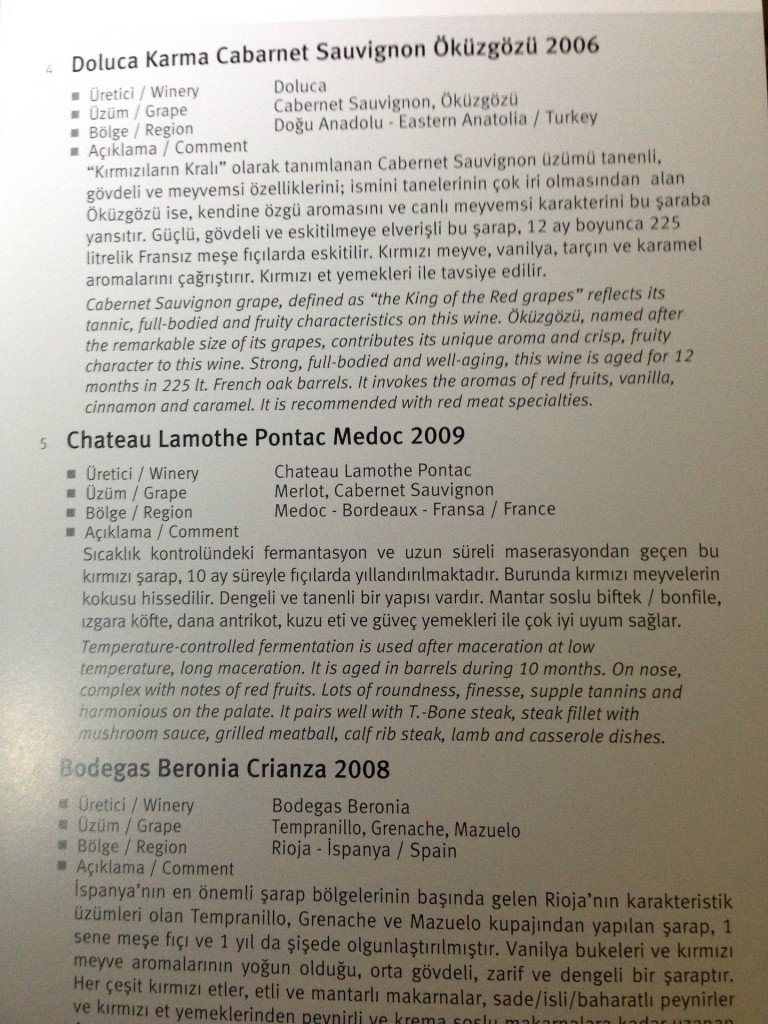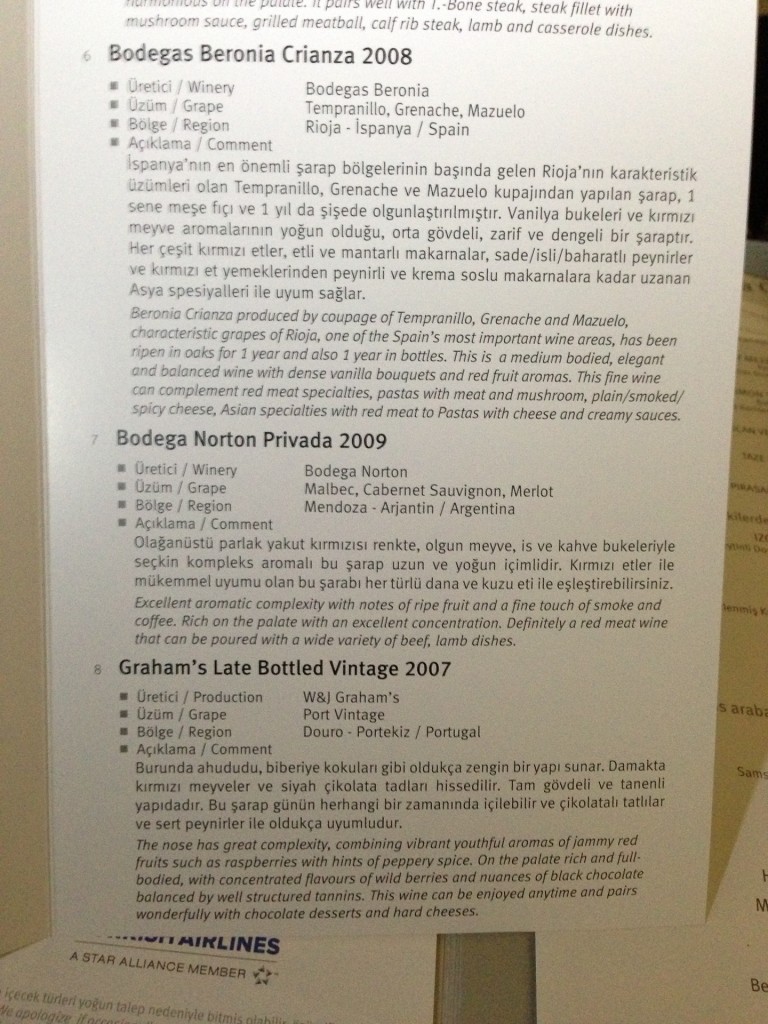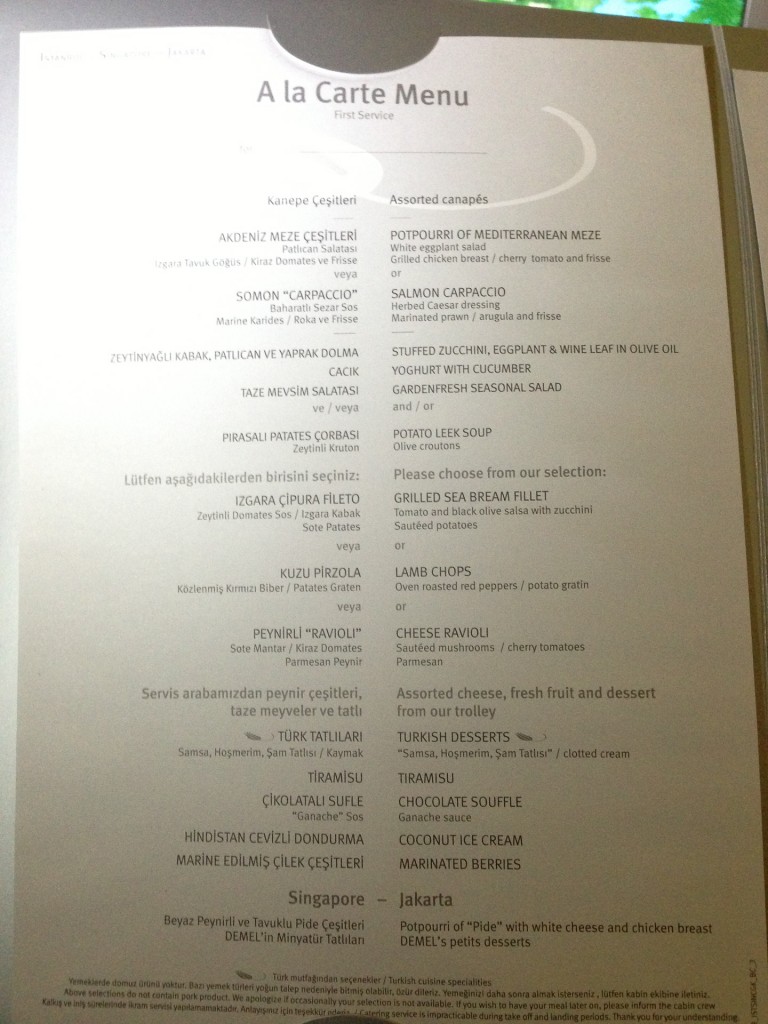 Food was excellent. Finally, I felt vindicated: on Swiss, the food all came out in one shot as a single tray, which I found bordering on insulting. I wasn't sure if all airlines did this (in first, all dishes come out individually, etc), but I felt something had to be wrong with that… and fortunately, I was right. On Turkish, all dishes came out individually, which is the right way to do it.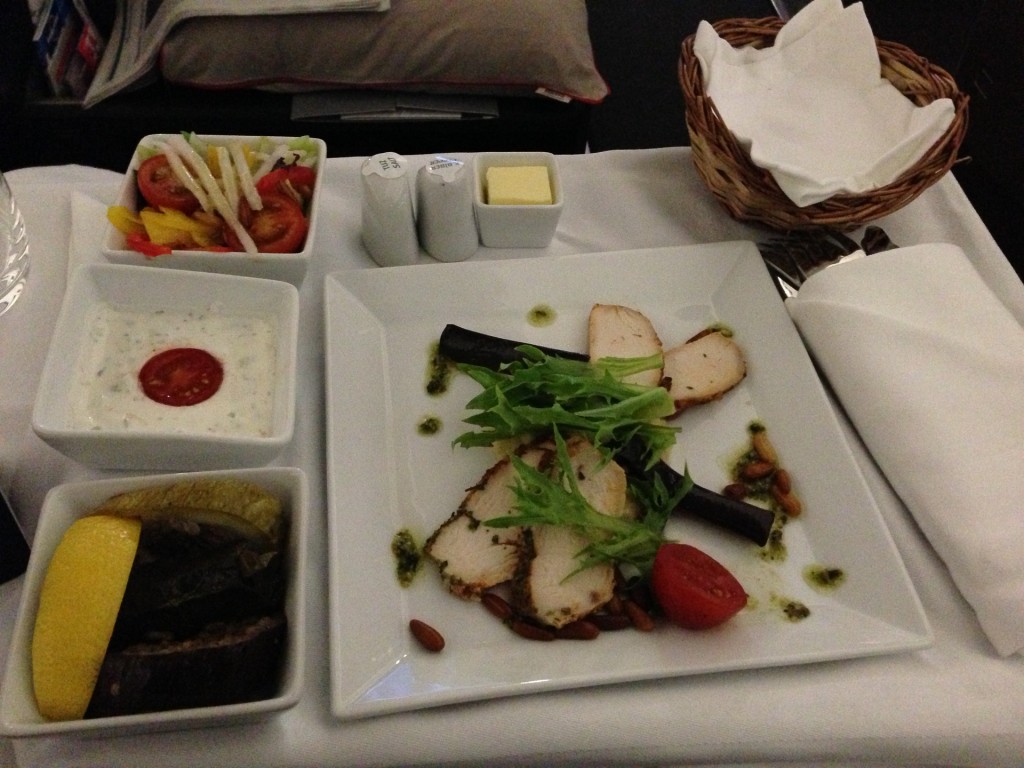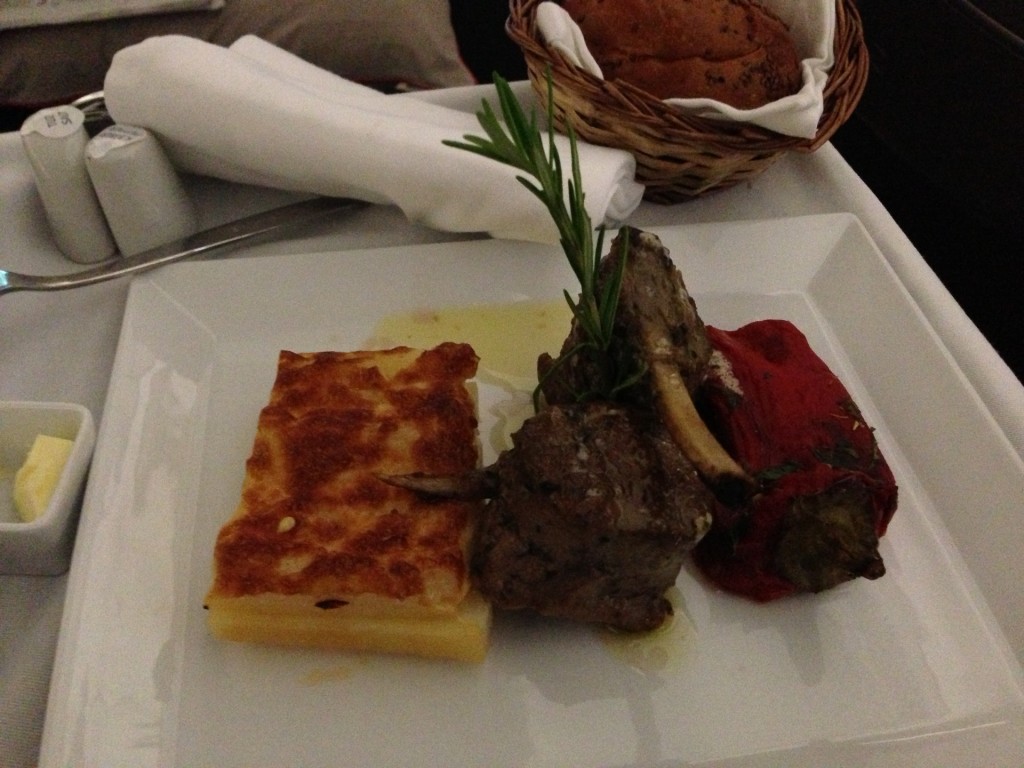 Then, a pastry chef came!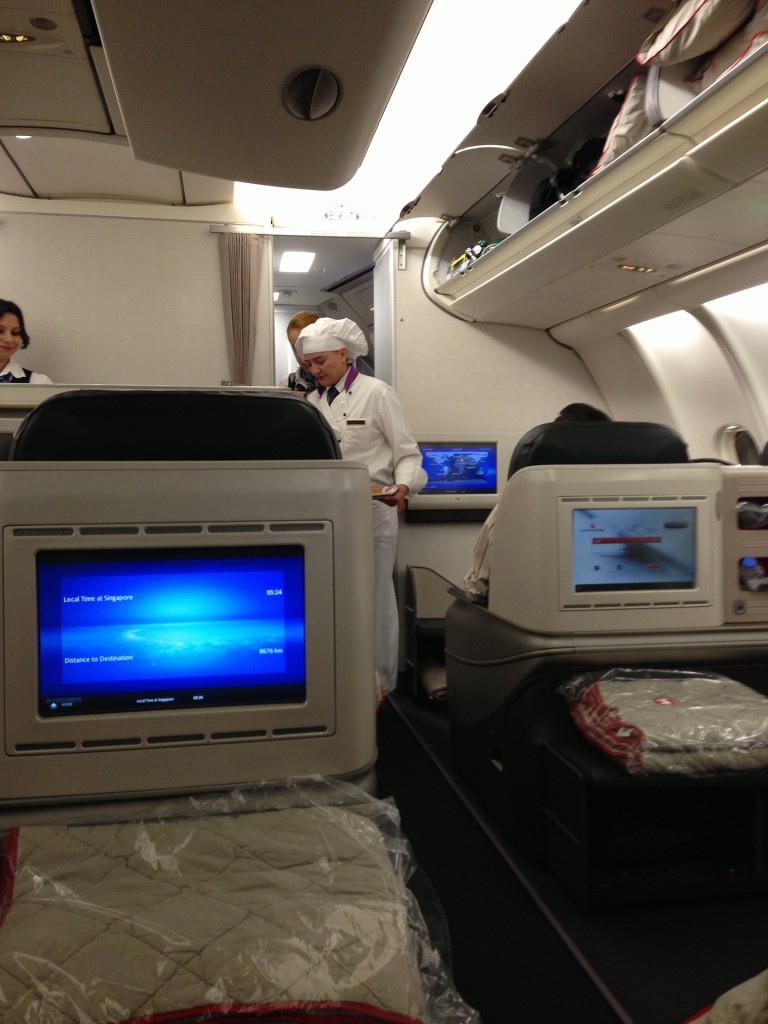 Fast-forward to the end of the flight, we arrive to Singapore.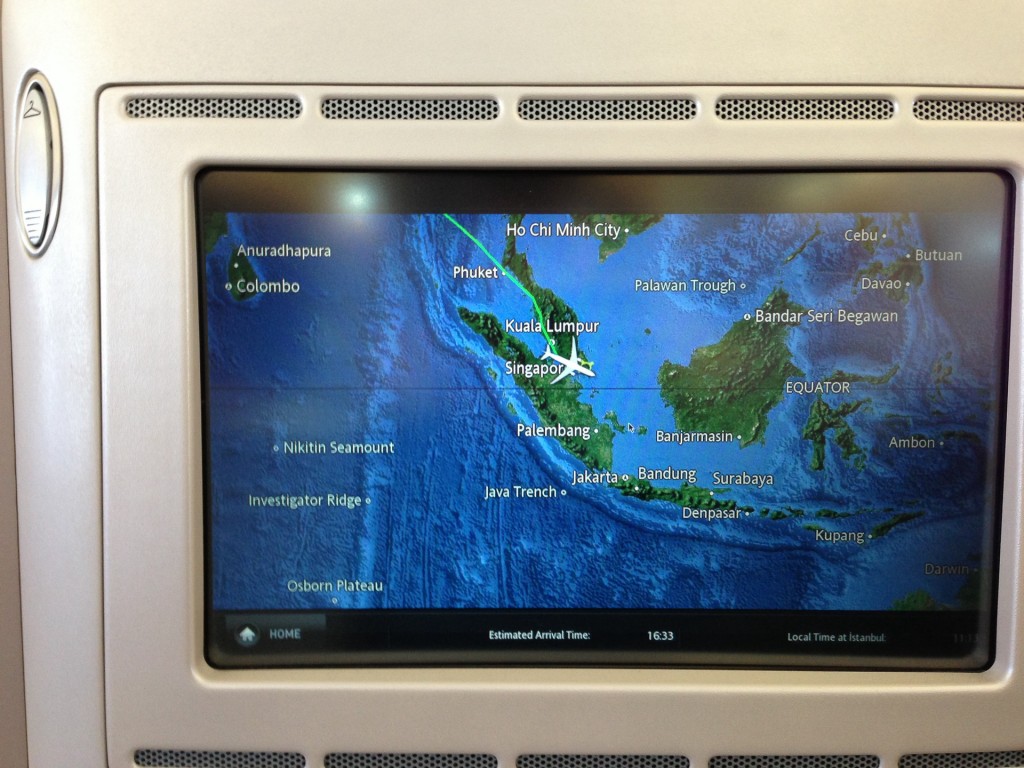 A few comments on TK business. The seats are excellent. They go fully flat, and allow one to sleep comfortably. The cabin is very spacious, despite being a 2x2x2 configuration. Easy aisle access from the window seats. Food was very good. The only problem with the flight… was turbulence. This was the first time, and I say this in all seriousness, that I was bordering on throwing up on a flight without being hopelessly drunk. All through the flight, there was turbulence, and by about three quarters, I was quite ready to return all the good food that I have eaten back to whence it came from.
Fortunately, the flight stabilised before this happened, but this left a bad taste in my mouth (a metaphor now). For some reason, this has never happened on any other Europe->Asia flights that I've been on, so I am guessing we just hit some bad weather. But it was quite bad.
Next installment: Singapore!